In March 2018, our little family of four set off on an adventure of a lifetime around sub-Saharan Africa in a Land Rover Defender. Our boys were just 2 and 4 years old at the time and we had no 4×4 experience whatsoever. If you're looking for a driving through Africa blog and ultimate travel Africa tips, you've come to the right place. In this post I answer all your questions and more about how to self drive Africa overland with kids.
Disclaimer: This post contains affiliate links. If you click to purchase, it is at no additional cost to you, and I receive a small commission.
Join our 'Travel Africa with kids' Facebook Group
The Lonely Planet Africa, and the Tracks4Africa Africa Southern Traveller's Atlas were invaluable throughout our travels.
Our 101 days overlanding Africa with kids took us from South Africa, up to Tanzania and round to Namibia. A total of 15000 kilometres and 5 border crossings. We dealt with corrupt officials, impassable roads, once-in-a-generation weather events, and of course the usual toddler tantrums along the way. But all that pales into insignificance when I think of the seemingly endless nights camping under the African stars, the incredible wildlife experiences, the warm welcome from villages we passed, and the tighter bond we formed as a family. Africa stole our hearts and we will be forever changed by the experience.
Read – Travelling Africa with kids: our top 10 highlights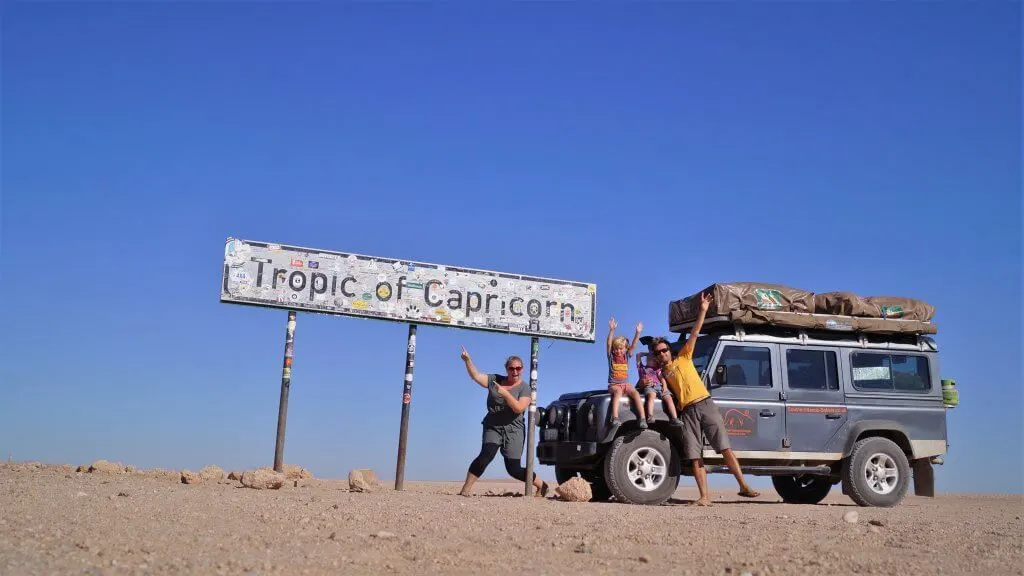 I received so many questions about our overland Africa trip, that I decided to put together this post to hopefully answer everything about how to self drive Africa overland with kids, and provide you with all our overlanding Africa tips. Out of all our family overland trips, this one is by far the best.
You may also want to read: The TRUTH about doing an African safari with kids
SAFETY
Is it safe travelling Africa with kids?
This is the first question that people seem to ask about travelling Africa with kids. The entire continent gets such an awful rap from the media and many people believe that every country in Africa is struggling with war, crime, famine, drought, disease and has generally received a bad handout from the gods above.
Whilst Africa does indeed have its problems, every country is very different from its neighbour and we never once felt unsafe or threatened in the countries we travelled throughout the entire 101 days. Apart from the odd difficult border guard or police official, we received an extremely warm welcome throughout Africa.
Did you have problems with police and border guards?
Generally they were fine. We had been warned that in Mozambique we would frequently stopped by police wanting bribes. This never happened once, apart from a lone occasion when a solider wanted food.
However, in Tanzania the police were awful and we were pulled over on several occasions and told to pay a speeding fine. We had not been speeding, but they take photo of your car and superimpose a speeding number on top and display it to you in WhatsApp. I personally find it extremely difficult to tolerate officials in these circumstances and thankfully my husband has a lot more patience than I and managed to win them over. We never once paid a bribe.
Whenever we came across an official we had to just learn to be super smiley, say 'yes sir / no sir', and basically massage their ego. It's a shame that positions of authority are abused in much of Africa, and it's just a game you have to play along with (even in the more developed countries of South Africa and Namibia).
How did you get out of speeding fines?
The obvious answer is not to speed and we did make a special effort to stick to the speed limit but often this wasn't enough.
Our first line of defence would be to get the boys to smile and wave. This worked a few times.
If the police official didn't crack a smile, we would then ask to go with them and pay the supposed fine at the police station. We would explain that we had no cash and would like to make it official. The police would realise that this is more trouble than it's worth, especially as we weren't even speeding, and wave us on.
What about Malaria?
We all took antimalarials throughout our time in Africa. Although deemed controversial as many people report side effects, we opted for Larium for a number of reasons. Firstly, research showed us that for young children it has a higher resistance to malaria and Daddy Lynn and I had taken it many times before without complications. Plus, it's only taken weekly, rather malarone which is taken daily. If there is a history of mental health problems, then it's advised not to take Larium. However, we suggest discussing your options with a medical travel expert.
The boys never knew that they were taking Larium as we crushed the tablet into Nutella and put it on a biscuit for them to eat.
If you are looking for malaria free safari parks in Africa, then read this post.
Did you need lots of vaccinations for Africa?
Prior to this trip, we were living in India. We were therefore all up to date on vaccinations and did not require any additional ones for Africa. Please consult your medical practitioner for advice on vaccinations. However, standard ones are diphtheria, polio and tetanus (combined booster), typhoid, hepatitis A, cholera and rabies.
What if someone got injured?
As we knew there would be times we would be far from medical help we ensured that we had a good family medical kit. This included a first aid handbook and a malaria test kit.
You can read our family medical kit list for African travel here.
Did your boys get ill?
Apart from a high temperature for one night from our youngest, our boys never fell ill during the 101 days. We let them play in sand and dirt, pick up sticks and generally live a grubby existence like most boys their age.
Maybe we were lucky. Maybe they have a good immune system from living in India. Or maybe, they are no more likely to pick up a virus in Africa, than they would back home in the UK.
Either way, we had our medical kit, and the day Ezra had a high temperature, we kept an eye on his temperature with a thermometer and did two malaria tests that turned out negative. He was fine the next day.
PLANNING
Did you do a lot of planning for the trip?
In all honesty, no. For many people a trip like this is years in the making (check out these adventure planning tips).
For us, it was thrown together in a matter of weeks. With Jay's contract finishing in India, voluntary redundancy money in the bank, tenants in our home in the UK, our boys not yet of school age, and an offer for a cheaper 4×4 rental in South Africa… we seized the moment and ran with it. Thankfully everything seemed to fall into place… just.
What route did you take?
We flew into Johannesburg (with Ethiopian Airlines) and collected the Land Rover Defender from Hoedspruit, near Kruger, South Africa; this was our start and end point. Our overland adventures then took us through Mozambique, Malawi, Tanzania, Zambia, Namibia and back to South Africa.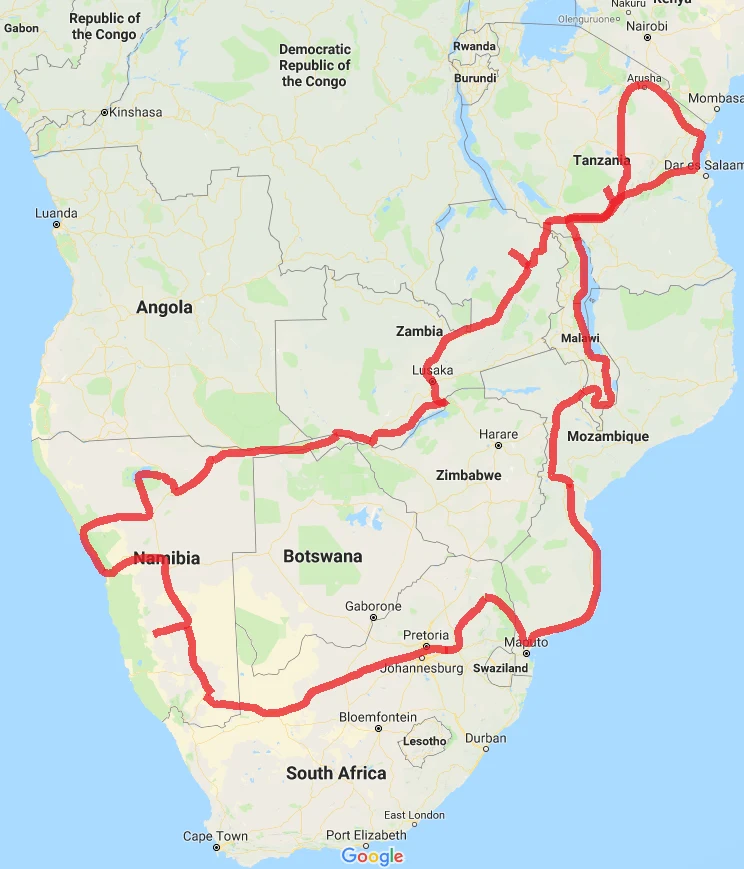 You can read our Africa overland routes for each country, which provides a day by day account and our accommodation each night:
PART 1: South Africa and Mozambique
PART 2: Malawi
PART 3: Tanzania
PART 4: Zambia
PART 5: Namibia
How did you decide on this route? Did you have it all planned out?
We rarely planned more than a few days in advance on this trip. Although to start with, we knew we wanted to head to Mozambique after picking up the Land Rover. After packing up our lives in India and getting everything together for this trip, we really just wanted to start with some chilled out beach time. From there it was logical to head up to Malawi. We debated Tanzania until a day before the border crossing, as we were worried about blowing the budget with its extortionate National Park fees; and we were planning to head to Botswana after Victoria Falls, until we decided we needed to finish the trip with some easier driving days and so headed to Namibia.
If we liked a place, we would set up camp and stay a while, and if we weren't too keen, we would just move on. I loved having this flexibility of time. It was so freeing. The longest we stayed anywhere was one week. It was Utengule Coffee Lodge, near the Zambian border. We had planned to stay just a night, but the stunning sunset views from our campsite on their helipad, the wonderfully warm welcome from staff, and the lovely swimming pool, encouraged us to stay longer and take a breather before another border crossing.
You missed out Botswana! Isn't it supposed to be amazing there?
Well we couldn't do it all. We had originally planned to go into Botswana after Victoria Falls, but there had been some very heavy rains and many roads were reported to be shut or required good 4×4 driving skills. After 3 months of difficult roads, we had had enough, so we headed to the smooth tarmac of Namibia. It was heavenly! Until we hit corrugated roads…
How did you navigate around Africa?
Tracks 4 Africa was invaluable for our overland travels. The Southern Africa Atlas contains details maps that include information on where to stay, eat, shopping, fuel, money matters, emergencies and what to see and do when you visit a place. It even details the road conditions! At the front is a handy section providing advice on border crossings and road rules for each country (for instance, in Mozambique you must have two warning triangles and a fluorescent jacket).
Click here to purchase your Tracks 4 Africa Southern Atlas
However, Tanzania is not covered in their paper map series and you may wish to purchase the Tanzania Freytag-Berndt separately.
You could download the Tracks 4 Africa GPS maps. However, we actually found Google Maps to work sufficiently through Tanzania. Although if we bumped into other travellers who had come from the direction we were headed, we would always ask their advice.
For travel through Mozambique, we found the information through the DriveMoz Facebook Group to be very worthwhile. Although before posting any questions, do read the instructions; they're rather strict.
What did you do about using needing the loo on the road?
Public toilets were few and far between, and even if we came across them, they weren't very pleasant. We therefore embraced the bush wee! Easy for the boys, a little more difficult for Mummy. We would ensure we found a quiet spot, away from a village. If the boys needed a number two on the road, we had a travel potty.
Whilst on safari, when we cannot get out of the vehicle, the boys would use a plastic bottle.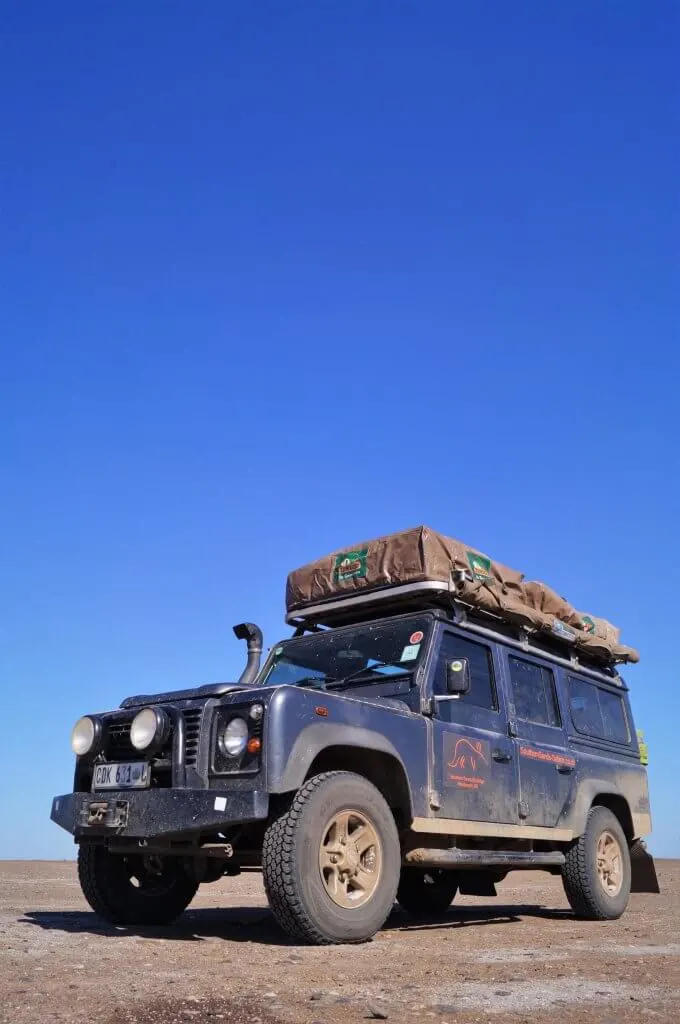 THE LAND ROVER DEFENDER
Where did you hire the 4×4?
We knew a couple who had moved from the UK with their young family to set up an eco-lodge near Kruger and we arranged a one-off private hire through them.
However, if you are looking to do the same, we suggest renting through either Britz or Bush Lore. A 4×4 is a must for travel in Africa, unless you're sticking to main roads in South Africa and Namibia. The Britz and Bush Lore cars are generally Toyotas (which some people consider to be more reliable than a Land Rover) and are fully kitted out with excellent camping and cooking gear. The customer service is also fantastic; should anything break or there are any mechanical failures, they will help you get it fixed and often cover the costs.
I contacted Bush Lore to get a rough idea of 4×4 hire for 101 days. Prices in the low season start from approximately £5800 for a Toyota Hilux 2.4 GD-6 4×4 Camp 4 Pax. This includes insurance with a ZAR20000 excess. There are then cross border fees and cleaning fees on top. We did meet some overlanders who suggested that it was cheaper to hire in Namibia. So this may be another option.
Did you get 4×4 training?
No, we didn't and this is something we regret. As it wasn't our car or a standard hire car, there were many roads we decided not to go down as we knew we didn't have the expertise. This was especially the case driving through Tanzania as they were experiencing the worst rains in over a decade and many roads were reduced to an impassable mush. Many people would say to us, 'But you have a Land Rover', thinking that because we have a Land Rover we could drive through absolutely anything. We always had to defend ourselves and explain that the roof tents made us top heavy, we have two young kids in the back, and we don't have 4×4 expertise.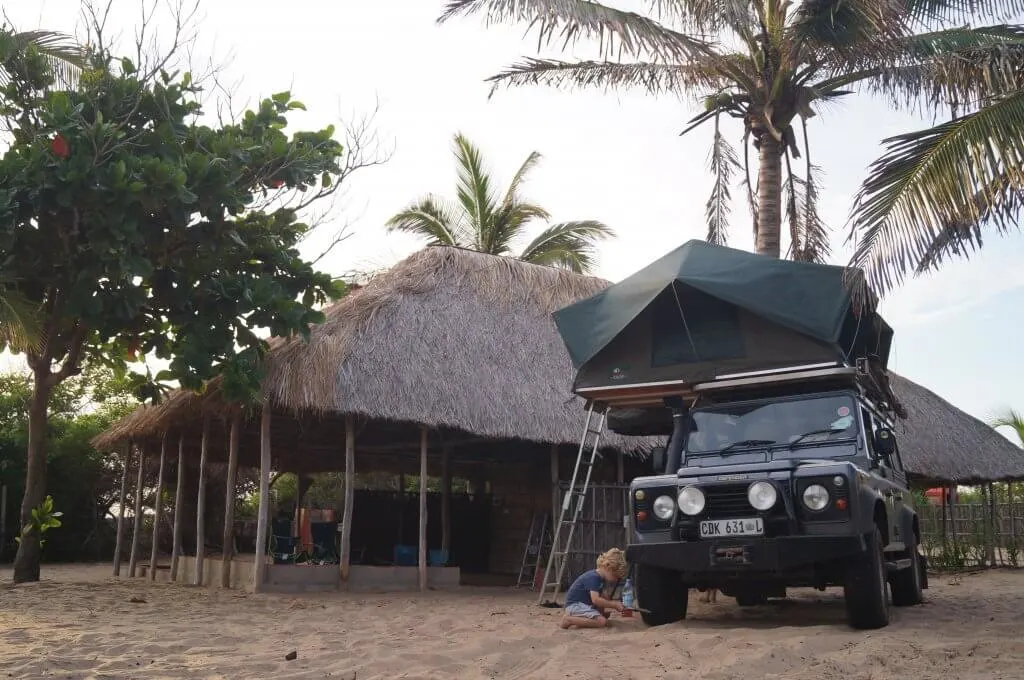 Do you have mechanical know-how?
Not at all. I don't even know how to change a tyre! Hubby can thankfully, and understands the basics of checking oil, water and radiator levels. For peace of mind we do recommend completing a basic mechanics course. Thankfully we didn't run into any mechanical problems and we paid for a Land Rover service at a specialist garage in Zambia (Foleys Africa) to ensure that everything was okay half way through the trip.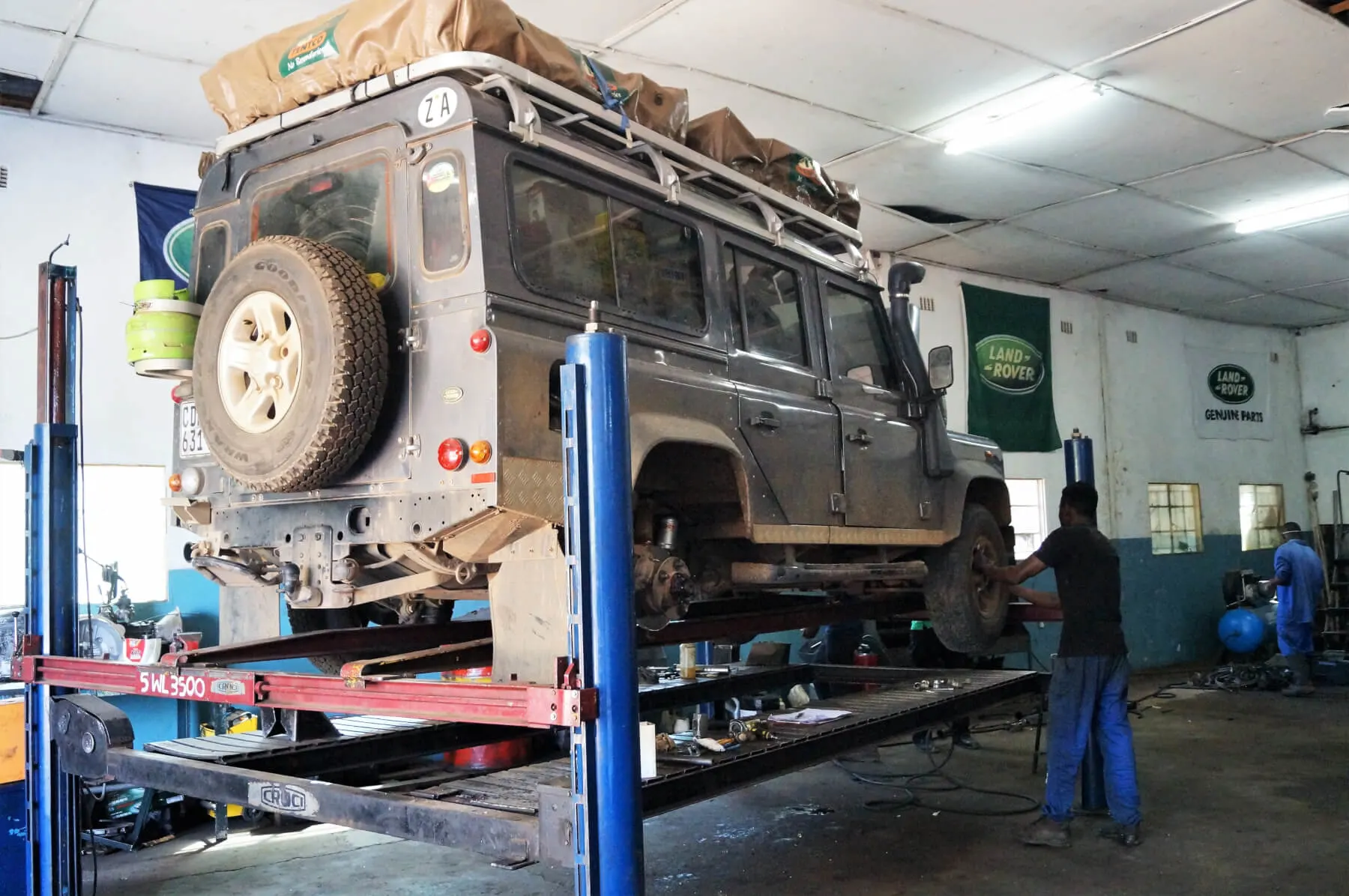 You never broke down?
No, not once. We fully expected to at least puncture a tyre, but that never happened either. We drove so carefully and treated the Land Rover as our own, and I'm sure that helped.
Although we did get stuck in the sand in Mozambique in the first week. Thankfully 15 kids from the village rushed to our aid and we were out in no time. We hadn't deflated the tyres! Rookie error.
What equipment did you have in case you broke down?
We had a tool kit, an extended jack and a winch built into the front of the Land Rover. We also had warning triangles and high viz vests. We didn't have a satellite phone, which many recommend, although we did have GPS on our phone.
We do wish we had packed an air compressor to inflate/deflate tyres as needed. This really is an essential item as many petrol stations did not have air compressors.
How did the roof-tents work?
We had two roof tents on top of the Land Rover that opened out (see video below). For safety and peace of mind, one parent and one child would sleep in each tent (rather than the boys being in a tent on their own). Inside was a mattress and they were extremely comfortable. There's something very special about falling asleep with the sounds of Africa around you.
CAMPING
Where did you camp?
We never wild camped with the boys for safety reasons and always stayed in official campsites.
How did you find where to camp?
The Lonely Planet guide books often had good recommendations. Rather than pack separate books, we would download the PDF versions to our phones for easy access and to save on space. If we couldn't find anything through Lonely Planet, we would do a Google search, refer to our Tracks 4 Africa atlas, or for Mozambique we would consult the DriveMoz Facebook Group).
If you're visiting Malawi, make sure you check out – The best Lake Malawi camping sites.
If you're visiting Namibia, make sure you check out – The best campsites in Namibia.
There were occasions when a campsite didn't exist anymore and we had to keep driving. We therefore always aimed to be at a campsite by 3pm at the latest so that if there were any problems, we had a couple of hours up our sleeve to find an alternative.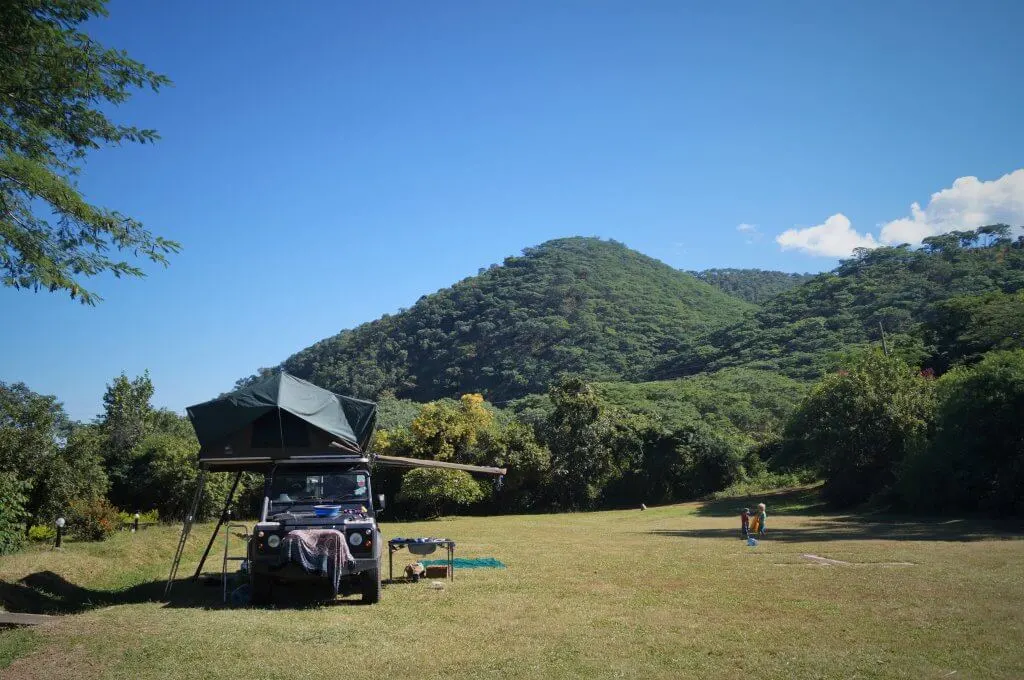 What were the camping facilities like?
Campsites ranged from extremely basic with no toilets or running water, to very swish pitches with en-suite bathrooms. In general, the standard of campsites in Namibia were extremely high, and in Malawi they were very basic. In Tanzania we even camped on a helipad, and in Zambia we camped by a river with crocodiles swimming past (we ensured we were up in our roof-tents early that night!)
Some campsites in Tanzania, Zambia and Namibia even had a swimming pool. However, there were NEVER heated and were very cold; I packed wet-suits for the boys.
Did you have to book campsites in advance?
Booking in advance is advisable for Namibia and Zambia. However, we didn't book a single campsite in advance in our entire 101 days and never had a problem. Although we did snag the last spot at a couple of campsites in Namibia on arrival; we were pretty lucky.
Throughout much of Mozambique, Malawi and Tanzania we were often the only ones camping and barely saw any other overlanders. Although we did bump into a couple of overlanding tour groups in big trucks. You can't miss them. They tend to take over a campsite when they arrive.
EATING AND DRINKING
What did you do about meals?
We had a large fridge in the boot of the Land Rover, which ran off an extra battery, and had cooking equipment (two hobs and a LPG canister). So for the majority of the time, we self-catered. We managed to find supermarkets in most big towns and always ensured we did a big stock up of essentials (milk, baked beans, pasta, meats, cereals, juices), and we were able to pick up potatoes, eggs, bananas and bread from some villages, which became our staples.
We quickly learnt to stock up at every available opportunity, as we never knew how far it would be until the next possible place to purchase food. This rule went for fuel too. In Tanzania in particular, we found it difficult to find food to buy and had too many days living off baked beans and home made chips (which the boys loved!)
I also packed from the UK some powder sachets for spaghetti bolognese and pasta sauces.
However, on occasions when a campsite had a restaurant on site, we would treat ourselves to a meal (it was a holiday after all!)
What did you do if you ran out of LPG?
We could tell when we were running out of gas as our canister would become very light. We had a 5L canister which we refilled three times in the 101 days. It was a case of just asking around to find out where to fill up.
In Malawi, there were LPG stations where you paid a nominal amount for a refill. In Tanzania, there are strict regulations about gas and you have to exchange your canister. However, no one was able to exchange our 5L canister as it's not standard to Tanzanian canisters. We therefore had to beg at a large gas filling station for them to fill our canister. A few extra Tanzanian shillings and a smile from the boys did the trick. Once back in South Africa, we were able to refill at a Build It (a hardware store chain).
What did you do about drinking water?
We bought large 5L bottles of water from supermarkets. It pains me to think how much plastic we threw away, but we needed safe drinking water. Perhaps I should have investigated filters or used more purifying tablets (which we did use sometimes), but when you're travelling long term through African countries, safe drinking water is paramount.
Was beer cheap?
Oh yes! We would buy a crate of local beer from a bottle shop; this was essentially a wooden shack with lots of beer crates for sale. You pay separately for the crate and empty bottles and then for the beer on top. Once your bottles have finished, you return the crate and empty bottles to any bottle shop in the country, pay for the beer, and exchange for a new crate. A crate of local beer (24 bottles) would cost on average £20. What a fantastic recycling initiative! We really should adopt this in the UK.
MONEY
How much did you spend?
We set ourselves a budget of £50 per day, which covered all food, fuel, camping fees and park fees. We pretty much stuck to this. This did not include 4×4 hire, flights and visas. We always camped, unless we were offered a hosted stay in an exchange for a blog review (e.g. Game Haven Lodge, Malawi, and Victoria Falls Waterfront, Zambia).
Now this is a very limited budget for Africa travel and most people spend a lot more. However, having a tight daily budget is how we afford longer term travel and encourages us to embrace a slower pace of travel. It also meant that we had to make some tough decisions along the way. For instance, we decided not to visit Tanzania's Serengeti as it would totally blow the budget, and instead opted for a couple of cheaper safari parks. In fact, we found Tanzania the most expensive country and you can read here how challenging we found that to be.
How did you manage your finances whilst travelling?
We have a budgeting spreadsheet where we note down every single expenditure to keep on top of our spending.
We have a no-fee international credit card with Barclays to withdraw cash from ATMs. The only problem with this is that our card was cloned in (we think) South Africa and subsequently blocked for the entirety of our trip (we were unable to get a replacement sent out to us). So we stopped using card for any purchases and had to always ensure we had enough cash on us. This meant calling the bank EVERY time we wanted to withdraw cash from an ATM, so they would unblock the card for 10 minutes. Quite a palaver, although at least we knew our money was safe.
Were ATMs easy to come by?
Only in towns and cities, and even then there may be a huge queue, or they were out of order. We had to always ensure we had a good couple of hundred pounds safely stashed away in an emergency.
Did you use local currency or US dollars?
For many tourist sites, prices were quoted in US dollars, however we always paid in the local currency. We recommend carrying spare US dollars in case of an emergency, and remember that visas need to be paid for in cash using US dollars.
How much did fuel cost?
On average fuel was about 70p per litre. It was fractionally more expensive in Zambia, and fractionally cheaper in Tanzania.
How much were campsites?
Throughout much of Mozambique, Malawi, and Tazania, campsites were around USD8 per person (the boys were free). Once into Zambia, we had to pay on occasion for the boys, usually half price. In Namibia, prices for campsites were up to a total of USD25 per night; but they were of a MUCH higher standard and this far in to the trip, totally worth the extra money.
Once into National Parks, campsite prices shot up to USD30 per night and were very basic.
What was the most expensive country?
Tanzania. The National Park fees are extortionate.
What was the cheapest country?
Mozambique. Lovely campsites right on the beach and they were good supermarkets around with reasonable prices.
Which country was the best value for money?
Namibia. National Park fees were very cheap and well run, and campsites were of exceptional quality.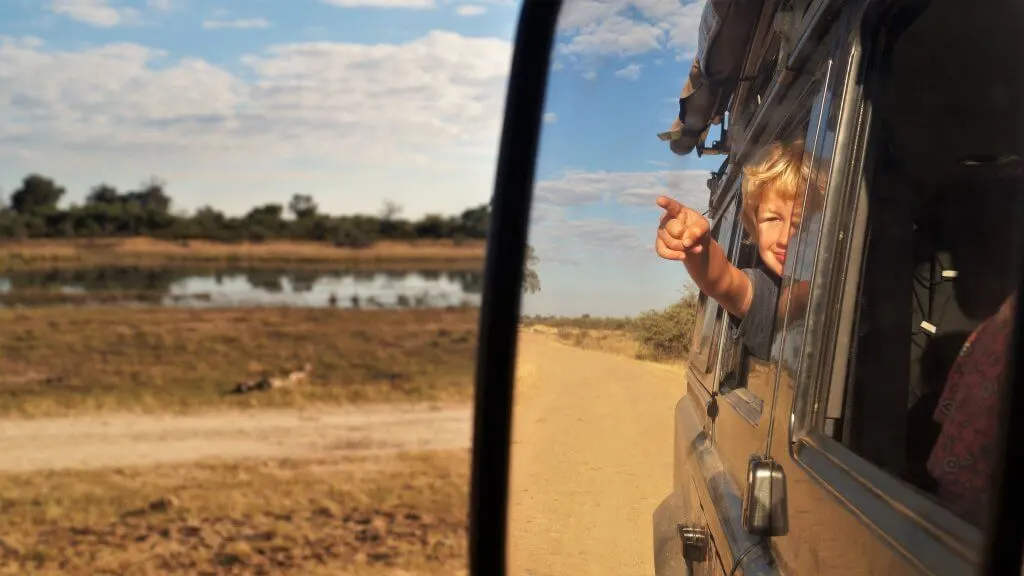 BORDER CROSSINGS
What did you do about visas?
We arranged all our visas on arrival to each border. Generally this was USD50 cash, per person, including children. This was always a long drawn out process, with lots of form filling and faffing over Third Party Insurance, all requiring bucket load of patience (which I really do not have).
We advise arranging visas in advance if you can, although we didn't have a rigid plan with dates and didn't want to lock ourselves down. This certainly would have prevented us being detained for three hours at the Mozambique/Malawi border crossing!
Read a detailed account of our border crossing from South Africa into Mozambique.
What's Third Party Insurance?
Third Party Insurance (TPI) is a compulsory insurance we had take out for each country, despite having fully comprehensive insurance already on the Land Rover. The TPI is supposedly to cover costs if you hit another car, although it's not really worth the paper it's written on. You will be met by TPI sellers as soon as you reach any border. Ignore them and head straight to immigration. TPI can be sorted once your passports have been stamped and visas administered.
How long did border crossings take?
The shortest border crossing was 1 hour (from Namibia to South Africa) and the longest was 4 hours (Malawi into Tanzania). We always aimed to get to a border crossing early in the morning to give ourselves enough time for getting across and then finding a campsite that night (there was rarely one near to the border). They can be confusing and confronting places; I never liked border crossing days. The best thing you can do is ensure you have enough time to sort any eventuality. No two border crossings were the same.
PHONE AND INTERNET
How did you get internet access?
We bought a new sim every time we entered a new country. NEVER purchase a sim at the border as the price will be grossly inflated. Instead, drive to the next town along and head to phone market stall; these will be obvious as they have signs of network brands plastered on and above their shack.
The sim is bought separately from credit. Once purchased, put the sim in the phone in front of the attendant and ask them to show you how to change your credit to internet access. It is very likely that it doesn't work first off, and they have to do a clever thing to your phone to unlock it. I never worked out exactly what they did. But don't ever walk away until you get the phone working.
Is internet access good?
Not at all, unless you're in a town. For much of our travels we were off the grid. So download offline Google Maps when you can and do as much online research as possible for the days ahead when you do get internet access.
CLOTHING
What clothing did you take?
We packed very light and nothing fancy. We lived in t-shirts and shorts, or quick-drying hiking trousers. I also took a couple of long skirts. We each had one hoody for cool evenings and early mornings, and waterproof jackets. To cover up from mosquitoes in the evening, we changed into long sleeved t-shirts and long trousers.
We also packed swimwear, including wet-suits for the boys as swimming pools were never heated, and of course, pyjamas (which the boys often stayed in for early morning game drives).
What about footwear?
Us parents each packed one pair of flip-flops and light hiking trainers. The boys had sandals and light hiking boots. I would ensure they wore their hiking boots in the evening to protect their feet from snakes and scorpions (not that we ever came across any). Make sure your kids have the right footwear. Check out this guide: The BEST children's walking boots.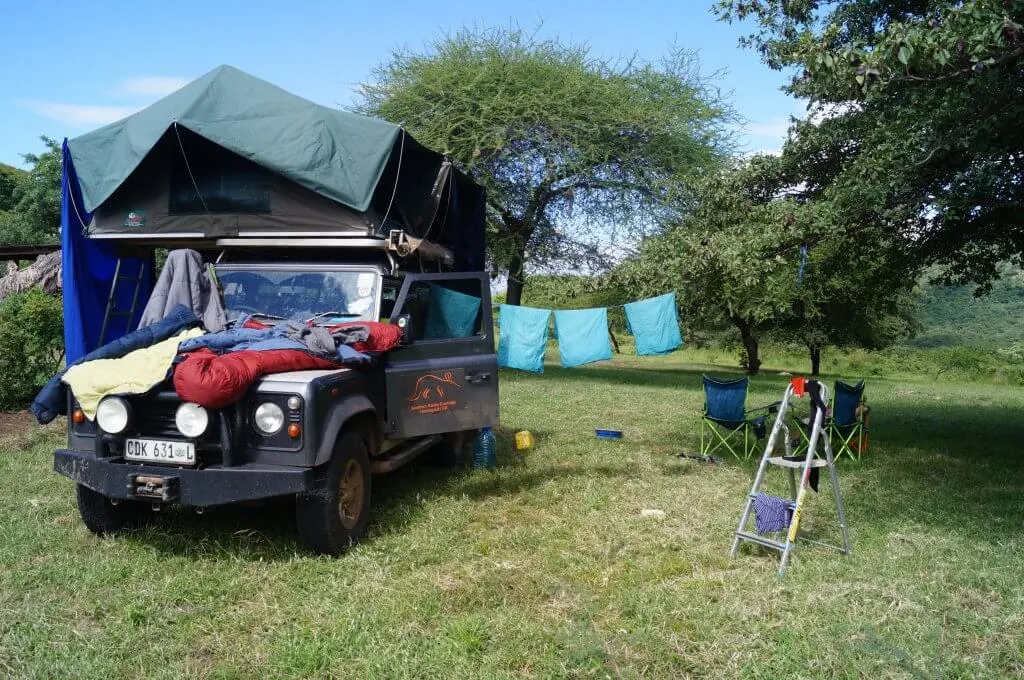 What did you do about washing clothes?
We came across a grand total of two washing machines in the entire 101 days. So mostly we hand washed our clothes. This was an arduous task and I can't say it was fun. It was also very difficult to dry our clothes for weeks in Tanzania due to the incessant rain. I advise packing lots of underwear to avoid too much hand-washing.
Our clothes got seriously wrecked in Africa, so don't pack anything that you want to return home with.
PACKING
Beside clothing, what else did you pack in to the Land Rover?
I've put together our comprehensive packing list for Africa here:
Ultimate family packing list for overlanding Africa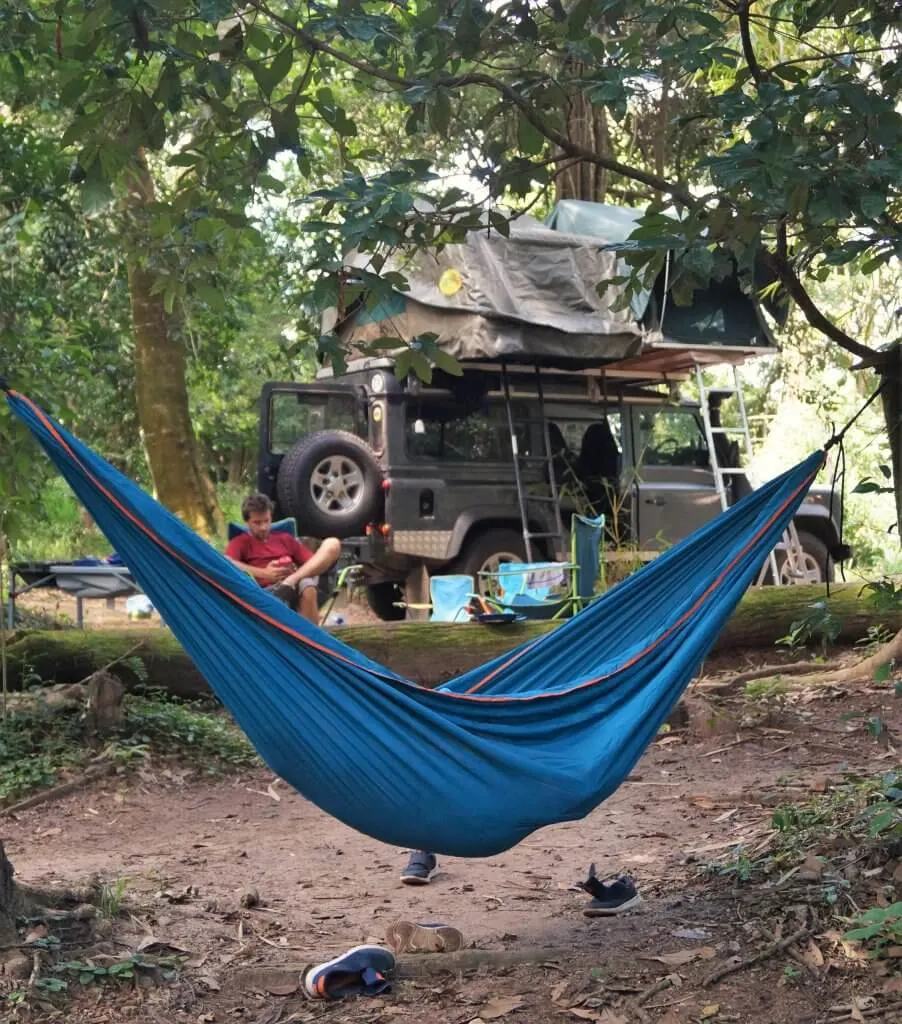 OUR BOYS
What did the boys make of the trip?
The boys absolutely loved it and became such little bush babies making a campfire each night and becoming rather knowledgeable about the wild animals they saw, and their respective poo. They blossomed with us all being together as a family and became more inquisitive about the world around them.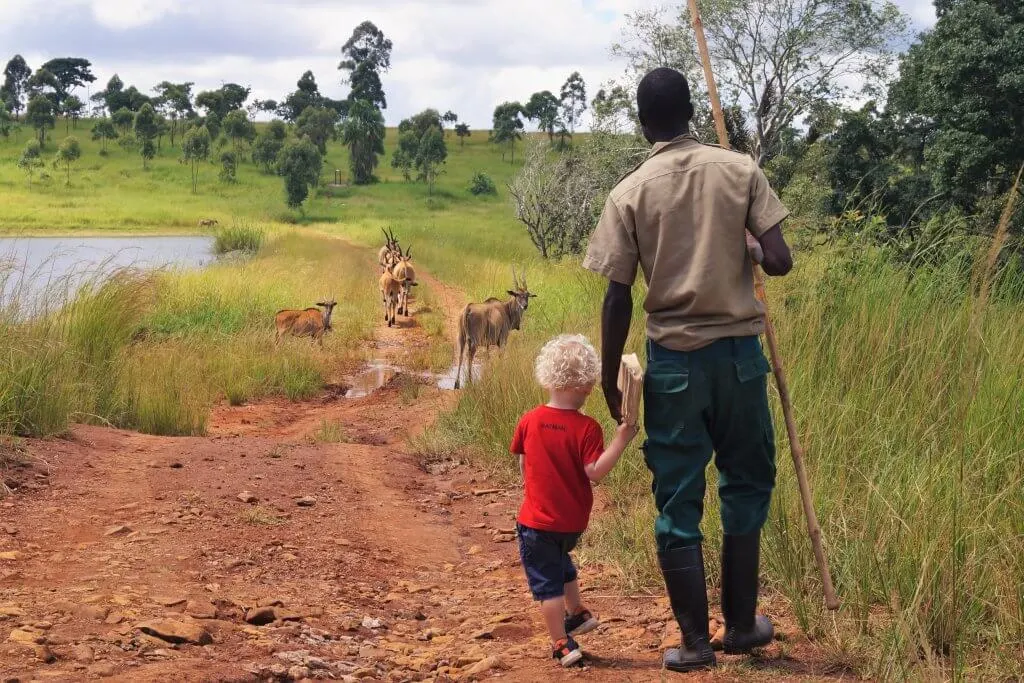 They were totally oblivious to any problems we encountered along the way and actually grounded us to normality on more than one occasion. I will never forget Ezra jumping off benches in a corridor whilst a Malawi border guard tried to bribe $100 from us.
What kind of things did you do with them?
Africa is wonderful natural playground for young kids. Whether it's the game drives (safaris) in search of wild animals, making sandcastles and jumping in waves of deserted beaches, running down sand dunes, hiking up mountains, or playing with local kids along the way, there was so much for our boys to do. And apart from park entrance fees, most of these activities were free.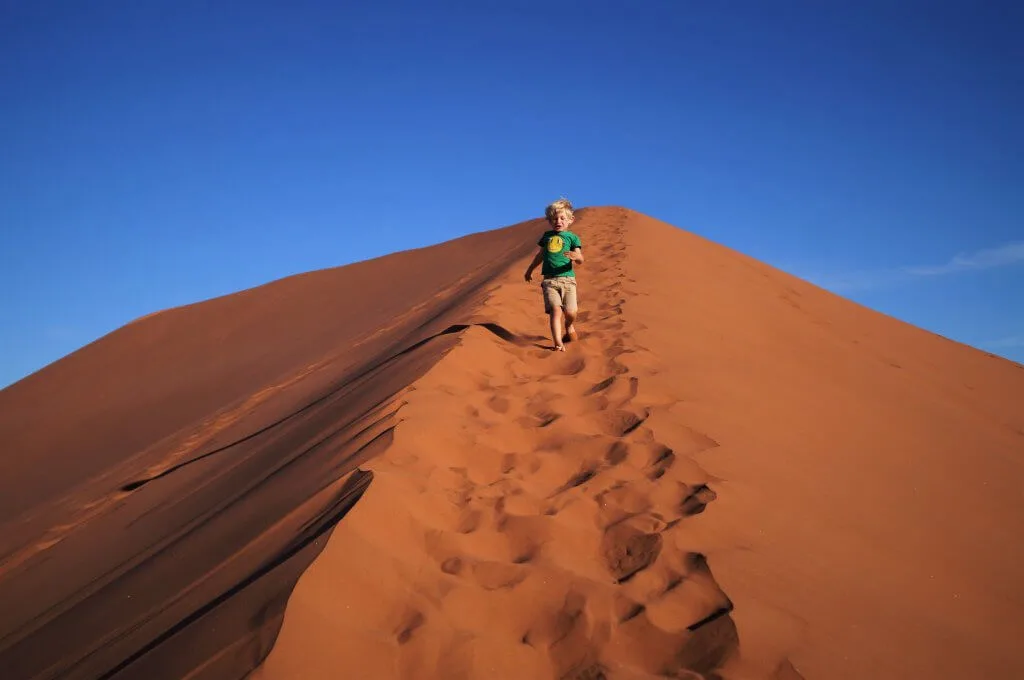 Was it safe to take them on safari?
Most definitely. If you respect the space and behaviour of the animals you encounter on safari and keep inside your vehicle at all times, it is perfectly safe. Also, if staying overnight, check that the camp is fenced; there are some in Africa which are un-fenced and open to wildlife.
You can read our tips for taking young kids on safari here
How did they cope with the long driving days?
We always set off early and if they ever got niggly, we would just pull over and stretch the legs. Though in all honesty, the boys seemed to cope better with the long drives than us parents who were busy negotiating pot holes or police checks (the boys thought this was all great fun!)
Did you take lots of toys for them to play with?
Apart from the odd dinosaur and car, we didn't pack any toys for the boys. We were limited on space and I knew that no toy would hold its novelty for the entire 101 days. The natural environment was their playground, although I always had a craft kit up my sleeve which came out almost every other day. This contained coloured pens, white and coloured paper, paints, toddler scissors and PlayDoh (although this only lasted 2 days – don't bother!) I also packed a few CBeebies Magazines and hid them at the bottom of the suitcase for emergencies. Check out these outdoor craft activities for kids.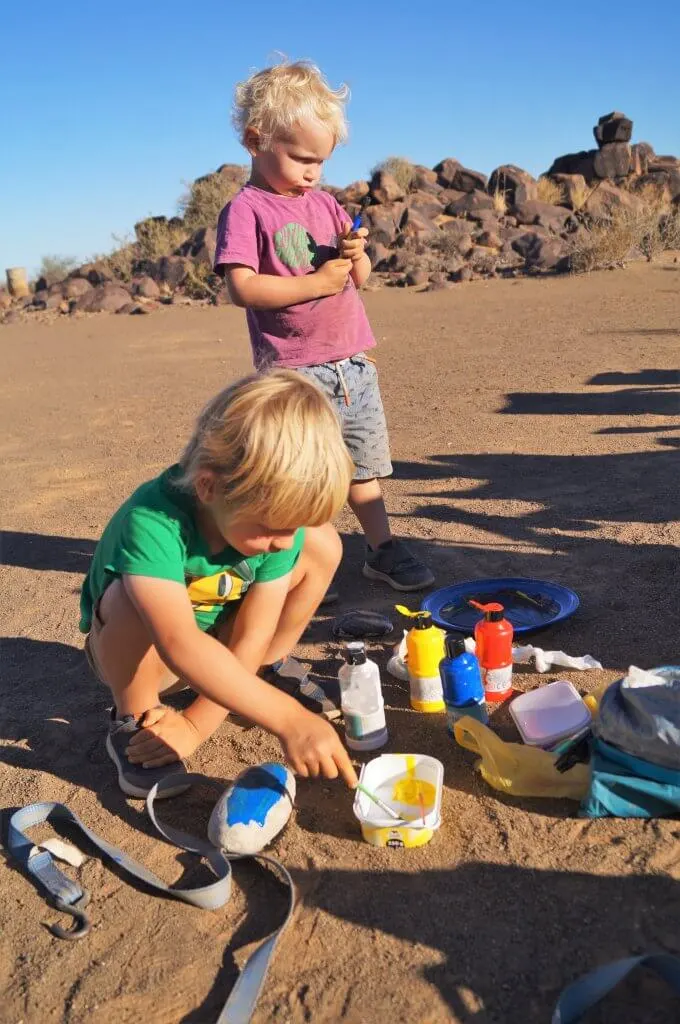 And, as all our regular followers know, we travel everywhere with the Amazon Kids' Fire Tablet. It's loaded with lots of books, games, TV shows and films, for that much needed downtime. They have one each and we've taken them on Indian sleeper trains, trekking in the Himalayas, and, of course, across Africa.
How did you cope being altogether so much?
It was honestly wonderful! We were taking on Africa as a family and we formed such a tight bond. There were still the usual every day parenting struggles. Travel doesn't fix them, it merely provides a different and ever-changing backdrop. However, what we did have on our side was time. When we're all back at home in school/work routines, we never have enough time and tensions rise when we try and get the kids to do things quickly. In Africa, we didn't have these responsibilities and we could take our time. Such a luxury that we learnt to appreciate.
FINAL QUESTIONS
What was your favourite place?
This is a tough one as each country offered something completely different. We loved the beaches of Mozambique, the warm welcomes from Malawi, the epic wildlife encounters of Tanzania, the rush of energy from Victoria Falls in Zambia, and the uniqueness of Namibia.
But if you gave me a plane ticket and told me I could fly to one country right now, it would be Malawi. This small country packs so much into a compact area; with mountains, beaches and wildlife encounters. Plus there were good supermarkets to stock up on food and such a friendly vibe. It felt like 'the real Africa', without mammoth drives between destinations.
Is there anything you would have done differently?
Packed more underwear.
We also sometimes question if Tanzania was worth the effort; national Park fees were extortionate, police blocks frequent, and rains incessant. Perhaps we should have entered Zambia into South Luangwa National Park from Malawi and given ourselves time for Botswana. However, seeing the clouds clearing above snow-capped Mount Kilimanjaro and witnessing the hundreds of elephants cross the plains of Tarangire with no one else around, these were such precious moments that totally made Tanzania worthwhile.
I also wish we'd had done a short 4×4 course before we left.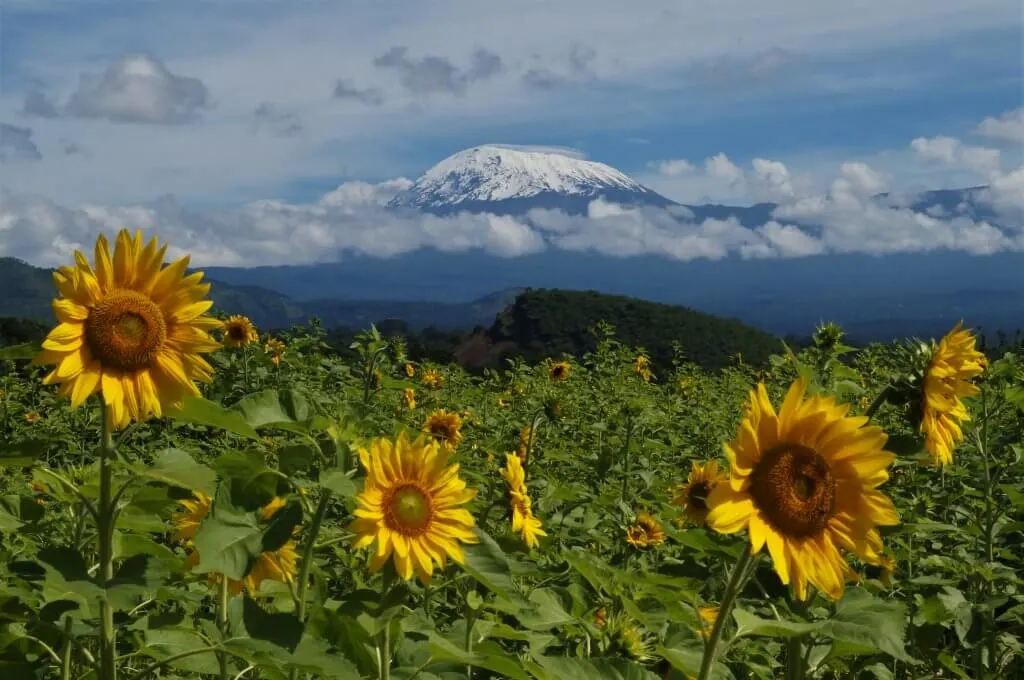 Where would you recommend first timers go, short on time?
Namibia. The infrastructure is excellent and travelling around is much easier. The National Parks are great value for money and the country offers such a dynamic contrast of activities (sand dunes, beaches, game drives and developed cities). Just be prepared for long driving days.
Would you return to Africa?
Once you've visited the heart of Africa, it is forever part of you. We now feel we have such a strong connection to the land and its people and will definitely return one day. However, it won't be any time soon. This was an epic trip, which was exhausting and challenging at times. We are still processing it all and don't want to try and replicate the adventure or fix our mistakes quite yet. We will be back one day.
Living life in a Land Rover with the luxury of time together as a family was extremely special and those nights huddled together around the campfire with the stars of Africa watching over us will be forever etched on my mind.
---
The Lonely Planet Africa, and the Tracks4Africa Africa Southern Traveller's Atlas were invaluable throughout our travels.
You may also like to read:
Travelling Africa with kids: our top 10 highlights
Medical kit list for families travelling Africa
Tips for a safari with kids under the age of 5