Tanzania boasts some big ticket items – the tallest mountain in Africa, the best game viewing in Africa, and the Arabian allure of the Zanzibar archipelago. If you have the money, the itinerary of Serengeti, Mt Kilimanjaro and Zanzibar make for an impressive African adventure. But for budget travellers overlanding from Malawi with two young kids, Tanzania wasn't as straightforward.
This overland Tanzania itinerary, which forms the third part of our overland adventures through Africa. You may like to read about our Mozambique itinerary, and our Malawi itinerary.
To bear in mind with this overland Tanzania itinerary
Tanzania was more challenging than we had initially expected and you may want to read my recent post – is travelling Tanzania with kids worthwhile? In short, the answer is a resounding yes! But be prepared for very long travel days, negotiating an infinite number of trucks on the main road and an omnipresent police force who border on harassment. Also ensure you avoid the rainy season (March through to May) as the incessant rain turns the mud roads to an impassable slush. Unfortunately our visit was timed with the worst rainstorms in decades, which hindered any beach time and forced us to travel more quickly through the country than we had originally planned.
It was indeed difficult at times, but we experienced some incredible moments that would make us go back and do it all again in a heartbeat. To balance out the tough travel days there are a handful of fantastic family-friendly campsites across the country. Indeed, the standard of campsites in Tanzania is much higher compared to Mozambique and Malawi. Some places even have a swimming pool and kids' play area. Prices are generally USD10 per adult (children under 5 are free).
This 3.5 weeks Tanzania itinerary with kids continues from our Malawi itinerary with kids, hence starting from day 40. If you're planning a budget, self-driving trip to Tanzania with kids, I hope you find this useful.
You may also want to check out our ULTIMATE Africa packing list for overlanding Africa with kids.
Day 40: Malawi/Tanzania border
It was a long wait on the Tanzania side of the Songwe border. The visas were straightforward, the problem was actually paying for the Road Tax; they have a policy of not accepting cash, their machines weren't working, and as it was a Sunday, all the banks were shut. After a 3 hour wait, the officials finally accepted cash from an ATM and we were on our way.
The heavens opened as soon as we left the Malawi border. It's a 1.5 hour drive through lush tea and banana plantations to the very basic Bongo Campsite just north of Tukuyu.
Day 41-42: Drive to Ruaha National Park
The drive from Tukuyu to the gates of Ruaha can be done in a day with a very early start. However, with young kids, we preferred to break up the journey at Kisolanza Old Farmhouse. We then camped at Chogela Campsite, 45 minute drive from the park gates.
Day 43: Ruaha National Park
Ensure you have a both Mastercard and Visa to make payment at the gate. We only had Visa and none of our three(!) cards would work (after an hour negotiation, we were allowed pay by cash). Once inside Ruaha NP we saw elephants, giraffe, zebra, impala. We decided not to camp at the only campsite open in the park; on arrival there were a family of elephants grazing next to a crocodile-infested river and no fence or ranger. We instead decided to return to Chogela Campsite (which was a third of the cost, had better facilities and no dangerous wildlife). As we made our way from the park gates we stumbled across two mating lions! Read: tips for a safari with kids under the age of 5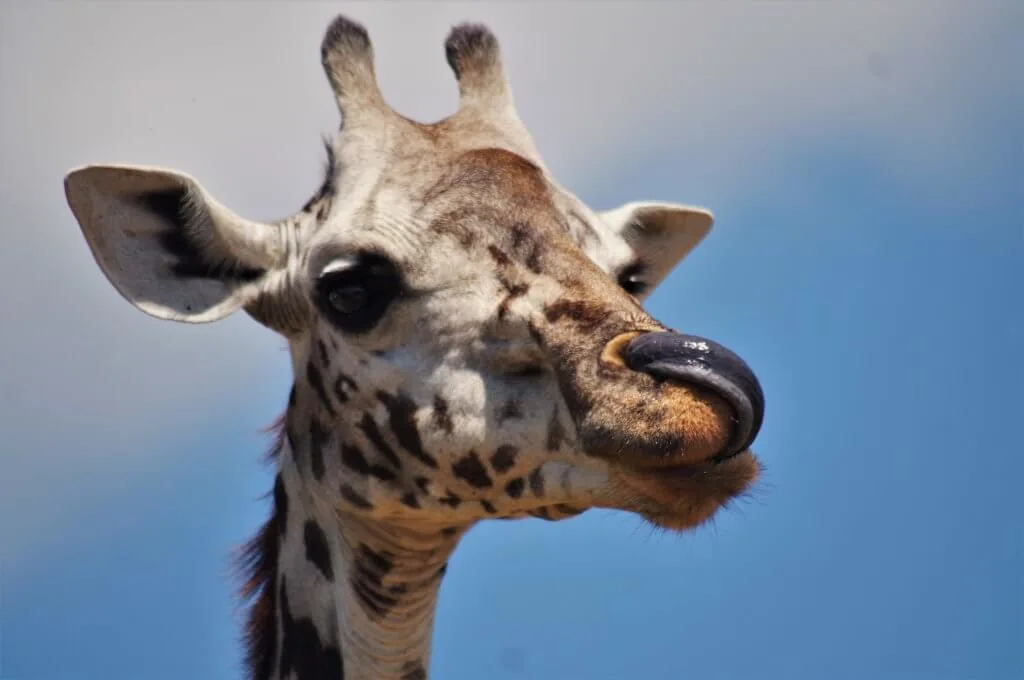 Day 44-46: Tan-Swiss Lodge, Makumi
It's a day long drive to Tan-Swiss Lodge (stock up on food and fuel and Iringa), but we were rewarded with our best campsite yet. Run by a Tanzanian-Swiss couple, this great resort has good camping facilities and an onsite restaurant. However, the huge bonus for families is the swimming pool (including kids' pool), playground, toy box, and kids' bikes!
Day 47: Bagamayo
After much deliberation, we decided against visiting Zanzibar. It would have meant leaving out beloved Landy behind on the mainland and blowing the budget on accommodation and restaurant meals. When the forecast warned of heavy showers for the following week, we figured it was a sign. Instead we made the 6 hour drive to the old colonial town of Bagamayo.
It's a short walk around the old town, but it's fascinating. It's still unmistakably African but with a definite element of India and Arabia thrown into the mix. The narrow streets are framed with crumbling, German colonial buildings, the fisherman sit around preparing their catch, whilst the call to prayer drifts from the mosque across to the Indian Ocean.
We stayed at the quirky Firefly, where our boys loved playing with the marble run and foosball table. There is also a small swimming pool in the centre of the outdoor restaurant.
Day 48-50: Peponi, Pangani
We had initially planned to camp at Beach Crab, 45 minutes south of Pangani. However, once we turned off the main dirt track running parallel to the coastline, the road seriously deteriorated and a torrential downpour made it impassable for us. We took the car ferry across to Pagani (TSH5000 per car and TSH200 per adult) and camped at Peponi, just 30 minutes north of town.
Peponi is a very lovely resort, with a chilled-out beach front bar, swimming pool and beach-side camping. However, the beach has a large tidal range, which exposes an rather ugly shoreline, littered with plastic when far out. Also, we experienced seriously heavy rains for our two whole days here. We had initially planned a good week of beach time, but the rains forced us onwards.
Day 51: Lawns Hotel, Usambara Mountains
Stock up in Tanga at the Mkwabi Supermarket, which has toy cars on trolleys for the kids. It's then a three hour drive to the picturesque village of Lushoto, taking the winding paved road up the mountain from Mombo. Despite the rain, the clouds lifted just enough for us to appreciate the lush and craggy hills, defined by gushing waterfalls.
Enjoy the hospitality of the old-colonial Lawns Hotel, with good camping facilities. The Italian-Cypriot owners have young children, so there is a fantastic playground for your little ones to enjoy whilst you soak up the old-world ambience. There are walks to the viewpoint and waterfalls. You may find it a bit far for little legs and can arrange for a taxi to take you part of the way.
Day 52-54: Mount Kilimanjaro
You don't need to pay the hefty park fees and enter Kilimajaro National Park to appreciate the views. There are some lovely walks through coffee, banana and sunflower plantations in the foothills to enjoy that are free. We stayed at Coffee Tree Campsite, Marangu, a beautifully kept camping ground in the foothills with fantastic facilities.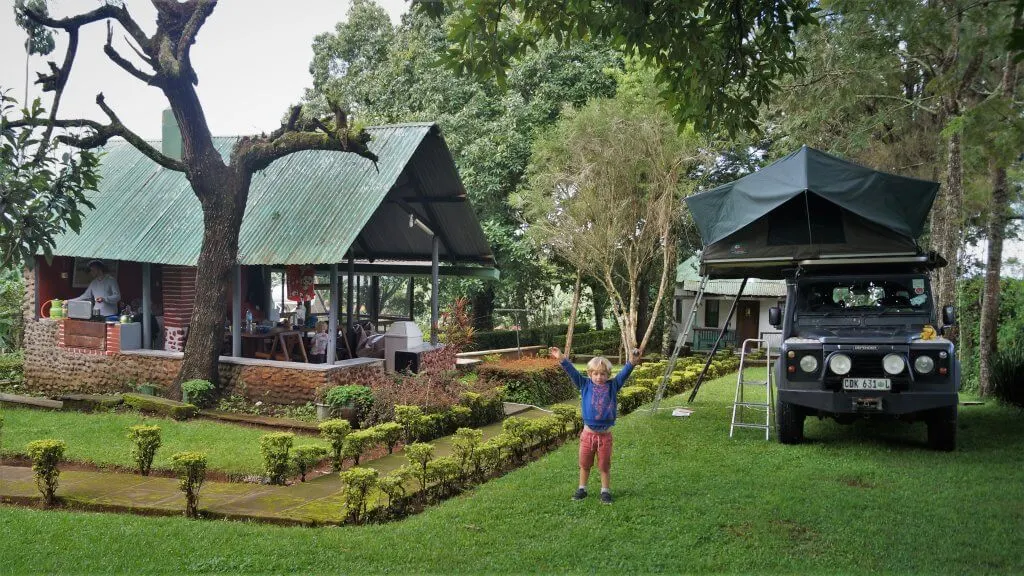 Views were obscured by heavy rain clouds for our first day, but we sat tight and our patience was rewarded with magnificent views on the second morning. Due to the uncommonly heavy rainstorms, the peak of Kilimanjaro was covered in a thick blanket of snow.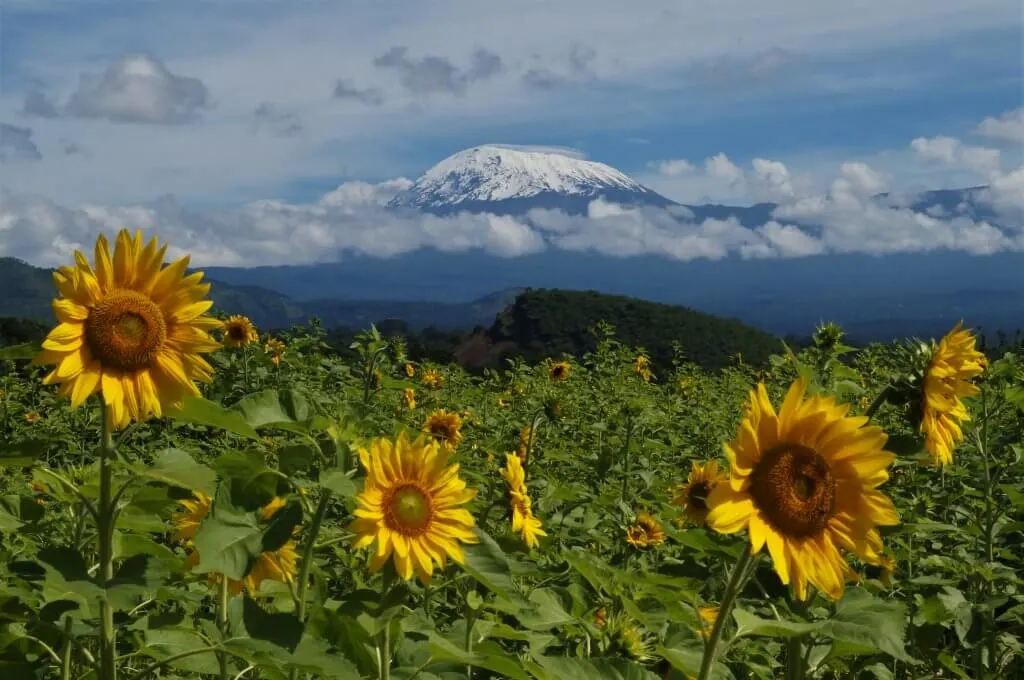 Then head into Moshi to enjoy a slap up Indian feast at Milan's (such a treat after all our weeks camping) and then onwards to Arusha, where we camped at Masai Camp.
Day 55-56: Tarangire National Park
The Serengeti is perhaps the best wildlife viewing park in Africa. However, this privilege comes at a hefty price, which you can read more about in our post – Is Tanzania with kids worthwhile? For a fraction of the price, we decided to visit Tarangire National Park, which is renowned for its large elephant population. Stay overnight in the park for a true safari experience. There are no fences, but a ranger is on guard. Falling asleep to the sounds of lions roaring in the distance was a highlight of our time in Tanzania.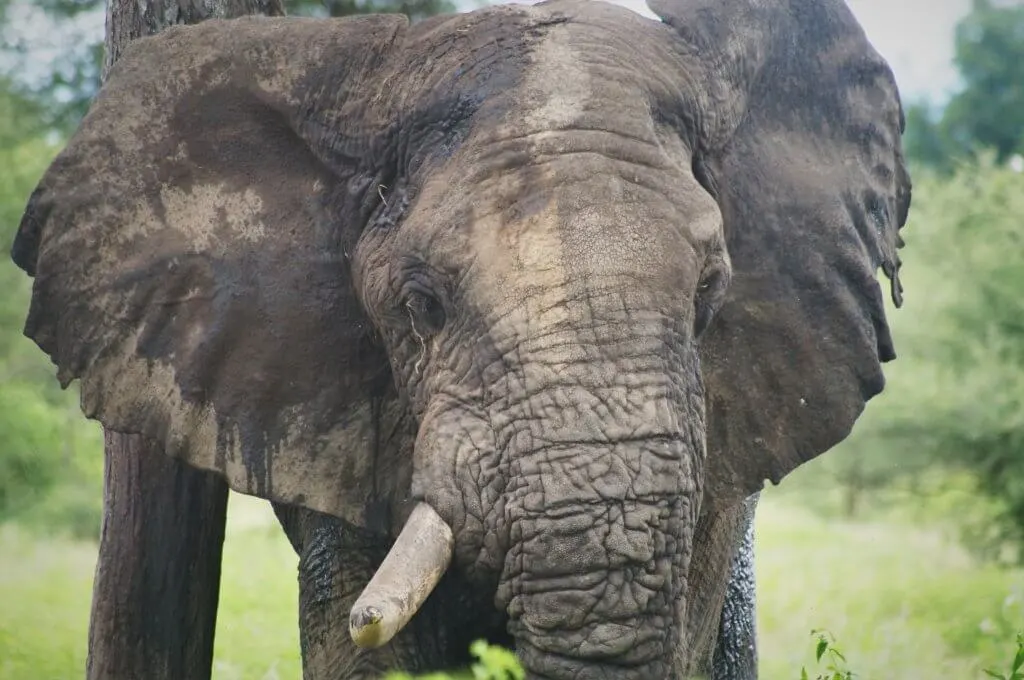 Your park entrance fees last for 24 hours, so if you enter the park at 1pm on the first day, you can easily fit in a game drive the following morning. It's then a 2 hour drive to the basic Amarula Camp, Kolo.
Day 57-58: Driving days toward Zambia
Dotted around the town of Kolo you will find some beautifully preserved ancient rock art (a UNESCO World Heritage Site). However, we were unable to reach them as the track was in such a terrible condition after the rains.
On the map, it may look like a bit of a slog to the Zambia border, but the stretch south to Iringa is void of trucks, the tarmac is in good condition and the views on a clear day are spectacular. It makes for a very pleasant drive. However, once you're back on the Tan-Zam Highway, the road is far from relaxing with infinite trucks to negotiate and a strong police presence to keep you on edge.
We stopped over at the questionable Bwawani Lodge and Campsite as there wasn't enough daylight to get to Kisolanza, which we stayed at the next night, before another long day to get to Utengule Coffee Lodge, just over an hour from the Zambian border.
Day 59-64: Utengule Coffee Lodge, near Mbeya
Long-term travel allows you the greater flexibility over your time. We had only planned on spending a night or two at Utengule Coffee Lodge, but ended up staying almost a week. This is a delightful lodge with beautifully manicured gardens, swimming pool with kids' section, wonderfully accommodating staff and a grassy camping spot on their helipad. This gave us the perfect opportunity to recharge before heading across to Zambia.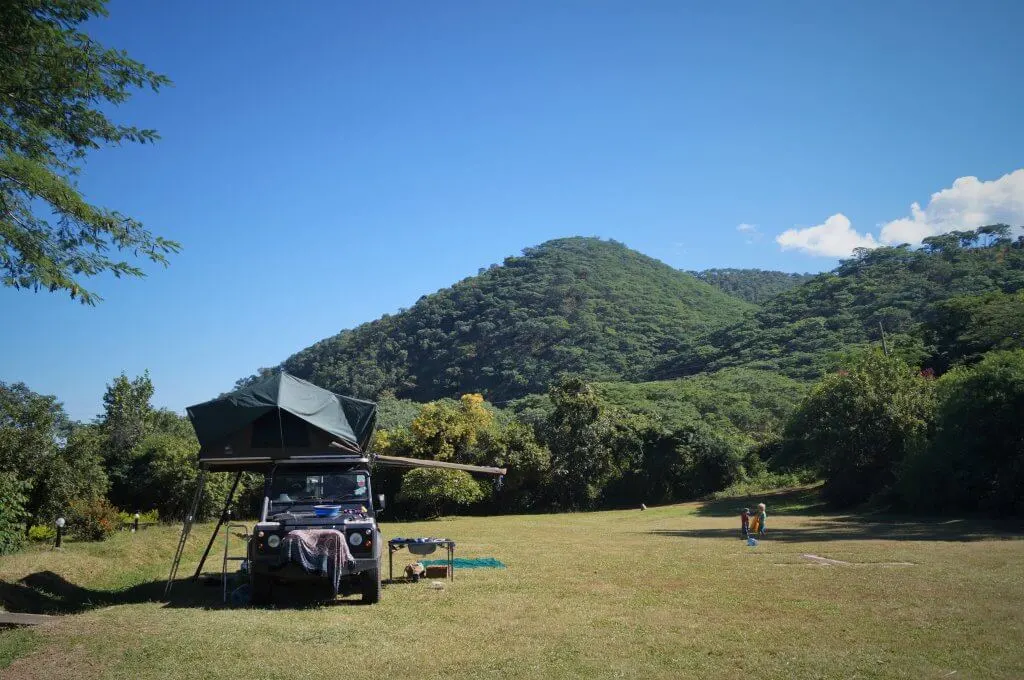 Day 65: The Zambian border
It's a 2 hour drive to the Zambian border at Tunduma. Get an early start on the day and prepare yourselves for a long wait at the border. Read our Zambia itinerary.
---
If you are short on time and looking to do a tour, check out this 10 day Tanzania family tour from our friends over at Mini Travellers.
Where would we be without our trusted Lonely Planet? The Tanzania Lonely Planet guide was invaluable to our overland travel planning.
You may also like to read:
Overland Mozambique itinerary
Overland Malawi itinerary
Self drive Africa overland with kids: everything you need to know
For more posts on Africa, head to our AFRICA page.