Are you planning an epic trip to Africa? If you're looking for the ultimate Africa packing list for families, then read on. We travelled Africa overland for 101 days so we had a lot of practice with our kit, working out exactly what we needed and what we could do without. We always try and travel as light as possible, so hopefully this will help you decide what to pack for Africa!
We spent 101 days overlanding Africa in a Land Rover Defender, with our two young boys (aged 2 and 4). Although we were self-driving, we didn't want the Land Rover to be stuffed full with anything and everything. This was our home for a few months and we wanted to ensure we weren't playing Jenga every time we needed fresh undies or a tin of beans. Plus, a large fridge running off a second battery took up a considerable space in the boot. We aimed to pack light and were very strict on what we took with us.
I've compiled this comprehensive Africa packing list for families, whether it's for a two week or two year trip. Whilst there's a camping gear and equipment section for an Africa overlanding packing list, the clothing section is perfect for anyone needing a safari packing list.
Make sure you read this first if you're considering doing an African safari with kids.
Some of the gear listed in the below Africa packing checklist could possibly be purchased along the way. GAME supermarket, found in a few large towns across Southern Africa (Lusaka in Zambia, Blantyre in Malawi, Maputo in Mozambique for instance), stocks basic camping clothes and equipment. It's definitely easier to have everything ticked off your Africa packing list before you hit the road, but knowing there are occasional shops en-route provides peace of mind in case anything needs replacing; your kit will get some serious use and must be robust for long term travel.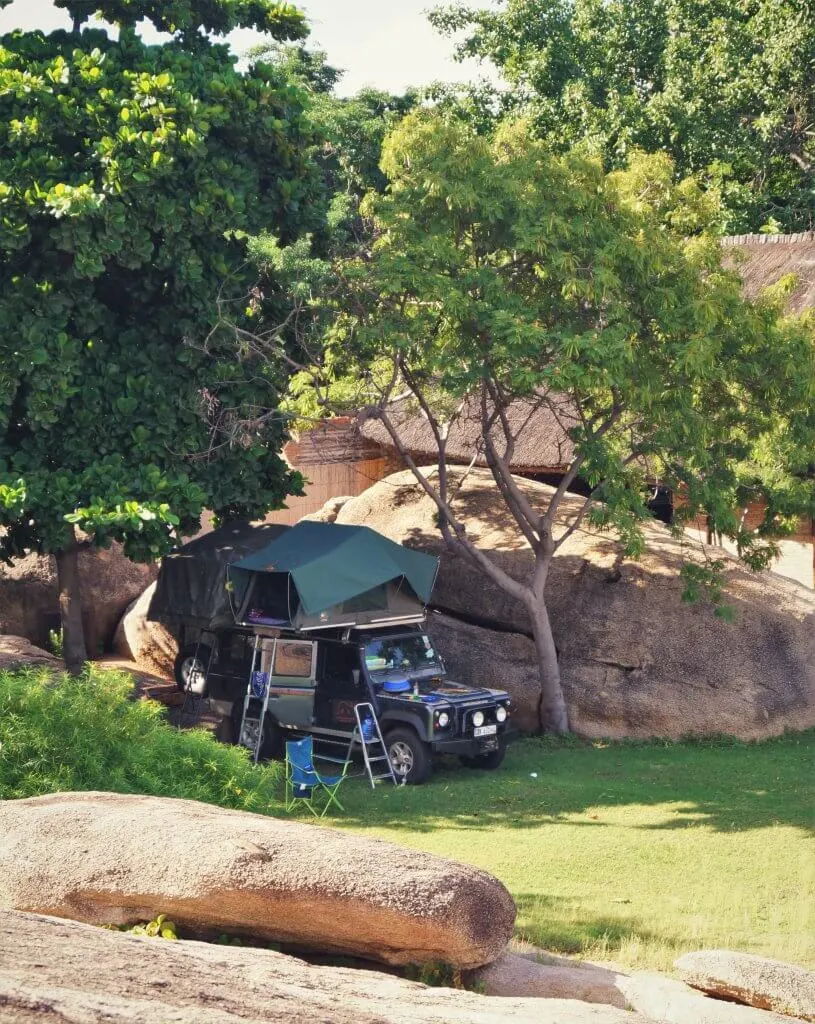 Clothing
With your clothes for an Africa trip, expect to hand-wash your clothes as washing machines are few and far between. Don't forget to pack washing detergent.
Ensure your clothing is breathable, lightweight and quick drying. You really don't have to adhere to khaki clothing, but try and avoid blues and black as for some reason the tsetse fly is attracted to these colours.
Underwear (pack more than you usually would to cut down amount of hand-washing)
T-shirts (4 each)
Shorts and quick-drying hiking trousers (parents one of each, kids had 4 shorts each and a pair of tracksuit bottoms)
Long light trousers and long-sleeved t-shirt to protect from mosquitoes in evening
Long skirts (couple for Mum)
Sarong
Jumper / hoody
Sun hat / sunglasses
Pyjamas
Swim suits
Wet suits for kids (African swimming pools are rarely heated and we always find them to be on the chilly side)
Hiking boots
Trekking sandals
Flip flops
Make sure your kids have the right footwear. Check out this guide: The BEST children's walking boots.
Everyone should wear closed toe footwear as soon as it's dusk to protect your feet from possible scorpions and snakes (although more likely from ant and mosquito bites). During the day, trekking sandals or flip flops are fine (depending on how active you're being that day).
These 3-in-1 jackets from Mountain Warehouse are perfect for Africa. It's a 3-in-1 fleece and waterproof jacket, with detachable hood. The fleece on its own is perfect for those cool evenings, the waterproof jacket a necessity for those downpours in Tanzania, and combined, it is just what you need to keep warm on those freezing winter mornings in South Africa and Namibia (yes, it does actually get cold in winter!)
Click to purchase for Mum, Dad, and/or the kids.
Almost all swimming pools we came across were unheated and on the chilly side. We recommend packing wet-suits for the kids to keep them warm and in the pool longer. Remember to purchase on the small side as they work better with a tight fit.
Click to purchase kids' wetsuits.
Medical and toiletries
You can find a comprehensive medical kit list here for family travel to Africa. We strongly advise packing a malaria test kit and taking antimalarials (speak to a travel clinic for expert and up-to-date advice).
For long term travel on your packing list for Africa, don't bother with travel sized toiletries; they will run out quickly and you'll struggle to find good replacements (it was really difficult to find hair conditioner in Tanzania). Pack full size.
Toothbrushes and toothpaste
Face-wash
Shampoo / body wash and conditioner (consider packing a shampoo bar to save on space, it's also better for the environment!)
Hairbrush (and hairbands/grips)
Moisturiser
Menstrual cups (ladies only!) – tampons and sanity pads are difficult to get hold of and there is no way of hygienically disposing of them. Menstrual cups last for up to 15 years and are much better for the environment.
Mosquito repellent – We prefer the roll on rather than spray as seems to last longer. Go for max strength (the mossies in Mozambique are particularly unforgiving).
Camping gear
Most cooking gear will be provided by your hire company. Our Land Rover also came with two roof tents (shown in video below).
On collection of your vehicle and before you set off, check that your kit is of high quality and will withstand the test of time on the African roads. We recommend not driving too far on your first day and doing a recce to check everything works as it should.
Cooking gear
We had an LPG canister (the green cylinder attached to the rear of the Land Rover in photo below), that we would connect to a two-hob gas stove (similar to this). Braiis (BBQs) are also available at many campsites across Southern Africa.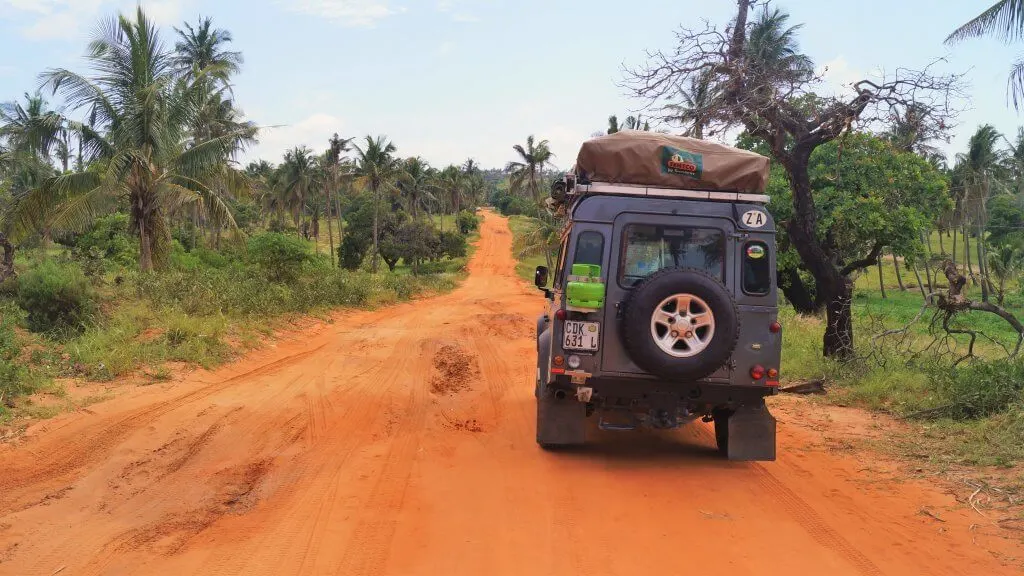 The following should be provided by your hire company, although please check as you will also need:
Mugs
Bowls and plates
Cutlery (including chopping knife)
Bottle opener
Sauce pan and frying pan
Washing up bowl (we had a collapsible one similar to this)
Washing up liquid, scrubber and tea towel (picked up from any supermarket)
It's worth packing from home some packets of dried pasta, Colman's receipe mixes (spaghetti bolognese, tuna pasta bake) and, of course, Marmite and tea bags (well I am British!) We also packed powdered milk as our youngest was still having milk before bed.
General camping gear
Travel washing line and washing detergent for hand-washing clothes
Head torch – this one featured below is super bright and you can recharge using a USB.
Solar lights – it gets dark so quickly in Africa each night and campsites are rarely lit. So you're not always relying on batteries or charging, solar lights are an absolute must. Ideally pack a minimum of two.
Hammock – for that much needed downtime.
Cold weather sleeping bags, sheets and pillows (the latter you'll probably want to purchase in Africa)
Camping chairs and small folding table (these will definitely be provided by your 4×4 hire company)
Picnic blanket – this one featured below is a good size, waterproof, sand proof, folds up really small, and you can peg it down.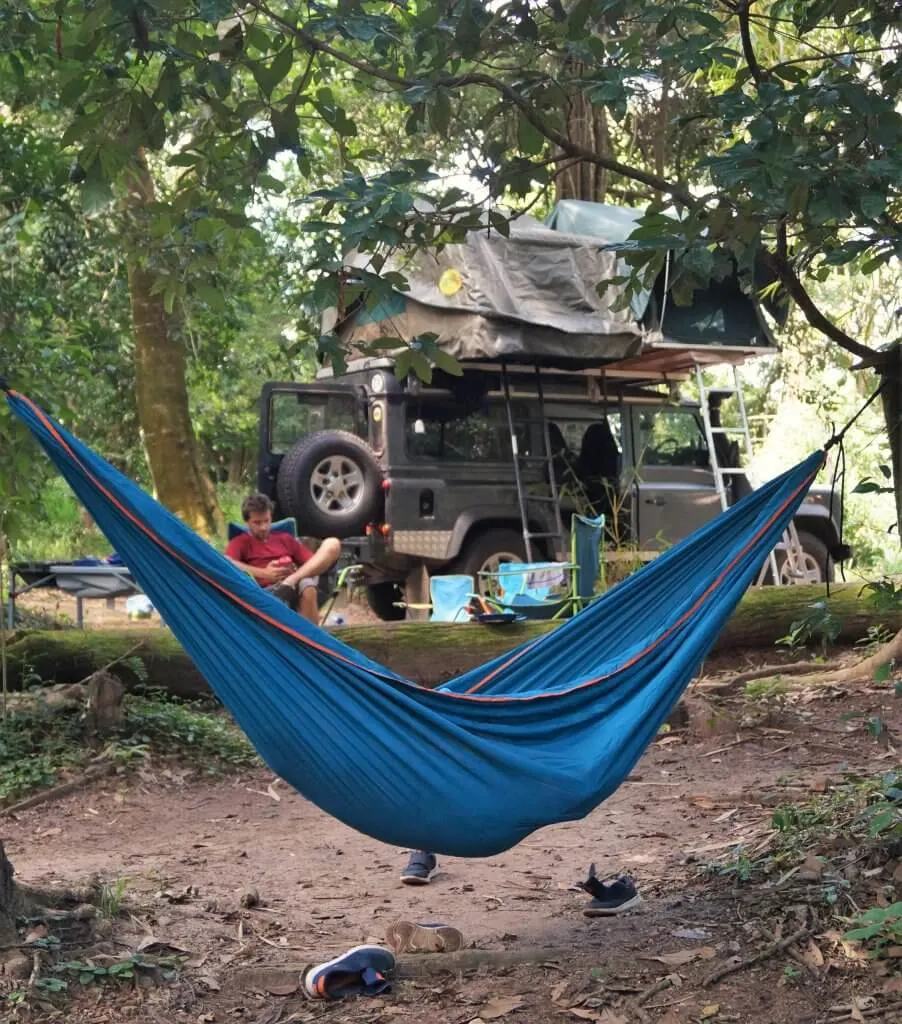 Land Rover kit
This should all be provided by your hire company. Check that you know how it all works and take photos to remind you in case of an emergency.
Tool kit
Extendable jack
Warning triangles, high viz jackets
Air compressor to change pressure of tyres according to road conditions
Navigation
Tracks 4 Africa was invaluable for our overland travels. The Southern Africa Atlas contains details maps that include information on where to stay, eat, shopping, fuel, money matters, emergencies and what to see and do when you visit a place. It even details the road conditions!
Click here to purchase your Tracks 4 Africa Southern Atlas
However, Tanzania is not covered in their paper map series and you may wish to purchase the Tanzania Freytag-Berndt separately.
We also relied on Lonely Planet guides for each country we drove through:
You may want also to hire through your hire company sat nav and a satellite phone.
Kids' stuff
Apart from the odd dinosaur and car, we didn't pack any toys for the boys. We were limited on space and I knew that no toy would hold its novelty for the entire 101 days. The natural environment was their playground, although I always had a craft kit up my sleeve which came out almost every other day. But if you are tempted, check out these best travel toys for entertaining kids on a road trip.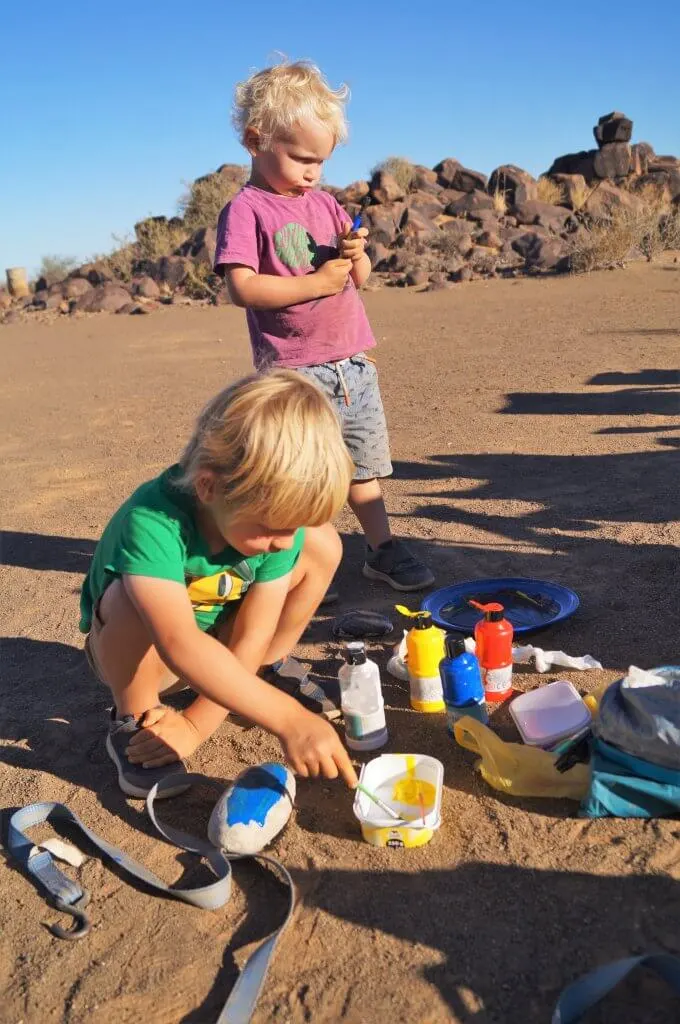 Kids' craft kit containing coloured pens, white and coloured paper, paints (only pack blue, yellow, red and white, as you can mix any other colour), toddler scissors. Don't bother with Play Doh, ours lasted two days after falling in dirt and getting mixed up in sand. It's always handy having a few colouring sheets, such as the free downloads from ABC Colouring.
CBeebies Magazines
Amazon Fire tablets (loaded with books, games and TV shows)
Kids' binoculars – essential for wildlife spotting on safari
V-Tech Kids Camera – we really should have packed one each for them.
Travel potty – even if they're potty trained as public toilets on the African road are an absolute rarity. This portable urinal is super handy (or you could use a plastic bottle 😉 )
Parents' stuff
Plug adaptors, extension lead and car phone charger
Power bank x2 – you may go days without electricity
Small laptop (check out these best travel laptops)
DSLR camera with zoom lens for those wildlife captures (click here for the latest version of the one I use, although mine is 7 years old now!) You may also be interested to read about these best cameras for travelling with kids.
Spare SD card and camera battery (you WILL need them)
Phone (with offline Google Maps downloaded) – don't take an expensive one as it WILL get broken. Rather than a iPhone or Samsung, we use CUBOT.
And you may even consider packing a drone to capture those truly epic aerial shots.
---
The Lonely Planet Africa, and the Tracks4Africa Africa Southern Traveller's Atlas were invaluable throughout our travels.
You may also like to read:
FAQ: Travelling Africa with kids
Medical kit list for families travelling Africa
Tips for a safari with kids under the age of 5