AD – This is a paid advertising feature for Green People. As always, we only work with products and brands that align with our values and feel would benefit our audience. Also, this post contains affiliate links; should you click to purchase, I receive a small commission.
Sunscreen is a must for our backpacking adventures through Southeast Asia with kids. The sun is deceptively strong here, especially with the UV rays bouncing off the clouds. However, with all the swimming in tropical waters where coral reefs are common, we're very conscious in using sun protection that is ocean friendly. But the number one criteria is that we don't want to burn; carrying a backpack on burnt shoulders is rather excrutiating!
So when Green People got in contact with us to review their sun care products, as well as their new shampoo bars (very handy space saver), we were very keen to try them out for our Southeast Asia travels.
About Green People
Green People are a pioneering organic skin care brand that lead the way in environmentally-friendly, ethical products. None of their products are tested on animals and their packaging is recyclable. Year on year they are improving their products and have even released a new vegan sunscreen. Plus, their products are great for people with sensitive and eczema-prone skin.
Products we were sent
Three different scents of the new shampoo bars
Organic Children SPF30 Sun Cream 150ml
Adult SPF30 Sun Cream 200ml (new vegan formula)
Organic Children After Sun 150ml
Adult After Sun 200ml
Scent Free Facial SPF30 Sun Cream 50ml
Organic Children Quick Clean Hand Foam 100ml
Our personal experience of the products
We have now been using the Green People products for over two weeks through Thailand and Cambodia. We still have eight weeks of travel to go, and none of the products sent to us are near running out!
The suncare products
Let's first talk about the suncare products. These are separate for kids and adults, but in all honesty, I've sometimes use the kids sunscreen myself, and the boys have used the adult sunscreen on occasion. No-one has had that stingy feeling you sometimes get putting on sunscreen to sensitive skin and there's a nice even spread (a little goes a long was with this sunscreen).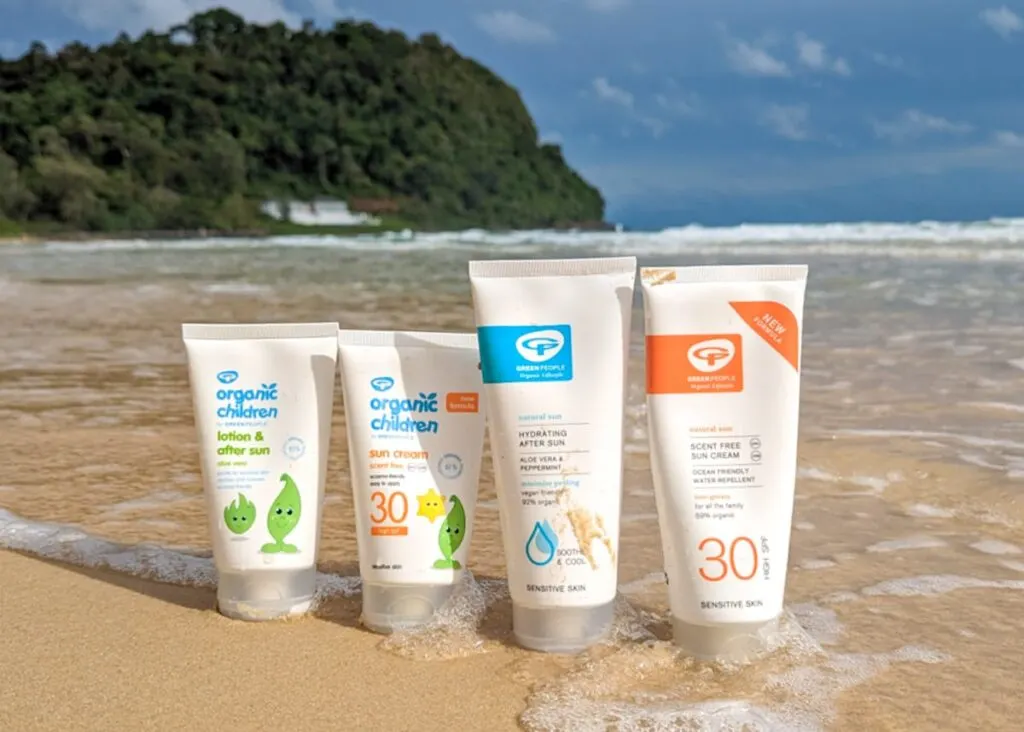 I did have a concern that the sunscreens were only SPF30 max. As parents, we've had it drilled into us that SPF50 is the only factor sunscreen we should be using. I checked this with Green People and they explained, "Green People currently offer SPF30 as their highest factor which offers a high protection of 97% against UVB rays. We feel a factor 50 can sometimes lead to false protection as people may think they don't need to reapply as often because it is a higher factor. Whatever the factor, we always recommend our customers to reapply sun cream regularly every couple of hours."
And you know what? SPF30 has been absolutely fine for us so far in Thailand and Cambodia.
The products are scent free, but to me they have a subtle smell of marsipan. I quite like it. No essential oils or fragrance has been added to this product, the light aroma is naturally occurring from the raw materials in the formulation.
As for the After Sun products, we've actually used these not for sunburn, but for soothing the skin from sand-fly and mossie bites. Works a treat!
Oh and the small SPF30 sun cream that's 50ml is perfect for fitting in my bumbag that I carry around everywhere when we're out sightseeing.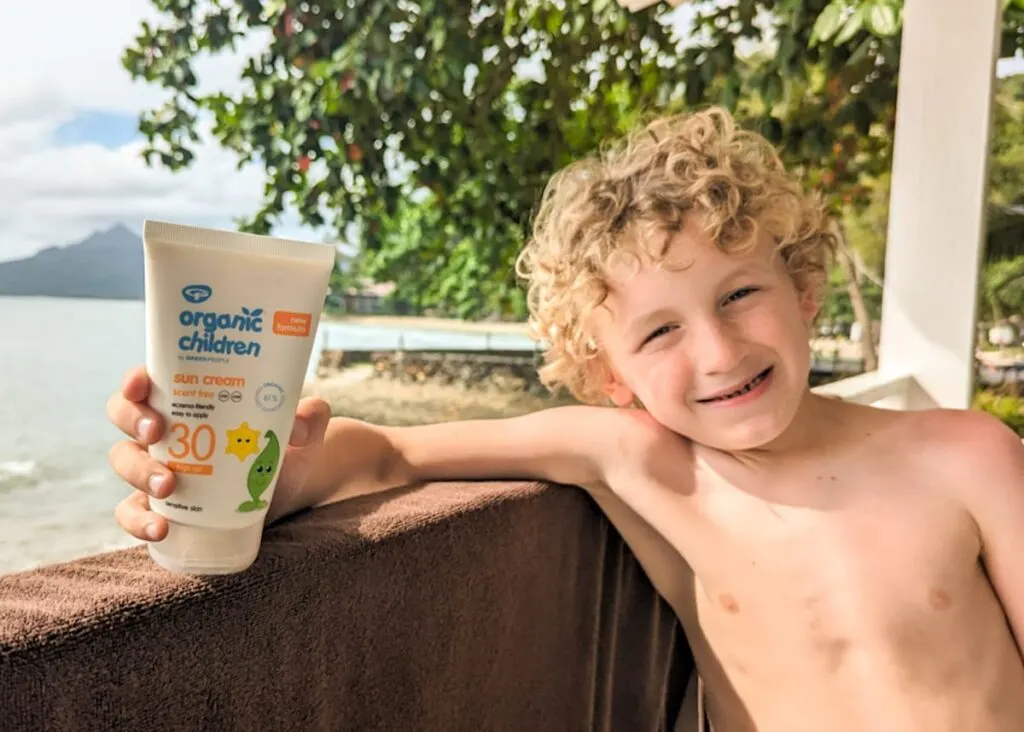 The shampoo bars
Our regular followers and readers know that we travel very light. So shampoo bars are a big tick for us as they save so much space compared to regular bottles of shampoo.
The citrus and ginger is my personal favourite. It nicely lathers up and smells gorgeous.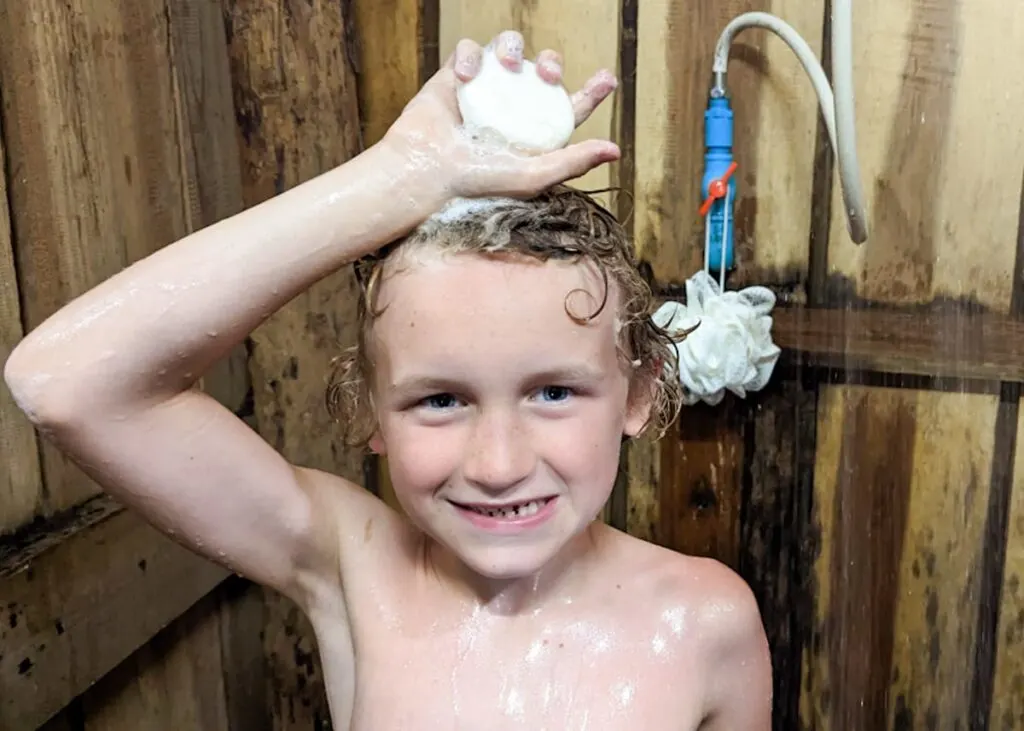 I thought the box it comes in would last for storing the shampoo bar when travelling, but we've resorted to putting it in a small plastic bag to put into our washbag.
Green People don't yet have a conditioner, and with my dry hair that frizzes in the tropical heat I still packed a big bottle of my regular conditioner in my backpack. I know there are conditioner bars out there, but I'm yet to find one that works for me.
Quick Clean Hand Foam
This is super handy to clean hands when the toilets in Southeast Asia are not quite meeting usual sanitary expectations. Anyone who's taken a long distance bus in Southeast Asia knows what I mean about the service station toilets.
Hand sanitiser can feel like paint stripper on sensitive hands when used repetitively, and the quick clean hand foam is much kinder to our skin.
The container is just a little too bulky for my liking as it takes up too much space in my bumbag. I'd love a smaller version.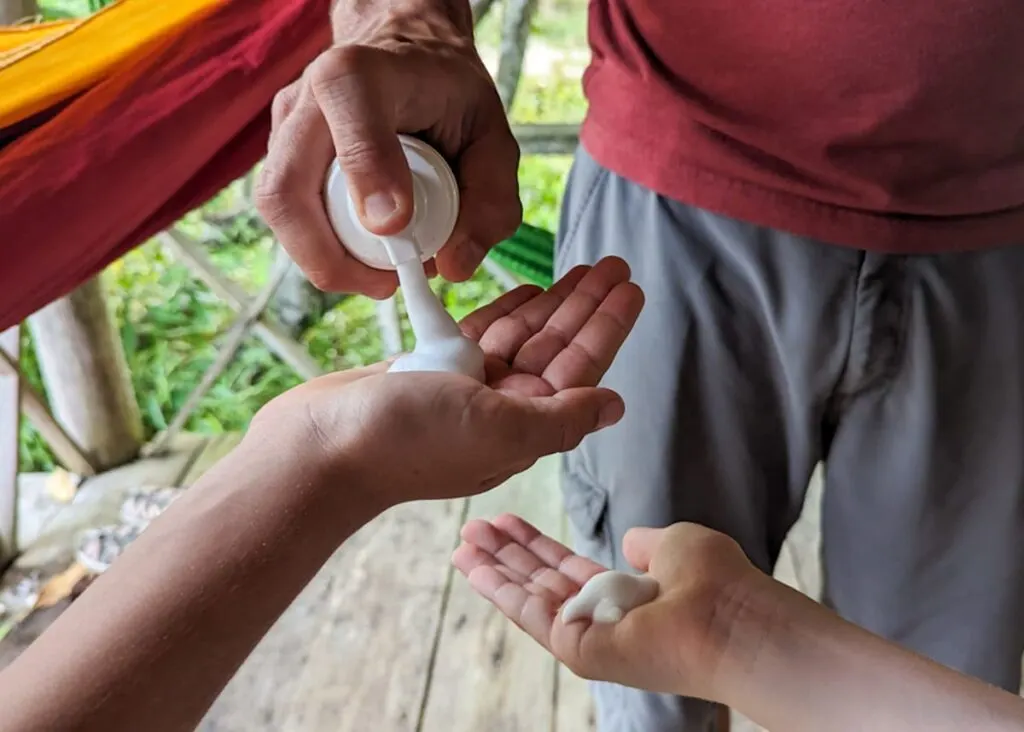 What some of our readers say
When I first mentioned on Instastories that we were packing Green People products for our Southeast Asia travels, so many of our followers messaged to say how much they loved the products and have been using them for years! So I thought I'd share some of the comments for you (with permission).
We are big fans of many of their products. My eldest uses their Organic Young range which we love. I find some of the kids suncream a little heavy and sticky but love the one for my face.

D. Patterson from @agrandadventurestory
My kids have v sensitive skin and their babies one works great. But it's like chalk to get on, and needs reapplying quite frequently. No reaction though.

J. Lyne
Really good on sensitive skin, I only stopped using it as I read somewhere that their UVA protection wasn't as good as it could be.

A. Erskine
Our good friends over at Mini Travellers also tried out Green People products for their recent trip to Dubai. Click here to read their review.
Where to purchase Green People products
You can purchase Green People products directly from their website, which also provides more information on their ethical background and what's contained in each product.
Use code 'TRAVELYNN20' for 20% off, valid until 31st August 2023.
You can also purchase from Amazon.
---
You may also like to read:
Thailand with kids
Our top travel destinations for adventurous families
Kids' travel journals: what is the best format?