Are you considering travelling to Namibia with kids? Read on for tips and our self drive Namibia itinerary…
Disclaimer: TraveLynn Family were hosted in Johannesburg by Joburg Tourism. However, these are all my own words and opinions. Our travels through Namibia were entirely self-funded. This post also contains affiliate links. Should you click on a link to purchase, it is at no extra cost to you, but I get a small commission that goes towards the running of this blog.
Namibia was never on the agenda for our big overlanding adventure in Africa. We had visited pre-kids and therefore struck it off the list; this trip was all about finding new experiences together. However, we were craving better road conditions and we knew that Namibia offered something different.
Namibia is unique to anywhere else in Africa; those open, other-worldy landcapes drawing us in. Plus, it's certainly one of the easier African countries to travel with kids and a great option for first timers to Africa. This post details our self drive Namibia overland itinerary with kids in tow.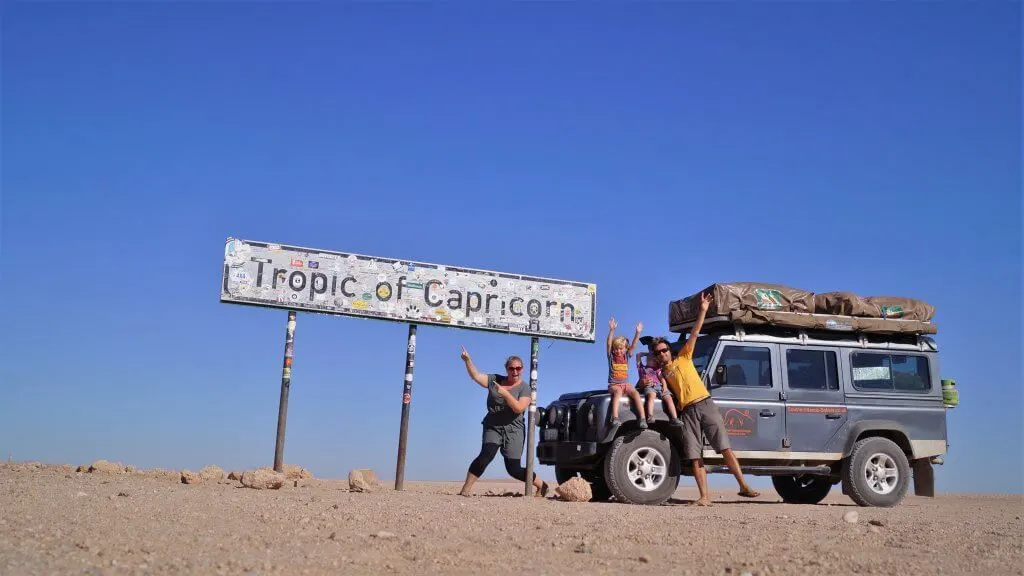 Namibia has now pipped the post for our favourite destination for young kids! Travel here is much easier, the campsites have excellent facilities, and well-established supermarkets makes self-catering very straight forward. Kids will love running down the dramatic dunes of Sossusvlei, be amazed at the sheer abundance of exciting wildlife in Etosha, and be captivated by the abandoned mines and ship wrecks of the formidable Skeleton Coast.
This self drive Namibia itinerary with kids continues our African overland adventures in a Land Rover Defender and our two boys. We started in South Africa, and have so far ventured through Mozambique, Malawi, Tanzania and Zambia. Hence this 2.5 week itinerary starting from day 81.
For all your questions answered about our overland travels through sub-Saharan Africa in a Land Rover, check out our post… READ – Africa with kids FAQ: all you need to about our overlanding family adventures
To bear in mind
If you plan to self-drive Namibia, which is one of the safest African countries, bear in mine that driving distances are long and although the roads are generally in much better condition than elsewhere in Southern Africa, you will come across corrugated roads. Prepare for a bone-shattering journey, where you shout to communicate with one another, and take it slow.
Campsites are of excellent quality and sometimes come with a personal ablution block. However, this does mean that they are more on the expensive side if coming from Tanzania/Zambia/Malawi. Some of the campsites in this itinerary are extremely remote and you will be days away from a hospital. Pack a good family medical kit and check out these top campsites in Namibia.
It is advisable to book all campsites in advance, especially in the high season. However, this isn't really our style of travel and, contrary to advice, we never booked anywhere in advance. We always managed to find a camp spot, although this was often the last one available!
Also, note the Vet Fence running across the North of Namibia, especially if travelling from Etosha. You cannot take meat south across this border and your car will be searched.
You may also want to check out our ULTIMATE Africa packing list for overlanding Africa with kids.
Day 81-82: The Zambia/Namibia border and Caprivi strip
We breezed through the border crossing in less than an hour. Our easiest to date. Katima lies just a few minutes drive from the border where a choice of well-stocked supermarkets, petrol stations and banks await, followed by a perfectly tarred straight road through the Caprivi Strip. For what felt like the first time on our African overland adventures, we were able to put our foot down and sail along.
Don't rush through the Caprivi as there are a handful of game drives off the main road. We camped at the very welcoming Nunda River Lodge with excellent facilities, right on the banks of the Okovango River. Just be wary of the crocodiles and hippos!
Enjoy a morning game drive around Mahango Game Reserve (N$45 per person, children free). We were amazed at how much game we saw on just our morning drive – giraffe, warthogs, buffalo, zebra, impala and elephants!
Day 83: Rundu and Roy's
Break up the journey to Etosha National Park at quirky Roy's (50km north-east of Grootfontein). We stopped at Rundu to stock up on groceries. However, be warned that there is a Vet Fence along the road to Grootfontein. We were ordered to 'cook' our meat bought in Rundu at the border by placing it in warm water for one minute!
Day 84-86: Etosha National Park
The other-worldly plains of Etosha boast some of the best and affordable wildlife viewing in Africa (you can read here why we think Etosha is so fantastic for young kids). Entry is N$80 per adult and children under 15 are free. And because of the vast open landscape, spotting game is rather easy. Campsites do need to be booked in advance and get crowded but they are situated next to floodlit watering holes, which are magical to watch in the evening as local wildlife visit to drink and socialise (us parents took it in turns to visit the waterhole once the boys were asleep). A day entry lasts for 24 hours, so if you enter the park around 11am on day 1 and pay for 2 days, you actually have until 11am on day 3, which we found to be the perfect length of time with young kids.
After our morning game drive on the third day, we drove to Outjo to fill up on fuel and stock up on food at Spar before camping the night at Sophienhof (grassy sites and power). Make sure you take the walk up the hill at the back of the campsite for some stunning sunset views.
Day 87: Damaraland
Today affords the most stunning scenery of the entire trip. An endless open landscape draped with unusual sandstone formations, traversed by a gravel road that snakes through the valleys. Ensure you are stocked up on water, fuel and food for the next few days as you are heading into a barren desert. Stop by the Petrified Forest for a guided 800m desert walk and, if your car can withstand the badly corrugated road, head to Twyfelfontein to marvel at one of Africa's finest examples of rock art.
It's then a long, but incredibly beautiful, drive to the gates of the Skeleton Coast Wilderness. When the kids get fidgety, pull over and play on a sand dune or have running races along the deserted road. You cannot drive through the gates after 3pm, so pitch up at the basic campsite opposite reception (N$80 per car) and watch the setting sun turn the lunar landscape burnt orange.
Day 88: Skeleton Coast and Cape Cross
The gates open at sunrise to obtain your free permit and enter the barren land that is The Skeleton Coast. You will feel like you have reached the ends of the earth as you approach the wild Atlantic Coast dotted with shipwrecks submerged amongst salt flats and sand dunes, and abandoned mines set back from windswept beaches. It's an incredible stretch of coastline to explore and points of interest are clearly marked along the well-maintained road that hugs the coastline.
On exiting the park at the Southern gate, show your permit to the office. It's then a one hour drive south to the rather stinky seals at Cape Cross Reserve. Tens of thousands of seals congregate on this headland to socialise, jostle over space and feed on the plentiful fish. There is a walkway that takes you right up close to them. Our boys found the seals, with their comical walk and arguing, to be absolutely hilarious.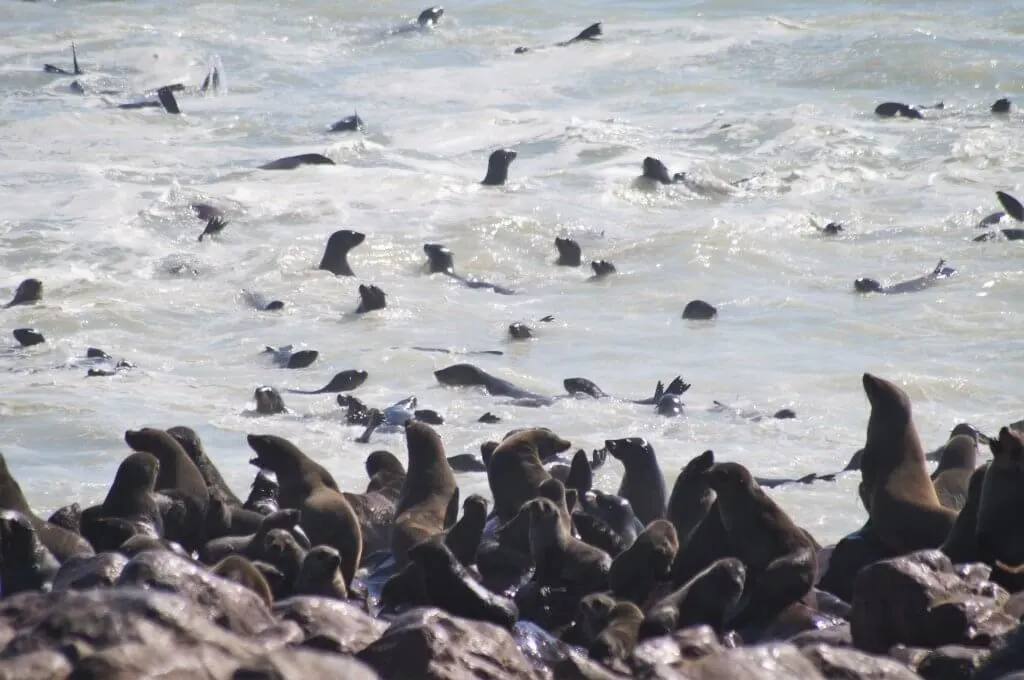 Just a stones throw away from the seals, but far enough from the smell, is a basic campsite right on a pristine beach (read about – Cape Cross Seal Reserve Campsite). The perfect location and sunset views will easily help you overlook the lack of power and running water. It had been a long time on our travels since we'd visited a beach (Pagani, Tanzania), so the boys played in the sand with their cars and trucks for hours.
Day 89-94: Swakopmund
It's a two hour drive to the the coastal adventure town of Swakopmund. Here you can book quad-biking, sky-diving, horse-riding and a whole host of adrenaline-pumping activities. However, we were more than happy to relax in relative comfort at the luxury camping site of Alte Brücke (where each site has its own private bathroom) and wander around town. The clean lines of modernist buildings amongst the distinct German architecture, and abundance of shopping stores, may trick you into thinking your have stepped out of Africa for a while.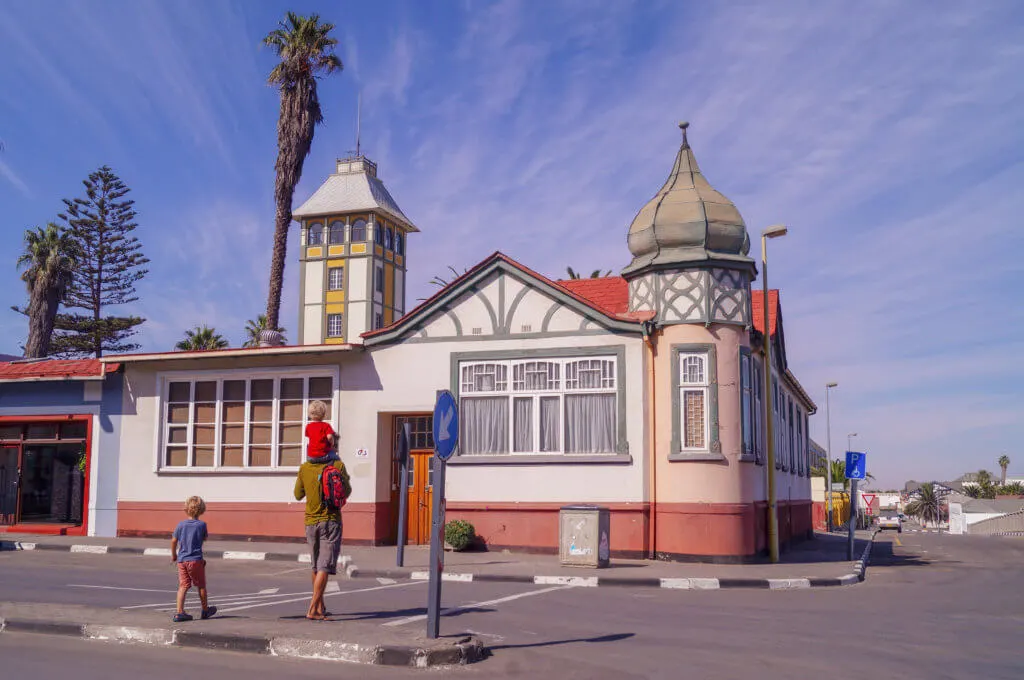 There's more than enough to keep little ones entertained with an aquarium, museum, colourful playground (with a pub conveniently next door), and of course the golden stretch of sand to play on.READ – Swakopmund with kids: 10 FREE and cheap things to do
Day 95: Walvis Bay
Walvis Bay lacks the charm of Swakopmund, but it's a great place to see hundreds of flamingos feeding on the nearby salt lakes. It's then a bumpy drive along the badly corrugated road south towards Sossussvlei. We stopped the night at the rather officious (for camping) Rostock Ritz, which boast incredible sunsets and some great hiking trails.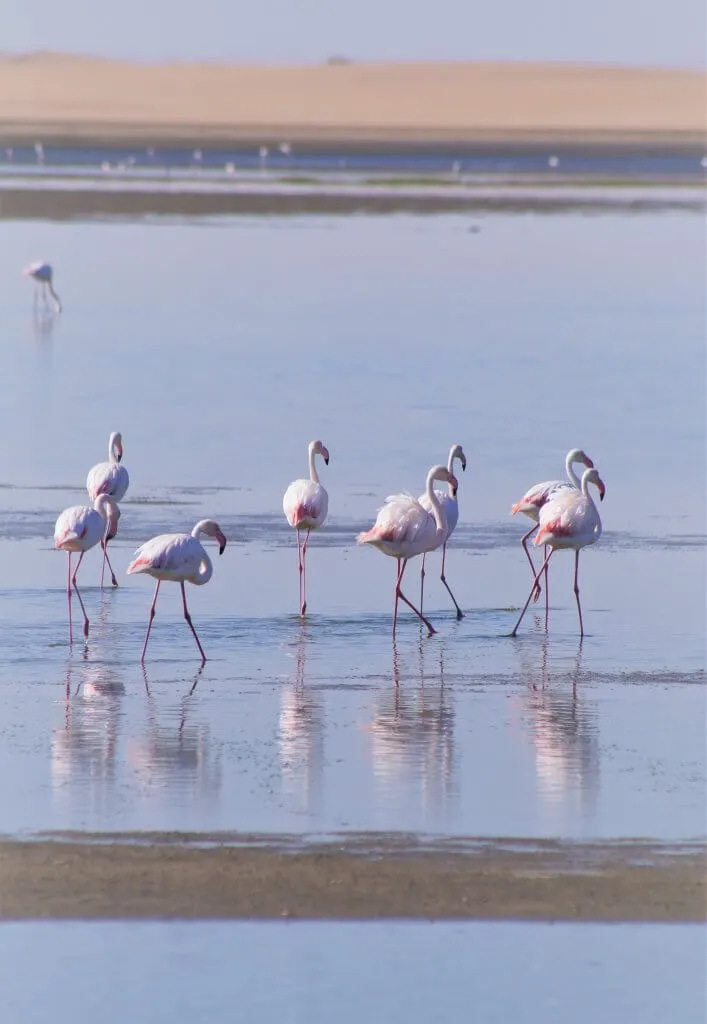 Day 96: Sossusvlei
The striking crimson sand dunes of Soussusvlei cast against the stark blue sky are Namibia's premier tourist attraction. Our boys loved climbing, running down them, and then doing it all over again. We stayed at the fantastically appointed Sossus Oasis Campsite (ensure you pre-book), offering spacious individual sites with own bathroom, kitchen and braii, situated outside the park gates at Sesriem.
It's a one hour drive along a tarred road from the park gates to the 2wd car park (passing Dune 45 on the way). Then a short sandy track (4wd only) to the start of the 1km walk to Dead Vlei (a white clay pan home to dead thorn trees).
Day 97-98: To the South African border
We had considered heading down to Fish River Canyon, but we had run out of time. It's a couple of long driving days to the South African border towards Upington. We broke up the journey at the quirky, but basic, Garas Park Rest Camp. The border was relatively straightforward. Ensure you have with you your children's original birth certificates for South African immigration.
Epilogue – South Africa
Day 99-102: Returning the Land Rover
We had hired the Land Rover Defender from friends at Southern Sands Eco Lodge and had four days to get there from Upington, South Africa. It was a long drive to Vryburg where we stayed two nights at Boereplaas Holiday Park; the extra day was to sort out and clean our kit and the Land Rover before handing it back. Another very long driving day then brought us to picturesque Elandskloof Trout Farm, Dullstroom, nestled in the rolling hills. Finally, a short 4 hour drive returned us to Southern Sands, near Hoedspruit.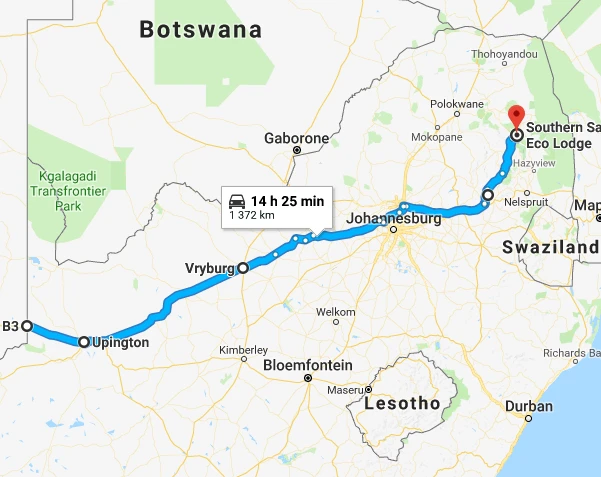 Day 103-106: Johannesburg
Our flight back to the UK was from Johannesburg, so we took the Citiliner bus from Hoedspruit and backtracked our previous day's drive to Johannesburg. We had a jam-packed weekend in buzzing Joburg (hosted by Joburg Tourism – our review post is coming soon!), staying at Melrose Place Guest House, before flying back to the UK with Ethiopian Airlines on 25th June 2018. What an epic trip of a lifetime! You can read our Africa Travel with kids highlights here.
---
Where would we be without our trusted Lonely Planet? The Namibia and Botswana guide was invaluable to our research.
You may also like to read:
Travelling Africa with our kids: our top 10 highlights
ETOSHA National Park, Namibia: THE BEST safari in Africa for young kids
Medical kit list for families travelling Africa
For more posts on Africa, head to our AFRICA page.