Garas Park Rest Camp was the quirkiest and most memorable campsite on our Namibia road trip. This Keetmanshoop camping site (well 20km away from Keetmanshoop) nicely breaks up the journey between Sossussvlei and Johannesburg, or perhaps you're on a Johannesburg to Namibia road trip.
The main B1 road, which cuts through the vast Namibian outback, looked beautiful but empty on our map. My eyes flickered back and forth between Sossusvlei (our starting point) and Johannesburg (our distant target several days in the future), looking for a suitable place to stop for the first night. It didn't look hopeful.
Disclaimer: This post contains affiliate links. If you click to purchase, it is at no additional cost to you, and I receive a small commission.
Don't get me wrong, part of the appeal of this section of our African road trip was the isolation and remoteness but we still needed somewhere to stop for the night. Might this be the first time we pulled over at sunset and camped by the side of the road? But then a tiny speck of a campsite caught my eye on our Tracks4Africa Map – Garas Park Rest Camp. Little did we know what was waiting for us.
Check out the BEST campsites in Namibia.
Garas Park Rest Camp
You know something different is on the cards when, as soon as you turn off the B1, a 6ft tall metal human statue greats you, pointing to a distant collection of metal shelters and structures a few hundred metres into the desert. The local area is well-known for its quiver trees, indigenous to this part of the world and you'll see them dotted all around as you approach the campsite, vying for space with metallic art installations.
After a couple of twists and turns, the road (well-maintained and suitable for 2WD cars) brings you to the 'reception' area, which doesn't begin to do it justice; this is no ordinary camping experience, more like pitching up in the brilliant imagination of a quirky artist. It's actually owned and run by a local farmer who we spoke to on the phone but we were looked after onsite by a friendly young man who took our money and gave us a quick tour of the campsite.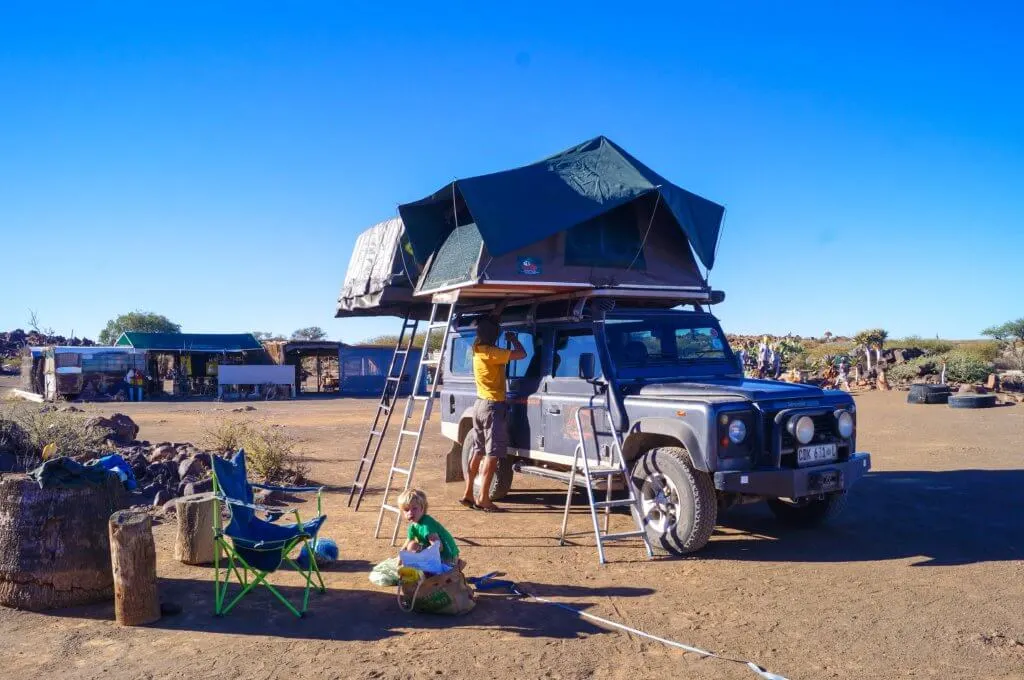 One of the quirkiest places we've ever stayed
It wasn't an especially cheap campsite and we had to pay for one of the boys (aged 4) and it could be argued that for the limited facilities it is overpriced but, with no other options around and the artwork for company, we were happy to pay. Apparently electricity is available although we didn't need to use it for just one night.
Make sure you have everything you need with you supplies-wise as the only option otherwise is to head into Keetmanshoop 20km away. It's difficult to say how many pitches are available as there is no specific structure to the site, people would just tend to setup next to a boulder but it's the sort of place where there would always be space somewhere for a tent. Do keep in mind that (like everywhere in this part of the world) the ground is rock hard and not suitable for sleeping directly on.
You'll find all the usual facilities you need – toilet block, shower, water and a small communal area under cover. As with so many of the campsites we visited on the trip, we were alone for the night and it did feel slightly remote when the staff member sped off on his moped as sunset approached. By this stage we'd got our roof tents setup and were settling down to a bowl of pasta and a cold beer after the long drive.
The Quiver trees
The real magic happens as the sun begins to set – the heat disappears, the arid ground turns orange and the quiver trees cast long shadows over the whole site. It really is magical. If you can, try to take a short hike into the surrounding desert to let the kids climb onto the rocks and hunt for treasure (stones and twigs but it all counts). Also try to find time to just wander around the campsite and check out the artwork – it's very likely you'll have never seen anything like it before (or will again).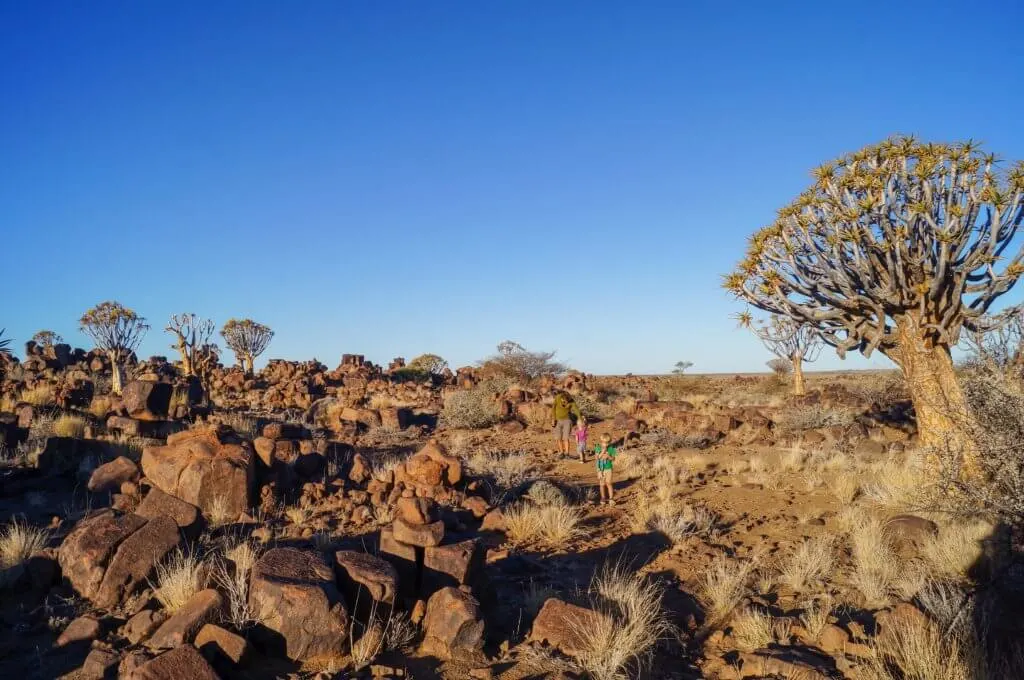 Nights around here are seriously cold, one of the coldest of our entire trip. Once the sun poked over the horizon we struggled to get the roof tents down with our cold hands but once we did, we hit the road straightaway for the next day's drive towards South Africa. Not before we had one last look at the statues though – who knows when we'd wake up in such a crazy, but amazing, place again.
Read our full Namibia overland itinerary.
---
You may also like to read:
The BEST campsites in Namibia
Namibia with kids: 10 reasons to visit
Visiting Etosha National Park