On the West coast of Namibia, a 1.5 hour drive north of Swakopmund, lies Cape Cross Seal Reserve. Here, more than 100,000 Cape fur seals and their pups come to bathe on the shoreline of the Atlantic Ocean and feed on the rich concentrations of fish in the cold Benguela Current, making it one of the largest seal colonies in the world.
Most visitors only make a short stop to snap a few photos of the jostling seals arguing over space, before jumping back in to their vehicle to their next stop. But just a short walk around the corner from the seals (and away from the smell) is Cape Cross Campsite – a beautifully remote campsite within the seal reserve and one of our favourites on our self-drive Namibia itinerary.
Check out the BEST campsites in Namibia.
Do note there are two campsites in the area. We stayed at the campsite inside the seal reserve – Cape Cross Seal Reserve Campsite, just 1.7km before the seal colony, on the waters edge. You can also camp outside the Seal Reserve at Cape Cross Lodge, where each site has a wash basin with cold running water and an alfresco kitchen, as well as a toilet block. The campsite in the reserve is basic, but far more idyllic.
Getting to Cape Cross Seal Reserve
There is no public transport to Cape Cross Seal Reserve (click here for exact location). Tourists either come on a day trip from Swakopmund, or as part of an organised overland tour, or they self-drive (which is what we did).
If coming from the North you will have driven through the Skeleton Coast, where a 4×4 is recommended. However, it is reachable with a 2WD from Swakopmund which is 1.5 hours away. Between Swakopmund and Henties Bay it's a tarmac road, but from Henties Bay to Cape Cross Seal Reserve it is a salt road.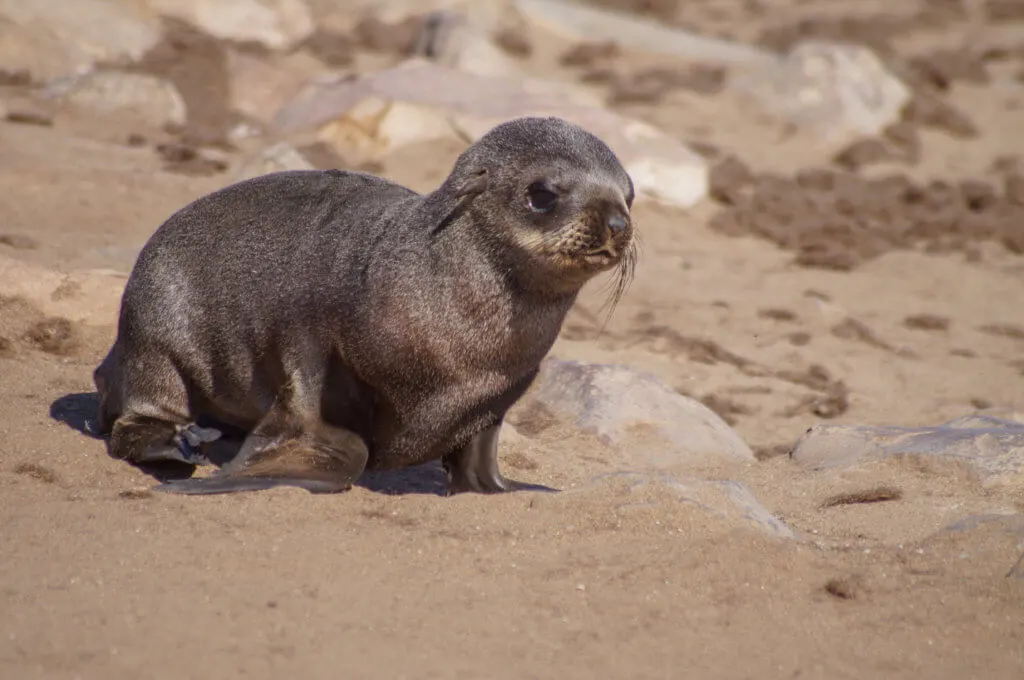 Entry to Cape Cross Seal Reserve Campsite
The campsite is within the seal reserve and therefore you must arrive when the reserve is open, between 10:00 and 17:00. Camping is only allowed from November to July, and on a first come first served basis (you cannot book online).
On arrival, head into the office to obtain a permit, admission fees, and camping fees. This all came to N$400 (£23) for two adults for one night.
Then follow the road down towards the seal colony. You will notice a picnic area to the right on the way. This is the camping area.
The campsite
Basic pitches separated by wooden fences overlook the ocean. There are only six pitches in total and each has a seating area, bin and braai. There are two communal long drop toilets set back from the site (bring your own toilet roll).
The sea is a bit too rough and chilly for a leisurely swim, but it's a spot where where you feel a million miles away from anywhere. It's especially picturesque at sunset. Kids will love playing on the sandy beach.
There is no running water or electricity, and ensure you are stocked up on food as the nearest shop is in Henties Bay. There are no cafes or restaurants in the reserve, although you could walk up to the restaurant at Cape Cross Lodge.
Don't leave any food out overnight as there are lots of jackels around; you'll see their footprints on the beach in the morning.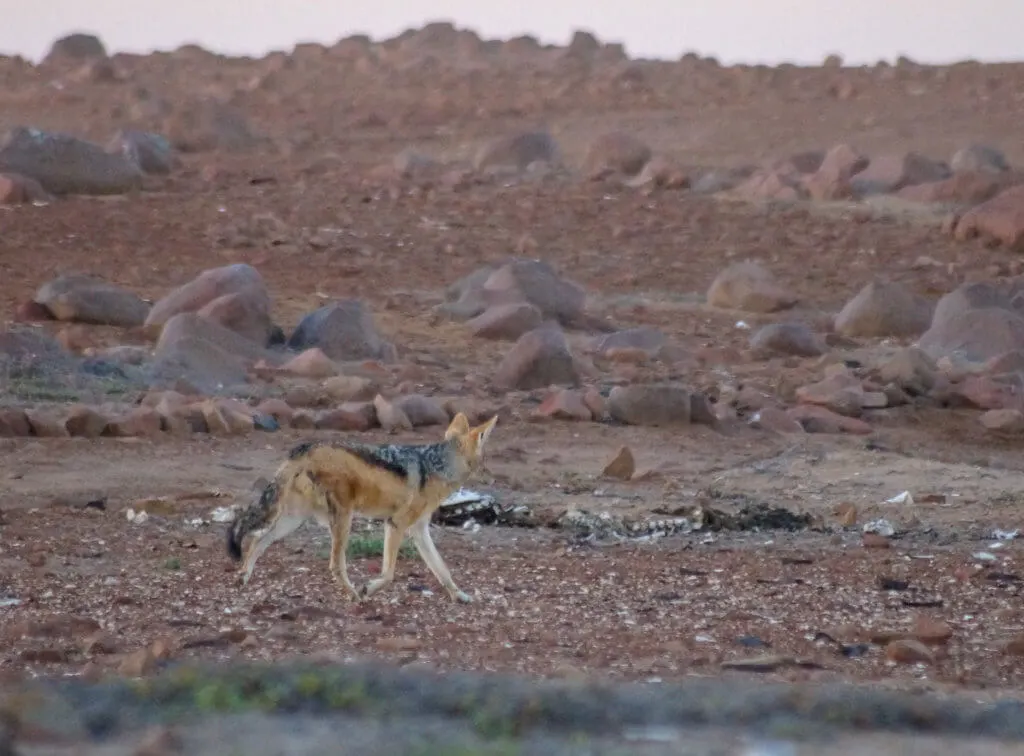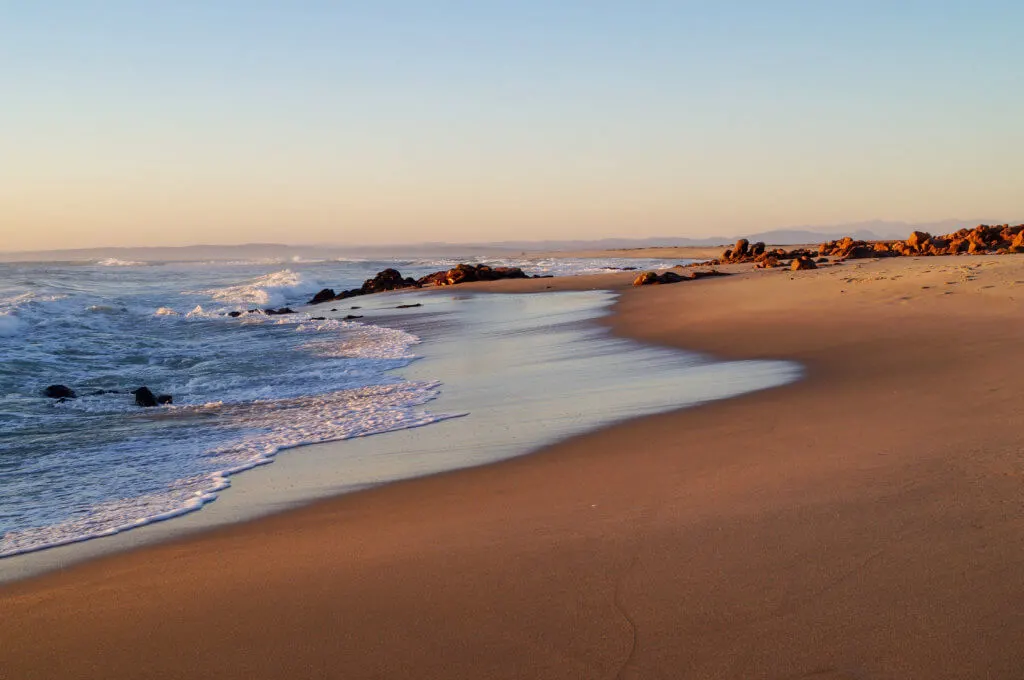 Visiting the seals at Cape Cross
The advantage of camping within the reserve is that you can visit first thing in the morning, before the Seal Reserve gates open to tourists.
If you follow the road to the end, you will find a car park. Here a wooden boardwalk allows you to wander amongst a small section of a seemingly endless stretch of seals draped over rocks (and each other) or playing in the surf. You are literally inches away from these chilled out seals, who don't seem at all offended if their neighbour flops over their flipper, and some will be wriggling under the boardwalk.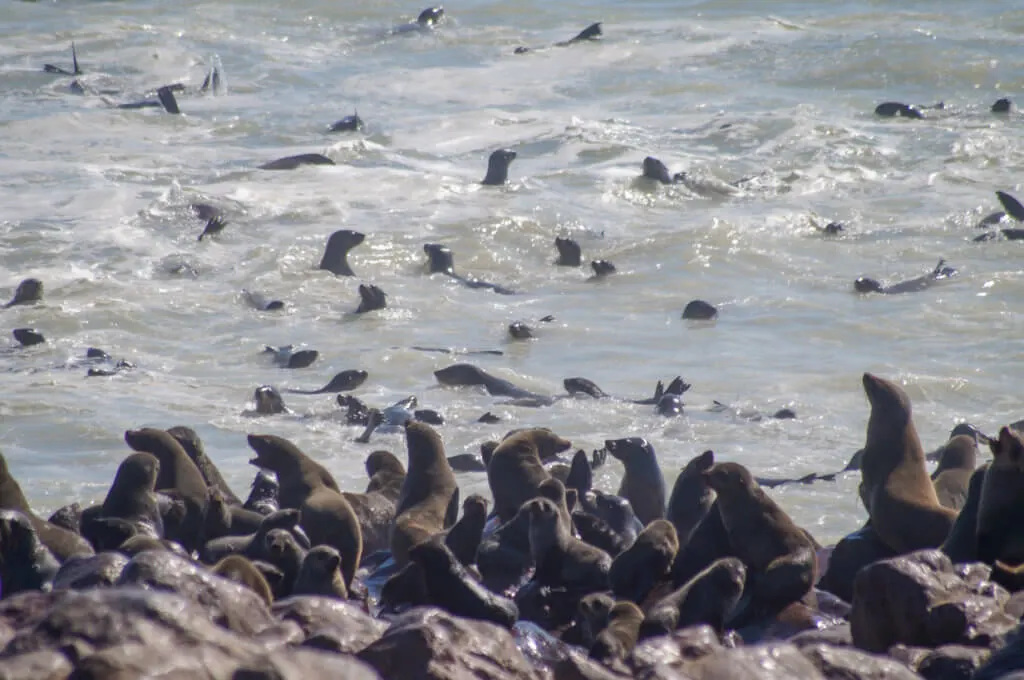 They seem to be in constant chatter with each other so expect it to be quite loud. But just be prepared for the overwhelming smell of seal poo; you may want to wear a bandana over your nose and mouth!
---
You may also like to read:
Swakopmund with kids: 10 FREE and cheap things to do
Overland Namibia itinerary
The BEST campsites in Namibia