We've tried a few Mazda Bongo bike racks over the years, but there's only one that really goes the distance.
Camping and cycling are the perfect companions; there is nothing better than setting off from your campsite on your bikes, heading off onto the cycle paths for a day's exploring. Renting bikes from a campsite for an extended period is prohibitively expensive, but it's not always a straightforward task to find a safe, suitable bike rack for your vehicle, even more so when that vehicle is a Mazda Bongo.
We've tried a few different variations of Mazda Bongo bike rack with very limited success over years and were about to jettison the bikes, after some serious dramas with the towbar option, before we came across the Thule 973 bike rack. Safe and secure, it's suits both us and our beloved Bongo down to the ground.
Disclaimer: This post contains affiliate links. If you click to purchase, it is at no additional cost to you, and I receive a small commission.
Check prices of the Thule 973 bike rack on Amazon
The tow bar bike rack for Mazda Bongo
Our first attempt at finding the right Mazda Bongo bike rack was with the towbar bike racks, sold quite cheaply online and from Halfords.
We initially bought a towbar bike rack on Amazon, but despite getting good reviews, it was complicated putting the kit together, and once we thought we'd finally finished, we realised that parts were missing.
So we returned it and went to our local Halfords. We bought a Halfords own brand towbar bike rack and the friendly staff there fitted it altogether and showed us exactly how to place the bike rack onto our tow bar. It all seemed to simple and straightforward at the time.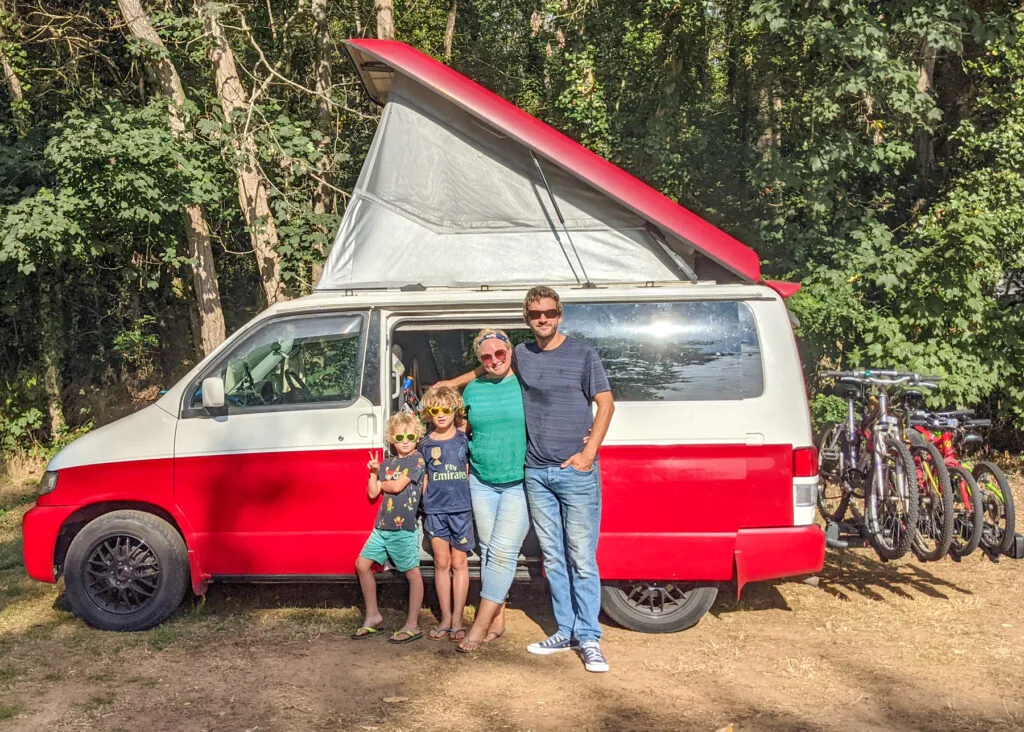 You can expect to pay around £200 and this usually includes a lightboard which is a legal requirement as the bike rack will cover both your lights and registration plate.
In theory, Mazda Bongo towbars can carry upwards of 60kg which should be okay for 4 standard bikes (and certainly fine for 2 adult and 2 child bikes) but we never felt totally happy with it attached.
The basic physics of it make it worrying: how can that much weight be carried by the towbar, especially as they extend outwards from the van? Even if your tow bar can cope, it can be time-consuming crawling over the (many) speedbumps you'll encounter in French villages or English towns as the towbar bike rack sits very low to the ground.
Indeed, our Mazda Bongo towbar bike rack seemed to cope for two summers of travels around various family campsites in France, but by the third summer, our towbar had actually been pulled down to such an angle, that the bikes were barely an inch off the ground. Not at all safe and we were only able to get our bikes back to the UK as my parents had joined us in their campervan in France and had space inside for our bikes.
And just to add to this, over the years we also had a problem with the electrics on the Bongo so we had to get the indicator and brake light fixed at different intervals.
We needed another option.
So we gave up with this type of bike rack, got our towbar fixed, did some research, and decided that maybe we just needed a bike rack that sat higher. So we tried this one from Amazon. As soon as we put the bikes on, our towbar dropped again.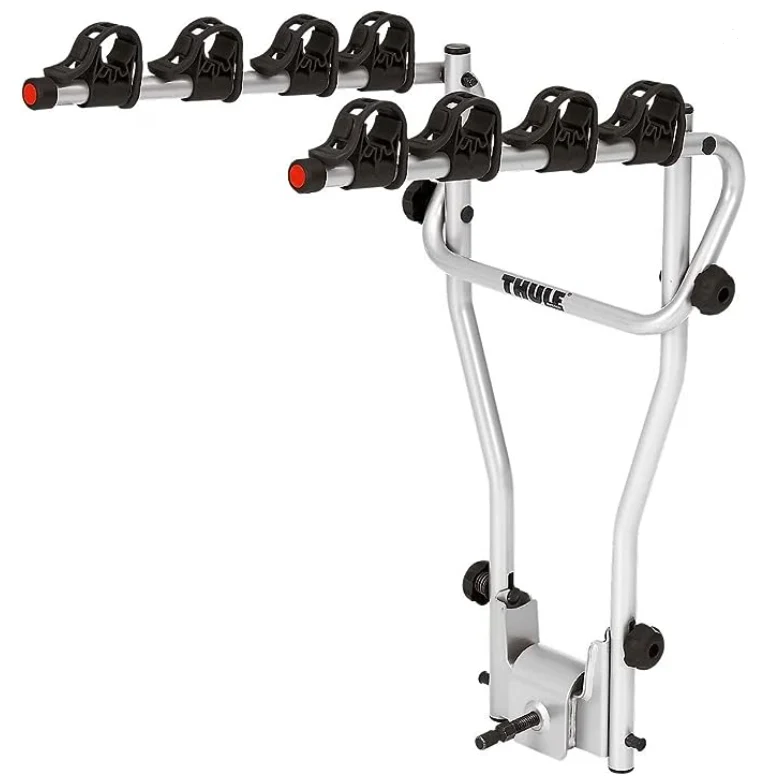 Back to the drawing board.
All in all, it was a big 'no' for us. A towbar bike rack for the Mazda Bongo was way more trouble than it was worth.
Rear boot bike carriers for Mazda Bongo
Our next foray into the Mazda Bongo bike rack world brought us to the rear boot bike carriers, which sit on the boot (or tailgate) and distribute the weight more evenly across the van. The clever design also means that your lights and registration plates are visible so there is no need for a lightboard.
Why didn't we just try this one before? Well they can be tricky to fit and are not easy to take them on and off.
However, we had the lovely people at Bongo Spares to help us fit it and so it was actually no problem at all! Make sure you closely study the instructions before purchase as there are different fitting sets for different vehicles.
Why we love the Thule 973 for Mazda Bongo
Most of the worries and concerns we had for the towbar option were alleviated by the Thule 973. There is no need to use a towbar (great if either you don't have one fitted, or don't fully trust yours, like we didn't), the lights and registration plate are fully visible, and it gives you a lot more confidence driving along the motorway, knowing you have a sturdy bike rack behind you. Plus, those pesky speedbumps can be traversed with a bit more speed (but still not too much).
The Thule 973 has a clever arm mechanism to clamp the bikes into place, as you tighten the arms, they grip the bar even tighter. They really are tightly locked into place so there is no need for straps or brackets to hold the bikes in place. Another feature is a lock on each mechanism which, when locked, stops them from being released; perfect for when you've stopped briefly and don't want to take everything off. Handy straps go around the wheels of each bike to further lock them into place.
You can select different heights for the bike rack to sit, our setting was high enough to display the lights, but not too high as to add extra height to the Bongo. It was quite easy lifting the bikes into place, easier with the kids bikes than the adults, you may need to get some help if needed but all-in-all, they're easy to put in place. It then only takes a couple of minutes to tighten everything up and you'll soon be on your way.
Note that the standard Thule 973 out of the box will likely only come with two rails, so you'll need to buy and extension kit for the extra one (or two) rails should you need them. Luckily, the one we bough already had four included so we were sorted.
Also, we now just leave the bike rack attached to the Bongo. It neatly folds away and then is just ready for when we next want to take the bikes.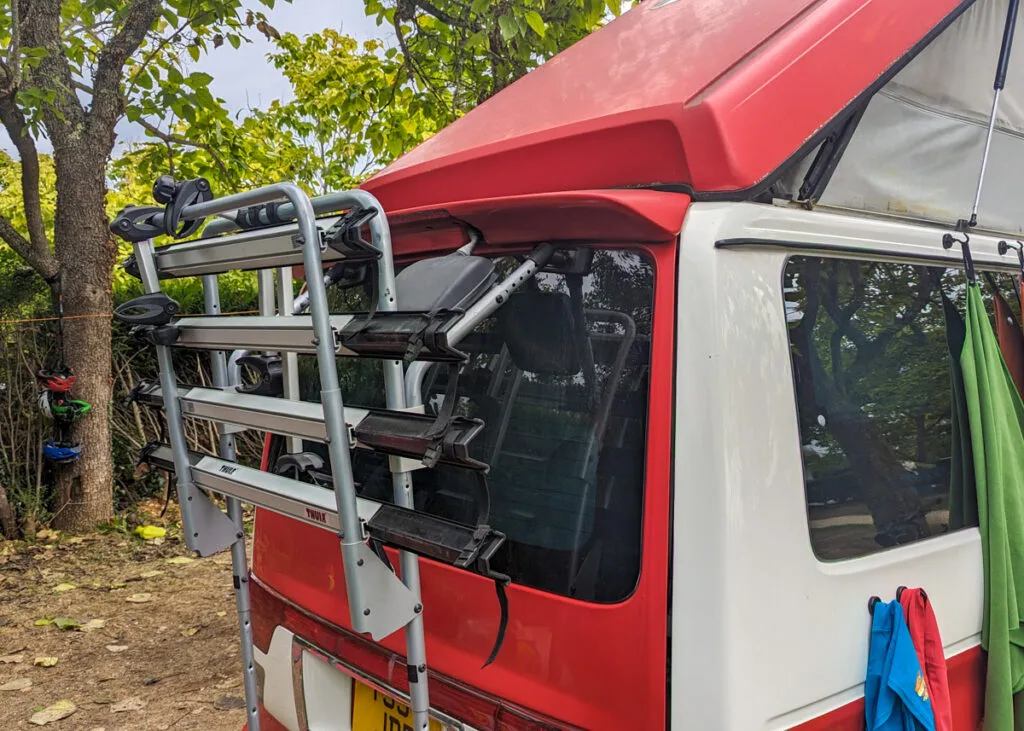 How to fit the Thule 973 to a Mazda Bongo
We took the easy/safe option here and asked Bongo Spares to fit it for us whilst it was in for its annual service and MOT. They did a great job on what would have otherwise been quite a tricky task for us.
There are detailed instructions included, and lots of information online so you may well be able to do it yourselves. The slight confusion is that, since it's not specifically designed for the Bongo per se, you might need to use some imagination on some of the steps.
Looking at it now, it looks reasonably straightforward; the frame site on the base of the tailgate and there are two grips which tighten under of the tailgate. Although we're not sure how Bongo Spares managed to get under the tailgate, but they're clever like that.
Bear in mind, we are very mechanically challenged so you'll probably find it simple. As we did, any friendly local garage will no doubt help for a reasonable charge.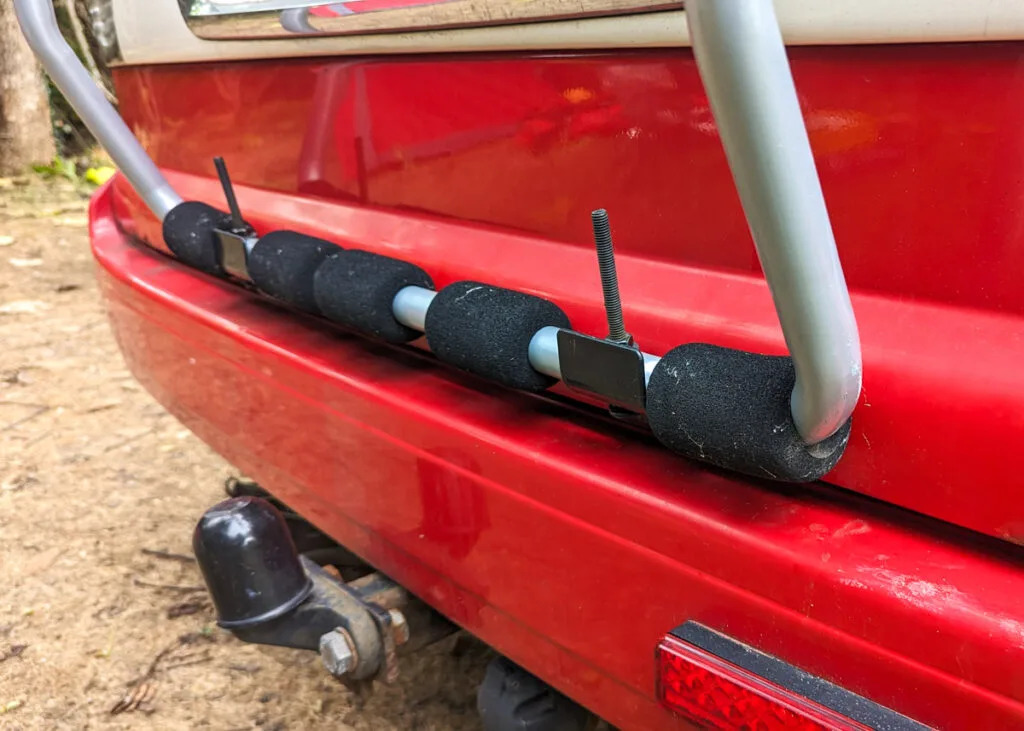 All in all, it all feels very secure. Much more so than the towbar bike rack ever did. And for our latest summer of travels around France from the Dover-Calais ferry crossing all the way down to the Southwest coast of France, close to the Spanish border at Camping Le Col Vert, it's worked beautifully; we've never once had to worry about it.
Where to buy the Thule 973 bike rack
Check prices of the Thule 973 bike rack on Amazon
The Thule 973 can be found online at places like Amazon and Thule's own website.
There are also many other sites selling it, usually for the same price. If you are lucky, you can find a used one on eBay or Gumtree. Indeed, we were really lucky to find a four rail version on Gumtree nearby for a great price. Not only was it good value but it saved us having to buy the 'extras' like rails and fitting kits.
Do keep this in mind; if you have more than two bikes to carry around, on top of the standard kit, you'll also need to buy a fitting kit and extensions.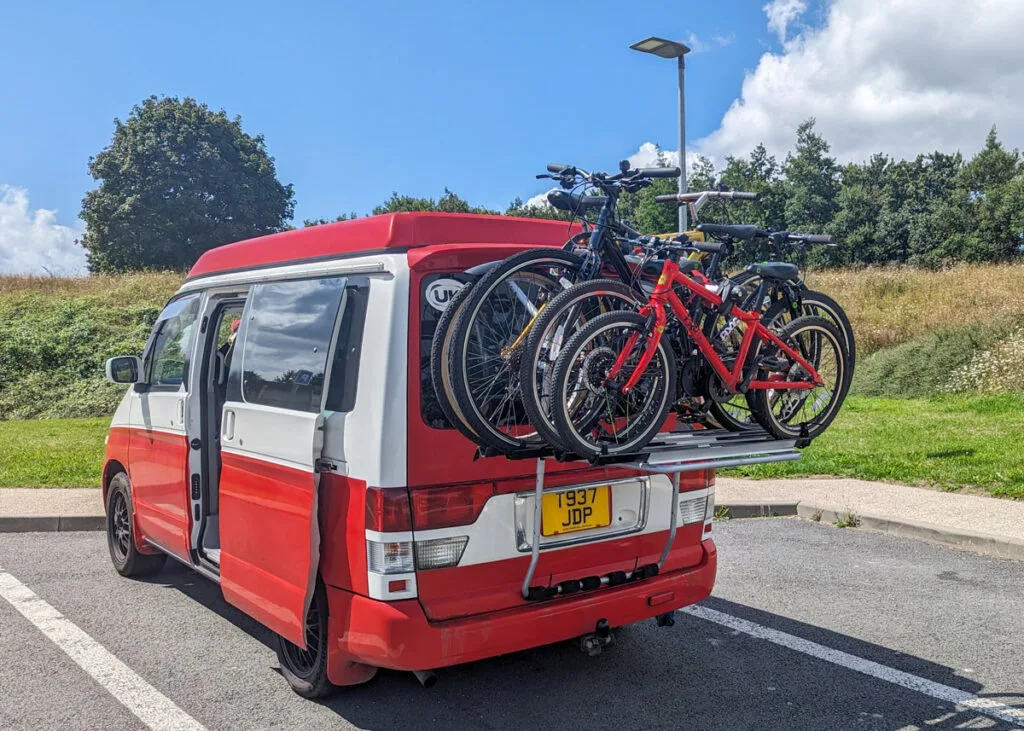 Final thoughts on Mazda Bongo bike racks
The Thule 973 bike rack has given us a new lease of life and meant that we can carry our bikes safely around with us wherever our Bongo takes us.
We'd had so many problems in the past with the towbar bike rack that it had shaken our confidence in using them again. Once we found the Thule 973 though, we knew we'd found the Bongo's perfect partner.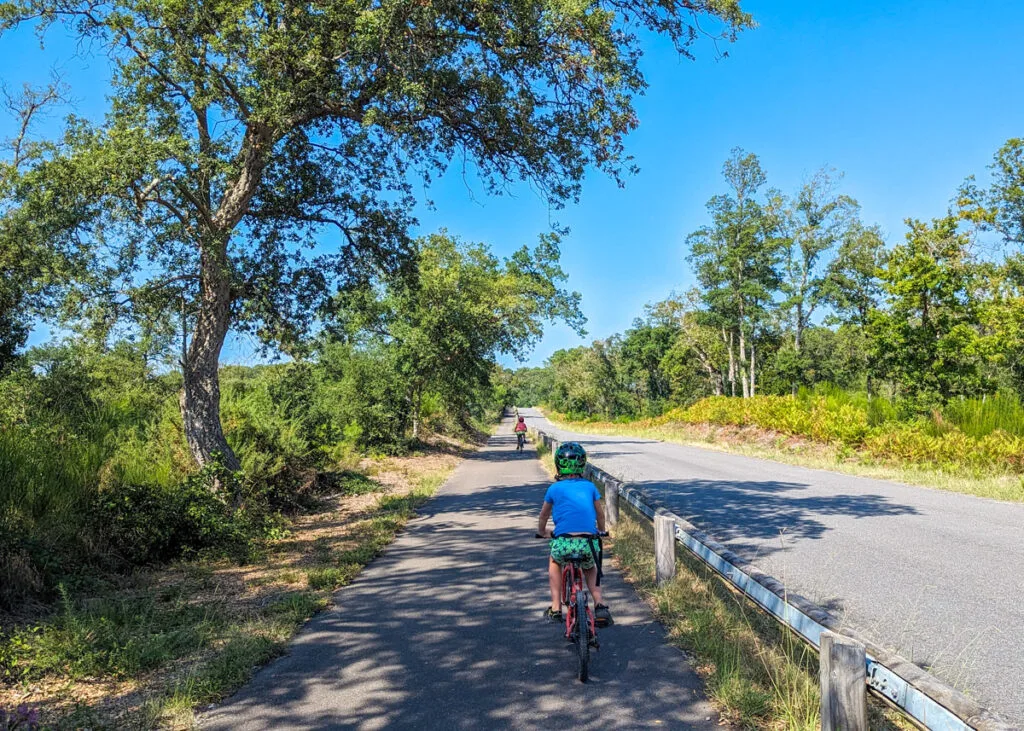 It feels safe and secure, the bikes barely move even when on a motorway, and there is no need to mess around with a lightboard or spare registration plate. Any failures in this area would be catastrophic, so it's brilliant to have the piece of mind that all is safe behind you. Once fitted, you'll find it easy to take the bikes on and off, leaving you free to focus on the fun part: actually riding them!
Just don't make our mistake and try to rely on a towbar bike rack, they're just not fit for purpose, especially for a family of four.
---
You may also like to read:
All about our Mazda Bongo 4×4 camper
Top 10 tips for an easy and long-lasting Bongo life
Mazda Bongo interior renovations: making our Bongo a little more 'us'