Sat on the shore of Étang de Léon in the southwest corner of France, Sandaya Camping Le Col Vert is perhaps a trek to get to from the UK by road, but absolutely worth it. There's a fabulous holiday vibe here, the lake is divine for a morning dip, and traffic-free cycle paths through the pine trees lead you direct from the campsite to one of the most stunning stretches of coastline in the world with a very impressive surf.
However, this is a big campsite. In fact Camping Le Col Vert is a village in it's own right with a bar, restaurant, kids clubs, playground, bakery, shop, and lots more. Some may feel that they never need leave, and who blames them with those stunning lakeside views? And for others it may not be their cup of tea. But after years of trying out a range of family campsites in France with our boys over the years, we've come to realise that the bigger campsites with their fantastic facilities are what really works for our family; the boys have endless entertainment on offer and happy kids, means happy parents. Plus the free kids clubs enable us parents to work while we travel.
We had a lovely week-long stay at Camping Le Col Vert during August in our Mazda Bongo camper and it's definitely earned a spot in our best family campsites in France. We really could have stayed longer here and will definitely return one day. Read on for our Sandaya Camping Le Col Vert review.
Disclaimer: This Sandaya Camping Le Col Vert review is not sponsored in any way by Sandaya. We paid for the week-long stay ourselves and this is our honest review.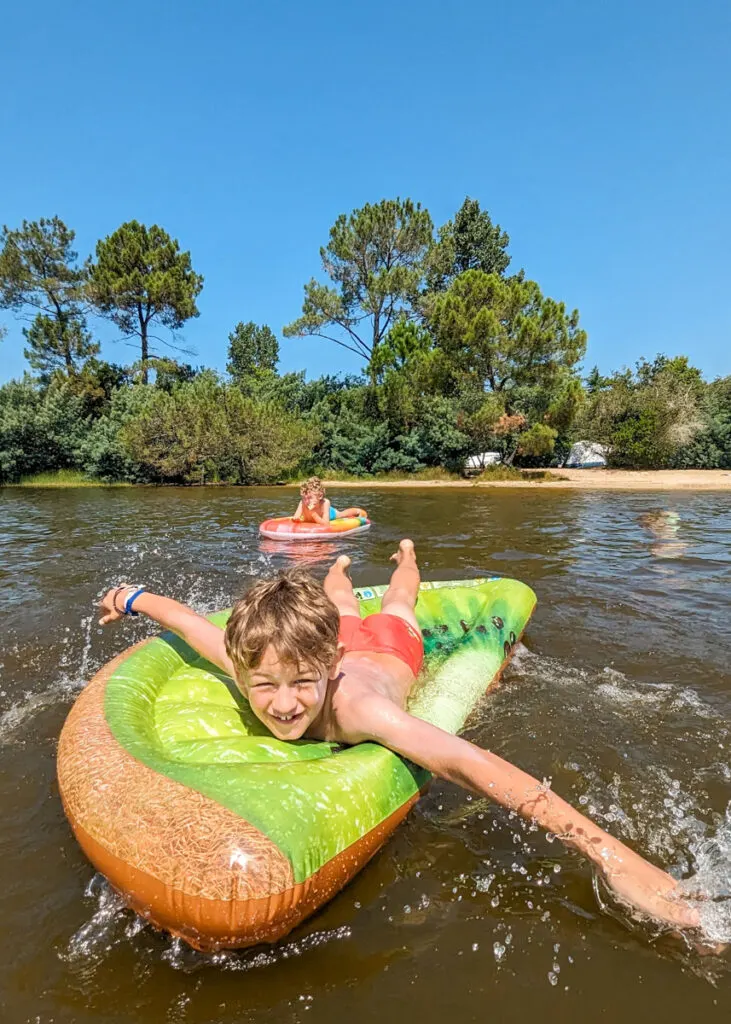 Our pitch
After the big-hype intro of this Camping Le Col Vert review, you may be surprised to hear that we were a little disappointed about our pitch on arrival.
When on a French road trip, you can't help but compare your pitch to previous stays. We had just driven from a campsite near Paris which had huge, private pitches, and our pitch at Camping Le Col Vert just didn't match up. Indeed, pitches are a little on the cramped side at Camping Le Col Vert for France. I think if there was a larger 'road' between us and neighbours opposite it would feel more spacious, but the narrow gap initially felt rather hemmed in.
However just a day into it, we had gotten used to the pitch size and it was really not an issue. Indeed it was still double the size of most campsite pitches we'd stayed at in nearby Spain on our northern Spain road trip. Plus the shade was very much welcome in the the hot summer sun and with the beautiful lake just a stones throw away for a swim, how could we complain?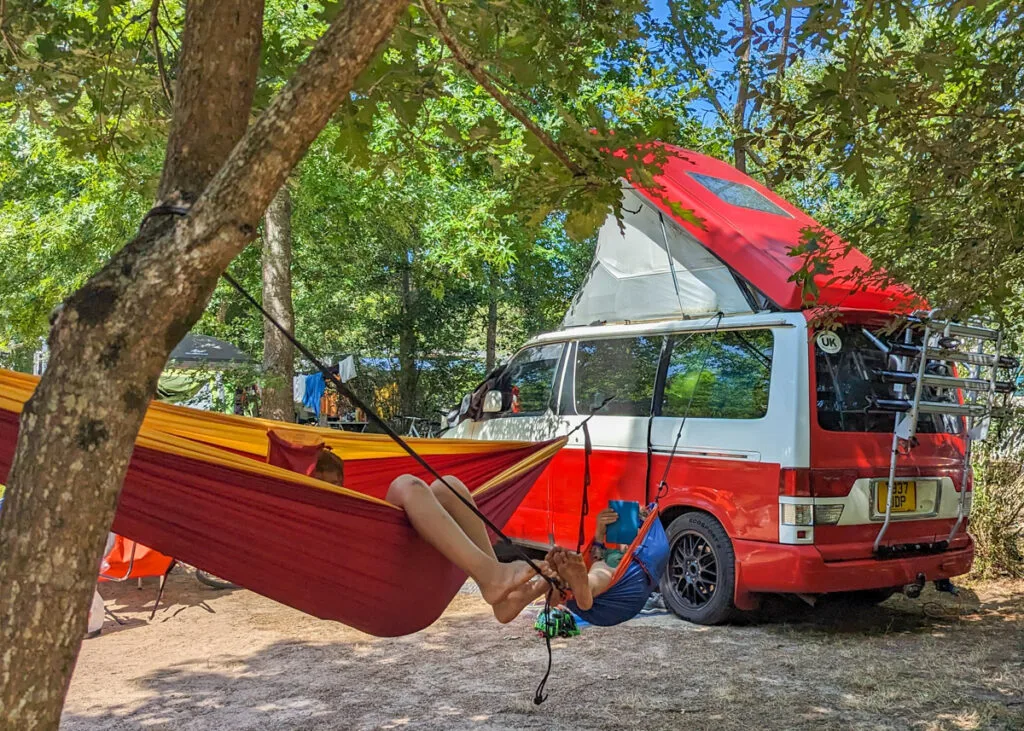 If you're super organised and book a year in advance, you'll be able to book a lakeside pitch, which would be an amazing experience! There are also pitches with onsite personal washblocks, although I did notice that these pitches lacked shade as trees had been removed to allow space for the washblocks.
I also need to mention the wasps. There were a few hovering around whenever we brought food out. They were a nuisance until I flapped one away with my hand and got stung, then it was war! A few followers on Instagram suggested burning coffee to deter them, which seemed to work. It was only a few wasps at a time, but something to bear in mind if anyone in your family has a wasp phobia.
The facilities at Camping Le Col Vert
The facilities and surrounding natural beauty are really what makes a stay at Camping Le Col Vert so worthwhile. There's a reason that this is a 5* campsite.
The lake
Étang de Léon, with it's beautifully calm and warm waters, is where we spent most of our relaxing time on site.
There was a small beach access area close to our pitch, and there's a larger beach near the main bar at the entrance to the site where you can rent pedalos, kayaks, and 'water-scooters'. In the peak season (during the summer holidays) you will need to pre-book the water sports.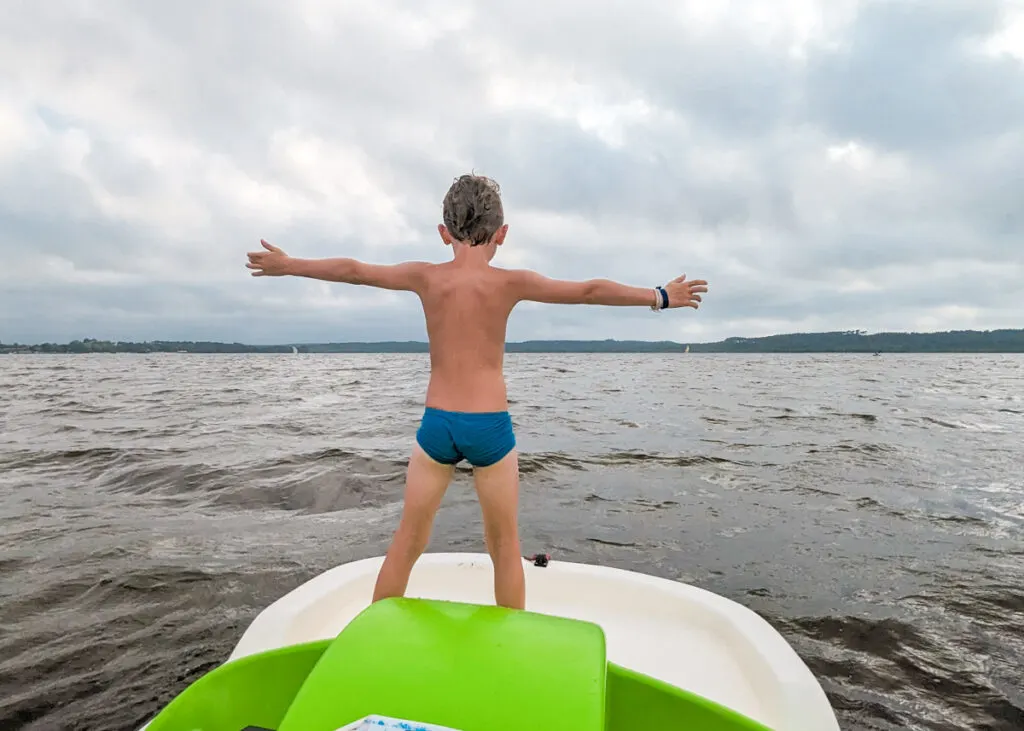 If you like to travel with an SUP or kayak with your camper, then you definitely want to bring it along with you to Camping Le Col Vert. If not, just pick up a couple of floats from the supermarket as they will keep the kids entertained no end.
The water here isn't too deep (just up to an adult's waist) and there's only a very slight current. The lake bed is soft and squishy with no stones. So all in all it's a great place to bring little ones for a wild swim experience.
Shade is very limited on the beach, so you may want to purchase a parasol from the campsite shop.
The swimming pool
Considering the size of the site, the swimming pool is rather small and lacks the slides that we've become accustomed to at Sandaya campsites in France. In fact the boys were rather disappointed when they saw it; its been cleverly photographed on the Sandaya website, who call it a 'waterpark'.
Whilst there is a toddler area with water shooting out and very small slides, this doesn't really constitute a 'waterpark' in our books. The swimming pool itself is rather small and extremely crowded for much of the day. There's also an undercover pool.
We only visited the swimming pool once for an hour during our week visit, which is very unusual for us. However, with the huge lake to play in, which was much closer to our pitch anyways, you can't really complain.
The playground
The playground has recently had a makeover and is superb. There's a large wooden apparatus to climb on, sports pitches, and a pump track for bikes and scooters.
This is also where the stage is for evening entertainment; a brilliant idea having it away from the main bar and restaurant on site.
Kids Club
The kids club is brilliant. I had prebooked sessions on the Sandaya app about a week before our visit, so we knew what to expect and could plan our days around this.
There were very few other English kids who attended, most were French and Spanish, but with the super-fun activities laid on and a couple of instructors who could speak English, this really wasn't a problem for the boys and their limited French.
What we particularly liked, is that there are two kids clubs at Camping Le Col Vert, separated into a 5-7 age group and an 8-12 age group. This meant that activities were always age-appropriate for our boys, who are very much beyond dancing along to Baby Shark.
The kids clubs are mostly free, although we did pay extra for a couple of activities, such as the water-scooting one afternoon. There was even an all-day (free!) kids club session on the Wednesday from 10am to 5pm! This is great for parents (like us) who work on holiday.
WIFI
There is 30 minutes free WIFI and then a charge to use the Sandaya WIFI, starting at €5 per day.
We use a SMARTY sim for EU data, as our UK phone plan only allows 5GB of EU data (which goes quite quickly when you work as a blogger). We had 4G+ at our pitch, but connection would be patchy due to the sheer number of people trying to connect to mobile data in one area (a bit like at a festival). It was especially slow in the evenings (almost unusable), but it is just-about fine if you need to work during the day (the connection would seriously struggle for video meetings).
In hindsight, if you're working on site, it's probably best to purchase the Sandaya WIFI.
Dining at Camping Le Col Vert
Unlike other family campsites in France, I really liked how the evening entertainment was in a completely separate area of the park to the restaurant and bar. This made for a more relaxing meal, although it's worth booking a table in advance over the summer holidays.
The restaurant menu is rather limited, especially for vegetarians, and vegans would struggle. But the service is good and it's a lovely spot overlooking the lake. The bouncy castle is within eyeshot for kids to bounce of some steam between meals.
Despite it not being the best food, we still really enjoyed a meal here. Plus it was on an evening where temperatures had hit 40 degrees during the day, and no one wants to cook or prepare a family meal in that heat.
For much better pizza head to the onsite snack bar (which pretty much has the same menu). Or alternatively, if you want a sit down meal, head across the main road to the pizzeria opposite the campsite, Le Nenuphar. Here burgers and pizzas are served all day, and the pizza bases aren't pre-made like they are at the campsite restaurant.
The campsite shop
The campsite shop is excellently stocked as has everything you need, from fresh fruits and vegetables, to meat and beers. There's also games for the kids and an onsite bakery (I never had to queue for the baguettes and croissants in the morning).
We always do a big shop at a supermarket before arriving to a campsite, so we're all set up for the week. The onsite shop was then very handy to pick up milk, bread and other essentials throughout the week, meaning we didn't need to to a supermarket shop again.
The washblock
Our nearby washblock was fine. It had everything you need, the showers cubicles were spacious, there was always hot running water, and never a queue.
However, they're probably due for an upgrade. I did notice a much swankier washblock elsewhere on the site and have also seen much better at other Sandaya campsites in the past (I'm thinking of Camping Sandaya Séquoia Parc which we stayed at last year).
Cycle tracks from Camping Le Col Vert
The cycle tracks direct from the campsite to the Atlantic beaches are what makes this region so special. They are superb! I wish I could bottle the smell of the pine as we whizzed through on our bikes.
With there being so many options of places to cycle to, we didn't need to move our Mazda Bongo at all for the entire week!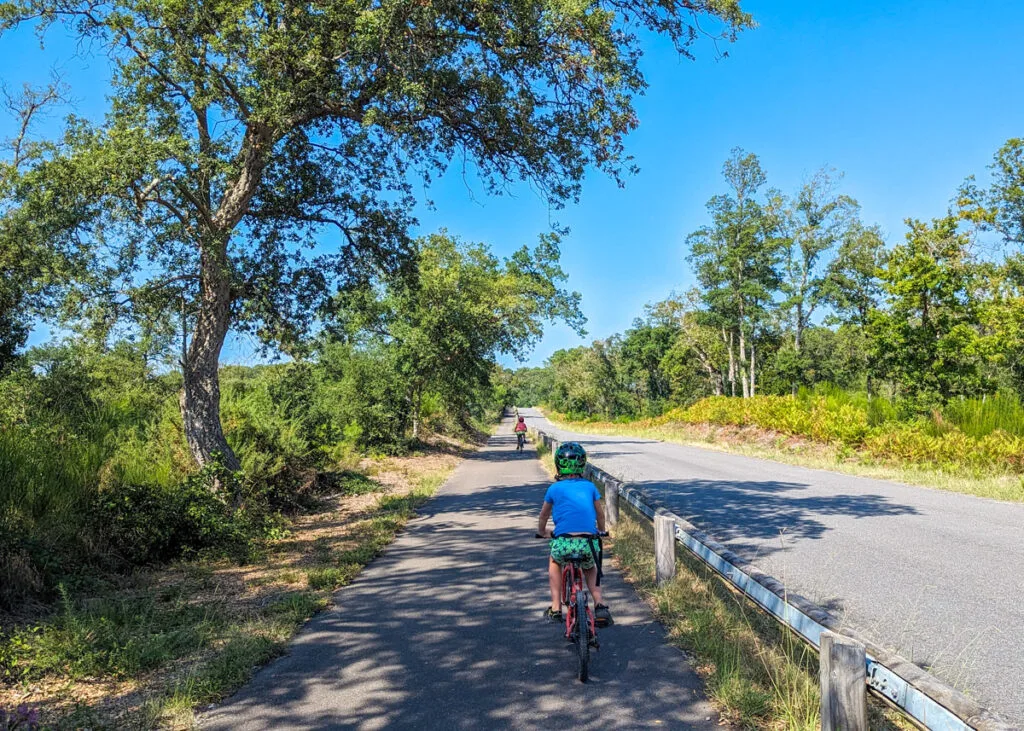 The nearest beach is Plage de la Lette Blanche which is an 8km cycle away. The first section is flat and there are a few hills to negotiate as you approach the beach. Kids will need to know how to use the gears on their bikes. But it's definitely worth the effort; the beach is stunning and kids will love playing in the surf. Do note that there are no snack bars or water fountains here, so bring everything you need.
If you want to combine your beach day with a restaurant or bar meal, then cycle a little further north to Saint-Girons Plage (10.5km along cycle paths).
The town of Léon is a 5.5km cycle away with lots of eateries and a market. On this side of the lake there is also Parc Accrobranche Là Haut Aventure Park if your little monkeys need to burn off some energy in the trees and you can tear them away from the activities onsite at Camping Le Col Vert.
Final thoughts on Camping Le Col Vert
We have visited this region of France a couple of times over the years. First staying at Camping Lou P'tit Poun near Bayonne, and more recently at La Cote d'Argent Campsite by Hourtin Plage, but Sandaya Camping Le Col Vert is now our firm favourite.
Whilst the camping pitches feel a little hemmed in (for France, not at all for Spain or the UK) it was the location that made our stay so special. The calm waters of Étang de Léon were a just 20 metres from our pitch, and the traffic-free cycle paths through the pine trees to the beach are beautiful. If you're more organised than us and book a year in advance you will be able to get a lakeside pitch.
Add in the fact that the boys had an absolute blast at the free onsite kids club, then this campsite is a sure winner for families!
We wished we'd stayed longer and we'll definitely be back, but it was time to start heading north towards the Calais-Dover ferry. Although we still had a week at another Sandaya site to go, Sandaya Le Grand Dague in the Dordogne.
---
Best family campsites in France
La Cote d'Argent Campsite, Hourtin-Plage REVIEW
Paris with kids: a perfectly unplanned day