Can you really visit Paris with kids and wing it? This is for the parents who want to go with the flow in the City of Love.
It's been drilled into parents that to make the most of a European city break we should have our days planned to almost military precision and book activities in advance so as not to miss out on the 'must do' activities, whilst also making sure sufficient downtime is scheduled to avoid meltdowns (which may come from any family member).
Well for our first trip to Paris with kids we didn't follow this advice. We did check the train times the night before (we were staying at a campsite near Paris with a pool on our annual summer road trip through France). But that was it. No plans were made whatsoever.
Call it laziness, call it spontaneity, but in all honestly, we just hadn't got round to sorting anything out. But, we had visited Paris BC (Before Children) so had a fair idea of the main sites, although I think everyone has heard of the Eiffel Tower?
Usually on this family travel blog we share an in depth itinerary or 'things to do guide' for the places we have visited with kids. But after only a day in Paris with kids, we are certainly not experts.
So for this post, we're sharing our unplanned experience to show that you don't always need to plan. Paris is a huge city and really you need a good 4+ days to really explore it. But Paris also offers a very special vibe and a day in Paris with kids is worthwhile to get a flavour. Indeed, our one day visit was of our best experiences we've had on all our visits to France with the boys.
How did we get into Paris?
We were staying in Saint-Chéron, from where a direct train runs to/from Gare d'Austerlitz every day, taking 50 minutes. Just use Google Maps to check the train times on the day of travel; trains were leaving every 30 minutes when we visited.
At the Saint-Chéron train station there is ample parking as well as a secure bicycle park.
We paid €10pp return to Paris for the day. Make sure you validate your ticket before boarding the train.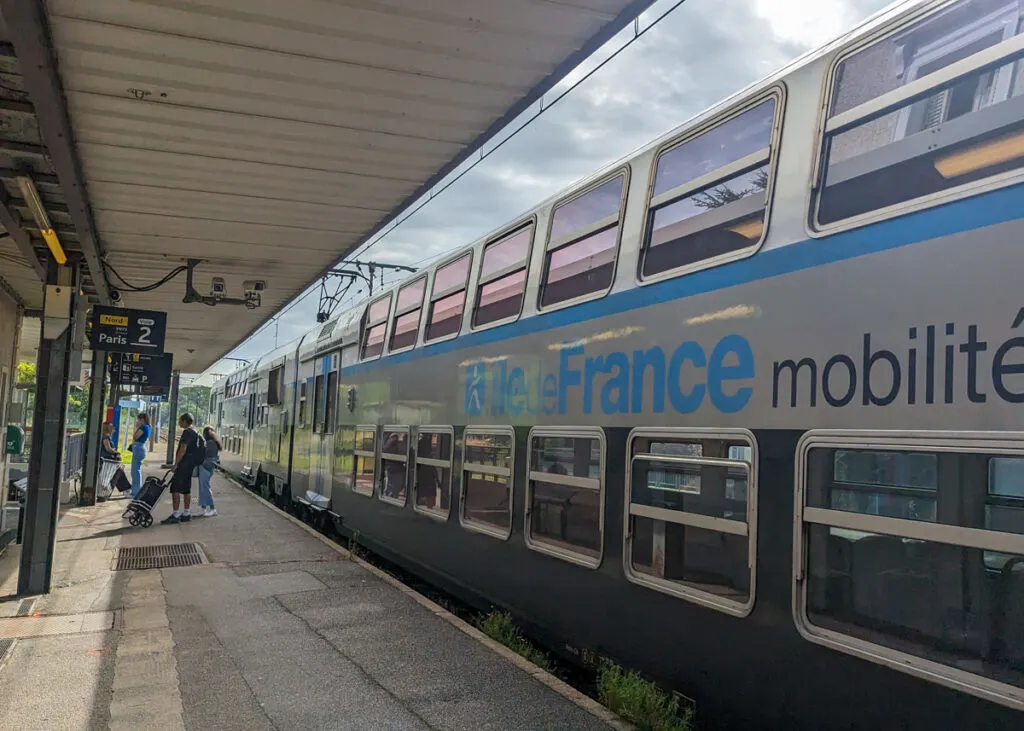 How did we get around Paris with kids?
Your train ticket also includes the metro if used within two hours of validation, so you should have enough time after you arrive in Paris to make an onward connection. We took the metro towards the Eiffel Tower from Gare d'Austerlitz, it was quite straightforward but there are staff members on hand to assist if you need it. Unsurprisingly, they seemed quite used to tourists approaching them and asking in broken French how to get to the Eiffel Tower.
Be warned that the Paris metro is not that easy to navigate. You may want to read this article from our friends over at Mini Travellers.
To make it slightly easier, we jumped off at La Motte – Picquet Grenelle metro station and walked the short distance to Champ de Mars. This beautiful green space is a great way to approach the Eiffel Tower, and gives a picture-perfect first glimpse of the famous landmark. It's also a good spot to sit and have a picnic if you've brought one, it's probably the best (and cheapest) place to eat in view of the Eiffel Tower.
Once we'd taken enough photos of the Eiffel Tower, we turned right at the river and just walked and walked and walked.
Paris is a fantastic city for walking, especially if the weather is on your side. Most of the main sights are along the River Seine so you can use that as a guide, which is exactly what we did! The walkways along the river drop down to river level and then lead up staircases to cross bridges. It's a fun way to travel and gives you a great perspective on the city.
We did have a moment where we thought we'd pop over to Montmartre on the bus as this is away from the River Seine, but when the bus arrived it was crammed full and it wasn't entirely clear how to get tickets. So we decided to just keep walking.
What did we do?
Following the route along the River Seine from Eiffel Tower we passed the Grand Palace, Tuileries Garden (including the fairground), Place de la Concorde, Louvre Museum, Sainte-Chapelle, Notre Dame, and finally the Jardin des Plantes.
The walk could last you a whole day if you stopped off and visited the numerous sites along the way, but we restricted ourselves to a tasty (but expensive) meal near the Louvres and the fairground.
The fairground was of great interest to the kids but less so for the adults. You can go on the Ferris Wheel for amazing views of the city, but we found the €50+ fee for the whole family a bit steep, so the kids instead went on the flying carousel which spun them round and round for a few minutes whilst we waited at the bottom. This was €7 each; as with everything in the tourist parts of Paris, it wasn't cheap. If possible, try to plan ahead on how much you can afford and what you want to spend it on. The budget can take a serious hit otherwise.
We caught Paris on a dry, warm summer's day where the temperature hovered around 25 degrees. Pretty much perfect for a leisurely stroll but do bear in mind Paris can get very hot in the summer and is prone to rain the rest of the year.
We only managed to find one water fountain during the whole day which was surprising; it is possible we missed a few though. Keep this in mind and pack extra water if you can. A small bottle of mineral water in the restaurant was €5(!) but street vendors had the same for €1.50 (cash). There were cafes dotted around the riverbank and we also found a food court just along from the Eiffel Tower on the river. They were selling drinks and meals, but we settled for the largest candy floss we'd ever seen, the boys disappeared behind it for a few minutes before they ate themselves free.
Was it a success?
Yes, it was and we were quite surprised how much we enjoyed it, and how much we managed to fit in. We even found ourselves having to rush towards the end to make sure we caught our intended train, and wished we'd had another couple of hours to spend. It would have been good to make it across to Montmartre and perhaps have a more leisurely meal to break up the day.
Paris is so well set out for a walking day, especially if you are happy to limit yourself to the sights along the Seine. The public transport system in Paris is extensive and affordable, but we sometimes find the extra hassle of buying tickets (or trying to work out which transport pass to buy) can outweigh the time you save. There is also something liberating about being your own boss under your own steam, not needing to squeeze onto public transport several times throughout the day. Needless to say, we wouldn't recommend trying to drive your own vehicle into the centre of Paris, we'd likely still be doing laps of the Arc de Triomphe if we'd tried it ourselves!
The boys loved it and enjoyed seeing some of the sights they'd only ever seen on TV and movies, the Eiffel Tower in particular was a huge success. There were also plenty of snack stops to keep energy levels high, and the fairground appeared at a good time, helping to break up the walking.
We also found the train system worked well, it was quite cheap from the town closest to our campsite, it was clean and not too busy. They ran every 30 minutes which meant we didn't need to worry too much about planning ahead and the station at Austerlitz was well placed to start and end the day.
Where did we stay?
READ: Camping Parc des Roches REVIEW: a campsite near Paris with a pool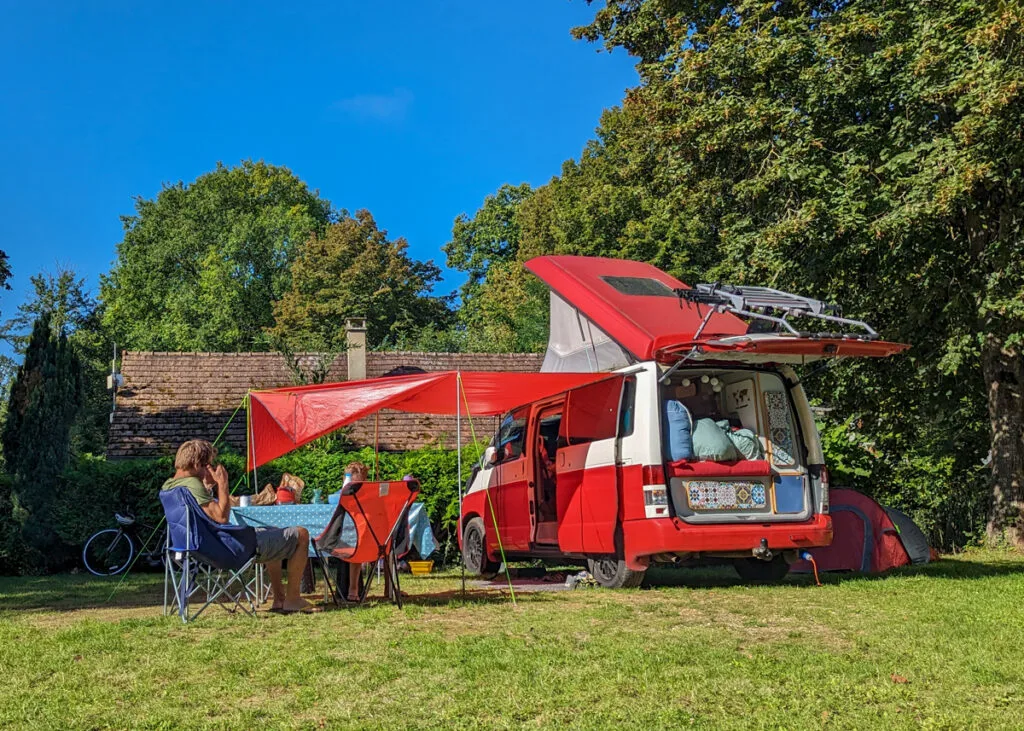 This was the first stop on an annual French road trip, and as we were travelling in our Bongo camper, we needed a campsite.
Camping Parc des Roches sits to the southwest of Paris, just outside the village of Saint-Chéron, and has a pool, playground, and onsite restaurant. Despite being just 50 minutes from Paris, Camping Parc des Roches is surrounded by lush trees and open countryside. It actually feels a million miles away from the hustle and bustle of cosmopolitan Paris.
The campsite itself is actually quite sprawling and shady and we were very impressed to have such a large, secluded pitch. Facilities are a little rough around the edges, but you don't stay here for the facilities, it's about having a good base to do a day trip to Paris with kids!
Final thoughts on winging a day in Paris with kids
Paris is a city where you could spend a lifetime of annual leave visiting and never see everything, so the thought of only spending one day could seem pointless. However, the beauty of the city is that so many of its sights are close to one another and you can tick them off quite quickly.
Of course, you're not going to have time to see and do everything, but as an introduction and taster to the city, one day walking along the Seine is a pretty good place to start.
When you next visit, perhaps for a few more days, you'll know what to expect and be able to delve a little deeper into this magical place. But remember, you'll never beat your first view of the Eiffel Tower!
---
You may also like to read:
The best ALTERNATIVE European city breaks with kids
The BEST family campsites in France for families
6 week summer road trip in France