If you're looking for a family campsite in France that's near Paris with a pool, then Camping Parc des Roches ticks the boxes.
We've taken our boys camping in France almost every year since they were born, both tent camping in the early days, and in our Mazda Bongo camper over recent years. From surfing on the Atlantic coast, swimming in fresh waterfalls of the Alps, cycling through the historic villages of the Dordogne or playing in the gardens of Chateaux in the Loire, we're covered a lot of ground in France.
But the one place that avoided us for so long? Paris.
I blame the Paris ring roads. If anyone has follow that route suggested on Google Map to the south of France, you'll know what I'm talking about.
Now Paris actually has a special place in our hearts as it's where Jay proposed to me back in 2001. But the last time we visited was when Arthur was a baby bump and we were travelling back to the UK after living in Australia and NZ for five years.
So when the boys recently said that they wanted to see the Eiffel Tower, we thought that we should finally incorporate a visit to Paris on our annual summer French road trip in our Bongo camper.
Travelling in our Bongo meant that we needed to find a campsite on the outskirts of Paris where we could easily get the train into the city to explore. And a bonus would be to find a campsite near Paris with a pool.
Well Camping Parc des Roches certainly ticks the boxes.
READ: Paris with kids: a perfectly unplanned day
The campsite
Camping Parc des Roches is a campsite near Paris with a pool.
It sits to the southwest of Paris, just outside the village of Saint-Chéron. From Saint-Chéron it's a 50 minute, direct train journey to the centre of Paris (terminating at Gare d'Austerlitz).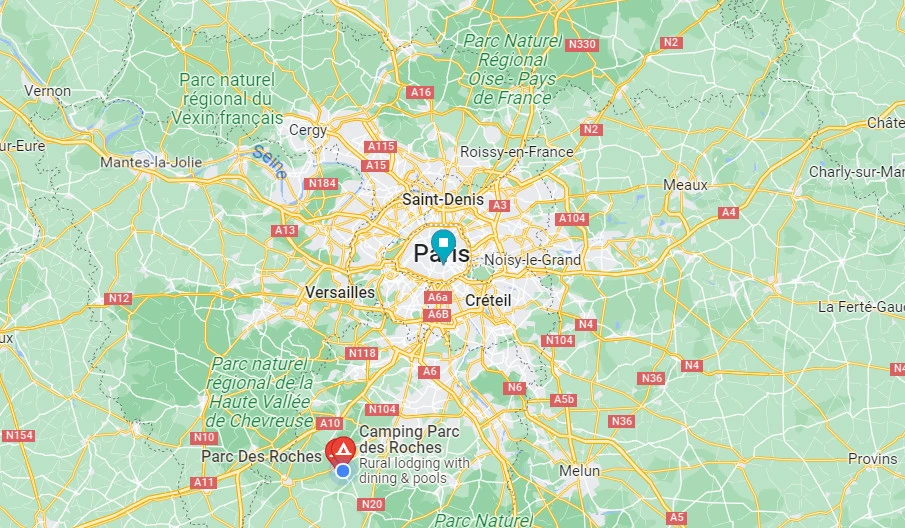 Despite being just 50 minutes from Paris, Camping Parc des Roches is surrounded by lush trees and open countryside. It actually feels a million miles away from the hustle and bustle of cosmopolitan Paris.
The campsite itself is actually quite sprawling and shady and we were very impressed to have such a large, secluded pitch. Admittedly large pitches are the norm in France, but this is a campsite near Paris, so we had expected much smaller.
We had a pitch near the main area of the campsite, but if you're assigned a pitch at the far end of the campsite, it's a fair trek to get your baguette and croissants each morning. Having a bike on site is always handy.
Pitches come with EHU and some with a water tap, although ours and our neighbour's didn't work.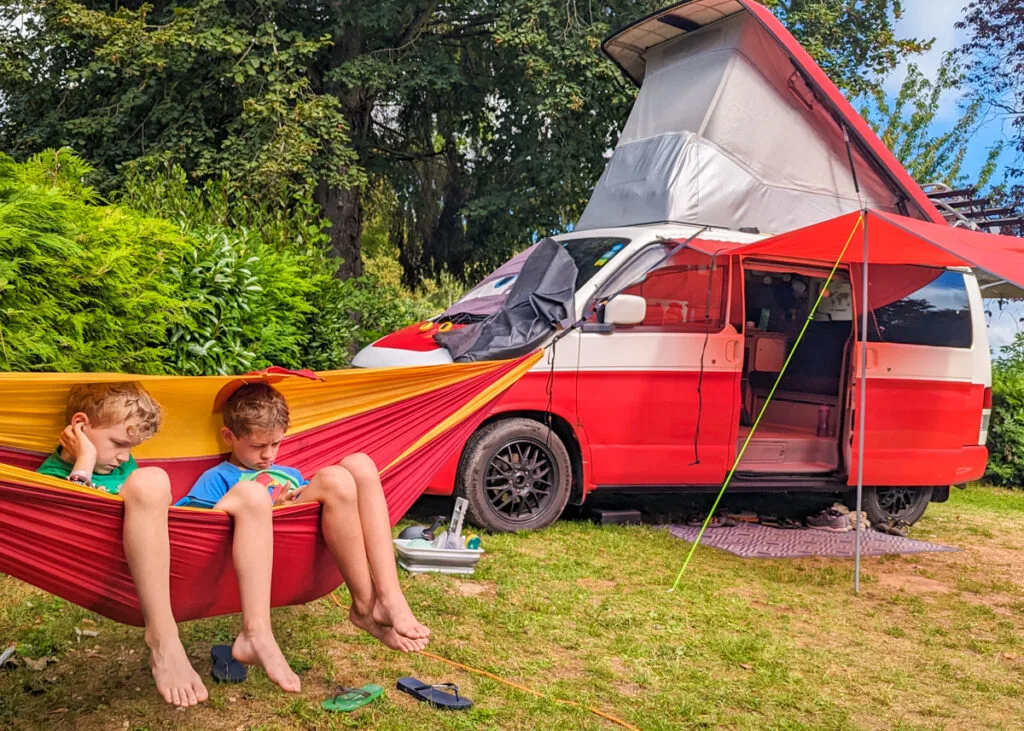 The facilities at Camping Parc des Roches
The facilities at Camping Parc des Roches are good, not great. Whilst the usual pool, kids club, playground, restaurant is on offer, this is not a 5* campsite and facilities are a little rough around the edges. In fact, this campsite has officially been rated 3* according to the sign at the front entrance.
Indeed, the below-par facilities are why this campsite isn't featured on our best family campsites in France. But this isn't a campsite you visit for the facilities, it's a campsite which is convenient for a day trip to Paris and has a pool to cool down on those hot summer days.
The swimming pool
At the bottom of the hill (yes, this campsite is deceptively hilly) is the campsite swimming pool. A big rectangle with basic sunbeds strewn around. Not much thought has gone into the aesthetics of this pool, but it does the job; where there's water on a hot day, the boys have fun.
There's no lifeguard on duty, although maybe the tired security guard slumped by the entrance to the pool doubles as a lifeguard? Who knows. But there's not much 'health and safety' going on at this pool, so if you're kids are not confident swimmers, keep an extreme beady eye on them.
I also need to mention that the ground around the swimming pool is painfully uncomfortable to walk on. You need to leave your shoes at the gate, so your bare feet are exposed to hobble awkwardly over the bobbly concrete. I suppose it means that there's no issue with kids running alongside the pool here.
There's also a small toddler pool for little ones to splash around in and a small bar before the entrance to the pool (which I think most parents were in whilst they left their kids to go nuts in the pool).
The swimming pool is open between 11am and 7pm during the summer holidays. Boards shorts, as usually at French campsites, are not permitted.
The playground
There's a large playground area with swings, slides, football nets and a tennis court. It all looks rather tired and in need of an update. But Arthur found football pals to play with and Ez was happy exploring in the woods here.
The playground is a good space for kids to explore, but lacks any big apparatus for kids age 7+; it's more aimed at little ones.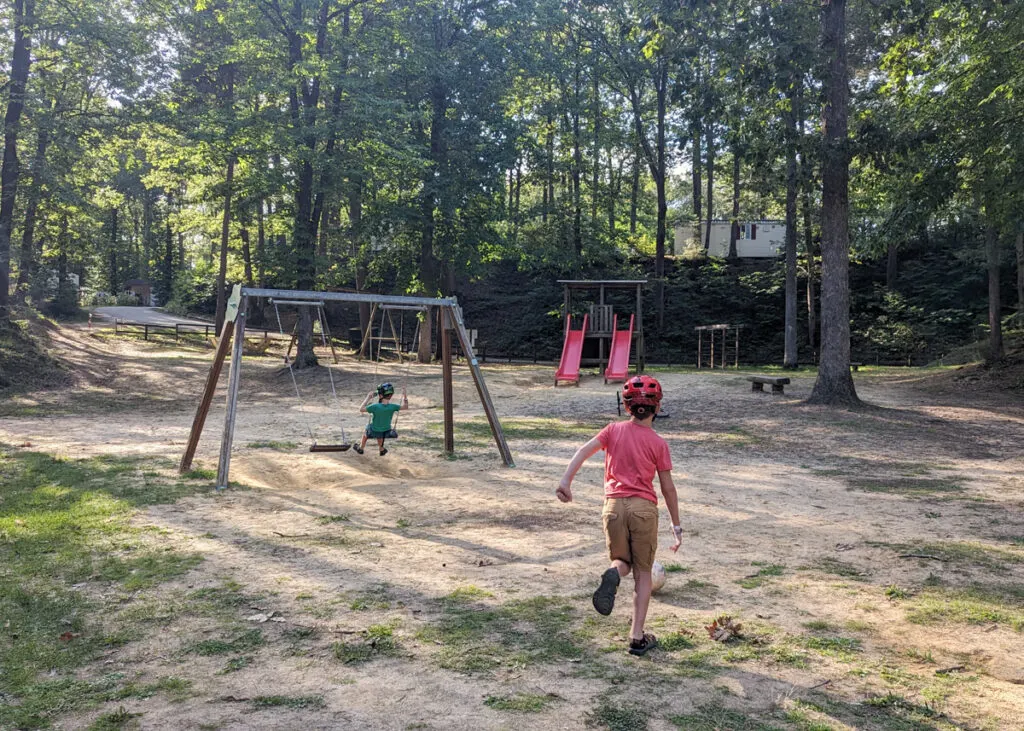 Kids Club at Camping Parc des Roches
We generally love kids clubs at French campsite. The boys always have fun and the free childcare gives us parents the opportunity to work (one of the reasons we manage to travel for so long at a time is that we work while we travel).
However, as I walked the boys in on their first kids club session at Camping Parc des Roches I realised that they were much older than all the other kids there, and when they were asked to sit down and colour in a cartoon of a dog, the glare I received from the boys showed that they were not at all impressed. They returned after the two hour session to declare that it was 'the worst and most boring kids club they've ever been to'.
I suppose they're now at an age when us parents need to make sure there are kids clubs with different age bands, such as the Sandaya campsites that offer an 8-12 kids club.
If you're kids are 7 and under, I'm sure they'd have a brilliant time. Staff speak both English and French, although the boys told us that the one staff member on duty spoke no English to them at all.
WIFI
Whilst we would love to switch off whilst camping, realistically we need to stay connected.
You can pay to use the campsite WIFI (€5 per day, cheaper if you pay for multiple days). Alternatively the internet connection on our phones was good. We use a SMARTY sim for EU data, as our UK phone plan only allows 5GB of EU data (which goes quite quickly when you work as a blogger).
We had 4G+ at our campsite. Connection would always be slow in the evenings, but is fine if you need to work during the day.
Other facilities at Camping Parc des Roches
There's a very basic shop that doubles as a bar/restaurant on site. This is where you can pick up your baguettes and croissants each morning (pre-order and pay the evening before) and there are fruits, drinks, meats, butter, and milk to purchase.
You can also buy toilet paper here. You'll need it as there is no toilet paper in the loos(!).
The restaurant serves basic snacks and good pizza, vegetarian options are very limited. You don't need to book (quite a novelty at French campsites) and the service is friendly. The restaurant opens for lunch until 2pm and then reopens at 6pm in the evening.
The evening entertainment gets rather loud here and there's no escaping it. If you are after a quiet family meal, check the 'animation' schedule for the karaoke night; you have been warned.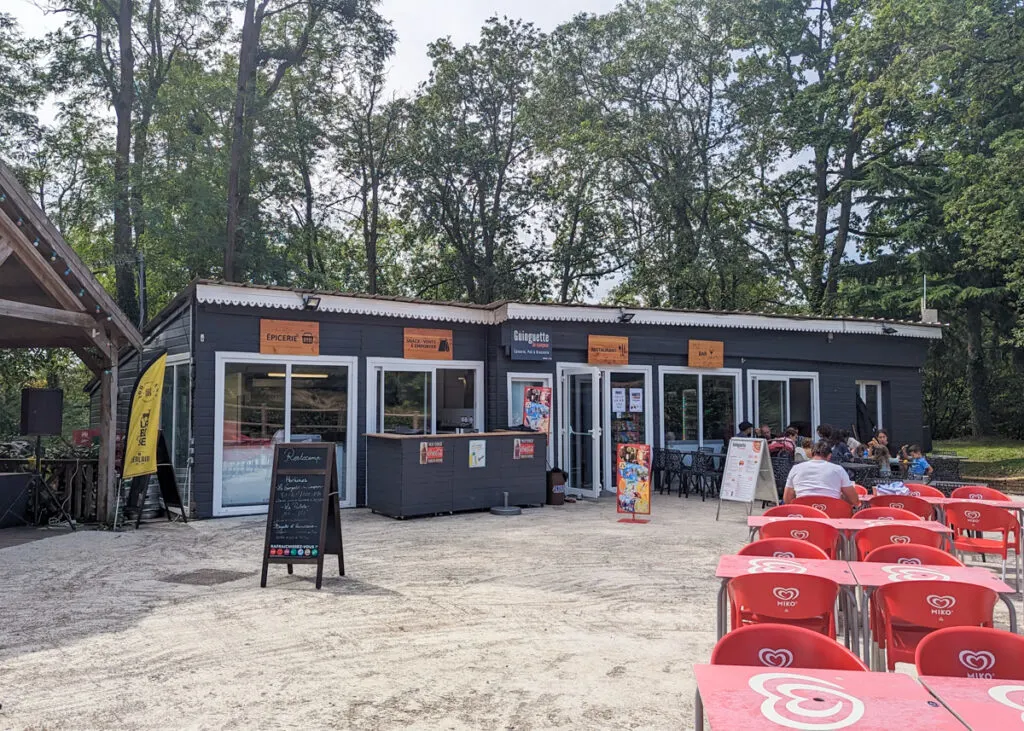 The washblocks are kept reasonably clean (don't forget the bog roll!). The shower temperature is temperamental, but you never need to queue. There are also washing machines to use here.
Nearest supermarket to Camping Parc des Roches
For a big stock up of food, head to the Carrefour City supermarket in the nearby town of Saint-Chéron, a 7 minute drive away. Click here for Google Map point.
This is a small supermarket, but has absolutely everything you need.
Getting to Paris from Camping Parc des Roches
A day trip to Paris is the main reason you'll want to camp at Camping Parc des Roches. There's a regular, direct train from Saint-Chéron to Paris every day, which takes 50 minutes. Just use Google Maps to check the train times on the day of travel; trains were leaving every 30 minutes when we visited.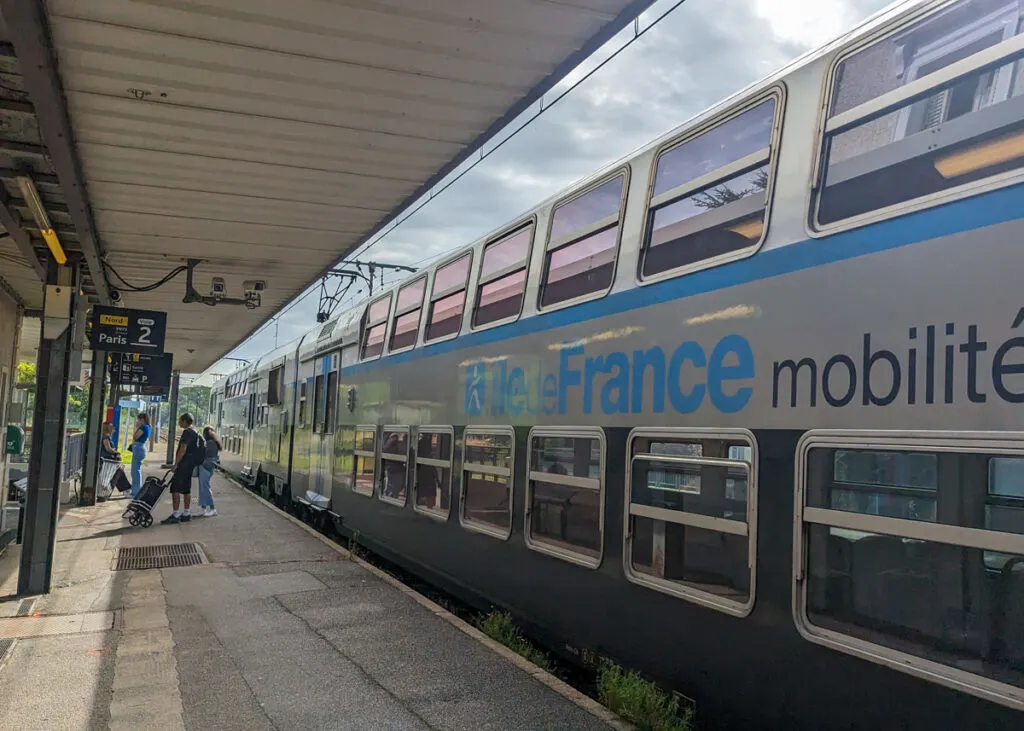 To first get to Saint-Chéron you can either drive or cycle. There's ample parking at the station, but we decided to cycle.
There are no designated cycle paths between the campsite and the station. There's a steep rocky footpath to the left of the campsite entrance as you leave, which is the most direct route. However, if you take a right and follow the quiet tarmac roads down to the town, it's a much smoother ride.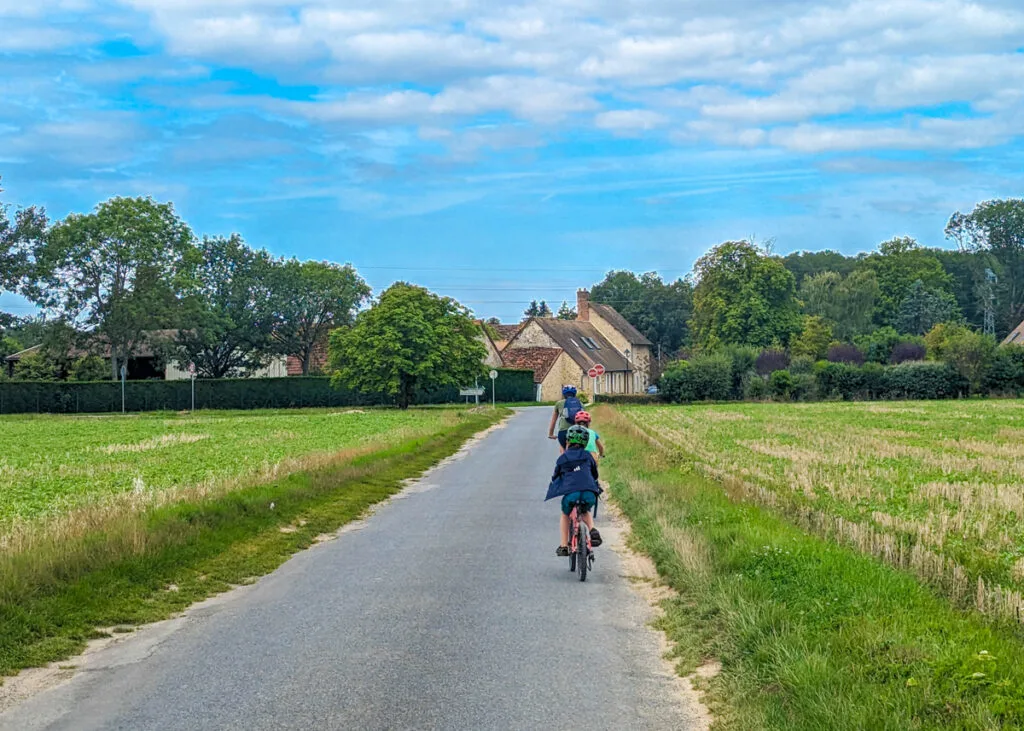 Do note though that Saint-Chéron is downhill from the campsite. It's quite a trek back up after a day in Paris and we decided to push out bikes up the rocky steep path (you can cycle to the bottom and then it's a 500 metre walk up).
We took the grey route down to the station and the blue route back (see map below).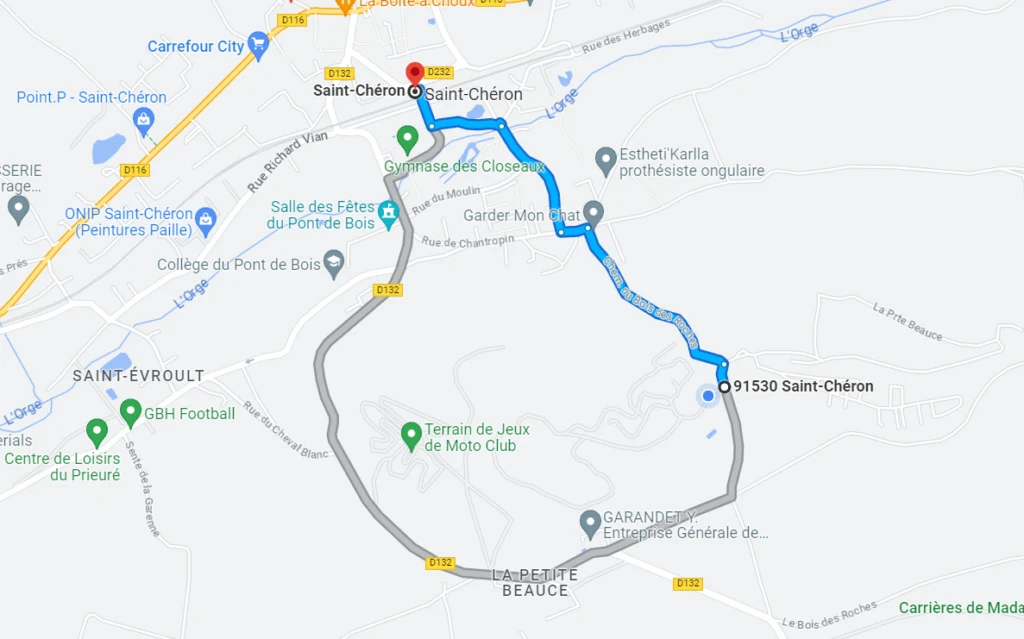 We paid €10pp return to Paris for the day. Make sure you validate your ticket before boarding the train. Your train ticket also includes the metro if used within 2 hours of arriving to Paris (we took the metro to the Eiffel Tower).
It was a superb day in Paris! We made no plans and spent the day wandering and meandering from the Eiffel Tower back to the train station (Austerlitz) along the Siene, passing the epic sites along the way and stopping for a bite to eat / drink / play / chill whenever we fancied. Check out our full review to our unplanned day in Paris with kids.
READ: Paris with kids: a perfectly unplanned day
Other things to do near Camping Parc des Roches
In all honesty, aside from a day trip to Paris, there's not an awful lot to do near to the campsite.
However, we did cycle over to nearby Breuillet for the day; a lovely ride through the countryside, although be prepared for hills and some rocky paths.
There is also Aventure Floreval, which is about a 20 minute drive from the campsite. The is a huge woodland park with treetop adventures, Jurassic mini-gold, archery, laser games, pony rides, and lots more.
Final thoughts on Camping Parc des Roches
If you're looking for a family campsite in France that's near Paris with a pool, then Camping Parc des Roches ticks the boxes. It's a 50 minute train journey from Saint-Chéron into the city centre, and it's possible to cycle to the train station (just be wary of the big hill back to the campsite). The pool is basic but does the job.
The campsite itself could do with a little upgrade as the facilities are a little tired, but the pitches are spacious and shady. It's generally a peaceful, quiet campsite, except for the couple of hours of 'entertainment' at the bar/restaurant most evenings.
If it wasn't for the location near to Paris, there wouldn't be much reason to stay at this campsite. But Paris is a big pull factor and for that reason alone we're so pleased we stopped here at Camping Parc des Roches. Indeed it would make for a good stopover on the journey south to the Dordogne, or Mediterranean and Atlantic coasts.
---
You may also like to read:
Best family campsites in France
Best chateaux to visit in the Loire with kids
Paris with kids: a perfectly unplanned day