Packing light for family travel is a challenge, trying to squeeze in everything you'll need for a long trip without overloading both kids and parents. Whilst some families successfully travel with a suitcase, nothing beats a backpack for convenience and flexibility, but how do you keep it light enough so everyone can carry their own gear without tears and backaches?
Packed away amongst these top 10 tips for minimalist family travel, you'll find ideas on packing light with kids, including what to bring and what to leave at home.
Disclaimer: This post contains affiliate links. If you click to purchase, it is at no additional cost to you, and I receive a small commission.
1. Be selective
The hardest thing is deciding what to leave behind. We've all been there, confronted with a neat collection of folded clothes, each pile absolutely fundamental to the upcoming trip. What could I possibly leave behind?
Many years ago, when packing for our first backpacking trip, the Lonely Planet guide had some brilliant advice which boiled down to:
make two piles: pile one, everything you can't live without and, pile two, everything you begrudgingly accept isn't essential
discard the second pile
split the first pile in two!
Whilst this can seem quite severe, the underlying message is true. You won't need most of the things you think will, partly because when you're travelling you gradually come to care less about having a different outfit each day.
Check out our Southeast Asia packing list for families
2. Downsize your library
It's important that kids continue to read whilst they're travelling, but how do you manage to carry enough books for the whole trip and keep the weight down? An Amazon Kindle (e-book readers are available) is an essential item on your packing list, allowing you to carry an entire library in your pocket.
Plus you'll always (internet permitting) be able to buy any new books whilst on the road, rather than relying on local bookstores which won't have the latest and greatest your kid desperately wants. We prefer the boys having a separate e-book reader to their Amazon fire tablets, as it helps to focus their minds and avoids any distractions.
Kindle Kids (2022 release) | Includes a cover, access to…
Great value—Kindle Kids (2022 release) now with an upgraded high-resolution display, double the…
Includes a 1-year subscription to Amazon Kids+: a subscription designed for children aged 3–12 to…
Establish healthy reading habits: children read, on average, more than 45 minutes a day when they…
Kindle Kids is purpose-built for reading (not a toy)—no apps, videos or games.
Now with a 300 ppi high-resolution, glare-free display for sharper text and images.
All-new Amazon Fire HD 10 Kids Pro tablet | ages 6–12,…
SAVE UP TO £60: a tablet with full features (not a toy) with a wide, 10.1″ 1080p Full HD display…
ROBUST PARENTAL CONTROLS: manage everything from your phone, including screen-time limits, pausing…
ENTERTAINMENT CHILDREN LOVE: includes a 1-year subscription to the award-winning Amazon Kids+, which…
POWERFUL AND BRIGHT: the large 10.1″ 1080p Full HD display shows all their favourite content….
MORE TIME TO EXPLORE: up to 13 hours of battery life to keep up with them all day without multiple…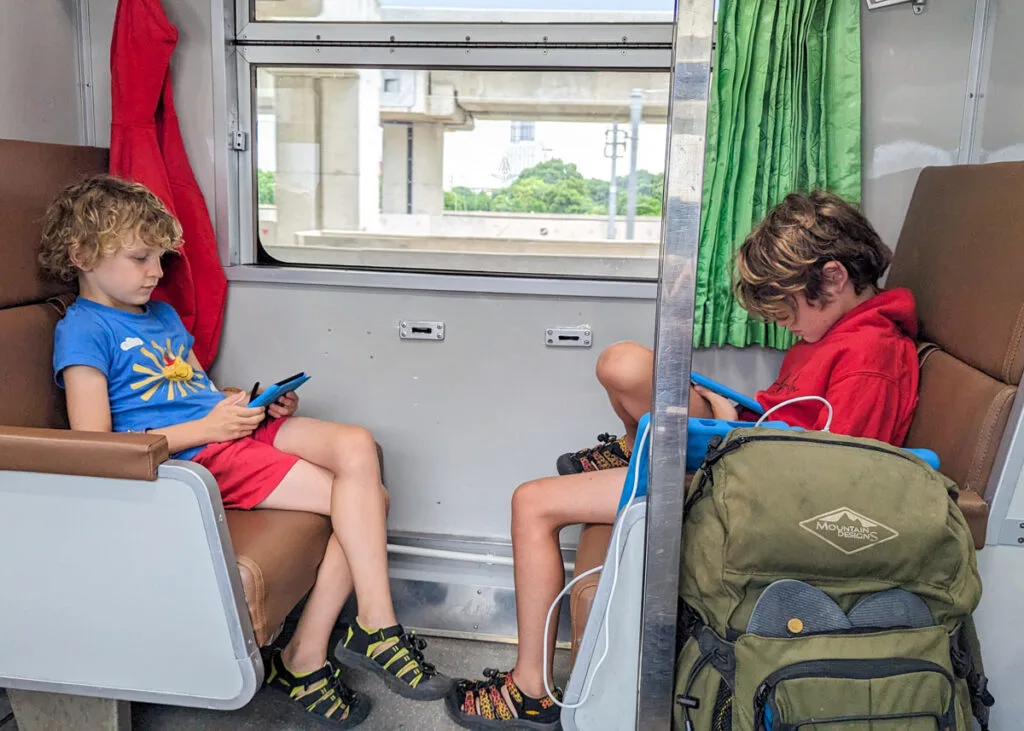 3. Top-up as you go
It can be tempting before you leave home to try and pack for every season and eventuality, and this is often the number one reason why backpacks are bursting at the seams. This will be a particular issue if you're travelling to a region which combines warm and cold climates.
Try to remember that, in most places around the world, it's very easy to buy clothes and supplies from local markets. If you're heading to a warm country which also has some mountainous areas, for example Morocco, don't waste space and weight carrying jackets and fleeces whilst you're in the hot cities, wait until you reach the colder places and then buy clothes and supplies locally. Better still, as the locals will also be buying similar stuff, the prices will be lower.
If you're leaving one climate for the final time, consider donating some of your gear to a local charity who may be able to distribute it to those who'll still need it.
4. Start as light as possible
There's no point shaving every last gram off your packing list if the bag you put it all in is heavy to start with. There's a time and place for rigid, solid and robust backpacks, but a family travel adventure isn't going to be one of them.
Starting with the kids backpacks, find gear which is lightweight but still strong. Your bags will need to withstand a fair amount of abuse (chucked into bus luggage holds, etc) but nothing out of the ordinary. Save the polar expedition worthy bags for another time.
Check out our guide to the best travel backpacks for kids
deuter Fox 30 Children's Trekking Backpack
For children aged 8 and up
The backpack grows with your child thanks to VariQuick back length adjustment
Optimal load transfer thanks to the compact hip fins
Hydration system attachment (compatible with deuter Streamer 3.0 – not included)
Variable fastening options thanks to material straps in a wide range of positions
5. Collapse and fold
One reason people end up with large and heavy bags is essential gear in the wrong shape. You could argue that a plate, cutlery and mug are needed on your trip and this way well be true. But we've seen people with almost a silver-service dinner set, taking up valuable space in their bags.
By all means, bring this stuff but use collapsible bowls, plates and cups where you can, and make sure you have a Spork in your life.
Light My Fire Spork Original — 3-in-1 Camping Spoon Fork…
3-IN-1 SPORK REUSABLE PLASTIC UTENSILS in a 4-Pack are a perfect travel spoon fork knife set combo…
100% BPA-FREE 15% BIO-BASED PLASTIC ergonomic handles make these grip-friendly sporks eco-friendly,…
SAY GOOD-BYE TO DISPOSABLES our camping utensil set spork is the only "on-the-go cutlery" you…
DURABLE AND VERSATILE pack it in your backpack, handbag, or stow it in your car or boat. Enjoy each…
LIGHT MY FIRE SWEDISH SPORKS and premium outdoor gear and accessories are made at our factory in…
STOJO On-The-Go Collapsible Coffee Cup – 12oz / 355ml -…
AN EVERYDAY FOLDING MUG: From the kitchen to the office, Stojo has got your daily brew needs covered…
COLLAPSE, STOW, & GO: Enjoy your favourite drink where ever life takes you with a collapsing travel…
MAGIC IN THE MATERIALS: A foldable and lightweight mug that can handle both hot and cold drinks…
HASSLE-FREE CLEANING: A great coffee cup shouldn't just be simple to use, but easy to wash and…
BUILD A BETTER WORLD: Nobody's perfect but we can try to be better. Reduce your eco footprint and…
6. Multi-purpose clothes
We're big fans of clothes which have more than one use, saving on space in your bag and letting you change outfit on the go.
The boys love their zip-off trousers, allowing them to wear shorts most of the time, but then zip on some legs if they get cold or need to visit a temple.
Sarongs are brilliant for many occasions, especially when travelling Southeast Asia with kids and are lightweight. They can be used for skirts, shawls, blankets, plus many more. It's like having five different items of clothing in one. Similarly, a bandana can be handy for a head-covering, emergency face-mask, or scarf.
7. Virtual documents
It's important to have access to various documents with you, e.g. travel insurance, flight itinerary, copies of passports, etc but that doesn't mean you need a cumbersome folder stuffed full of A4. The vast majority of documents can be stored online, ideally somewhere you can still easily access in an emergency.
8. Ditch the plastic
A big culprit in the weight wars are plastic containers, not only terrible for the environment but also for your back. Toiletries have the biggest footprint, particularly shampoo and conditioner bottles but also things like sunscreen and deodorant.
Wherever possible, we try to use soap and shampoo bars rather than bottles, and we're big fans of the Green People's range of sunscreen and toiletries.
Sale
Green People Scent Free Sun Cream SPF30 200ml | Natural,…
NATURAL & ORGANIC sun cream provides broad-spectrum UVA & UVB sun protection whilst being gentle on…
Use by date: This product's use by date is determined by the Period After Opening symbol (symbol…
EASY TO APPLY, NON-GREASY formula allows smooth application with quick absorption. Sinks in quickly…
ALOE VERA, GREEN TEA & EDELWEISS naturally nourish and protect skin. Moisture-retaining for a…
REEF SAFE & CRUELTY FREE ingredients mean you can enjoy beach holidays safely whilst being kind to…
Sale
Green People Organic Children Scent Free Sun Cream SPF30…
NATURAL & ORGANIC children's sun cream provides broad-spectrum UVA & UVB sun protection whilst…
EASY TO APPLY, NON-GREASY formula allows smooth application with quick absorption. Sinks in quickly…
ALOE VERA, GREEN TEA & EDELWEISS naturally nourish and protect kids' skin. Moisture-retaining for…
REEF SAFE, VEGAN & CRUELTY FREE ingredients mean you can enjoy family holidays safely whilst being…
ECZEMA-FRIENDLY & SAFE FOR SENSITIVE SKIN Ultra gentle and can be used on babies and children of all…
Green People Eucalyptus & Mint Shampoo Bar 50g | Natural &…
NATURAL & ORGANIC shampoo bar with natural foaming and soothing properties to calm an itchy scalp…
ANTI-ITCH, SLS-FREE formula suitable for all hair types. We use gentle cleansing ingredients and…
CELERY, AVOCADO & MACADAMIA are our key plant actives. Celery Seed Extract has proven anti-flake and…
CRUELTY FREE & SUSTAINABLY SOURCED ingredients mean you can look after your hair whilst maintaining…
ZERO WASTE & GREAT FOR TRAVEL Re-use the plastic-free box to keep your shampoo bar fresh between…
9. Ship the souvenirs
We all love an authentic souvenir from our travels, something to remind us of the trip once we're back home. Don't let your small backpack put you off buying a souvenir, but definitely consider getting it shipped back home, rather than trying to carry it across the world with you for the next three months.
It'll likely either get broken or lost, so instead enquire about shipping costs when you make a purchase. Most of the larger shops in tourist areas can arrange it for you and, as long as you're not in a hurry for it to arrive home, it can work out quite cheaper than those annoying excess baggage fees at the airport.
10. Pack a camel
Avoiding plastic bottles is a brilliant idea but it can mean you need to pack your own water bottle, which can add bulk and weight to your bag.
Consider carrying a Camelbak Fusion bladder, a lightweight alternative to a hard plastic bottle that can fold into your bag easier. Make sure you pack some purifying tablets as well, or keep an eye out for water fountains. Some hostels and hotels offer free purified water to save you buying your own.
Sale
Camelbak Fusion 2 Litre Reservoir with Tru Zip Waterproof…
TRU Zip is durable and waterproof
Hypalon reinforced hanging points for increased flow rate
Skid patch on rear of reservoir provides additional abrasion resistance
Includes QUICKLINK compatible tube and spigot
High flow spigot for filling vessels, washing hands or cooking
Final thoughts
When you embark on a long trip, your backpack is coming along with you, whether you like it or not. What can seem a manageable weight at home for five minutes can quickly become an anchor when you've been dragging it around for six weeks.
Factor in your kids and their abilities as well, who may not be used to carrying anything heavier than a school bag, and it can quickly spoil their trip. The last thing you'd want is to put kids off backpacking before they've really began. Indeed, packing light is one of our top tips for backpacking with kids.
Start with as light a backpack as you can find and go from there. Even if you just follow a few of these tips, you'll shed a few kilos. Trust us, your back will soon be thanking you.
---
You may also like to read:
Best travel backpacks for kids
Southeast Asia packing list for families
The ULTIMATE Africa packing list for families