Planning a trip to Morocco with kids? Read on for our essential Morocco packing guide for families detailing what to pack for Morocco. And no, you don't need a packhorse 😉.
Morocco is one of our favourite family travel destinations. This beautifully diverse and colourful North African country keeps drawing us back time and time again; from short week-long breaks to Essaouira and Marrakech, to a 3 week road trip, and now we're preparing to spend four months in Morocco.
Disclaimer: This post contains affiliate links. If you click to purchase, it is at no additional cost to you, and I receive a small commission.
For everything you need to know about travelling Morocco with kids, please read: Morocco with kids: your questions answered.
As anyone who's travelled with kids will tell you, gone are the days of just casually throwing things in a backpack and running off to the airport. Travelling with kids involves a little more thought (think – car seats, things to keep them busy, perhaps nappies and travel cots for little ones), and if you want to travel light with kids, space is tight as there's only so much you can expect the kids to carry.
Plus, Morocco is not a typical package holiday, "fly and flop", destination (although you can find that in Agadir, if that's what you're looking for). The climate and landscape is diverse (bustling medinas, snow capped mountains, towering ochre sand dunes, and coastal surf towns) and it's also a Muslim country. So some thought needs to go in to your packing to allow for the varied climate and local customs.
So to help fellow travelling families out, I've compiled this essential packing guide for any parent(s) planning a trip to Morocco with kids. There will no doubt be items here that you feel that you can do without, or perhaps something that you feel you desperately need. Every family is different. This Morocco packing list for families is just what has worked for our family of four.
Should I take a backpack or suitcase to Morocco?
Whether to take a rucksack or suitcase for Morocco, really comes down to whether you're travelling around from place to place independently, on a tour with a driver, or whether you're staying put in one same place.
Suitcases (my favourite will forever be the Thule Subterra with its compression panel) are always easier to unpack and find items. In fact, I rarely actually unpack if I take a suitcase and just leave it open to see and grab things as and when I need.
But a suitcase can be cumbersome when trying to navigate the small cobblestone alleyways of a medina whilst holding your little ones hand and mopeds grazing past.
So if you are staying in the one spot, or have a driver who picks you up and drops you at your accommodation on a tour, then you are absolutely find with a suitcase.
However, if you are travelling independently from place to place, then we advise taking a rucksack / backpack. Having two spare hands when travelling Morocco with kids, just makes life easier. This is also the case if you are road tripping Morocco, as if you are staying in a medina (such as with Chefchaouen or Marrakech) you will not be able to park your car outside your accommodation. Instead there are secure car parks to leave you car, and then you need to walk to you accommodation.
Nevertheless, if you are visiting Morocco with a baby or toddler, we suggest taking them in a back carrier, rather than attempting to negotiate a pram. This will mean that you will have to go with at least one suitcase, as a child is taking up the backpack space. Just make sure it's a suitcase that is sturdy to withstand the uneven paths.
What clothes to pack for Morocco
As previously mentioned, Morocco is a Muslim country with a diverse landscape. The coastline can get exceptionally windy (especially in the port town of Essaouria, coined 'The Windy City'), snow is common in the Atlas Mountains, and the Sahara is one of the driest and hottest landscapes on our planet. Although we've visited the Sahara when it's been raining and experienced sub-zero temperatures at night!
In a nutshell, pack layers for the interchangeable climates, and wear loose-fitting, light clothes that cover your shoulders, cleavage and legs.
Kids will be fine in shorts and T-shirts. Ladies will feel more comfortable in long skirts, or trousers. A light shawl is a good idea. Shorts are fine to wear at your accommodation.
Whilst you will see Westerners walking around in shorts and string tops in tourist areas, we recommend being sensitive to the local culture and covering up. No one will say anything to you. It's just being respectful.
Our clothing packing list consists of:
trousers / shorts / skirts
T-shirts
underwear and socks
a light jumper
a light jacket – we love these TOG24 hooded down jackets that pack down really small
swim wear
sun hat
snood – to be worn to cover your face in a sandstorm or to keep your head warm
You can easily pick up T-shirts and hats from the stalls in the medinas if you forget or loose anything. In fact, you may want to leave some items to leave until you arrive (the kids would love a Maroc baseball cap or a Maroc football shirt!)
Many of the Airbnbs have a washing machine if you are travelling long term. Or your accommodation will be able to point you in the direction of a local laundrette.
Wetsuits for the kids
Don't forget your swim wear in case there's a swimming pool on your travels! Be warned though, the water is rarely heated. So we have always packed wetsuits for the kids. This means that they will play in the water longer.
These Mountain Warehouse wetsuits for kids are good.
Travel shoes for Morocco
Flip flops are fine around the pool. But you're going to need someone a little more hardwearing for walking around medinas and exploring Morocco.
We love the KEEN sandals. They come in both adult and kids sizes. Not only are the comfortable and hard-wearing, but they're also machine washable! These are our go-to adventure footwear.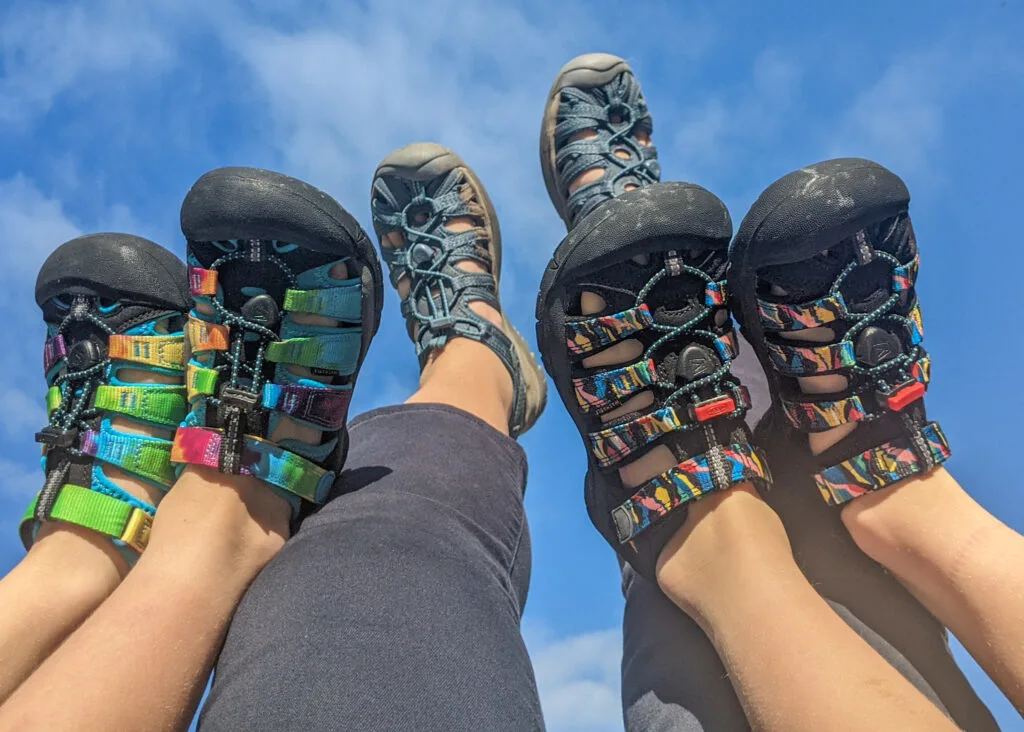 However, with these being sandals, sand can easily get inside when in the Sahara. Plus, your feet may be a little cold when trekking in the Atlas Mountains in winter (when there will be snow). You may then want to pack a light trekking trainer if you are venturing to these places.
Toiletries
We have one wash bag for the whole family where all toiletry items (tooth brushes, toothpaste, shampoo, shower gel, etc). Shower blocks / bars are more space efficient than bottles.
Ladies, consider travelling with a menstrual cup, rather than relying on tampons and sanitary pads. Not only is this better for the environment, but the menstrual cup takes up a lot less space, and you don't need to worry about trying to put tampons whilst travelling.
Medical kit
Whilst there are pharmacies in Morocco, it's just easier to bring your typical medical treatment from home. If your kid is feeling unwell at night time, its easier to grab the Calpol in your bag, rather than hunt down a pharmacy (which is very unlikely to have Calpol, but will have some other kids' paracetamol substitute).
The sun is strong in Morocco, so pack the high factor sun cream. Mosquitos aren't so much of a problem in arid Morocco, but it's always handy to have some insect repellent handy, and also Tiger Balm for any itchy bites.
Our medical kit consists of:
suncream (which is used most days)
plasters
antiseptic cream and wipes
bandages
medical tape and scissors
Ibuprofen
Filtration Water Bottle
It's not recommended to drink the tap water in Morocco.
Rather than buying bottled water and adding to the plastic bottle problem in Morocco, invest in a water filtration bottle, such as WaterWell.
WaterWell Water Filter Bottle, BPA-Free Tritan, 2-Stage…
💧 DITCH THE DISPOSABLE WATER BOTTLES – Stop relying on single-use plastic water bottles! With the…
💧 FILTER 99.9% OF WATERBORNE PATHOGENS – The 2-stage filter in the WaterWell 700ml Travel Water…
💧 KEEP YOURSELF HYDRATED – Whether you're out camping, hiking, or on a long journey, make sure…
💧 NO AFTERTASTE – Unlike some other water filter bottles on the market, the WaterWell doesn't…
💧 EASY TO USE: Simply fill the bottle with water from any source, screw on the filter cap and…
Electrical items
Most families will be travelling with some electrical items, be it your phone, laptop, or the kid's tablets. Make sure you have all the correct chargers and plugs with you.
Throughout Morocco, the plug with two round pins (Type C) is common. Also know as a Europlug, as this is the type of plug that is most common in Europe. If you are travelling from the UK with electrical items that use UK plugs, you will need to bring a travel adaptor with you. We recommend this one as it has space for a UK plug, plus 3 USB slots.
staaly US/AUS/UK to EU Travel Plug Adapter, 3 USB Ports, 2/3…
Schuko Type E/F Plug – Our USB Plug Adaptor UK is manufactured with A-grade material that works with…
4 in 1 Travel Plug – 1 AC outlet & 3-USB ports that auto detects input, this Universal Plug Adaptor…
Safe And Durable – Our Travel Plugs UK to EU is Made with high quality, durable materials that…
Easy To Carry – If you are planning a trip to see the Queen in London, or taking a road trip through…
World at Home – Welcome your foreign friends with confidence. They will be able to connect and…
If you are out and about taking lots of photos and draining your battery (warning: Morocco is very photogenic) or perhaps you're camping in the Sahara, a battery pack charger is very handy. Considering how much sunshine Morocco receives, this solar power pack is brilliant.
Sale
A ADDTOP Solar Charger Power Bank – 25000mAh Fast Charging…
25000mAh Ultra-large Capacity: With the capacity of 25000mAh, it can charge most smartphones for…
4 Solar Panels: With 4 high-efficiency foldable solar panels, it's up to 1A input under the direct…
Safety Protection: Dual USB outputs allow you to charge 2 devices simultaneously with 3A high…
Built for Outdoors: Built-in 9 LED flashlight supports normal, sos and strobe modes; Waterproof,…
What You Get: A 25000mAh solar charger, a USB C cable and an user manual.
Entertainment for the kids
Whilst we're all for imaginative play and relying on the natural environment for entertainment, sometimes screen time is needed. Plus, if you're travelling long term, your kids may be doing online schooling, and in that case a tablet is an essential item.
Ever since the boys were toddlers, they have travelled with the Amazon Kids Fire Tablet. This is loaded with kids game, we add on films / TV shows, and if you break it within two years, then Amazon replace it, no questions asked.
Kindle Kids (2022 release) | Includes a cover, access to…
Great value—Kindle Kids (2022 release) now with an upgraded high-resolution display, double the…
Includes a 1-year subscription to Amazon Kids+: a subscription designed for children aged 3–12 to…
Establish healthy reading habits: children read, on average, more than 45 minutes a day when they…
Kindle Kids is purpose-built for reading (not a toy)—no apps, videos or games.
Now with a 300 ppi high-resolution, glare-free display for sharper text and images.
The boys also take a pencil case each (with pens, pencils etc) and a notebook.
A travel journal is a must, so they can record all their adventures. A wonderful keepsake for when they're older. There are lots of travel journals around for kids, and we've tried many over the years. What I've noticed is that the novelty of a travel journal can ware off if it's the same page every single day. I've recently found the My Travel Journal by Lonely Planet Kids, which has lots of variety across the pages to spark imagination. I'll feedback how this one goes on our next trip.
Sale
And then there are travel games. These are very handy in restaurants (the service is often rather slow in Morocco). Our favourites are:
Mattel Games UNO FLIP! Family Card Game, with 112 Cards in a…
Play the special FLIP card and all cards are turned over, including the draw pile, to reveal an…
UNO FLIP! also includes fun new action cards, like Draw Five and Skip Everyone.
This fun family card game is perfect for adults, teens and kids 7 years old and up..UNO FLIP! Tin…
International products have separate terms, are sold from abroad and may differ from local products,…
German (Publication Language)
Cartamundi Happy Families – Kids Playing Card Game, 1 Pack…
𝗖𝗔𝗥𝗧𝗔𝗠𝗨𝗡𝗗𝗜 Happy Families – Kids Playing Card Game!
𝗗𝗘𝗩𝗘𝗟𝗢𝗣 your child's memory with this classic pairing card game
𝗙𝗔𝗠𝗜𝗟𝗬 𝗙𝗥𝗜𝗘𝗡𝗗𝗟𝗬 fun for all ages from 4 years old upwards…
𝗚𝗥𝗘𝗔𝗧 𝗖𝗛𝗥𝗜𝗦𝗧𝗠𝗔𝗦 or birthday gift for kids or even in a…
𝗤𝗨𝗔𝗟𝗜𝗧𝗬 𝗚𝗨𝗔𝗥𝗔𝗡𝗧𝗘𝗘𝗗 made from premium grade…
Sale
Big Potato OK Play Board Game: Fun and Easy Game For Kids…
TILES AT THE READY: Choose a colour, grab your stack and start laying down tiles until someone…
THE ULTIMATE TRAVEL GAME: Durable, waterproof and perfectly travel-sized board game. Just clip it to…
SIMPLE ON THE SURFACE: A family strategy board game for kids and adults that only takes seconds to…
MULTI-AWARD WINNING: 'Best Family Game' – Imagination Gaming. 'Parent's Choice Award…
WHAT PEOPLE SAID: 'Playing with kids 8-13 and they all love it. They've all got their little…
5 in 1 Chess Board Set Magnetic Chessboard and Chess…
【5 in 1 Chess Board Set】Play chess, checkers, Snake Chess, Flying Chess and Ladders Checkers…
【Magnetic Chess Board and Checkers Set】Both chess board and game pieces are magnetic, the…
【Application】Foldable design – chess pieces can be put into the chessboard for easy storage….
【Lightweight and Portable】The chess board folds to 5.7″ x 5.7″. A small size to store in the…
【High Quality】The magnetic travel chess set is made of high quality plastic which is durable for…
Car seats for Morocco
There seems to be mixed views on what the actual law is for car seats in Morocco. It supposedly is the law that all children require to be in a car seat, but don't be surprised to see local kids piled into the back of the car not even wearing seatbelts, and toddlers squished between their parents on mopeds.
However, we very much recommend that you do use a car seat in Morocco if you plan to hire a car or taxi.
For a Morocco road trip, we suggest bring your car seat from home as this will be cheaper than hiring on arrival.
However, if you are independently travelling around and don't want to carry heavy and bulky car seats, we suggest taking a travel booster seat. The mifold Comfort, Grab-and-Go is perfect for travelling kids. Designed for kids age 4-12, (weighing between 15-36kg and up to 150cm in height) it is super small and lightweight.
mifold Comfort, Grab-and-Go Child Restraint – Extra Padded,…
GROUP 2/3 CAR SEAT: designed for kids aged 4-12, weighing between 15-36kg and up to 150cm in height.
GREAT FOR FAMILIES: ideal for middle seating, fits 3 in-a-row in most cars thanks to its narrow and…
ADJUSTABLE TO KEEP CHILD SECURE: mifold can adjust to securely restrain children of all sizes – the…
COMPACT & TRAVEL FRIENDLY: easily packs to take with you on school runs, days out, holidays, taxis…
EXTRA PADDED "COMPACT COMFORT" SEAT CUSHION: includes a super comfortable padded seat, updated…
What to pack for babies and toddlers visiting Morocco
Don't worry about packing your rucksack full of nappies, as they can be found in all towns in Morocco. Similarly, milk is readily available.
For transporting babies and toddlers around, a back carrier is much easier than a buggy / pushchair. This means that they are high up to see what's going on. Plus, a buggy / pushchair can be difficult to navigate over the cobblestones and through the busy, tight alleyways of the medinas.
Cots are often available at your accommodation. Though do check in advance.
---
You may also like to read:
Should you hire a car in Morocco?
Road trip itinerary for visiting Morocco with kids
Top things to do in Morocco with kids