Are you looking to visit the Sahara Desert with kids? This is an absolute must for any family travel adventure to Morocco! TraveLynn Family were provided with a complimentary overnight stay with Luxury Desert Camp. This is our honest review, including our tips and experience. Our boys were 3 and 5 years old at the time and we visited in April 2019.
Arthur was ahead of me, swaying rhythmically side to side with ease, a smile on his face as he surveyed the endless sea of apricot-coloured sand ahead of him. I on the other hand was on the camel at the back (well technically a dromedary), shuffling around failing to get comfy. Is it just me, or are camels the most uncomfortable thing to ride on?
But my boys were in their element. We were halfway through our Morocco Easter road trip and it had been a long drive to get here. We'd parked our car in nearby Merzouga where we had been met by Hamid and his 4×4 which drove us into the desert, to then be met by our camels. I unashamedly forgot the names of our camels on introduction, and the boys decided to call them Mummy, Arthur and Ezra. Original. Daddy and Ezra (age 3) were on a camel together.
It was a slow plod on the camels as we were skilfully led around and over the shifting dunes. And would you believe that it started to rain?! And quite heavily at that! There was something quite surreal about plodding through the Sahara, one of the driest places on Planet Earth, in the rain. And just to add to the confusion, there was a heatwave happening back in the UK. I couldn't help but laugh out loud.
After about 40mins (though my legs will tell you it was longer) we arrived at our accommodation for the night – Luxury Desert Camp – nestled in the majestic dunes of Erg Chebbi.
The desert camp
Red carpets lined with tea lights, set pathways through the sand from the glamping tents to a central seating area around a campfire. We were taken to an undercover seating area to the side for a welcome mint tea, orange juice for the boys, and homemade Moroccan biscuits. Our small overnight bags were taken to our tent for us.
The family tent consisted of two very large double beds (you could comfortably fit three in each bed), an en-suite bathroom with hot water, carpets throughout, and electricity (the site is solar powered). There are even electric blankets on the beds! It does get rather cold at night. We were definitely sleeping comfortably tonight!
Activities
As well as camel riding, there are lots of other things to do. On the drive to the camp, Hamid took us to a fantastic spot for fossil hunting! The Sahara, one of world's largest deserts, was once a warm shallow sea, and you really don't have to look hard to find fossils of anomites.
But the boys absolute favourite activity was sand boarding. Arthur has even decided he wants to be a professional sand boarder when he's older. I was seriously amazed how quickly he picked it up, and with no instruction at all. Ez unfortunately had a broken arm (a pre-holiday injury), but he was happy just sat on the sand board to glide down (or running!) Although parents, be warned that it will be up to you to drag the sand boards back up the sand dune. This is no easy feat. Take water with you.
If you are staying an extra day, you can also take the camels out into the desert and enjoy a lunch and tea with local nomads. But once the kids are all sand-boarded out, enjoy a relaxing swing in the hammocks until the sun sets.
There is also a swimming pool on site, filled by a nearby well, although this was closed during our visit.
Dining and drumming
Dinner is served rather late (for those with young kids), at 8pm. We knew this in advance and had packed snacks to keep the boys going. All that sand boarding is hungry work!
Dinner consisted of a soup starter with bread, three large tagines for main (vegetarian included), and a fruit cocktail desert. There is no special meal for kids, but we were able to pick out the couscous, meat and veg for our boys. Although by 9pm, when the main was only just being served, they were absolutely shattered and asked to go to bed.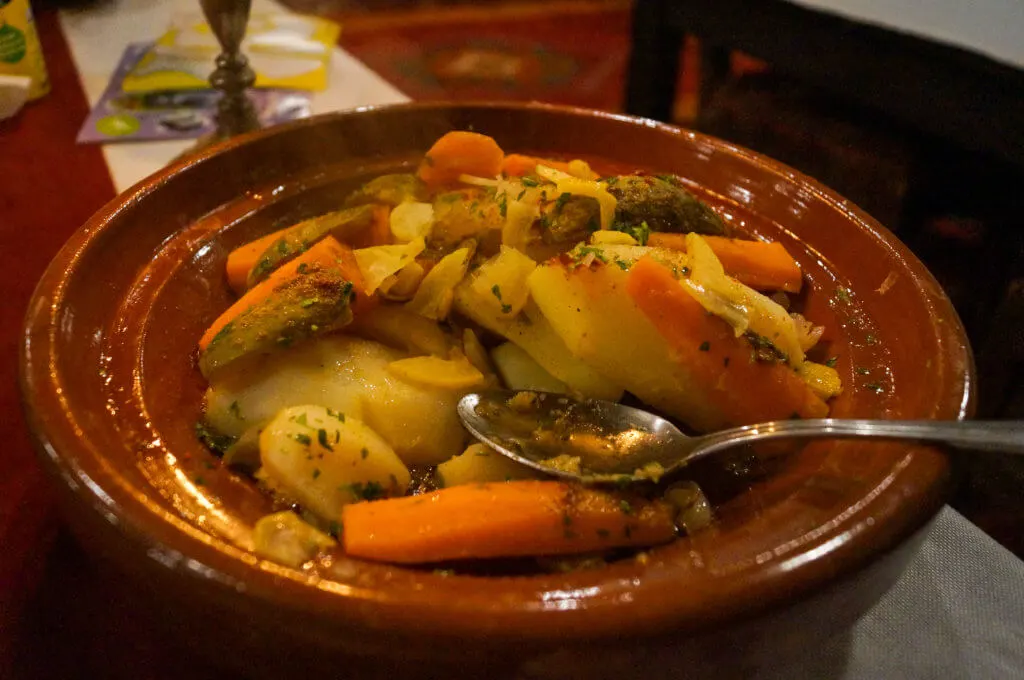 Once dinner is finished, the drumming commences around the campfire. The fast paced rhythms didn't wake our boys, and they were fast asleep. Daddy stayed with them in the tent, whilst I watched the performance. It was a shame that the drumming didn't start earlier as I knew the boys would have loved it. But I have fed this back to the camp and they are looking to change this for when families visit.
The next day
I set the alarm for 6:30am to watch the sun rise over the desert. Unfortunately there was too much cloud to see the sun rise. But there was still something special about the desert at this time in the morning; the fine sand was cold between my toes and there was a silence blanketing the land.
I returned to my cosy bed after sunrise as my boys were still fast asleep. Breakfast was then served from 8am, consisting of fruits, cereals, juices, pancakes, yogurts, eggs, and hot dishes, as well as hot drinks.
We were driven back to our car in Merzouga just after 10am, so we had lots of time for more sand boarding practice before we had to bid farewell to the Sahara.
How do I book a night in the Sahara?
This overnight Sahara experience was a definite highlight of our Morocco family adventures. You can book direct through Luxury Desert Camp (click here).
At the time of writing, an overnight desert stay in the Main camp (there are also private camps available) was €200 / person per night. Children 6 and under are FREE. Children aged 7 to 12 are €50. These prices include a night in a luxury tent, all meals, non-alcoholic beverages, and activities including camel riding and sand boarding.
How to get to the Sahara Desert
Parts of the Sahara are currently off-limits to travellers. But it is very easy to get to desert in Morocco. Tarmac roads lead to Merzouga, then it's just a short 4×4 drive or camel ride to the foot hills of Erg Chebbi dunes.
We drove the 5 hours down from Ifrane as part of our 2.5 week Morocco itinerary with kids. But many travellers come direct from Marrakech, which is a 10 hour drive, partly through the winding roads of the Atlas Mountains. We returned from Merzouga back to Marrakech, but we took it slowly across four days.
We were self-driving. But if you just want to visit the Sahara from Marrakech, then Luxury Desert Camp can arrange a private transfer for you. However, if you take this option and you are travelling with kids, I recommend staying two nights at the Desert Camp to make the long journey it worthwhile.
The ease of getting to this part of the Sahara, means that it can get VERY busy with tourists. However, the experience we received at the Main Camp of Luxury Desert Camp was away from these big groups and there were only a few other couples staying the same night. Admittedly we had comfy beds and electricity, but sat on the sand dunes watching my boys whizz down them, I felt a million miles from anywhere.
What to pack for the Sahara Desert
Layers are key. The mid-day temperatures can be extremely hot, whereas nighttime temperature dip below freezing. Water and soft drinks are all provided FOC at the desert camp.
*Some of these items have affiliate links. Should you click to purchase, it is at no extra cost to you, although I receive a small commission.
Take warm jackets, although there are lots of blankets to keep you warm in the evening.
A headscarf or hat to block the sun and dust.
Lip balm and sunscreen
A good medical kit as you are a good drive from any medical help.
A head torch is handy at night.
Pack snacks for the kids if they are unable to wait until an 8pm dinner.
Biodegradable wet wipes – the kids WILL get sand in their eyes.
Best time to visit the Sahara Desert
The best time to travel to the Sahara Desert is between October and early May as that is when daytime temperatures are milder. Though bear in mind that during winter months, nighttime temperatures drop below freezing and sandstorms are more frequent between January and April. The summer months (June-September) are unbearably hot.
---
Sale
You may also like to read:
Marrakech with a toddler: a one day itinerary
Why you should visit Essaouria with kids
REVIEW of Riad Les Hibiscus: one of the best riads for families in Marrakech