Trekking the majestic snow capped peaks of Morocco's Atlas Mountains is one of the top things to do in Morocco with kids. Just a 1h 30min drive from Marrakech, it's a fascinating contrast to its bustling medina, and our day hike was a highlight for our boys (then aged 3 and 5) as they got to do the Atlas Mountain trek on a mule!
Disclaimer: This Atlas Mountain trek was entirely self-funded. Also, post contains affiliate links. Should you click to purchase it is at no additional cost to you, but I receive a small commission.
Many adventurous souls visit the Atlas Mountains to tackle the Toubkal Circuit hike (reaching a summit of 4,167 metres) which is often cited as one of the most beautiful and accessible multi-day hikes in the world. We had been told that children from the age of 10 and upwards are able to complete it. Whilst the challenge was tempting, we were at the end of our Morocco road trip and were after an easy Atlas Mountain day trek.
Thankfully there are countless other variations of treks in the region, including a short hike up to the waterfall from Imlil (which seems popular with day trippers from Marrakech) and more challenging day circuit walks. With the help of Jacquline the Mule to carry the boys, we decided on a 5 hour circular trek to take in views of Toubkal, via Aroumd.
Imlil as a base
In and around the town of Imlil is the best place to base yourself for trekking the Atlas Mountains. Only a short drive from Marrakesh, the small resort town of Imlil caters for travellers looking to experience the wonder of the mountains within easy reach of the main tourist hub. Whilst it can get busy with tourists during the day (how may black people-carriers can one country actually contain?!?), if you decide to stay overnight like we did, you'll have the place pretty much to yourself in the early morning and late evening.
We actually stayed a little outside Imlil at a lovely, quiet lodge (Dar Aymane), boasting incredible views from our balcony.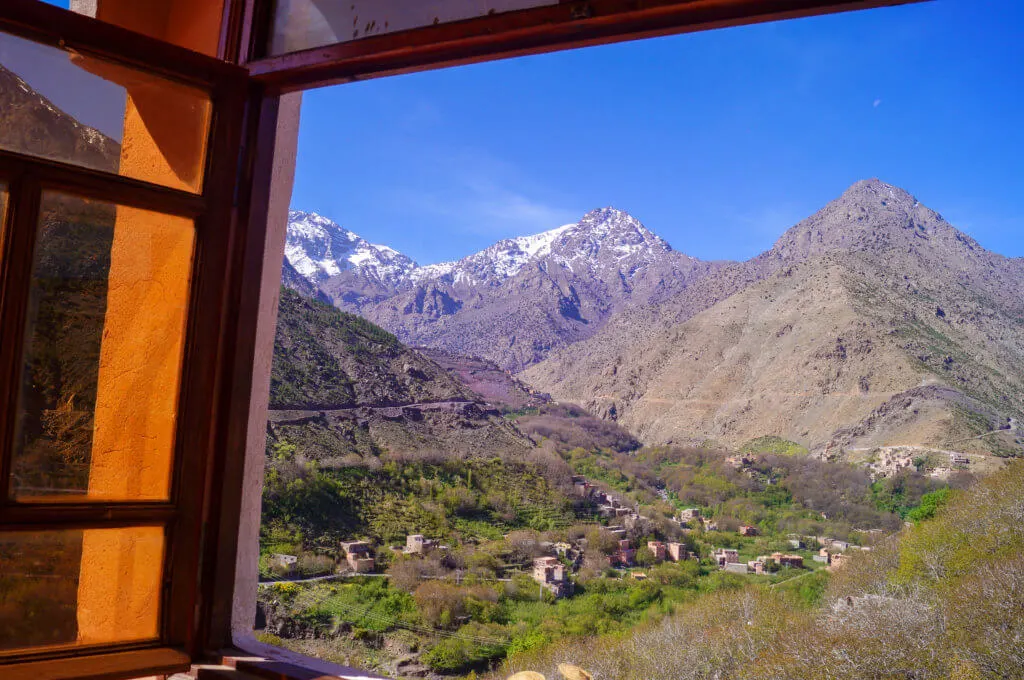 Organising our Atlas Mountain trek
Hiking with young kids can come with its challenges (don't forget to pack the snacks!) You'll know your own kids limitations better than anyone so it's best to judge how far you think they can walk in one day and tailor your hike around them. Although do make sure they're wearing good quality children's walking boots to support their feet and keep them comfortable. However, to ease pressure off the boys and add a little fun, we hired a mule for the day!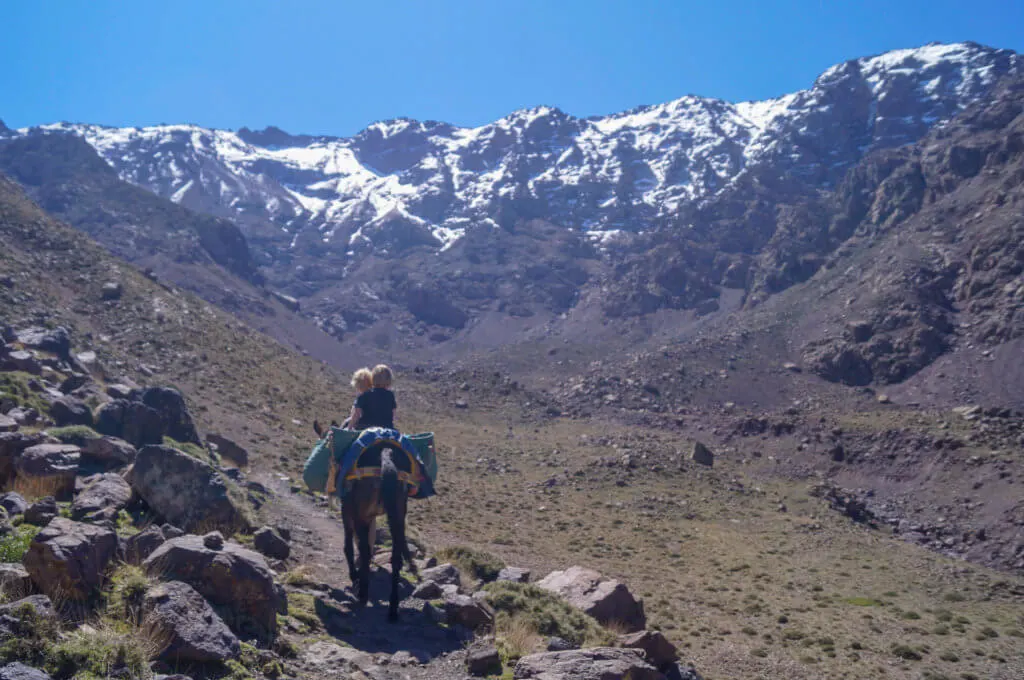 We organised our trek through our accommodation at Dar Aymane. I explained that we wanted a good day hike to take in the best views and they suggested a fantastic route, as well as arranging the the hire of Jacqueline the mule for the boys. Arranging this independently, rather than through a tour company in Marrakech, meant that we could leave when we wanted, stop for snacks when hunger struck and could basically take it at our own pace.
Jacqueline the mule
Mules have been used for centuries in the region to carry supplies from village to village and their skill in navigating the tricky terrain is so impressive. Whenever the boys got tired or fancied a change, we lifted them onto the mule, strapped them in place and watched them plod off into the distance. Make sure you stay close by though in case they want to get off, and also to provide some extra security when they are near cliff edges.
Our guide was so helpful and friendly towards the boys and made sure they were safe and happy throughout. We also popped some of our lightweight coats and snacks into the side-baskets to free us up. Jacqueline seemed happy throughout the trek, she stopped regularly for water, rest and a feed when she wanted.
Cost of hiring a mule in Imlil
Our hike cost us MAD200, which included Jacqueline the Mule and her guide. We paid something extra directly to the guide afterwards as he had been so helpful and kind to the boys. No doubt this was slightly cheaper than if we'd have organised ourselves in the town rather than directly though our accommodation, but we were very happy with the price and thought it was excellent value.
Our Atlas Mountain day trek
The hike which we chose starts along the road to Tamatert (here) and follows a footpath to the right of the road that climbs quite steeply for the first 45 minutes, although you are nicely sheltered from the sun by the trees. Enjoy the stunning views back down the valley towards Imlil and beyond.
Once you reach the top of the climb it's a lot more gentle gradient, occasionally climbing for short stretches. Follow the path on to Armoud (a good stop for lunch) and then make your way back down to Imlil via the switch backs (here). Do take a detour to the waterfall (here). There's an orange juice stand here and it's a lovely little pit stop.
The views throughout the walk really are stunning and even better because we were blessed with great weather. You needed a medium level of fitness for this hike but, as mentioned above, you can tailor your walk as you need. The boys were unaffected by the tricky climbs as they had the perfect transport to ride on! They also found lots of streams to play in and boulders to climb along the way – they were in their element!
Getting to Imlil
Imlil is very easy to reach from Marrakesh. Take the well-maintained road to Asni and then follow the winding road up to Imlil (beware of local drivers cutting corners of bends!)
You can organise a tour from Marrakesh , but we certainly recommend hiring a car and travelling independently to Imlil, then organising the trek through your accommodation. On top of having more control over the itinerary, you are taking steps to ensure your money is going directly to the local community.
---
Sale
You may also like to read:
Marrakech with a toddler: a one day itinerary
Morocco with kids: a self-drive itinerary
Visiting the Sahara with kids