If you are looking to travel Morocco independently, the best way to get around is by hiring a car. This is exactly what we did on our recent adventures to Morocco with kids (aged 5 and 3 at the time). We hired a car from Marrakech airport on arrival and set off on our self drive Morocco road trip for 2.5 weeks. We loved the flexibility of being on our own schedule, and the roads were remarkably good. Plus, for a family of four, it's cheaper to hire a car in Morocco than use public transport!
Disclaimer: This post contains affiliate links. If you click to purchase, it is at no additional cost to you, and I receive a small commission.
Is is safe to hire a car in Morocco?
Yes. Roads are well signposted and in good condition, with very few potholes. The tolled motorways are excellent; far easier driving than the M25 in the UK!
The biggest concern is other drivers on the road. Local drivers tend to drift between lanes and motorbikes undertake. This can be tricky when approaching major cities like Rabat and Marrakech. There is no shame about being the slowest person on the road. Take your time and take it slow.
Check out our tips for driving in Morocco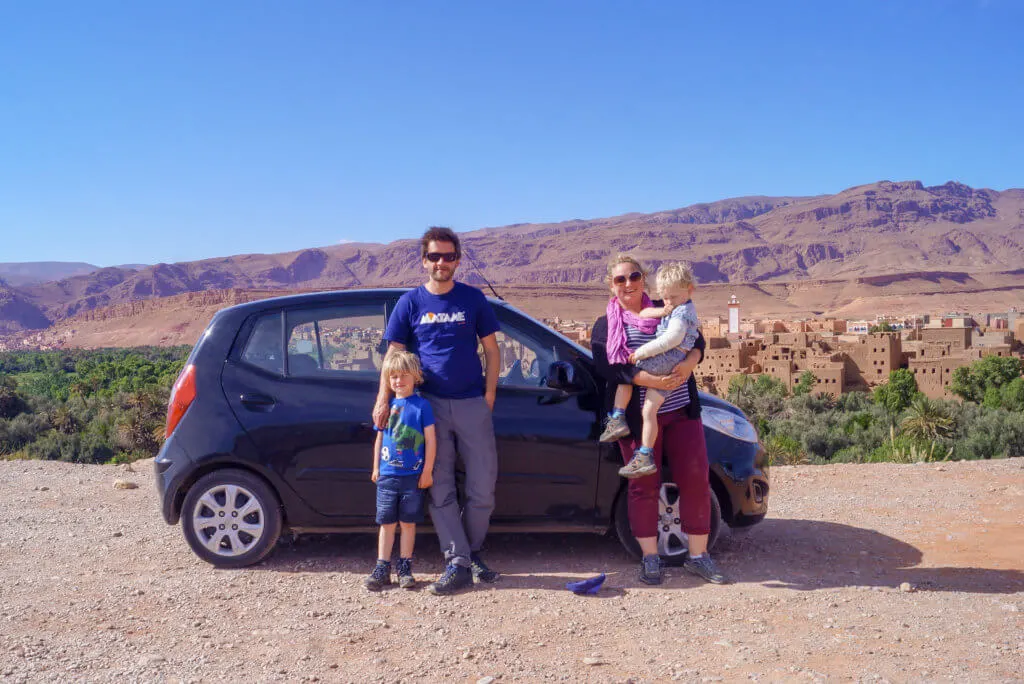 Also, bare in mind that there are few speed signs. But generally it's:
60 km/h within urban areas.
100 km/h outside urban areas including expressways
120 km/h on highways (tolled roads).
When in doubt, stick to 60 km/h.
The only place we found driving tricky was along the hairpin bends winding up and through the Atlas Mountains. We followed the road up via Sidi Fares from Ait Ourir which took us through a couple of fords and very narrow hair pin bends riddled with potholes. It's a very scenic drive, but if your nerves aren't up to it, and I would if we had our time again, take the easier and quicker route via Marrakech.
How do you navigate around Morocco?
Google Maps was our saviour for navigating around Morocco. How ever did we cope in a life before Google Maps? Ensure you have your correct destination pin pointed before you set off each day and take a car charger. We always found we took 15% longer than Google recommended to reach our destination, and make sure you include time for stops. Also be warned that street names and place names rarely match up between guide books, accommodation addresses and Google Maps. You can buy a SIM for your phone on arrival at Marrakech airport.
As a back up we had a good road map and of course, our trusted Lonely Planet Morocco guide.
Where do you park your car overnight?
Out of the city centres, you will be able to park your car safely right outside your accommodation. We just made sure that nothing was on display in the car when parked overnight and brought any expensive items in to the accommodation with us.
For cities including Marrakech and Chefchaouen, our accommodation hosts recommended secure parking spots that were guarded 24/7. These were always just a short walk from our accommodation and we never had any problems.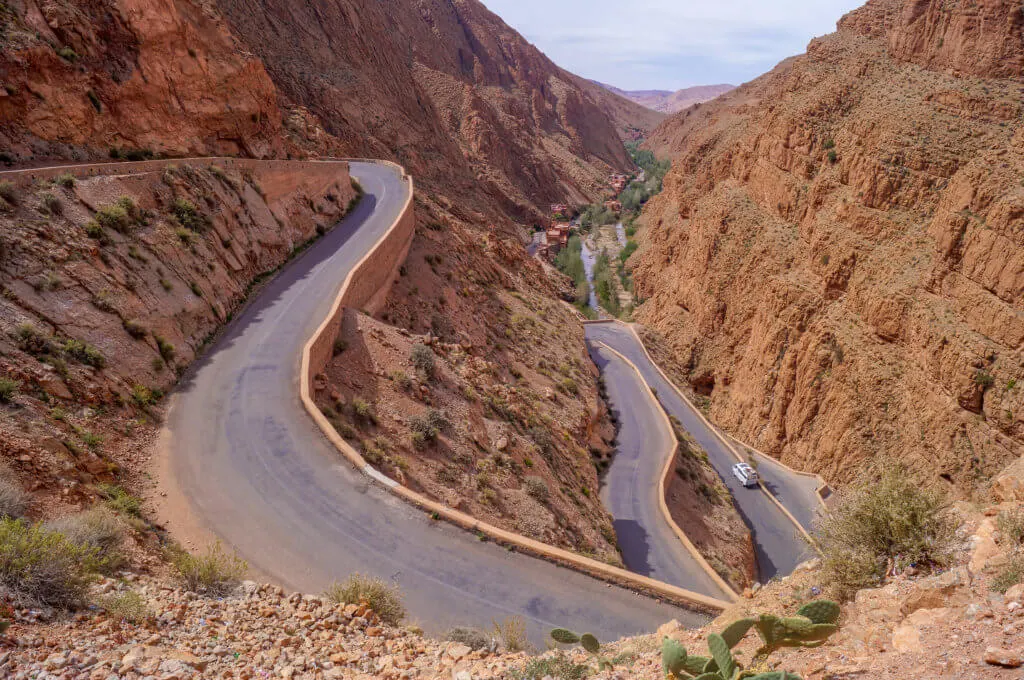 Are there many police stops?
As with almost all African countries, there are regular police checks on the roads. On the few occasions we were stopped, they just asked where were were heading, where we had come from, and waved us by. Police were always polite and courteous.
However, there was one time we were pulled over by the police and presented with a fine. We had overtaken a slow moving tuk-tuk with sheep in the back, and crossed a solid white line to do so (you're not supposed to cross the line!) The fine was MAD400 (£32), but we managed to get away with just paying MAD100 directly to the policeman and avoiding any official paperwork.
We had managed 101 days overlanding Southern Africa without paying a bribe, and here we were in Morocco finally paying one. But we were at fault. And if you're wondering, hubby was driving 😉
How do you fill up with fuel in Morocco?
Petrol stations can be found in most towns and there is always an attendant waiting to work the pump for you. You may even get your windscreen cleaned. It is custom to tip.
We had a rule in Morocco that we never let the fuel gauge drop below half. That way we were unlikely to be caught short.
Can you drive to the Sahara Desert?
The closest you can get to the Sarah Desert in Morocco in a 2WD is Merzouga. If you want to venture into the desert you will need a 4WD.
Alternatively you can book to stay at one of the desert camps and they will pick you up from Merzouga and drive you in (you can ride a camel part of the way). Read all about visiting the Sahara Desert with kids. You can leave your car safely in car parks by the desert pick up points.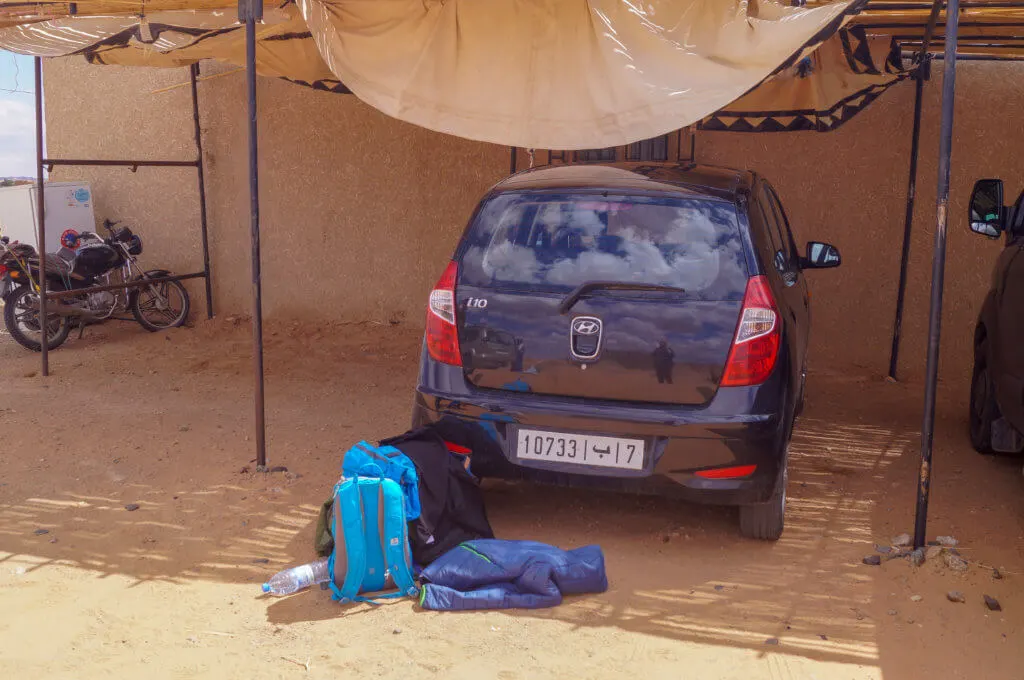 Should I get a driver in Morocco?
I do know lots of families and other travellers who have hired a driver in Morocco. This is a good option if you're nervous about driving in Morocco. Whilst this still offers more flexibility over an organised tour, this also comes at a cost and we personally prefer to be totally independent. Whilst I've heard wonderful stories about the friendships people have made with drivers, this is our family adventure and we like it being just us.
What about public transport in Morocco?
There is an excellent train network in Morocco with overnight sleepers. We did initially look in to this option as we love travelling by public transport where possible. It's a great way to truly get to know a country and its people. Plus after all our overnight train travel in India, we knew our boys would love it!
However, the trains only travel between the main cities, and we realised that for the places we wanted to go, we would have to rely mainly on buses. Once we started adding up the public transport fares for all four of us, and then including the hassle getting to bus stations very early and arriving in new places at awkward times, we realised that hiring a car would be more cost effective.
Is it really cheaper to hire a car in Morocco?
As family of four and with our Morocco itinerary, it definitely worked out cheaper than using public transport. The total cost of car hire, petrol and tolls for our entire 2.5 week Morocco road trip was £377 (which worked out at £19 per day). Plus it offered so much flexibility for us to be on our own schedule.
Our breakdown of costs:
Car hire of Hyundai i10 from Avis = £252
Excess car insurance for 1 year = £48
Petrol = £115 (we covered 2144 km)
Tolls = £10 (only on road to Rabat and then part of the way to Chefchouen)
How to hire a car in Morocco
You may have heard scaremongering stories about travellers renting a car in Morocco and getting big fines on returning it for things they didn't do. This was a big concern we had before our Morocco adventure and it did make us a little nervous.
However, I'm pleased to say that we had no problems whatsoever. We booked with Avis through Ryanair as that's who we flew to Morocco with. We found that all the comparison sites had identical deals. So pick your favourite.
We hired a Hyundai i10, which was a little on the small side for us. But it was the cheapest on offer and we managed to fit everything in, just about. Plus, smaller cars are more fuel efficient and easier to park (a big bonus for city parking!)
Car insurance for Morocco
You tend to get a hard-sell at the airport to take out their excess insurance policy which reduces your excess, in the event of any damage or loss occurring to the car, to zero. Otherwise, if you just stick with the standard CDW insurance, you will be liable for a large payment in the event of something going wrong (this amount varies but for us would have been up to £600).
The car-hire company's excess insurance is VERY expensive if bought directly and can sometimes add £10 or £20 per day to the total cost. Instead, we bought excess insurance from a UK company in advance for £48 which lasts us for a whole year for trips to Europe (including Morocco). This is a very good deal – costing less than it would have done to use Avis' offer – and will last us for several trips. Have a printout to show the car-hire person, as they might bombard you with scare stories.
What about car seats in Morocco?
There seems to be mixed views on what the actual law is for car seats in Morocco. It supposedly is the law that all children require to be in a car seat, but don't be surprised to see local kids piled into the back of the car not even wearing seatbelts, and toddlers squished between their parents on mopeds.
However, we very much recommend that you do use a car seat in Morocco if you plan to hire a car or taxi.
For a Morocco road trip, we suggest bring your car seat from home as this will be cheaper than hiring on arrival.
However, if you are independently travelling around and don't want to carry heavy and bulky car seats, we suggest taking a travel booster seat. The mifold Comfort, Grab-and-Go is perfect for travelling kids. Designed for kids age 4-12, (weighing between 15-36kg and up to 150cm in height) it is super small and lightweight.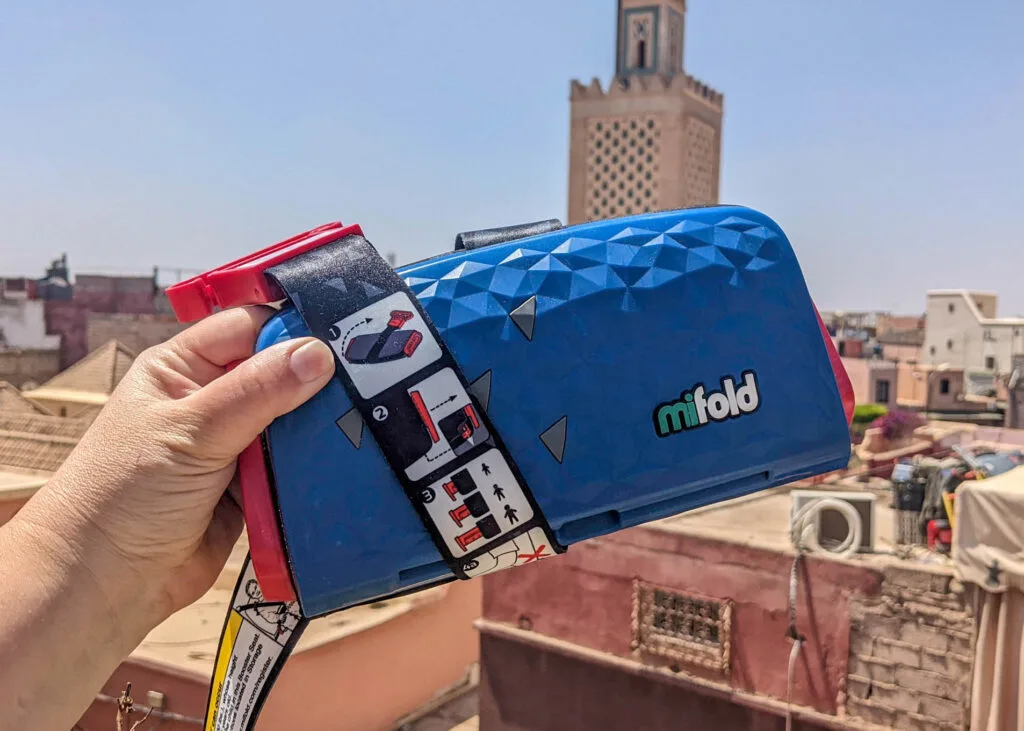 Should you really hire a car in Morocco?
If you've driven a car overseas before and felt comfortable (maybe you live in the UK and driven in France), driving in Morocco is not much of a leap. It's certainly easier that driving in other African countries such as Tanzania or Malawi as the road conditions are good. However, just be on your guard for wayward drivers and take it slow. It's definitely the most cost effective option and we loved the flexibility having our own wheels provided. We would definitely hire a car in Morocco again.
---
Sale
You may also like to read:
A self drive Morocco itinerary with kids
Visiting the Sahara with kids
Marrakech with a toddler: a one day itinerary