So you have decided to hire a car and road trip Morocco. Very exciting. Although as a first timer, you may be a little nervous about driving in Morocco? Hiring a car is the most cost effective and flexible way of exploring the country, especially if you're travelling Morocco with kids. Plus the roads are remarkably good and the driving is relatively painless. If you need some persuasion, check out our post – Should you hire a car in Morocco?
But if you are game on self-driving Morocco, you just need a few tips to get you going. And remember, they drive on the right hand side in Morocco 😉
Disclaimer: This post contains affiliate links. If you click to purchase, it is at no additional cost to you, and I receive a small commission.
1. Hire a small car
Moroccan cities can be difficult to navigate and you'll find yourself squeezing in-between tight spaces throughout each journey. Our top Morocco driving tip is to hire a small car to make it that much easier to reverse parallel park into the world's tightest parking space. Fuel economy will be better too.
2. Take out your own excess insurance
Car-hire companies throughout the world always give you the hard sell when you collect the car regarding excess insurance. But in Morocco it seems to be particularly difficult to hold your ground. You'll be told about £1500 charges to your card if you scratch the door, how terrible Moroccan drivers are, that they'll scratch your bumper when parking, stones chipping windscreens, etc, etc. It can be hard to resist paying for the very expensive excess insurance directly from them.
Instead, we took out our own excess insurance bought in the UK which lasted us for a whole year. The cost (£49) was actually less than we'd have paid if we'd have just bought 14 days at the airport. The insurance company gives you a handy piece of paper which (in several languages) basically says 'leave them alone, they're covered'. Our rental man took one look and handed us the keys with a smile.
3. Be wary of police checks
The vast majority of the police we encountered were uninterested in tourists, even less so when they found out how bad our French is. Remember to slow down at each checkpoint (second gear, window down and a smile seemed to do the trick), and you will usually be waved through.
There are a fair amount of speed cameras around and other motorists will often flash you to warn of one ahead. Morocco speed limits are:
60 km/h within urban areas.
100 km/h outside urban areas including expressways
120 km/h on highways (tolled roads).
When in doubt, stick to 60 km/h.
We only got pulled over once which was for overtaking on a solid white line. The fact the 'vehicle' we overtook was an overladen cart and donkey didn't hold any water with the police. The fine was supposed to be MAD400 but the policeman seemed happy to only take MAD100 and not too worried about filling out paperwork 😉
4. Don't let your fuel tank drop below half
Most towns have a petrol station, but once you're out in the country you'll be lucky to find one. If you've opted for a small car, that fuel gauge will be dropping more quickly than you may have expected. Be on the safe side and never let your fuel tank drop below half when driving in Morocco.
Fuel is cheaper than in the UK but not as low as you'll find in some other Arab countries. We spent in £115 in total on fuel on our Morocco self-drive road trip (we covered 2144 km).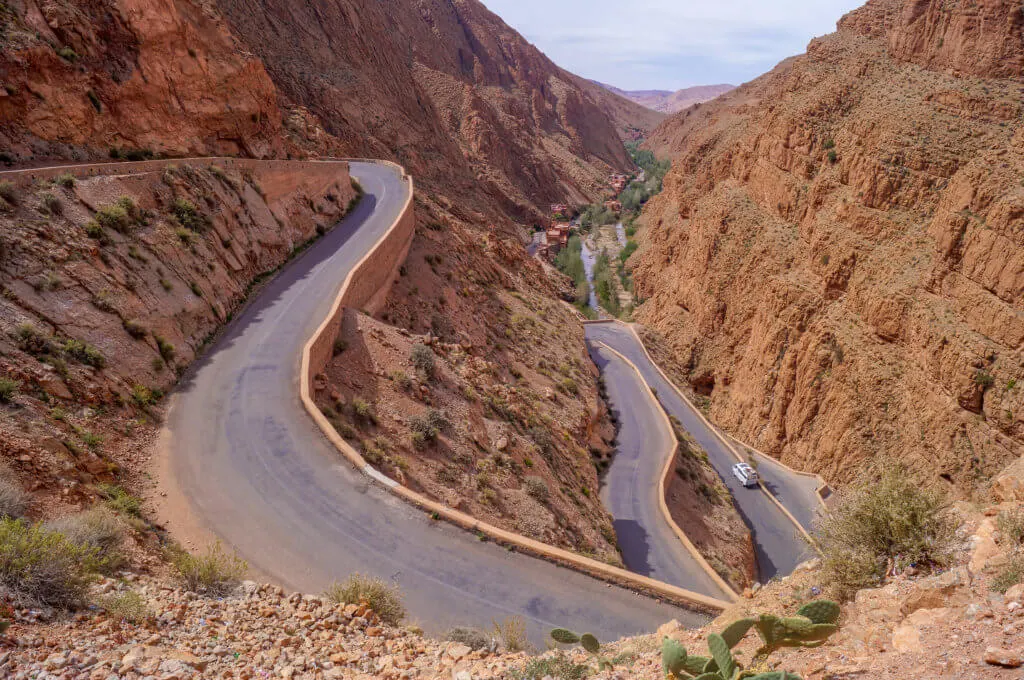 5. Have small change for tips at petrol stations
Attendants at petrol stations will fill the tank for you and sometimes clean the windscreen. We always gave a small tip of around MAD5-10 which they seemed happy enough with.
6. Use the toll roads for long distances
Some of the major roads, particularly around Marrakesh and the coastal cities are tolled which can be slightly expensive, perhaps more than you might be expecting. The trade-off of course is that they are almost free of traffic, well-maintained and allow you to cover distances a lot quicker than elsewhere.
7. Avoid driving in the medinas
Do not, under any circumstances, drive into a the centre of a medina! The closest we came was in Marrakesh and it wasn't for the faint-hearted. In most cities you'll find car parks on the edge of the medina which are secure, cheap and still within easy walking distance of the medina.
8. Check your destination on Google Maps
Google Maps worked fairly well, on the whole. The thing to remember is that often street and hotel names are different so if you type in your hotel name, Google Maps often couldn't find it. We always made sure that we planned the trip in advance, cross-referenced our destination with another map and then placed a pin into Google Maps. From there the directions worked well but prepare for some slightly incorrect pronunciations from the navigator!
As a back up we had a good road map and of course, our trusted Lonely Planet Morocco guide.
Sale
9. Allow time for bad road conditions in the mountains
On the whole, the roads were in very good condition, certainly better than our previous experience of driving in Africa. The motorways are European standard, major roads between towns were very smooth with only the very occasional pothole. Even driving through the towns is straight forward; the only tricky part can be the lack of road width in places.
The exception to this was the road from Imlil to Marrakech which was horrendous in places, almost too difficult to negotiate in our little car. It was in the process of being repaired so hopefully when you visit some (or all) of it will be sorted.
10. Watch for drifting cars
Local drivers tend to drift between lanes and motorbikes undertake. This can be tricky when approaching major cities like Rabat and Marrakech. There is no shame about being the slowest person on the road. Take your time and take it slow.
---
Sale
You may also like to read:
Morocco with kids: a self drive itinerary
Should you hire a car in Morocco?
Chefchaouen with kids: best things to do in Morocco's blue city