Riads in Marrakech generally don't often allow children under the age of 12 to stay. However, we may have found one of the best riads for families in Marrakech. TraveLynn Family was offered a complimentary stay at Riad Les Hibiscus in return for this honest review. A family room is €136 per night at the time of writing.
"Are you sure?" I asked as my boys dive bombed into the courtyard swimming pool. Until our arrival, this beautifully ornate centrepiece had helped to create a sense of tranquillity throughout the riad. Well not for much longer.
"Of course! Please enjoy!" came the reply from the smiling receptionist.
Hidden down a quiet alleyway just a stone's throw from the clamour and chaos of Jemaa el-Fna, lies Riad Les Hibiscus; a stylish and peaceful oasis which is perhaps one of the best riads for families in Marrakech.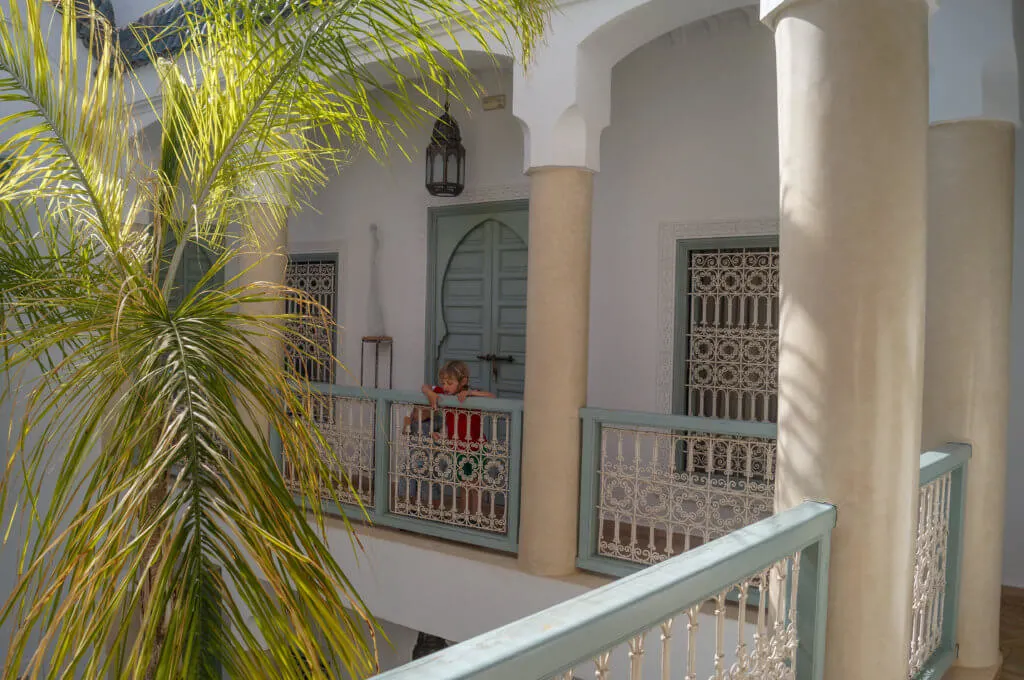 I was previously a bit nervous of booking us into a riad in Marrakech. They are renowned for being peaceful enclaves hidden amongst the hustle and bustle of the medina. Where couples dressed in floppy hats and chinos sip mint tea before delving into the next chapter of their book, and whisper to each other for fear of disturbing the peace.
Not really the place you would be comfortable taking a couple of energetic boys aged 3 and 5? Indeed many riads don't accept families with children under the age of 12. Although some will waive this rule, I would be nervous about visiting these riads with my two.
Well that was why it was so refreshing to receive an invite from Riad Les Hibiscus for us to stay a couple of nights in their family room at the end of our 18 day Morocco with kids road trip. A stylish riad in the centre of the medina, that welcomed young families? I definitely wanted to check this out.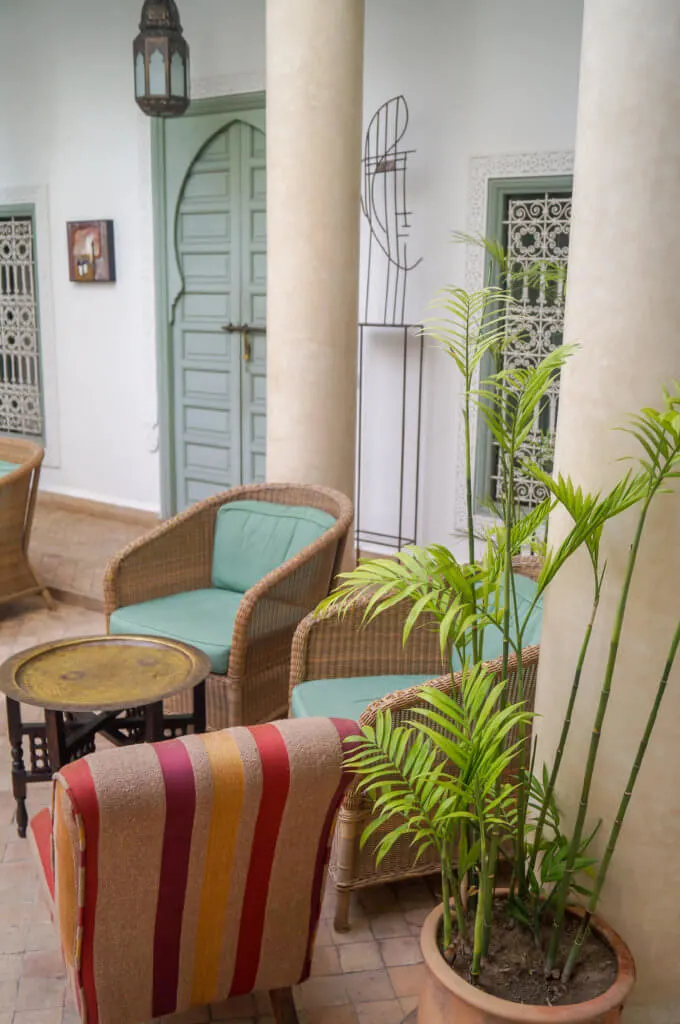 Arriving to Riad Les Hibiscus
Although hidden down a quiet alleyway, the riad is very easy to find on Google Maps. As we were driving, we parked our car here (€5 per 24 hours) and walked the 5 minutes to the riad. If you are flying in to Marrakech, the riad can arrange a transfer for you.
With motorbikes whizzing past and throngs of tourists clogging the alleyways, blood pressure levels will be high as you knock on the unimposing doorway to Riad Les Hibiscus. But as soon as you step over the threshold into the soft olive and white décor of the open courtyard, complimented with palm trees and red hibiscus, an air of calm descends. Sink into an arm chair, sip your mint tea and breathe. The kids are happy in the pool and there is no rush to check in.
Looking around you'll notice the monochrome photography and chicken wire sculptures. The doorways are framed by the classic Arabic arch and dressed with wrought iron bolts and latches. More guests come to join us in the courtyard. They smile at the boys and wave, delighted to see kids enjoying themselves. I order another mint tea.
The family room
Rooms encircle the central courtyard over two floors. The family room is located on the top floor, adjacent to the roof top. It's the only room on the top floor, so you haven't got to worry too much about waking your neighbours in the early morning. With the windows open, the roof top is also a nice space for parents to retreat to in the evening once the kids are asleep.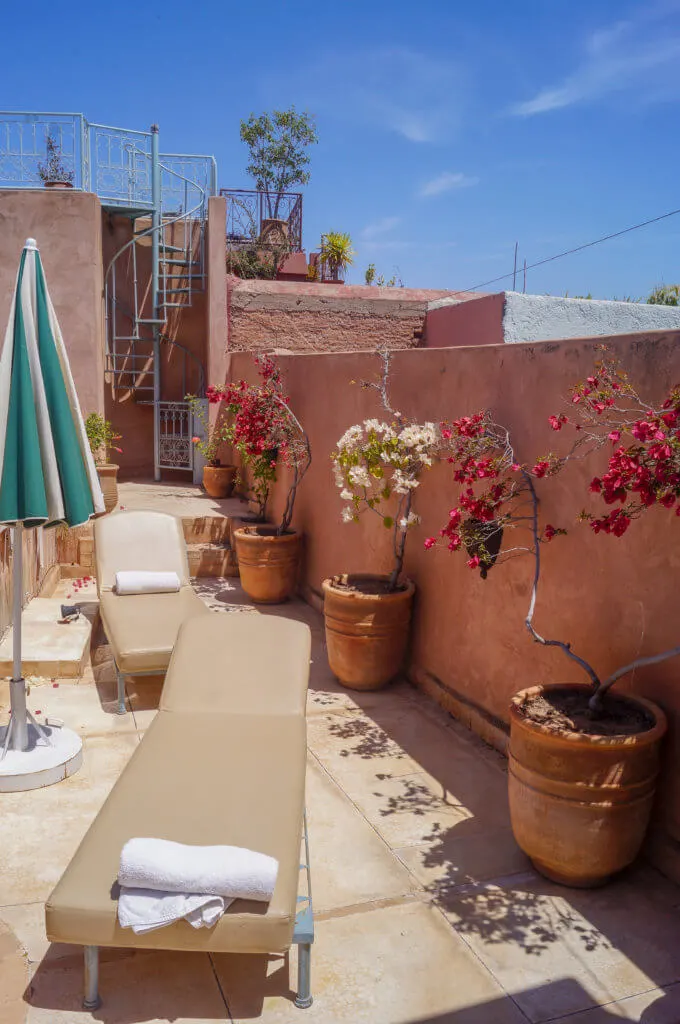 The room is a good size with a double bed and two singles (extremely comfortable). A cot can be provided on request. In the bathroom there is a deep bath with overhead shower (good pressure and temperature).
You will also find a small fridge (which is always handy for storing drinks and snacks), a safe, and a hair-dryer.
The swimming pool
The pool was shallow enough for our 3 year old (almost 4) to stand up in. It is on the chilly side, so pack wetsuits. Do be careful of some of the sharp tiles, this pool is partly ornamental after all. Plus, there is no lifeguard on duty, so please supervise your children at all times.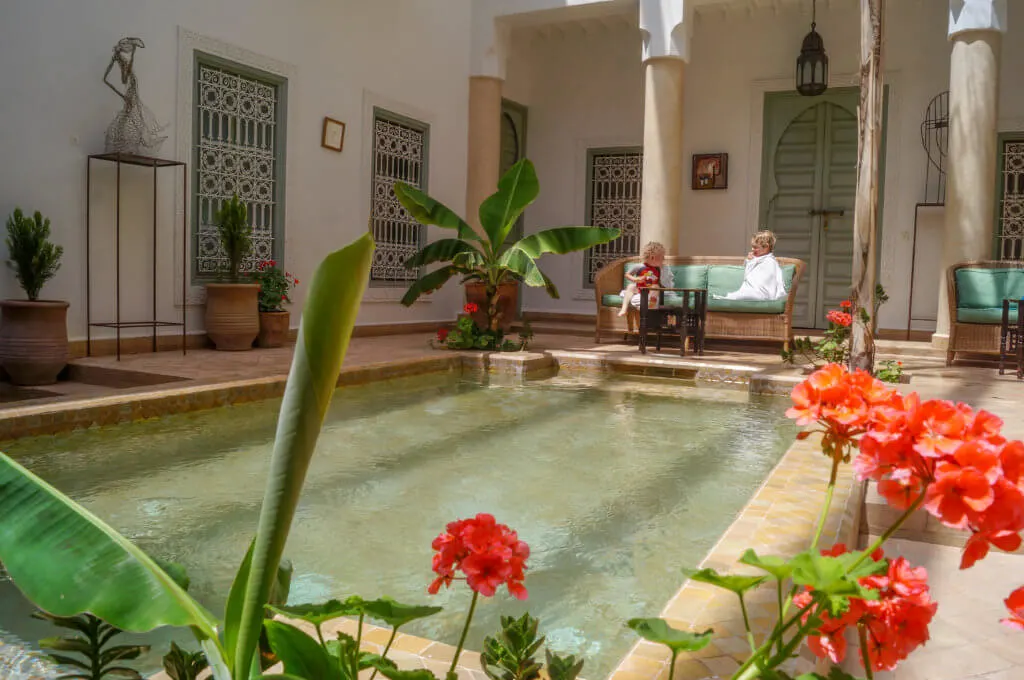 Dining
Breakfast consists of a selection of breads, orange juice and a hot drink. There is no restaurant on site. But step outside the door, walk down the alleyway following the sound of the scooters, and you'll find a vast selection of restaurants to suit all tastes.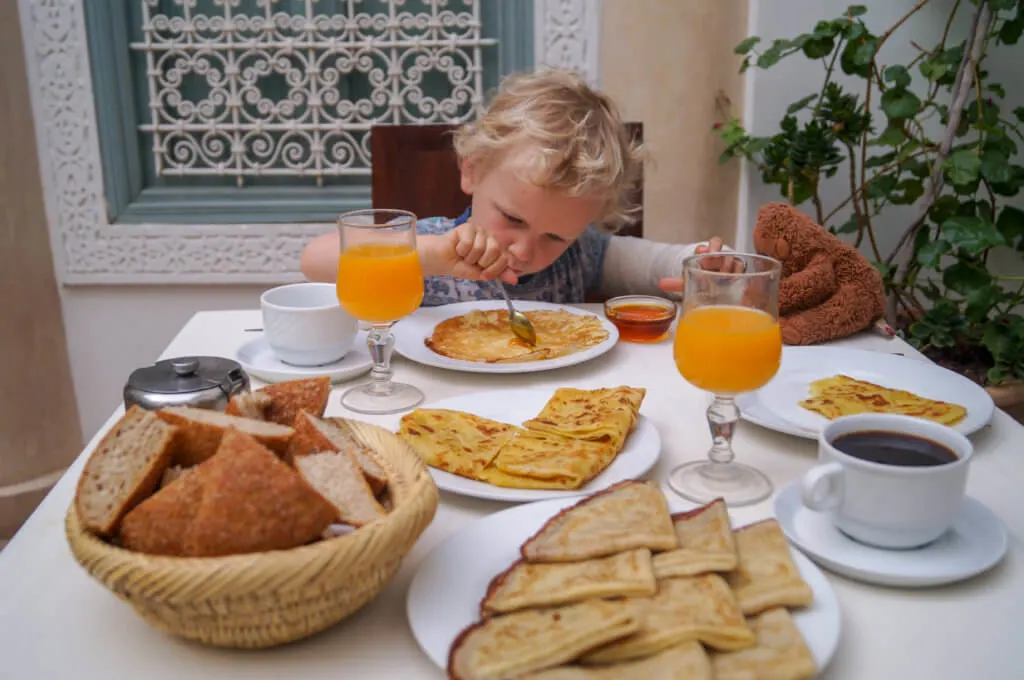 WIFI
WIFI is very slow, unless in the central courtyard. One could argue that you're on holiday, why not switch off? But for travellers returning from the desert or mountains, or wanting to plan onwards travels, the WIFI is limiting.
Would we recommend Riad Les Hibiscus for families?
If you are visiting Marrakech with kids and still want that riad experience, I definitely recommend Riad Les Hibiscus for families.
Whilst there were times I felt I needed to remind the boys to keep their voices down, no one ever remarked that they were too loud and we received nothing but warm smiles from the staff. After a morning haggling in the souqs and dodging the whizzing motorbike around the medina, the riad was the perfect place to relax and recharge our batteries.
Plus it was the perfect end to our Morocco road trip. We had driven 2200 km over 16 days, ridden camels through the Sahara, trekked the High Atlas and been as far north as Chefchouen. These two nights at Riad Les Hibiscus was just what we needed, and we wholeheartedly recommend it to families with young kids.
---
You may also like to read:
Marrakech with a toddler: a one day itinerary
Why you should visit Essaouria with kids
Top 18 things to do in South Africa with kids