Planning a visit to Marrakech with kids? Then make sure you read our tips for a smooth visit.
Marrakech can be an assault on the senses, especially in the heart of the medina; motorbikes whizz at speed down the narrow alleyways, shops spill out on to the streets, donkeys dragging carts squeeze through the bustling thoroughfare, and this is all before you've reached the exotic fanfare of Jemaa el-Fnaa (the main square) with it's snake charmers, street food, musicians, and teeth sellers (yes, teeth sellers).
Disclaimer: This post contains affiliate links. If you click to purchase, it is at no additional cost to you, and I receive a small commission.
If you are visiting Morocco with kids, whether it's as a direct entry point to the country or passing through on a Morocco road trip, it's very likely that you will spend at least a day or so in Marrakech. We recommend at least two days, although you can easily spend a week in Marrakech with kids to truly soak up the wonderful atmosphere and history. If you're visiting Marrakech with a toddler, check out our one day itinerary (click here).
Despite being such a chaotic city, we thoroughly recommend visiting Marrakech with kids; they will love it! We have visited the city six times now from having babies to now primary aged kids. However, it's far from a calming experience for parents, so here are some tips to help maintain your sanity.
1. Choose your accommodation wisely
You can choose to stay within the Medina for a more authentic experience of Marrakech. If you need your creature comforts, stay in one of the larger, modern hotels outside of the Medina.
Staying in Marrakech Medina
We have always preferred to stay within the Medina as we love the character, charm and history. You can chose between staying B&B style in a riad, or booking a house to yourself through Airbnb.
Riads in Marrakech generally don't often allow children under the age of 12 to stay. However, there are a couple of riads that are very welcoming to families. These include Riad Les Hibiscus and Riad Africa, which we can personally vouch for.
left: Riad Les Hibiscus right: Riad Africa
Alternatively, if you want more space and privacy, there are some fantastic houses to rent via Airbnb in Marrakech. But do be warned, there will be steep steps and drops, and it is unlikely that any stair gates will be provided. Whilst young families are very welcome to stay in these Airbnbs, if you have active toddlers, the hazards may turn you grey(er).
On our most recent visit to Marrakech with kids, we stayed in this Airbnb for one week (see photo below). It was such a lovely place and the roof top views over to Ben Salah Mosque and further to the snow-capped Atlas Mountains was incredible. But it was loud, very loud; especially as it was so close to the Mosque for call to prayer.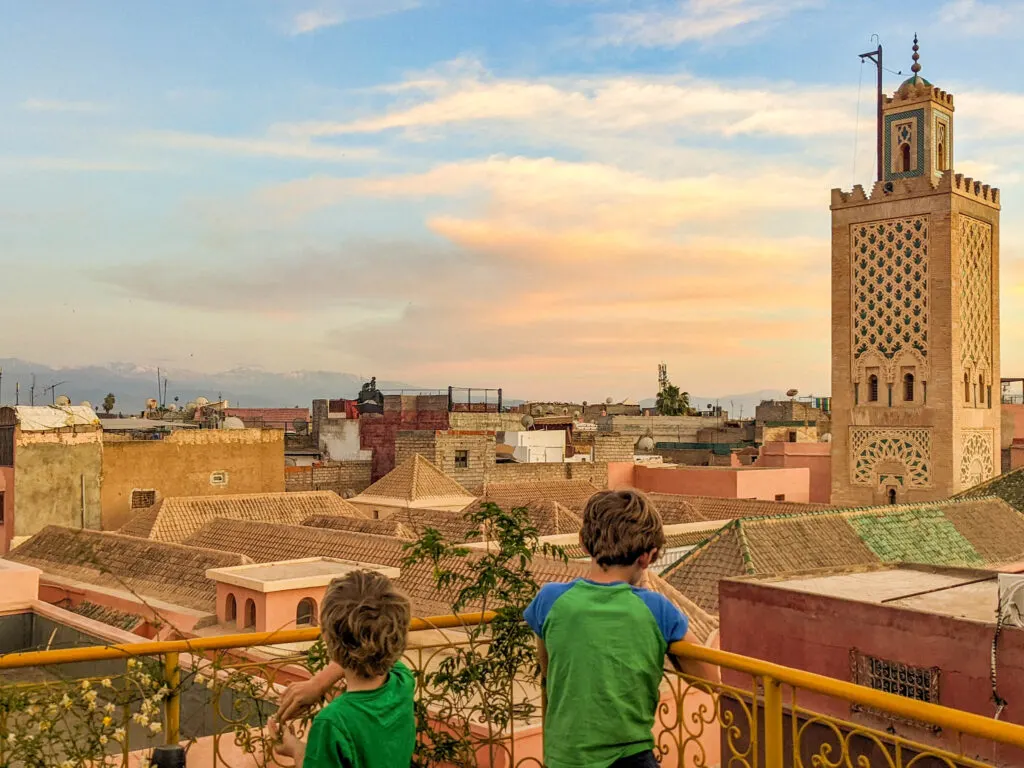 But that's the thing if you're staying in the Medina, IT IS LOUD. And we mean very loud. Whilst kids often sleep through it, parents may be woken by motorbikes tearing past, kids playing in the street late at night, and the call to prayer (which will always happen at sunrise – read: will feel like the middle of the night).
Basing yourselves in Marrakech Medina is an experience, but it's not for everyone.
Staying outside Marrakech Medina
If you want a good night's sleep, perhaps a large pool for the kids, and some creature comforts, your best bet is to stay in one of the larger hotels outside the Medina. These will often provide a free shuttle into the Medina, and some even have waterslides for the kids. But, you will miss out on experiencing Marrakech life on your doorstep and there are rarely restaurants and cafes to visit nearby. Plus, these hotels are often a lot more expensive than the Medina accommodation.
But sometimes, we all need a bit of luxury, a bit of a treat. Perhaps you've visited Marrakech before and don't feel the need to visit the sights, or Marrakech is your first point of entry on your Morocco holiday after a hectic school term. Or perhaps this is the end of a Morocco road trip, and you need time to decompress before returning to reality.
If you fall into the latter camp, then we very much recommend treating yourselves to an all-inclusive stay at Mirage d'Atlas Marrakech in one of their luxury family villas with pool. You will not be disappointed.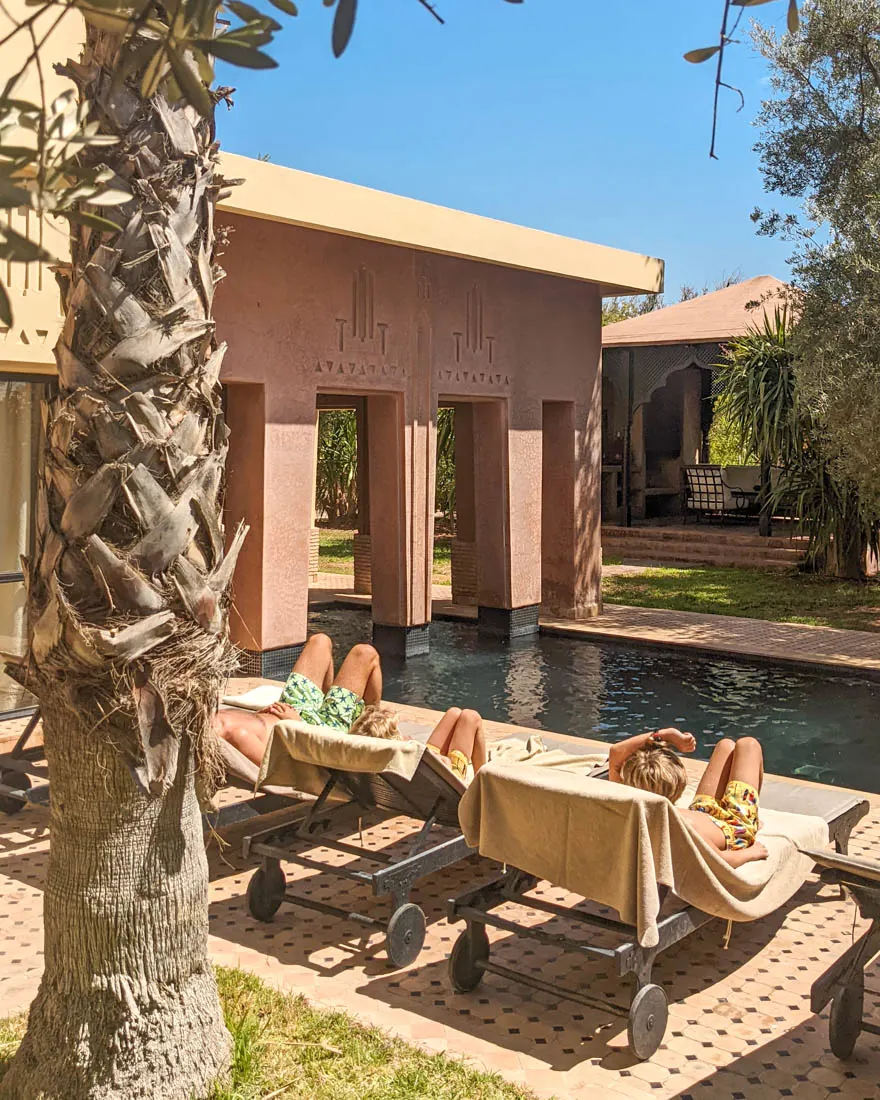 Family friendly luxury at Mirage d'Atlas, Marrakech.
2. Get out early in the day to beat the crowds
This is something that we advise for almost everywhere we visit across the globe, but it really does make a difference in Marrakech. Many stalls and shop sellers don't open until 10am and the narrow streets are much quieter in the morning, which makes it easier for navigating kids. The early evening is when it gets particularly crazy with the motorbikes.
The same goes for the main square Jemaa el-Fnaa. It's pretty empty in the mornings, but as the day rolls on, it gets increasingly busier as more street performers join and the food stalls set up.
3. Prepare your kids for Jemaa el-Fnaa
Jemaa el-Fnaa is the number one tourist attraction in Marrakech, the busiest square in North Africa and infamous in the Arab world. Its a great place to take the kids, but just be prepared.
With so much going on in the main square of Jemaa el-Fnaa, it will be a sensory overload for some kids and they may have some questions when they see the monkeys on chains and the snake charmers.
People will try and put a monkey on your shoulder, and others will get kids to stroke and then hold the snake. In return they will expect payment. PLEASE AVOID THESE PEOPLE. The snakes have their mouths sewn shut so they can't bite people, and the Barbary monkeys have been captured from the Atlas Mountains and treated poorly to perform for tourists (just have a look at their tiny blue cages!). And any money you do give these people will go to them, with only the smallest amount possible being spent on the animals.
However, one of the most harmless activities for kids to get involved in at the square is playing the drum with local musicians. Just remember that they will expect a small payment. Every type of performer around the square is expecting some sort of payment.
If it all becomes too much, just head to one of the many rooftop restaurants overlooking the square and view it all from a quiet spot.
4. Keep babies and toddlers in a carrier
Marrakech Medina is really not pram friendly at all. Whilst I have seen parents pushing their little ones in a buggy, I always think how the little one can't see anything from their position with the crowds pushing through and are probably breathing in clouds of motorbike fumes.
Get little ones in a back carrier up high so they look around and take it all in.
It is also much easier navigating a back carrier around the narrow alleyways than a pushchair.
5. Keep kids on the far right when walking around the Medina
If you have pre-school and primary aged kids, try and keep them on the far right with you on their left hand side. You are then shielding them from any motorbikes grazing past and you don't need to worry about them veering off.
With one parent to one child, this works perfectly.
However if your kids outnumber the parents, put the oldest child in the front on the right, and hold the hand of the youngest behind. You then walk right behind the oldest and have your spare left hand should you need to guide them at any point.
6. Keep hydrated with the orange juice stalls
There are fresh orange juice stalls dotted all around the Medina, which makes for a healthy and refreshing snack whilst out and about exploring. A small orange juice is generally 10DH.
7. Visit the gardens
To escape the chaos of the medina's streets, dive into Jardin Majorelle, Le Jardin Secret, or Bahai Palace for some peace. Whilst tourists have to stick to the main paths in the gardens rather than running on grass, it's still a refreshing breather and change of pace.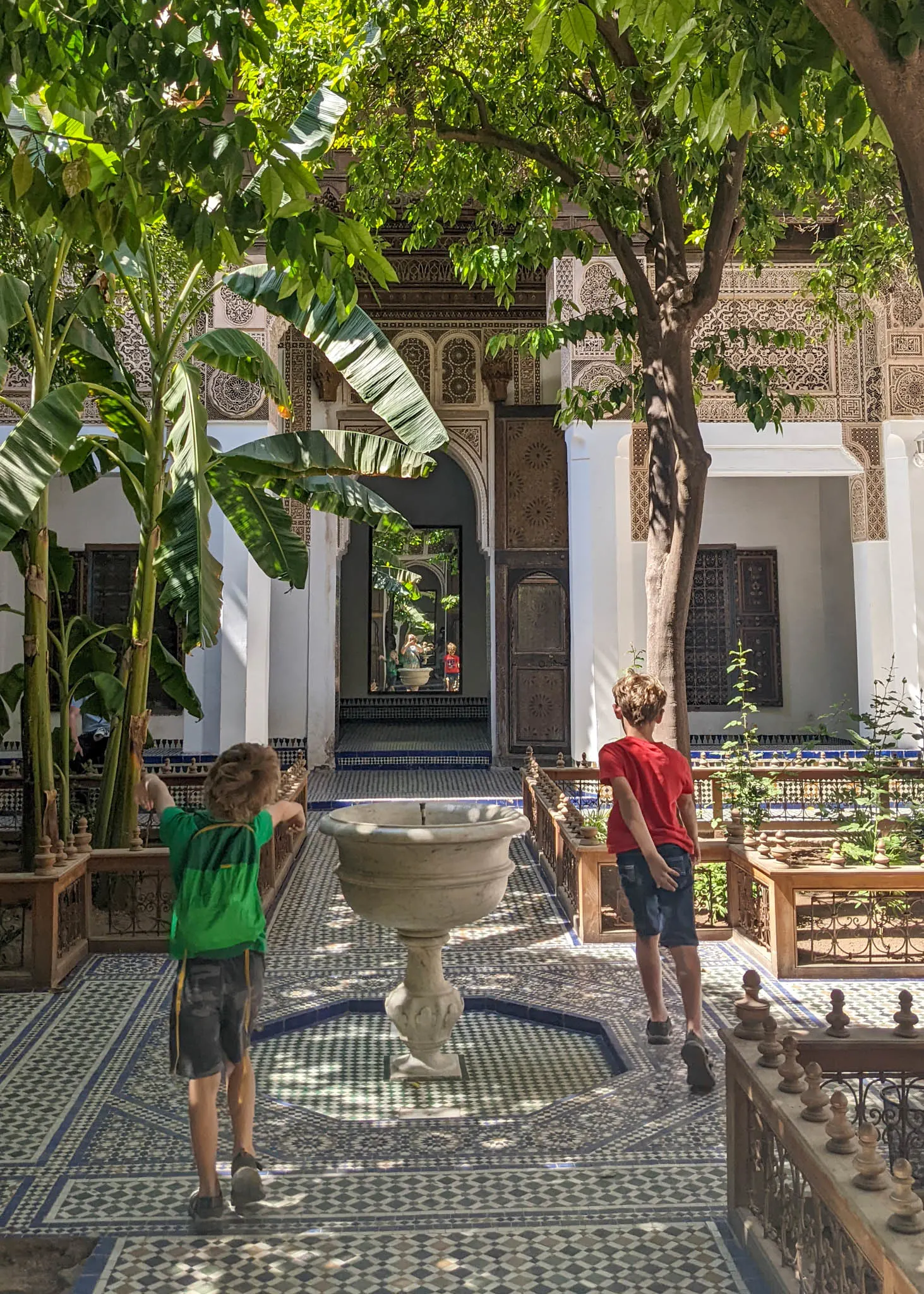 If you do want to let your kids loose near the Medina for a run, there is a large open space around Koutoubia Mosque.
8. Visit the waterpark
To balance the intensity of the city and cultural immersion, take your kids to Oasiria, just a ten minute drive from the Medina. This is a brilliant waterpark with exceptional facilities. There are a number of slides, a big wave pool, a very long lazy river, a climbing wall that runs alongside a pool, and a whole section devoted to small kids, complete with a pirate ship and more slides.
There's a restaurant and creperie onsite, as well as changing rooms and showers. Plus there is plenty of green grass to lay your towels out, or hire a sun lounger for the day for 25DH.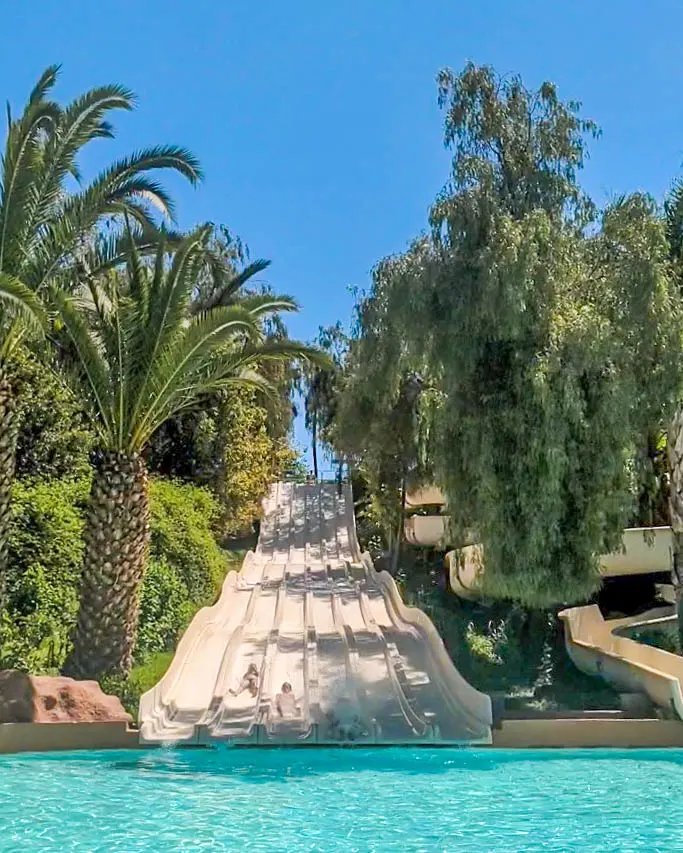 9. Explore further than Marrakech
Whilst Marrakech is a fantastic destination in its own right, there is so much more to explore beyond Marrakech and further around Morocco. Visit the nearby, snow-capped Atlas Mountains with kids, head deep into the Sahara to camp overnight, or head to the sandy beach and chilled out vibes of Essaouira where kids will love surfing, Essaouira quad biking, and running wild on the beach, and parents will appreciate the traffic-free Medina.
---
You may also like to read:
Best things to do in Morocco with kids
What to pack for Morocco with kids
Marrakech with a toddler: a one day itinerary