Have you ever seen pictures of Marrakech and immediately thought of crowds and chaos? Fun chaos of course, the sort of chaos that probably leads to an amazing experience but not something you'd want to attempt with little ones? If so, carry on reading because we totally recommend Marrakech with a toddler or even a baby.
Disclaimer: This post contains affiliate links. If you click to purchase, it is at no additional cost to you, and I receive a small commission.
Marrakech was one of our first family travel adventures with just Arthur who was 14 months old, and at the time I was pregnant with Ezra. Since then we have returned to this vibrant North African country time and time again; most recently we are spending 4 months travelling Morocco where we deregistered our kids from their school for the summer term. Do check out our essential guide to travelling Morocco with kids.
Of course there are some crazy moments when visiting Marrakech with a toddler, with mopeds brushing past in the medina, donkeys and carts squeezing through the thoroughfare of the narrow alleyways, and the exotic fanfare of Jemaa el-Fnaa with it's snake charmers, street food, and musicians; but that's what makes it so exciting!
For toddlers it is a feast for their senses, which hopefully mean a long afternoon nap. Toddlers will love shopping for breads and fresh orange juice in the markets, riding the horse and cart around the city, and dancing along with the drumming in Jemaa el-Fnaa.
TOP TIP: When walking around the medina, it's much easier to carry kids. So put them in a back carrier so they can be up high and see around them. Push chairs and buggies can be difficult to navigate and toddlers will have the fumes of passing motorbikes in their faces. Get them up high on your back so they can soak it all in!
For some, Marrakech can be rather overwhelming with the busy streets, haggling, and stories of tourists being hassled and pick-pocketing. Keep your wits about you, be firm but polite to sellers, and take it slow.
Looking for a toddler friendly riad in Marrakech Medina? Then check out Riad Les Hibiscus
If you're visiting Marrakech with a toddler, here's our one day itinerary…
07:00 – 08:00 : Breakfast
One of the many delights of Marrakech is that you are never far from a street-side vendor selling delicious fresh bread. Join the locals and head for your nearest stall and pick up a cheap, healthy and hearty breakfast of baguette, fruit and juice.
08:00 – 09:30 : Walk around medina
The medina in Marrakech is a vast labyrinth of alleyways, shops, motorbikes and chaos, interspersed with traditional souks, calm tea-houses and relaxing restaurants. If you visit earlier in the morning you will be able to enjoy it without too much of the stress which can be a feature later in the day. It's not especially buggy-friendly so a back-carrier is ideal here to allow your little one to get a great view and for you to feel more relaxed that they won't be anywhere near the hundreds of mopeds which buzz around.
09:30 – 11:30 : Horse and cart ride around city
If we had to choose the number one thing to do in Marrakech with a toddler or baby then it might just the be the horse and cart rides around the city. You'll have to put on your best haggling coat initially but once you have agreed a fare you'll be whisked away from the main square and taken on a magical journey around the city. The little ones will love the horses, sat in the beautiful carriage with the wind rushing through their hair. You'll have the option of choosing the length of the journey so you can pick the trip which suits your kids.
11:30 – 13:00 : Lunch at a child-friendly restaurant
Moroccans adore children and Arthur was usually the centre of attention wherever wewent, especially in the multitude of restaurants scattered around the medina. Some of them will be able to provide a high-chair but we got a lot of use out of our portable high-chair harness which you can attach to most 'normal' chairs found in restaurants.
The menus are fairly extensive with bread, tagines, couscous, salads and chicken featuring in almost all of them. Top-tip, be aware that couscous has the ability to get very messy, very quickly, if left in the hands of a one year-old. Use caution but the locals didn't seem to mind the clearing up anyway. It's likely the little ones will be whisked off to the kitchen for a tour while you finish your meal. The restaurants overlooking the main square are particularly cool and provide a perfect view of the masses below, accompanied by a beautiful sunset over the Atlas mountains if you also visit later in the day.
13:00 – 15:00 : Chill time at your riad
When travelling with kids so young, we always allow for down time back at our accommodation every afternoon, hopefully for a nap! Staying in a riad is one of the special experiences of visiting Marrakech. Check out our Riad Les Hibiscus review or Riad Africa review.
15:00 – 16:30 : Jardin Majorelle
Jump in a taxi and head over to the Majorelle gardens; part museum, part gardens and part gallery. Here you'll find a small botanic museum, plant-lined walkways and striking blue doorways waiting to be explored. In a city that can sometimes feel like the volume button is stuck on max, spend an hour or so here to remind yourself what silence sounds like.
16:30 – 17:30 : Rooftop snacks
If you need a quick break during the day then the answer is right above your head. Marrakech is blessed with dozens of rooftop restaurants where you can escape the busy streets for a few minutes and grab a drink. The kids will appreciate the time-out and can enjoy either a fresh orange juice (mint tea for the grown-ups) or a simple snack, usually dispensed with a smile by the owner. The rooftops range from five-star luxury to basic, cheap and cheerful – find one that takes your fancy and climb the stairs (be warned though, the staircases are often almost vertical and can be missing the odd piece of tiling – see it as part of the adventure and hold onto the banister and kids tight).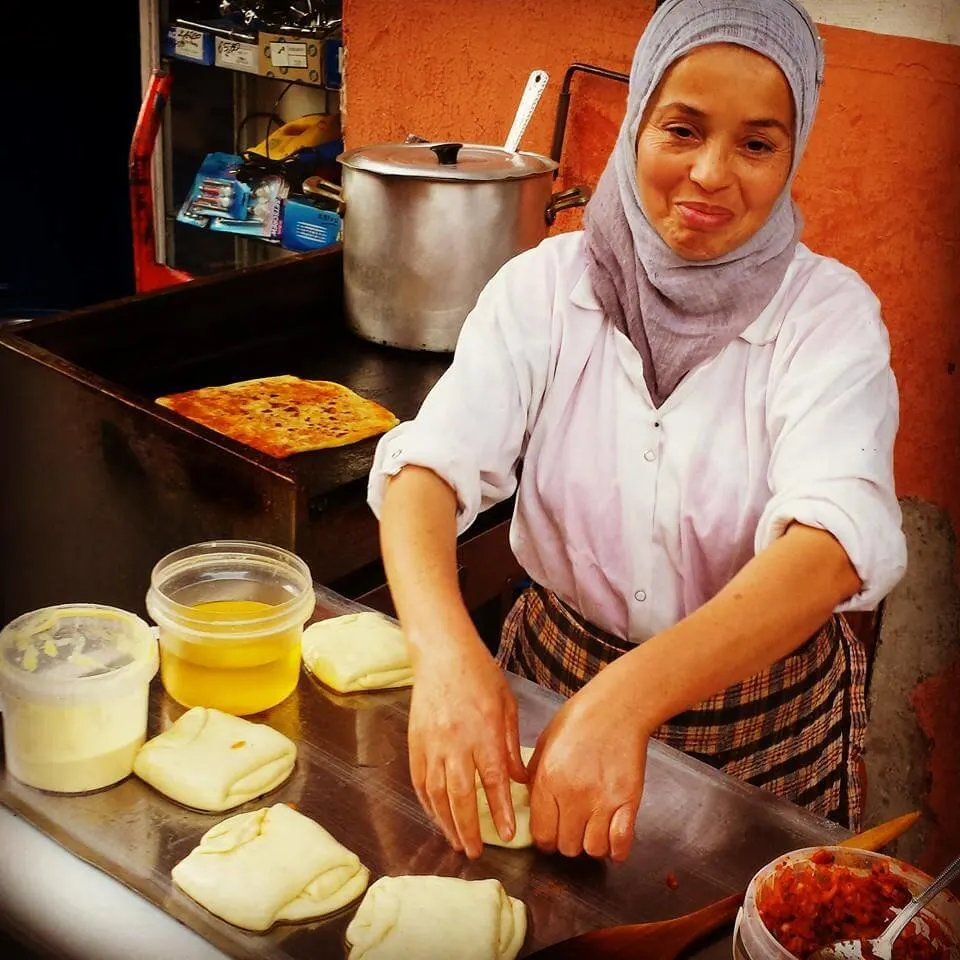 17:30 – 19:00 : Visit Jemaa el-Fnaa
Chances are, if you've seen one picture of Marrakech, it'll have been of Jemaa el-Fnaa; the beautiful square in the centre of the medina which showcases all that is magical about Marrakech and Morocco. It might look chaotic when you're standing on the sidelines but once you're in the mix you'll soon realise it's actually not unlike a medieval children's play area with a myriad of activities to entertain your little ones: snake charmers, dancing troupes, musicians, juice stalls and food vendors selling gorgeous Moroccan food.
A good time to arrive is about half-an-hour before sunset; you'll get to see the square change personality as the daylight disappears and the evening crowds begin to arrive. It's also very popular with Moroccan tourists, some of whom might find your kids the most interesting thing in the square – prepare for lots of hugs and kisses!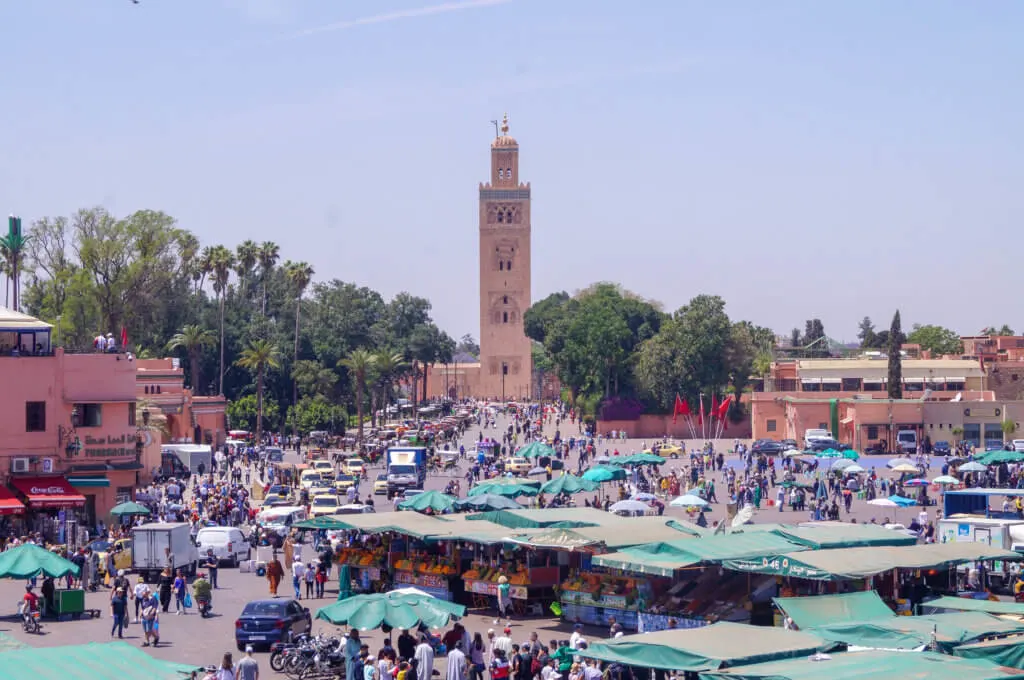 Final thoughts on visiting Marrakech with a toddler
So there you have it: a one day itinerary in Marrakech with a toddler. There is so much to do here, with many different areas to explore, people to meet and food to taste that you'll not want to limit yourself to a day. Spend a few days here, soak up all the city has to offer and when you leave, you and the kids will have experienced something spectacular.
You may also enjoy a trip to the Atlas Mountains (only a few hours drive away and highly recommended) or if you fancy something even further afield then check out fabulous Essaouira on the Atlantic coast – read our reasons why you should visit Essaouira with kids or visit our sister-site Explore Essaouria.
Useful Travel Info:
Best time to visit: Mar-May & Sep-Nov
ATMs: Plentiful and easily accessible in the medina
Visas: Not required for most nationalities for stays of up to 90 days. Passports must be valid for 6 months beyond date of entry.
Language: Morocccan Arabic (Darija), Berber and French
Time: GMT/UTC
Government travel advice: www.gov.uk/foreign-travel-advice/morocco
---
You may also like to read:
Best things to do in Morocco with kids
What to pack for Morocco with kids
Morocco road trip with kids