The colours, the chaos, the noise, the dirt, the smells… India is not for the fainthearted. It's a destination that awakens the senses – exhausting yet energising, frustrating yet thought-provoking. Many question whether travelling India with kids is worthwhile. But for those intrepid families who yearn for something different, India may be one of the most magical places you encounter if you're up for the challenge. My advice is to embrace the chaos, practice some patience and have a read of these twelve tips for travelling India with young kids.
READ: India with kids: a ten day north India itinerary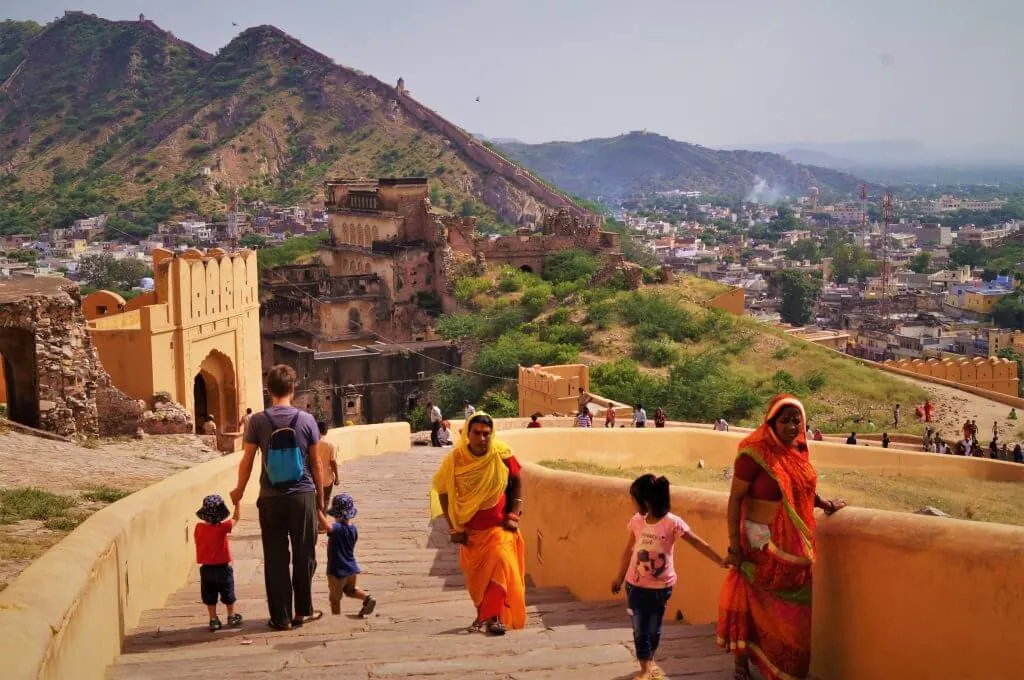 We spent a year living in Bangalore (ours boys were 1 and 3 years old when we first moved out there) and took every available opportunity to travel and explore India. There were times when the bureaucracy, noise and congestion would be too much, but my over-riding feeling was that of wonderment. Indeed India is a fantastic cultural playground for kids of all ages and here are our top ten things to do in India with kids.
1. Ride a tuk-tuk around the architectural ruins of Hampi
Large sandstone boulders balance precariously across the undulating landscape, which itself is dotted with magnificent ancient temples and ruins patrolled by tribes of macaque monkeys. Hampi is a fascinating place to explore, and best done with the kids driving a tuk-tuk (well, sort of). We hired the services of Vinay the tuk-tuk driver to show us around the sites of Hampi. He had such a wonderful way with the boys and let them sit in the front with him to drive the tuk-tuk. They had an absolute ball!
Read more: Happy in Hampi with kids
2. Celebrate a River Ganga ceremony in Rishikesh
Young backpackers, ageing hippies and chilled out yogis flock to Rishikesh to find inner peace and hurtle down the River Ganges on a whitewater rafting trip. It may then surprise you that our boys' favourite stop on Our Northern India Itinerary was Rishikesh. Why? Well there was sand to play in, water to splash in, monkeys to feed, colourful people to meet, and chocolate milkshake and banana pancakes served at almost every restaurant. But the highlight has to be watching the nightly mystique of the River Ganga ceremony. The boys loved clapping along and were fascinated by the fire ceremony.
Read more: Rishikesh with kids: top 5 things to do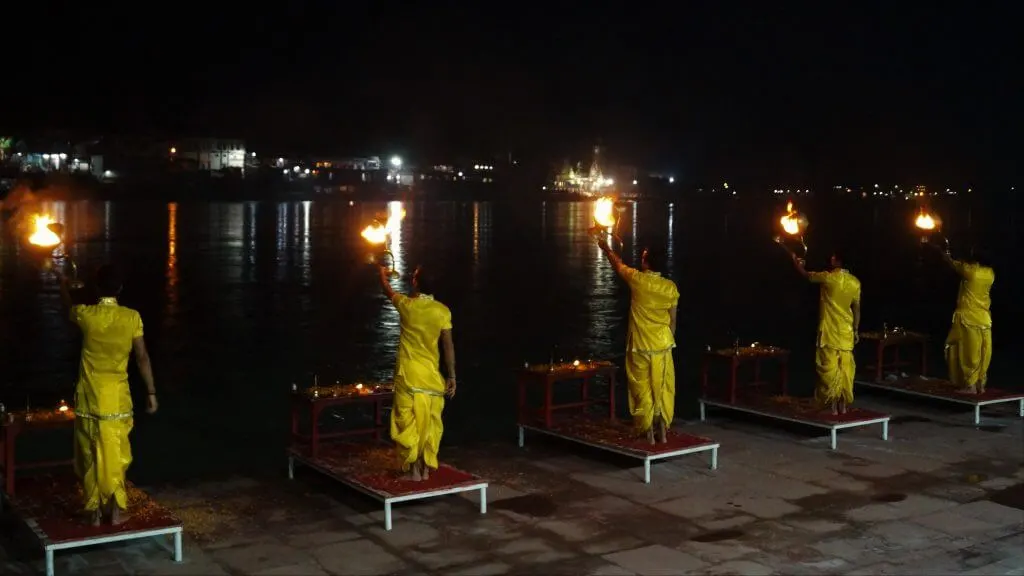 3. Watch the sunrise over the Taj Mahal
Admittedly, it may not be high up on your kids' bucket list, but no trip to India is complete without a visit to the iconic Taj Mahal. Plan you visit wisely to beat the crowds and heat (we strongly advise arriving for sunrise) and hide any snacks from stringent security checks (you cannot purchase any food whilst inside, which makes thing tricky with little ones). Whilst in Agra, ensure you visit Agra Fort. With darkened corridors, mysterious doors and secret rooms to explore, arguably, our boys enjoyed their time more here.
Read more: Visiting the Taj Mahal with young kids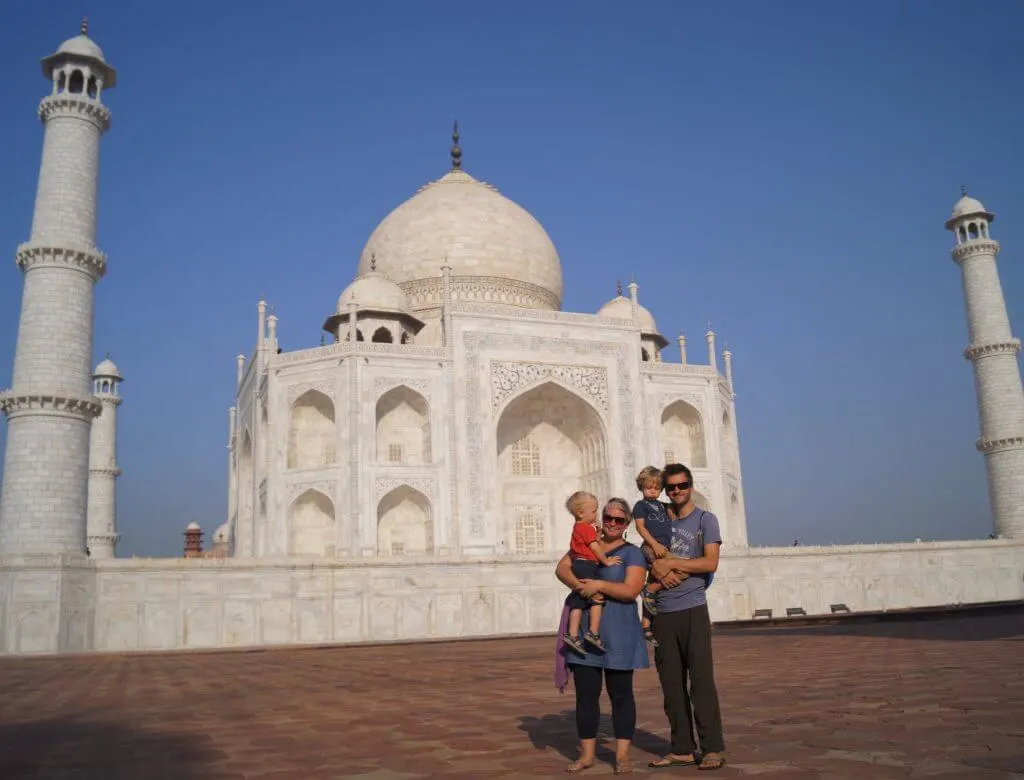 4. Climb over old trains and carriages in Mysore
There's more to Mysore than the Palace. Next to Mysore Railway station you will find a collection of brightly painted derelict trains at Mysore Rail Museum. Children are allowed to explore inside the engines and climb over and around the carriages. There's also a playground that has seen better days.
Read more: Mysore with kids: top 5 things to do
5. Watch a puppet show at one the palaces in Jaipur
Jaipur is famous for its flamboyant palaces and impressive forts. Indeed, we spent many hours exploring their maze-like corridors and hidden doorways. But it was the puppet shows, accompanied with live drumming and singing, that kept them truly engaged. The puppet with a detachable head had our boys in fits of giggles!
Read more: Jaipur with kids: top 5 things to do
6. Ride camels through the deserts of Jaisalmer
Riding a camel across the desert plains has to be one of the most fun experiences for kids. Although parents be warned – riding a camel is one of THE MOST UNCOMFORTABLE modes of transport. But, if you can hack it, a night sleeping in the desert under the Indian stars on a multi-day camel trek, has to be one of the most magical experiences (indeed the silence will be heavenly if you've been travelling India for sometime). Or perhaps check out the camels at the Pushkar Camel Fair.
Read more: A memorable night in a Jaisalmer Desert Camp
7. Sleep on an overnight train
Clickety-clack, clickety-clack… going to sleep in one city and waking up in another is an exhilarating way to travel. The Indian train network is extensive and trains get very overcrowded. Book your tickets as early as possible to avoid disappointment and set your expectations to be very low with cleanliness (pack the hand sanitiser). My boys are train obsessed and never tired of the long train journeys.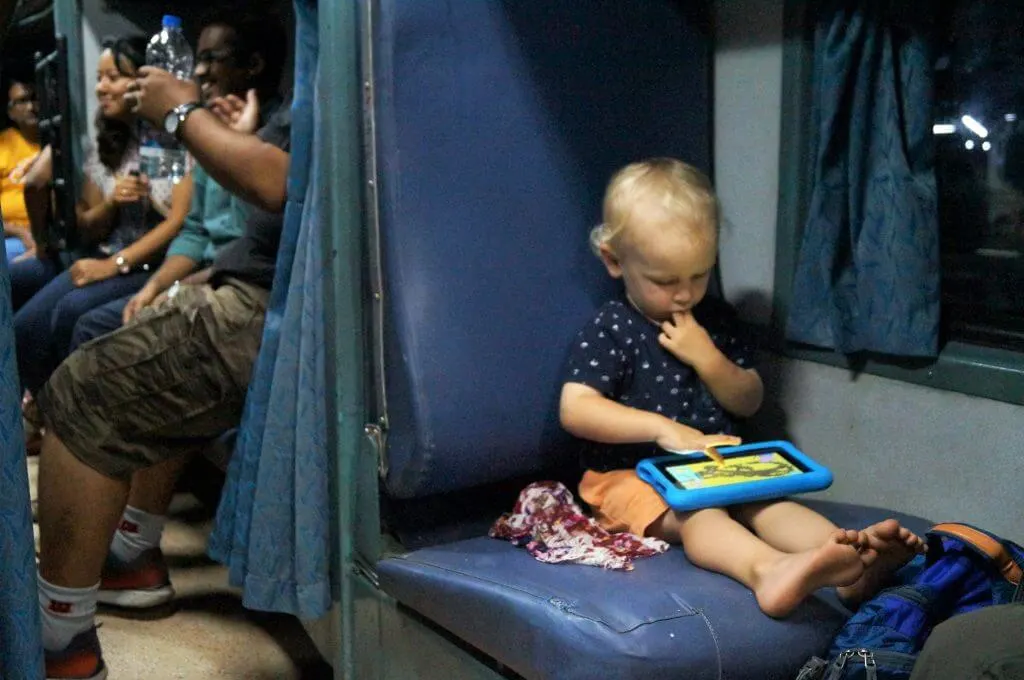 8. Eat croissants and baguettes in Pondicherry
Being honest, my boys didn't really take to the India curries; they were too spicy. So when we visited Pondicherry's French Quarter, our first stop was to Baker Street for their perfectly scrummy chocolate croissants. Paradise Beach is just a 20 minute tuk-tuk ride away and a very worthwhile visit for some beach play.
Read more: Pondicherry with kids: top 5 things to do
9. Boogie-board the waves in Goa
Balance the chaos of India with some relaxing beach time in Goa. Our favourite has to be the chilled out family friendly beach of Agonda. We stayed at Seastar Resort which has free boogie boards for the kids – hours of entertainment in the sea! And if you do want to step away from the surf and sand, check out these things to do in Goa with kids away from the beach.
Read more: Best beaches in Goa for kids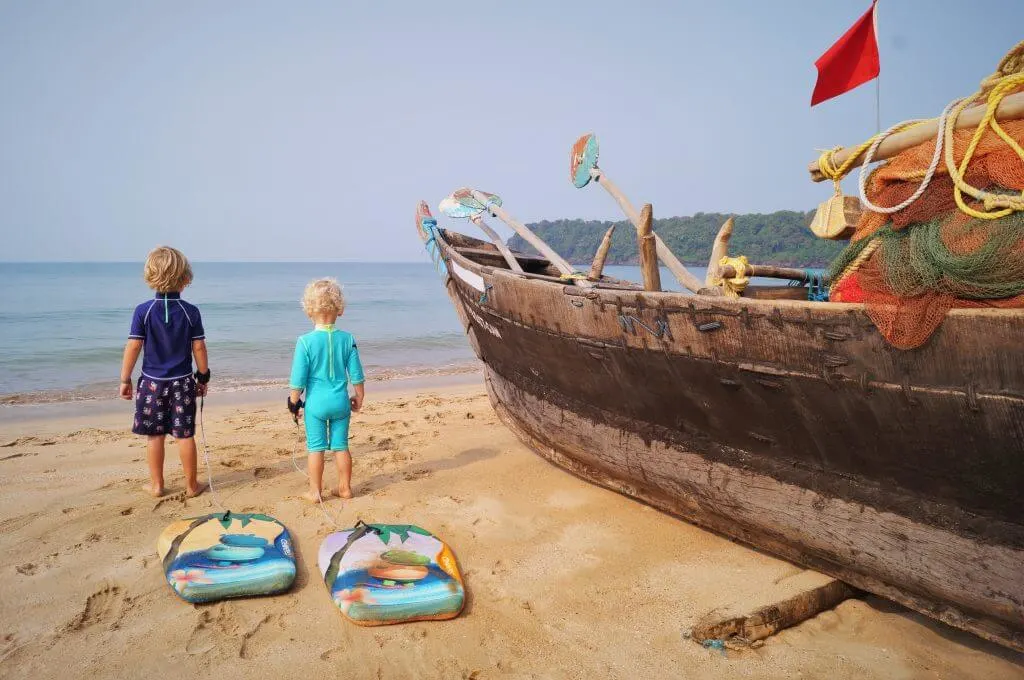 10. Wander the funky streets of Fort Kochi
Colourful Kochi has a more laid back feel compared to other Indian cities. The main sites of Fort Kochi (the old town) are conveniently contained in a relatively small area, making it all accessible for little legs; especially with frequent stops for mango juice. Start at the Chinese Fishing nets and watch the fishermen heave in the big nets and sort through their catch. Then take a wander along the quiet, colourful Princess Street and Burgher Street, perhaps popping into a chic cafe, before some reflective time at St Francis Church. Be sure to check out the cool street art along the way. Walk back towards the Chinese Fishing nets via the Beach Walkway, alongside Mahatma Ghandi Beach. This isn't a beach for sandcastles and swimming but it's always a treat in India to find an open pedestrianised walkway to allow the kids to run freely. Plus, there are boats to spot!
Read more: Kochi with kids: top 5 things to do
---
The India Lonely Planet is an excellent guide to purchase for further research.
Sale
You may also like to read:
Best beaches in Goa for kids
Our Northern India itinerary with kids
Travelling India with kids – is it worth it?