Are you travelling India and looking for places to visit in Mysore with kids? Or maybe kids play areas in Mysore?
Sometimes you need to know your audience. If you wanted to sell Mysore to an adult, you'd mention the World Heritage listed palace and see their eyes light up. Try the same with kids and the response might be more underwhelming.
So you need a different angle to get their imagination ticking over; instead, try telling them they can climb all over derelict trains, get chased by monkeys, haggle for spices in a market and spot a white tiger in the zoo… you may have piqued their interest. Trust us when we say that a family trip to Mysore is a great idea!
Mysore (which has recently changed it's name to Mysuru, although everyone still calls it Mysore) is much more that just its grand, centre-stage Palace. People tend to only stop here for the day to tick off the prize attraction but if you're doing family trip to Mysore, it's definitely worthwhile staying for a couple of days.
Here are the best places to visit in Mysore for kids:
1. Rail Museum
A collection of brightly painted derelict trains have been collected in this shady open-air museum close to Mysore Railway Station. Children are allowed to explore inside the engines and climb over and around the carriages. There's also a playground that has seen better days. Bring water and snacks as there is no cafe or food stalls (they're missing a trick!)
Open Tues-Sun 10am to 5:30pm. Rs.15 adults, Rs.10 children, Rs.20 camera. Click here for website.
2. Devaraja Market
Vibrant, colourful and one of the few markets we've come across in India that isn't overly congested, meaning the boys could walk (almost) freely. Engage the kids by giving then a shopping list. Perhaps some spices, paints, flowers and bananas.
Hours 6am to 8:30pm, located here.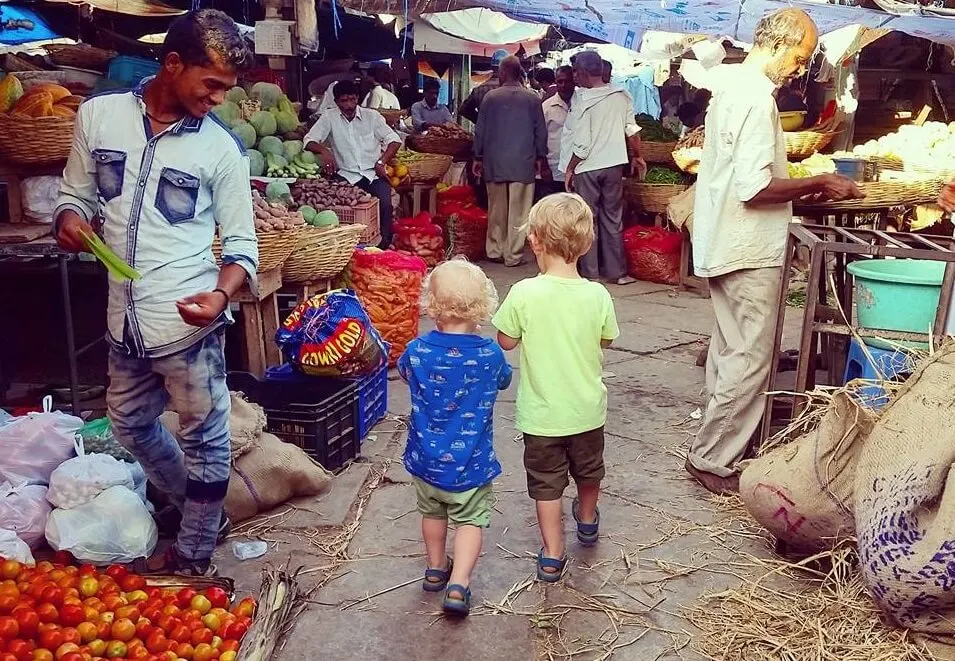 3. Mysore Zoo
Standards at Mysore Zoo rise above what you may have seen elsewhere in India. Set in well maintained gardens, be on the lookout for tigers, rhinos, gorillas and more. Try to visit before 11am or after 3pm as in between these times animals take shelter from the sun and may be difficult to spot.
Open 8:30am to 5:30pm, closed on Tuesdays. Rs.25 adults, Rs.10 children.Click here for website.
4. Chamundi Hill
Flag down an auto and escape the bustling city to Chamundi Hill. It's a 30min ride (INR400 return) and then a short 5min walk to Sri Chanundeswari Temple. If you're visiting at the weekend you'll more than likely find queues snaking around the temple. Walk through the throng of worshippers, visitors, decorated priests and incense to explore one of the smaller working temples the other side for a more intimate experience. After a blessing, grab a drink from one of the stalls but just be careful that a monkey doesn't chase you down for it. On your way back down to Mysore, be sure to ask your driver to stop at the the View Point to take in some breathtaking views of the city below.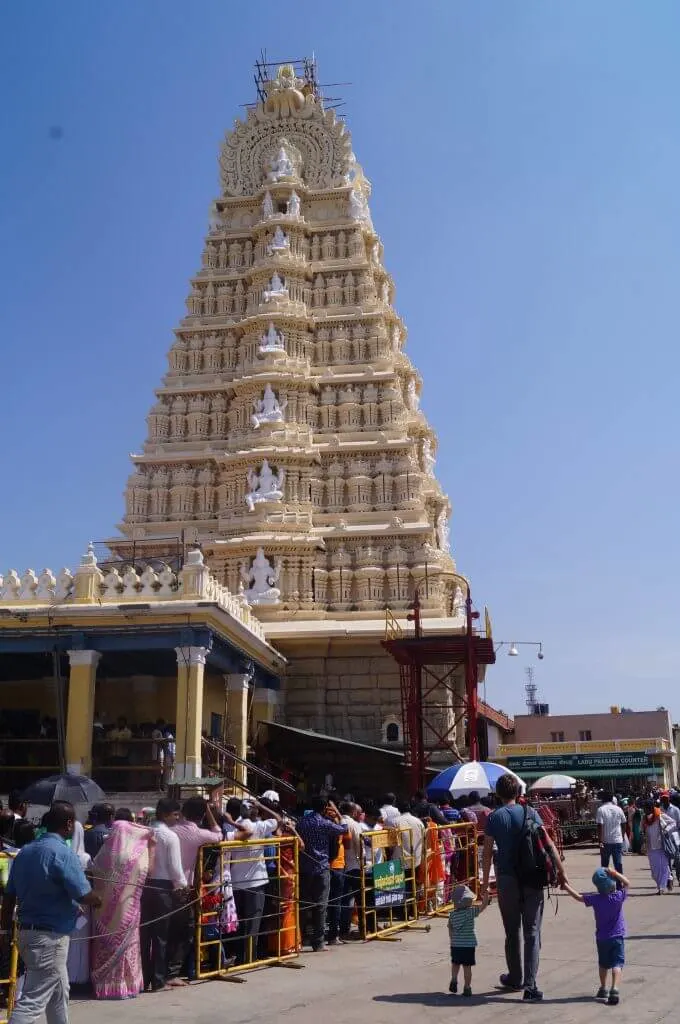 5. Mysore Palace
Well you can't come to Mysore and not see the Palace, one of India's grandest royal buildings. Just get your visiting times right. We didn't and arrived at the hottest, busiest time of the day (1pm). We shuffled around the stuffy corridors negotiating the hordes of visitors and couldn't really take it all in.
Next time we go, we plan to visit as soon as the gates open at 10am, or perhaps on a Sunday evening when the Palace is illuminated by almost 100,000 lights bulbs.
Also note that no cameras whatsoever are allowed inside the Palace. If you're seen even reaching for your phone, an officious security guard will be perforating your ear drum with his whistle.
Getting to Mysore
Mysore is easily accessible by train. From Bangalore there are at least 14 trains per day to Mysore, averaging about 3 hours. The 11am Shatabdi Exp does the journey in just 2 hours. From Mysore train station there are an abundance of autos waiting to drive you to your hotel. It's likely they will actually use the meter(!), as they'll take the opportunity to promote their tour guide services along your short journey.
Where to stay in Mysore with family
Unfortunately we wouldn't recommend the place that we stayed. However, some fellow expats Mums in Bangalore have suggested the Raddison Blu. It's in a great location, has a nice pool and lots of space for the kids to run around. Plus I'm reliably informed that the breakfast is excellent! You may also want to try the reasonably priced Country Inn and Suites or The Green Hotel, a charming hotel full of character.
---
To read more about travelling India with young kids, head to our India page.
The India Lonely Planet is an excellent guide to purchase for further research.
You may also like to read:
Essential tips for travelling to India with kids
India with kids: a ten day north India itinerary
Travelling India with young kids – is it worth it?