Are you a family moving to Bangalore with kids from overseas? It may feel like a daunting task. Especially if you have young kids.
We moved to Bangalore from the UK when our boys were just 18 months and 3 years old. We'd moved countries before (pre-kids) and found it challenging but moving to Bangalore with kids was a whole different ballgame.
The surprising thing was that amid all of the chaos, it was actually the boys who helped us to settle and feel grounded. However crazy things got in those first few days, when we were trying to get everything organised and were attempting to decipher how the new city worked, the kids' needs still came first and familiar patterns and routines began to emerge. It doesn't really matter where you are in the world, the old rules still apply: if the kids are happy, life becomes a lot easier for the parents.
Hopefully these tips will help you in those first weeks of moving to Bangalore with kids.
1. Prepare craft activities and games for those first days
There is a lot of waiting around in the first few days while you wait in to get your TV or Internet hooked up so ensure you have some activities to keep the kids entertained. We packed an army-ready craft kit containing paper, paints, kids' scissors, sellotape, glue and dinosaur stickers. The boys then made paper chains, bunting and pictures to decorate our new apartment.
2. Download the offline Google map of Bangalore on to your phone
Bangalore autorickshaw (tuk-tuk) drivers rarely know where they are going, even if they say they do, so you'll often find yourself acting as navigator. Plus, in those first days when you perhaps don't have internet access, it's super handy in helping you navigate around your new home city.
3. The Bangalore Mums Facbook group
This is a group to ask any questions you may have whilst living in Bangalore (from advice on schools and maids to where to buy kids shoes and books) and it was through this group that I found a couple of playdates. Click here to join the Facebook group.
There is also the Overseas Women's Club that host a couple of region specific playgroups.
4. Embrace 'India Time'
In this maddeningly-congested city, getting from A to B always seems to take an age and people struggle to keep to specific appointment times. Best to go with the flow, allow lots of time and keep the kids' tablet handy for when they get jiffly in the inevitable traffic jam.
5. Crossing the road
The general rule is that a gridlocked road is easy to cross, a quiet road is easy to cross (good luck finding one) but a slightly busy road is a nightmare to cross. And that's when you are on your own – just try doing the same thing when you have two children to control and a shopping bag under one arm.
But, a bit like a bungy jump, the hardest bit is actually stepping out. It's unlikely a complete gap will ever appear so it's best to follow the locals and choose the quietest moment you can. Don't make any sudden movements, try to keep eye-contact with the drivers, take it one lane at a time and remember that 99.9% of the drivers will have sympathy for your plight and want to avoid you at all costs.
Clipping a Westerner involves way too much paperwork. As a final resort, shadow a friendly local and think of England.
6. Put 'getting a SIM' to the top of your To-do list
One of the hardest tasks you'll face when you first arrive is getting a SIM card. If you are here on a tourist e-visa it's possible to get one at the airport and apparently it's quite a straightforward process. Check out this guide: how to get a SIM card in India.
If, like us, you're on a different visa type, you'll need to venture into one of the big mobile providers (Airtel, Vodafone, !dea, etc) shops and take your chances. Depending on who you speak to, you'll need to take your passport, proof of address, foreigners registration document and contact details of a local. You may find it easier to enlist the help of someone from India to get one on your behalf. It's a fiddly process but essential – you need a phone number to do almost everything here, from ordering pizza to booking a train ticket.
We also recommend you get a VPN to keep your data safe and enable you to watch TV shows from home. Find out about getting a VPN for travel here.
7. Download the Ola and/or Uber app
If you need a break from negotiating an auto, want to escape the heat, or just don't fancy breathing in those traffic fumes, use an Ola or Uber car to get you from A to B.
Just don't expect the cars to have car seats. Some families choose to have a driver here, meaning that the children will always be in a car seat and someone is always on hand to drive you to your destination.
8. Food apps
There are a range of apps to deliver meals and groceries to your door. We used Big Basket for groceries and Fresh Menu for our evening meals.
We haven't cooked many evening meals since arriving here as we can get a freshly cooked meal delivered straight to our door that feeds the whole family for around a fiver! And for everything else (books, linen, scooters…) head to amazon.in.
9. Your children will get a lot of attention
Western children in particular get a lot of attention from locals. The cheek-pinching and selfie requests are with the best of intentions, although your little ones may find this overwhelming or be generally non-compliant.
Don't hesitate to politely say 'no'. Although don't be surprised if they try and get a last shot of your family on their phone as you walk away.
11. Things happen late
Many of the gated Bangalore playgrounds in the city don't open until around 4pm, playgroups start at 4pm and many shops and the Funky Monkeys soft play don't open until 11am during the week.
This has taken some adjustment and flexibility on our behalf. Although we still like the boys in bed by 7pm 🙂
12. Western commodities cost a little more here than back home
Pack a little extra of your favourite hair and skin products, swim nappies, normal nappies, baby wipes and tampons (ladies, obviously!). You can still get baked beans and Marmite (£5.80 in Spar for 125g!), but again you just need to pay a little more for them. But totally worth it.
13. Every day is an adventure!
Even the most westernised, familiar activities, such as going to soft play or buying groceries from a supermarket will involve something out of the ordinary; haggling with an auto driver, whizzing past a cow grazing on litter in the middle of the road, finding yourself in the middle of a religious parade.
It's exciting and disorientating but you will gradually begin to realise that your daily routine now has these crazy elements intertwined with all the normal stuff from back home.
Embrace it all and throw yourself in to the mix! India really is one of the best places to live in the world!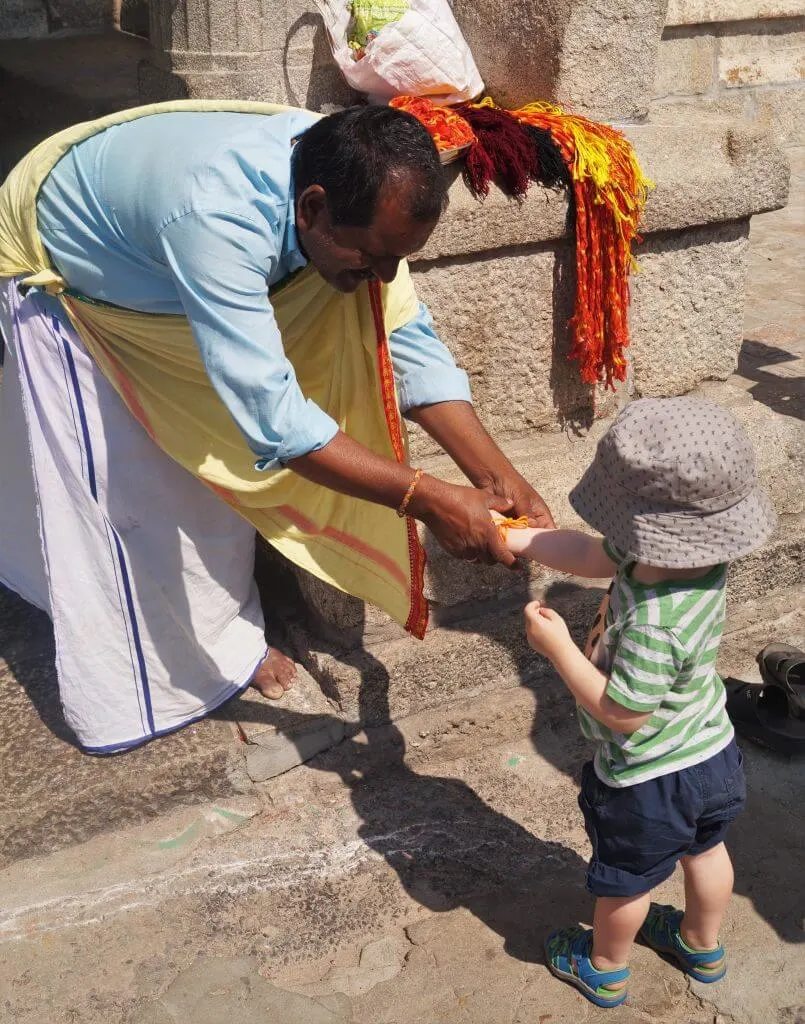 ---
The India Lonely Planet is an excellent guide to purchase for further research.
Sale
You may also like to read:
Moving to India from the UK
Top things to do in India with kids
Long-haul flight survival with young kids