As we sit on our 8th floor balcony overlooking the lights of Bangalore, wrapped in the warm night air with the buzz of the aircon overhead and the incessant beeping of congested traffic below, we can't help but smile and feel content. We did it. We're living in India.
You may wish to read our tips for moving to Bangalore with kids
Our boys are just 1 and 3 years old (18 months apart) and we've always wanted to make the most of the travel possibilities before our eldest starts full time education. Before we had kids, whenever we wanted to do a big six-month or year-long trip, we would just get our heads down, tighten our belts, save save save for our adventures and then pack up and go! Once kids are in the picture, it becomes all the more difficult. Saving was a huge obstacle for us, especially when we're mostly living off the one salary.
So when an opportunity arose to move to Bangalore for a year through Jay's work, we jumped at it!
A good idea?
Now moving to India with young kids wasn't without its reservations. We had previously spent 3 months backpacking around India in 2012 where we had a minuscule budget of USD25 per day so we had an idea of what to expect. To an outsider, an Indian city is loud, chaotic and dirty. Rubbish litters the streets, broken pavements mean you can rarely look up, roads are congested and fumes fill the air from battered cars and tuk tuks that sit on their horns. But it's raw and alive. Here, life spills out onto the streets and it's simply fascinating.
Our new home in Bangalore needed to be an oasis from the vibrant chaos of India. A place that is clean, safe and has a TV to watch Paw Patrol. A sanctuary, providing a sense of normality to counteract their daily sensory overload.
But we also had to consider the practicalities of leaving our home in the UK. We were now grownups with a mortgage – what to do with our little cottage in Kent? What about my work (I was working part time as a swim teacher back then)? We'd lose our support network of close friends and family and we knew no one in Bangalore. How would I keep the boys entertained without our regular activities and play dates? Would we send the boys to a nursery in Bangalore? Our eldest had just started his new pre-school and was so very happy – is it fair to take him away? Then there were the numerous vital immunisations for our boys to consider…
You can always find an excuse not to do something. But we knew that we would never regret our decision to go. This was the adventure we were looking for. For one year, Bangalore would be our base for our travel explorations.
Leaving the UK
So we put our house up for rent and found some lovely tenants to take care of our home, I spoke to my work (thankfully a job to go back to!) and Jay started the overly-complicated task of sorting visas and tax through his work. We talked to the boys a lot about India through maps, books, YouTube videos and our old travel photos. In fact we spoke to them so much about India that when our youngest is asked, "What's your name?" he replies, "India"!
Moving and packing up a house, whether it be round the corner or to the other side of the world, is never fun. We'd only been living back in the UK for 3.5 years, but the amount of stuff we'd accumulated (mostly plastic toys!) was ridiculous. Nevertheless, the house was eventually cleared and our belongings in to storage.
Before we knew it, it was time for goodbyes. Goodbyes suck, even though we knew we'd be back in a year. On the days leading up to leaving home, you realise all the more how much the people there mean to you. However, the innocence and naivety of the boys helped to normalise the teary moments as they bounced around, excited about their 'holiday'.
The first weeks
We're now into our third week living in Bangalore and feel like we're finding our rhythm and routine. We're beginning to understand how the city ticks, how to be flexible with 'India time', how to negotiate with tuk tuk drivers, how to cross the unpredictable roads, how to always keep small change, where to buy things and we even have our first playdate booked in.
We're living on a gated community, which provides the oasis we require and safety for the boys. Jay heads off to work each morning and flags down a tuk-tuk at the front gate, then the boys and I are left to explore our new city.
In the UK we were constantly booked up with playdates and activities, but we're currently enjoying the freedom to venture as much or as little as we please; be it to a playground, park, temple or hotel pool in a tuk tuk.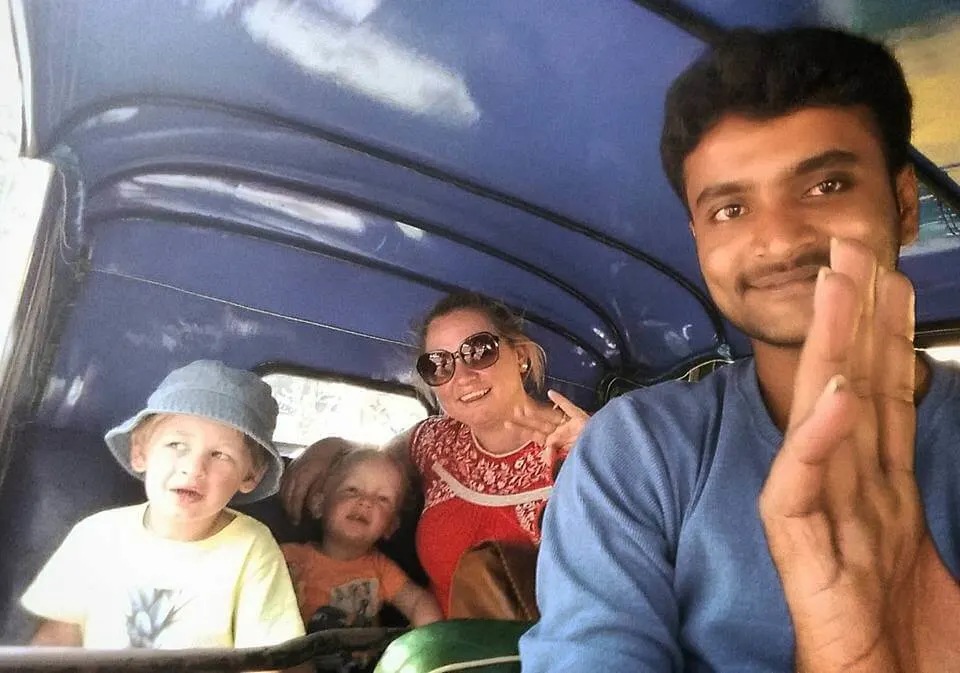 Wherever we go, our blonde boys are a novelty (even on our apartment complex) and people are always taking photos, pinching their cheeks and requesting to pick them up. They're gradually getting used to this celeb life, but also learning to say 'no' to people.
India is indeed incredible and we've only just started chipping away at it. We've only got a year here, but as a family we're ready to pack in as much as possible. The boys have already experienced their first Indian train journey to Mysore for a weekend and there are trips in the pipeline to Hampi, Rajasthan, Kerala and Sri Lanka. We're all so very excited about the adventures ahead and we look forward to sharing the journey with you.
Epilogue
For those that are only just reading this, we ended up staying a year in India before a new adventure began… Africa.
---
To read more about travelling India with young kids, head to our India page.
The India Lonely Planet is an excellent guide to purchase for further research.
You may also like to read:
INDIA DIARIES: Lessons from the first month
Abu Dhabi with young kids
Long-haul Flight Survival with young kids