We absolutely loved our time in Sri Lanka and it was easily one of our best family trips when the boys were young. So we thought we'd share with you our Sri Lanka itinerary with kids. If you're planning a family holiday in Sri Lanka, feel free to copy it exactly for your own travels, tweak it to fit your own time or interests, or just simply use it for inspiration.
Disclaimer: This post contains affiliate links. If you click to purchase, it is at no additional cost to you, and I receive a small commission.
Read here why we think Sri Lanka is fantastic for young kids.
We focused on a Southern loop to take in pristine beaches, colonial architecture, a safari to meet elephants and some time in the Hill Country; a perfect mix of highlights of Sri Lanka for families. It was only about 2 to 4 hours generally between destinations which is very doable with young kids. Our preferred mode of transport was train, but if the tracks didn't go to where we wanted we would opt for a tuk-tuk and time the drive with our 12pm nap/downtime. A car would have been faster, we just prefer to travel in tuk-tuks as they're open and offer that sense of freedom as you watch the world breeze by. We did miss out some classic tourist spots such as Sigiriya and Dambulla, but the former particularly requires a lot of climbing for little legs (our boys are aged 2 and 3) and we figured we'd leave that for another trip.
So here is our day by day Sri Lanka itinerary with young kids. As I said before, it remains one of our best adventures to date, and we travel A LOT with our boys.
If you're wondering how we afford to travel so much as a family, read this post.
Day 1-2 Colombo
We stayed at: Anugaa in the City
You can read more about Colombo with kids here.
Arrive in Colombo. Head to the train station first thing to book your train tickets (if you haven't already done this online). Wander around the historic Fort area and old town quarter of Slave Island, visit Gangaramara Temple, let the kids enjoy all that Viharamahadevi Park has to offer – a playground, water fountains to run in, a small train, horse-riding, an aquarium – and head to to Galle Face Green around sunset for dinner from a street vendor and watch the kites and snake charmers.
Getting around Colombo is very easy as all tuk-tuks use the meter. Just ensure you have Google Maps downloaded offline to direct them, if necessary.
Day 3 Galle
We stayed at Fort de 19 villa
Read more about Galle here.
Catch the train to Galle, just a 2.5 hour journey along the coast. Take a walk along the fort walls and explore the Dutch Colonial buildings. Try to time this later in the day to escape the heat and package tourist day-trippers. The full circuit along the top of the wall can be done in under 2 hours. However, for little explorers that like to climb the walls, look for dragons and generally walk a little slower, we suggest splitting the walk in two and saving a section for an early morning stroll on Day 4.
Day 4-5 Mirissa
We stayed at Lashan Guest House. It's tucked away in a quiet area 400m from the beach, but the owners will happily drop you at the main beach in their tuk-tuk.
After your early morning stroll exploring more of Galle Fort, take a tuk-tuk to Mirissa (LKR1800, 1 hour), via a turtle hatchery, to enjoy some beach time. The main beach at Mirissa offers a long shady stretch of sandy beach, perfect for building sandcastles. The waves and current are strong, so join the kids in jumping over the waves. You can also visit Secret Beach and walk back to the main beach through the jungle. Ensure you receive clear directions. We got very lost. The walk should take around 40 mins with little legs.
If your visiting between September and April, you may like to go on a whale watching cruise in Mirissa (tours are also running in July and August, but the water may be a bit choppy for little ones). It's one of the best places in the world to see the blur whale!
Day 6-7 Udawalawe National Park
We stayed at: Kottawatta Village
You can read our full post on Udawalawe National Park here.
It's time to meet some elephants! Take a tuk-tuk to Udawalawe (3hrs, LKR5000, would be 2hrs in a car). We stayed in glamping tents at Kottawatta Village just outside the National Park.
Book your 3 hour safari with the resort for 5:30am. Kids under 5 are free and so the total price for entrance fee, jeep hire and safari guide was LKR7500 for our family of 4. The resort provides snacks for the safari and breakfast on your return. You are pretty much guaranteed to see elephants!
When not on safari, enjoy your time at the resort. It has an onsite restaurant, swimming pool with kids' area, hammocks for napping and you'll meet monkeys on your veranda.
Read: tips for a safari with kids under the age of 5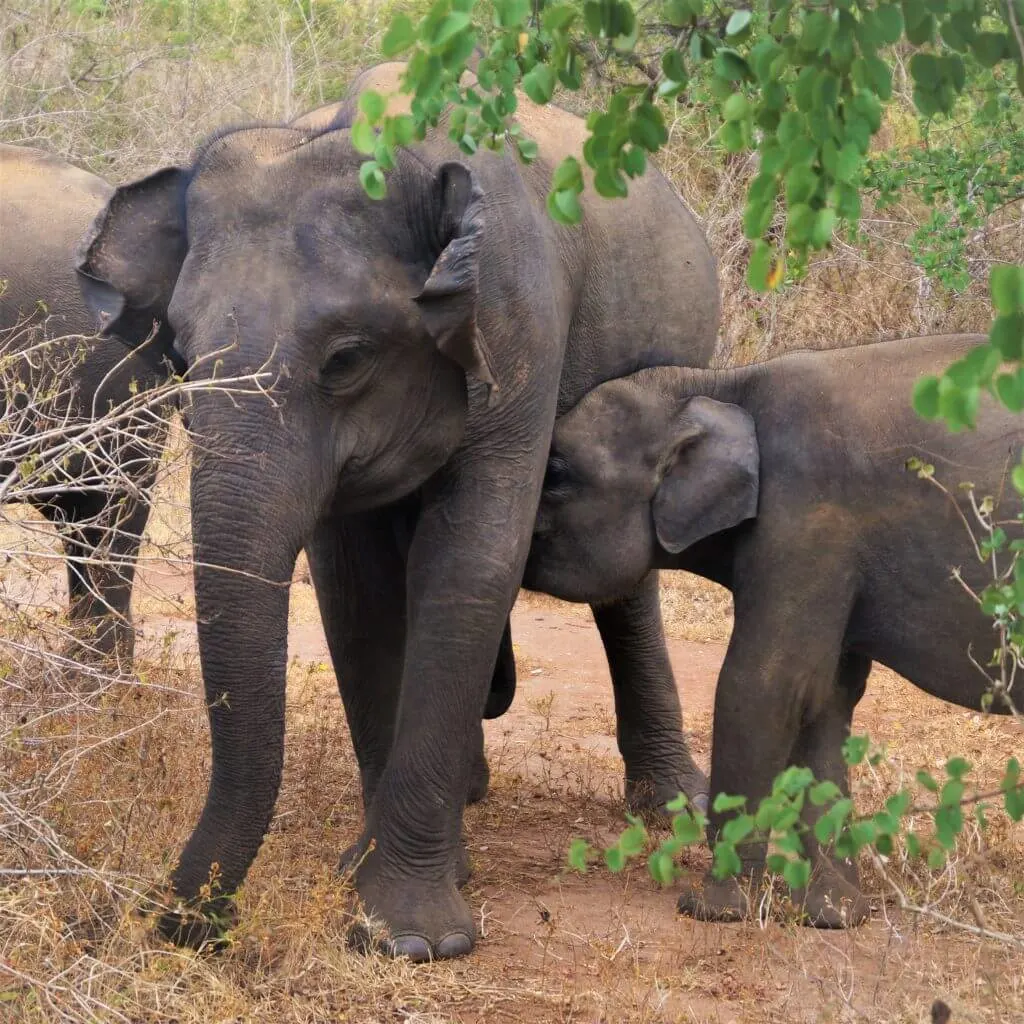 Day 8-10 Arugam Bay
We stayed at: Elephant Road Resort
You can read our full post on Arugam Bay with kids here.
Another tuk-tuk ride (4.5hrs, LRK7500, 3hrs by car) brings you to Arugam Bay, the surf mecca of Sri Lanka. But there's more to this surfer town than barrels and boards (that's as far as my surfing lingo goes!)
Wonderful family friendly accommodation awaits at Elephant Road Resort, set back from the main party strip. Air conditioned rooms with two double beds and a comfortable outdoor space (with hammock and hanging bed) overlook a sandy courtyard where your kids can run free. The super-chilled Israeli owner (Miki) has created a community vibe, very welcoming of children.
Miki also knows THE BEST spots around Arugam Bay. Our favourites were Elephant Rock Beach, Peanut Farm Beach and watching the sun set from Crocodile Rock.
Day 11-12 Ella
We stayed at Ella Ridge View, a lovely family homestay with lots of toys and other children to play with.

It's time to say farewell to the beaches and head inland to explore the tea plantations and jungle-clad hills of the Central Hill Country. A tuk-tuk will take 4 hours to get to Ella (LRK2000). Again, you can do the journey quicker by car (3hrs), but be weary that there are many hairpin bends as you approach Ella and the open sides of a tuk-tuk may help with kids who are prone to travel sickness.
Whilst in Ella, visit a tea plantation (the kids will love seeing all the big machinery in operation), visit the Nine Arches Bridge and climb Little Adam's Peak (ask a tuk-tuk to take you as far as possible to save those little legs for the steep stairs they need to navigate at the top).
It's a lovely place to chill out for longer if you do have the time. Perhaps check out these things to do in Ella for further inspiration.
Day 12-14 Living Heritage Koslanda
We stayed at Living Heritage Koslanda
You can read our full review here.
After all that travelling, it's time to treat yourselves indulge and in some luxury. Take the 1hr train from to Haputale; this stretch of track is perhaps the most stunning in all of Sri Lanka. A tuk-tuk will then drive you down into the valley to the tranquility of Living Heritage Koslanda.
The smiling Mr Carrim awaits to escort you to your stylish villa with plunge pool and outdoor shower. Enjoy the incredible infinity pool, take a hike to the private waterfall, or just enjoy the space, freedom and peace that the 80 acres of pristine land offers.
We only stayed 2 nights, but we really wished we'd stayed 3!
Check out our list of best family resorts in Sri Lanka for more ideas of indulgence on your Sri Lanka adventures.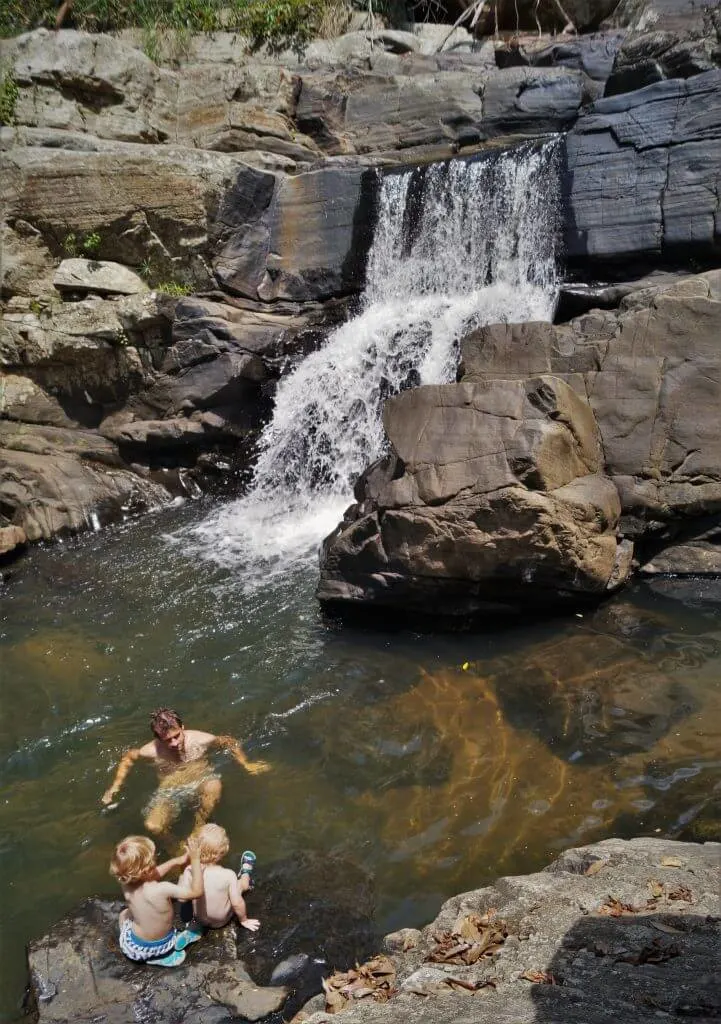 Day 15 Kandy
We stayed at River Side Homestay Apartment. This is a lovely family homestay about 5 minutes drive out of Kandy. Tuk-tuk drivers from Kandy will not know the way. Ensure you have the property marked on Google Maps on your phone and take the phone number of the owner with you.
Today is your longest travel day. 5.5 hours on a train to Kandy. We found the bustle of Kandy to be quite a shock to the system after the serenity of Living Heritage Koslanda. However, there is a good playground, which the boys certainly appreciated, and a visit to the Temple of the Tooth is a must.
Day 16 Back to Colombo
A 2 hour fast train completes the loop and returns you to Colombo. We spent our last day catching up with old friends who live in Colombo, enjoying a swim in their pool and eating pizza.
---
FAQ about travelling Sri Lanka with kids
I receive a lot of questions from parents about travel in Sri Lanka with kids, and particularly travelling Sri Lanka with toddlers. I hope the below answers any questions you may have, but if you do have a question that isn't answered here, please comment below and I'll get back to you asap.
Is Sri Lanka safe for travelling families?
Yes. We never felt unsafe or threatened in Sri Lanka. We didn't meet a single grumpy person in our whole two weeks. Not one! Everyone had such a happy, chilled outlook and it's infectious (except when train travel is concerned, the locals become strangely forceful there!) More importantly, everyone we met was so open and fun with our kids. Please refer to the UK Government Foreign Travel Advice page for Sri Lanka for up to date information.
What's the best time of year to go to Sri Lanka with kids?
Check out this Lonely Planet page for When to go and Weather in Sri Lanka.
What time of year did we go?
August. This is supposedly not the best time to visit the South West, but we had no rain whatsoever.
How did we get around Sri Lanka with kids?
Mostly by train and tuk-tuk. We booked our train tickets at Colombo train station as soon as we arrived. If you want to book in advance, you can do so through a tour agency (click here). Tuk-tuks can be arranged the night before travelling to the next destination through your accommodation. You do not need a driver and car in Sri Lanka, although some parents prefer this for ease of travel.
Did we take car seats to Sri Lanka?
No. They are unnecessary for trains, and there's no way to attach them in tuk-tuk (we put one child in between us, and one our lap; it would have been a bit of a squeeze if we had a third child). There are no legal requirements in Sri Lanka for car seats, but if you are hire a driver and car for your entire trip, you may consider bringing one from home. If you're child is aged 4 and over (or weighs more that 15kg), I suggest taking the Trunki Boostapak).
Did we take a buggy or stroller to Sri Lanka?
Our boys were 2 and 3 years old at the time, but we didn't take a buggy or stroller. In fact we never travel with one as we find them cumbersome and would always head back to the accommodation for naps (and much-needed downtime for parents). We didn't even take a child carrier, but encouraged both boys to walk as much as possible. When little legs got tired, there was always a tuk-tuk to flag down, or even Dad's shoulders. We had two large backpacks to carry and a carrier would have been cumbersome.
If you are looking for a back carrier, this is what we recommend: LittleLife Ranger Child Carrier
What luggage did we take?
We took two large backpacks (like these ones) for each parent to carry. The boys were too young to have their own bags to carry. Backpacks for us parents meant we each had two hands free to cajole children.
If we had to cut down this itinerary what bits would we miss?
If you really had to cut out something, I would cut out Arugam Bay. It was one of our favourite places, but it is a little out of the way.
What was our favourite beach in Sri Lanka for kids?
Arugam Bay! Well not the actual beach at Arugam Bay, hop in a tuk-tuk to nearby Elephant Rock or Peanut Farm Beach. Check out this post – Favourite family beaches in Sri Lanka.
What toys did we take to Sri Lanka to entertain the boys?
The boys had with them an Amazon Fire tablet loaded with all their favourite games and TV shows, and I packed some colouring pens and CBeebies magazines. And that's it. Don't be tempted to pack anymore as they'll find sticks and stones along the way, and a couple of the places we stayed at even had toys.
What budget do we recommend for travelling Sri Lanka with kids?
If you follow this itinerary and stay in all budget accommodation, then allow for £60 per day. However, this allow for more if your kids are older, or you have more than two children.
What vaccinations did the kids need for Sri Lanka?
As we were living in India at the time, we were all up to date with vaccinations required. However, please consult a travel clinic for advice as every family is different.
Are antimalarials required for Sri Lanka?
Sri Lanka is currently a low risk malaria country. Please refer to the NHS Fit for Travel website.
Were we worried about dengue in Sri Lanka with kids?
This is indeed a concern, but don't let it stop you from visiting the country. We took the necessary precautions of using strong mosquito repellent (roll on seems to last longer than the spray), wearing long sleeves and trousers from dusk every day, and sleeping under mosquito nets (which were always provided in accommodations we stayed). Click here for further information.
Were mosquitoes a nuisance?
No worse or better than we have experienced in other Asian countries. Take the necessary precautions as mentioned in the previous question. Sand flies were more of a problem on the beach from dusk.
---
I hope this helps you work out your own Sri Lanka itinerary with young kids. Although feel free to copy ours exactly!
You may also wish to read:
Why Sri Lanka is fantastic for young kids
Ten day Thailand itinerary with kids
How we afford to travel with kids