We were only twenty minutes into our first safari with kids, when a Mummy elephant and her calf appeared from behind a bush and stood just a few metres away from us. Watching such a majestic and powerful creature in their natural setting was incredible and her peaceful nature created a serene atmosphere in the early morning light. Even our two boys (aged two and three years old) instinctively knew to whisper, so as not to disturb the magical moment.
Disclaimer: This post contains affiliate links. Should you click on a link to purchase, it is at no extra cost to you, but I get a small commission that goes towards the running of this blog.
Sri Lanka is one of the best destinations in the world to see elephants in the wild, and all at a fraction of what it would cost in Southern or East Africa. We loved our visit to Udawalawe National Park where you are pretty much guaranteed to see them.
If you ask my three year old for the highlight of his Sri Lanka travels, he answers straight away: Mummy Elephant.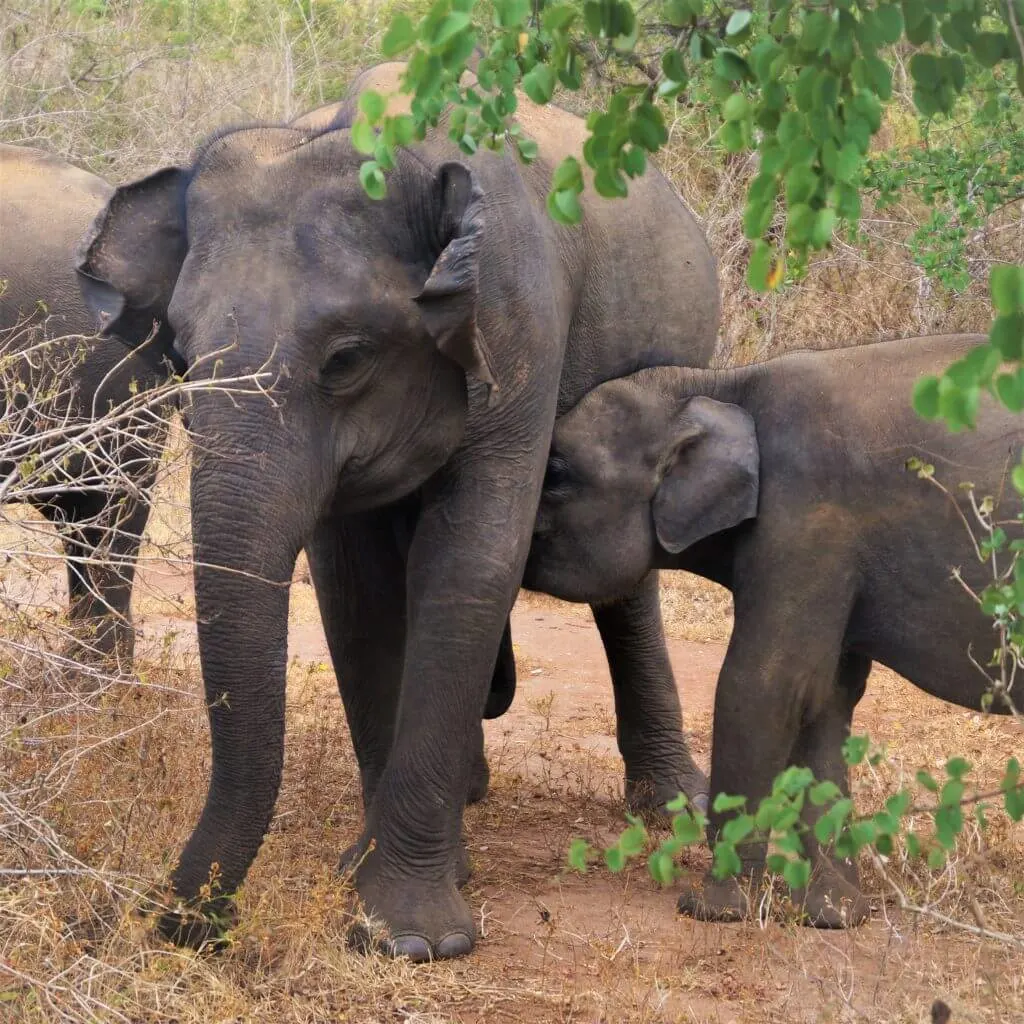 The details of our Sri Lanka safari with kids
The safari was just three hours long, the perfect length of time for little ones.
We were provided with our own private jeep (including driver/guide). Half the fun of the safari was actually bouncing along in the open jeep through the bush with the wind rushing past. And it didn't feel busy; much of the time, there wasn't another jeep in sight!
Kids under 5 are free, so the total price for entrance fee, private jeep and safari driver/guide was LKR7500 for our family of four.
We booked through our accommodation and we had a choice of a 5:30am or 2:30pm safari. We went for the early morning to embrace the morning light and avoid the daytime heat.
Our accommodation provided snacks of banana, biscuits and chocolate bar each.
Other animals to see
There are plenty of peacocks and colourful birds to see. Your safari guide will point them out to you. There are also monkeys, water buffalo, crocodiles, and if you're extremely lucky and look very very hard, a leopard. Unfortunately, it just wasn't our day to meet a leopard but you may have more luck.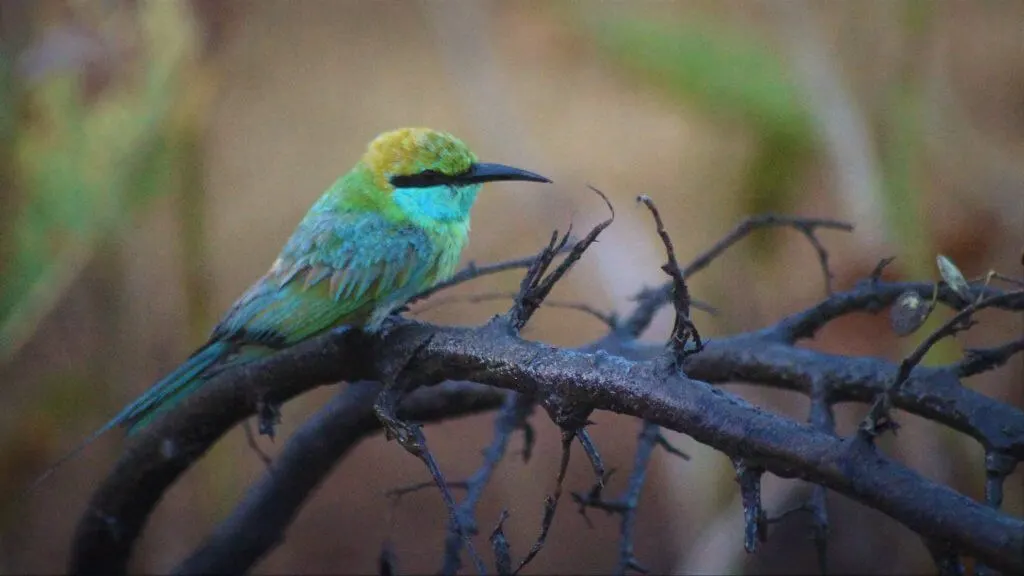 Where we stayed
We stayed in glamping tents at Kottawatta Village just outside the National Park.
The tents (£19 per night at the time of writing, including breakfast) come with a double bed (which the four of us shared – cosy!), mosquito net, a large industrial fan (there's electricity!) and an ensuite bathroom with hot shower.
There's a veranda overlooking the rainforest and expect to see a lot of monkeys. If camping really isn't your thing and you need sturdier walls, you can pay a little more to stay in a bungalow.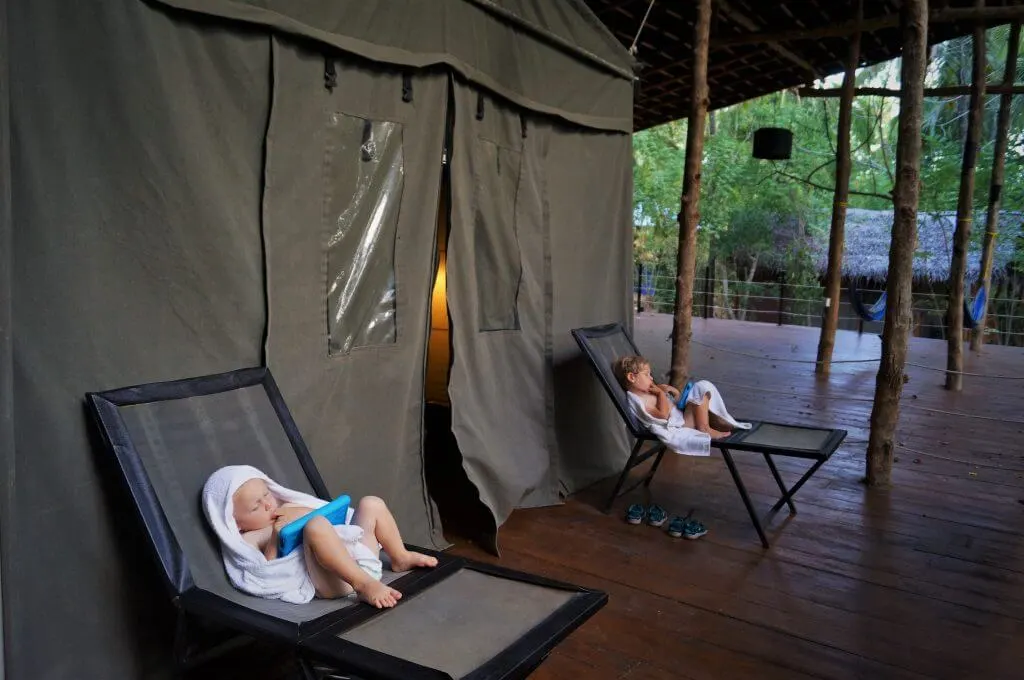 We opted to stay for two nights as the resort is a lovely place to relax. There's an onsite restaurant serving Western, Chinese and Sri Lankan dishes, a swimming pool with separate kids' area, and some comfy hammocks for chilling.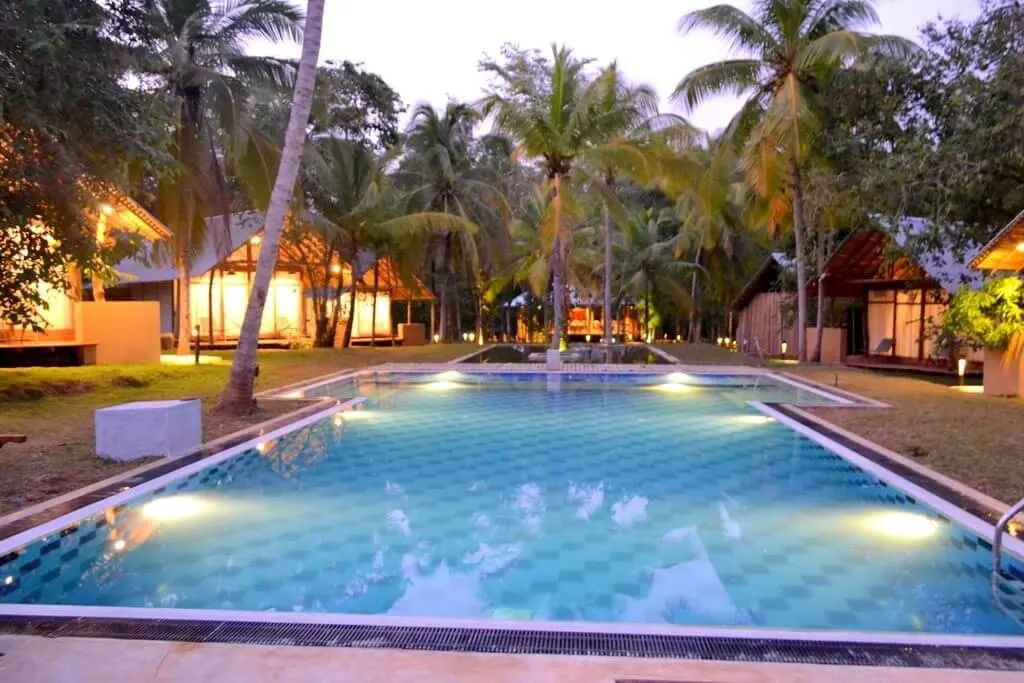 How to get there
Udawalawe isn't on the train network. We chose to get a tuk-tuk from our accommodation in Mirissa. The 3 hour journey cost LKR5000.
Otherwise you could take a car, which would take 2 hours and cost a little more. You can easily organise a tuk-tuk or car through the accommodation you stay at prior to arriving at Udawalawe.
We then organised a tuk-tuk to Arugam Bay through Kottawatta Village (4.5hrs, LRK7500, 3hrs by car). We always opt for a tuk-tuk over a car as we love the sense of freedom they provide; open sides, air rushing past as you drive through the countryside.
Where else can you see elephants?
You can also hang out with the elephants at Minneriya National Park, Yala National Park, Kumana National Park and the lagoons around Pottuvil.
However, Udawalawe fitted in nicely with our Sri Lanka itinerary, breaking up the journey between the Southern beaches of Mirissa and the Eastern beaches of Arugam Bay.
Also, research advised us that Udawalawe provides the best chance of seeing the elephants. However, Minneriya is famous for 'The Gathering' which takes place during the dry season (July to November), when hundreds of elephants gather around the shores of an ancient reservoir – although expect there to be A LOT of tourists.
---
Sale
You may also wish to read:
Why Sri Lanka is fantastic for young kids
Sri Lanka Itinerary with young kids
Arugam Bay SRI LANKA with kids