One of our favourite things about living in the UK is the ease (once you've got through airport security check) of being able to pop on a short flight to a different country and immersing ourselves in a totally different culture for a European city break with kids. We're so lucky to have such a variety of culture and history on our doorstep in Europe and we've had some amazing family city breaks, including Reykjavik, Lisbon and Nuremberg.
Disclosure: This is a collaborative post where fellow travel bloggers have expressed their own opinion of a city in Europe with kids. Where possible, the blogger has recommended the accommodation. If they were unable to, I have suggested family-friendly accommodation recommended by Trip Advisor. Also, this post contains affiliate links. Should you click on a link to purchase, it is at no extra cost to you, but I receive a small commission, which goes towards the running of this blog.
READ: How do we afford to travel so much?
But as a family, we're always looking for something a little different. Yes, Paris with kids, Barcelona, Amsterdam, Rome, are some of the best European city breaks for families, but their popularity often translates to expensive accommodation and busy tourist sights (especially if travelling during school holidays), and perhaps you've ticked them all off already.
If you are looking to venture somewhere different for family weekend getaways, you need to have the confidence in knowing that there will be enough to keep the kids happy.
So I've reached out to some fellow travel bloggers for their suggestions of alternative European city breaks with kids, including city breaks with toddlers. I've already found so much inspiration from this for weekend breaks with kids, and hope you do to. You may also want to check out our suggestions of 'Places to visit in Europe in Summer to avoid the crowds'.
Now put your feet up with a cuppa, as this is a bumper of a post. Here are the best family city breaks in Europe, that are a little bit out of the ordinary.
Nuremberg, Germany
(Jenny, TraveLynn Family)
Recommended stay for families: Holiday Inn Nürnberg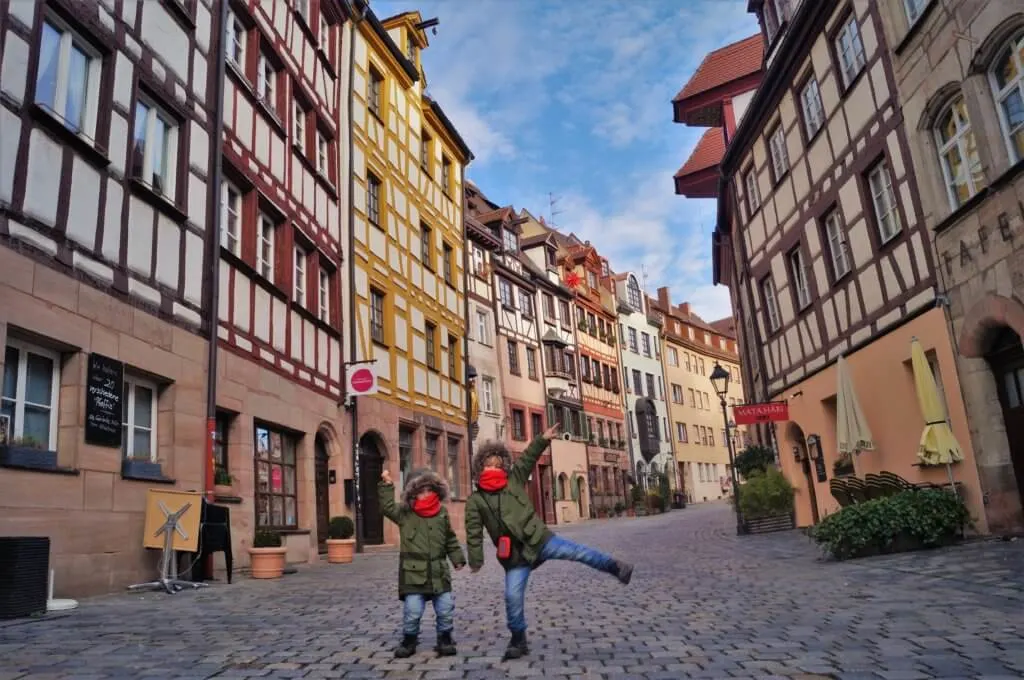 Our visit to Nuremberg really took us by surprise and after Cologne, it's our favourite city to visit in Germany with kids. It was a city I'd always associated with a dark history, and really had no idea how much there were for families to do. There's the Transport Museum, Toy Museum, the castle, and Playmobil Park, to name a few (READ: Nuremberg with kids: Top 10 things to do). It actually gets our vote as the best city break with kids!
With it's cobbled streets and medieval architecture set within the old city walls, it's a lovely compact city to wander around, perfect for little legs. If you wish to venture further afield, the public transport is excellent with a choice of tram, bus and metro criss-crossing the city efficiently to a reliable timetable. If you need to refuel at any point, try the Nuremberg Bratwurst, sold at street stalls around the Old Town. Apparently the way to ask is "Drei im Weggla" ("Three in a bun"); a bit different to your standard one-sausage in a finger bun, and arguably tastier.
Ghent, Belgium
(Jenny, TraveLynn Family)
Recommended stay for families: Ghent Marriott Hotel
With fairytale charm and cobbled streets, the compact medieval city of Ghent, is often overlooked by travellers who make a beeline for Bruges. But less than a 25 minute train journey away from its dominating neighbour, travellers are discovering the quaint canal-side architecture, edgy art scene and quirky bars of Ghent. It's a very family friendly city, it's one of our favourite European city breaks with kids, and there really is so much to do in Ghent with kids! You can visit Gravesteen (the castle), take a boat trip around the central district, climb the Belfry on a clear day for panoramic views, or visit one of the superb museums designed with families in mind.
Ghent has a small-town feel and we found it very easy to navigate, meaning that we didn't need to jump onto the frequent trams which glide (sometimes a little too close for comfort) around the city. Alongside the trams, there are also buses and water-taxis to choose from if you don't fancy walking.
Madrid, Spain
(Jenny, TraveLynn Family)
Recommended stay for families: Petit Palace Plaza Mayor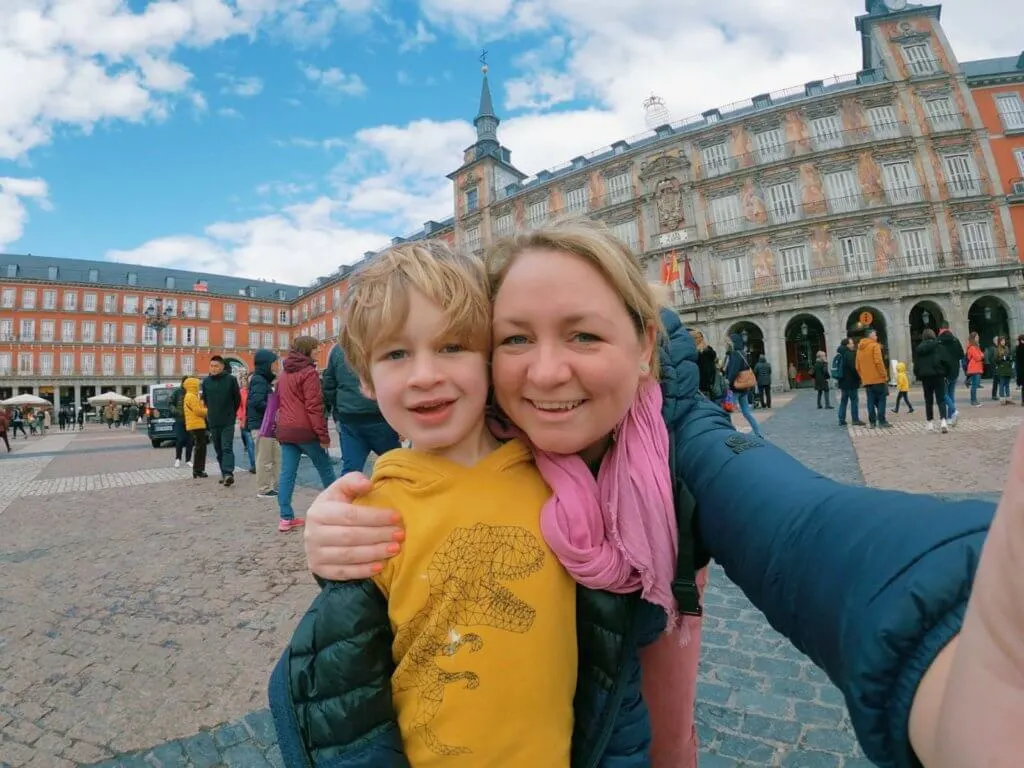 Despite being the Spanish capital, Madrid is often overlooked as a family friendly city break in favour of Barcelona or Seville's architectural charm. But this buzzing and grand city is a fantastic place to explore, and there is more than enough to fill a couple of days Madrid with kids thanks to fantastic parks, an excellent metro system, and churros for starters. Absolute must dos include hiring a boat on the lake at El Retiro Park, wandering the El Rastro markets on a Sunday, and al fresco dining in one of the many ornate plazas.
Madrid is a very walkable city, but when little legs get tired there is a fantastic metro system that is very easy to navigate and can always get you where you need to go. It's also worthwhile doing a day trip out to the medieval city of Toldeo. There's a high speed train that gets you there in just 30 minutes, and it's a wonderful town to just wander and get lost.
Sion, Switzerland
(Corina, Packed Again)
Recommended stay for families: Chalet Cygnet
I've got to be honest, cities are not our most favourite travel destinations, unless they are surrounded by mountains, have a medieval feel and a size whereby we can easily walk from A to Z.
Sion, the Capital City of the Canton of Valais in Switzerland has all this to offer and more. A scenic train journey from either Geneva or Zurich airport brings you right into the heart of the city. Sion is really family friendly with beautiful narrow streets, fashion shops, small coffee corners and amazing old architecture.
The Nature Museum of Valais surprises and seduces young and old with its original approach. Interactive stations and questionnaires make this a great family activity and a museum the kids will love. And last but certainly not least walk up to the medieval castle Tourbillon and pretend to be back in the time of knights and princesses. Once you have finished exploring the old town hop on the tourist train (Le P'tit Sédunois). The route brings you out of the city to a beautiful park with a lake which gives you a great perspective of the city layout.
Kotor, Montenegro
(Rachel, Adventure and Sunshine)
Recommended stay for families: Apartments Residence Portofino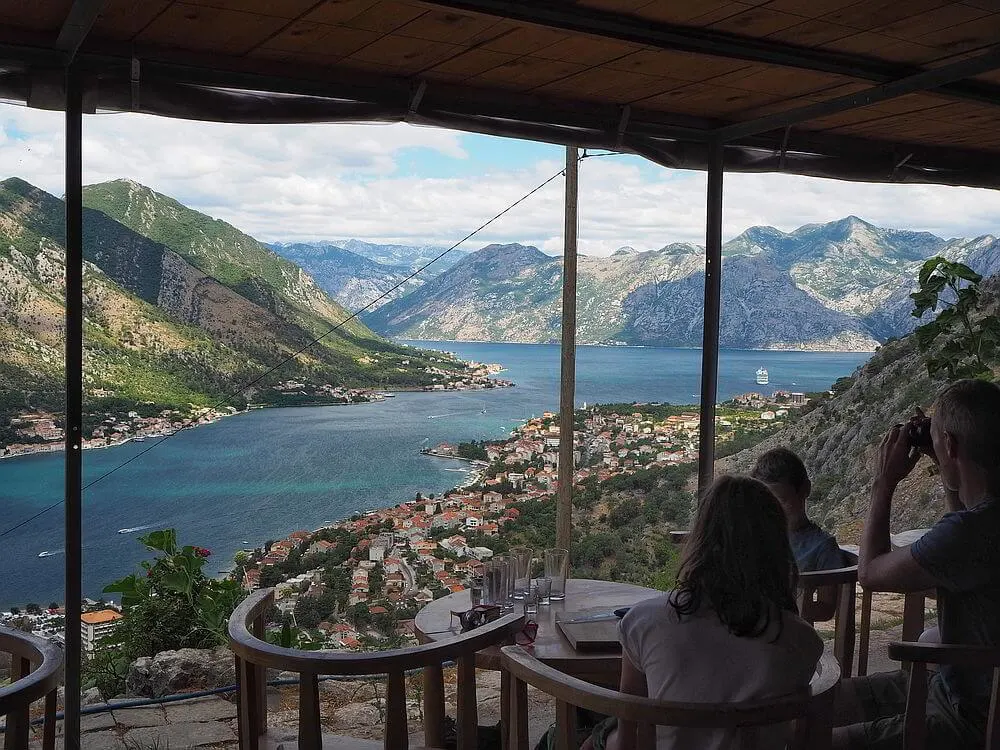 The medieval town of Kotor in Montenegro is a great city break for families looking for a combination of city and outdoor activities.
The world heritage listed town is tucked away on the spectacular Bay of Kotor. Take time to explore the pretty cobblestone alleyways and churches. Our kids loved climbing the city walls and chasing/patting some of the many cats that call Kotor home. Our top tip is to check the arrival times of the cruise ships that regularly dock at Kotor as the town can be very busy at times.
While you are in town, plan to hike to the San Giovanni Fortress overlooking Kotor. The cobblestone path winds up past a dilapidated stone church tower to the top where the views across the bay are spectacular! Allow at least 2 hours to make the climb with kids and plan to walk early or late in the day to avoid the heat. The views are worth the steep climb and any grizzles you hear from the kids!
Finally, hop on a boat to really appreciate the beauty of the bay and surrounding areas. Book a tour or rent a private boat and visit the small island of Our Lady of the Rocks and take a swim.
Mechelen, Belgium
(Tea, Culture Tourist)
Recommended stay for families: Novotel Mechelen Centrum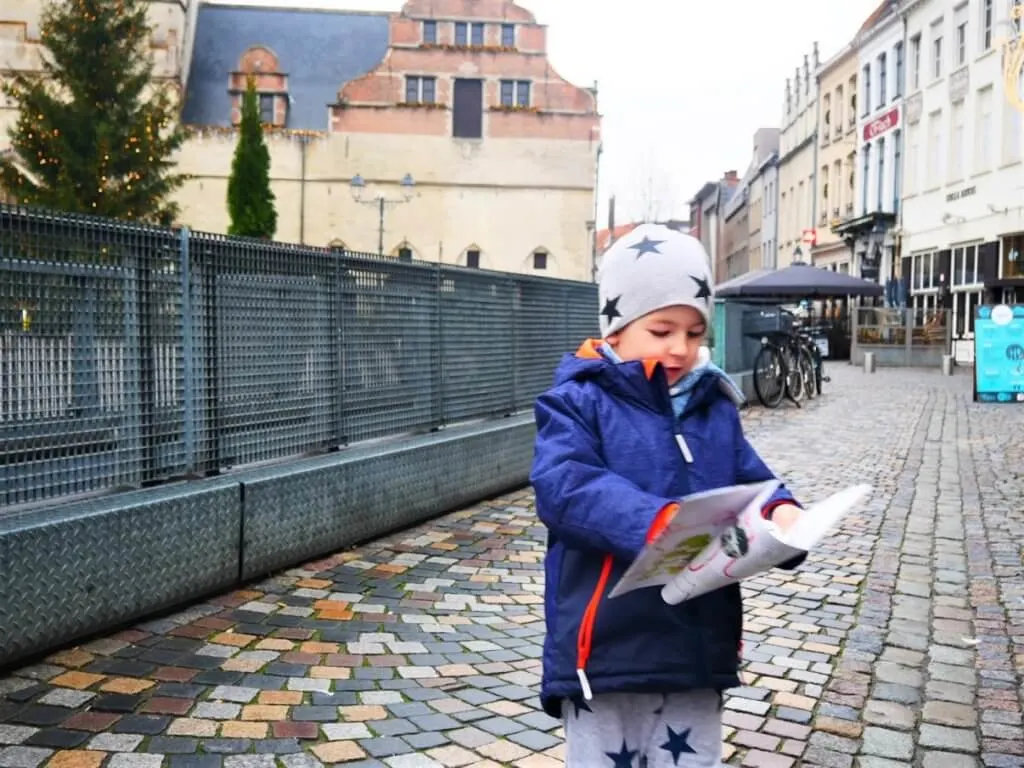 Located right between Brussels and Antwerp, city of Mechelen is one of those beautiful hidden Belgian gems and perfect if you're looking for short breaks with kids. With majority of the city centre being a pedestrian zone, many child-friendly restaurants and activities for kids, it's also a great place for a family trip.
Things kid will love meeting Rommy;A cute character created after the St Rumbold's Tower. His image is in front of the child-friendly restaurants, museums with some children activities and similar child-friendly places. There's also the Toy Museum, which holds one of the biggest toy collections in Belgium. With different tasks kids could do there and art workshops, it's a place where the whole day could be spent.
Also make sure you do one of the two self-guided children tours. Maps with routes and explanations can be found at the Tourist office. They could be combined with tasting booklets, so you can try some cheese (there is even a kids corner at the cheese shop), pastries or cookies on your way.
Ohrid, Macedonia
(Leah, Kid Bucket List)
Recommended stay for families: Hotel Aleksandrija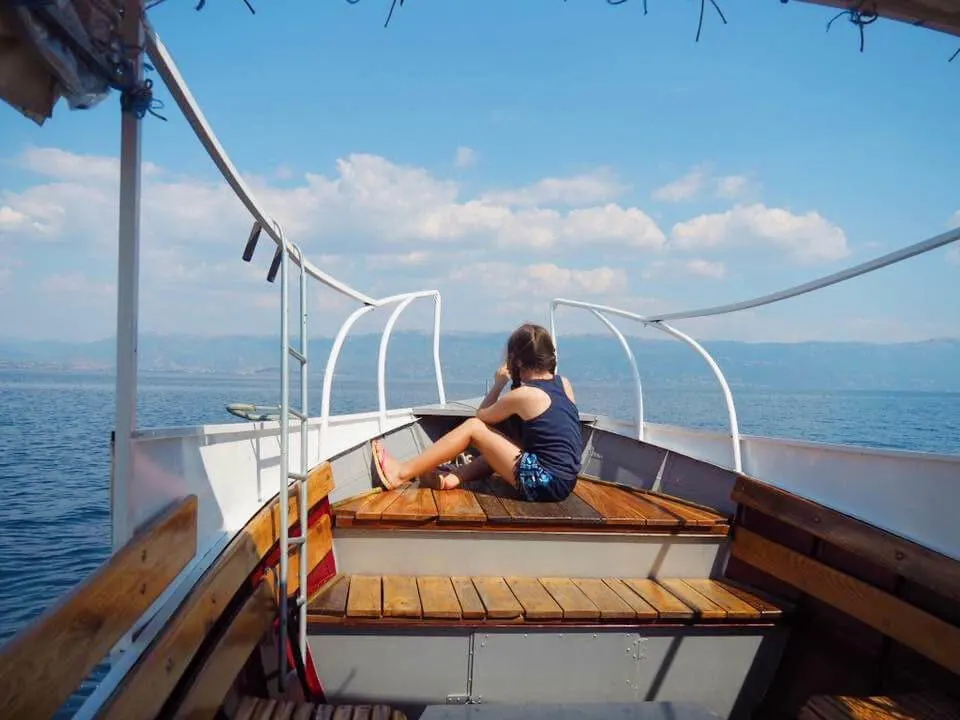 Whilst Croatia and Serbia get most of the attention when it comes to travelling to the Balkans, the landlocked country of Macedonia provides the same opportunity to explore incredible history whilst also taking in wonderful natural sights.
A great city break is the historic UNESCO township of Ohrid nestled on the ancient shores of Lake Ohrid, and is one of our best family city breaks. Here families can explore a plethora of sites and experience the wonders of both history and nature.
A quick walk along the cobblestone laneways of Old Ohrid will take you to an ancient theatre where the kids can jump on stage and perhaps put on a impromptu act for you whilst you watch from the stands. Or perhaps you could take a walk along the lakeside boardwalk to Kaneo Beach where you can feast on the unique trout caught from the lakes depths before exploring the archaeological site of Plaoshnik and then climbing up to Samuel's Fortress which is said to have been built by Alexander the Greats father Philip himself.
But to take full advantage of the location, charter one of the traditional fishing boats and sail to Sveti Naum where the kids can run around, row along a hidden river and explore a medieval monastery before heading back via the Bay of Bones, a prehistoric immersive museum which is well worth your while. Or, if you would rather just relax, you could park yourself on the shores of the lake for the duration of your trip!
Wizz Air offers flights from both England and France to Ohrid airport. Some visitors prefer flying into the country's capital city of Skopje and taking a bus to Ohrid.
Stavanger, Norway
(Nicky, Go Live Young)
Recommended stay for families: Scandic Stavanger City
On a recent summer road trip through Norway, Stavanger quickly became one of our favourite city breaks with children. Stavanger on the west coast of Norway has many things going for it. It has a spectacular location on the edge of the Lysefjord, an old historic centre, several interesting museums, and also some amazing hikes all within easy reach of the city.
There is plenty to do in Stavanger with kids. Take a boat ride on the Lysefjord for spectacular fjord views. Visit two of the best child-friendly and interactive museums we've been too – the Norwegian Canning Museum to find out all about Stavanger's sardine history and the Norwegian Petroleum Museum to find out all about oil exploration. Spend some time in the great outdoors with a hike to Pulpit Rock (Preikestolen), manageable for most active kids.
Cork, Ireland
(Cath, Passports and Adventures)
Recommended stay for families: Gabriel House Guesthouse
When you think of visiting Ireland, Dublin is probably the city that springs to mind the most. But there are so many more family-friendly cities in the country that you should forgo the expensive capital and try somewhere else. Like Cork City. Located in the southern half of the country it is less than 3 hours from Dublin along smooth motorways and has plenty on offer for kids.
If you've got a budding scientist on your hands, why not visit Blackrock Castle. Although it looks like a castle from the outside, it's actually an observatory with interactive displays for kids to learn about things like life and the cosmos. If your kids love animals, then Fota Wildlife Park is the place to take them. With all the major animals on-site and more, it's a great place to spend several hours with the kids. Just remember your wellies if it's been raining.
And finally, no trip to Cork is complete without visiting Blarney Castle. Situated just 20 minutes from the city, you might even get bestowed with the gift of the gab if you are brave enough to kiss the Blarney Stone.
Helsinki, Finland
(Cathy, Mummy Travels)
Recommended stay for families: Hellsten Helsinki Parliament
Without an iconic landmark such as Paris' Eiffel Tower and Rome's Colosseum, Helsinki sometimes gets overlooked when it comes to city breaks with kids. But where else can you swim in an outdoor pool next to the Baltic, spot Moomins and submarines on an island fortress, and visit a church hollowed out of the rock – just for starters?
We spent a few days in the Finnish capital in May, a perfect month to make the most of the sun – while still having some night to encourage my daughter to sleep. If you visit nothing else, make a trip to the island of Suomenlinna: once a naval base and a prison, today it's home to the city's toy museum as well as a submarine you can board, plus long clifftop paths to wander along.
Some of our other highlights included the interactive National Museum, which mixes VR goggles and audio exhibits with child-friendly displays, plus the Allas Sea Pools on the harbour front. The Baltic pool is as bracingly chilly as you'd expect, even in early summer, but there are two heated pools including a kids pool to try.
Odense, Denmark
(Line, NordicTravellers)
Recommended stay for families: City Hotel Odense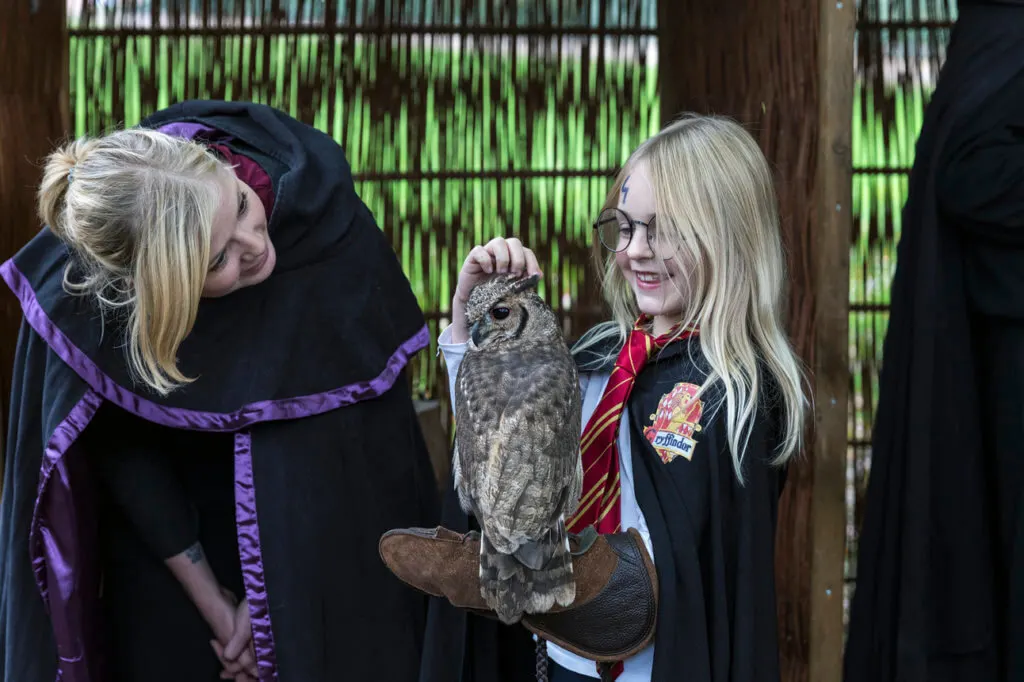 Do your kids know the fairy tale writer H.C. Andersen? And do they like his stories? If so, you should consider visiting Odense, Denmark. H.C. Andersen was born in Odense, and the city is full of H.C. Andersen related activities. Most of them are some that can be enjoyed by adults as well as children – like H.C. Andersen's childhood home where he lived with his parents from the age of 2 to 14. When you see the house, you'll realize that H.C. Andersen came from very humble beginnings. You can also visit The Tinderbox, a children's culture house where H.C. Andersen's fairy tales come to life through play and art.
If you visit Odense in October, there is a unique opportunity to let your imagination run wild and dive into a fantasy world almost as popular as H.C. Andersen's – namely Harry Potter's universe. Every year more than 10.000 people come to Odense to take part in the Harry Potter inspired festival "Magical Days".
Zakopane, Poland
(Char, Taylor Hearts Travel)
Recommended stay for families: Villa Nova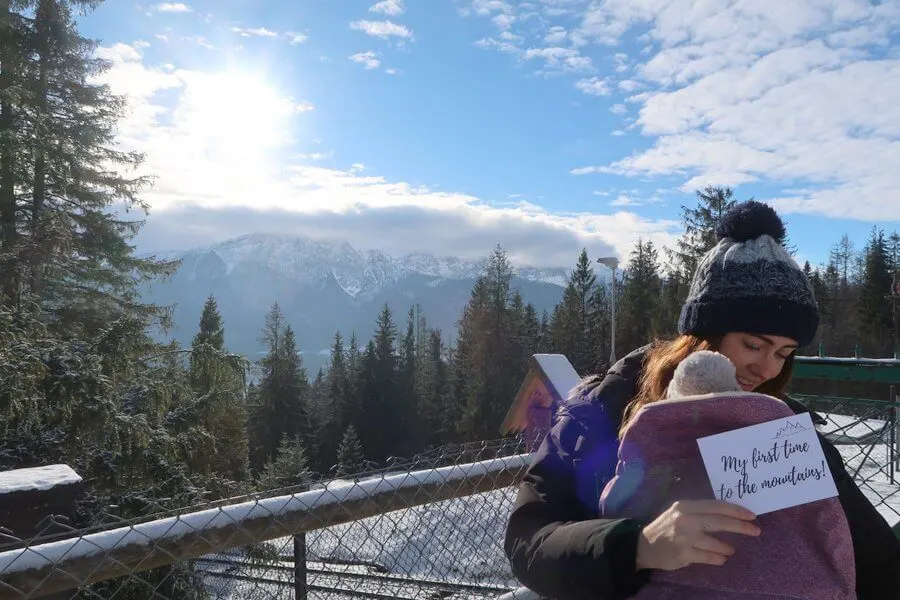 If you're visiting Poland and want to shun the popular tourist spots like Warsaw and Kraków head to Zakopane. It's roughly a two-hour drive from the more well-known city of Kraków and ticks the boxes for a cheap weekend break with little ones.
In Zakopane you can head to what claims to be the smallest factory of sweets in the world, Ciuciu Cukier Artist. You can watch syrupy concoctions being mixed and rolled out to create colourful candies. If you look longingly enough you might even get a little sample.
If you want to tire the children out or you're in need of a rainy day activity head to Aqua Park Zakopane. There's a small toddler section with fountains and small slides, an outdoor pool (great for sunset) and bigger slides for older ones. Also, whilst in Zakopane, it would be wrong not head up the funicular for the mountain views and a cheeky chimney cake.
Larnaca, Cyprus
(Kyla, Where is the World)
Recommended stay for families: Hotel Opera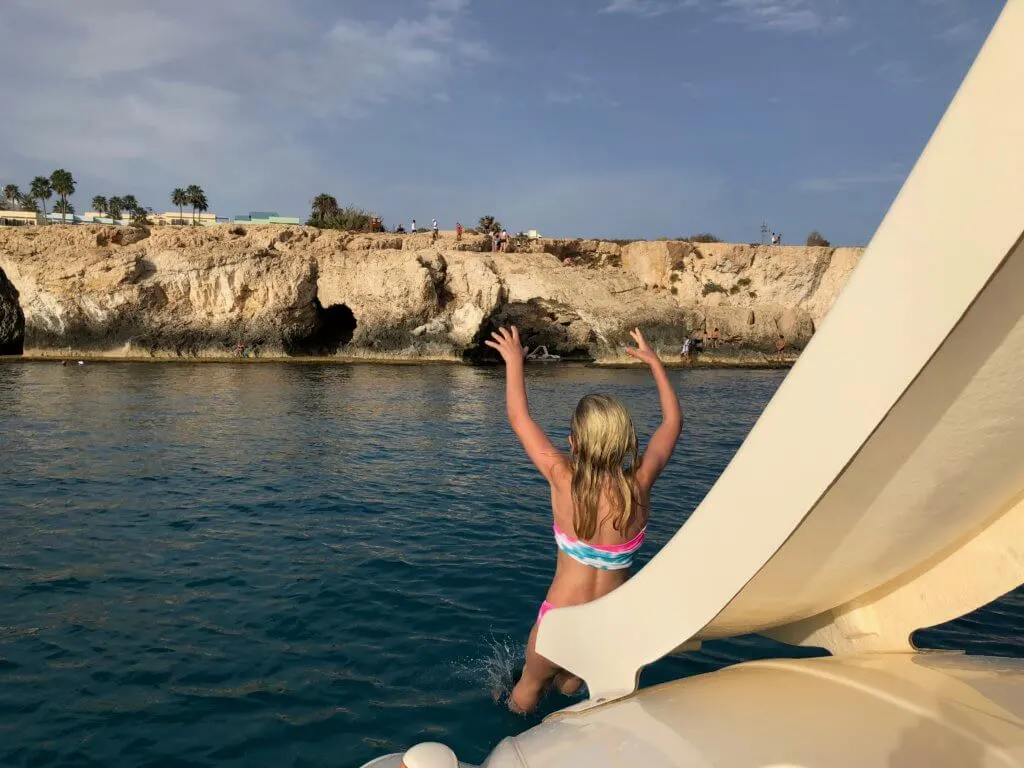 Larnaca (Larnaka) in Cyprus is a great place to visit with kids. The temperate climate can get a bit warm in the summer months, but it's ideal in the spring and fall when the rest of Europe can be a bit cool for outdoor fun. When I visited with my daughter, our favourite thing was to grab an ice cream (or a coffee) in the square by the Church of Saint Lazarus, then wander down to the promenade. We could people-watch, do a bit of shopping with the various vendors, or simply sit with our toes in the sand.
However, for a phenomenal beach experience, Ayia Napa is a quick car ride away. The sand is soft and white, and the water is a warm and calm. It's the perfect place to spend an afternoon! The beaches are very different, but many have have pedal boats and jet skis to rent so there's a little bit of something for everyone.
No trip with kids would be complete without a visit to a playground. The closest one to central Larnaca is beside the Cultural Center at the Monastery and Church Saint Georgios. There's plenty of room for the kids to run around, and the Monastery itself makes a beautiful backdrop.
York, England
(Leona, Wandermust Family)
Recommended stay for families: The Grand Hotel & Spa
York is the perfect city if you're looking for short family breaks in Europe! Easy to get to either by car or train from most major UK cities and close to Leeds international airport, York is very accessible wherever you are coming from! There are tons of family friendly things to do whatever the weather, such as the fabulous National Railway Museum, river cruises, ghost walks and the yummy chocolate story museum. For older children you can learn about some of York's more gruesome history on a ghost walking tour or a trip to York Dungeons!
It is also a great place to visit for the budget conscious family! A trip to York doesn't have to be expensive for families with plenty of free activities such as walking the historic city walls, visiting the national railway museum – where you can see the mallard, rocket and other famous trains or taking a trip to the historic shopping street the Shambles! Be warned there is s Harry Potter shop there that may prove a costly trip!
On top of that York is full of historical and cultural gems that no visit to the city is complete without. Firstly, be sure to visit the York Minster and marvel at the beautiful stained glass. With older children, climb the tower for unrivalled views across the city. Clifford Tower is another gem that explores some of York's more unpleasant history. And, at any time of year, children will love the Museum Gardens. My little one especially loves a visit York during Christmas to see the beautiful illuminations.
St. Gallen, Switzerland
(Augusta, Mini Me Explorer)
Recommended stay for families: Sorell Hotel City Weissenstein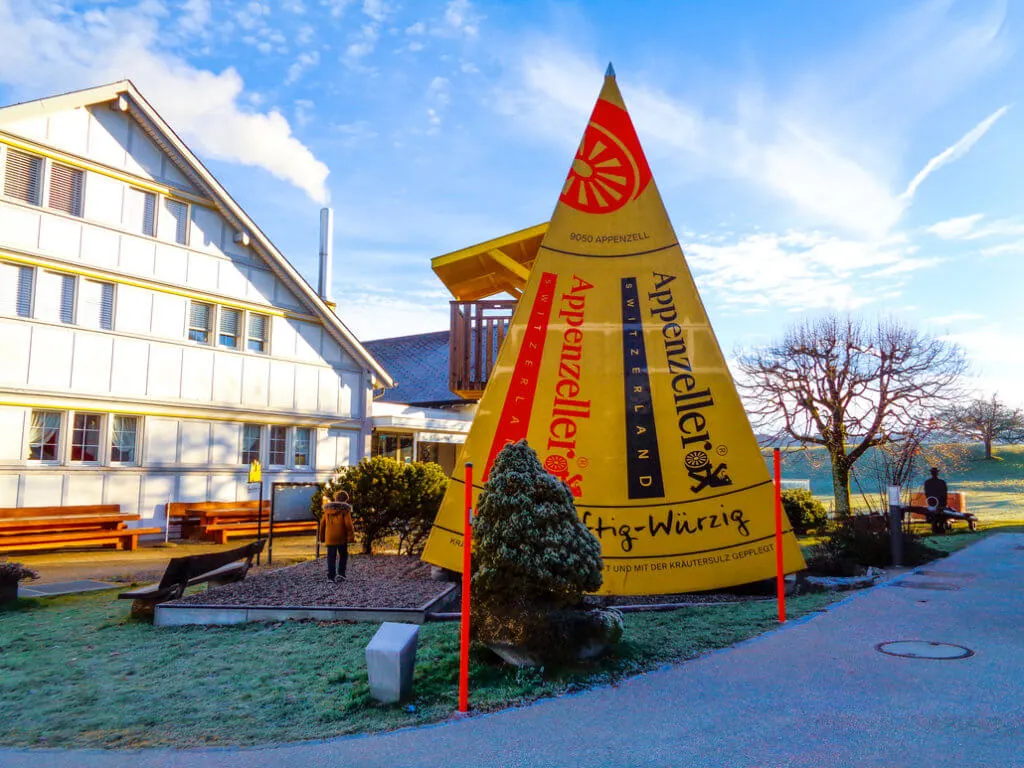 What would Switzerland be without cheese, chocolate? Not much, possibly! Well, you can experience all this without visiting the Top-Rated Tourist Swiss Attractions, which means anywhere in the Alps.
The city of St.Gallen is the 8th Swiss largest city and definitely off-the-beaten-path.
Visit the Naturmuseum, one of the best Swiss museums dedicated to natural history. Learn all about bears (the symbol of St. Gallen) and get to know all the other inhabitants of our mountains, rivers, lakes and forests: beavers, lynxes, stags, ibexes, and so on. Even cat fish. The museum is highly interactive, with plenty of touch&smell positions.
Ride out to the Appenzell cheese factory (Schaukäserei Appenzell) in nearby Stein, less than 20 minutes away. The Appenzeller cheese is one of our most popular ones, as well as the tastiest and smelliest. You can see the production in the making, sample 5 different types of cheese and visit an interactive exhibit. The secret of this cheese unique flavour derives from the 42 local herbs and spices used in the making. Kids can mortar and pestle some of these herbs, and take them home.
Make your own chocolate bar at the Maestrani Chocolate Factory in Flawil (25 minutes away). Enjoy the interactive Chocolarium museum and eat as much Swiss chocolate as you can. During the 1-hour long workshop, wearing a chef hat and apron, you'll be creating your own unique chocolate bar to take home, using the types of chocolate and toppings of your choice.
Waterford, Ireland
(Vanessa, Wanderlust Crew)
Recommended stay for families: Treacy's Hotel Spa & Leisure Club Waterford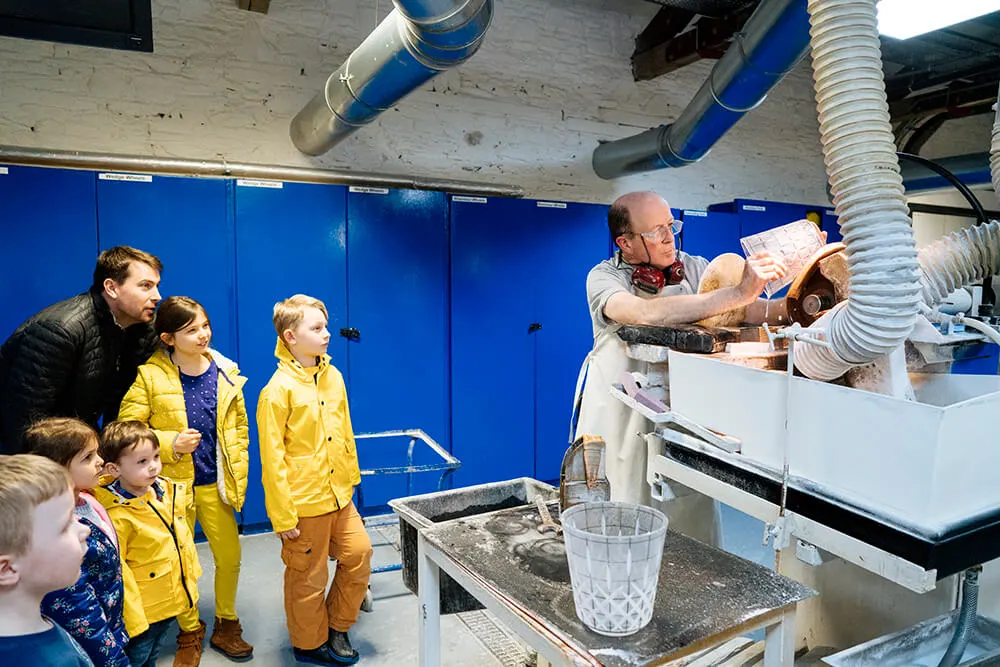 Ireland, in general, is one of my favorite family destinations and Waterford, located in Ireland's Ancient East along the southern shore, is one of the best cities in Ireland to visit with kids. It's chock full of incredible museums, fun food, old charm, water, and historic sites.
Kids will love wandering down the old cobblestone streets and learning all about Vikings and medieval times in Ireland at the Medieval Museum where you can see actual ruins from ancient castles and learn about life long ago in a fun and engaging way.
The Waterford Crystal factory, although not a place you would normally think to bring kids, is actually amazing. You can take a factory tour and learn all about how the crystal is made and even see crystal moulds for many famous people as well as high-end projects that are in progress.
If you catch Waterford on a rainy day, you can head to Activate, a huge indoor family fun centre with a soft play area, rock climbing, and bowling. It's a fun alternative if the kids are burnt out from learning about all of Ireland's incredible history! If you visit during good weather, be sure to take advantage of all the outdoor activities and nature that Waterford offers, from horseback riding, cycling, hiking, and boating.
Nantes, France
(Lisa, Travel Loving Family)
Recommended stay for families: Nantes Camping
We absolutely loved our city break in Nantes located in the Upper Brittany region of western France. It's a very green city with over 100 parks and gardens, lots of attractions, museums and over 30 theatres so great for active and culture loving families.
Our favourite attraction was 40 foot mechanical elephant at The Machine de l'île (Machines on the Island). He strolls around the former ship yard spraying water at bystanders. My boys loved it!
The Château de Ducs de Bretagne (Castle of the Dukes of Brittany) is also worth checking out. You can walk around the ramparts whilst taking in the impressive views of Nantes city centre.
Directly opposite the Castle of the Dukes of Brittany there's a free water sprinkler area which is great fun for young kids to cool off on a hot day.
We stayed just at a five star campsite, Nantes Camping, which was just a short ten minute drive from Nantes City Centre (although on the bus and tram route too so we found it easier to pop in on public transportation).
Durbuy, Belgium
(Katja, globetotting.com)
Recommended stay for families: Chez Tante Alice (a lovely family-friendly B&B about 14km from Durbuy itself)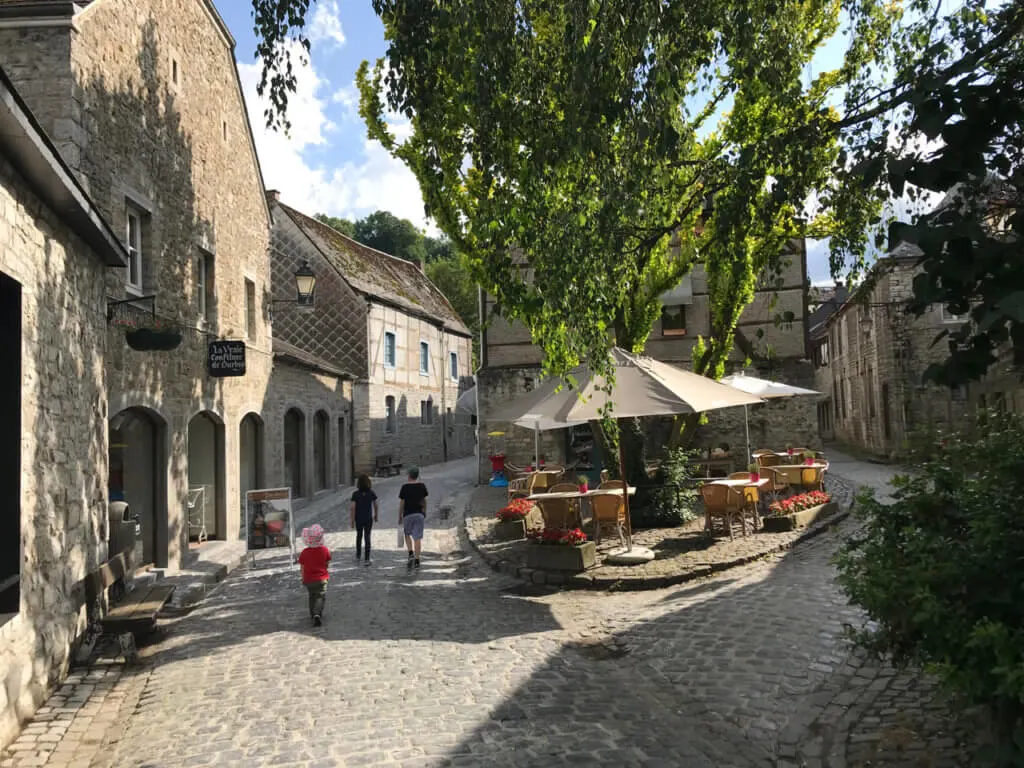 Durbuy is "la plus petit ville du monde" (the smallest city in the world) but few people outside of Belgium have even heard of it. This medieval city in the country's Wallonia province is incredibly picturesque with ancient cobbled streets, timber-frame houses and a pretty chateau – all dating back to the 14th century.
Today Durbuy includes 41 villages and hamlets under its umbrella making it a great destination for families with plenty to do. Start your visit with a ride on Le petit train touristique, a fun tourist train that winds its way through the city streets and up to a viewing tower where you can see how small the city really is. Once you're back in the centre, head to Durbuy's topiary park; it's the largest of its kind in Europe home to over 250 figures crafted from Boxwood plants. Kids are given an activity booklet as they enter and have a great time trying to work out what all the sculptures are. From here, visit the neighbouring town of Borlon and the Goat Farm run by the extremely friendly Géradine. Visits to the farm have to be arranged in advance and run from a two-hour experience to a full-day outing milking the goats and taking them to the field. We spent a couple of hours here and the kids loved it!
Porto, Portugal
(Karen, Mini Travellers)
Recommended stay for families: Yours Guest House Porto
In 2018 we spent February half term exploring Porto with kids. As a family of 5 we flew from the UK to Porto for only £220 (yes that price was for all of us) so it was a fabulously cheap thing to do for Half Term.
The three things we loved in Porto were our family friendly tour with Sara from Portoalities. She was warm and engaging and made the history of Porto accessible to the kids as well as to us. We took a trip to Guimaraes (another recommendation from Sara) which everyone enjoyed and the train trip was fun. Thirdly we loved the Teleferico de Gaia – the cable car which runs from the Jardim de Morro park by the Dom Luis I bridge down to the port warehouses and the boat tours.
Lucca, Italy
(Katy, Untold Morsels)
Recommended stay for families: La Romea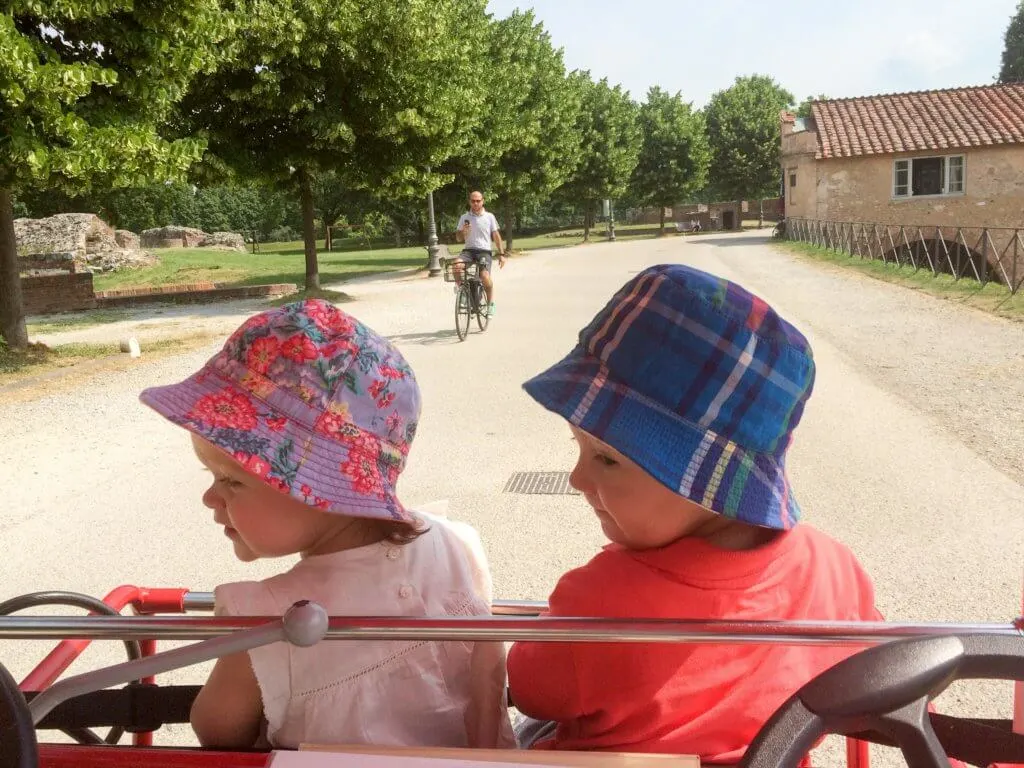 A city with buckets of charm and green spaces for exploring, Lucca is a great alternative to Florence for a family trip to Tuscany. In the 19th century, Lucca's historic city walls were converted into a public park circling the old town. This is the perfect place to take a stroll or hire bikes to cruise around the 4 kilometre track. There are a couple of playgrounds along the way too.
From the walls you can see the city's iconic medieval towers rising up over terracotta rooftops. Visit the most famous Torre Guinigi for sweeping views of the Tuscan countryside under the shade of the trees of its unique rooftop garden. On the ground, Lucca is a delightful city to wander and stop at fountains, admire Renaissance churches and play in its piazzas. Of course there are plenty of opportunities to stop for gelato.
Bled, Slovenia
(Leo, Safari Nomad)
Recommended stay for families: Garden Village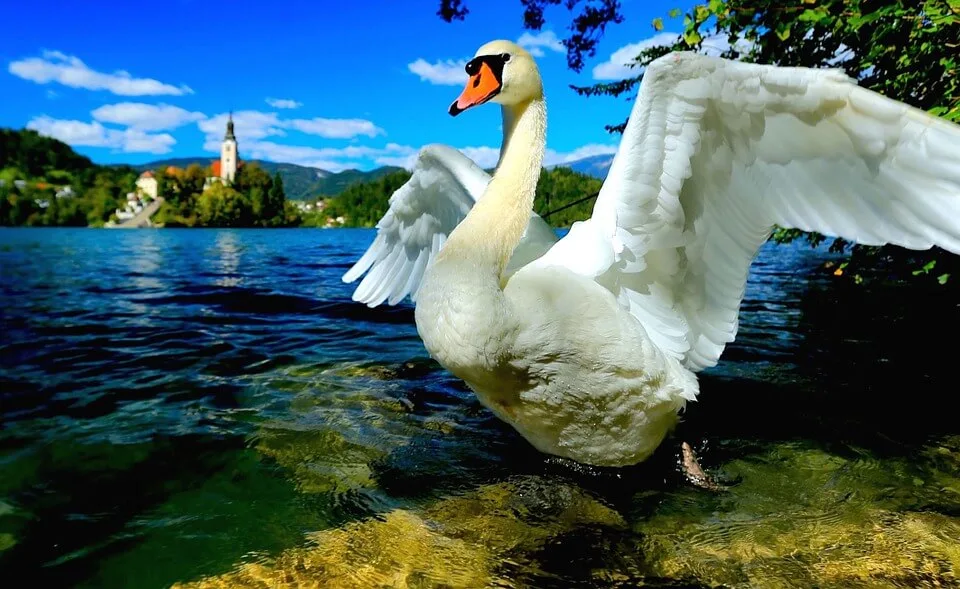 Bled is not only one of the most iconic places in Slovenia but also a favourite spot for families with children. One of the things you can do is taking a walk around Lake Bled. This is a beautiful 6 km long walk, also suitable for cycling with your little ones. Along the path, there are several areas suitable for having a picnic, also numerous cafes and restaurants.
And what is visiting the lake without water activities?! Of course, swimming will make for kids the best part of the day. There is a great area for swimming with several pools, two waterslides, playgrounds, but also various table games and kayak rentals. And if this is not enough, you can also enjoy a boat ride and paddle to the island.
Another activity is visiting Bled Castle, a mountaintop fortress with a stunning view – of the lake and surrounding areas. This is a must place for taking a good family picture with a panoramic background. A popular hiking trip from here, not difficult at all, is going to Vintgar Gorge.
To make the family day perfect, there is a typical symbol of Bled – cream cake, called "kremšnita" that kids will surely love it.
Dundee, Scotland
(Nicola, FunkyEllas Travel)
Recommended stay for families: Apex City Quay Hotel & Spa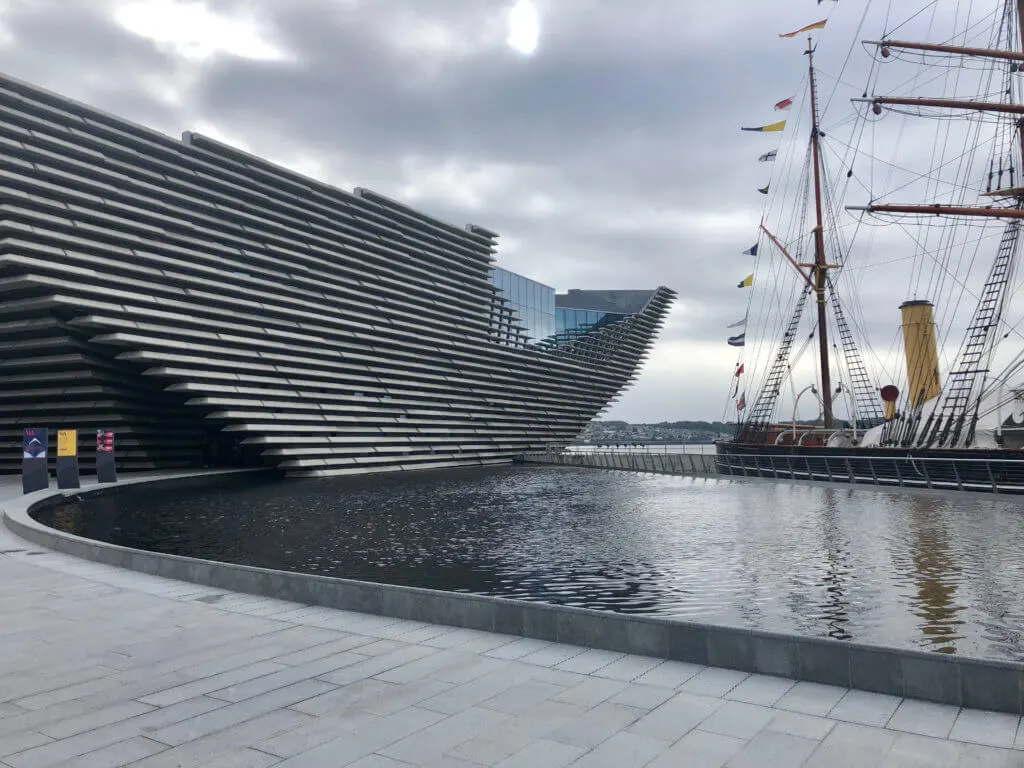 The city of Dundee on Scotland's east coast hasn't always had the best reputation but in recent years that has changed. It's now a city that is thriving and exciting and is the perfect destination for a city break with the family. A city, which is best know for its jam, jute and journalism is the birthplace of Beano, Dandy and Oor Wullie, cartoon characters which can be found as sculptures dotted across the city centre.
The brand new V+A Museum (the only one in the world outside London) has exhibitions popular with kids including comics and a dress from Star Wars and next to this amazing building is the RSS Discovery which Captain Scott sailed in to the Antartica. Kids absolutely love the Science Centre where they can shoot out nose like a bogey, move a ping pong ball with their mind and turn themselves into a gorilla.
Gdansk, Poland
(Katalin, Our Life, Our Travel)
Recommended stay for families: Hotel Sadova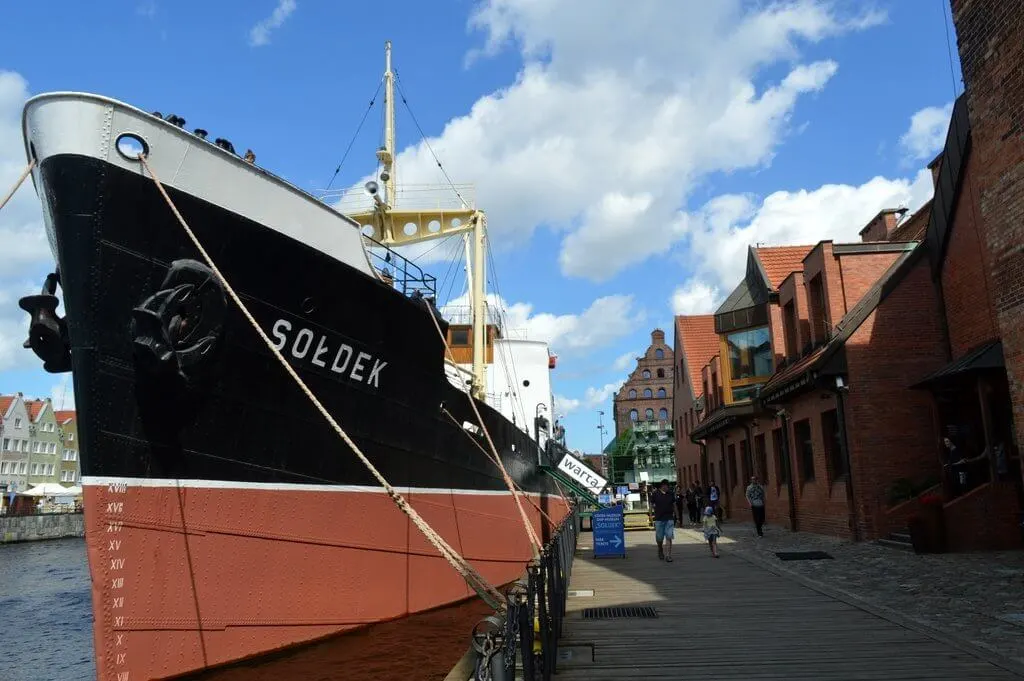 Gdansk is a budget destination for families on the northern shore of Poland. We rented a whole floor in an old villa and spent 10 days to rest, emerge to culture, explore nature, and fill up our bellies with delicious Polish meals.
The Old Town is filled with historic buildings, famous war locations and our favourite a museum ship, the Sołdek, is anchored on the shore of Vistula too. The variety of sights can occupy teenagers as well.
The city beach and its wooden pier are must-visit places with kids. Although the sea is rather cold compared to the popular beach destinations, the sandy beach and the cheap prices make it up for. The beach spreads along the shore for several kilometres.
If you want to avoid crowds, head to Westerplatte peninsula. The WW2 started there and it's a spacious green area with remains of bunkers and monuments to learn about the war or just let the kids run around. Ideal location for a half-day-trip from the city.
Conwy, Wales
(Kirsten , Kids Are A Trip)
Recommended stay for families: Pen y Bryn
Conwy, Wales is one of the most beautiful areas of Wales, and often overlooked by travelling families. Located on the northern coast, just outside Snowdonia National Park, the area is perfect for exploring with kids. Conwy is a walled town with a historic castle built by King Edward I in the 13th century. Kids will love exploring Conwy Castle with all its nooks and crannies and views of the town and harbour.
Families can also walk along the town walls for free for a different perspective, but know that the stairs are steep and it is not stroller friendly. Once you're done exploring the castle, head into town for a bite at one of the local restaurants or pubs on High Street.
Kids will also enjoy the Conwy Valley Railway Museum where they can ride on a miniature train or taking a visit to Bodafon Farm Park where they can interact with the animals and see a working farm.
Luxembourg City, Luxembourg
READ OUR GUIDE: Luxembourg with kids
(Margherita, The Crowded Planet)
Recommended stay for families: Park Inn by Radisson
Luxembourg City is fairly compact and has a great public transport system, which is free for everyone. On top of that, the tourism board has devised a really cool way for families to visit Luxembourg City – the 'City Promenade for Kids', a walking tour and treasure hunt for families including tales about the city, like that of Melusina, the wife of the city founder, who also happened to be a mermaid!
Older kids and teenagers will love to explore the Bock Casemates, a network of tunnels into the rock atop which the city was built, also housing cannons, kitchens, shelters, and even stables.
If the little ones (and the big ones) get hungry, the Chocolate House is a great place for a break. Located right in front of the Grand Ducal Palace, you'll find lots of chocolate-based delicacies including 'hot chocolate spoons', lumps of chocolate with various flavours on a spoon that can be stirred into hot milk.
Granada, Spain
READ: Visiting Granada with kids
(Bec, Wyld Family Travel)
Recommended stay for families: Hostal Atenas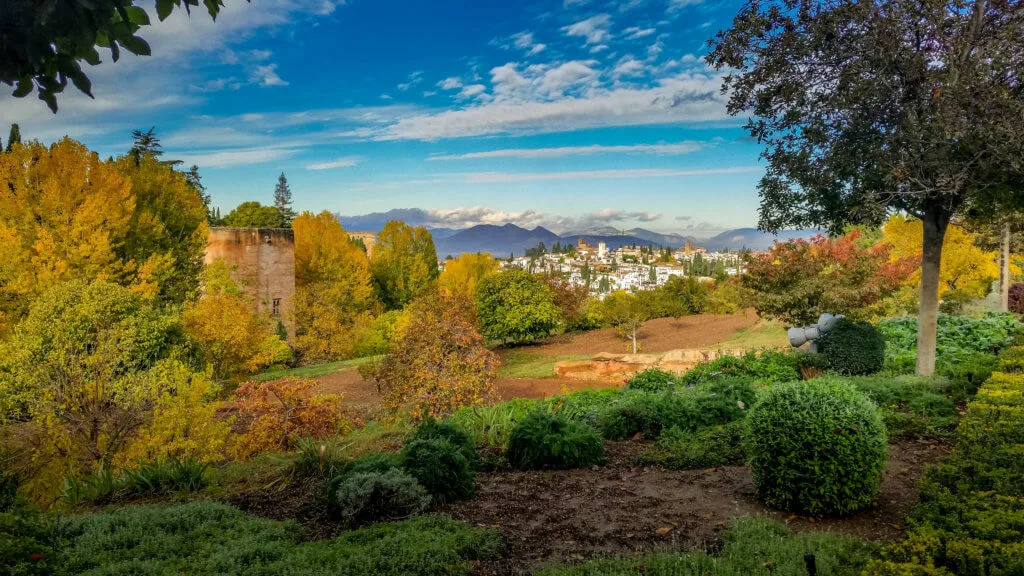 When you see a picture of Granada the one thing you will not be able to go past is the Alhambra. Sitting high on a hill it overlooks everything, it looks stunning from a distance but it is nothing like the beauty on the inside. It is a must visit, as well as the Generalife Gardens which can be done on the one day or over two if you have little ones.
But there are plenty of other things to do in Granada as well. You can go on a Segway Tour through the streets of Granada for people with older kids. You can see a Flamenco show and share some tapas together. You can wander the alleyway markets and pick out a gorgeous souvenir of your time in the city. Find a free walking tour and learn about how a local feels about their city. Visit the Hammam Al Andalus Arabian baths for a relaxing soak.
You can also just wander the streets and find so many gorgeous buildings. There is an old Bull fighting ring in the city. While it is no longer in use we found it a great conversation started with our girls about the practice. There are plenty of play grounds for the younger children as well.
Granada is included in our Andalucía with kids itinerary if you wanted to combine your visit with other cities in southern Spain.
Mostar, Bosnia and Herzegovina
(Sinead, Map and Memories)
Recommended stay for families: Apartments Old Bridge
The beautiful city of Mostar is not the obvious choice for a European break but any visitor will fall in the love with this city – just like we did! Located in the Herzegovina region of Bosnia Herzegovina the city has easy links to Sarajevo and the neighbouring countries of Montenegro and Croatia. Mostar is still recovering from the devastating conflicts of the early 1990s and whilst there is still evidence of this, the people of Mostar have made incredible progress in rebuilding their historic city.
There are many attractions in Mostar but our children particularly enjoyed learning about the variety of traditional dress of this region at the BosnaSeum museum. They liked exploring the 17th Century Koski Mehmed Pasha Mosque and climbing the impossibly narrow minaret for a stomach-churning but beautiful view of Mostar. This was our children's' first visit to a mosque and it was a wonderful experience. After exploring the cobbled streets of the Old Bazaar, the kids favourite activity was to sit beneath the iconic Stari Most – Mostar famous bridge – and watch the daring divers leap into the Neretva river below.
We stayed in the new Appartments Old Bridge, a sparkling clean, one bedroom self-catering apartment metres from the Old Town for just £40 a night for five people. Accommodation, food and attractions are much cheaper than most other European destinations making this fascinating city a perfect destination for an affordable family break.
Cordoba, Spain
(Emily, Kids and Compass)
Recommended stay for families: El Palacio del Corregidor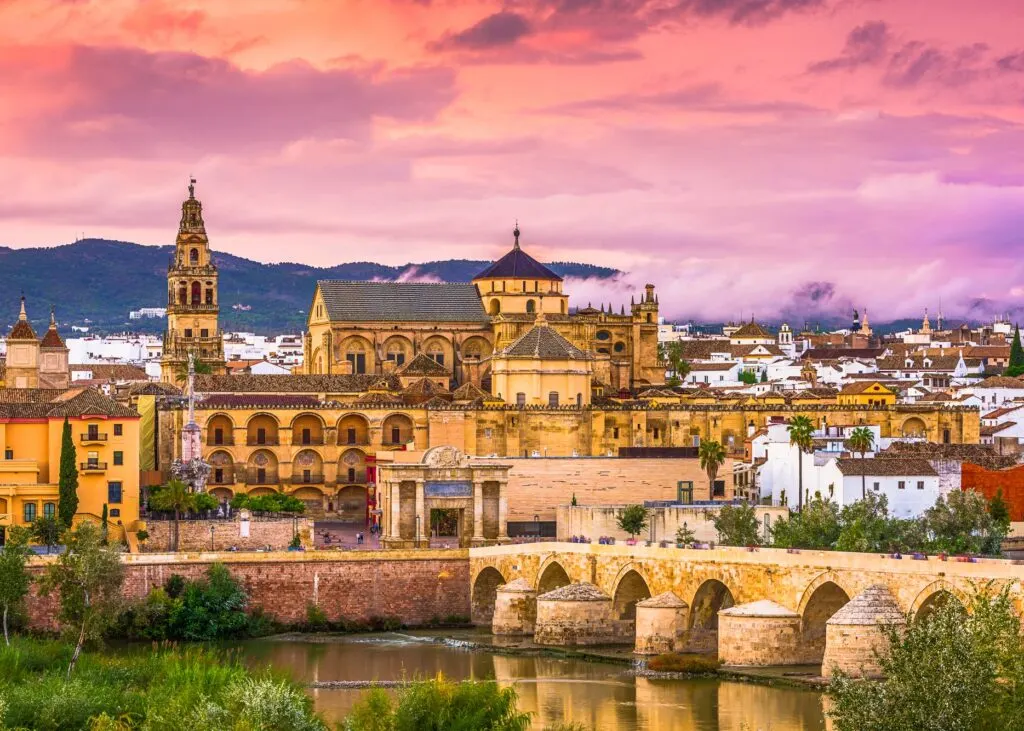 Cordoba is one of Spain's most historical cities in Andalucía. Throughout its history it's been home to large populations of Christians, Jews and Muslims and all three religions have left their mark on the city. There is plenty of interest here for adults, but there's a surprising amount of things for kids to do in Cordoba too.
The main attraction in Cordoba is its incredible Mezquita-Cathedral, a combination of mosque and cathedral. It's most famous for its candy cane arched hall; a photographer's dream, but children will also be enchanted by the space.
After you've explored the Mezquita, head to the Alcazar. Yes, it's another historical building, but don't worry about looking around the Alcazar itself; the gardens are what the kids will love. Beautiful pools with delicate arched fountains, borders full of hibiscus and some hedge lined paths perfect for hide and seek make this garden a great place to visit with kids.
Elsewhere in the town centre, kids will enjoy splashing in the many fountains, exploring the Roman bridge and looking in all the souvenir shops. A little way out of the centre of town there's a little zoo and botanical garden just opposite, and the nearby Children's City, a brilliant playground for small kids.
Bialystok, Poland
(Holly, Fouraroundtheworld.com)
Recommended stay for families: Apartamenty Centrum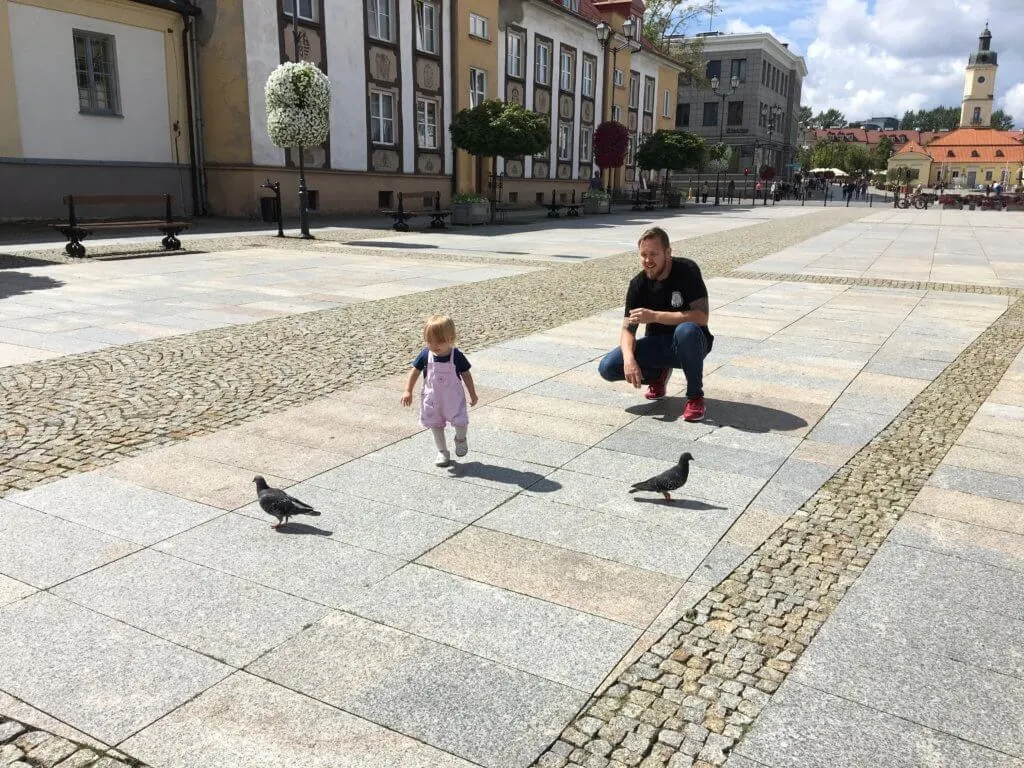 Bialystok is one the largest cities in Poland but relatively unknown. Situated in north-east Poland, Bialystok is a great leisure destination for families, if you want to avoid the huge tourist crowds and immerse yourself instead in local culture.
A visit to the beautiful Branicki Palace is a must, as kids will love exploring the expansive gardens that surround it. There are also several museums and a zoo in Bialystok, and a quaint town square – Kościuszko Market Square, lined with restaurants and cafes. Be sure to get yourself a plate of pierogi, followed by something indulgent at the E.Wedel Chocolate Lounges.
Although the number one thing you must do when visiting Bialystok with kids is take a day trip to Bialowieza National Park, which is only around an hour and a half by car or bus. Bialowieza is what last remains of the primeval forest which once covered most of Europe, with many unique native plants and animals, and a really cool zoo and museum.This is the only place the European bison still roam free in the wild. There are guided tours that take you into the inner area of the forest.
Verona, Italy
(Nancy, Map and Family)
Recommended stay for families: Hotel Milano & Spa
For a north Italian city break, Milan with kids perhaps doesn't offer enough (unless you have footy fans), and the crowds of Venice may seem too much. But Verona ticks a lot of boxes.
My teens and I escaped the bustle of Venice to beautiful Verona, just an hour away. It's a compact and walkable northern Italian city that dates from Roman times with pretty squares and medieval buildings. One must-see is Casa di Guilietta, a little house and balcony in a courtyard said to be linked to the real-life feuding families who inspired Shakespeare's tale of star-crossed lovers, Romeo and Juliet. Though probably not historically accurate it's a romantic story that has made Verona world famous.
No one can question the history of Verona's Arena, the third largest Roman amphitheatre in the world and a present day venue for opera. It's more complete than Rome's Colosseum and audiences still sit on the marble tiers. Visitors can climb to the top – not for young children it's scarily steep! – to see the views. I'd take a guided tour next time. Outside the Arena, Piazza Bra with it's colourful buildings is a great place to stop for a break and an ice-cream.
Castle Vecchio on the river Adige has a museum and crenellated bridge with stunning views. And don't miss Piazza delle Erbe with it's market stalls, ancient frescoes on the high walls and a whale rib hanging from an archway. The bone will fall the day someone walks beneath it who has never told a lie!
Akureyri, Iceland
(Catherine, We Go With Kids)
Recommended stay for families: Lava Apartments & Rooms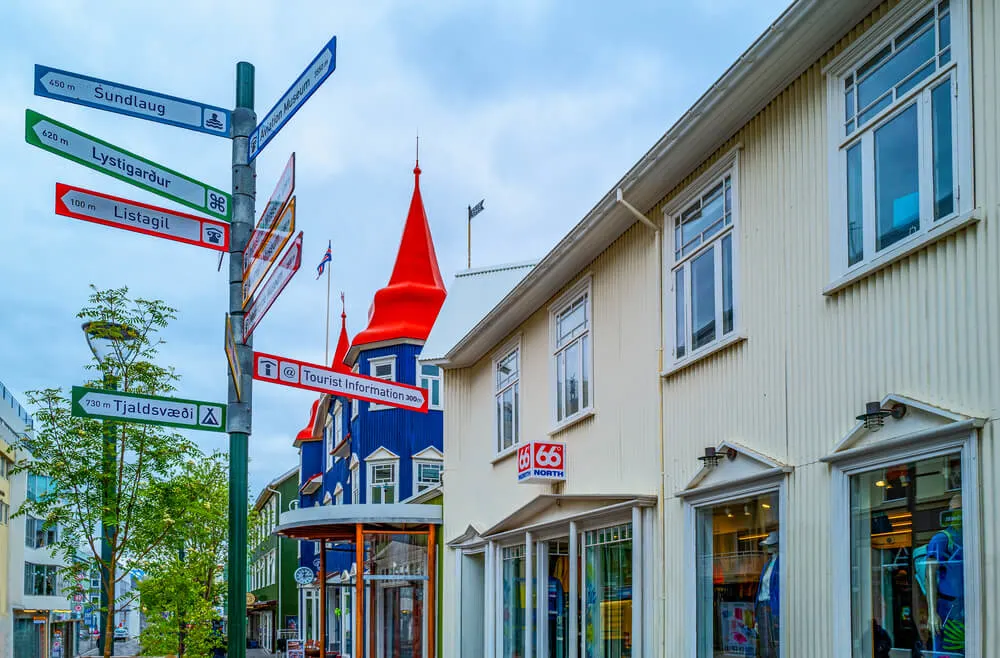 Akureyri in North Iceland is a great off the beaten path location for families. Akureyri is Iceland's second largest metropolitan area outside of Reykjavik, but it's population is only about 18,000. This quaint town has break taking views, a walkable shopping area, and the city's Lutheran church, Akureyrarkirkja. We were very ecstatic to find Asian cuisine available. We enjoyed a morning at the Akureyri Thermal Pool, which is just outside the centre of town. Whale watching is available in Akureyri, but most people opt for the more popular but relatively close options in Dalvik and Husavik.
Akureyri is an ideal location to use as a home base while exploring Northern Iceland because of availability of accommodations and its amenities. It's harder to secure lodging in the popular Lake Myvatn area, but we were able to make a lovely day trip to explore the the Lake, Dimmuborgir lava field and the Hverir geothermal field that made our kids feel like they stepped into a Star Wars set. Nearby, we visited Dettifoss, Europe's most powerful waterfall and Godafoss, a stunning waterfall just off the Ring Road between Myvatn and Akureyri. We also attended memorable Mass at St. Peter's Parish, one of seven Catholic churches in Iceland. We spent two nights in Akureyri, a hidden gem that has so much to offer travelling families!
Haarlem, The Netherlands
(Lisa, Flip Flop Globetrotters)
Recommended stay for families: Suites and Apartments Mya
A lot of people that visit the Netherlands only stay for a few days, and spend those days in Amsterdam. Amsterdam is a fun city, but there's so much more to see in The Netherlands! Haarlem is one of the oldest cities in The Netherlands, dating back to 1245. It's only 15 minutes away from the Dutch capital by train, but offers a completely different experience.
Haarlem has a beautiful historic centre and if your kids are into history don't forget to look up the legend of brave Kenau Simonsdochter Hasselaar, who defended the city against the Spanish invaders in the 16th century. A visit to petting farm De Houthoeve, a few minutes walk from the city center, should definitely be on your list when visiting Haarlem. Kids love petting the goats and seeing the pigs, turkeys, rabbits and guinea pigs. Both the Archeology Museum and the Teylers Museum are fun to visit with kids age 4+. And hidden city playground Het Paradijsje in the Witte Herenstraat is great to visit with young kids.
Lyon, France
(Catherine, Cultural Wednesday)
Recommended stay for families: ibis Lyon Gare Part Dieu
Romans, museums and food. Lyon has the lot, and you can catch a train direct from London St Pancras.
Lyon has not one but two huge Roman amphitheatres, right next door to each other, even better you can clamber all over them, playing at being Roman to your hearts content. Hidden in the centre of Lyon is a network of Traboules. These are tiny pathways that lead to hidden courtyards with fantastic tower staircases. Younger children might struggle with a tour but our teens loved the search for hidden doorways.
No trip is complete for the Cultural Wednesday family if it doesn't include a museum. We caught a boat to Musee des Confluences. It is housed in spectacular new building and the displays are tailor-made to appeal to children.
What drew us to Lyon was its reputation as the culinary capital of France, it has Michelin starred restaurants coming out of its ears, but more teen friendly are the traditional Bouchon restaurants, or better still the huge Les Halles food market; here you can either sit down and eat or buy a picnic to eat by the banks of the Saone.
Billund, Denmark
READ: Visiting Billund with kids
(Karen, The Mom Trotter)
Recommended stay for families: Hotel Legoland

Billund is a small town located in Denmark, 265.5km away from Copenhagen. This town is famously known for being the home of the first ever LEGO factory, Legoland resort and Lego House.
Most families who travel to Billund, usually do so because of Legoland. However there are plenty of other kid friendly things to do. A few are Givskud Zoo, Museumsgaarden Karensminde and Skulpturpark.
My hotel recommendations are Lalandia because of it's huge indoor waterpark and Hotel Legoland because there are many activities to keep your kids entertained. When in Billund, make sure to stop by Billund Pizza Steakhouse for a meal your kids will love.
Utrecht, The Netherlands
(Nichola, Global Mouse Travels)
Recommended stay for families: Hotel 26
My favourite city in the Netherlands and one of my favourite cities in Europe is Utrecht. It's a beautiful city, reminiscent of Amsterdam with all its canals and cobbled streets but with a fraction of the tourists. Life goes on as it always has in Utrecht and you turn corners to feel you're in a painting, it's so picturesque.
When visiting with kids don't miss the Miffy Museum – the creator, Dick Bruna was from Utrecht so there is a fantastic museum dedicated to the little rabbit here as well as little reminders through the city, like a set of traffic lights with Miffy characters to tell you when to stop and when to walk. We also adore the Speelklok Museum which is a converted church now filled with instruments and street organs and they have the best trail to take with children where they get to make their own sheet music that you can then play at the end. Another activity kids will love is to take a trip down the canals which are so peaceful in Utrecht. In fact my top tip is to stay next to one – we loved the old canal cellars, many of which have been converted to accommodation and we stayed in Hotel 26 which was beautifully reimagined as somewhere to stay. I have such happy memories of our wonderful times in Utrecht.
Toulouse, France
(Tan, Travel To Work)
Recommended stay for families: Hôtel Croix Baragnon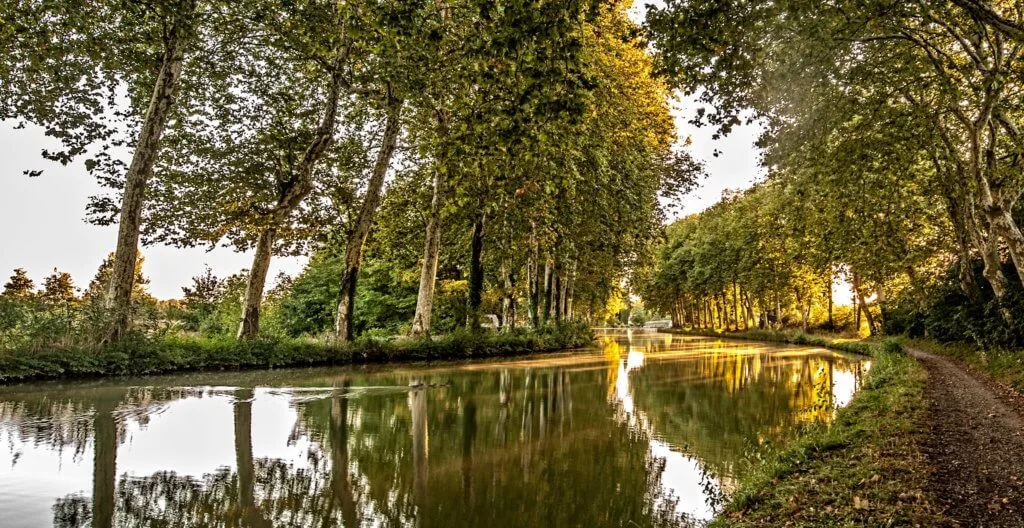 Toulouse is an intrigue destination for family holidays. There are so many kid-friendly activities and attractions to make your child occupied for days.
While the city itself reflects the charm of Southern France with beautiful brick houses, shimmering Capital squares, the rural areas are full of castles, parks to spontaneous kid's brain.
The first place you should bring your kid to in Toulouse is the Space museum known as Cite Espace. This is simply the best exhibition of space science in Europe featuring perfect educational chances about planets, stars, etc..
For a taste of Toulouse heritage, a day trip cruising along the Canal Du Midi is really recommended. It is undoubtedly a perfect way to appreciate the rich history of the area in combination with local sightseeing where you can photograph the unspoiled nature in the suburb of Toulouse.
If you thinking about something that excites your kid very much, take a zipline trip. The large forest will welcome them with different games and different challenges. Personally, a flight from one trip to another is very exhilarating for all kids.
Ljubljana, Slovenia
(Alex, Swedish Nomad)
Recommended stay for families: Four Points by Sheraton
Ljubljana is a capital with everything set up for an exciting weekend trip. When visiting with kids, I especially suggest to go to the Ljubljana Castle. It's a great history lesson and a fun activity for the day as well. If your kids love knick-knacks and antiques, don't miss the famous flea market called Cakarjevo Nabrezje on Sundays. It's fun to check out the stalls, and for kids there are plenty of old toys to find. There is also a new museum called the Museum of Illusions that is another fun thing to do with kids in Ljubljana.
---
I hope you've enjoyed these ideas for short city breaks for families in Europe. If you asked me what I think are the best city breaks for families in Europe, I'd have to say Nuremberg and Ghent. These cities attract fewer cities and are compact cities, perfect if you're looking for short breaks with toddlers. Have you any best city break for kids in Europe to recommend?
You may also want to read:
Lanzarote with kids: off the beaten track
5 day Iceland itinerary with kids
Lisbon with kids