Southern Spain has long been a popular holiday destination but it's perhaps more associated with sun, sand and relaxing by a pool. A trip to Andalucía with kids can offer so much more, from stunning architecture, child-friendly museums, grand cities and a fabulous al fresco dining scene.
Here we share our 6 day itinerary around Andalucía with kids, taking in Malaga, Granada and Seville, three stunning cities in southern Spain. We flew into Malaga and out of Seville over October half-term.
To travel between cities we opted for public transport, rather than hiring a car. With the modern and affordable public transport in Spain, it just didn't make sense to worry about car hire, map-reading, narrow cobbled streets and tight parking spaces, especially when connections between cities are direct. Public transport can also provide more of an insight into a country, and is one of the things we love most about backpacking with kids.
Disclaimer: This post contains affiliate links. If you click to purchase, it is at no additional cost to you, and I receive a small commission.
Top tips for travelling Andalucía with kids
Avoid the summer holidays when temperatures regularly hit 40 degrees and tourist attractions are at their busiest and most stressful.
There's a lot of walking and historical site-seeing in this region. Pack comfortable walking shoes and some stamina.
Consider booking accommodation with a swimming pool to allow for downtime from the sightseeing and to cool down from the heat if travelling in the warmer months (May to September).
Book Alhambra, Seville Cathedral, and other big attractions in advance and online, even in the low season. The Alhambra needs to be booked at least 6 weeks in advance.
Sites and restaurants are open late, and families often don't eat until 9pm or later. It's not unusual for restaurants to only open from 8:30pm onwards. Plan mealtimes accordingly if you aren't able to change your eating patterns.
Using public transport on this Andalucía itinerary
As we were only covering relatively modest distances, buses were our preferred mode of transport on this trip. They were far cheaper and not that much slower than trains, so we opted to take the bus between Malaga and Granada, and then Granada and Seville.
We pre-booked bus tickets two weeks in advance using the Alsa website and there was good availability on both routes at that time. Top tip: sign up for a free Alsa account and make sure you're logged into the website when buying tickets; this seemed to remove the booking fee / service charge.
The website is well-designed and works fine with international credit cards. On most routes you'll be able to select seats for a small fee, although the system will usually seat you together in any case. Occasionally, you'll notice seat selection isn't offered which means that particular service is free-seating. We avoided these buses as we preferred to know we were sitting together.
For the bus from Malaga to Granada we paid €10.50 per adult and €9.34 per child. For the bus from Granada to Seville, we paid €18.40 per adult and €17.14 per child. So in total we spent €110.76 on transport between cities on this Andalucía with kids itinerary.
There are a few different tickets types available, offering greater flexibility and cancellation. We had to cancel and reschedule one of the trips, and the website handled it smoothly, issuing a refund almost immediately. Please note that these bus tickets prices are subject to change.
Read the individual Andalucía city guides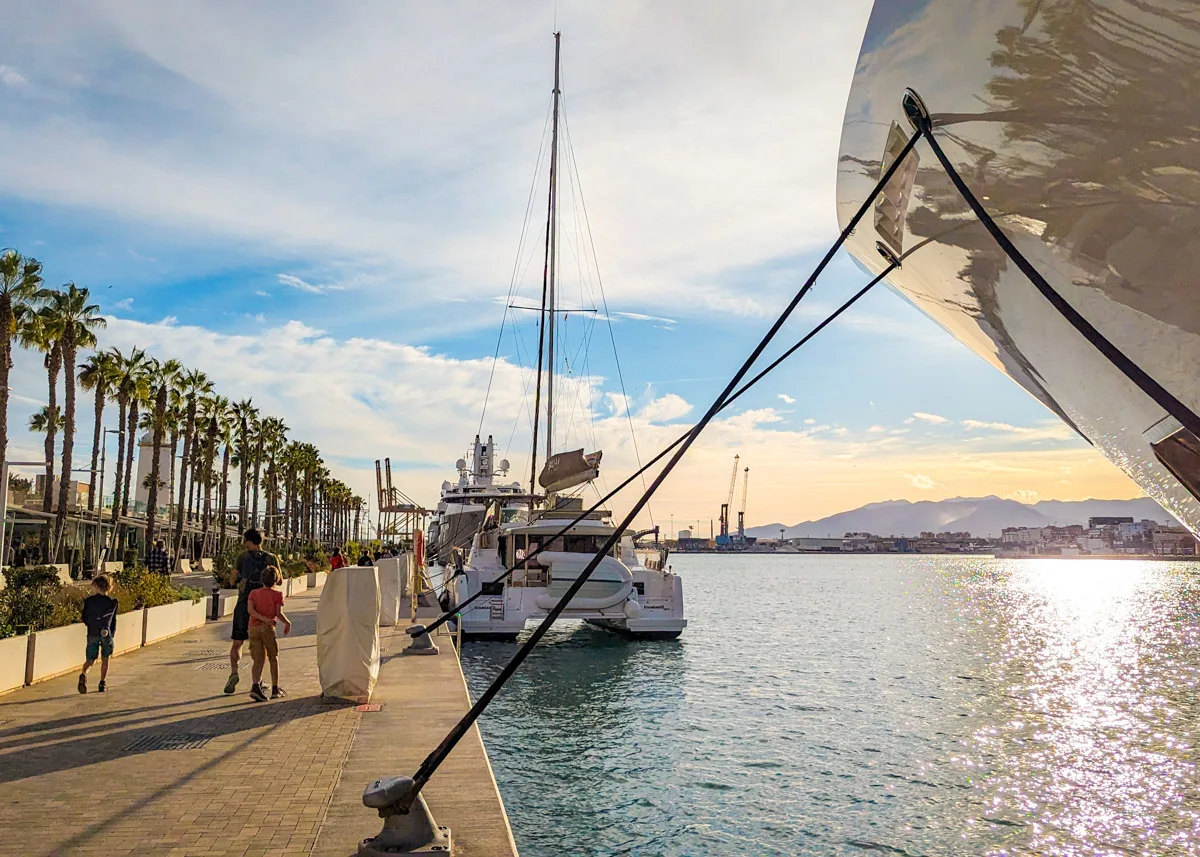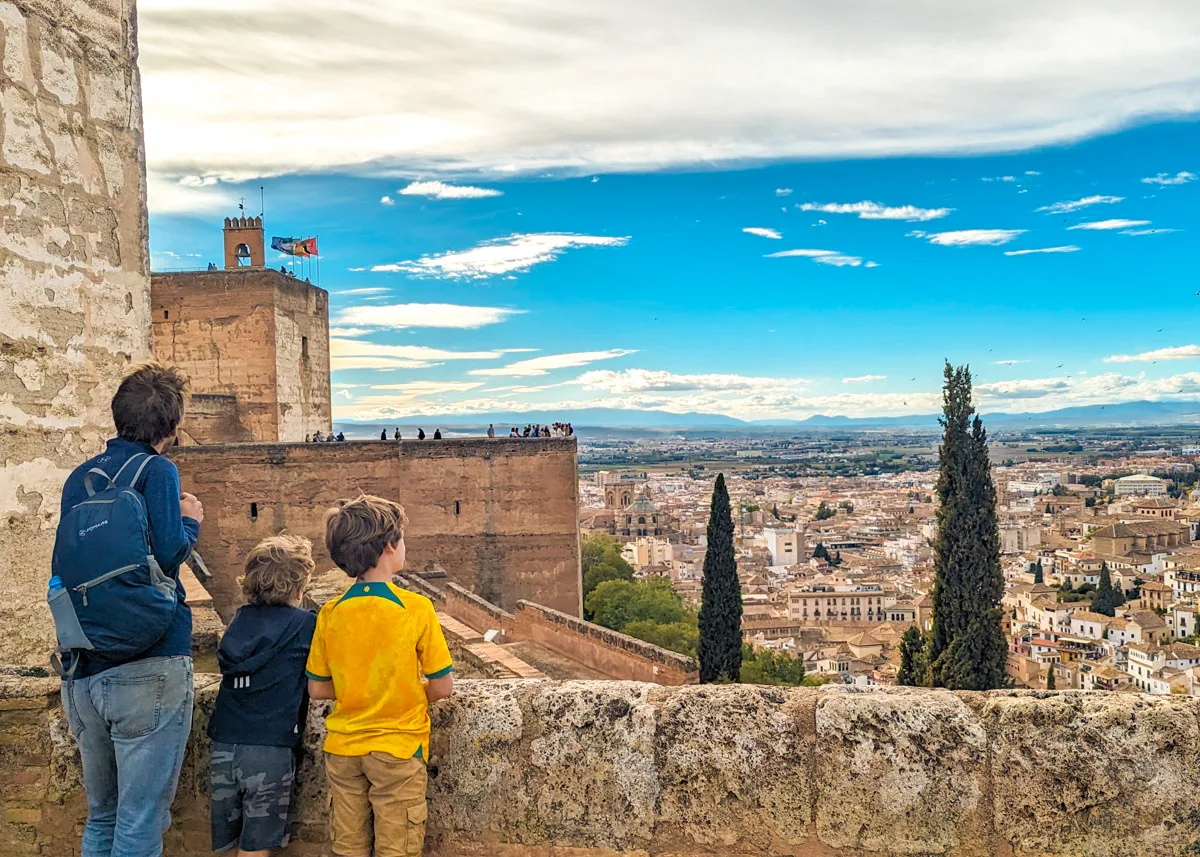 6 day Andalucía itinerary with kids
The below map displays the three city stops on our 6 day Andalucía itinerary.
Getting from Malaga Airport to the city
There is a direct train from Malaga airport into the city (C1 rail line). It takes 12 minutes and operates every 20 minutes from from 05:42 until 23:00.
A single ticket is €1.80 and there are vending machines to purchase (cards accepted). You can also tap-in and tap-out using a contactless card if you prefer.
Day 1: Malaga
READ: Visiting Malaga with kids
Where we stayed in Malaga: Picnic Dreams Boutique Hostel
Click here to check rates and availability
After arriving to our accommodation the night before, we had one full day in Malaga to explore, plus the next morning before catching a bus to Granada.
Start your time in Malaga with a visit to the cathedral, Catedral de la Encarnación de Málaga. There is an entry fee for the cathedral and you can pay extra (recommended) to climb up to the rooftop (€12 total per adult, children under 13 are free). We recommend booking tickets in advance to skip the long queues. Make sure you get the audio guide for the kids, it's really quite brilliant and will keep them engaged. The rooftop views out to the sea and surrounding hills are stunning, giving you a good idea of the geography of the city.
After the cathedral, wander around to the Alcazaba, a palatial fort overlooking the city; it's a fascinating place to explore and the kids will find plenty of places to jump and hide. It feels a little like a real-life Minecraft set, with all the stone blocks and staircases. Keep a close eye on them though, there are a few exposed ledges and walkways without railings. Tickets cost €3.50 for adults and €1.50 for children (there didn't seem to be any need to pre-book as the queue for the vending machines was quite short when we visited).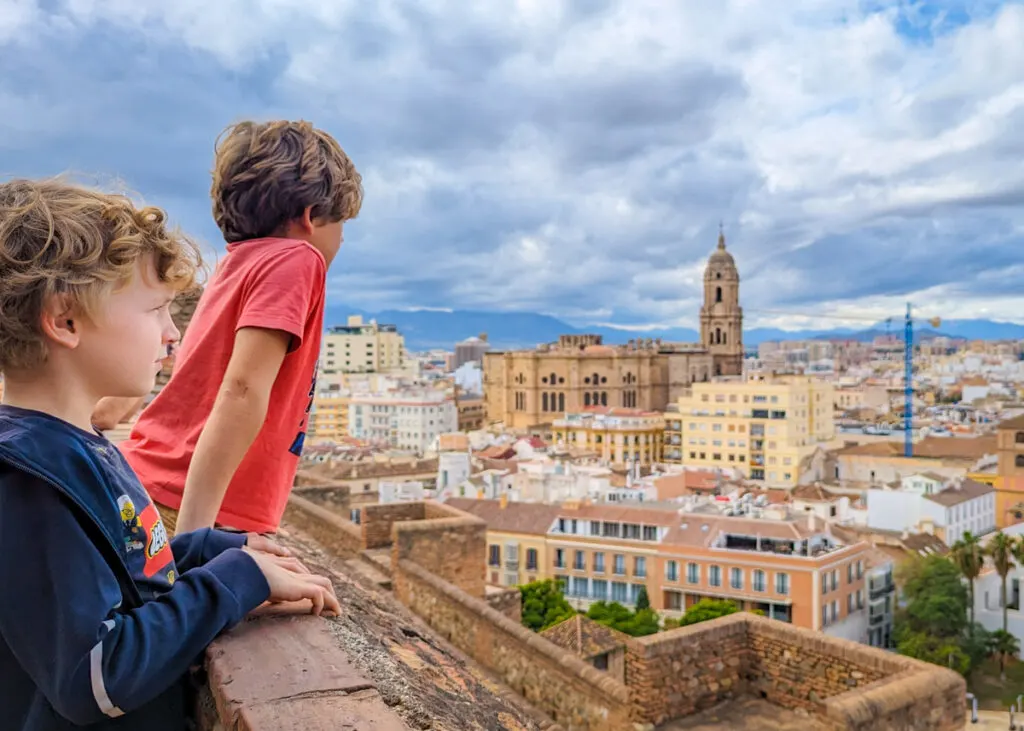 If you need some refreshment after your visit, you'll find plenty of tapas bars near the exit to Alcazaba. We particularly enjoyed the tapas at Cister Catorce.
Then wander down towards the port through Málaga Park, which has a couple of playgrounds. There are more restaurants and bars along the main jetty, although we were more enamoured by the huge yachts moored alongside.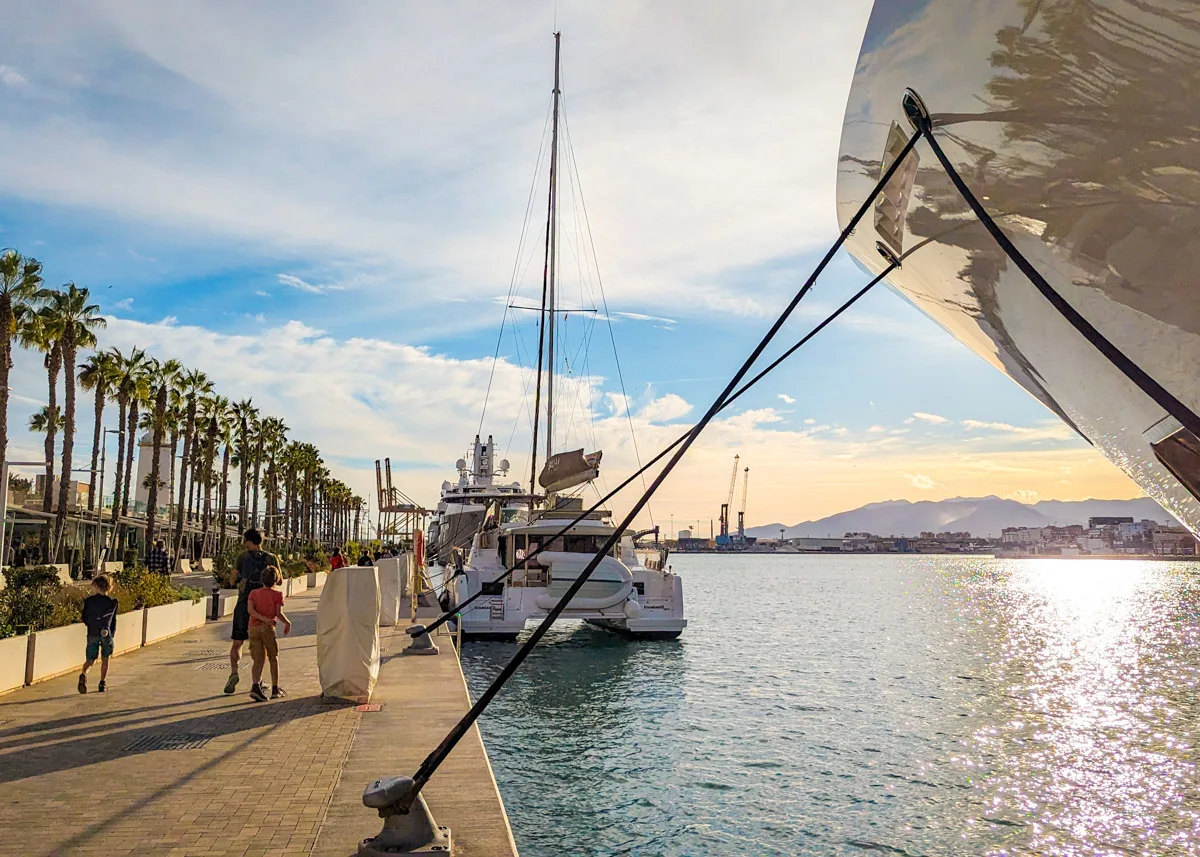 Follow the main jetty along to the end and then head slightly left to get to the main beach, where the kids will enjoy playing in the sand or sea.
If you have another day in Malaga up your sleeve and you're visiting during the summer months, it's likely that the kids would very much appreciate a visit to Aqualand Torremolinos, which is just a 40 minute bus ride south of the city.
Day 2: Malaga to Granada
READ: Visiting Malaga with kids
Where we stayed in Granada: Porcel Alixares
Click here to check rates and availability
As our pre-booked bus to Granada didn't depart until 1pm, we spent the morning at The Picasso Museum.
Picasso was born in Malaga and his weird and whacky approach to art is very accessible for kids, which is likely to generate lots of interesting discussion as you walk around. The museum is split into two separate collections, one focused on Picasso and one on the artists he influenced. Again, book tickets in advance online (€12 per adult and children under 16 are free), although be prepared for the badly managed queue to enter, even if you have booked online.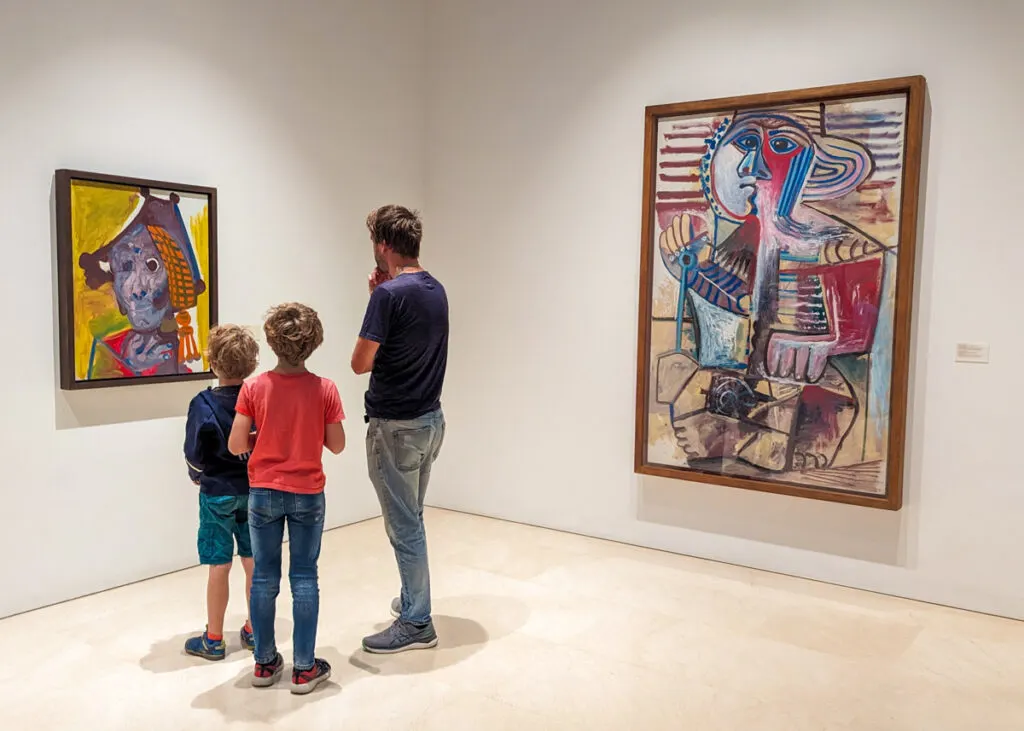 It's a 2.5km walk from Picnic Dreams Boutique Hostel to the bus station. We allowed a good hour so we could detour to Mercado Central de Atarazanas and check out the street art in SOHO.
Mercado Central de Atarazanas is an undercover market bursting with colour and energy. It's a good place to pick up fresh fruit (the mandarins were especially good) and you'll also find some cheap tapas on the edges of the market.
Keep your eyes peeled as you walk through SOHO, a lot of the art is tucked away behind bins or on the side of apartment buildings. You never know when a large iguana is going to appear in front of you, something the kids are sure to love.
Getting to Granada from Malaga :
There are regular direct buses daily from Malaga to Granada (over 10 per day). We caught the 1pm bus, which arrived into Granada at 2:45pm. There is also a direct train (3 per day), but this was much more expensive (double the price) and only 25 minutes quicker.
We arrived to Granada with plenty of time to wander down the hill into the city to find a lovely tapas bar by the cathedral. We particularly enjoyed Duquesa; the service was wonderful, the food delicious, the wine extremely reasonable, and there was a playground opposite. In fact we enjoyed it here so much, we returned again the next night.
Day 3: Granada
READ: Visiting Granada with kids
Where we stayed in Granada: Porcel Alixares
Click here to check rates and availability
Alhambra is the main reason anyone visits Granada and is the second most-visited site in Europe, so be warned, you need to book tickets as far in advance as possible, even in the low season (click here to book online).
We visited on 1st November, and when I booked tickets a month in advance there were only 12 (yes, twelve) tickets left! And the only booking slot available was 5pm, the last one of the day. This meant we pretty much had a full day free in Granada before visiting Alhambra, so we decided to visit the Science Museum (closed on Mondays), which is a great way to balance all the cultural excursions on this Andalucía itinerary.
Granada's Science Museum, known officially as Parque de las Ciencias is a good museum with a planetarium, sky tower, and fantastic Biodome. Some of the science exhibits are showing their age though with many under-maintenance or underwhelming. We'd suggest giving the 'Health and Safety' exhibit a miss and consider whether the Wow exhibit (with its multitude of stuffed animals) is something you'd like to see. The Biodome is by far best area of the museum with some really unusual animals to spot, and we loved heading up the sky tower for views over the city and across to the snow-capped mountains of Sierra Nevada. There's also a great outdoor play area and the onsite café is a good place to refuel.
We wouldn't recommend going straight from Parque de las Ciencias to Alhambra if visiting Andalucía with kids. In fact, it's probably better to visit them on two separate days. But as our time slot for the palace wasn't until 5pm, we decided to combine the two. However, we allowed for a two hour relax back at our hotel, Porcel Alixares, in between.
The Alhambra is split into several different areas (Nasrid Palaces, Gardens, Generalife and Alacazaba) with slightly different ticket options depending on whether you want to visit Nasrid Palaces or not. If you just want to visit the Gardens, Generalife and Alacazaba, tickets costs €10.61 for adults (under 11's are free). If you want to include the Nasrid Palaces, it's €19.09 (under 11's free) and you'll be given a specific time to visit the Palaces which you must adhere to.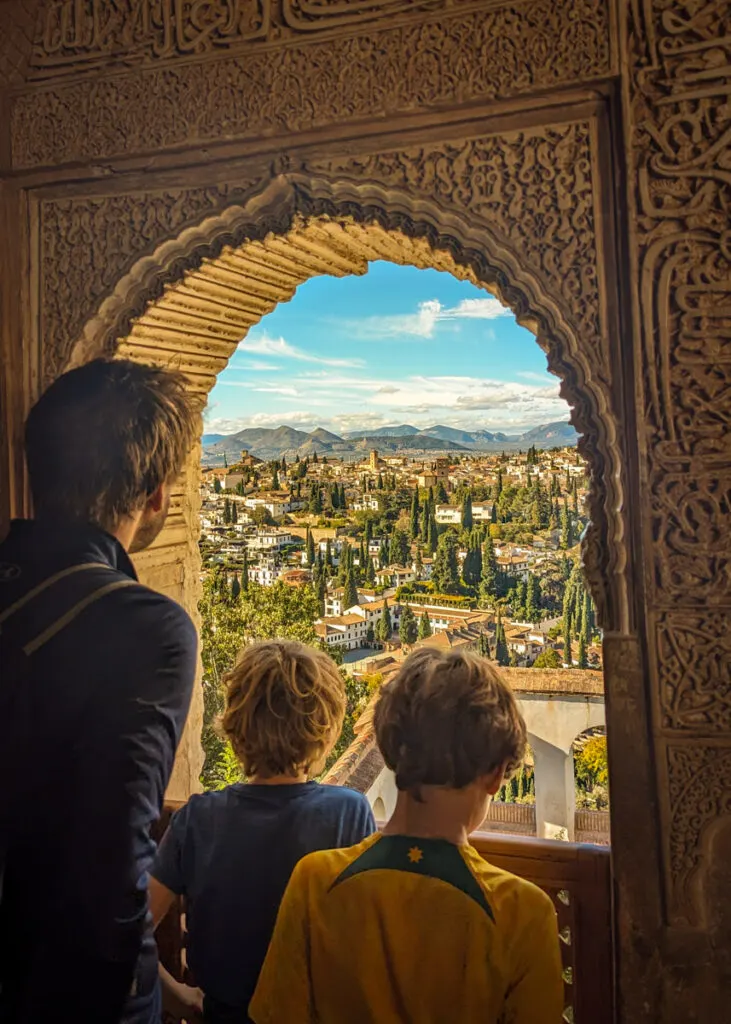 You are free to enter the Alhambra from opening time onwards on the day of your ticket, although make sure you leave time to visit everything if your Nasrid Palaces entry time is towards the end of the day. Also, make sure you remember your passport, you'll need to show it several times and you won't be allowed access without it (kids included and they expected to see the original passport, not a copy).
We loved all aspects of the visit and would recommend getting the general ticket which covers everything, the Nasrid Palaces were beautiful (if crowded) and a perfect way to end the visit. Whilst adults could probably spend an entire day at Alhambra, 2.5 hours was more than enough time for our kids.
For epic sunset views of the Alhambra with the Sierra Nevada backdrop, head to Mirador San Nicolas in the Albayzín district (this is the Muslim quarter). Don't expect to have the view to yourselves. This is a very busy sunset spot, but it's easy to see why, so don't let the crowds put you off.
If you have more time, Granada is also a good place to introduce the kids to flamenco dancing. Flamenco Tabalo perform every evening (click here to book tickets). However, we found that there were free performances from buskers in Seville which only cost a few euros in donation and were wonderful to watch.
Day 4: Granada to Seville
READ: Visiting Granada with kids
Where we stayed in Malaga: Hotel Novotel Sevilla
Click here to check rates and availability
Seville was the final stop on our 6 day Andalucía with kids itinerary. If you do have more time, you could stop at Cordoba en-route to Seville. This is something that we did consider, however, over the years we've learnt that when backpacking with kids, it's best to not cram too much in so we saved Cordoba until the next visit.
Getting to Seville from Granada:
Again, the bus was considerably cheaper than getting the train. There are regular buses daily from Seville to Granada (around 8 per day). We took the 11am bus, which arrived at 2pm. There's also a direct train (around 4 per day), which is considerably more expensive (2.5 times the cost of the bus) and only 23 minutes quicker. There are cheaper trains via Cordoba, but this option takes longer than the bus. However, this option will be worthwhile if you are looking to stop in Cordoba as many of the journeys include several hours stopover.
Seville FC's stadium was directly opposite our hotel (Hotel Novotel Sevilla), and seeing that we have huge football fans in our family, a stadium tour was a must for our first afternoon in Granada with kids!
We had pre-booked tickets online for a 5pm tour. It was very relaxed and, even though it was advertised as a tour, it was totally self-guided which suited us quite well.
After a tour of the museum and trophy cabinet, you get access to the media room, dressing rooms, pitch side, and a chance to try out the padded seats in the directors area. The tour ends at the club shop, a good chance to buy replica kits and other Seville FC souvenirs.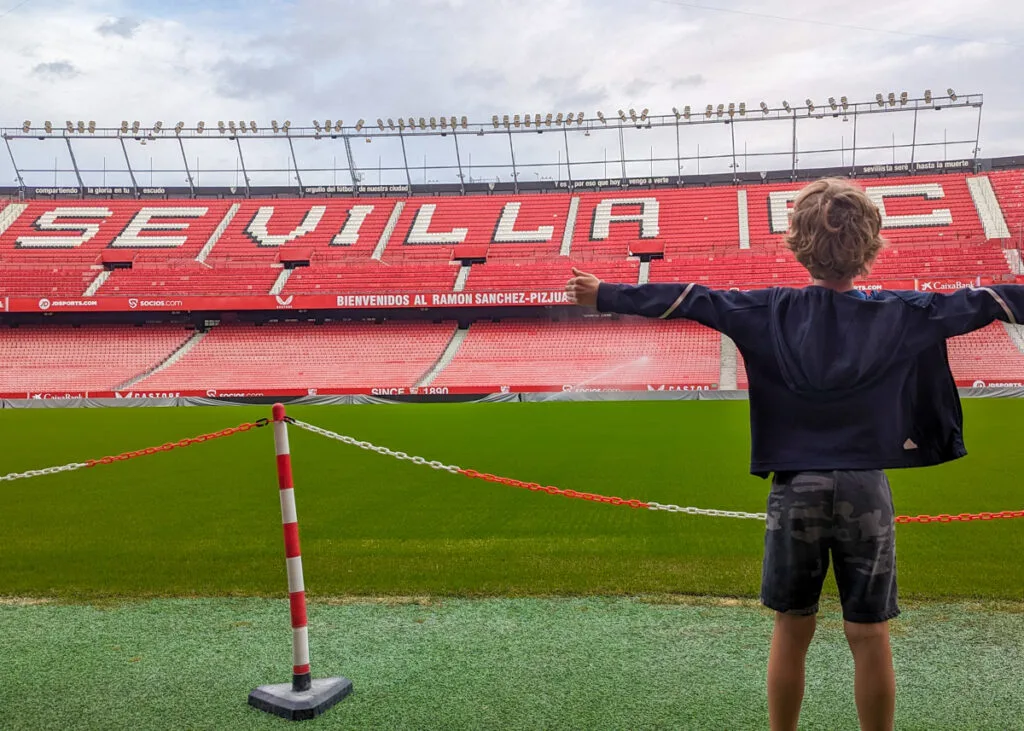 After our long travel and stadium tour day, we retreated back to the hotel (via the nearby Carrefour supermarket) in preparation for our two full days remaining to explore Seville.
Day 5: Seville
READ: Visiting Seville with kids
Where we stayed in Malaga: Hotel Novotel Sevilla
Click here to check rates and availability
Whilst the kids may be rather tired of heritage sites and religious buildings, it's worth buying tickets to go into Seville's magnificent gothic cathedral to check out the tomb of Christopher Columbus. There's also the Alcazar (Moorish royal palace) to explore.
However, we decided against booking into more sites and attractions. We generally prefer unplanned travel days where we wander a destination and see how the day unfolds. There had been a lot of (necessary) pre-booked timeslots on this Adalucia with kids itinerary so far, but towards the end of the week, we needed a more relaxed approach.
So we spent a full day in Seville just walking and walking and walking. And it was wonderful! Seville really is a perfect city for wandering.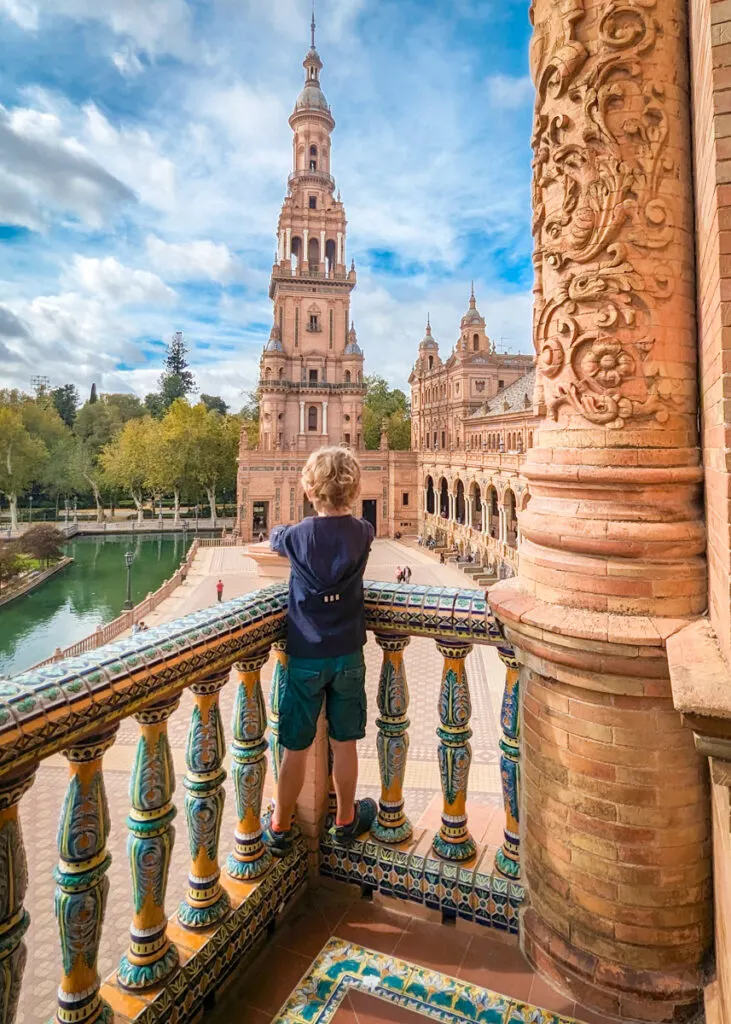 From our hotel we firstly walked to stunning and iconic Pl. España. In the summer months you can hire a boat to row around the moat. We then continued along to the cathedral, towards the beautiful bullfighting ring (which started a very interesting ethical conversation with our boys and we all decided not to pay to enter), along the river to Puenta de Triana and back into the city centre via Puenta de San Telmo. Along the way we stopped for a drink, ice-cream, tapas, or sometimes a playground, whenever we fancied.
Day 6: Seville to Home
READ: Visiting Seville with kids
With our flight not leaving until later in the afternoon, we still had time to explore a little more of Seville. So we headed out on a walk towards Setas de Sevilla, a modern sculpture which offers views over the city, especially at night when it's all lit up. Along the way we stopped for brunch, but there are also lots of cafes and tapas bars around Sestas.
Alternatively, if you're visiting Seville between June and September and have another full day free in Seville with kids, we recommend a visit to Agua Mágica, a waterpark within walking distance of the city.
A taxi to the Seville airport from the city is a flat fare of €27.80.
Final thoughts on visiting Andalucía with kids
European city breaks can be challenging and sometimes exhausting with kids, especially when you combine several into one big trip. The novelty of wandering around architectural sites, visiting museums and stopping at restaurants can sometimes become a big much for some kids.
However, this trio of Andalucían cities manages to avoid many of these problems. Each city has its own strengths with options for beach time, world-class museums and architecture, plus the world-renowned splendour of the Alhambra. There's enough contrast between the cities to keep it interesting.
Plus, public transport is excellent, with both train and bus offering easy and reliable connections between the cities. Whilst the accommodation is quite expensive by some standards, the quality and options are high, ensuring you'll have a welcoming base to return to after your day's excursions.
---
You may also like to read:
Visiting Madrid with kids
Northern Spain road trip itinerary
Lanzarote with kids: off the beaten track