If you're planning to visit Granada (and specifically, the Alhambra), you won't be lonely. The second most visited tourist site in Europe, it's well worth a visit and what could be better than sleeping right across the road from the entrance, in a beautiful and sympathetically decorated hotel, perfectly in tune with its beautiful neighbour?
The Porcel Alixares Hotel is a grand building, complete with Moorish mosaics, onsite café and restaurant, swimming pool (high-season only), comfortable rooms and perfect location.
We visited away from peak season and found a surprisingly good rate online, making this the ideal place to stay close to both the Alhambra and Granada city centre if you're visiting Andalucía with kids.
Click here for our Granada with kids guide, or read on for our Porcel Alixares Hotel Granada review.
Disclaimer: This post contains affiliate links. If you click to purchase, it is at no additional cost to you, and I receive a small commission.
Click here to check rates and availability for Porcel Alixares Hotel Granada
Arriving to Porcel Alixares
It's not by coincidence that the Alhambra was built on a hill, which means it's a climb to reach the adjacent Porcel Alixares hotel.
If you're coming from the bus or train station, it's easier to catch a taxi; they'll always use a meter and you should expect to pay about €8, plus a €0.50 surcharge per suitcase. Otherwise you can catch one of the small shuttle buses (C30 and C32) which ply the route from the city centre to the Alhambra which costs €1.40 per person.
In keeping with the upmarket feel of the hotel, the taxi will drop you off at a sweeping entrance from where you'll find a modern and welcoming reception area.
Check-in is easy and efficient, all very friendly and professional. Try to complete the online check-in process before you arrive as this will speed things up (you will be emailed prior to your visit), otherwise you'll have a slightly longer wait as your passport is scanned and credit card swiped.
Our family room at Porcel Alixares
We had a family suite at the Porcel Alixares which wasn't quite as large or comfortable as we'd expected from the pictures online.
For our family of four (two adults and two kids aged 10 and 8) we were given three single beds and one single sofa bed. The bedding arrangements worked, but made the room feel slightly cramped and we unfortunately didn't have a view from the window, a pity as knew the Alhambra and Sierra Nevada mountain range was tantalisingly close by.
The WIFI was very slow and only just within range, which was a shame for such a modern hotel but the room did come with a safe, fridge, AC and ensuite bathroom.
Overall, the suite was a pleasant but perhaps not quite in keeping with the rest of the hotel, which had lots of lovely features like ceramics, paintings, tiling and mosaics scattered around the common areas. In contrast, the room felt a little practical and generic.
Rooftop pools and terrace
In the high season (unfortunately just after we arrived), there's a good sized swimming pool on the fourth floor with views over the surrounding countryside.
On the floor below there's a sun terrace and seating area which, whilst open during our visit, would come into its own in the warmer months. It's a good place to bring a drink and board game at sunset.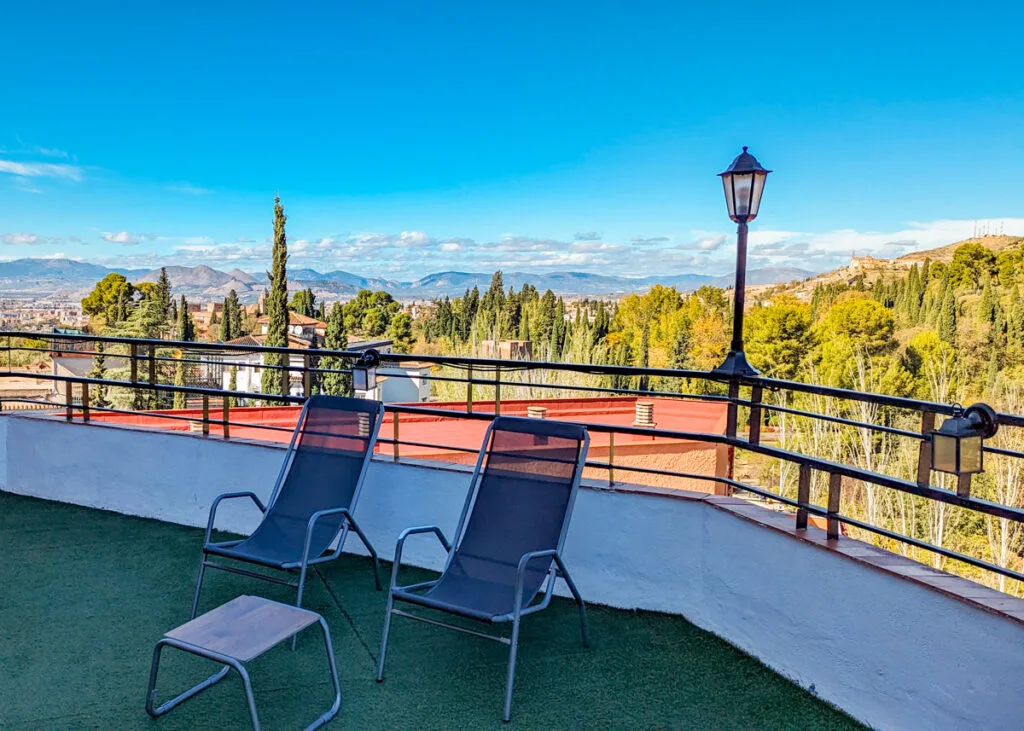 What we loved about Porcel Alixares
This hotel is all about the location, literally across the road from the Alhambra and a few steps away from the main entrance.
After a long day sightseeing, the easy walk back to the hotel is a welcome bonus and it also makes getting to and from the Alhambra easier, especially during peak season when buses are busier and the approach roads crowded.
The communal areas of the hotel are beautiful, the detail of the tiling and mosaics throughout are stylish and really compliment your visit to Granada.
In the peak season, the pool and roof terrace will be popular with you and the kids as the temperatures can really ramp up in July and August.
What we didn't love
Whilst it's great that you're so close to the Alhambra, it does means you're a decent walk away from the centre of Granada and all its restaurants, museums and other sights. It's a manageable 25 minute walk downhill into the city (although the constant gradient will give your knees a workout), but you'll probably need to catch a bus or taxi on the return leg which is steeply back uphill.
The taxis and buses are cheap and reliable (usually around €8) but you might consider staying in the city centre and just travel up to the Alhambra on the day of your visit.
There aren't really any supermarkets or restaurants up here, so you're limited in where you can eat and drink. The bar and restaurant in the hotel looked inviting, but as always, prices were higher than in the city centre.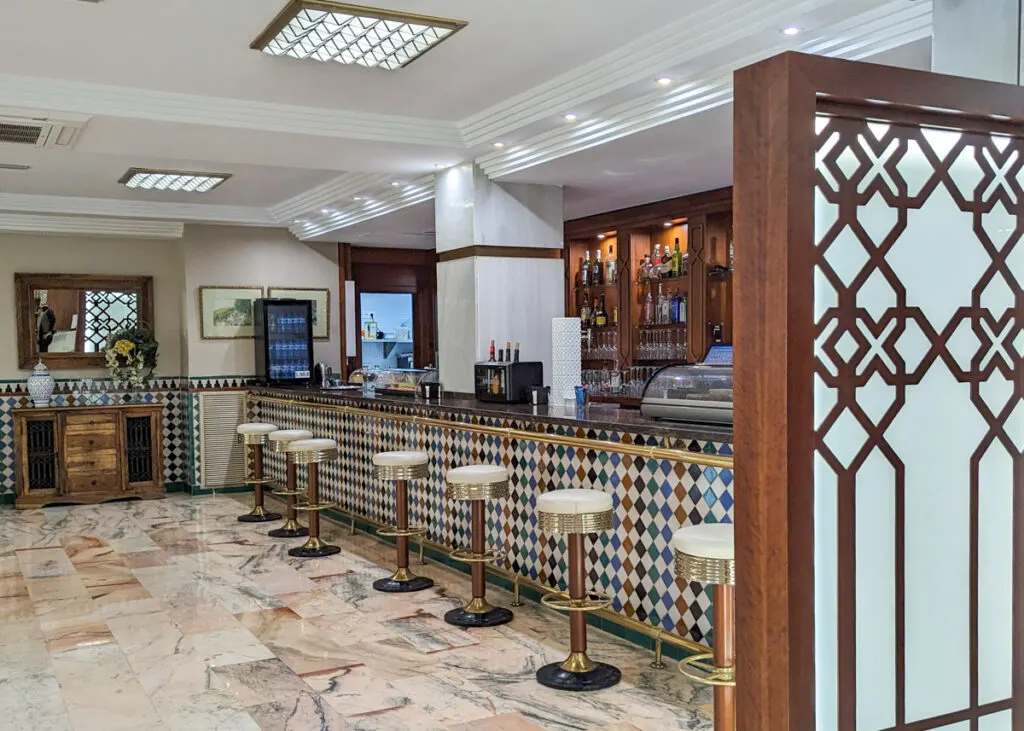 Final thoughts on Porcel Alixares
We were only in Granada for a couple of days, as part of our Andalucía itinerary, so the hotel's location next to the Alhambra worked well for us, combined with several taxi rides in and out of the city centre to visit museums and restaurants.
We paid €175.50 for two nights in the family suite (without breakfast) which was quite a good deal for Granada.
Click here to check rates and availability for Porcel Alixares Hotel Granada
The hotel is a lot more expensive though in the peak season, reflecting its location next to the Alhambra. It seemed to be popular with tour groups which could be an issue in peak season. You'll get access to the pool at that time of year though, which makes the extra cost worthwhile if you're travelling with young kids.
We loved how the hotel was decorated and we genuinely felt it complimented our visit to the region, hopefully we get to try out the swimming pool next time! Indeed, there may be a couple of negatives to our Porcel Alixares Hotel Granada review, but we'd definitely visit again.
---
You may also like to read:
Andalucía with kids: a 6 day itinerary in Southern Spain
MADRID WITH KIDS: things to do, itinerary, and top tips
Granada with kids: things to do and top tips