With an seemingly endless coastline of powder-soft sand and turquoise waters, Mozambique has perhaps the best beaches in the world, yet is off the radar for so many travellers largely due to stories of corrupt police and terrible roads. Whilst the latter may be true, we had no problems with the police whatsoever and found them to be much more agreeable to their counterparts further north in Malawi and Tanzania.
Disclaimer: We completely funded our own travels in Mozambique and these are all my own opinions and words. Travel advice provided in this post is correct at time of writing (August, 2018).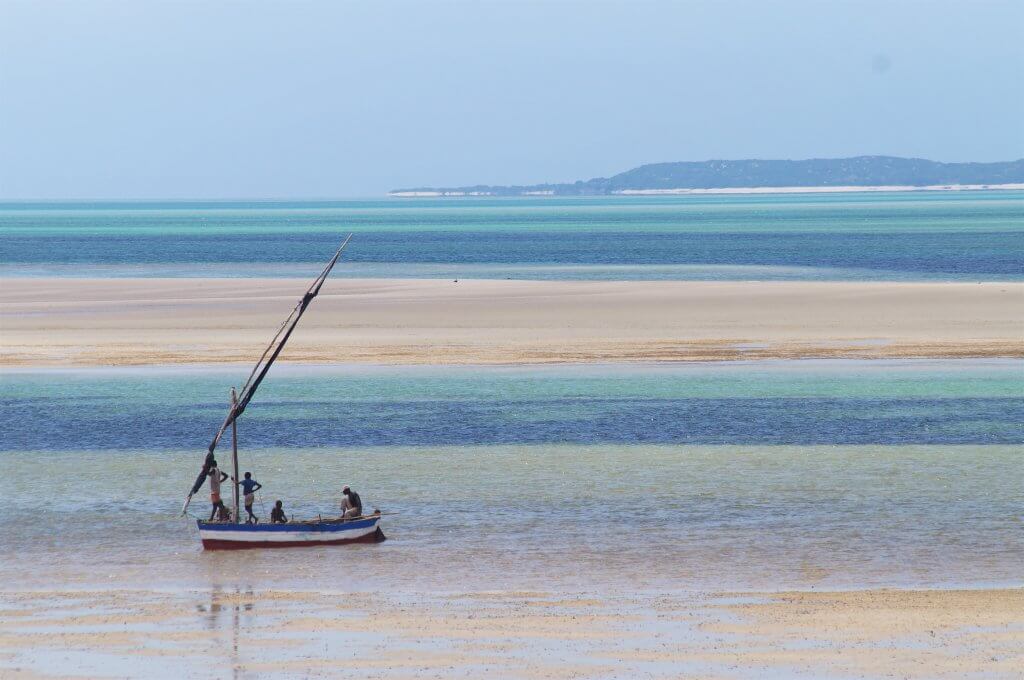 Fantastic beaches means that kids will (hopefully) be happy, and with well-equipped campsites for the budget travellers thrown in for good measure, Mozambique is a wonderful destination for intrepid families. There's also the fascinating Portuguese history to explore and the wonderfully friendly locals to meet. If you are driving in from South Africa, you may want to read Crossing the border into Mozambique. I also have our Mozambique itinerary with kids, which outlines our route and the campsites we stayed.
Here are our tips for travelling Mozambique with kids. This is aimed at families who are overlanding, rather than staying in the one place.
For all your questions answered about our overland travels through sub-Saharan Africa in a Land Rover, check out our post… READ – Africa with kids FAQ: all you need to about our overlanding family adventures
You may also want to check out our ULTIMATE Africa packing list for overlanding Africa with kids.
Pick your beach wisely
For little ones, a clean sandy beach, safe water to play in and the right vibe is important, and like any country, Mozambique beaches are a mixed bag. Many tourists flock to Vilanculo, which has a small airport and is very popular with South Africans. There are some small resorts here and tourism is booming. However, we found the beach to be unsuitable for young kids; there is a very large tidal difference and when the tide is out, expansive mudflats are exposed, and when the tide is in, mounds of seaweed cover the sand.
Tofo beach is also another popular spot. Here the beach is clean and beautiful, but there were no suitable campsites for overlanders at our time of visit. There are, however, a few backpacker options with a party vibe.
Our favourite was Barra Beach, just north of Tofo (we stayed at Paraiso Da Barra), which boasts a sandy stretch fringed with swaying palm trees and waves crashing in from the Indian Ocean. Tourism is just starting to develop in the area and the beach was very quiet at our time of visit (April). A paved road runs from the main road and there are a few local shops to buy the essentials of fruit and drinks. Another favourite spot of ours was Praia Do Bileni (we stayed at Complexo Palmeira)
There are also dozens of remote beaches where you will find your own personal slice of paradise. However, the majority of these beaches require advanced 4WD skills to get to, and you may feel they are a bit too remote for little ones.
Make time for the history
There's more to Mozambique than just the beaches. The country is rich in history. There are small pockets of colourful crumbling buildings, which hark back to the Portuguese colonial rule. We particularly enjoyed the old quarter of Inhambane on our way to Barra Beach.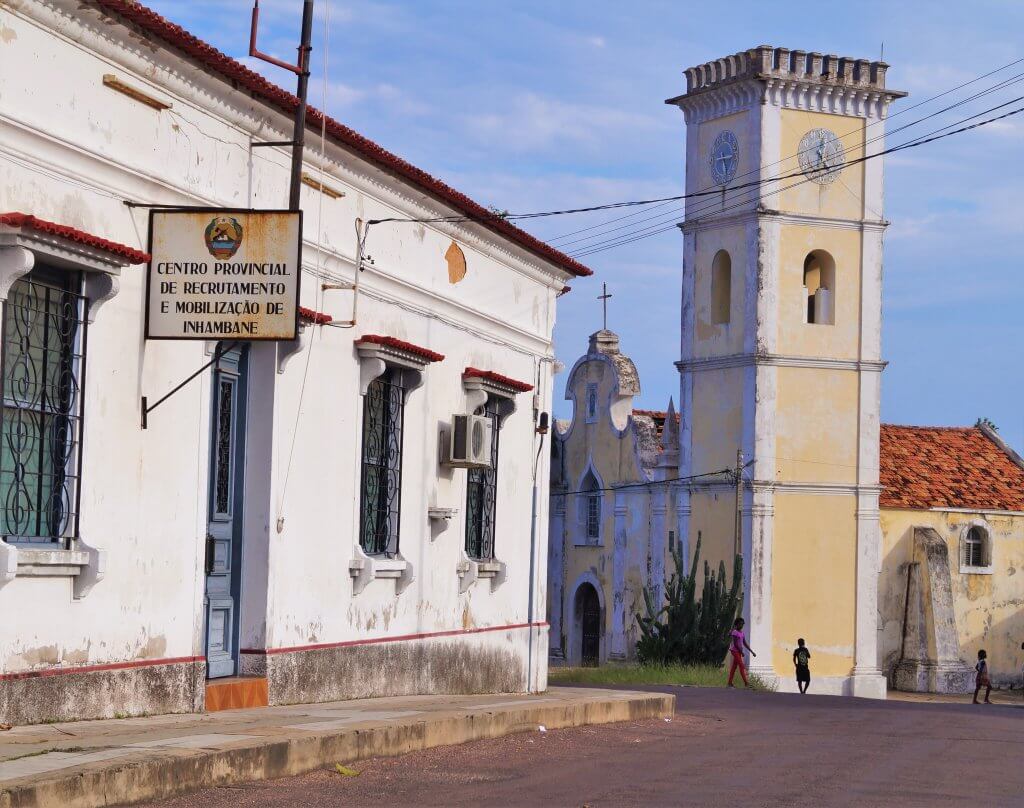 Prepare for big distances
Driving between destinations can be hours of not a lot; just the odd dusty, nondescript town dotted along miles upon miles of potholed roads. Stock up on fuel and snacks whenever you get the chance (shops and petrol stations can be few and far between) and ensure the kids' tablets are fully charged.
Ideally you need a 4WD as once off the main roads (which are often potholed, especially further north), tracks are sandy.
Have a Plan B (and C)
Travel throughout Mozambique can be slow and unpredictable; pot-holes, roads washed out, police checks. Always get an early start to a driving day and ensure you have a plan B for where you'll stay that night, just in case you don't have enough time to reach your designated destination.
Nevertheless, it is almost impossible to get lost in Mozambique as there are so few main roads and very few junctions. We recommend you sign up to the Drive Moz Facebook Group for up to date information on road conditions throughout the country.
Pack a travel potty
Public toilets on the road are extremely rare and when your little darlings have to go, they need to go! The roads in Mozambique are incredibly quiet, so just pull over with the travel potty and it's highly unlikely you will see anyone else.
Leave the buggy at home
A buggy/pushchair is impracticable for Mozambique. Consider using a sling for younger kids if needed. Our youngest was 2 at the time and we didn't take either; we rarely walked any long distances in Mozambique as there was so much beach time.
Purchasing milk and nappies
UHT milk and nappies can be bought from supermarkets in main towns. If using disposable nappies, be weary that there is no efficient waste management system in Mozambqiue to dispose of them.
Stock up on mossie repellant
The main downside we found in Mozambique were the mosquitoes. They are fast and viscous! Stock up on good mossie repellent (with deet), sleep under mossie nets, and cover up in the evenings with long trousers, sleeves and shoes.
Furthermore, the whole of Mozambique is in the malaria zone, so it's advisable for all the family take antimalarias.
Pack a good medical kit
Decent medical facilities away from major towns are scarce. As with all travel in Sub-Saharan Africa, ensure you have a good family medical kit (including malarial test kit, tick remover and sterile kit) and consider brushing up your first aid knowledge with a course before departure.
Brush up on your Portuguese
Mozambqiue was once a Portuguese colony and therefore Portuguese is the main language. English is not widely spoken, so it is advisable to learn some simple Portuguese phrases.
Consider visiting the Kruger
Yes, I know the Kruger is in South Africa, but it's one of the world's best safari destinations and it borders Mozambique. In fact the southern gate of Kruger (Crocodile Bridge) is just a two hour drive from Maputo (although this timing does not take into account the Komatipoort border crossing).
Gorongosa National Park is Mozambique's premier wildlife viewing destinations. However, due to recent poaching, the elephants in the park are rather agressive and self driving is not currently an option. At the time of writing, guided safari drives were possible, but if children are under the age of 1o they must be in a closed vehicle.
The Kruger, however, allow for self-drive safaris on paved roads, is game rich (particularly in the South) and some of the rest camps even have swimming pools (perfect for little ones after a long morning's game drive). Read: Tips for a safari with kids under the age of 5
Have you travelled Mozambique with kids? I'd love to hear your tales and tips!
Useful Travel Info:
Best time to visit: May-Nov (cooler, drier weather), although we visited in April.
How to get there: You can fly directly into Maputo. Many travellers enter overland from South Africa from the Komatipoort border.
Currency: Metical (as of August 2018 – £1=MZN75, US$1=MZN57)
ATMs: Only available in main towns. Credit cards rarely used. Have USD in case ATMs not working.
Visas: Cost USD50 and last for 30 days. Visas are available at borders, although it is advisable to arrange before your visit. Visas are required by all visitors except citizens of South Africa, Swaziland, Zambia, Tanzania, Botswana, Malawi, Mauritius and Zimbabwe.
Language: Portuguese is the official language, although many different African languages are spoken (Tsonga, Sena Nyanja, Makonde and Macau)
Time: GMT+2
Government travel advice: www.gov.uk/foreign-travel-advice/mozambique
---
Where would we be without our trusted Lonely Planet? The Zambia, Mozambique, Malawi combined Lonely Planet guide was invaluable to our overland travels.
Alternatively, if you are only focusing on Mozambique, you may probably prefer this Bradt guide.
You may also like to read:
Travelling Africa with kids: our top 10 highlights
Mozambique itinerary with kids
Crossing the border into Mozambique