Take a quick glance at a map and an overland Zambia itinerary may seem like a daunting prospect. Not only is the country itself immense but, once you factor in the huge distances between the main sights, it can seem like too much too cover. Add in the high-cost of accommodation and the clear bias towards uber-luxury travel, you'd be forgiven for wondering if budget family travel is even possible. But the sheer majesty of Victoria Falls, spotting hundreds of hippos in the Zambezi, and soothing hot springs hidden deep in the bush, more than made up for those long distances and these family travel highlights certainly didn't break the bank.
This overland Zambia itinerary continues our African overland adventures in a Land Rover Defender and our two boys. We started in South Africa, and have so far ventured through Mozambique, Malawi and Tanzania. Hence this fortnight itinerary starting from day 65.
You may also want to check out our ULTIMATE Africa packing list for overlanding Africa with kids.
Day 65: The Tanzania/Zambia border
It's a long wait at the Zambia border whilst you get all your various documents stamped and in order. Getting the visa and passport stamped is relatively straightforward. The drawn out process is the car and the various taxes that need to be paid. It took us 3.5 hours to get through. Kings Highway Rest House, Kalungu, is just an hour from the border. Although be warned that the road is riddled with potholes and very narrow.
Day 66: Kapishya Hot Springs
More potholes await and it's a squeeze getting past the oncoming trucks, but it's a lovely drive through villages and locals eagerly wave as you pass by on your way to Kapisha Hot Springs.
Whilst the welcome at the lodge might not be the warmest, the soothing warm waters of the hot springs will wash away any frustrations from the border (and it's not too hot for little ones). There is also a swimming pool on site (although ask permission from the owner before using if camping) and you can purchase succulent Cumberland sausages to cook for dinner. Camping is USD15 per adult and USD8 for children between 3 and 12.
Kids will love meeting the farmyard animals on site, or you may wish to visit the very grand Shiwa House (tours are by strict appointment and USD20pp). It all feels rather Downton Abbey in the deep Zambian bush!
Day 67-69: Drive to Lusaka
It's a bit of a slog to Lusaka, passing the odd nondescript dusty town, with the road running alongside the railway line that runs between Tanzania and Zambia. We broke up the journey at Forest Inn, just past Mkushi, which has good camping facilities.
Day 70-71: Lusaka
After two months in the African bush, the big city development of Lusaka was quite a culture shock; dual carriageways, glitzy malls, fast food restaurants and a smattering of skyscrapers await. Head to the Manda Hill Shopping Mall, the biggest in Lusaka, to stock up on meats, cheese and wine from Shoprite (a treat if you've been on the road a while). There are also lots of restaurants, a cinema, and even soft play at Funky Frogs.
We camped at Pioneer Lodge & Camp. It's just on the outskirts of Lusaka, but the dirt track leads to their gate takes you out of the city and back into the African bush. There is a (very cold) pool, (wonderfully warm) showers, and flat grassy pitches with braii and fire pit.
Day 72-73: Lower Zambezi
The Zambezi river is home to hundreds of hippos and you are pretty much guaranteed to see them on a boat trip. We stayed at the very welcoming Gwabi River Lodge which has sunset-perfect views over the River Kafue (the River Zambezi is just a few kilometres away), a swimming pool, and the campsite has hot showers, fire pits and a braiis. A half day boat trip costs USD130 (including fuel). You may also see crocodiles and elephants. To get there from Lusaka, don't take the dirt track suggested by Google Maps, instead take the seemingly longer route via Kafue along a perfect tarmac road.
Read: Tips for a safari with kids under the age of 5
Day 74: Lake Kariba
Lake Kariba is the largest artificial lake in the world. We stayed at the rather tired Eagles Rest Resort, Siavonga, which has a small rusty playground with some toys. Just across the lake you can see the mountains of Zimbabwe. Do be wary of hippos and crocodiles. We spotted a few crocodiles swimming around the campsite! Needless to say, we didn't stay around the campfire after nightfall and retreated to our rooftop tents on our Land Rover.
Day 75-79: Livingstone
Nothing quite prepares you for the sheer thundering immensity of Victoria Falls. And it's not like you don't get any warning; the spray is visible for miles around and the sound is the first thing you hear in the morning. But it's not until you reach the first viewpoint that the true spectacle really hits you – literally. We got soaking wet as bucketloads of spray poured over us! We visited at the end of May, right at the end of the wet season with the falls at full volume.
We broke up the long journey to Livingstone at The Moorings, and tried a few campsites once in Livingstone. Unfortunately the camping options are rather uninspiring in and around the town. There is such a focus on high end tourism, that it seems the independent budget traveller is forgotten, or rather ignored (there are a couple of buzzing backpackers in town, although they do not cater for campers). So we were very grateful to be invited to stay a couple of nights at Victoria Falls Waterfront (read our review here).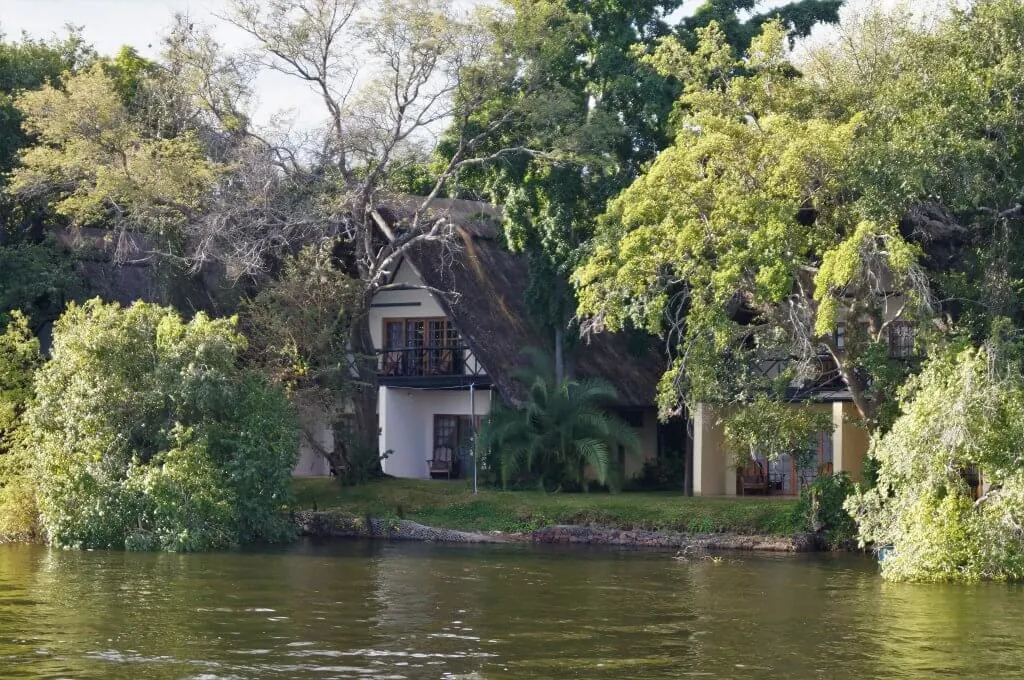 Aside from visiting Victoria Falls (an absolute must do and highlight of anyone's Africa travels), the town of Livingstone offers a myriad of activities to squeeze out every last tourist dollar (white-water rafting, sunset boat cruises, helicopter flights, bungee-jumping). The budget-conscious traveller therefore needs to be selective. We were happy enough to spend a good few hours exploring the trails around Victoria Falls, followed by drinks and ice-cream at the Sun Deck of the lavish Royal Livingstone. Our boys were absolutely wowed by the zebras walking around the car park! We also recommend a visit to The Livingstone Museum (USD5 per aadult). Don't even bother visiting the over-priced Railway Museum though. We were also treated to an evening sunset cruise along the Zambezi through The Livingstone Waterfront.
Livingstone is also a good base to get things sorted for onward travels with banks, well-stocked supermarkets and even a Land Rover specialist garage (Foleys Africa), which we used for servicing our Defender.
Day 80-81: To the Namibian border
It's the old game of dodging pot-holes towards the Namibian border. Allow at least 5 hours from Livingstone to Sesheke. We stayed overnight at Brendas Best Baobab; a picturesque spot on the banks of the Zambezi with beautifully manicured gardens, although overlanders camp in the carpark. It's then a short 5 minute drive the following morning to the border.
---
You may also like to read:
Mozambique itinerary with kids
Malawi itinerary with kids
Tanzania itinerary with kids
For more posts on Africa, head to our AFRICA page.