As we approached the gates to Southern Sands Eco Lodge, a giraffe ambled through the bush, reminding us this wasn't a regular play date. I first met Joanne over a year ago when I taught her eldest son swimming back in the UK. We shared a spirit for adventure as, at the time, they were planning a move to South Africa to set up family friendly accommodation near Hoedspruit, whilst we were moving to Bangalore, India. However, little did I realise that our paths would cross a year later with an opportunity to take their Landrover Defender across Southern Africa.
Disclaimer: TraveLynn Family were offered a three night complimentary stay at Southern Sands Eco Lodge. However, these are all my own thoughts and words.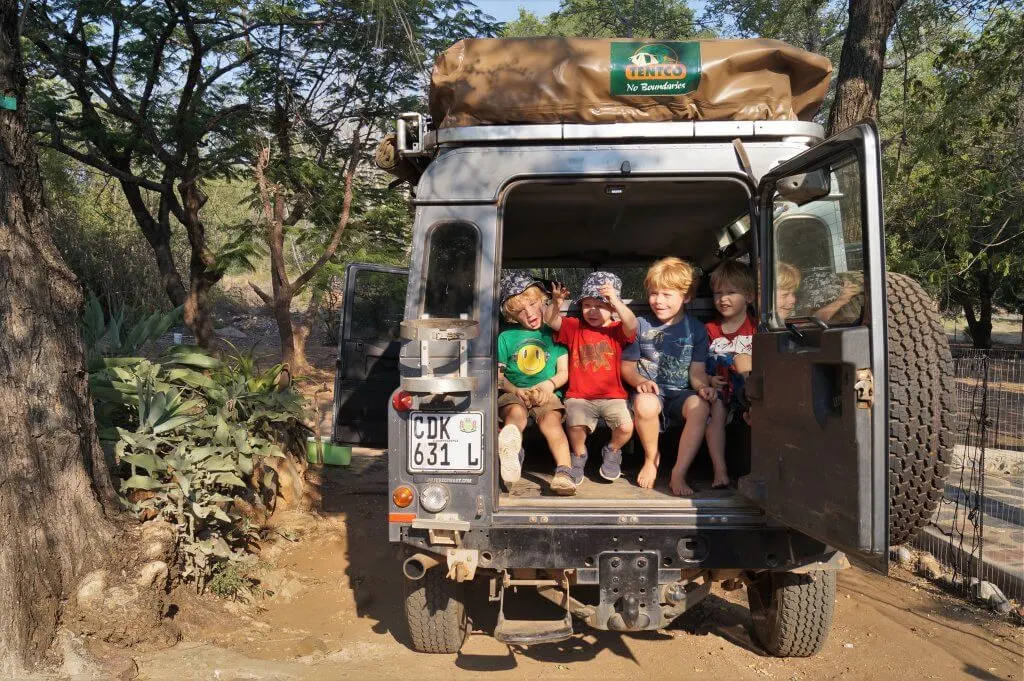 The family behind Southern Sands Eco Lodge
Rick and Jo are one hell of an inspirational unit. Dad was a civil engineer and Mum a Science teacher. With their 2 young boys and 2 dogs, they sold up their comfortable lives in the UK to set up an eco lodge deep in the South African bush. Through hard work and determination, they've overcome visa problems, disloyal builders, numerous delays, the loss of their beloved family dog, scorpions in their home and spitting cobras. But all these obstacles have only served to bond the family tighter and spurred them on to create something quite incredible.
You can follow their adventures on Facebook and Instagram.
The Eco Lodge
Southern Sands Eco Lodge is only 45 minutes from cosmopolitan Hoedspruit (with playgrounds aplenty) and just over an hour to the gates of Kruger National Park. Yet, sat on the banks of the Oliphants River, it feels a million miles away from anywhere; with the call of hyenas in the distant hills warning visitors that you are not quite alone.
With just two glamping safari tents, this is the place to step away from the tourist trail and breathe. Each tent comes with a large bed, ensuite (including bush shower under the stars) and large braii (cooking) area. The tents are spacious enough to fit two campbeds for children and all beds come equipped with mosquito nets. I recommend keeping the front canvas of the tent open (with the netting shut), so you can watch the colours of the bush change as the sun rises in the morning.
But what makes this place extra special, is the family friendly vibe. Kids will love cooling off in the pool at the lappa, and there are loads of toys to play with. Then right outside the gates, you can take a short game drive to meet the local residents and even get out of the car (which is forbidden at the majority of parks in South Africa).
What to take with you
Meals are available on request. Ensure you book them in at least 24 hours in advance. However, with a large braii area for cooking, we suggest stocking up with food and drink in Hoedspruit and cooking for yourselves.
Ensure you take swim gear for use in the pool. Mosquito repellent is a must after 4pm and ensure the children wear covered shoes in the evening.
As with all remote travel throughout sub-Saharan Africa, pack a good medical kit for all the family.
How to book
You can book through their Facebook page.
Kids Love Travel also has some alternative child-friendly hotels in South Africa.
Where to next
For us, Southern Sands Eco Lodge was the start of our overland African adventures and our few days were busily spent prepping the Landrover Defender; our home for the next few months. Next stop was Kruger and Richard escorted us into the park to act as our guide for the first morning. Richard and Joanne have a fantastic knowledge of the Kruger and it's worth picking their brains for tips before venturing there.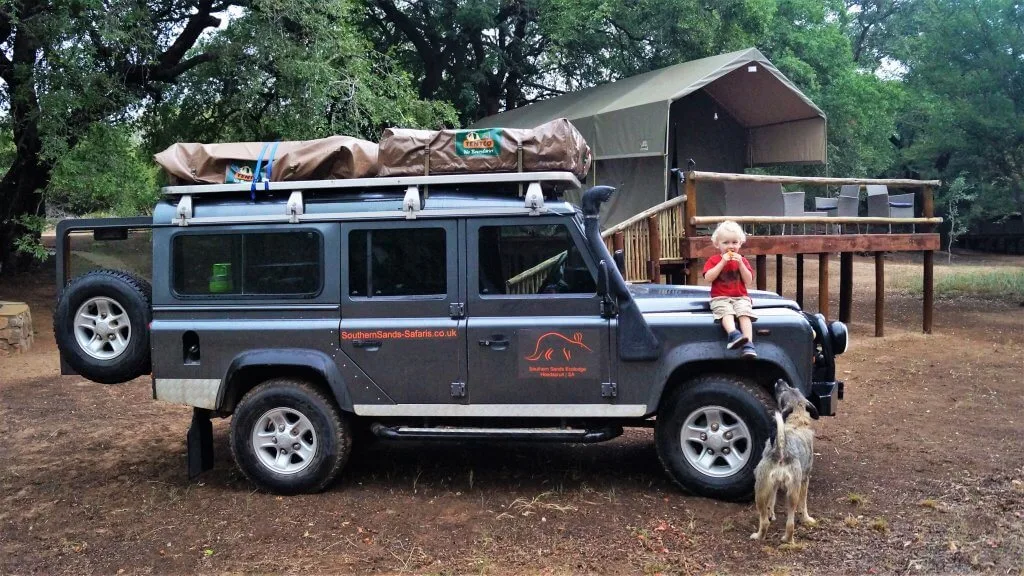 ---
For all your questions answered about our overland travels through sub-Saharan Africa in a Land Rover, check out our post… READ – Africa with kids FAQ: all you need to about our overlanding family adventures
You may also like to read:
We're off to Africa!
Medical kit list for families travelling Africa
Why we swear by Essaouira with kids