Sharing our itinerary, budget and tips for travelling Southeast Asia with kids
In 2023, we spent ten weeks backpacking Southeast Asia, focusing on Thailand, Cambodia, Malaysia (including Borneo) and Singapore. The boys (aged 8 and 9) were deregistered from primary school, Dad (Jay) took unpaid parental leave, and I worked remotely (I work as a travel blogger and can be flexible with my time).
Here I share our itinerary, accommodation details, budget, activities and tips. Accommodation costs at the time of visit are also provided where possible, but please note that prices change from year to year.
Check out our Southeast Asia packing list for families
10 weeks may seem like a long time, but it's still not enough to travel all of Southeast Asia with kids. We're not ones to rush around ticking off sites, and would rather slowly immerse ourselves in the day to day and connect with local cultures. So Vietnam, Laos, Philippines, Indonesia, Myanmar, East Timor, and Brunei, are not covered in this trip, and all very good reasons to return to the region at a later date. Although we do have a separate south Vietnam itinerary if you're interested in venturing there with the kids.
Disclaimer: This post contains affiliate links. If you click to purchase, it is at no additional cost to you, and I receive a small commission.
Why travel Southeast Asia with kids?
We're constantly thinking about the best places to travel with our kids, taking into account such things as safety, cost, enjoyment, ease of travel, internet access, activities, food; the list is almost endless.
When we run through a list of potential destinations around the world, Southeast Asia consistently ticks the most boxes and is a place we keep returning back to. The people are genuine and friendly, travel feels safe and easy to organise online, it's relatively cheap compared to most other destinations across the globe, and we find a good balance between traditional sights and activities (e.g. temples and museums) and more kid-friendly things like theme-parks and cinemas.
Is it Southeast Asia safe to travel with kids?
In our experience, it absolutely is.
However, nothing is ever 100% safe of course (including living in the UK). But we've never felt threatened or unsafe on our trips to Southeast Asia with kids. We often think that travelling with kids actually helps with this; people tend to be more open and friendly when they see children, and we perhaps shy away from more dangerous locations or situations we'd consider if we were travelling alone. As we've often said, we always feel safer than we do walking around a UK city on a Saturday evening.
Please do check with the relevant foreign travel advice pages of the GOV.UK website before visiting a country for up-to-date travel information.
When to travel Southeast Asia with kids
The monsoon season is often used as the template around which a Southeast Asia trip is planned but, increasingly, this is tricky rule to follow. Climate change is no doubt involved but the traditional weather patterns don't always seem to play out on the ground.
We've been to Thailand in the dry season, and had rain for seven straight days, and have been in Cambodia during the wet season and had weeks without any rain.
By all means, keep track of the seasons and don't book a destination if you feel the risk of rain will spoil your trip, but try to stay flexible. The wet season in Cambodia, for example, is across the northern hemisphere summer but that also coincides with the European school holidays. You'll find destinations quieter than usual, and hotels might be good deal cheaper. World-class tourist sites like Angkor Wat, which struggle under the weight of tourists around New Year, will be much quieter. And whilst rain is never ideal, it's a different rain to the UK and tends to pass over quite quickly, usually enough time to dive into a restaurant and watch the storm pass.
How to get around?
Try to avoid flights if possible, on top of the environmental impact, you're missing so much at ground level. Our favourite mode of transport is the train, especially and overnight sleeper train. Second is the bus, which are usually high quality in Southeast Asia, bookable online, with reclining seats. They cover the vast majority of towns and cities in any given country and give you freedom to explore.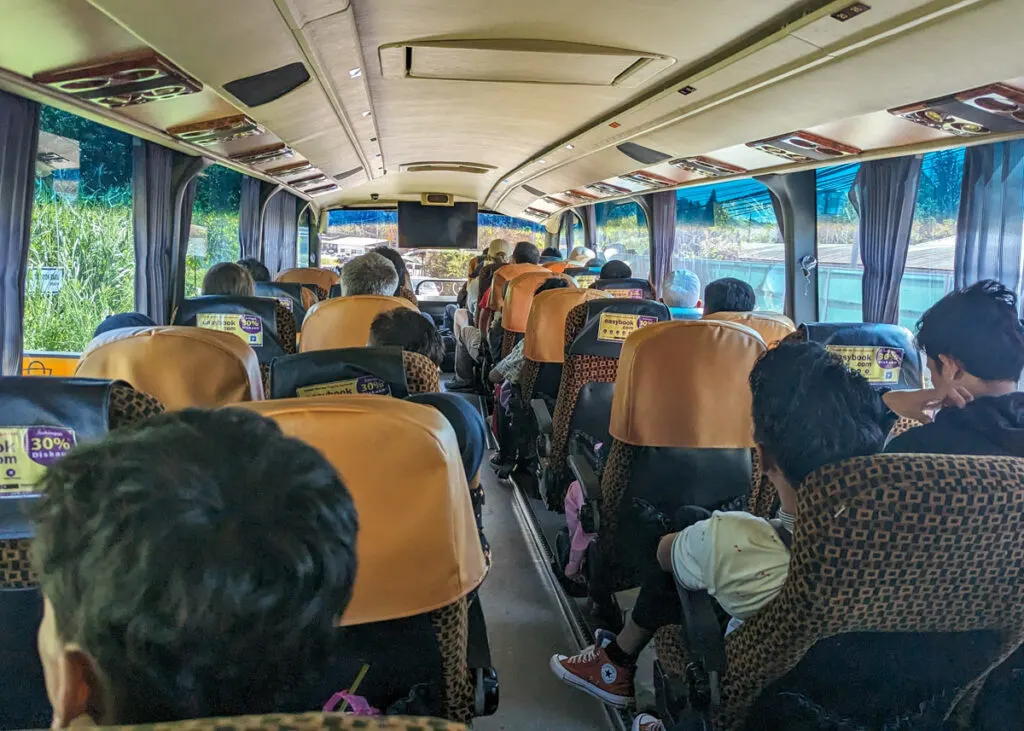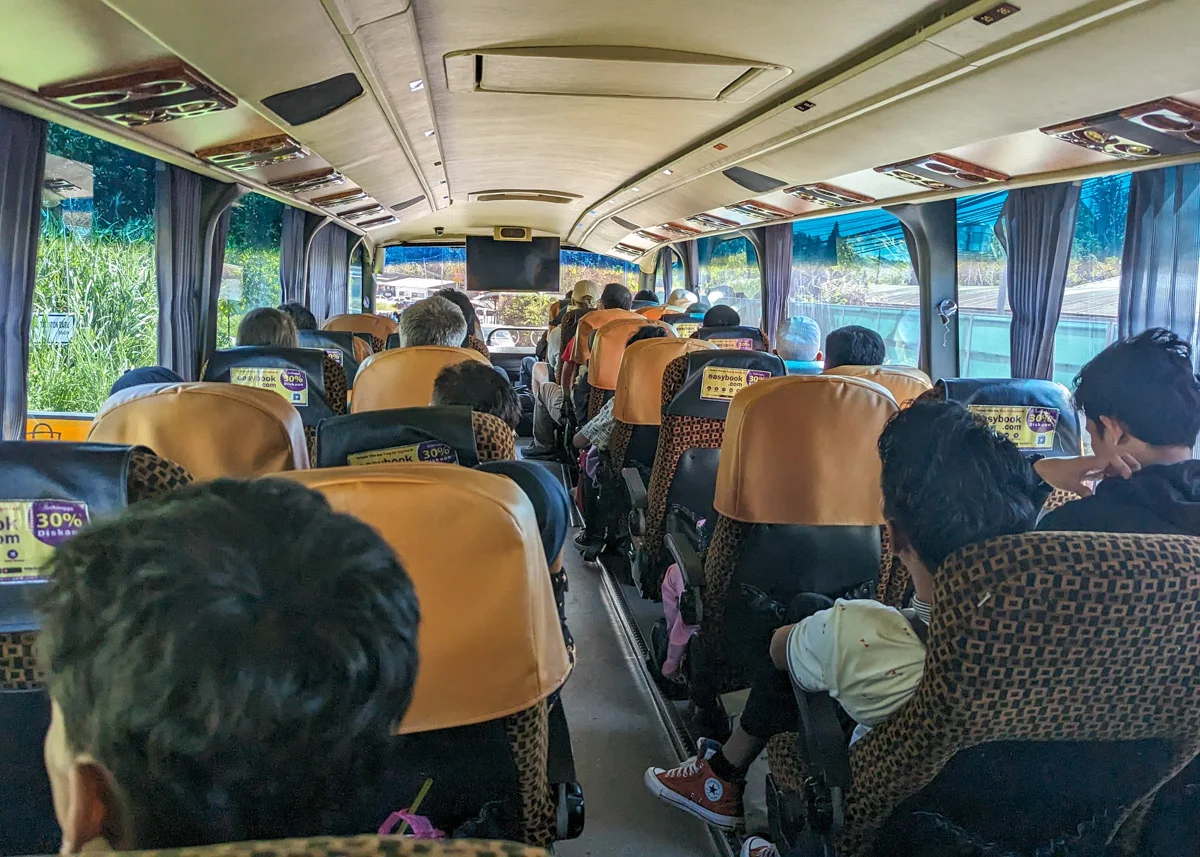 Around cities, we've fallen in love with ride-hailing apps like Grab. Gone are the days of flagging down a taxi, haggling for the fare and trying to explain where we needed to go. Cheap and easy to use, ride-hailing apps are the way to go, just make sure you have a local SIM (we use an eSIM) so you can register before first use.
What to pack?
Try to keep it light and simple to take advantage of the (usually) good weather. Check out our guide to packing light with kids.
Most days will be t-shirts and shorts/dresses; make sure you have something to cover you elbows and knees when visiting temples.
If you've forgotten anything, you can pick everything up at a local market or shop.
See our Southeast Asia packing guide for more information. Plus also check out our guide to kids travel backpacks (we recommend that kids carry their own backpack from a young age).
Our budget for travelling Southeast Asia with kids
Before we set off, our budget was £100 per day for the whole family (two adults and two children) including everything apart from return flights from the UK.
We felt it was quite a generous budget as this wasn't intended to be a hardcore trip; we wanted some comfort in accommodation, were keen to eat and drink nicely, and wanted to do some of the one-off experiences like visiting Orangutans in Sepilok and flying through the rainforest near Angkor Wat on a zip wire.
To keep track of our spending we used an app called Trabee. Almost without fail, we added every single item we bought, from a lollipop all the way up to a three day Kinabatangan River tour. It certainly helped to keep track of the budget and let us decide where and when we could add in a treat.
In total, we spent £7,626 over the course of 70 days, meaning we slightly went over our budget (£108.94 per day). As you can see from the screenshots below, it was interesting to see where the money went, with accommodation and food almost identical. This reflects the fact that the boys are growing up and eating a huge amount of food now(!), often eating adult portions and asking for fruit juices which were usually as expensive as beer!
Our route
This is the route we took around Southeast Asia over 10 weeks.
Our Southeast Asia travels took us through Thailand, Cambodia and Malaysia, including Borneo. On this blog, you can find individual family travel guides for each of these destinations:
Our 10 week itinerary for travelling Southeast Asia with kids
We left the UK in May 2023 having only booked accommodation for the first week of this trip. In fact, we cheated a little and following our Thailand with kids itinerary that we travelled on the boys' first trip to Thailand back in 2016, which took us from Bangkok through to Koh Chang.
We then pretty much made it up as we went along, booking accommodation mostly on booking.com. In Cambodia we were able to book accommodation just two or three days in advance. We love this level of flexibility, as it means we can stay longer in a place if we enjoy it, or move on if the fit isn't quite right.
However for Borneo, we had to book a good month in advance, and even then we we struggled with availability and dates. We were travelling Borneo in the high season (July and August) and many accommodations and tours are booked up months in advance by tour groups. Something to bear in mind if you plan on visiting Borneo with kids, especially Sandakan and Sepilok.
Day 1-3: Bangkok, Thailand
Accommodation: Lamphuhouse Bangkok
(£29 pn for a quadruple room with private bathroom, central and basic)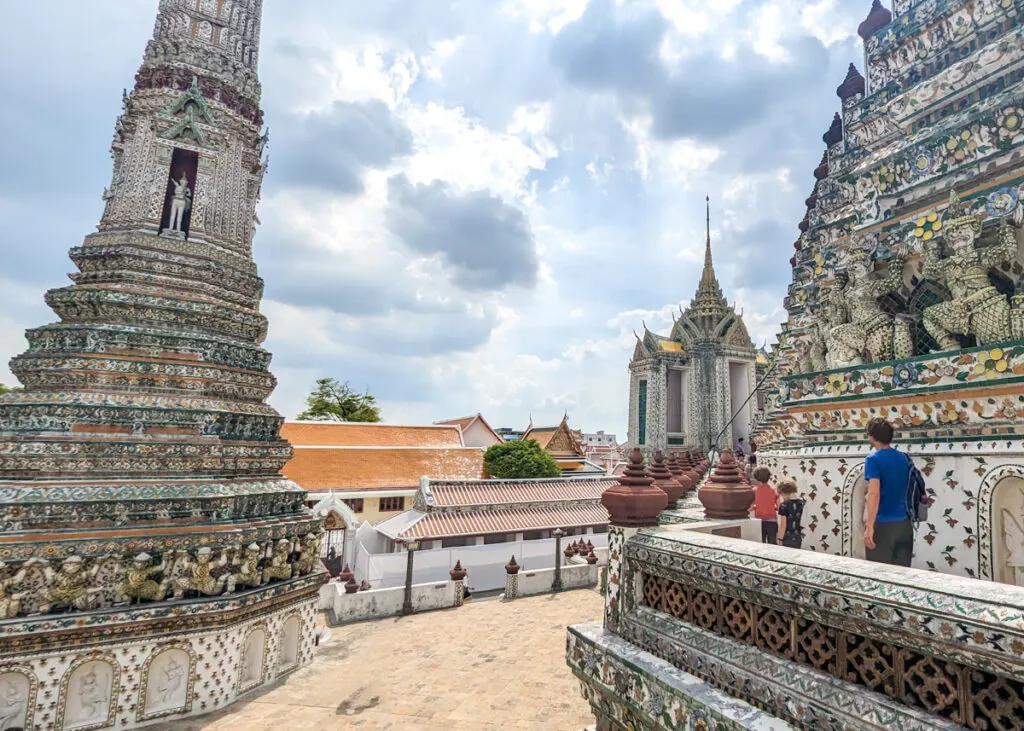 It felt so good to be back in this steamy and chaotic city of contradictions. It's a city that awakens the senses, overlooks health and safety to a laughable extent, and has everything (and I really do mean everything) available 24/7. We first brought the boys here in 2016 when Ez was 16 months and Arthur almost 3 (check out our Bangkok with toddlers guide).
We always base ourselves in Phra Nakhon around Khao San Road and Rambuttri area. Now this is the main backpacker/tourist area of Bangkok and it's not for everyone with its pumping music and cocktail jugs. But for us it's been the the start, mid and end point of so many previous adventures and it's been fascinating watching it develop since our first visit in 2005 when a now-Burger King was an old gas station with plastic chairs and tables for a makeshift bar, to the cannabis bars that have now popped up after the relaxation of Thai drug laws. It certainly lacks the optimistic rustic charm that it once had, but being a honeypot for travellers from all over the world makes it a fascinating place for us and stirs happy memories of past adventures.
There are so many places to visit in Bangkok with kids, from temples and night markets to indoor play centres and shopping malls. It can perhaps feel overwhelming, but our advice is to just pick a few things (a contrast between cultural and fun for the kids works well) to get a taster. Keep in mind that the traffic can be horrendous in Bangkok, especially after 4pm, and it can take hours to get between A and B.
We only had two full days in Bangkok. On the first day we chose to take the local ferry along the river (THB16 per person) to Wat Arun (THB100 per adult, kids free) to explore the temples and receive a blessing from a monk, before continuing along the river to take the metro to Siam Paragon for Ez to spend his birthday money at the LEGO store. The evening was spent around Khao San and Rambuttri eating our body weight in noodles.
For day 2 in Bangkok we needed to find a way to cool down from the intense heat. A quick Google Map search revealed a waterpark on a shopping mall rooftop – Pororo Aqua Park Bangkok! This waterpark is a little tired in places, but brilliant fun! Being on a rooftop, it's not too big, but there are four big slides, a lazy river, and a toddler splash area, as well as other swimming pools. Plus the view is pretty special! Entry is 400THB (£9.30) per person (over 120cm) and a 30 minute taxi from downtown Bangkok (expect to pay around THB350 with all the tolls).
For the evening we went straight over to China Town for dinner. It was quite a mission to get there as no taxi would take us from the waterpark due to the traffic. Instead we managed to get a taxi to a metro station and take two different lines to get there. A tuk-tuk blaring explicit lyrics from its speakers careered us around the traffic back to our hotel.
Day 4 -5: Chanthaburi
READ: Chanthaburi with kids
Accommodation: Kasemsarn Hotel
(We had to get two separate rooms as there are no family rooms in Chanthaburi in our budget. This hotel was £20 per room per night. Clean, lovely staff, good location)
The first leg of our Southeast Asia travels follows our Thailand with kids itinerary that we did back in 2016 as the plan was to travel overland to Cambodia. Chanthaburi is a lovely river town that breaks up the journey from Bangkok to Koh Chang and it's a special place to me as it's where I decided to start this blog!
Unfortunately, due to a broken down bus, it took us almost a full day to do the 4 hour journey. We took a metred taxi from Rambuttri to Ekkamai Bus Terminal (THB280) and caught the 11:30 bus to Chanthaburi (THB180 per adult, THB150 per child). Around 1pm we pulled into a service stop for a comfort break only to find out that we needed to wait 2 hours for the next bus as ours had broken down. We eventually pulled into Chanthaburi around 5:30pm. For reference, a taxi from Bangkok to Chanthaburi costs around THB1800.
Chanthaburi is well known for its weekend gem markets, but we love it as a place just to wander around the old town, along the river, and to check out the Cathedral of Immaculate Conception (Thailand's largest church) and Wat Bot Muang temple. There a some lovely restaurants overlooking the river for dinner.
Whilst in Chanthaburi, and absolute must-do is to hire a songthaew (THB600 return) to Namtok Phlio National Park. The National Park entry fee is THB200 per adult, THB100 per child. It's an easy-going, paved 500 metre walk to the waterfall. There is a waymarked 1.5km footpath through the jungle, but in the extreme heat, we weren't really up to walking uphill through the jungle and took the easy route. You can actually swim in the pool at the waterfall, but be prepared to join some pretty huge and friendly fish.
Day 6-10: Koh Chang
READ: Koh Chang with kids
Accommodation: Siam Bay Resort
(£53 per night in a family seaview beach hut)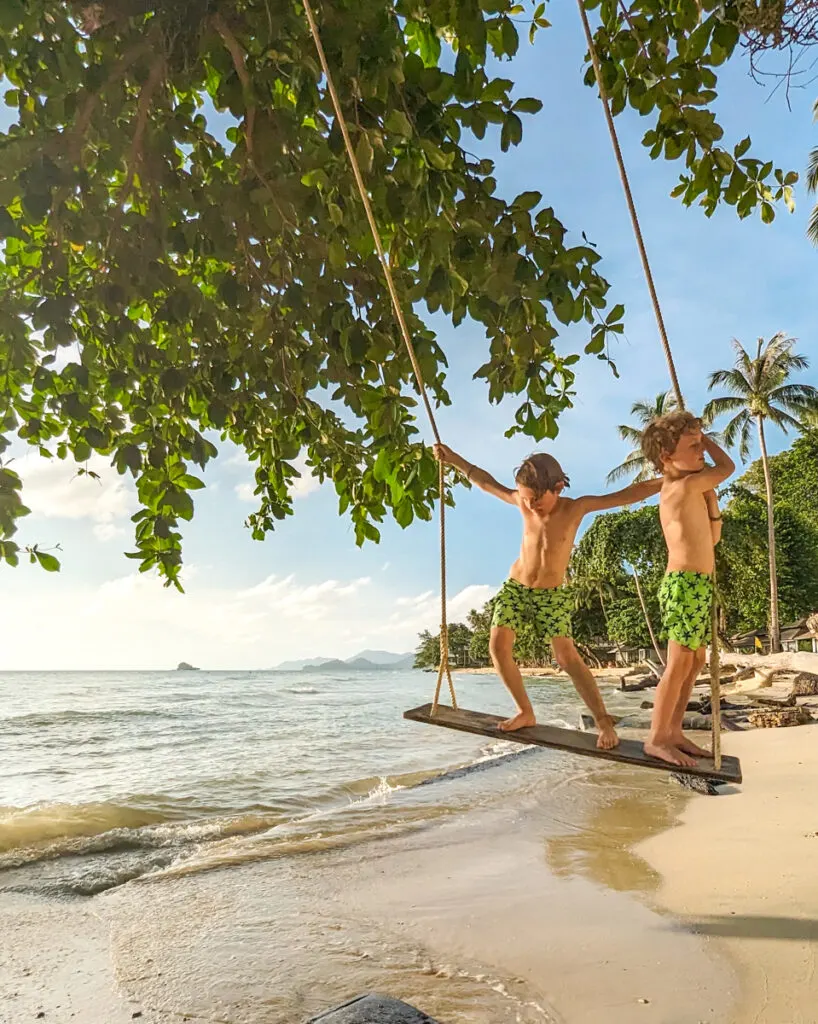 To get to Koh Chang we took a private transfer direct from the hotel to the Koh Chang ferry terminal (THB1300). The ferry crossing is about 30 minutes (THB80 per adult, THB50 per child) and then a songthaew (THB800) drove us the 40 minutes to our accommodation.
We were so looking forward to some relaxing beach time as both Ez and I had experienced dodgy tummies over the past few days. So when we arrived at Siam Bay Resort to then be led to a room away from the beach and overlooking a carpark, we couldn't have been more disappointed. This is not at all what we had booked online. So I had a chat with reception and they moved us to a sea-view family beach hut. Much better. It's always worth chatting with reception if things don't feel right!
Click here for our review of Siam Bay Resort. It was a lovely place to spend a relaxing few days; chilling on the beach and playing in the pools (there are two). It's in quite a secluded spot with no other restaurants or shops nearby, but you can take a 5 minute ride in a songthaew to the nearby collection of restaurants / bars / massage parlours / shops or to Lonely Beach (THB200).
There's more to Koh Chang than the beaches, and it's worthwhile organising a songthaew for the day to take you to Than Mayom Waterfall (which you can swim in) and to explore the mangroves in the southeast of the island via the walkway and a traditional boat trip. We paid THB1500 for a songthaew for the day.
You can also organise snorkelling trips to other islands. However, as our visit coincided with the start of the wet season, only the huge tourist boats were operating, and they're not our thing. We've taken the boys snorkelling in Thailand from Koh Lanta before, and we're sure there will be other opportunities later on this trip.
Day 11: Over the border to Cambodia
Accommodation: Garden Bungalow, Sihanoukville
(£25 for the one night in a basic room with a/c and two double beds)
A very long travel day today. 13 hours from our beach hut on Koh Chang to Sihanoukville in Cambodia.
We had pre-arranged our Cambodian e-visas online and had pre-booked the overland travel to Cambodia from a travel agent in Koh Chang for THB1700 per person.
A minibus collected us from Siam Bay Resort at 7am and then other travellers along the way to the ferry terminal. The ferry then took us to the mainland and the same minibus then drove us all to the Thai-Cambodian border. Passports were stamped on the Thai side, and it was then a 100 metre walk through no man's land to the Cambodian passport control for the long drawn-out affair of form-filling and stamping, resulting in a load of paperwork being stapled to our passports. It was then a 2.5 hour wait until the bus to Sihanoukville, so we waited it out in an air-conditioned café with wi-fi at the border.
The road from the border to Sihanoukville is in terrible condition. Be prepared for a very bumpy and slow ride. The journey took over five hours and it was dark by the time we pulled into the bus station in Sihanoukville. A $5 tuk-tuk then took us to our accommodation for the night in Sihanoukville via the ATM. The ATMs dispense US dollars, but everyone uses US$ and Cambodian riel simultaneously (it's 4000 riels to US$1); this can get rather confusing, so take your time working out those initial transactions to get your head around it all.
Sihanoukville is sadly a city that has become a casualty of Chinese development with no regard for the local culture and environment. It's high-rise concrete buildings with casinos and clubs are not worth staying longer than a night. Whilst it was interesting to see, we had booked our ferry out to Koh Rong Sanloem for first thing the next morning.
Day 12-16: Koh Rong Sanloem
READ: Koh Rong Sanloem with kids: Lazybeach REVIEW
Accommodation: Lazybeach
(£29 for a family beach hut with fans on the beach)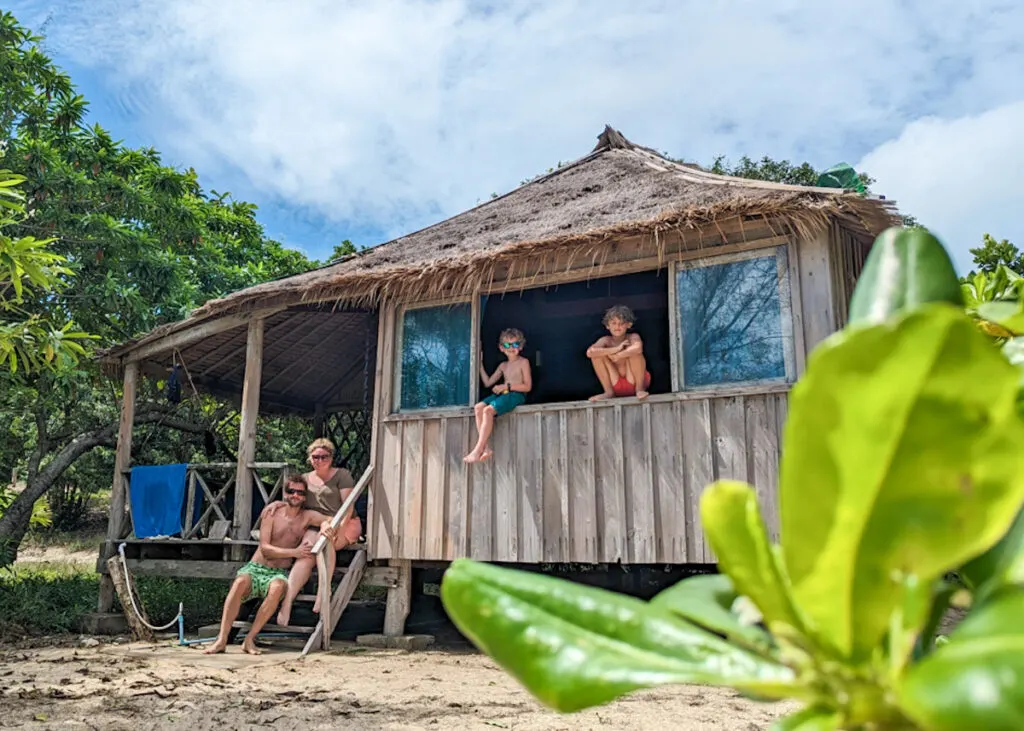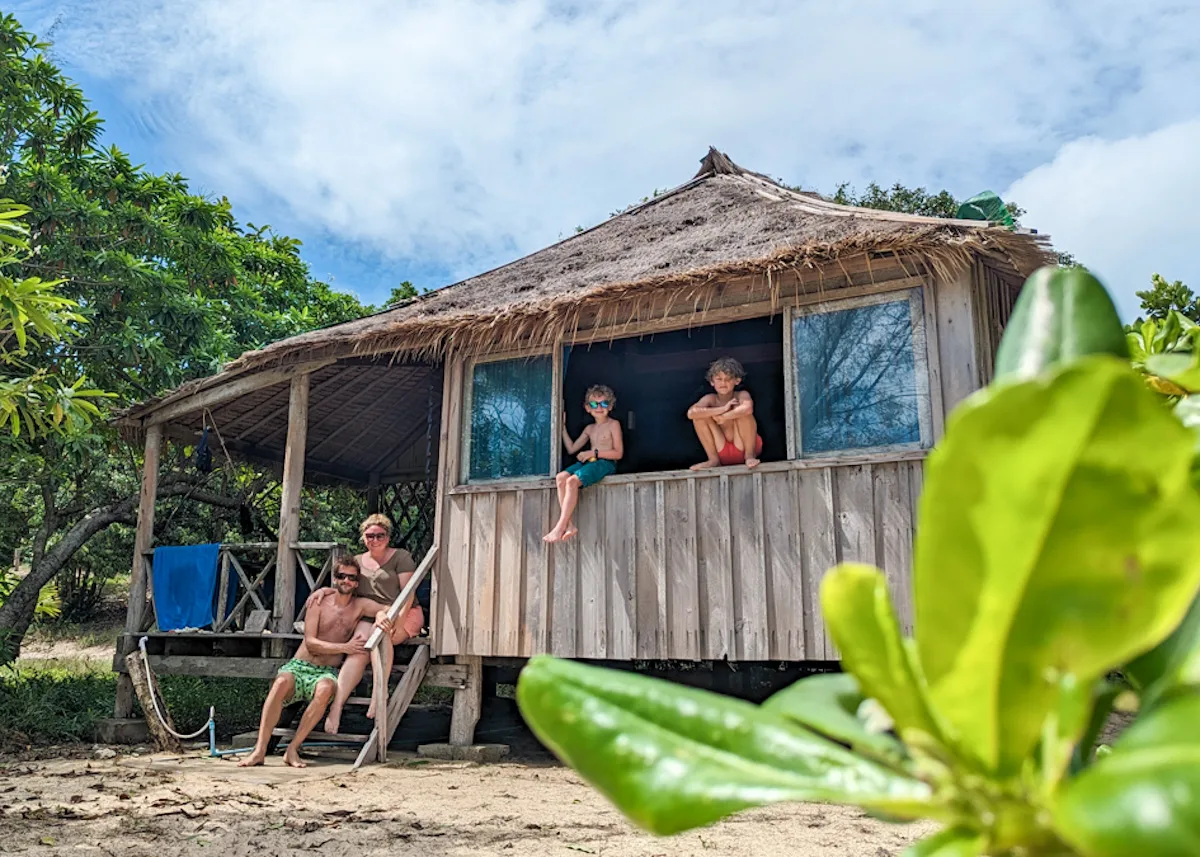 We arranged for the same tuk-tuk that brought us from the bus station yesterday to take us to the ferry terminal. We had pre-booked the 8:30am speedboat to Koh Rong Sanloem through our accommodation on the island for US$25 per person (under 9's are slightly cheaper).
The speedboat took about an hour as it first went to two different ports on Koh Rong before dropping us off at Koh Rong Sanloem. A tractor sent from our accommodation, LazyBeach, then drove us to the other side of the island.
A little slice of paradise awaited us; a basic hut right on a crescent of beach with waves rolling in. The vibe at Lazybeach is very laid back, as its name suggests, and is a wonderful place to unwind and recalibrate. Spend your days playing in the waves, on the beach, or the board games behind the bar. It feels beautifully remote, but there are signs of encroaching Chinese development with large areas of jungle being removed in January 2023. Now is the time to visit Koh Rong Sanloem, don't leave it too long!
Day 17-19: Kampot
READ: Visiting Kampot with kids
Accommodation: Magic Sponge
(£24 for a lovely family room with aircon. There's pool tables and minigolf, and the owner, William, is the perfect host)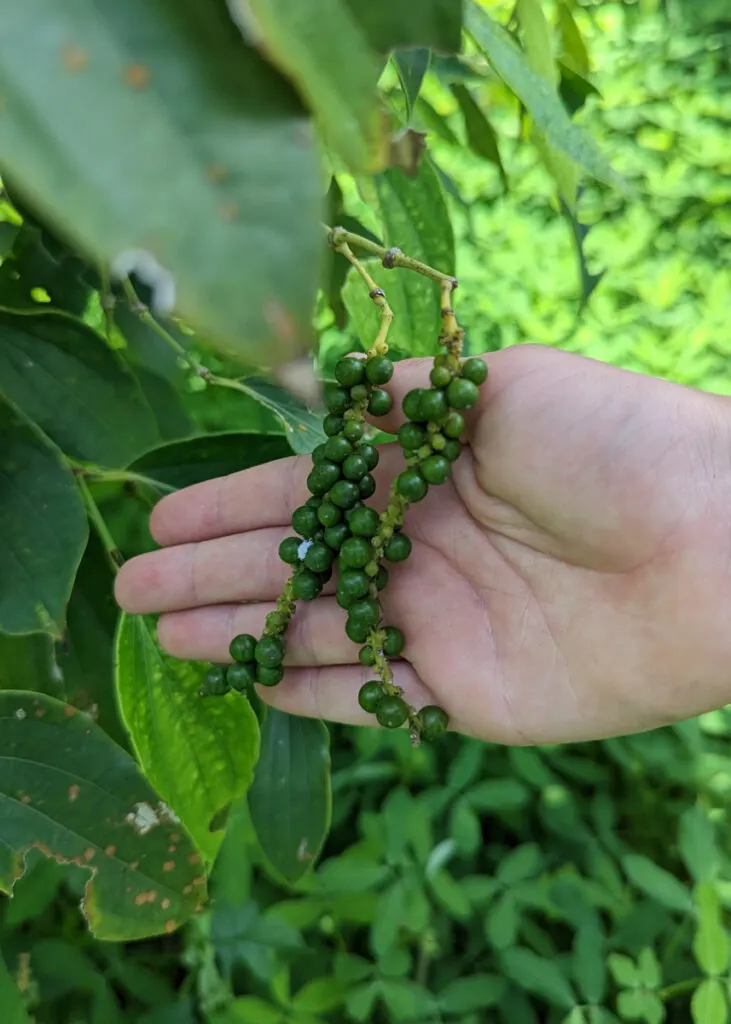 The riverside town of Kampot is a lovely stopover between the Cambodian islands and Phnom Penh. There are some great accommodations and eateries here. Indeed, we loved our stay at Magic Sponge and the free onsite mini-golf and pool tables were a hit with our boys. But it's just one of those places where you don't necessarily tick off the sights, instead just soak up the vibe.
An absolute must-do in Kampot is to hire a tuk-tuk driver for the day to take in the sights of the surrounding countryside. Expect to pay around US$25. The usual stops are:
the salt-fields just outside of town
tour of La Plantation to learn about how Kampot Pepper is made, as well as taste-testing 17 different types of pepper
Kep – a seaside town known for its crab market. There's a beach to play on, but the sea didn't look too inviting here. There are also lots of snack stalls along the beach; our boys highly rate the Cambodian pancake.
Phnom Chhnork – a 1300 year-old temple in a cave
Evenings were spent at one of the restaurants along the river front, and we also did a sunset river cruise.
Day 20-23: Phnom Penh
READ: Visiting Phnom Penh with kids
Accommodation: City View Apartment
(£43pn for a spacious, modern, 2-bed apartment over two floors. Three bathrooms, kitchen, washing machine, and a superb roof-top pool which we had mostly to ourselves.)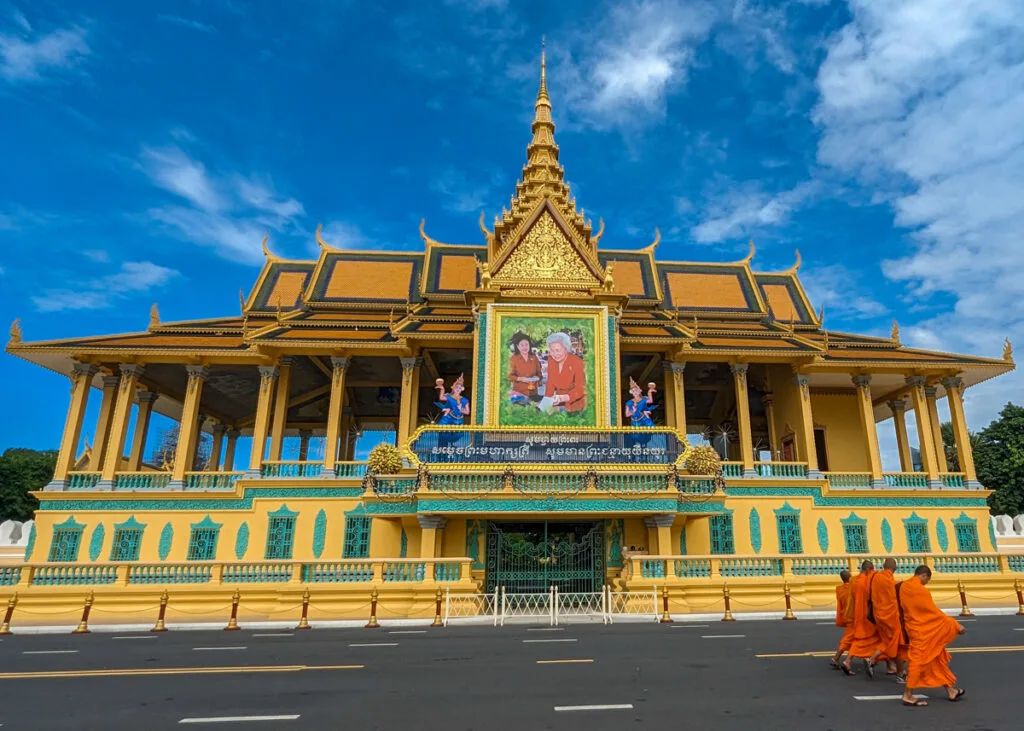 Phnom Penh, the capital and largest city in Cambodia, retains the fun and flavour of other large Southeast Asian cities, but on a much smaller scale. Think of it as a tamer version of Bangkok; it feels much easier to navigate and not quite as highly-strung. It's a fascinating city to explore how modern Cambodia is transforming alongside deep-routed traditions.
Phnom Penh offers families the perfect balance of exploring tradition and having some serious fun with hi-tech cinema complexes and waterparks. There are some fantastic things to do in Phnom Penh with kids including:
The Royal Palace
Wat Phnom
Sunset cruise and Sisowath Quay
Eat and shop at the night market
We decided not to take the boys to the Genocide Museum and Killing Fields. They're 8 and 9 years old and if the images at these places were a film it would be rated 18+. Jay and I were really shaken up by our visit there pre-kids. We've spoken to the boys about the past atrocities here, but don't want those images etched on their minds quite yet. However there is no minimum age to enter and as parents it's totally your call as to what you feel is best.
Day 24-26: Battambang
READ: Visiting Battambang with kids
Accommodation: Lotus Blanc Homestay
(£16pn for a basic family, ensuite room with AC. This is a family homestay and our boys had so much fun playing football with the two sons.)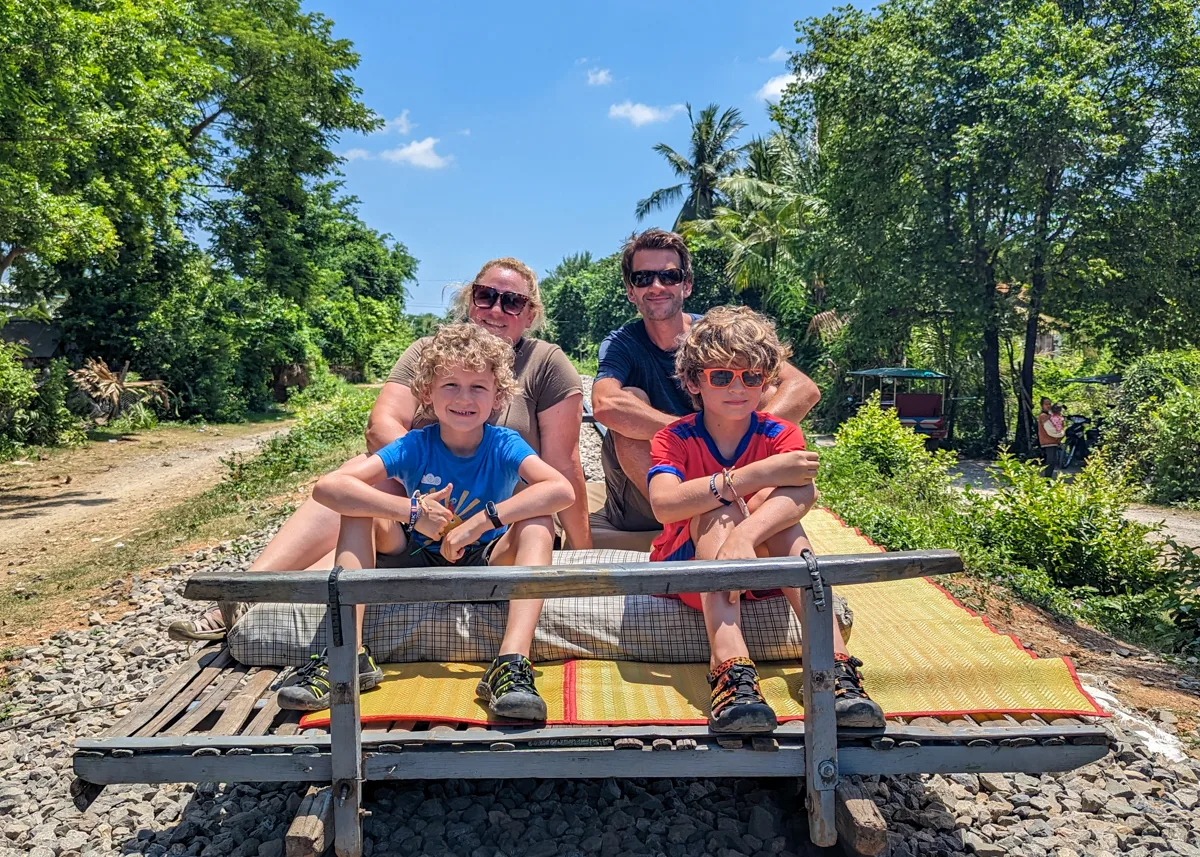 The train from Phnom Penh to Battambang has to be a highlight of our time in Cambodia. It was a wonderful feeling chugging through the Cambodian countryside watching people go about their everyday lives with warm air rushing past (the above photo is of the Battambang Bamboo Train, not the public train we took from Phnom Penh to Battambang in case you were wondering).
Battambang might not be on everyone's radar when visiting the country, but it's a fantastic base for world-schooling families who want to learn more about Cambodia's past and present, and there's also the superb Phare Circus to visit (we were totally blown away by the energy, personality, and ingenuity of the show).
We organised two separate tuk-tuk day tours through our family homestay, Lotus Blanc Homestay. The first day tour is the main one visitors to Battambang undertake, taking in the Bat Cave and Killing Cave, Banon Hill, and a ride on the bamboo train. The second day tour is learning about local traditions and way of life by watching how how rice wine, rice paper, fish paste, and bamboo sticky rice are made, as well as a visit to Killing Temple and Ehkphnom Temple. Read more about these day tours in our guide to visiting Battambang with kids.
Day 27-33: Siem Reap
READ: Siem Reap with kids guide
Accommodation: SAKABAN Suite
(£34pn for a large family ensuite room with balcony, including breakfast. Superb location, lovely pool, and friendly staff. One of our favourite accommodations on this Southeast Asia with kids itinerary).
The main reason most people visit Siem Reap is, of course, to see Angkor Wat. Indeed, it's top of the list of things to do in Cambodia and watching the sun rise behind the main temple is a bucket list experience.
But let's be realistic, the kids aren't going to be too enamoured by days and days wandering around ancient temples in the heat. Thankfully there are so many fun things to do in Siem Reap with kids besides Angkor Wat, including Angkor Zipline (a zipline course in the rainforest canopy), learning about the impressive HeroRATs who are sniffing out landmines and saving rural communities, an Angkor Wat-themed golf course, plus the range of food options along Pub Street will keep even the fussiest of eaters happy.
We loved our time in Siem Reap and even though we were there almost a week, we really felt we could have stayed longer. Don't just visit for Angkor Wat, there's so much more to explore in this town.
Day 34-36: Bangkok
Accommodation: The LOL Elephant Hostel
(£29pn for a small, ensuite family room with AC. The family room is on the 5th floor and there is no lift. But the bonus is the free ice lollies in the communal area. There aren't any restaurants right outside the hostel, but it's a short 5 minute walk to the Khao San Road area.)
A nine hour Giant Ibis bus took us direct from Siem Reap to the centre of Bangkok (dropped off close to Khao San). We didn't plan too much for Bangkok and took the time to relax, catch up with schooling and work. Although we did head over to Wat Pho to see the reclining Buddha and returned to our favourite dumpling restaurant in China Town.
Day 37: Overnight train to Malaysia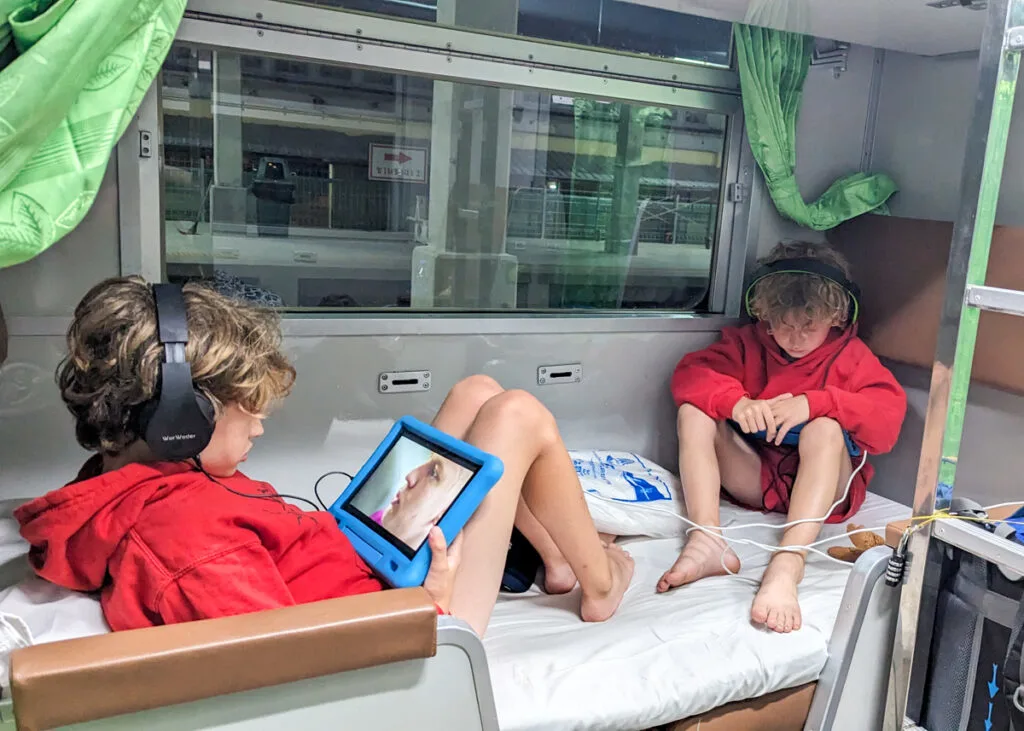 Leaving Bangkok at 3:35pm, a 19 hour sleeper train took us to Malaysia.
The sleeper train was so comfy and honestly, the time whizzed by! It must be something about being rocked to sleep as the train chugs along, although 2:30am was a big stop with lots of people getting on and off.
This train used to go all the way to Butterworth (Penang), but now it's only to the border town of Padang Besar, from where you have to jump on a separate train to Butterworth (1hr 50mins).
Some tips if you take this sleeper train:
book tickets in advance as it's a popular route
have sleep masks with you as they don't turn the lights off and it's rather bright on the top bunk
keep jumpers handy as the AC makes it rather chilly
as it gets dark around 6:30pm, have films downloaded for the kids to watch all snuggled on the bottom bunk
kids aren't allowed in the top bunk and there is no barrier to stop them rolling out
bring locks for your bags (just for peace of mind)
pack toothbrushes at the top of your bag for easy access
We booked the train online via baolau.com – 4x 2nd class berths with AC (THB3935 / £89 total).
Day 38-41: Penang
Accommodation: Love Come Home @ Japan-European Style Homestay
(£55pn for a 2bed apartment on the 24th floor. Clean, amazing views, excellent WIFI, and access to a pool that also has great views. Good location too)
The ferry terminal to Penang Island is a short walk from Butterworth Railway Station. It's then a 10 minute ferry ride to Georgetown, the main city on Penang Island.
We adore Penang. It's honestly one of those places we could see ourselves living one day. We love the seamless fusion of different cultures, and the modern city life alongside rustic jungle adventures and pristine beaches. Oh and the food… incredible dining every evening.
Penang is another place where we really could have stayed longer, but in the four days we were there we wandered around the historical area of Georgetown, took the funicular up to Penang Hill (try and visit first thing on a week day to avoid long queues), and took a boat trip to Monkey Beach in the National Park to spend an afternoon kayaking in the sea and then hiking up through the rainforest to the lighthouse.
READ OUR GUIDE
Monkey Beach Penang National Park: everything you need to know
If we had more time we would have visited the turtle sanctuary in the National Park as well as ESCAPE, Malaysia's biggest theme park with 40 exciting rides and attractions (rope and obstacle courses, ziplines, climbing, diving towers and the Guinness World Records Longest Tube Water Slide).
Day 42-47: Kota Kinabalu
READ: Visiting Kota Kinabalu with kids
Accommodation: Homesuite' Home
(£35pn for a 2bed apartment. It's clean, has a small kitchen, superb views from the 23rd floor, and there's also a swimming pool and playground on the 7th floor.)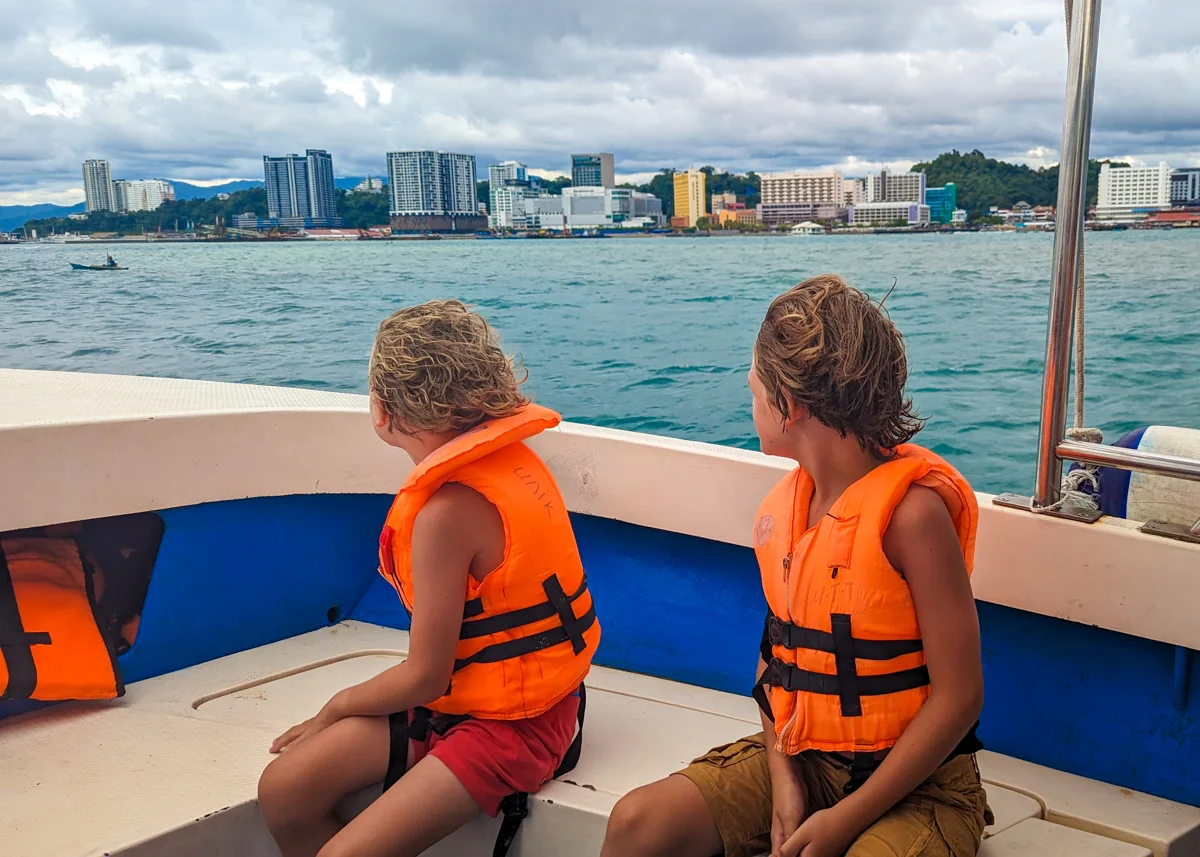 There is so much natural beauty in Borneo that it can be tempting to disregard a city like Kota Kinabalu (KK) and head straight out onto the road. But long term travel allows you to pause for longer in places (and really the pauses are very much needed).
We've loved our time in KK, despite a bumpy start with a seriously gross apartment (check out this Instagram post for the full story), and we've enjoyed the balance of modern city, island hopping, and culture.
Our favourite things to do in KK with kids are:
watching the sunset from the beach
Sabah Museum
visiting City Mosque (although we mistakenly visited on a Friday and were ushered out by security 🙈)
eating at the night market where we all ate as much as we could for £10 total
Once again, the Grab app made it super easy (and cheap!) to get around. It's about £1-2 per journey to get around the city.
Do note that quite a few places have closed since the pandemic, with sadly no sign of reopening, but our up-to-date guide to visiting Kota Kinabalu with kids will help you plan your time in this city.
Day 48-49: Poring Hot Springs
READ: Poring Hot Springs, Borneo: your essential guide
Accommodation: Kinabalu Poring Vacation Lodge
(£26pn. A friendly homestay, 15 mins walk from the hot springs, although the host is happy to drive you there. Very basic family room, ensuite. The communal area is rather messy with cluttered with bags and piles of stuff everywhere.)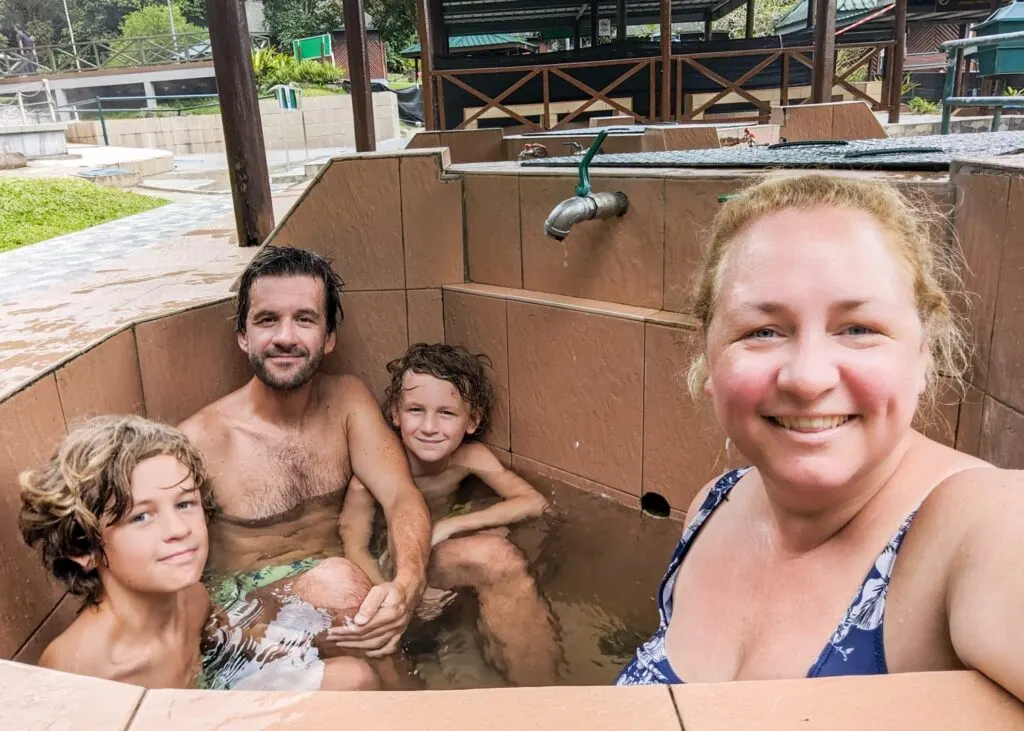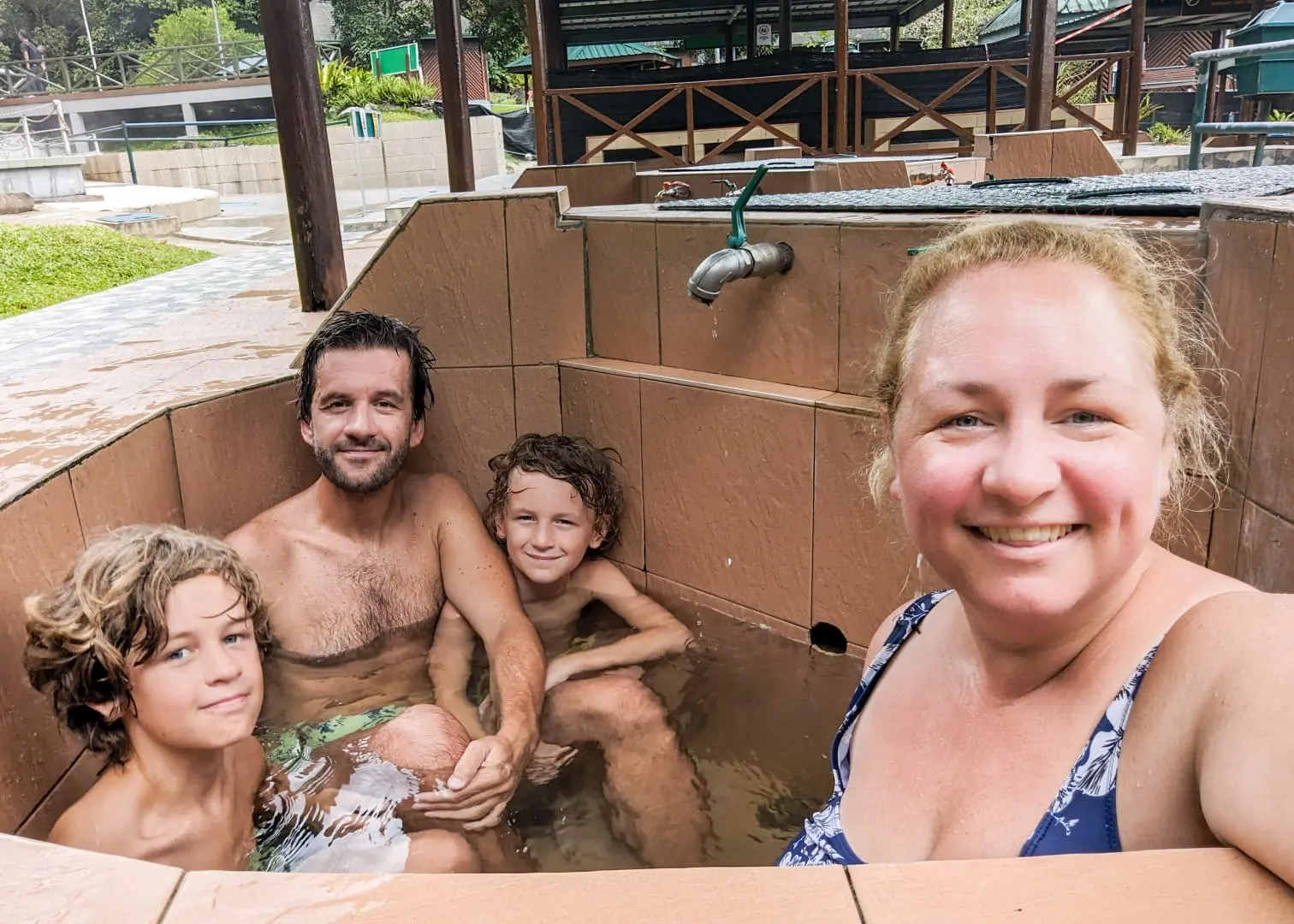 We ordered a Grab taxi to take us to our accommodation near to Poring Hot Springs. Unfortunately, the car broke down on the winding mountain roads and we were left stranded on a bend in the lashing rain trying to find a solution. A minibus eventually stopped for us and took us to Ranau, from where our host picked us up.
Poring Hot Springs is a worthwhile stopover between Kota Kinabalu and Sandakan, and is a welcome break from the windy, mountain roads.
Allow a full day at Poring Hot Springs, as it's not just the baths of hot, sulphurous water to enjoy, there's also a superb Poring canopy walk, a butterfly park, and a worthwhile walk to a stunning waterfall. The baths themselves cost MYR10 each for three hours (a good 45 mins of that is waiting for the bath to fill with water). After 7 weeks of backpacking, I think we were all in need of a good bath!
Check out our guide: How to get from Kota Kinabalu to Sandakan
Day 50-51: Sandakan
READ: Visiting Sandakan with kids
Accommodation: AeCOTEL
(£26pn for a twin room. No family rooms, so we had to book two separate rooms next to each other. Exceptionally clean, standard room, ensuite, good location. The supermarket downstairs is very handy.)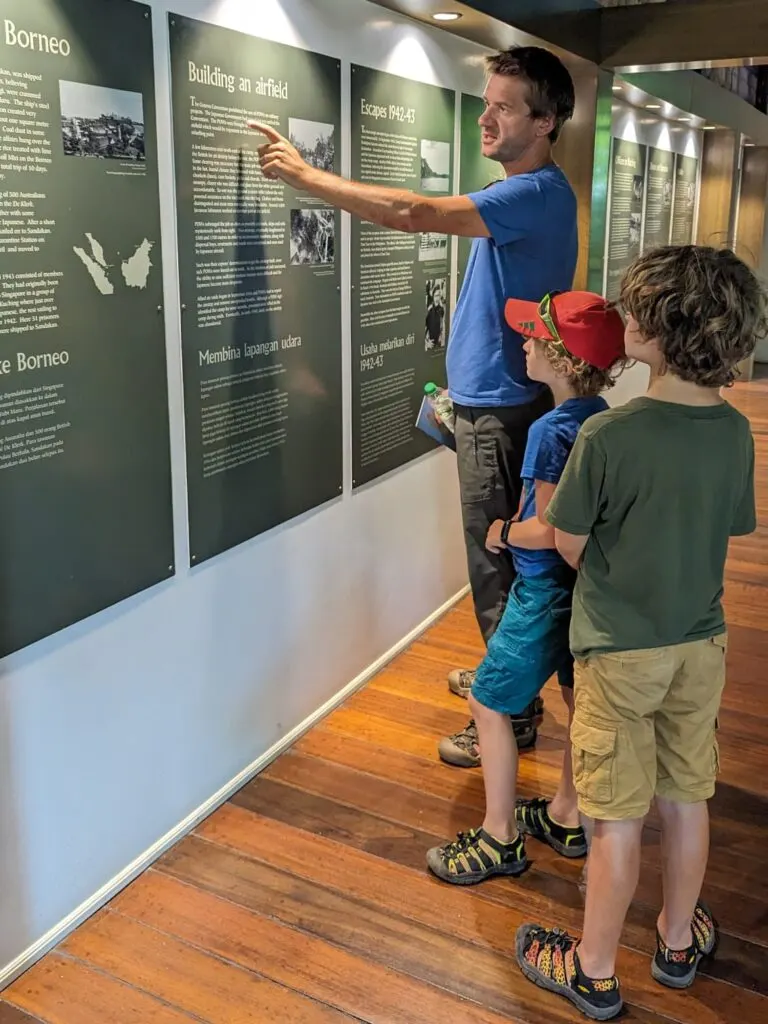 Sandakan is a popular base for some of the best wildlife experiences in Asia. But many travellers miss out the town of Sandakan itself and head straight off to river cruises, Sepilok (for the orangutans), or out to Turtle Islands.
We took the the bus from Ranau to Sandakan (make sure you pre-book tickets on easybook) and stayed in the town for a couple of nights, which allowed us one full day to explore.
Sandakan is a really interesting town of contrasts and history. This is where the POW camps were based, and the start of the death marches where thousands of mostly Australian POWs died. There's also an interesting British colonial history, and even though the town is backed by wild jungle and the waterfront supports a floating village, there's a shopping mall.
Start your day with a visit to Sandakan Memorial Park, which is excellently curated, before heading over to Agnes Keith's House to understand the colonial history of the region. A stop at the English Tea House is very worthwhile. Along the waterfront, next to the mall on the McDonald's side, is a stretch of restaurants for dinner.
Day 52: Selingan Island
READ: Selingan Island, Sabah: visiting the turtles in Borneo
Tour operator: Crystal Quest
(£273 for the overnight tour for our family of four, which included lunch, dinner, and breakfast, return speedboat from Sandakan, two AC ensuite rooms, turtle viewings. Snorkel gear not included and poor quality, we recommend bringing your own.)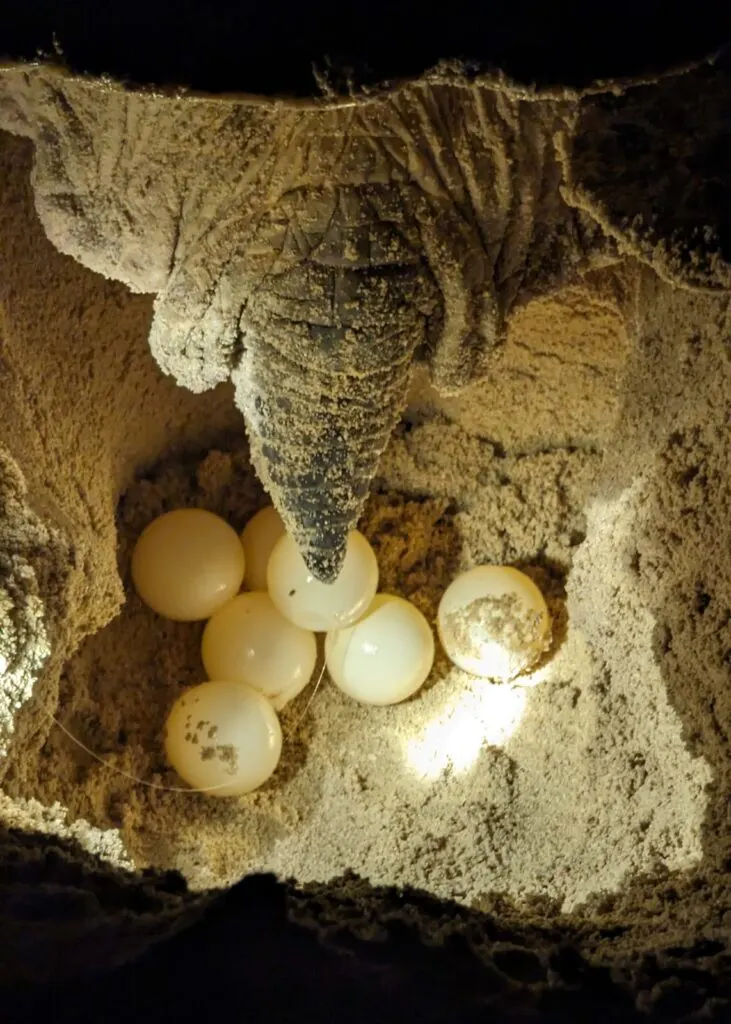 We really wanted to see the turtles on this trip and there's only one company that goes out to the island, Crystal Quest. I tried emailing from their website and sent separate emails, but no response. Eventually I used the phone number on their website and booked via WhatsApp. Success!
A speedboat takes you from Sandakan out to the island (1hr) and you have the afternoon free to walk on the beach and snorkel (AMAZING snorkelling). Then in the evening after dinner, you wait in the central area until the ranger reports that a mother turtle is laying her eggs. Be prepared to wait a while, we had to wait until 11pm. Afterwards the kids can release newly hatched baby turtles into the sea (which have been carefully looked after at the hatchery on the island for the last 50-60 days).
Overnight accommodation is included and in the morning after breakfast, it's a 7am return on the speed boat back to Sandakan.
Day 53-54: Kinabatangan River (3D/2N)
READ: Exploring the Kinabatangan River with kids
Tour operator: Asia Green Travels
(£317 – MYR1860 for a 3 day / 2 night river experience. Includes 2 nights in a ensuite AC family room, 3 river cruises, 2 jungle night walk, 1 jungle day walk, 2 breakfasts, 1 lunch, 2 dinners)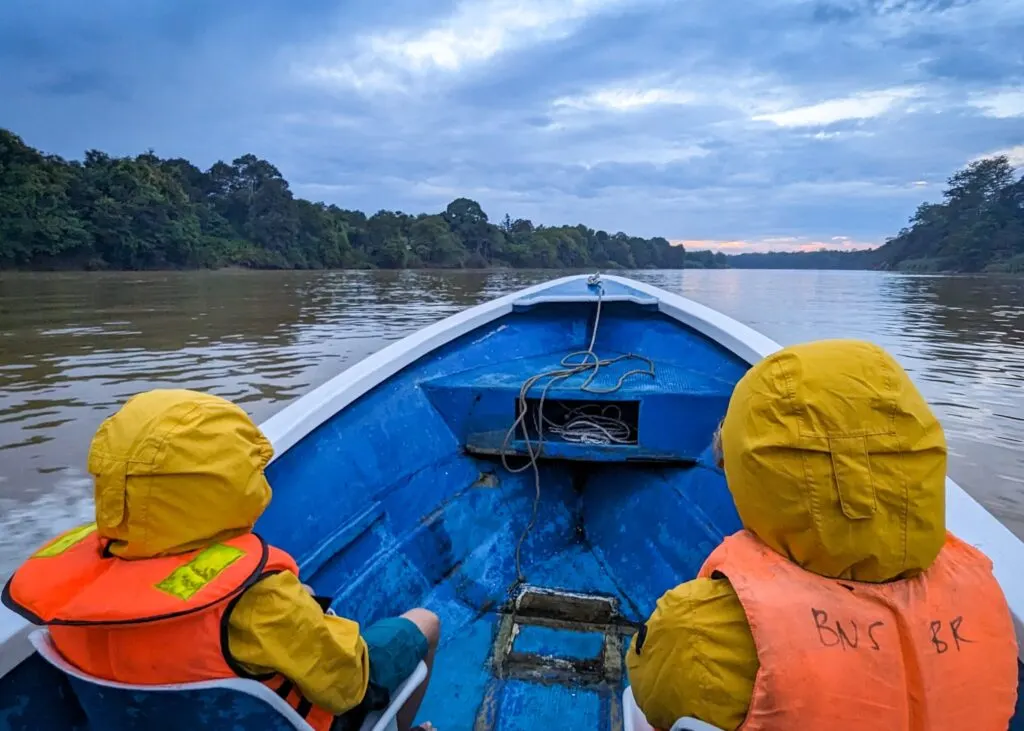 It was an early start to catch the 7am ferry back to the mainland, especially considering that none of us went to bed until long after midnight.
We had pre-booked a Kinabatangan 3D/2N river tour through Asia Green Travels, and we were picked up by bus from central Sandakan to take us deep into the jungle. There were a few pickups along the way, including around Sepilok and the bus was full by the time we arrived at the resort. The highlight of the bus journey was seeing a small family of pygmy elephants at the roadside!
The resort is very well organised, if slightly regimented with everyone following the same routine of river cruises, night walks, and sunrise tours. At times, the restaurant gets very busy with blocks of seats reserved for tour groups and the rather repetitive and basic meals laid out on large tables. But it's not the food you're here for, instead the amazing wildlife which included hornbills, proboscis monkeys, macaques, crocodiles, and orangutans. In total, we did four river cruises and three jungle walks (two after dark). You'll usually stay with the same guide throughout the tour which is handy because they'll know which animals you've already seen and try to complete the set for you.
Finally, the accommodation is lovely, set back from the river in separate, raised buildings. We chose the deluxe family room which had a double bed, bunks beds, en-suite bathroom, plus AC and ceiling fans. It was a lovely place to retreat to from the heat, particularly on the days we'd had the 5:30am alarm call!
Day 55-58: Sepilok
READ: Sepilok Orangutan Rehabilitation Centre, Borneo: tips for your visit
Accommodation: Sepilok B&B
(£58pn for a large family room, with AC, ensuite, and balcony. Breakfast is included, but very basic, and there's an onsite restaurant. A 5 minute walk around the corner is Rainforest Café with lots more food choice and you can use their pool for a small fee. It's a short 1.5km walk to Sepilok Orangutan Sanctuary, but along a road in the heat. Grab works in Sepilok and it's MYR4 to get around the tourist area.)
Seeing these rescued orphaned orangutans at Sepilok Orangutan Rehabilitation Centre is often a top reason anyone visits Borneo. With the catastrophic deforestation rates on this huge island, this rehabilitation centre has been a lifeline for these endangered apes and the work that goes into their rehabilitation is truly incredible.
However, it does get exceptionally busy, especially in the high season (July and August) and our top tops are:
🦧 cash only for tickets
🦧 your ticket allows entry for both the morning and afternoon sessions (it's closed 12pm-2pm). We went to both sessions and both are busy.
🦧 the gate opens at 9am and 2pm for each session. We arrived 5 mins early and were first in. Go to the nursery first; the best viewing is on the carpet in the far corner.
🦧 set expectations 1 – the nursery (where the young orangutans play outside) can feel rather zoo-like as you're inside behind a glass wall. But this is where most of the action takes place and there's AC. Ez said that watching the orangutans here was "better than the Xbox".
🦧 set expectations 2 – at the main outdoor feeding platform, where the rehabilitated adult orangutans come for food, you may only see 1 or 2 (or even 0) orangutans. We only saw one in the afternoon viewing (a few more in the morning viewing). This is actually a good thing as it means that the rehabilitated orangutans are finding food in the jungle and don't feel the need to visit the feeding platform (we're also visiting during the fruit season, so there are lots of food choices in the jungle).
🦧 get to the main viewing platform 30 mins early so the kids can find a spot at the front to see.
🦧 you can't take in bags and rucksacks. It's hot and the kids will need water. So I put a small water bottle inside my bumbag, which is allowed.
🦧 set expectations 3 – the gift shop is really disappointing. Ez has been dreaming of buying an orangutan toy from Sepilok this entire trip. There are no cute orangutans toys to buy (there's one scary one that doesn't look like an orangutan), no stickers for their journals, but we bought a fridge magnet.
But there's more to Sepilok than seeing the orangutans. Make time to see the rescued sun bears at Bornean Sun Bear Conservation Centre and the superb walking trails and canopy walkways at Rainforest Discovery Centre (RDC).
Sabah is very popular with tour groups, but with the luxury of time and flexibility over four days we were able to fit our visits around the peak-season crowds whilst also allowing time to just enjoy the rainforest setting.
We did actually spend one night at Sepilok Jungle Resort as it has a pool, but we wouldn't actually recommend it as the pool and rooms were filthy, and the service poor. Sepilok B&B is a much better choice for accommodation.
Day 59-61: Kuala Lumpur
READ: Top 10 things to do in Kuala Lumpur with kids
Accommodation: The Platinum Kuala Lumpur by LUMA
(£49pn for a superb and massive apartment with incredible views and rooftop pool)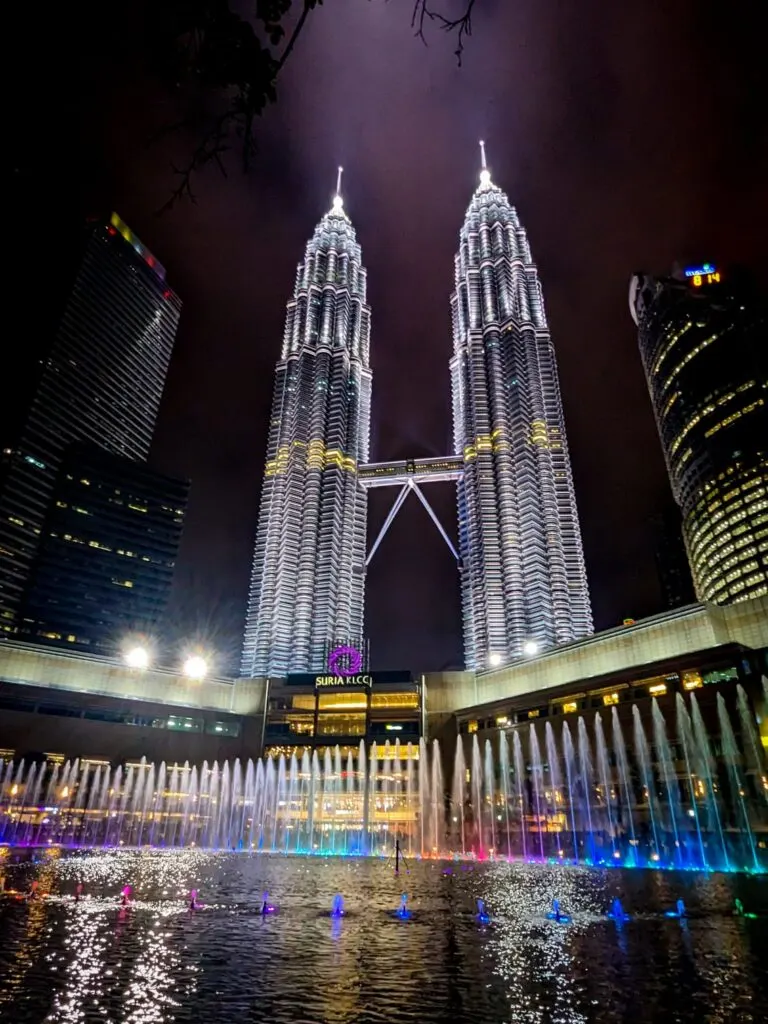 After 16 days in Sabah, it was time to return to Peninsular Malaysia for the final leg our our Southeast Asia with kids adventure. We took an AirAsia flight from Sandakan to Kuala Lumpur.
You could easily spend a full week in Kuala Lumpur with kids, but unfortunately for this trip we only had a couple of full days.
There's so much to do in Kuala Lumpur and, like many big cities, it can be rather overwhelming feeling you need to tick things off to have experienced it properly. That really doesn't need to be the case and you can get a great feel for a city just wandering around with a couple of 'activities' thrown in, and you don't need to spend a fortune.
What we tend to do is allow each family member to pick one or two things they really want to do, and plan our days roughly around that, trying to contrast activities.
Our highlights of Kuala Lumpur included:
watching the evening light and water show at KLCC Park
trying Dunkin' Donuts for the first time at the mall (yes, we had deprived our children that long)
getting our geek on at Petrosains, The Discovery Centre
playing at the huge playground and splash park in KLCC Park
shopping along Petaling Street
eating scrummy food along Jalan Alor
defying gravity at Kuala Lumpur Upside Down House
enjoying the epic cityscape views from our accommodation (see last post)
Day 62-63: Melaka
READ: Visiting Melaka with kids
Accommodation: 3 Little Birds Home, 100meter to JonkerWalk
(£21pn for a basic ensuite family room with AC. Cleanliness is questionable, but it's a good location. Mattresses are on the floor for the kids.)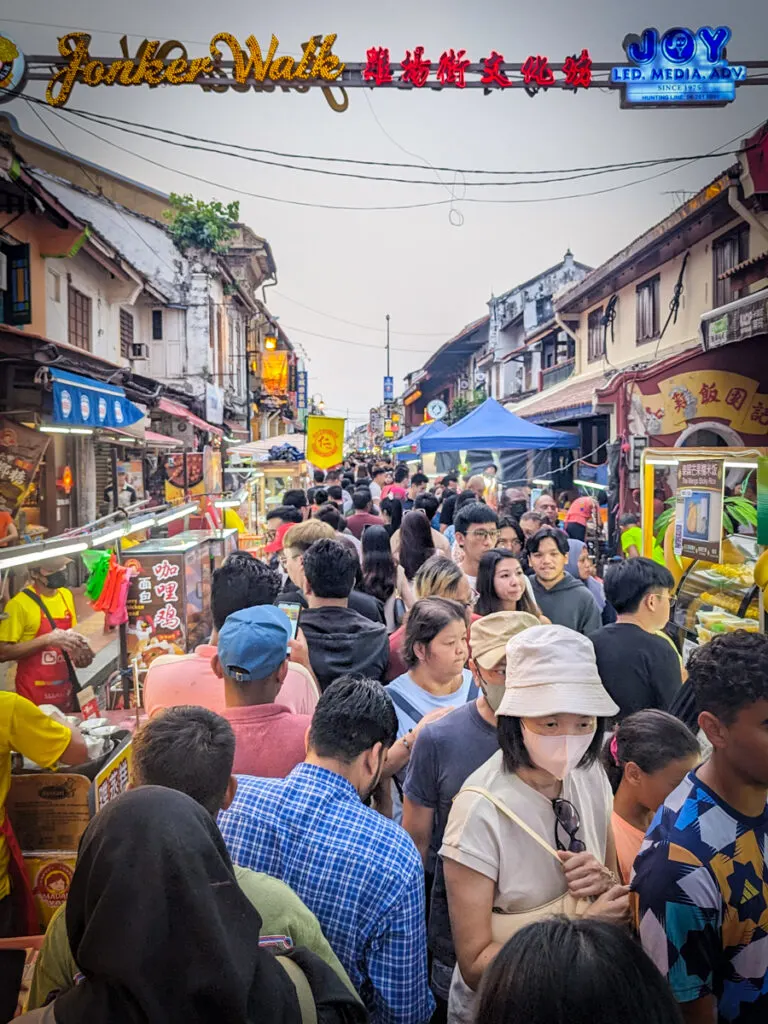 Don't make the same mistake as us. Avoid Melaka at weekends.
It's become a bit of a running joke in the family that so often when we leave a place on this trip I've said "Ooo, I could do with another day here".
Unfortunately Melaka does not fall into this category. Two nights was more than enough.
Jay and I last visited Melaka back in 2007 and we remember it being such a quaint and quiet old trading town. Well it is no more, and especially at weekends. It's suffocatingly busy, crazy loud with trishaws adorned with stuffed toys blaring music (yes, we did have a ride in one and loved it!), the food scene isn't a patch on Penang (we had expected similar) and it was the wrong side of touristy for us.
Factors that probably affected our feels with Melaka – slightly (very?) pants accommodation, we're nearing the end of this epic trip, and most definitely because we visited over a weekend.
Nevertheless, if you're passing through and wondering what there is to do in Melaka with kids, it's worthwhile going to the Maritime Museum, taking a river cruise to see the street art and colourful architecture, riding the observation tower for views of the city and beyond, and wandering around the Dutch corner and St. Paul's church.
Day 64-65: LEGOLAND Malaysia
READ: LEGOLAND Malaysia tips
Accommodation: Legoland Malaysia Hotel
(£150pn for a LEGO-themed family room with all Western comforts you'd expect from a 5* hotel)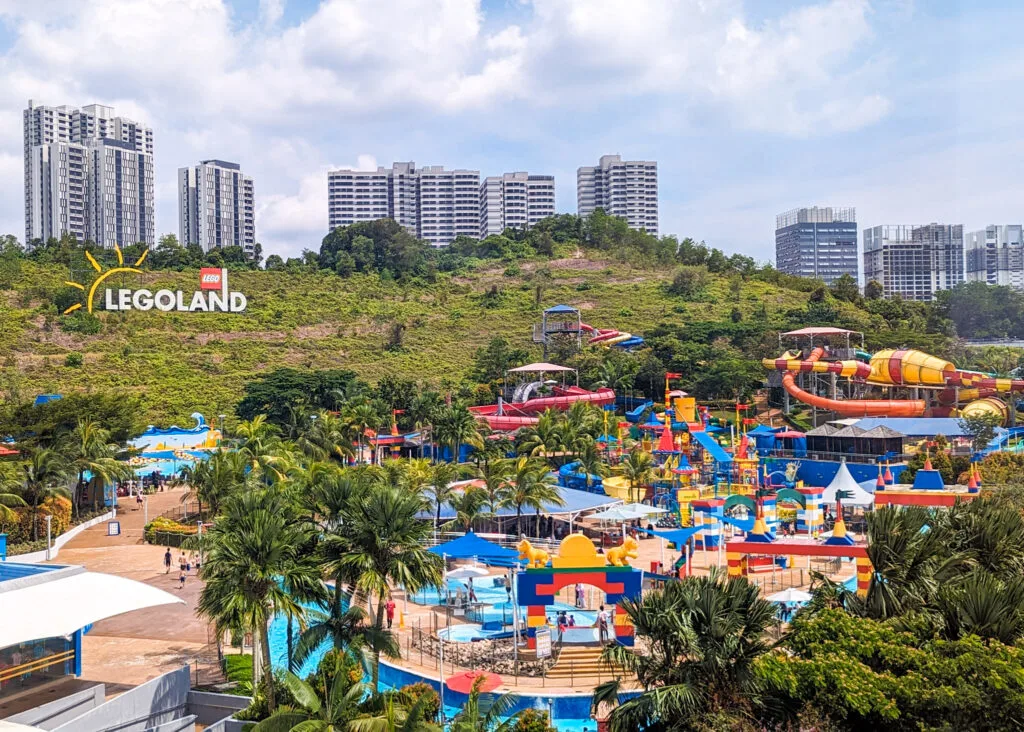 Being the extreme LEGO fan that he is, there was no way Ez would allow us to miss out LEGOLAND Malaysia on this trip, and what an awesome day it was!
LEGOLAND Malaysia lacks the bigger rides and size that LEGOLAND Billund offers, but doesn't have the insane holiday queues of LEGOLAND Windsor. Plus, we got to experience 'The Great Lego Race', which is the first LEGO-themed rollercoaster to have VR goggles. It's so brilliant we went on it eight times in the one day!
I was worried about long queues in the heat, but we barely queued and all ride queues have shelters and fans if outside, so it never felt too hot.
But LEGOLAND is not just about the rides (they are rather on the tame side for our boys), there's also LEGO coding sessions, the 4D LEGO Movie Theatre, LEGO build sessions, and, of course, MINILAND, which at LEGOLAND Malaysia has an Asian focus; it was pretty cool seeing the big sights from this trip in LEGO, including Angkor Wat, Wat Arun, and the Petronas Towers.
There's also a waterpark here and Sealife Centre, but we spent the entire day at the main park and were one of the last to leave (as per usual with these places). I would suggest staying another full day to experience the waterpark and Sealife Centre so you don't feel too rushed.
But what made our visit extra-special, was staying at LEGOLAND Hotel Malaysia! And do check out our top LEGOLAND Malaysia tips to help you get the most from your visit.
Day 66-67: Singapore
READ: Singapore with kids: a one day itinerary on a budget
Accommodation: Galaxy Pods @ Chinatown
(£54pn for TWO pods. This was the cheapest accommodation we could find in Singapore and actually really fun. Two people fit in one enclosed pod, so we have to book two. They are clean and the location is great. There are lockers for your bags and an shared bathroom.)
Finally, the end point of our epic 10 weeks backpacking Southeast Asia with kids. We took a Grab taxi to Johor Bahru Sentral, from where we took the train across to Singapore, and another Grab taxi to our accommodation.
Singapore is expensive. In fact, it's one of the most expensive countries in the world. After enjoying the relative budgeting freedom of Thailand, Cambodia and Malaysia, we begrudged having to spend too much on accommodation and activities, especially after all we had experienced.
On our last day it rained pretty much all day. We looked at visiting the ArtScience Museum, but decided against it when entry for our family of four was £69. So we bought some brollies (crazy that we only felt the need to buy them on our last day) and embraced walking in the drizzle. We are Brits after all!
Singapore really is a superb city to stroll and the bay area took the main focus of our walks, as well as Gardens By The Bay for the kids' play areas and the impressive evening light show. And with eating at the hawker centres (we particularly enjoyed Lau Pa Sat) we were still able to enjoy the city on a budget.
However, when the entry fee to a museum equals the cost of a 4* accommodation in Cambodia, it's difficult to justify spending too much of our time in Singapore. And whilst no one can argue how impressive the city is, it's also rather too corporate and planned for our liking, although interesting to see.
A highlight for the boys though was sleeping in capsules at Galaxy Pods, Chinatown, a great budget accommodation option!
Day 68: Fly home
All good things come to an end. But Southeast Asia has a place in our hearts and we know it's a region that we'll return to time and time again.
Day 69-70: Well it took us two days to get to Bangkok from the UK
So this is a 10 week Southeast Asia itinerary, yet it finished on day 68? Well we actually took two days to fly out to Bangkok from Manchester and, for us, day 1 actually started the day we walked from our home to the bus station in Bakewell to take two separate buses to Manchester Airport. We stayed in the Holiday Inn T2 Hotel that night, before flying out the next day.
---
You may also like to read:
Unpaid Parental Leave: taking leave from work to travel with your kids
Deregistering your child from school to travel
Online schooling for family travel