There are few island beaches remaining in the Gulf of Thailand that feel untouched from development, but Lazybeach on Cambodia's tiny island of Koh Rong Sanloem comes very close to that back-to-basics paradise that Alex Garland's characters in The Beach were striving for, with handmade wooden huts nestled in the jungle and paths leading out to a glistening arc of tropical beach. If you are visiting Cambodia with kids, this back-to-basics island is perfect for some beach downtime to balance all the cultural tours you may have planned or experienced elsewhere in the country.
However, make sure you visit Koh Rong Sanloem sooner rather than later. As of January 2023, large areas of jungle have been cleared for roads, and it's feared that the unsympathetic Chinese development that the nearest mainland town of Sihanoukville has succumbed to may encroach on Koh Rong Sanloem imminently. We desperately pray that this isn't the case.
Disclaimer: This post contains affiliate links. If you click to purchase, it is at no additional cost to you, and I receive a small commission.
Click here to check prices and availability for Lazybeach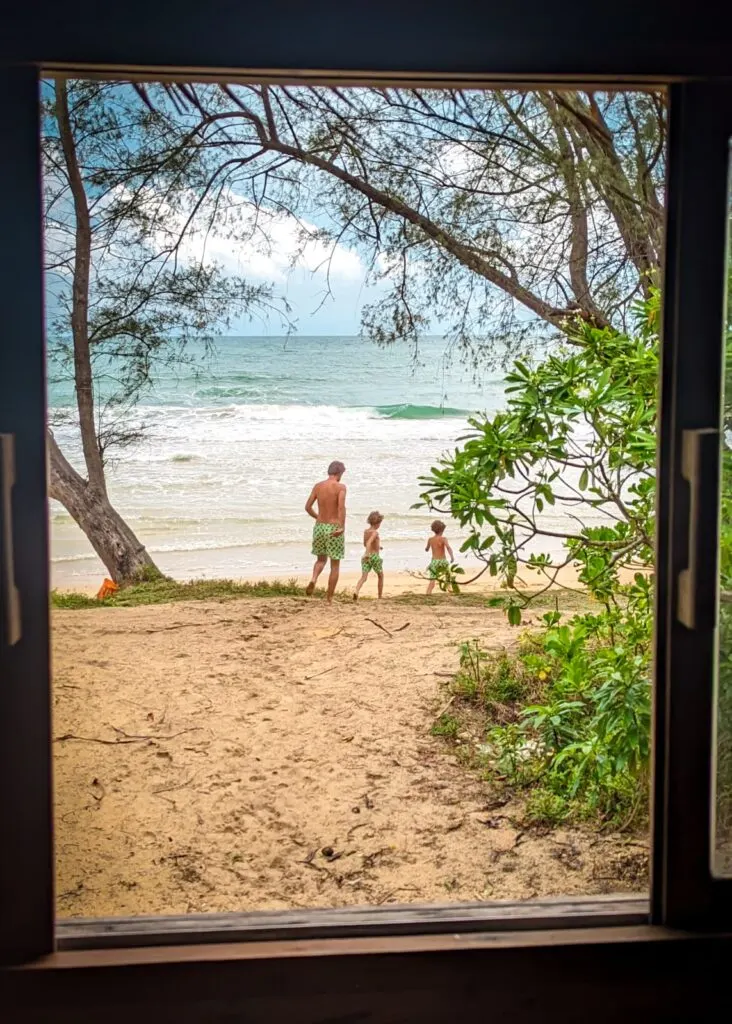 Getting to Koh Rong Sanloem
We stayed the night before heading out to Koh Rong Sanloem in a basic room at Sihanoukville. If we had the choice, we wouldn't have stayed the night as it's not the most pleasant town since being given over to Chinese development of casinos and clubs. But we had travelled overland (and sea) from Koh Chang in Thailand, and it had taken 13 hours just to get to Sihanoukville from Koh Chang after leaving at 7am.
From Sihanoukville, there are a handful of speedboats that make the crossing to Koh Rong and Koh Rong Sanloem (the former being the larger of the two islands). Sometimes the speedboat goes to Koh Rong first, and sometimes Koh Rong Sanloem first.
We booked on the 8:30am ferry leaving from Sihanoukville Port Autonomous through Lazybeach (our pre-booked accommodation on Koh Rong Sanloem) via Whatsapp. The price was US$25 per person return (under 9s was US$14 per person return). Our tickets were waiting for us at the port when we arrived.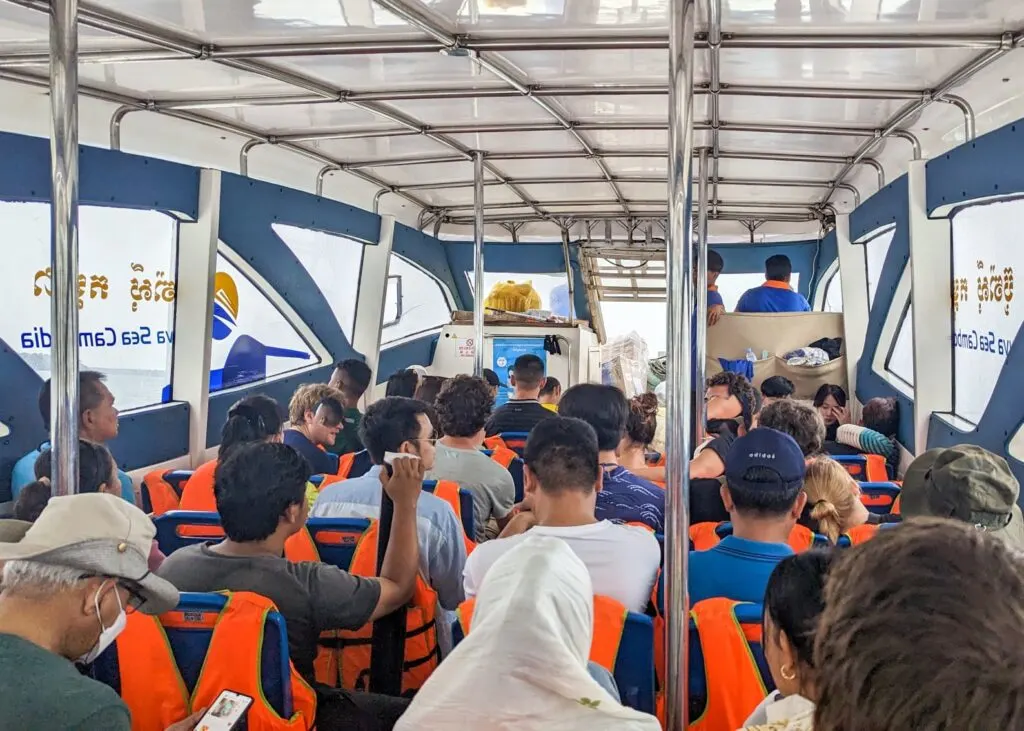 The speedboat didn't leave until 9am and as it went via Koh Rong first, we didn't arrive to Koh Rong Sanloem until 10:30am. Also, in case you have images of arriving to the island on a private boat à la James Bond, this is very much a regular ferry (albeit it with a bit of speed) and the crossing is likely to be busy with other passengers; the onloading and offloading of goods, luggage, and passengers at each port is painfully slow.
Arriving to Lazybeach
A small tractor with trailer was waiting for us as we arrived to Koh Rong Sanloem. We hopped on the trailer with our backpacks and were driven the ten minutes to the other side of the island to Lazybeach.
What a beautifully secluded nook of paradise we had arrived at. We slipped our shoes off as we entered the rustic bar / reception area, not realising that we would barely wear them for the remainder of our stay, and received a warm welcome as we sunk down into soft armchairs. The vibe is very much 'relaxed' and we began unwinding from our epic overland journey, that started in Koh Chang, almost immediately.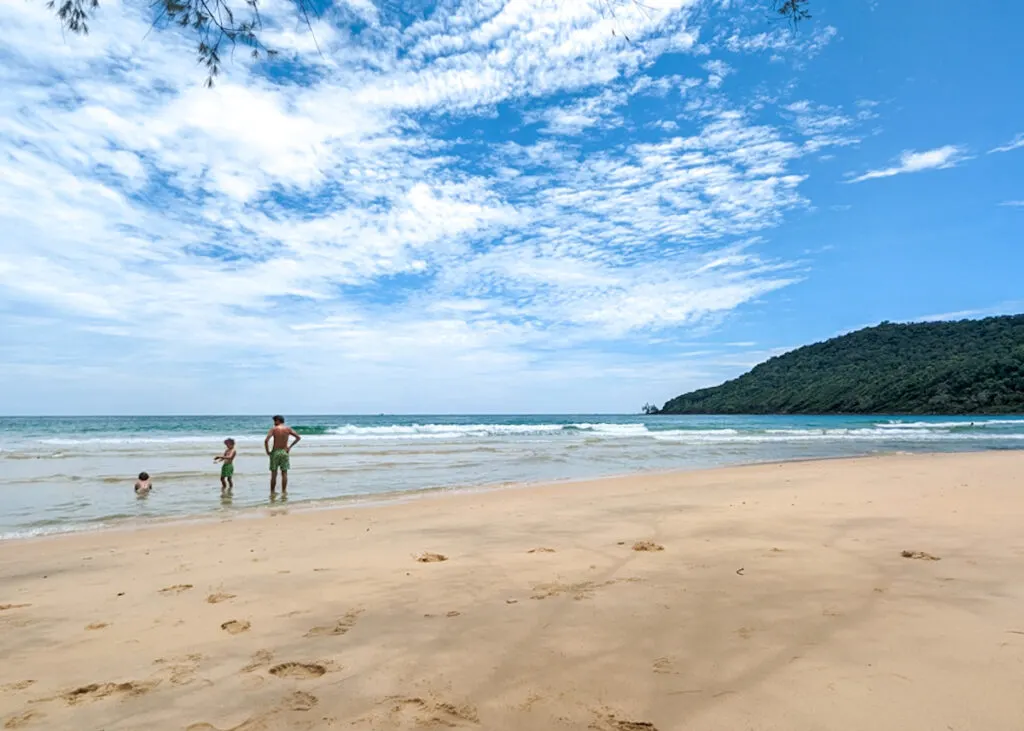 Our beach hut
If you need your modern comforts such as a flushing loo, a hot shower, in-room WIFI, and air-conditioning, then the beach huts at Lazybeach are not for you. But if you want to switch off from distractions and strip down to the basics, then this may be the closest you will come to paradise.
Nestled in the jungle and sympathetic to the surroundings, the family bungalow has two large double beds with mossie-nets and a fan, a seating area, ensuite bathroom, and verandah with seating and hammock. A sandy path leads down to the beach and there's an outdoor water-spray gun to hose down feet on returning to the hut.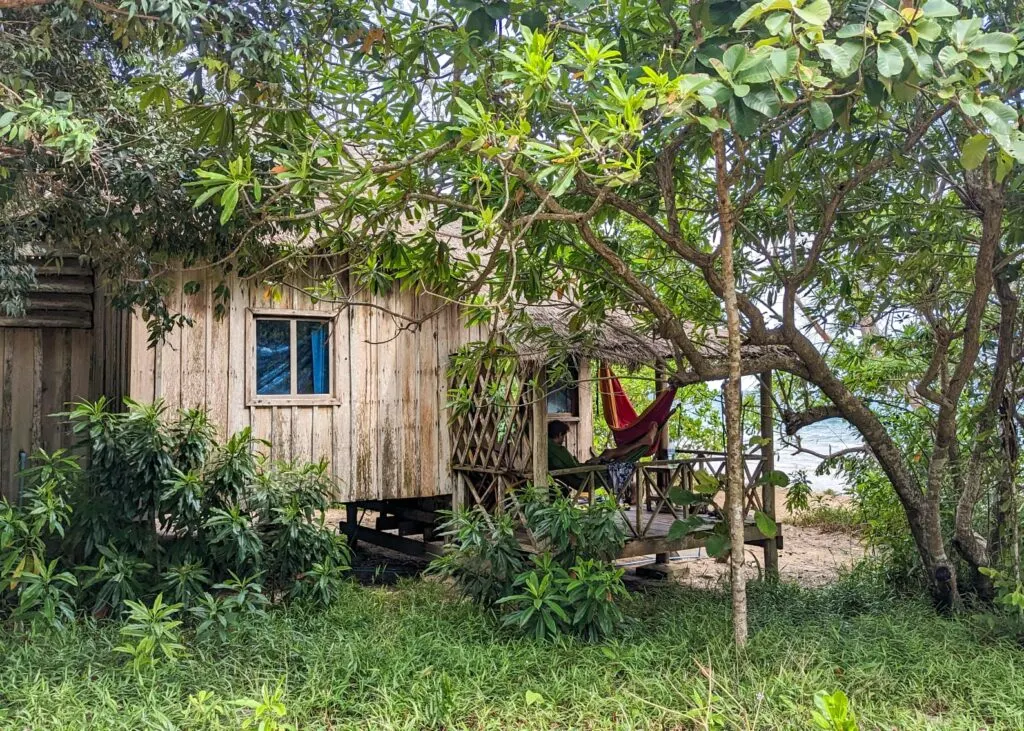 There is no hot water for the shower and you need to flush your business down the loo with a bucket. You may also need to share your bathroom visits with a large gecko. Indeed, you are right in the jungle and alongside the sounds of the sea, the soundtrack of the jungle first thing in the morning is quite the alarm.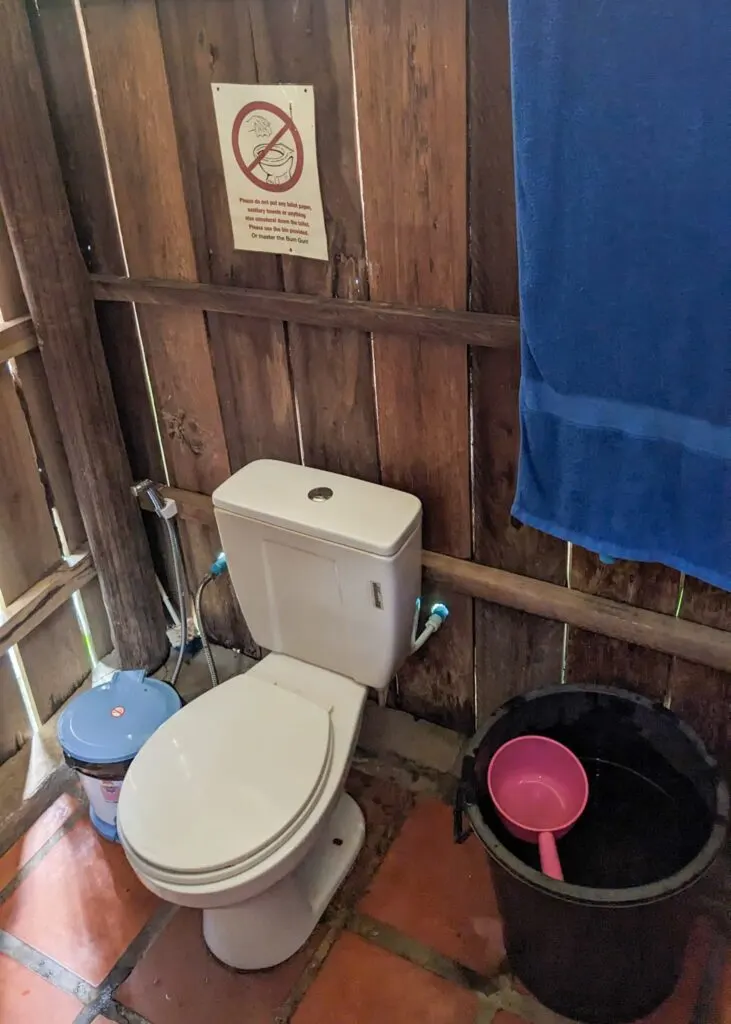 But what we absolutely loved about our beach hut was that each morning we could go straight from our beds and walk down to the beach and into the sea for a morning swim.
The reception / bar area
We spent a fair bit of time in the large reception / bar area as this is where all our meals were eaten and there's also good WIFI to work and for the boys to do their online schooling. The boys especially liked the hanging chairs to read and do their DoodleLearning each day.
The staff are so chilled and lovely, and the menu is fantastic. Whilst there are traditional Cambodian and Thai dishes on the menu, as well as expected Western dishes, there are also a few surprises such as fish fingers and mashed potato. There are no pizzas on the menu though, which although our boys were disappointed with, was made up for with the superb crepes.
All meals and drinks are totalled up to your hut and you pay at check-out. Please note that there are no ATMs on the island and you need to have enough US dollars with you.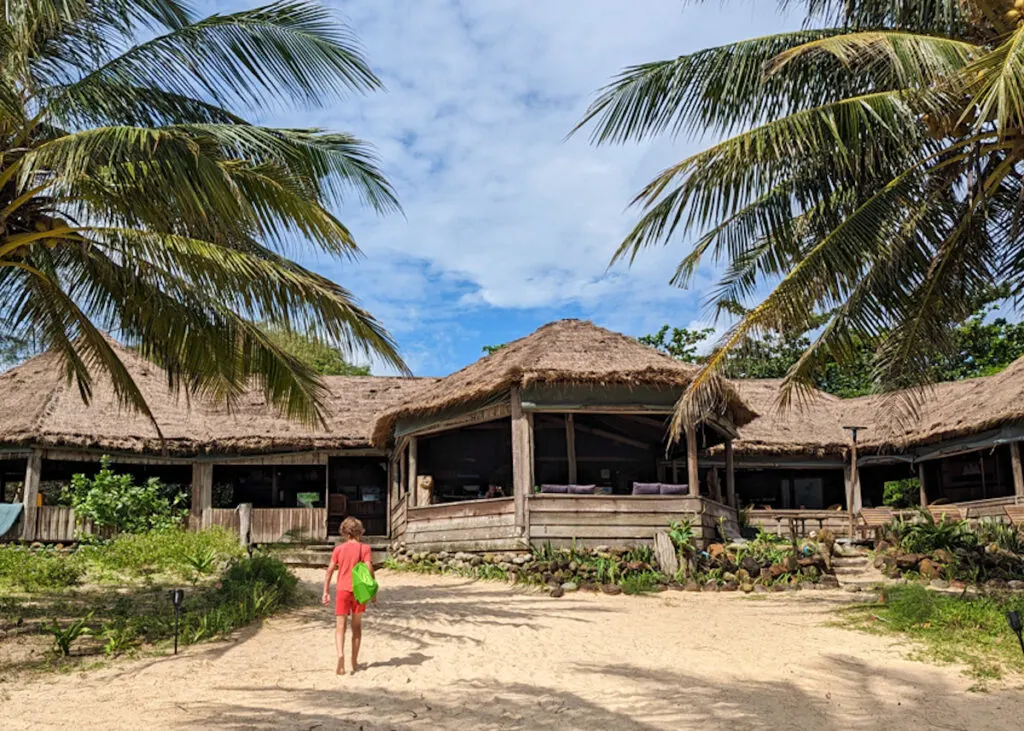 What to do on Koh Rong Sanloem
True to it's name, there really isn't much to do at Lazybeach other than laze around the beach, swimming in the sea, and lying in a hammock reading. We find this enforced relaxation really rewarding when travelling with the boys; they read more than usual, and make up little games to pass the time that they just wouldn't do at home with their overscheduled lives.
There are snorkels and flippers to hire out at the main reception to explore the reefs in the bay (although visibility was poor for us in the choppy, wet-season waters), and there's also table-tennis, badminton and boules, as well as a selection of board games behind the bar.
If you want to venture further, you can follow the footpath to the other side of the island to Saracen Beach. This is where the ferry drops you off. It's a 20 minute walk through the jungle. Full disclosure: in our five days at Lazyebach the relaxation bug took over and we never left!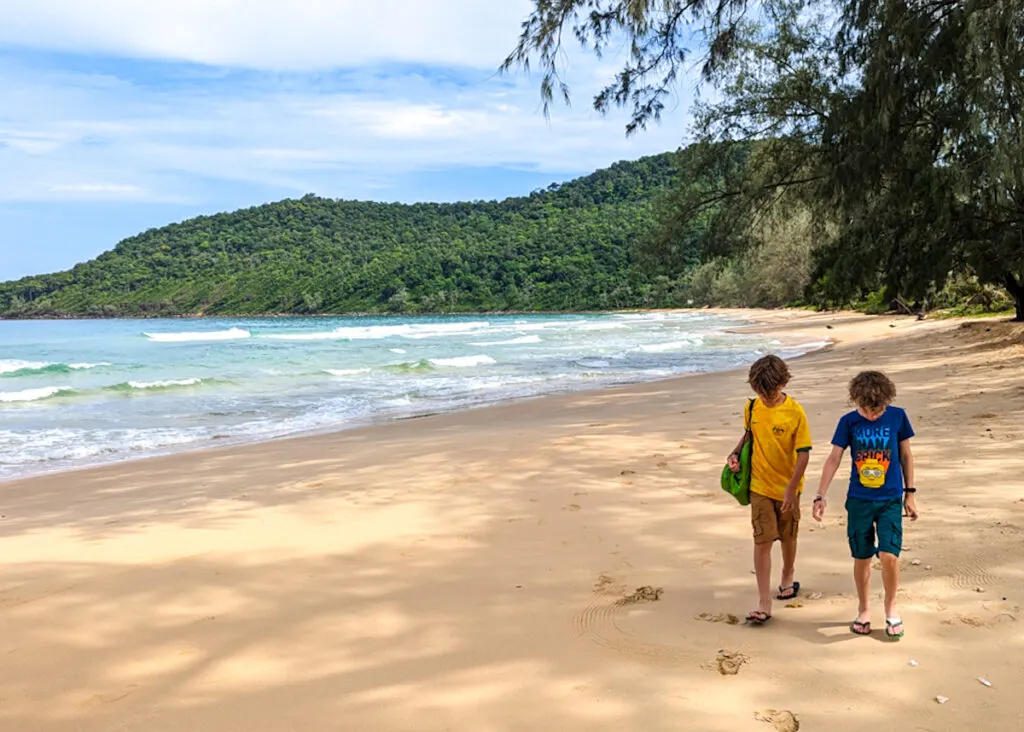 Things to bare in mind for Koh Rong Sanloem
Mosquitoes weren't at all a problem during our stay, it was the sand flies that were the nuisance. Take lots of insect-repellent with you to the island as there are no shops. Same goes for sunscreen (we use Green People sunscreen, which is organic and ocean-friendly).
There are no ATMs on Koh Rong Sanloem, so make sure your bring enough US dollars from the mainland. There are lots of ATMs in Sihanoukville.
Do not bring any food to your hut as this will attract insects and animals. The kitchen at the main reception is happy to store food for you.
Unfortunately a fair bit of litter gets washed up along the shoreline. Consider doing a litter pick with your kids to do your bit.
You may get a few stings in the sea. We're told this is just sea lice, although there is no rash or mark from these stings that you usually get from sea lice. Before you worry and do a Google search, staff have assured us that there are no box jellyfish around Koh Rong Sanloem.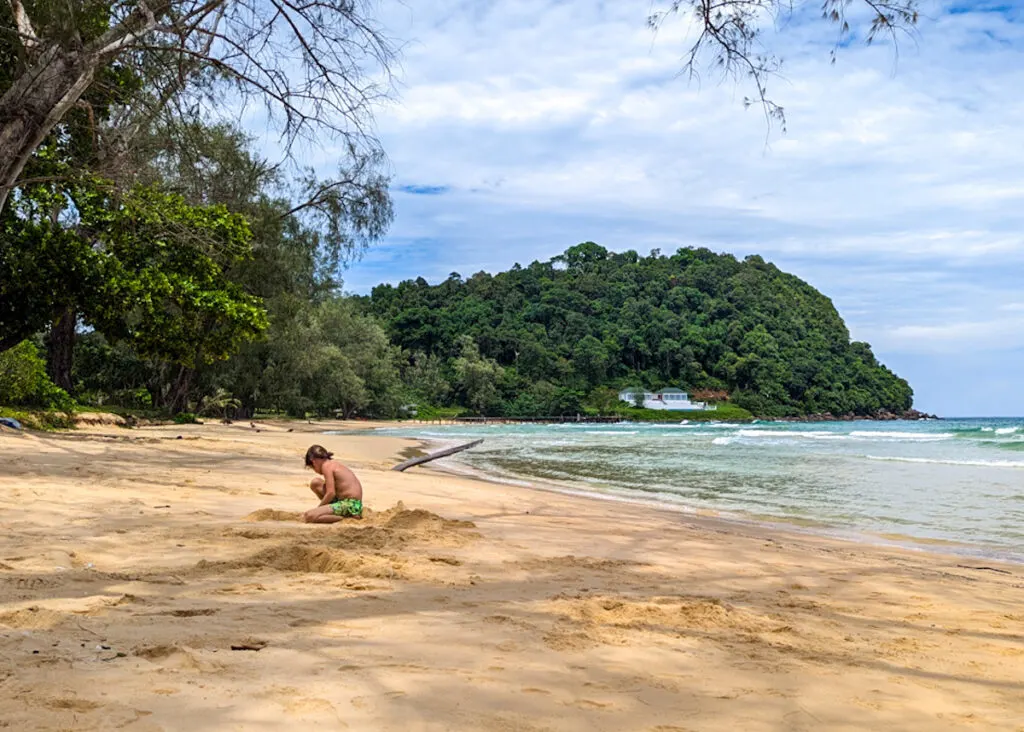 Final thoughts on staying at Lazybeach
We barely wore shoes for our five days at Lazybeach, every morning started with a swim in the sea, and we felt more relaxed than we had done all year. The back-to-basics nature of Lazybeach is a perfect place to wind down and enjoy the simple life, and after five nights we couldn't believe that it was time to move on.
We feel very lucky to have experienced such a beautiful place, but fear that change is imminent.
Do bear in mind that your bar bill will quickly tot up as, unless you walk to the other side of the island, there are no other restaurants and shops close to Lazybeach, and breakfast is not included. So whilst the accommodation is cheap and basic, you may end up balancing this out with the amount you spend on food and drinks.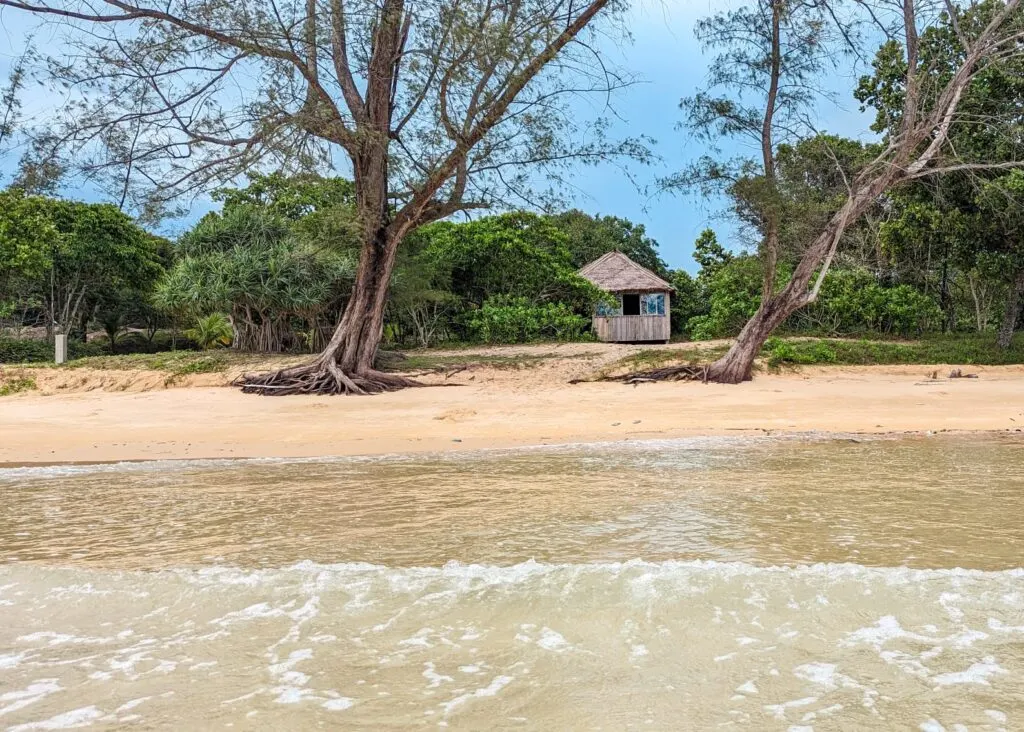 How to book Koh Rong Sanloem
We paid £34 per night in June 2023 for a family hut overlooking the beach at Lazybeach. We stayed for five nights in Hut 10 and booked via booking.com.
---
You may also like to read:
Visiting Battambang with kids
Visiting Phnom Penh with kids
Visiting Kampot with kids: things to do and where to stay