This Phnomn Penh with kids guide was researched in June 2023
Phnom Penh, the capital and largest city in Cambodia, retains the fun and flavour of other large Southeast Asian cities, where life spills out onto congested roads with careering tuk-tuks and mopeds, but on a much smaller scale. Think of it as a tamer version of Bangkok; you'll still be stuck in traffic-jams and need to haggle in the markets, yet it feels much easier to navigate and not quite as highly-strung.
As in the rest of the country, change is happening in Phnom Penh, sometimes right in front of your eyes with cranes and scaffolding a constant companion. We visited Phnom Penh pre-kids back in 2007, and the city is near-unrecognisable to what we remembered. Take a detour down a side-street and you'll find a quieter side with amazing food and dining options, cultural and religious experiences, and fascinating but tragic historical sites, all providing an interesting insight into the contradictions of modern Cambodia.
Here we share some sanity-saving top tips for a visit to Phnom Penh with kids as well as our recommendations for things to do; we like to provide a balance of cultural and fun when exploring cities with kids. We also discuss visiting the Genocidal Centre and the Killing Fields with kids, and share details of the accommodation where we stayed (rooftop pool for the win).
Disclaimer: This post contains affiliate links. If you click to purchase, it is at no additional cost to you, and I receive a small commission.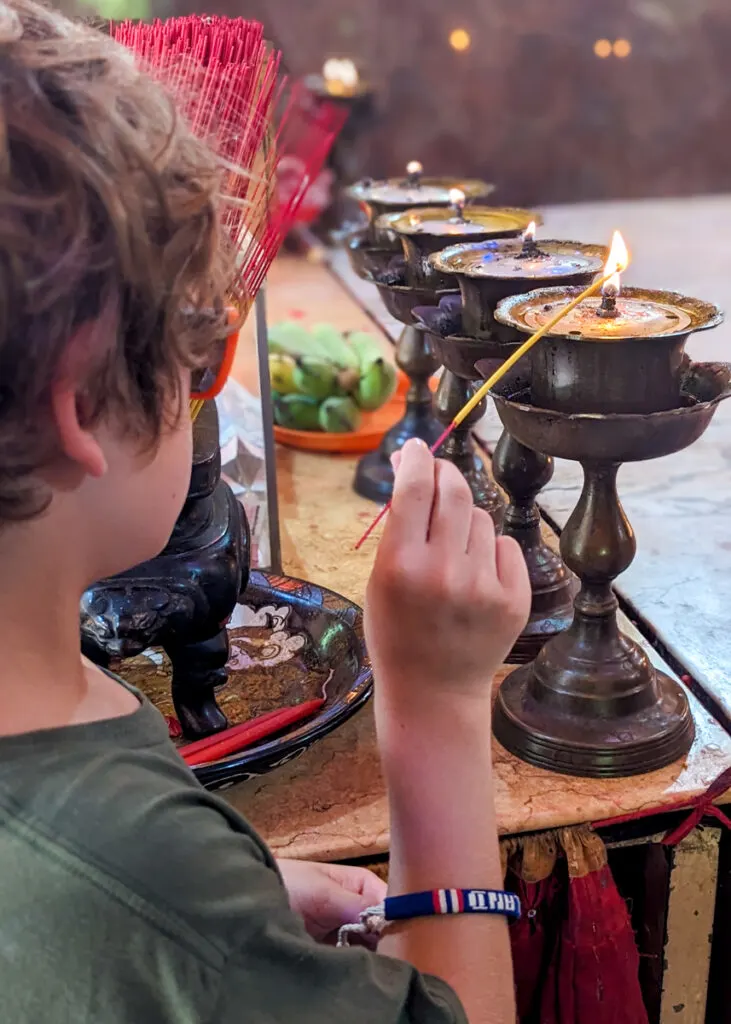 Top tips for visiting Phnom Penh with kids
Sort out a Cambodian e-sim before your visit (we use Airalo) and use the data to book tuk-tuks using the Grab app (there is also Pass app, but you need a Cambodian phone number to register, whereas you don't with Grab). This avoids haggling fares and convoluted explanations of your destination as it's all handled by the app for you. Super easy.

Book accommodation with a pool. The city can feel busy, hot, and chaotic. A pool allows everyone a place to cool off and enjoy some downtime in the afternoons.

Get out exploring early in the day and late in the evening to beat the heat. Afternoons can be spent chilling under the aircon of your accommodation or in the pool, or perhaps head to one of Phnom Penh's snazzy malls.

Leave valuables at your accommodation and take out with you the bare minimum. Unfortunately there are reports of bag snatchers in Phnom Penh. I wear a bum bag.

Don't wear flip-flops, but rather footwear that better protects your feet. We all wear KEEN sandals. Footpaths are in bad condition, and it's all-to-easy to stub your toe or twist your ankle.
Things to do in Phnom Penh with kids
Being a city that's racing to catch up with the modern world, Phnom Penh offers families the perfect balance of exploring tradition and having some serious fun with hi-tech cinema complexes and waterparks.
One of the suggested top things to do in Phnom Penh with kids, and something we were really looking forward to, was to watch a traditional show from Cambodian Living Arts troupe. However, since the pandemic, the troupe are no longer performing and at the time of writing (2023) there were no other performances from any other companies in Phnom Penh.
1. The Royal Palace
Remarkably similar (and a smaller version) to The Grand Palace in Bangkok, Phnom Penh's Royal Palace is a striking set of buildings in beautiful grounds. There is little shade here, so plan to arrive at 9am when it opens to beat the heat. Entry is US$10pp (kids under 6 are free). This also includes entry to Silver Pagoda, which is part of the same grounds.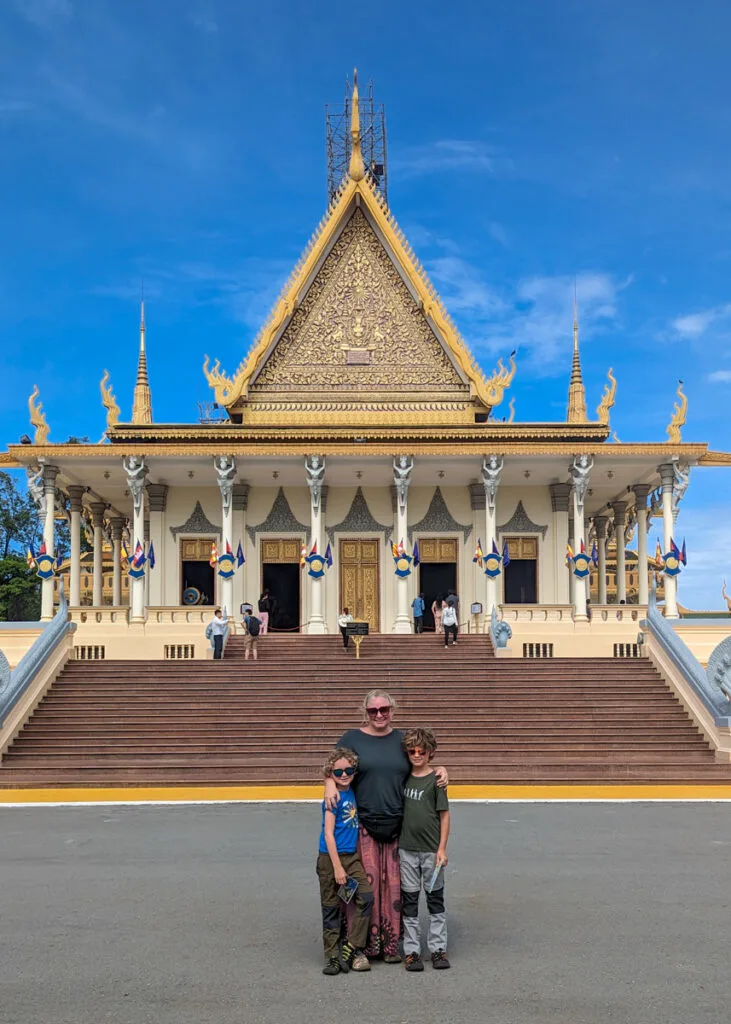 A little map is handed to you to work your way around the grounds. Our boys enjoyed the opportunity to take on the navigation.
There a couple of buildings to enter to cool off by the fans whilst marvelling at the treasures displayed. Allow one hour for your visit here (yes, for a family of four this is an expensive hour).
2. Wat Phnom
Perched on the only 'hill' in town (which is more of a knoll) is Wat Phnom. Entry for foreigners is US$1 per person, kids are free.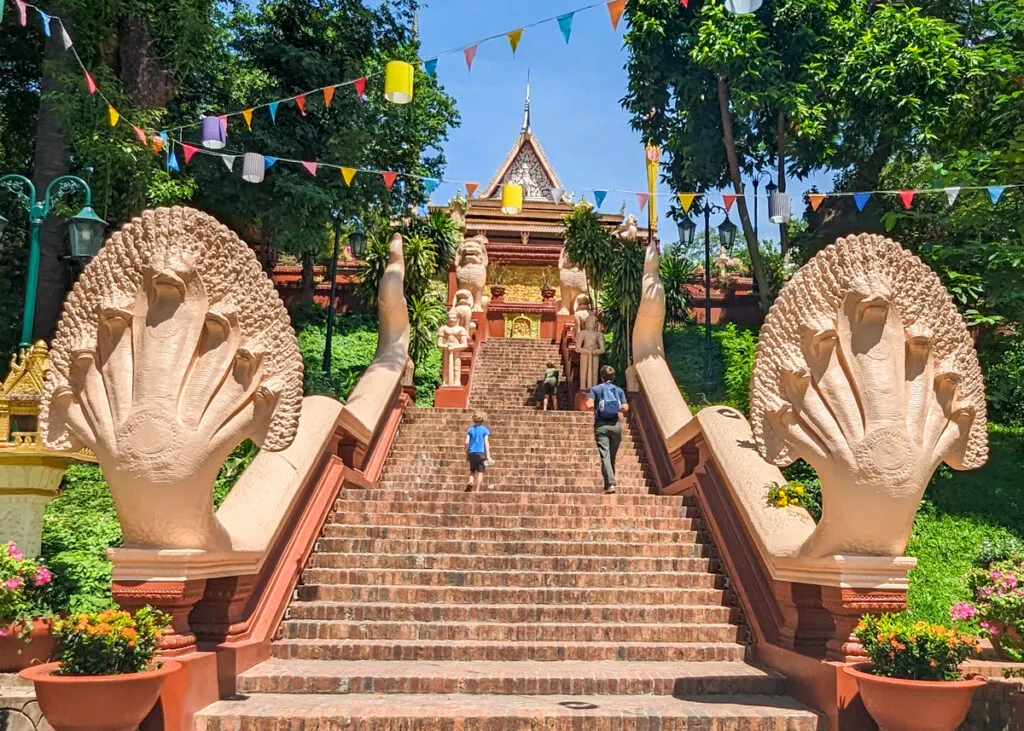 There is a temple at the top of the staircase, as well as a Chinese temple just to the right towards the top of the hill. Kids will enjoy lighting incense sticks to say a quick prayer or mindful thought. Leave a small monetary donation in the pot.
Just next to Wat Phnom is a fantastic playground (open 8am to 7pm). Click here for location.
3. Sunset cruise and Sisowath Quay
A walk along Sisowath Quay on a balmy evening is a delight. Friends are out playing ball games, stall sellers serve snacks, and boat captains are selling sunset cruises.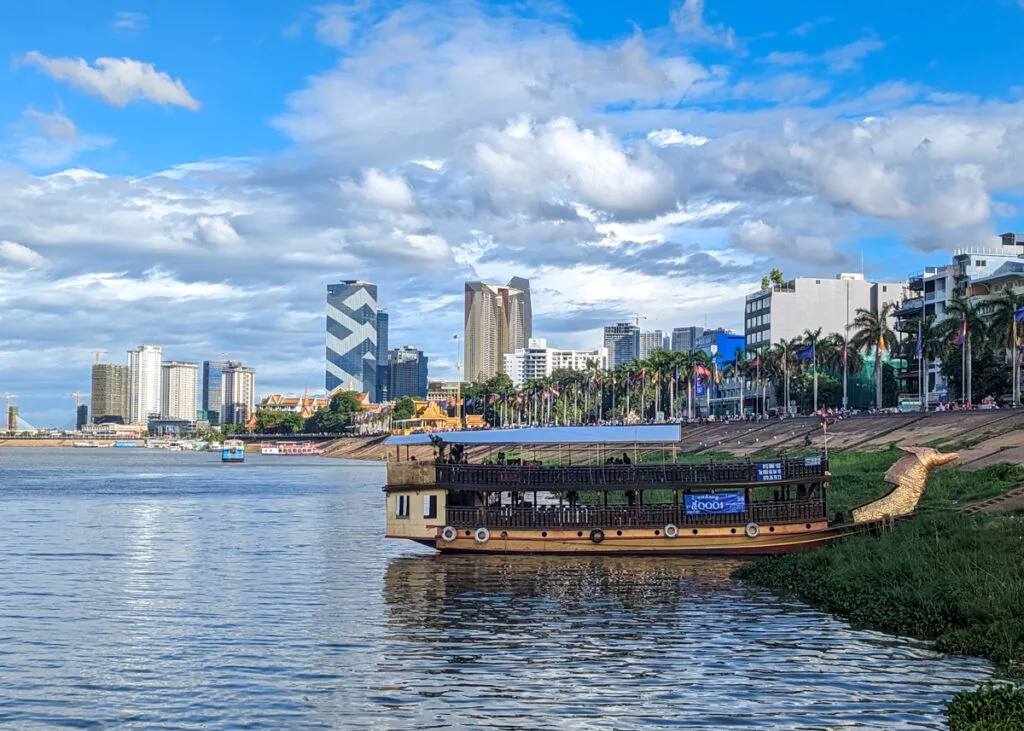 Walking along here anytime from 4:15pm, you will find someone willing to sell you a sunset cruise on a boat. These are all US$5 (including a beer), kids are free. The cruise is about one hour, and is a lovely relaxing way to experience the city from a different perspective. The juxtaposition of The Royal Palace surrounded by skyscrapers makes for an interesting skyline.
You can purchase food and drinks onboard, or do as the locals do and come prepared with a takeaway.
4. Night market
The Night Market is a fantastic place to go for dinner one evening and to stroll around the markets. This market isn't too big and so doesn't feel overwhelming at all. Although emphasis on the 'night' market; this isn't open during the day.
Walk to the back of the markets for the food stalls. Every stall sells exactly the same menu, so find a plastic chair and point to whatever you fancy on the menu. Our entire family meal costs US$8 (you purchase drinks from a separate stall).
Afterwards, take a stroll around the shopping stalls. Our eldest picked up a 'totally-not-fake' Cambodian football kit for US$2.50 (fixed price, no haggling required).
5. 4XD cinema
A cinema may be the last thing you think of doing when you're exploring a culturally vibrant city like Phnom Penh. You can go to the cinema any time at home, right?
Well, we actually rarely go to the cinema at home (we don't live near one, and they seem extortionately expensive these days in the UK) and when travelling long term, a cinema visit feels like quite the treat.
However, the Major Cineplex Aeon Mall Phnom Penh offer a cinema experience on the next level with their 4XD screen. We watched the new Transformers film here (films are in English with Khmer subtitles) and not only was the film in 4D with air blowers and smoke machines for the extra dimension, but to add to the experience, our chairs moved around as if it were a theme park ride! I was holding on for dear life through some of the battle scenes! Quite the experience.
We paid US$11 per person (same price for kids). Seats further back were US$13pp. Whilst you can pre-book tickets online, we visited on a Sunday and had no problems purchasing tickets just before the film started.
6. Garden City Water Park
A 40 minute drive north of the city is the huge Garden City Water Park (closed on Mondays and reduced hours on Tuesdays). There are slides galore, a massive wave pool, lazy river, an extensive water play area, and a splash park for toddlers.
It's a brilliant day out and the best waterpark in Cambodia. Bring your own towel, and pay for refreshments and food using a pre-paid wristband. Standard entry fee is US$25 for adults (or rather those above 121cm) and US$15 for kids (below 121cm), although there are discounts during the off-season and if you pre-book online. We paid US$11 per person to go on a Tuesday from 1pm to 6pm (although they closed all the slides at 5pm).
Visiting Tuol Sleng Genocide Museum and Killing Fields with kids
The once-high-school-turned-prison during the brutal and barbaric Pol Pot regime is now a museum, which serves as a testament to the crimes of the Khmer Rouge, as is the nearby Killing Fields of Choeng Ek (extermination camp). If you want to learn more about this atrocious time in Cambodia's history, these are the places to visit.
However, you may be wondering whether you should visit with the kids. With all aspects of parenting, it's down to you to make an informed decision. You know your child best, and age, maturity, and understanding will play a part in this. It would go over the heads of babies and toddlers, and teenagers who have perhaps studied Auschwitz may be better prepared.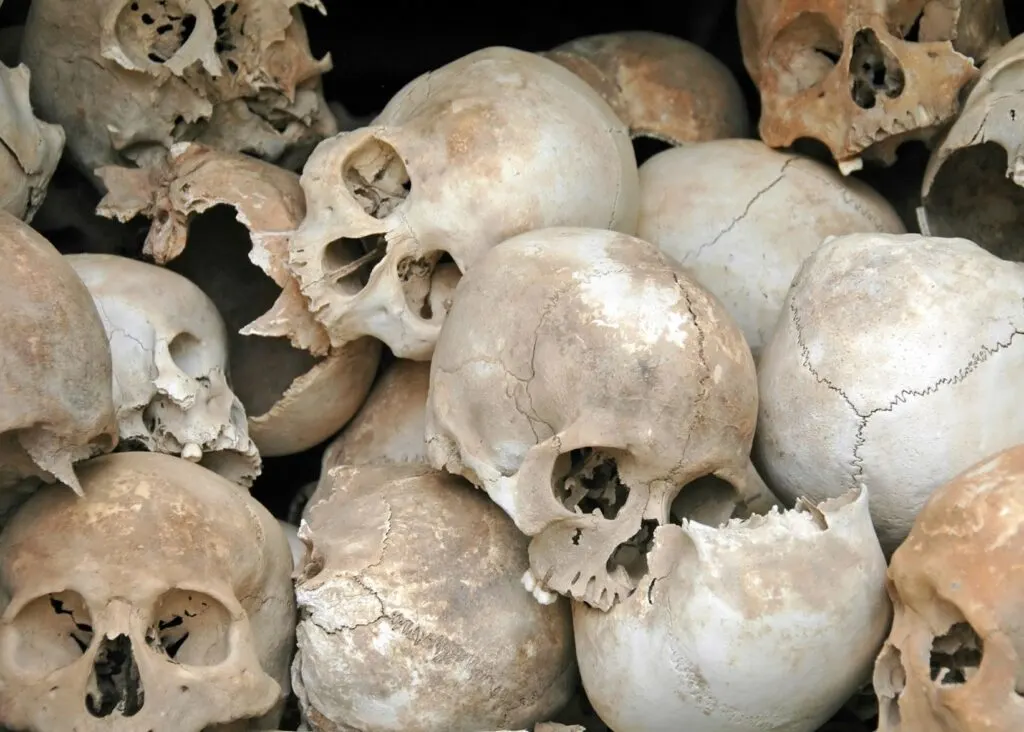 Our boys were aged 8 and 9 at the time of our visit. Whilst we spoke to them about Cambodia's dark history, we decided against taking them to the genocide museum.
Jay and I visited back in 2007 and so knew what to expect. The images displayed are horrific and disturbing. If this was a film, it would be rated 18, and we don't allow our kids to watch 18-rated films. Both of us were rather shaken by what we saw during our visit, and I don't want those images imprinted on the minds of our children at this impressionable age.
Where to stay in Phnom Penh with kids
Check rates and availability for City View Apartment
With visiting Phnom Penh in June, at the start of the wet season, a pool was a must. So when we spotted an apartment with a rooftop pool on booking.com for US$55 per night, we jumped on it.
The family apartment was huge, spread over two levels with a kitchen, dining room, living room, two balconies, three bathrooms and two double bedrooms. The kitchen was fairly well stocked with a fridge, kettle, microwave, and oven/hobs. In one of the bathrooms there was also a washing machine, very handy at this stage of our travels (although we realised a little too late that we were supposed to put the wastewater pipe in the shower).
The main drawcard though is the rooftop pool which is open from 5am to 11pm. It's quite small but we were lucky to have it to ourselves each time; it may have been a different experience during a busier time. There are almost 360 degree views of the city, there are a couple of sunbeds, and it's lit during the evening. On the same level, there is a gym which is fairly basic with a treadmill, exercise bike and weights. As with the pool, we had it to ourselves so it was great, but would be different if more people were staying in the apartment building.
The staff were friendly but do take note that it's not a hotel, more a serviced apartment. They spoke very little English and we suspect they wouldn't be able to help much with booking tours etc. The apartment can be cleaned on request.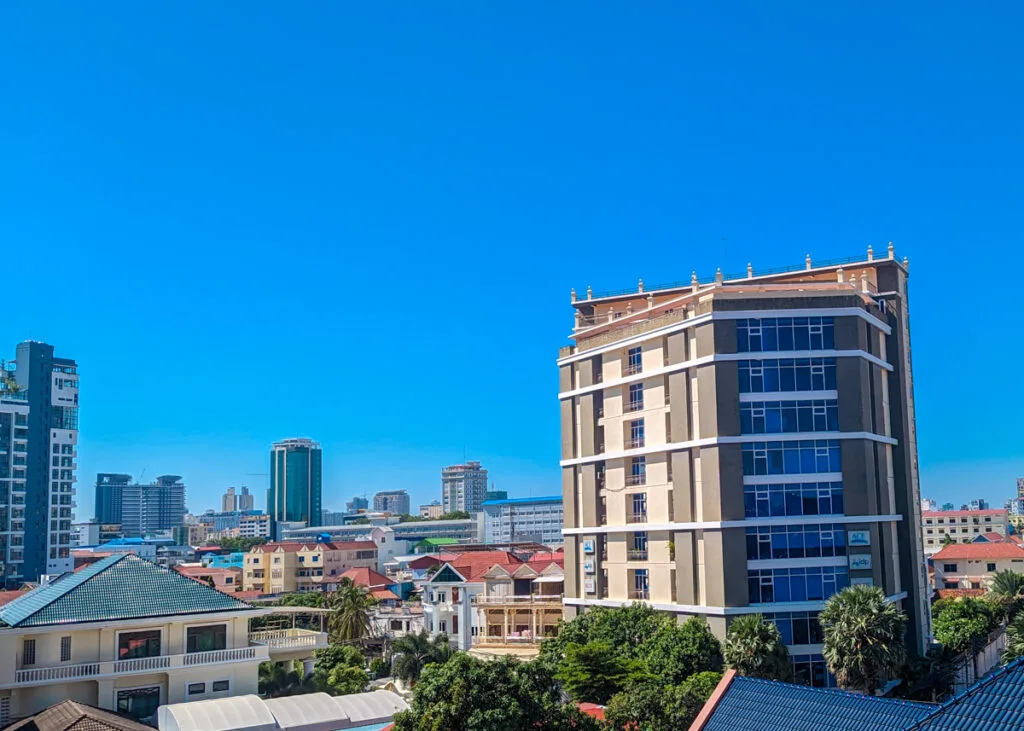 The location is fine, there isn't too much nearby in terms of sights and attractions so you'll likely need to order tuk-tuks to get around (although it's less than US$2 to take ride the 15 mins into the city centre). We did find a BBQ restaurant opposite (amazing experience) and a Big C minimart next door, but it had fairly limited stock.
Getting to Phomn Penh
Most visitors to Cambodia will fly into Phnom Penh International Airport. To get to the city from the airport, the easiest way is to get a taxi.
However, if like us you have travelled overland from a neighbouring country into Cambodia, you may be visiting from another town or city. We travelled from Kampot on the comfortable Giant Ibis bus which is considered to be the premium service in Cambodia. The bus companies have different drop-off points around town but most seemed to be near the night markets.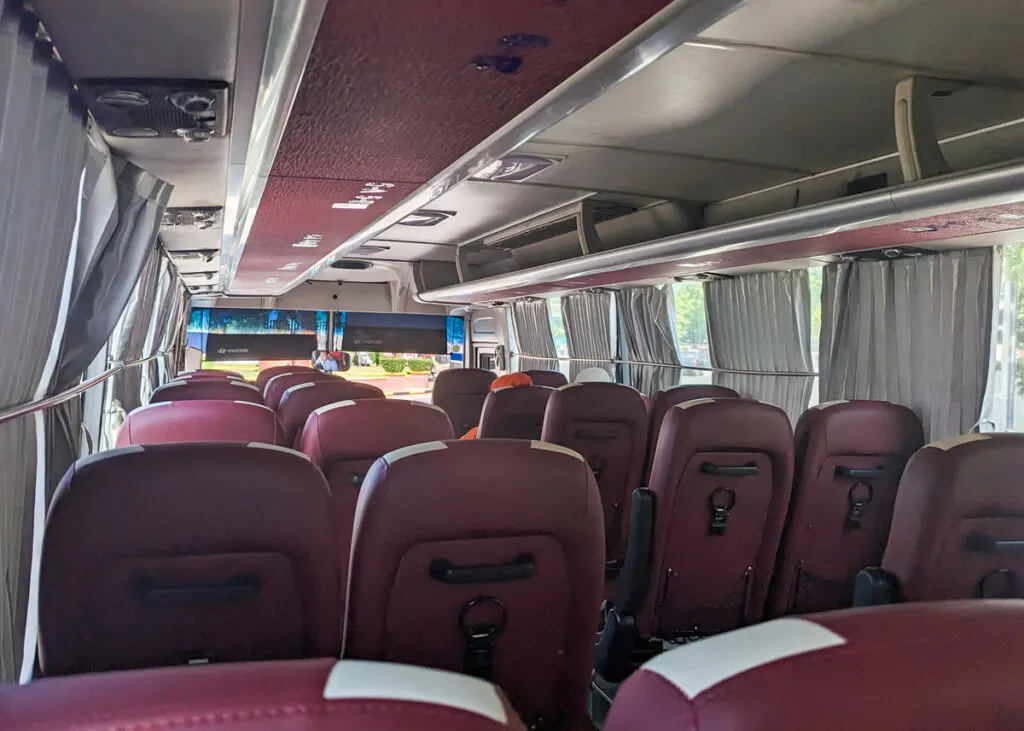 As you'd expect, Phnom Penh has bus connections to all Cambodian towns and cities, and there are a few international buses to Thailand and Vietnam. You may be able to get some information online, otherwise there are lots of tour agencies near the night market who can help for a fee.
An alternative to the bus is the train which is slowly starting to increase the frequency of services; there are currently two lines, one heading north to Battambang (the line actually continues to the Thai border at Poipet but is currently suspended) and one south to Sihanoukville via Kampot. Both leave Phnom Penh very early in the morning each day (6:40am northbound, 7:00am southbound) but check beforehand as times are very subject to change. You can buy tickets online via the official website or via the easier route of https://www.baolau.com/ but you'll pay a small fee. Note that in both cases of booking online, you'll need to still collect the physical ticket at the station before travel. In the end, we actually decided to take a detour to the station (it's very central) and buy the tickets in person. It was very simple that way and the person there spoke perfect English, payment seemed to be in cash or credit card.
Finally, you can always take a private taxi, usually the most expensive option but, if you are travelling with four or more people, it can work out not much more than a bus.
Final thoughts on visiting Phnom Penh with kids
As part of our 10 weeks backpacking Southeast Asia in 2023, we spent a fantastic four days in Phnom Penh (coming from Kampot and then onto Battambang).
Phnom Peng feels like one of the the most manageable Southeast Asians capitals to navigate, a tamer version of Bangkok, and we loved exploring the juxtaposition of old and new. The Royal Palace and Wat Phnom were incredible sights to visit, we loved the food at the night market, but it was also an opportunity to have some fun and experience modern Cambodia with the 4XD cinema and huge waterpark; after all, travelling with kids is always a balancing act.
---
You may also like to read:
Visiting Kampot with kids: things to do and where to stay
Koh Rong Sanloem with kids: Lazybeach REVIEW
Visiting Siem Reap with kids: beyond Angkor Wat