This guide to visiting Battambang with kids was researched in June 2023
Battambang, the provincial capital in the northwest of Cambodia, might not be on everyone's radar when visiting the country, but it's a fantastic choice for worldschooling families who want to learn more about Cambodia and provides a more relaxed few days between buzzing Phnom Penh and the temple-based tourist-town of Siem Reap.
But don't let that make you think this chilled-out town is low on enjoyment; instead you'll find a beautiful riverside location, great food and drink options, very affordable accommodation, easily-accessible day tours, and not to mention one of the coolest circuses you're likely to ever visit.
It's also a good base to set off and explore the Cadramon Mountains and other parts of Battambang province. With good transport connections to Thailand, Laos, Phnom Penh, and Siem Reap, don't just use it as a stopover, take a few days and experience all this region has to offer.
Disclaimer: This post contains affiliate links. If you click to purchase, it is at no additional cost to you, and I receive a small commission.
Getting to Battambang from Phnom Penh
The usual choice of bus, minivan, or private taxi is available between Battambang and Phnom Penh. All the options take approximately the same time (5 ish hours) (taxi slightly quicker) and can either be arranged directly with the relevant company or with your hotel. Expect to pay around $13 per person for bus/minivan and approximately $50-$60 for a private taxi.
However, the way we'd recommend you do it is via the daily train service which is not only slightly cheaper ($8 per person) but also meanders its way through some truly beautiful countryside during the journey. Admittedly it takes an extra hour or so, but we found the time flew by, certainly a much nicer journey than bouncing along a road, stopping every few minutes for pickups or traffic lights.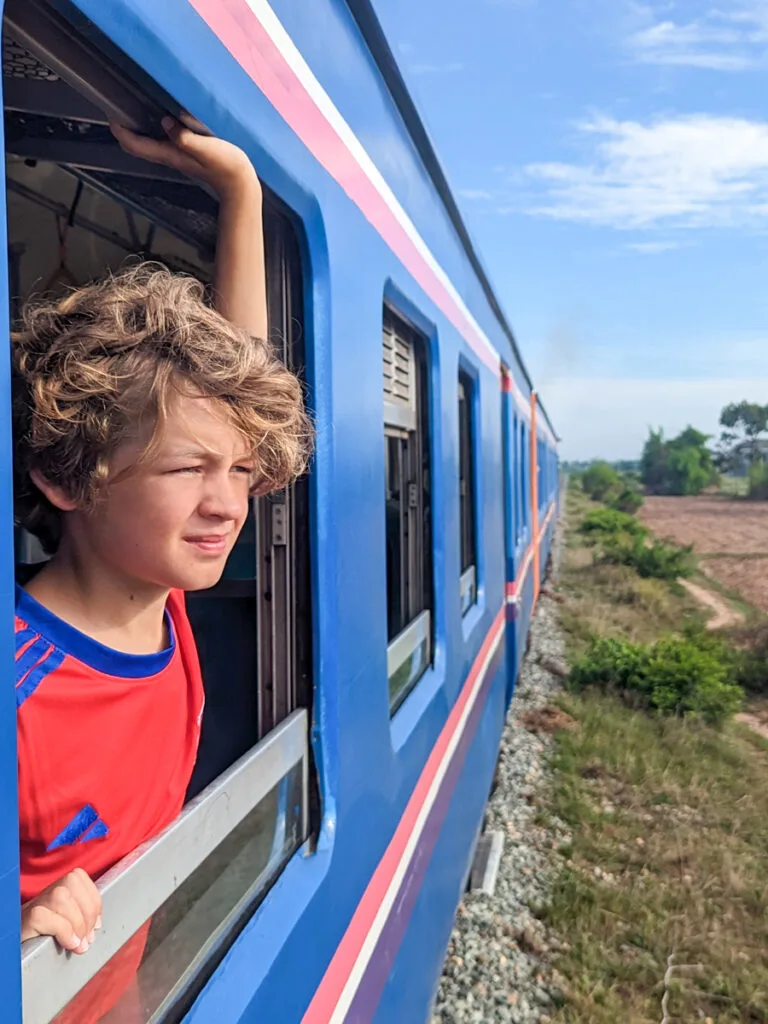 Where we stayed in Battambang with kids
Where we stayed: Lotus Blanc Homestay
Accommodation in Battambang tends to fall into two categories; the cheaper and livelier places are in the centre of town, close the riverbank, central market and Pub St. This might well suit some families but we preferred to stay a little out of the centre at Lotus Blanc Homestay. We knew that we'd be spending most of our stay out on tuk-tuk tours so wouldn't need to be going in and out of town too often. Plus, the tuk-tuks work out quite inexpensive ($1.25), so being a little out of town is really not a problem. You can also walk into town if you need to, but it's not the most pleasant walk with missing footpaths and mopeds whizzing past your elbow.
Lotus Blanc Homestay is run by the friendly Mr Sarin. It really feels like you are joining him and his family in their home; our boys happily played football with his sons each evening and made firm friends with them. He is also very happy to help with booking tours, onward travel, circus tickets, etc.
The room we stayed in was a family apartment, consisting of a double bed, two singles, private bathroom, and separate lounge area. Whilst quite basic, it was very good value ($20 per night) and the air-conditioning was very welcome after a long day sat in a tuk-tuk. The small restaurant served a simple breakfast (tea, water, eggs, and fruit plate for $3) and was also available for small evening meals and drinks. It's a very relaxed place, lots of seating areas, hammocks and comfy chairs.
Tuk-tuk day tours
Battambang as a town itself perhaps doesn't warrant too much of your time (you may only pop in for dinner along Pub Street or the Night Markets), but it's a fantastic base to get out into the surrounding countryside to learn more about Cambodia's past and present.
We organised two separate tuk-tuk day tours through Lotus Blanc Homestay for a very reasonable price.
Whilst you visit sites along these day tours, my personal favourite part of them was seeing the countryside passing by and watching local people going about their day as the warm breeze rushed by. It's a lovely way to relax and take time out between the sightseeing stops.
Day 1
10am-6:30pm
27$ for all the family
This tour covers the main sites around Battambang, including the bat cave and Killing Cave, Banon Hill, and a ride on the bamboo train. There's a fair bit of driving between places as the tour covers 50km.
Our day started with a walk along a suspension bridge before a ride on the well known bamboo train. This was once a way locals would get up and down the track, but now it's purely for tourists. But don't let that put you off, it's super fun and the kids will love it! We paid US$5 per adult and the boys were half price. The bamboo train is put together in front of you, with two sets of wheel laid on the railway track, a bamboo platform then added with cushions for you to sit, and then a motor. The bamboo train takes 15 minutes going one way up the track where you stop for ten minutes conveniently next to a few shacks selling cold drinks and souvenirs, and then take the bamboo train back down again.
The next stop is Banon Hill. Be prepared to climb a lot of steps (358 to be exact) in the heat to reach the temple at the top. Take your time and bring water. Afterwards, enjoy lunch under a fan at one of the nearby restaurants. You will probably spend a couple of hours here.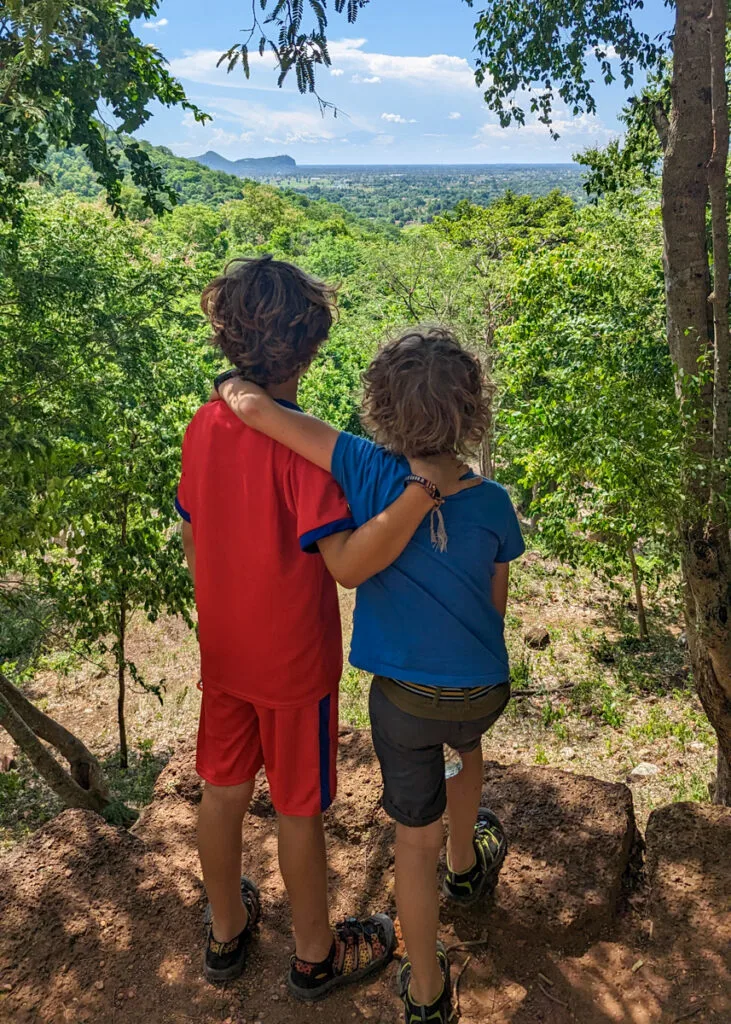 The third (and last) stop of today's tuk-tuk tour is Phnom Sampeau. This rocky outcrop is known for the thousands of bats that fly out one of the caves at dusk every night. But this is also the site of the Killing Caves, where the Khmer Rouge tortured thousands and threw them down a shaft into the cave. A glass box in the cave displays bones of victims next to a reclining Buddha. It's a sombre place and you may want to have discussions with your kids about the Khmer Rouge regime before your visit. Be warned the your tuk-tuk is unable to drive up the road to the Killing Cave and it's a 15 minute walk uphill to get to it.
Day 2
8:30am to 1pm
US$17 for all the family
The next day is more local to Battambang and you won't be driving as far. This day is also more about learning about local traditions and way of life with watching how how rice wine, rice paper, fish paste, and bamboo sticky rice is made. These are all at separate locations.
You may also be taken to a croc farm. Crocodile skin used to be big business in Battambang, but with little business now coming from Thailand and Vietnam, there is no one else to sell to and many of the farms are closing down.
You will also be taken to the Killing Temple, another memorial to horrific Khmer Rouge torturing and killings. At this site, over 10,000 people were tortured, killed, and then dumped in a deep pond. The memorial includes a glass case of skulls and bones found at the bottom of the water.
The highlight and end of the tour is a visit to Ehkphnom Temple, the remains of an 11th century temple, which pre-dates Angkor Wat. There is also a modern day temple here and a massive Buddha statue.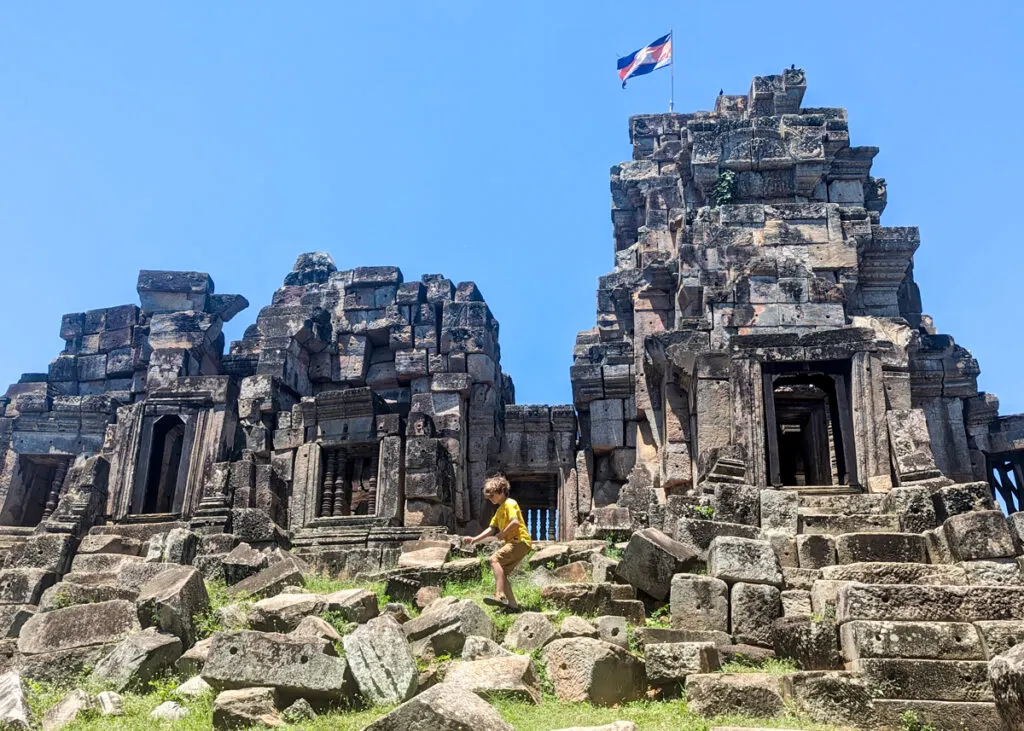 Phare Circus
One of the highlights of our time in Cambodia, and gets a huge recommend from us, is the Phare Circus. This is more than a circus though, this is a complete performing arts centre for Cambodians with graphic designers, artists, dancers, and acrobats all training here.
A few times a week, there is a performance in the circus tent. We saw 'Holiday' and were totally blown away by the energy, personality, and ingenuity of the show. It was funky, funny and just amazing.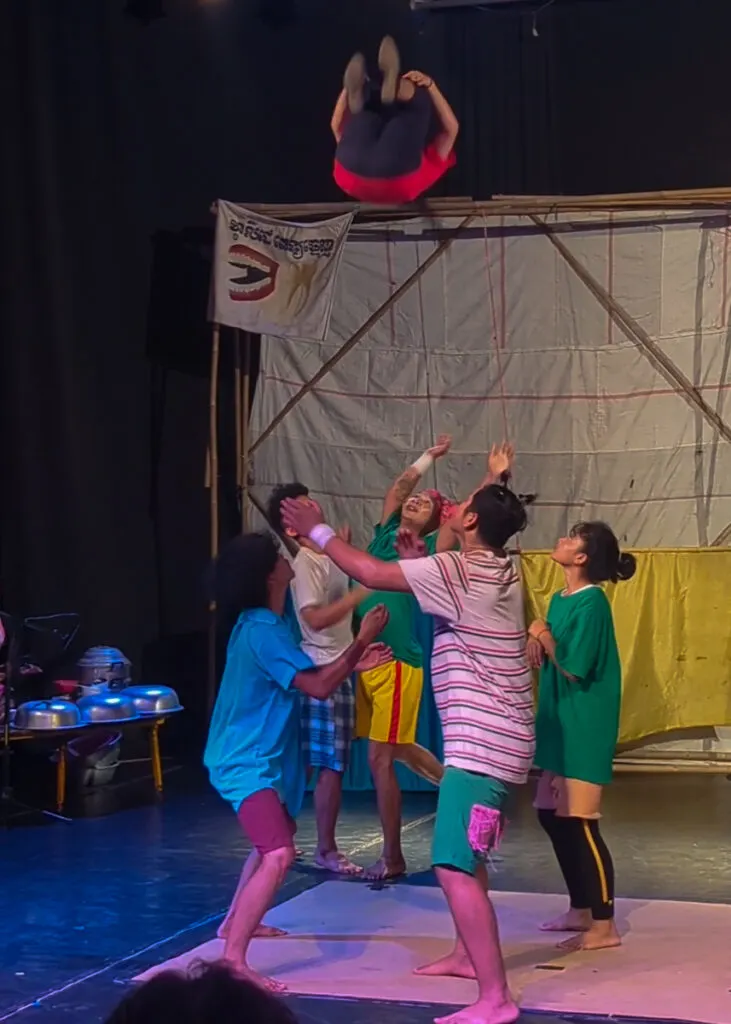 Check the website for performance times and to book tickets. If you find that there isn't a performance on when you're in Battambang, you may be able to catch them in Siem Reap instead, although Battambang is where the troupe originates.
Final thoughts on visiting Battambang with kids
If you're travelling Cambodia as a family, then you really must visit Battambang as the surrounding countryside provides a fascinating insight into the country's past and present and hence why we think Battambang with kids is a superb worldschooling destination. Plus, the fantastic Phare Circus really is a must see.
What made our stay extra special was our accommodation. Whilst it was basic, we loved the family vibe at Lotus Blanc Homestay and our boys had so much fun playing football with the two sons who are of a similar age. Mr Sarin also makes it very easy to organise tuk-tuk tours into the surrounding countryside.
---
You may also like to read:
Visiting Phnom Penh with kids
Visiting Kampot with kids: things to do and where to stay
Koh Rong Sanloem with kids: Lazybeach REVIEW