For any visit to Cambodia it's likely that Angkor Wat will be top of your to do list, even if you're visiting Cambodia with kids in tow. But make sure you allow time to explore Siem Reap with kids, as there is so much fun to be had!
At times, it must be quite difficult being Siem Reap. Not many cities have to contend with such a glamourous neighbour; the ancient temples of Angkor Wat beckon only a few kilometres away and feature on most people's top ten list of places to visit in the world. Siem Reap might have been forgiven for handing in the towel and embracing its role as a dull dormitory town, the sort of place people transit, eat and sleep before heading up the road to the temples.
Whilst there are parts of the city which fulfil that role, with soulless all-inclusive international resorts lining some of the roads, don't be fooled; Siem Reap has grown up with its own identity and, if planned correctly, can be a welcome addition to your visit, not just an afterthought. Fantastic accommodation, busy nightlife, international-standard dining, local markets, friendly locals, good transport links, and fun activities for all the family; just make you save enough time for the temples down the road!
Disclaimer: This post contains affiliate links. If you click to purchase, it is at no additional cost to you, and I receive a small commission.
Tips for visiting Angkor Wat with kids
The big drawcard to the area, it could be easy to build Angkor Wat up so much that it fails to meet expectations. And that's just for the adults; how do you ensure that kids leave this incredible place with great memories and zero tantrums?
The first thing to remember is that the site is HUGE. It's been recognised as the largest religious site in the world and that means everyone needs to plan their visit, otherwise you, and your memories, will get lost in the ruins.
One advantage is the ticket prices for 1, 3 or 7 days are fairly similar ($37/62/72 respectively) and the latter two can be used across multiple days (10 and 30 respectively). Best of all, kids under the age of 12 are completely free of charge! So, if you buy a multi-day ticket, you can spread your visit over several days and take some chill time in between. Note that whilst kids under 12 don't need a ticket, they may have to show identification to prove their age at the many ticket checks. In practice, our two (aged 9 and 8) were only asked how old they were once, and didn't have to show ID. Kids closer to 12 might be asked more often, especially if they look older than their age.
It's no secret that it can get hot in Cambodia and whilst there is some shade to be found in the temples, you really want to avoid the hottest part of the day. One approach is to leave your hotel for sunrise but this might get you mixed results, depending on your kids. We left at 4:30am (4am alarm call) and whilst the view over Angkor Wat was incredible, we're not 100% sure it was worth the early start and comedown that followed straight afterwards. It might have been better to have longer in bed, get breakfast at the hotel and still be onsite by about 7:45am. You'll need to judge how important the sunrise is for your group.
Either way, definitely try to be there for 7:00 or 8:00am as this will give you a few hours at least until the day gets really hot. Some families like to retire to an AC restaurant near the temples for a very long lunch and this might suit families with older kids. Another option is to head back to Siem Reap and your hotel, hit the pool and then return after 3pm. Your ticket will still be valid for the day but you'll pay extra for transport and spend more time going back and forth. A final option (and the one we took) was to accept that our kids would be ready to leave after a half day and leave it there. We spent two really enjoyable half-days together and the kids were still in good spirits when we left. Remember that if one parent is particularly keen, they can go back on their own another day and take things in at their own pace, especially if you purchased a multi-day ticket and have some spare days.
In terms of the temples themselves, they really are as awe-inspiring as you've read about and (certainly initially), the sense of wonder is palpable in the kids. Angkor Wat is the highlight and has lots of different areas to investigate, some patches of shade, plus it's the most intact of the temples. It's huge though so try to pick one area top focus on rather than ticking off the whole complex. If you do get here for sunrise, head to the libraries (not the tourist-heavy reflective pond) for the best combination of views and tranquillity.
Other great temple options are Ta Prohm (of Tomb Raider fame), lots of nooks and crannies, giant trees, fallen pillars, and movie-famous photo opportunities. It's a fun place for kids to get semi-lost in and feel like they're exploring their own jungle temple complex.
Bayon is another beautiful temple, part of Angkor Thom which also has the magnificent terraces, swimming pools, and pyramid temples. Bayon itself has scores of faces carved into the rocks, fun for kids to point and marvel at. The top level is (still) closed at the moment with no obvious sign of imminent opening. Watch out for sneaky monkeys who like food, sunglasses, and basically anything not tied down.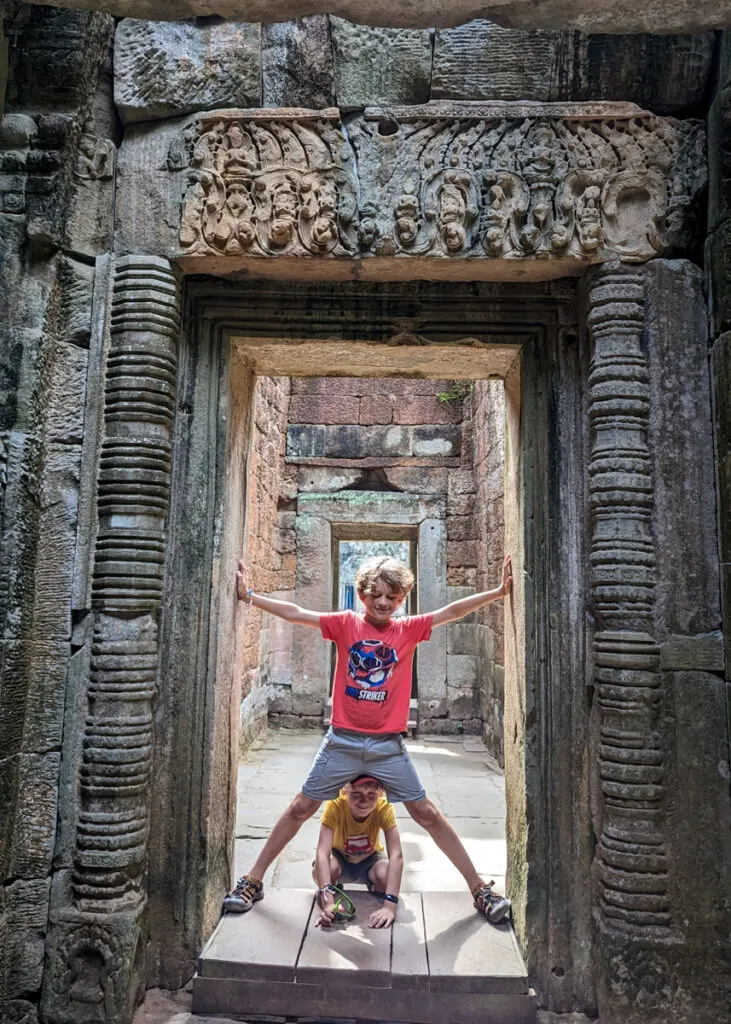 You'll be good-naturedly bombarded with tour suggestions by your hotel and every tuk-tuk driver this side of Phnom Penh as soon as you arrive in the city. They're a great source of information and will help you choose the best places for you and your family, so use the above as a guide for your trip.
Finally, a note on crowds which, pre-Covid, were almost as famous as the temples themselves. We were there in June 2023, out of season and it was very, very quiet, certainly compared to pre-2020. For large periods, we were able to walk around the main temples (including Angkor Wat) seemingly on our own which was a huge plus point but of course very sad for the Cambodian economy. Travelling with kids, this made a huge difference as large crowds can affect the dynamic of any family-trip; not all kids are happy in a crowd and it makes it harder to plan and pivot if things need to change. The best advice is to go as soon as possible whilst the post-Covid lull remains as it won't be like this forever, thankfully. Always try to visit out of season and pick some of the quieter temples if possible. Younger kids might not notice the difference as much and you'll have more space to play.
10 things to do in Siem Reap with kids (other than Angkor Wat)
Need some alternatives to Angkor Wat, here are our top suggestions…
1. Angkor Zipline
Hurtle through the trees on this fun activity for all the family on a mixture of ziplines and rope bridges. If you purchase transport as part of your package, you won't need to use one of your Angkor Wat ticket days but bear in mind that you don't actually get to see any of the temples whilst up on the course.
You'll be given a quick safety briefing before setting off and there are always two instructors with you out on the ropes; it felt very safe at all times.
The price was $211 for a family of four with transport included (no discount for kids), which we felt was slightly expensive for Cambodia; the boys really enjoyed it but it felt like quite a short experience with only three ziplines, a couple of rope bridges, and a tandem zipline. It was really exciting being up in the treeline though and made a nice change from looking around the temples.
2. Angkor Wat Putt
Located a few kilometres out of town (book a ride on Grab), Angor Wat Putt is a fun way to spend an hour or so if you or your family are into crazy golf. There are 14 holes with a good mix of fun and skill. If you're competitive, there is a leader board which displays the various course records although don't expect to beat them on your first attempt!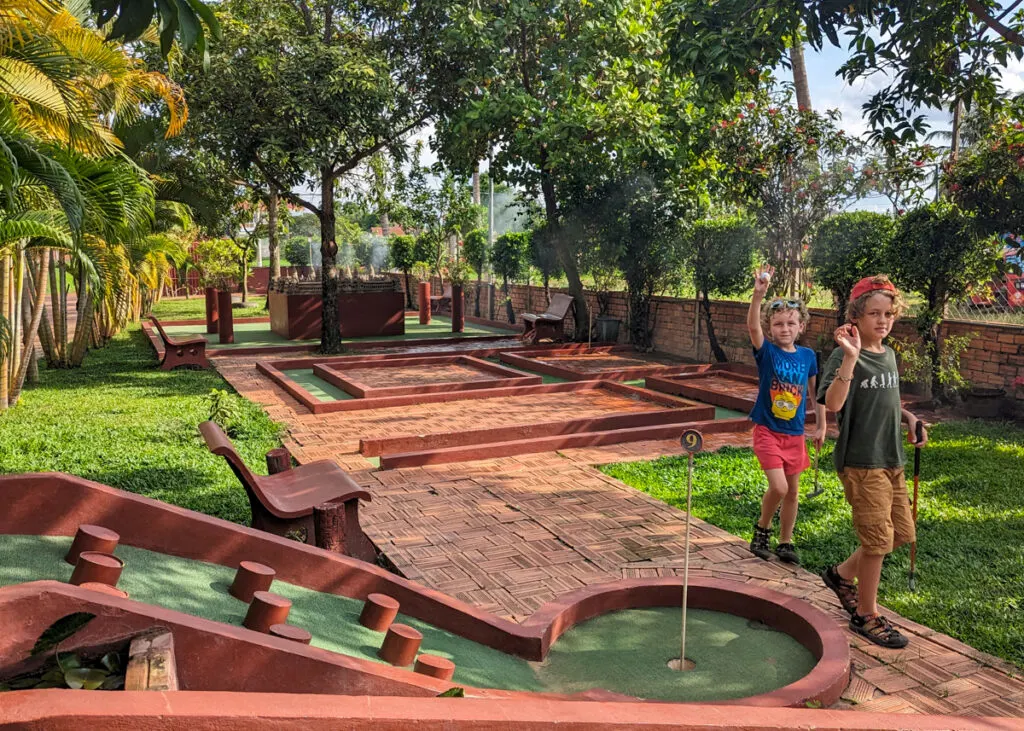 At the halfway point there is a cute little café selling beer, soft drinks, and ice-creams, all at reasonable prices. It's quite shady so not a bad option in the afternoons if you want to avoid temple-viewing during the hottest part of the day, and the friendly owner is relaxed about how long it takes you to complete your round.
3. Siem Reap Old Market
Click here for location
Sandwiched between Pub Street and Siem Reap River are the 'old market', which is half local food and produce market, and half tourist souvenir market. It's open throughout the day and evening and is a good place to do some shopping.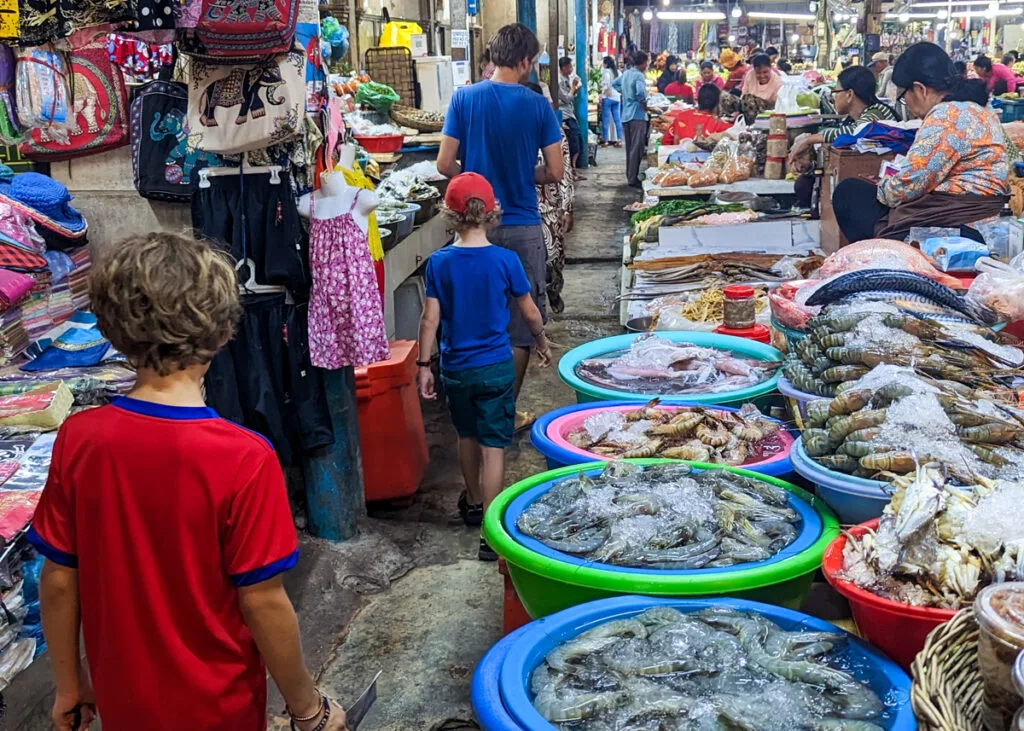 Across the bridge on the other side of the rive is the 'Night Market'. Much of these stalls seemed to be closed the few times we visited and felt like they perhaps had stayed closed since the pandemic.
4. Pub Street
Click here for location
Southeast Asian drinking streets tend to divide opinion, and we've found some we love and some we don't. Pub Street in Siem Reap definitely falls into the first category. Whilst others we've visited in the region can be seedy or too boisterous, this one seemed to get the balance right between family-friendly and something a little bit different.
Whilst there are some louder bars (and we gathered it gets livelier towards the end of the evening), we really enjoyed trying out different bars and restaurants with their extensive (but generic) menus giving us all plenty of choice. And at 75 cents per draught beer, what's not to love?
5. Phsar Leu Thom Tmey Market
Click here for location.
If you want to experience a local market, head over to Phsar Leu Thom Tmey. There isn't anything especially unique about the market, it's just a very good example of a local market, with food, clothes, toys, and probably everything else you can think of on display. It's quite a good place to pick up some snacks/breakfast before a tour as well, otherwise just take a stroll around and see how Siem Reap does its shopping.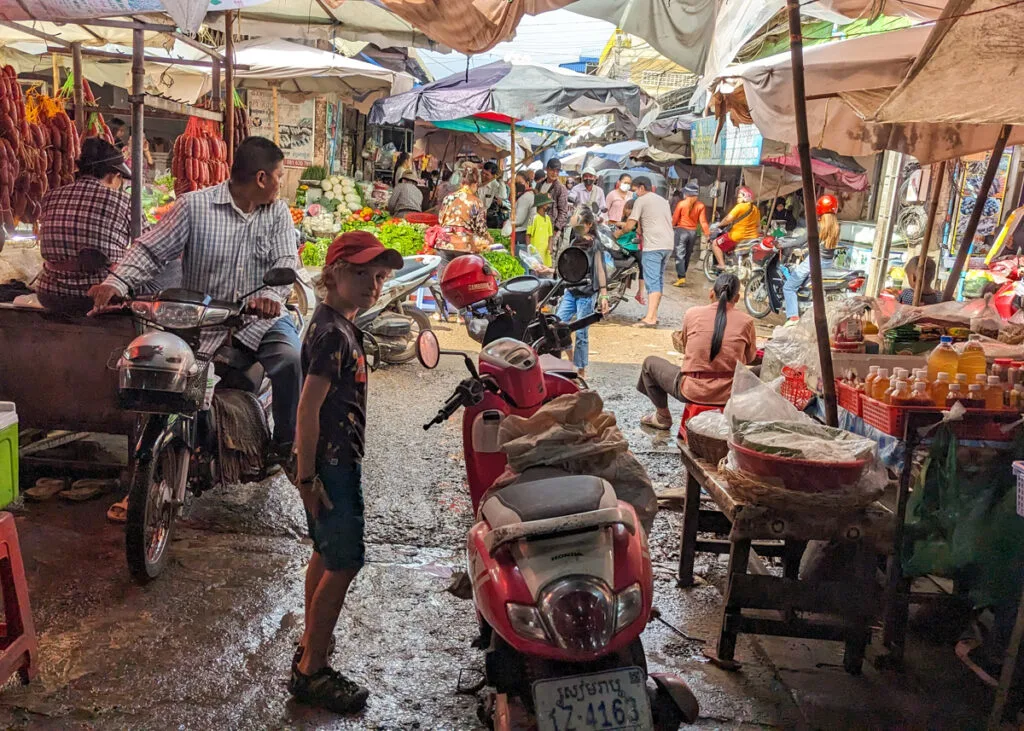 6. Apopo Centre
Cambodia has been both directly and indirectly involved in some terrible conflicts over the past half century and one of the many tragic legacies has been the number of landmine and unexploded ordnance left in the country. The effects are still felt across the country everyday with people (often children) killed or injured after coming into contact with them, usually in the countryside.
Notoriously difficult to locate and make safe, it continues to cause hurt and trauma for the population but one NGO is doing their best to reduce their number with the help of giant hero rats! These South African born superstars are trained in Tanzania before being flown over to former conflict areas to put their super-level sense of smell to good use by locating buried landmines with TNT inside.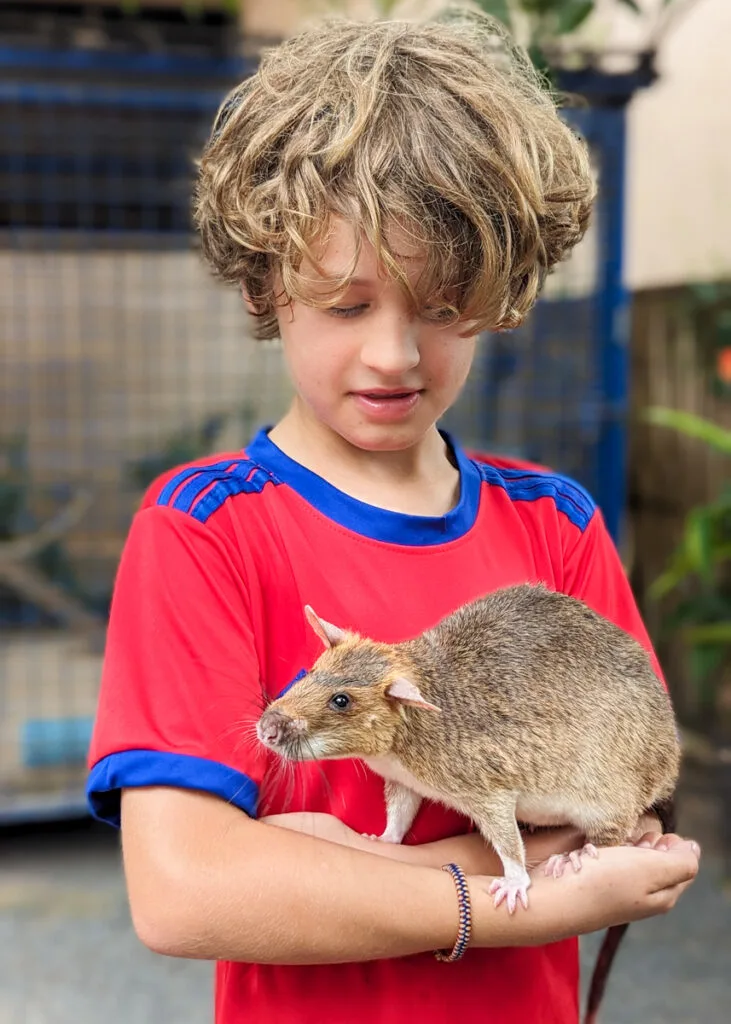 At the centre, you'll be taken on a guided tour which gives background on the conflicts which caused the problems, the types of landmines, the training schedule of the rats, plus a brief demo of the heroes in action. There is even a chance to hold the rats at the end of the demo, but only for the brave.
The tour is quite content-heavy and the demo could have been slightly longer, but it's still a fun thing to do for kids, particularly if you've already paid a visit to the landmine museum.
7. Angkor Botanical Garden
Click here for location
Are you tired of temples (surely not)? Had enough of pounding the streets looking around town? Head over to the Botanical Garden and find some shade under the many trees in the city-centre based park. There are various ponds and streams to take in, plus a couple of cafes to grab a coffee or a slice of cake, and animals to see.
This is especially good place to take little ones to allow them some free reign to explore.
8. Landmine Museum
As mentioned above in the Apopo section, Cambodia has been terribly affected by conflict in the past half-century and the worst legacy of this is the sheer number of landmines and unexploded ordnance which litters the countryside. The landmine museum is an important and fascinating visit for people keen to gain a deeper understanding of the conflicts and the problems it has caused. An optional (but recommended) tour is available with a landmine survivor who will vividly bring the life the tragic impact of these horrible weapons.
Whilst the tour is quite heavy on specific detail of the different types of landmine and unexploded ordnance, it's still suitable for most younger children, particularly if you're able to give them some advance info on the history of the landmines. There are lots of informative displays and boards, plus hundreds of (safe) landmines and other bombs and guns. You're all sure to leave with a greater understanding of a man-made problem which still blights the country.
9. Banteay Srei Butterfly Centre
If you're particularly interested in butterflies, this might be a good stop on one of the tours. We personally found the entrance fee slightly high and decided to give the centre a miss on this occasion.
10. Phare Circus
If you don't have a chance to watch the Phare Circus at their home in Battembang, your next best opportunity is in Siem Reap. It is absolutely superb and was a highlight of our time in Cambodia with kids.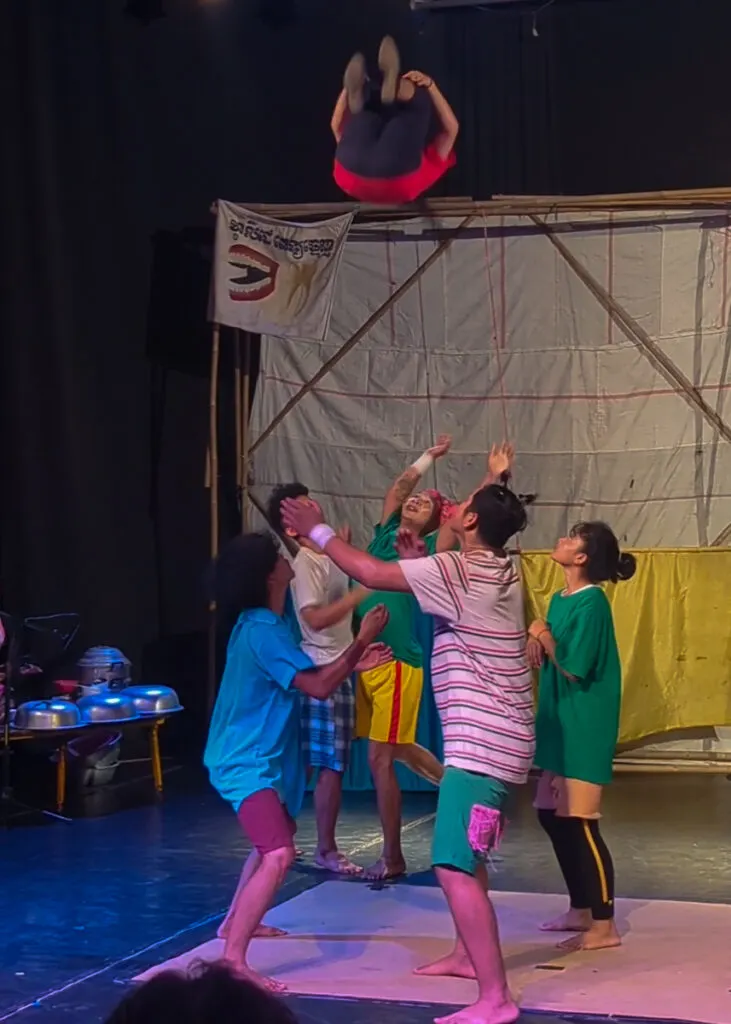 Performances in Siem Reap are daily. We saw 'Holiday' and were totally blown away by the energy, personality, and ingenuity of the show. It was funky, funny and just amazing.
Check the website for performance times and to book tickets.
Where we stayed in Siem Reap with kids
Where we stayed: SAKABAN Suite
Siem Reap is jam-packed with accommodation choices, ranging from simple backpacker dens to five-star international resorts. You can choose to stay in the city centre, or a bit further out closer to the temples but away from the action. We chose to stay in the city centre, walking distance from Pub Street and the sights and sounds of Siem Reap.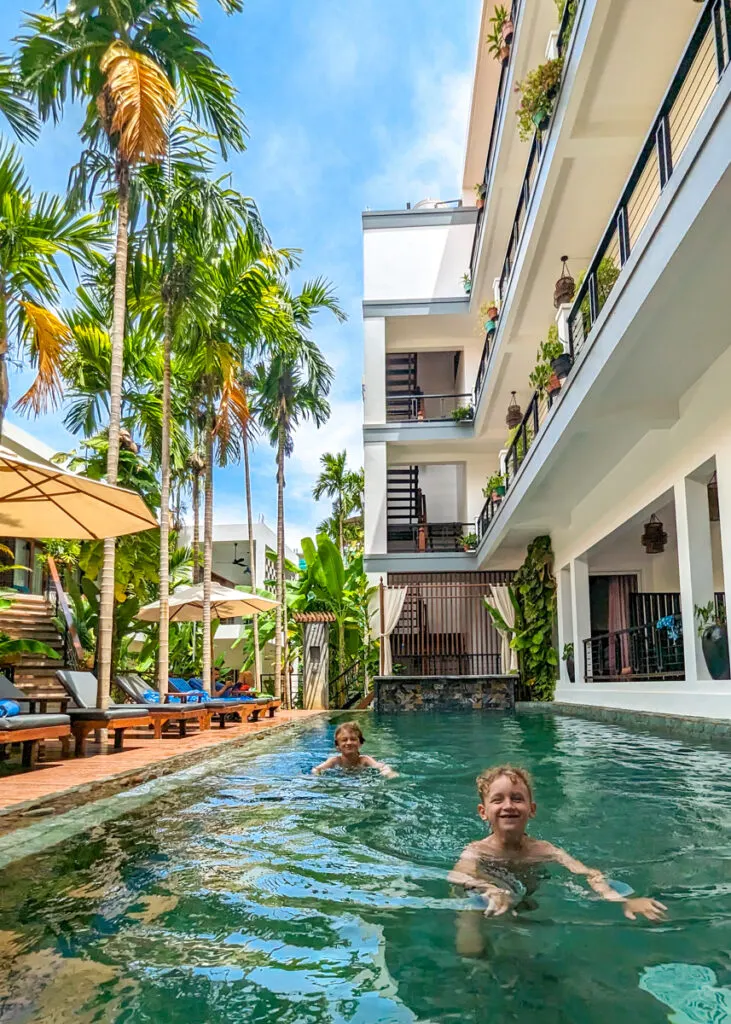 After a slight false start with a less-good hotel, we were moved to Sakaban Suite, about 15 minutes walk away from Pub Street and it was worth the wait! A pool is a very highly recommended choice in Siem Reap, especially if you're planning on some temple time; it's the perfect way to cool off and recharge batteries in between visits and our hotel had a lovely small pool to relax in.
Whilst the restaurant was quite expensive for Siem Reap (and not quite as good standard as you'll find outside), the breakfast was of a decent standard, with a reasonable selection. However, with it having such a good location, it wasn't really a major issue as there were literally scores of restaurants and bars within walking distance, plus several supermarkets within a few minutes.
The real highlight of the hotel are its rooms, particularly the family suite we were given. It had two single beds and a double, bathroom, safe, and a gorgeous balcony overlooking the swimming pool. It was a perfect place to relax in the evening with a can of beer and mosquito coil burning.
---
You may also like to read:
Visiting Phnom Penh with kids
Visiting Battambang with kids
Visiting Kampot with kids