Your guide to Kampot with kids from our personal experience
In a country like Cambodia, where change happens quickly, it can be a relief to pause for a few days and experience how life used to be led. Kampot, the charming river city on the southern Cambodian coast, has its fair share of modern convenience – fantastic hotels, bars, and restaurants – but it's also possible to catch a glimpse of a disappearing Cambodia, one where life is slower and time is spent strolling along a lazy riverbank.
If you're travelling Cambodia with kids, Kampot is lovely stop for 2-3 nights to enjoy the vibe and explore the surrounding countryside. Plus, we found the perfect place for families to stay.
Disclaimer: This post contains affiliate links. If you click to purchase, it is at no additional cost to you, and I receive a small commission.
How to spend your time in Kampot
You won't find yourself ticking off sight after sight during your visit; whilst there are several things to do in Kampot, you're more likely to find yourself slipping into Kampot-time. Leisurely mornings at the hotel, perhaps a walk around the town and along the river before retiring to one of the many bars/restaurants for a beer and food, ideally somewhere with a view of the river which never seems to be far out of your eyeline.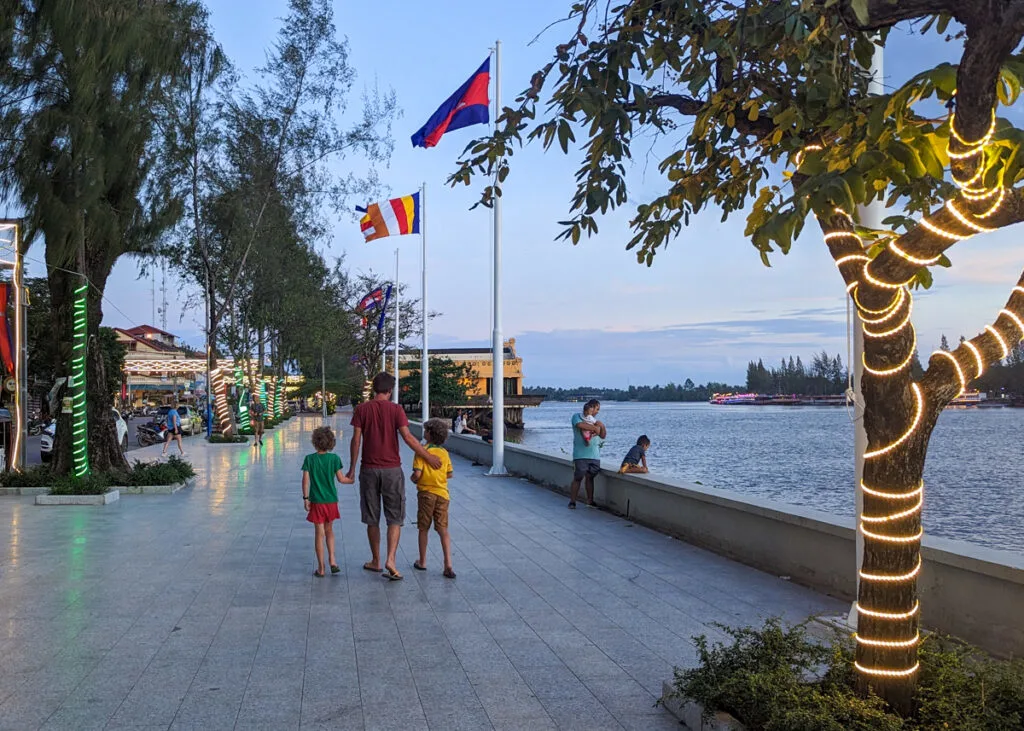 Some ideas for things to do in and around Kampot with kids include:
tuk-tuk tour of the surrounding countryside (see below)
renting kayaks along the river (trips leave early in the morning and need to be booked the day before) – although heads up, the river isn't all too clean
visit Arcadia waterpark (there are jumps, a slide, swing, and pillow at this backpackers on the river – advised for older kids as the activities are quite extreme)
take a tuk-tuk up to Bokor hill station (about 45 mins away) for views over the town
enjoy a sunset cruise along the river
If you only have one day in Kampot with kids, we highly recommend hiring a tuk-tuk for a tour of the countryside. It was one of our favourite experiences travelling Cambodia with kids!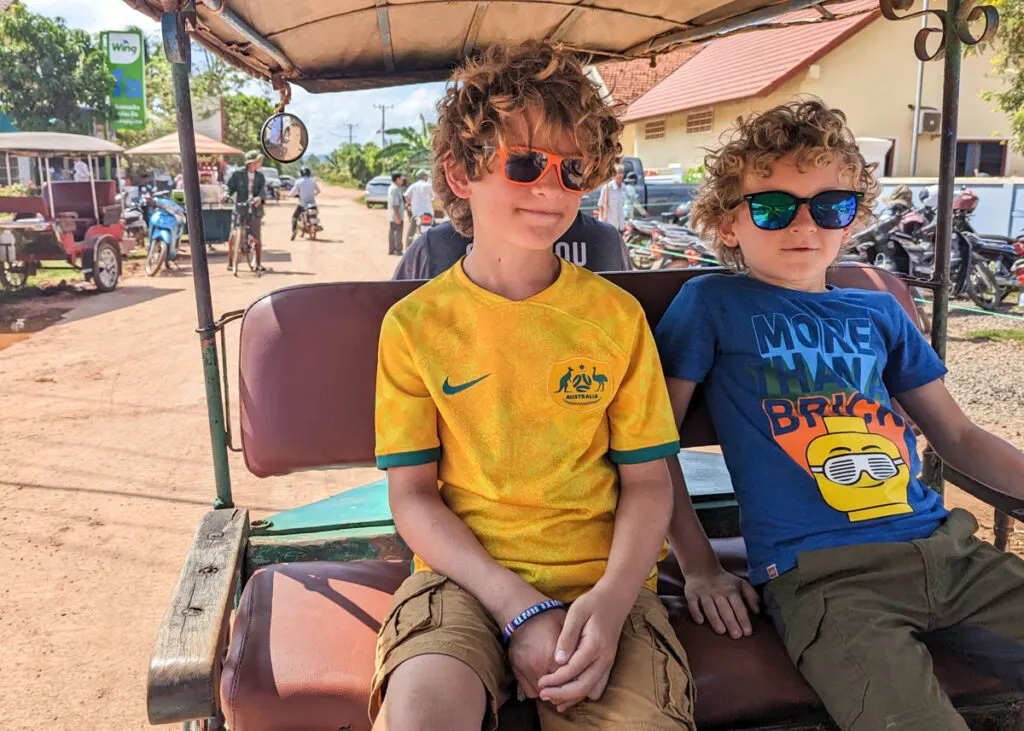 Tuk-tuk tour of Kampot's surrounding countryside
Almost everyone who visits Kampot seems to book onto a tuk-tuk tour of the surrounding countryside, and understandably so as it's a brilliant day!
If the driver who collects you from the bus/train station doesn't offer it, you can guarantee your hotel owner will. Like everything around here, it's done in a friendly manner and you'll pay somewhere around $25 for a half-day tour (although ours lasted more like a full-day, from 9am – 4pm).
The order and content of the tour can be decided by you, or take the recommendation of the driver. The usual stops are:
the salt field just outside of town
tour of La Plantation to learn about how Kampot Pepper is made, as well as taste-testing 17 different types of pepper
Kep – a seaside town known for its crab market. There's a beach to play on, but the sea didn't look too inviting here. There are also lots of snack stalls along the beach; our boys highly rate the Cambodian pancake.
Phnom Chhnork – a 1300 year-old temple in a cave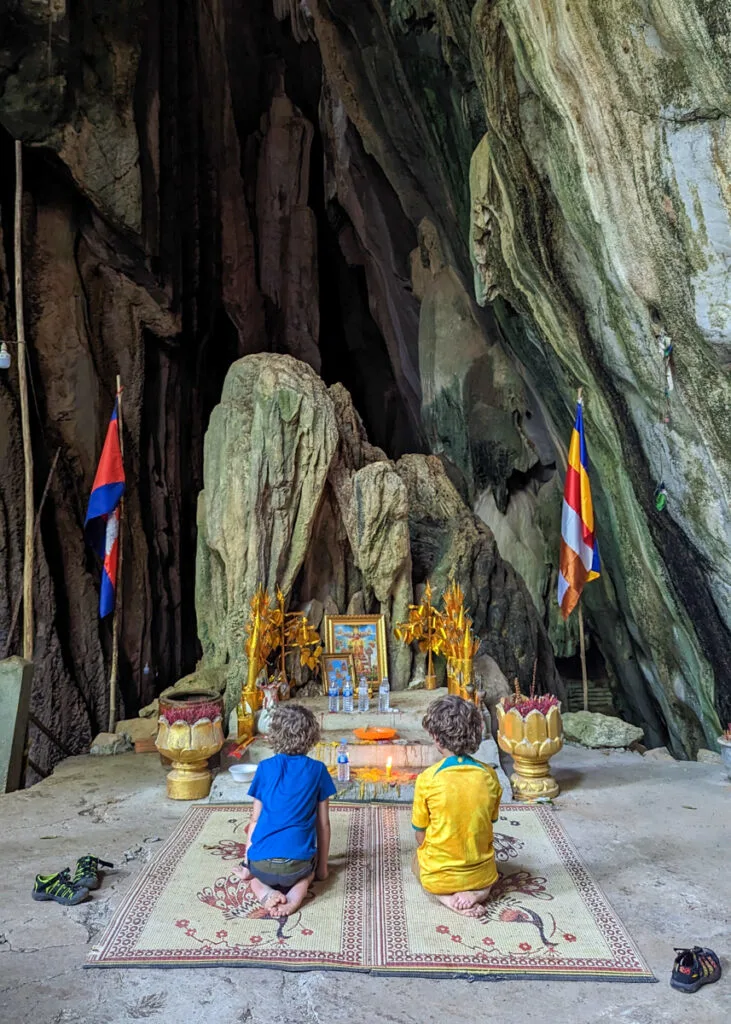 It's a fairly comfy ride, space for 4 or 5 people, but the bumpy ride may lead to a rather numb bum towards the end of the tour; you really do cover some distance.
Don't worry too much about taking drinks and snacks as you will pass numerous roadside stalls along the way, but do remember sunscreen and insect repellent.
We didn't pay any additional fees, but take some cash in case you want to buy anything from the pepper plantation.
Where to eat in Kampot
There are food options everywhere, ranging from local-run food stands selling $1 fried rice, to international standard restaurants with pizza, pasta, and sushi. The night market around the Durian roundabout is good for local food, the main street from the bridge heading west is best for international. Most of the places also serve beer and wine, including $1 draft beer which hits the spot after a long day in the sun.
Where to stay in Kampot
We stayed at Magic Sponge, about 15 minutes walk from the riverside. The family room was perfect for our group with two single beds and a double, complete with ensuite bathroom and AC. The building itself is part of the appeal, very atmospheric with high-ceilings, giant fans and wide staircases.
The owner (William) is welcoming and friendly, and is happy to provide pool cues and clubs for the onsite mini-golf and pool tables (free of charge). Our kids loved the mini-golf and pool tables, giving us parents a chance to sip a can of beer in the shady garden.
There is also a fantastic menu featuring western, Asian, and Indian food; the Indian menu in particular is superb and was a welcome change from the meals we'd had over the past few weeks. Note that currently food is only served until 2:30pm.
How to get to Kampot
Kampot is fairly well connected and is served by train, minivan, and bus from most of the major cities in the rest of Cambodia. Be warned, if you're coming from the Cambodian islands of Koh Rong or Kong Rong Sanloem, the road from Sihanoukville (or at least the section closest to Sihanoukville) is in atrocious condition as of June 2023. We've had the misfortune to drive on some bad roads in Southern Africa and this was right up there; we stopped counting at five broken down vehicles and it was with some relief that we emerged onto the tarmac near Kampot. It might be worthwhile taking the daily train on that route, it leaves Sihanoukville at 2pm, take 2.5 hours, and costs $6.
If you're heading north, the road is better towards Phnom Penh and multiple bus companies are available with destinations to Phnom Penh, Siem Reap, and others. It's quicker (but perhaps less safe and comfortable) to take a minivan, but these won't always leave to a timetable.
Final thoughts on Kampot
It's a beautiful riverside setting and, for the time being, Kampot has avoided the rush to catch up with the 21st century which has affected other parts of Cambodia.
Our boys really enjoyed staying at Magic Sponge; the mini-golf and pool tables were a hit!
The surrounding countryside is beautiful and the tuk-tuk tour provide a very relaxing way to spend one of your days. For the others, take a stroll, find a restaurant and watch the world pass by, or take to the river on a kayak or sunset cruise.
---
You may also like to read:
Visiting Siem Reap with kids: beyond Angkor Wat
Visiting Phnom Penh with kids
Visiting Battambang with kids