Read on for our personal review of the DoodleLearning Maths and English apps. Our boys (aged 6 and 8) are using the DoodleLeaning app to support their online learning whilst travelling.
There are so many education apps out there to support kids' learning, and the pandemic has undoubtedly encouraged this. In the first week of the first UK lockdown, I remember feeling overwhelmed by all the various online resources being shared by parents across social media – White Rose Maths and Twinkle worksheets, TT Rockstars, Khan Academy, BBC Bitesize, and let's not forget all the various YouTube Channels (be honest, how long did you really keep going with Joe Wicks?).
Disclaimer: TraveLynn Family have received a complimentary annual family subscription to DoodleLearning and weekly DoodleCoaching sessions in exchange for promotion on social media and a mention on this website. I decided to write this separate post to share our experiences as I really do think this app is brilliant and I wanted to provide you with more information. As always, these are all my own words and opinions. This post also contains affiliate links. Should you click to purchase, it is at no additional cost to you. But I receive a small commission.
It was all just too much, and really, what the school was sending through on our SeeSaw app was enough for us; the teachers are the qualified experts in education, and I trusted them with what the work they were setting.
But for our long term travel adventures to Morocco where we have deregistered our boys (ages 6 and 8) from school, there are no teachers to rely on. We have to take on the responsibility of teaching our boys ourselves whilst travelling (*cue scary music*). And whilst travel is a fantastic education in itself, we ideally want our boys to keep on top of the UK curriculum in Maths and English so that they aren't 'behind' when they return to school in September.
Taking on the role of teacher with your own kids is not for everyone. And to be honest, I think I used any capacity I had of that in the lockdowns, and that was with work set from the school. So I was delighted when I came across Amy from TuitionUp and her personalised online primary school teaching. The boys are signed up to an hour a week of online schooling with Amy in Maths and English. Click here to read more about our online schooling journey.
So where does DoodleLearning fit in?
When I shared our schooling plans over on Instagram a friend, Debbie from Grand Adventure Story, recommended we check out DoodleLearning. Initially I thought – here we go, another education app. But Debbie is a writer and editor who has travelled a lot with her kids, so I trust her judgement. Her boys had used it whilst they were online schooling during their travels in Latin America and it worked really well.
So I looked into it and tried Arthur (age 8) out with the 7-day free trial on doodlemaths. He first took a baseline test, then the app worked out where his maths level was and any gaps he had, then voila… a personalised maths learning program with 8 short questions to do per day. Clever stuff! And Arthur seemed to be engaged with it straight away. Brilliant!
The DoodleLearning apps aren't to replace classroom or online teaching, it's to support it. The idea that kids do just 10 minutes a day to help with any learning gaps they may have and consolidate existing learning.
A little every day; this is very doable whilst we're travelling and a handy thing to do whilst we're on a bus or car journey to our next destination.
What is DoodleLearning?
DoodleLearning is 4 apps (doodlemaths, doodleenglish, doodlespell, and doodletables) that follow the UK curriculum, aimed at kids aged 4 to 14. doodlemaths is early years to Year 9 (England) and doodleenglish is Year1 to Year 6 (England).
Kids sit a baseline test first for each app, which is short set of exercises which allows Doodle to start personalising their programme. Then the idea is that kids complete a ten minute task per day following the personalised programme set by Doodle. This helps fill in their learning gaps and consolidates their knowledge.
DoodleLearning has been used by over one million children, and is also used in hundreds of schools both in the UK and internationally. And it's not just homeschool / travel kids that use it, the majority of kids are using the app to support regular schooling.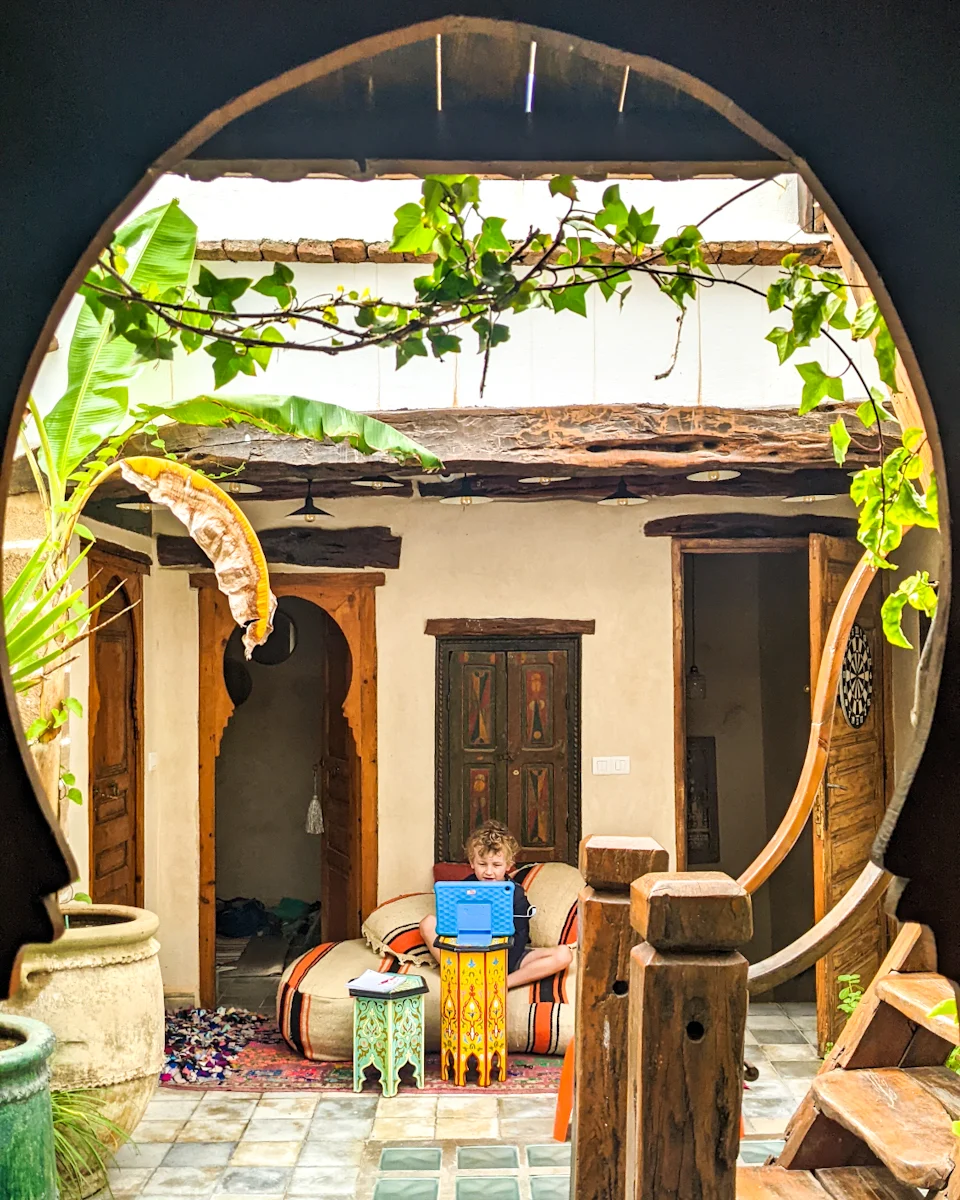 Does the app online work when connected to the internet?
The really great thing for families who travel is that every Doodle app can be used offline on tablets, phones and laptops, enabling kids to learn anywhere, anytime. This is brilliant for flights and road trips, where there is no internet access.
What device to kids need for DoodleLearning?
Our boys use the Amazon Fire Kindles for their DoodleLearning. It works perfectly.
However if you opt for DoodleCoaching (see below), this can only be done on a desktop or laptop.
How the boys are getting on with DoodleLearning
The boys started DoodleLearning a couple of weeks before leaving for our Morocco adventures, so they can get used to it and see how it all works. I will report back with how it goes over the travels and once we're back home.
This is our experience so far…
Thankfully it never seems like a chore for the boys when I suggest they do their DoodleLearning. It's already become part of their dairy routine.
The personalised learning plan works really well so that they never feel something is too easy or too hard. Both our boys seem to enjoy the quick and interactive questions from the DoodleLearning apps. If they get a question wrong, they can go back after completing the quiz to redo them, or save them as a 'tricky question' to revisit at a later date.
The stars they collect along the way can be used to spend on building up a character and scene on each app (for example, it's a Wizards room for doodlespell). But they can only do this when they're in the 'green zone', which is when they've collected a certain amount of stars on each app. This incentivises kids to keep learning on the app. Although if they're quiet on the app for a while, it probably means they're playing in this game zone rather than actually doing any learning; so it's something to keep an eye on.
The Parent Dashboard
From the Parent Dashboard you can keep track of your child's learning by seeing how often and how long they are on the app, what level they're working at, as well as see where your child sits academically for their age and year group for each app.
If you have noticed that your child is whizzing through the questions at ease, you can get them to do the baseline questions again with a click of a button in the Parent Dashboard. It's recommended that you should only really do this once per term.
Whilst all kids learn at different levels and speeds, if you've taken your child out of school to travel, it can be reassuring (hopefully) to see where they're at, as well as see if they're progressing. It really is amazing to see what a difference a little bit every day makes!
DoodleCoaching
To support the learning on doodlemaths there is the option to join a weekly online small-group tutoring session with a highly trained coach through DoodleCoaching.
These sessions are delivered through a purpose built platform, and involve a group discussion with up to 4 other children, and dedicated 1:1 time with the coach. This gives kids the opportunity to talk through any challenging concepts, set goals to work towards and keeps them motivated and accountable.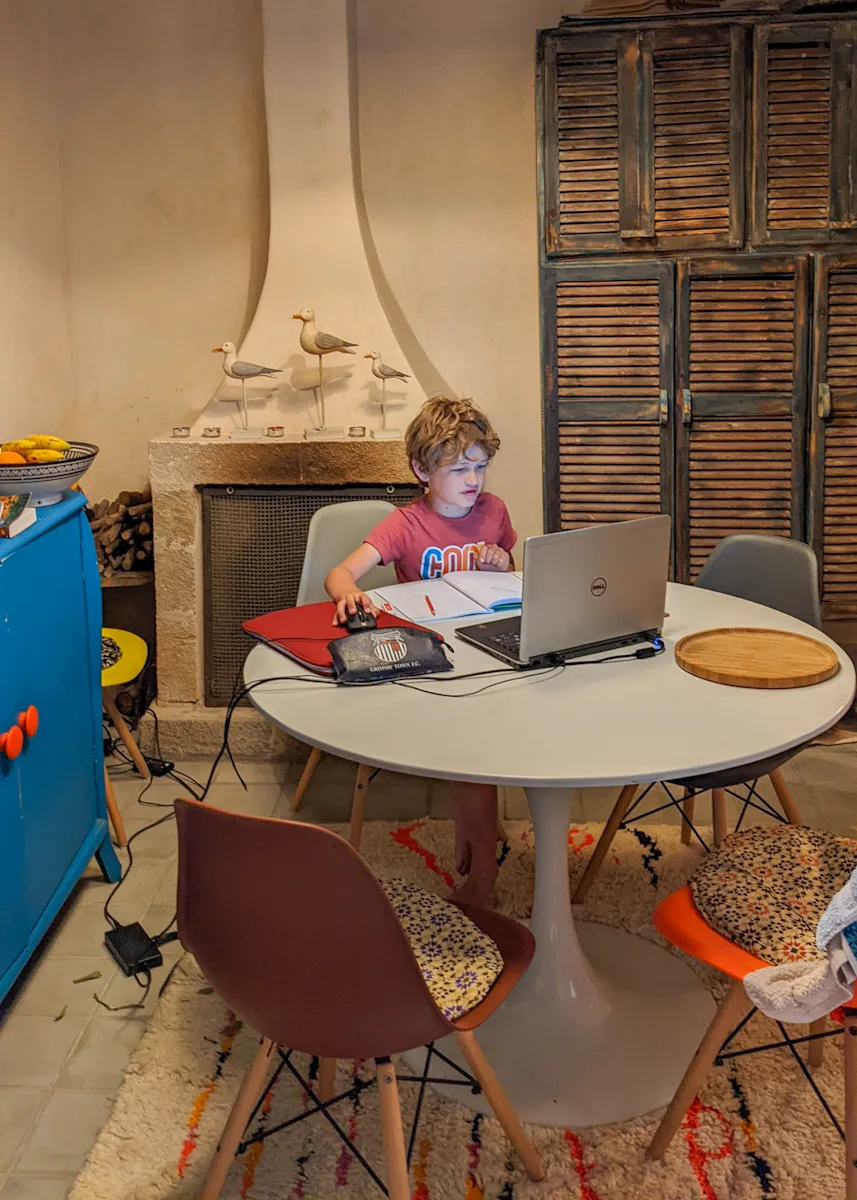 Kids are assigned a group according to their personality rather than their age, and siblings will generally be put in separate groups.
They are also sent a DoodleLearning Journal which they use with each session to keep a note of what they have achieved and their goals; a great way to keep them accountable and to look back on to see how far they've come!
The only tricky thing we've found with this is that the DoodleCoaching needs to be delivered on a laptop (the boys generally use their Amazon Fire Kindles for online learning). This just means that the boys have to use my laptop instead, and I can't really do any work at the same time.
How much is DoodleLearning?
You can sign up to a 7 day free trial on doodlemaths. I very much recommend doing this to get a feel for it and see how it works for your child.
Click here for the current pricing. Pricing varies according to which apps you would like your child to do, and if you are getting the app(s) for just one child, or the whole family. At the time of writing an annual family subscription for all four apps is £159.99. doodlemaths only for one child is £7.99 per month.
Final thoughts on DoodleLearning
I really think it's brilliant. Just ten minutes of the DoodleLearning learning per day can make such a difference. And I love how kids can still do the app when offline. Perfect for car and bus journeys on our travels.
However, this isn't to replace schooling, it's to support schooling. Whilst there is the online coaching for doodlemaths (at an additional cost), there is no coaching for the other three apps. I personally believe that kids still need a parent or teacher to sit down with them and work through things. Plus, for doodleenglish, this focuses on grammar and comprehension, there is no physical handwriting.
For our travels, I think that DoodleLearning will be a fantastic added bonus to support the online schooling they will be doing with Amy from TuitionUP.
---
You may also like to read:
Online schooling for family travel
The best family travel destinations for intrepid families
How we afford family travel