For any trip to Thailand with kids, a stay on one of the islands is a must. Yet with so many beautiful islands and so many recommendations from fellow travellers, it can be difficult to settle on the right one.
We first visit Koh Chang in 2016 when the boys were 1 and 2 years old and we were travelling with the grandparents. We picked Koh Chang then as we didn't want to do an internal flight or long overnight journey on public transport. Koh Chang seemed vey doable over two 3-4 hour travel days via the pretty river town of Chanthaburi. We stayed at Serenity Resort and had the most wonderful stay. So much so, that we knew we'd be back one day.
So in 2023 when we were making our way overland from Thailand to Cambodia for the first leg of our 10 weeks in Southeast Asia, Koh Chang made for a natural stop before crossing the border.
Disclaimer: This post contains affiliate links. If you click to purchase, it is at no additional cost to you, and I receive a small commission.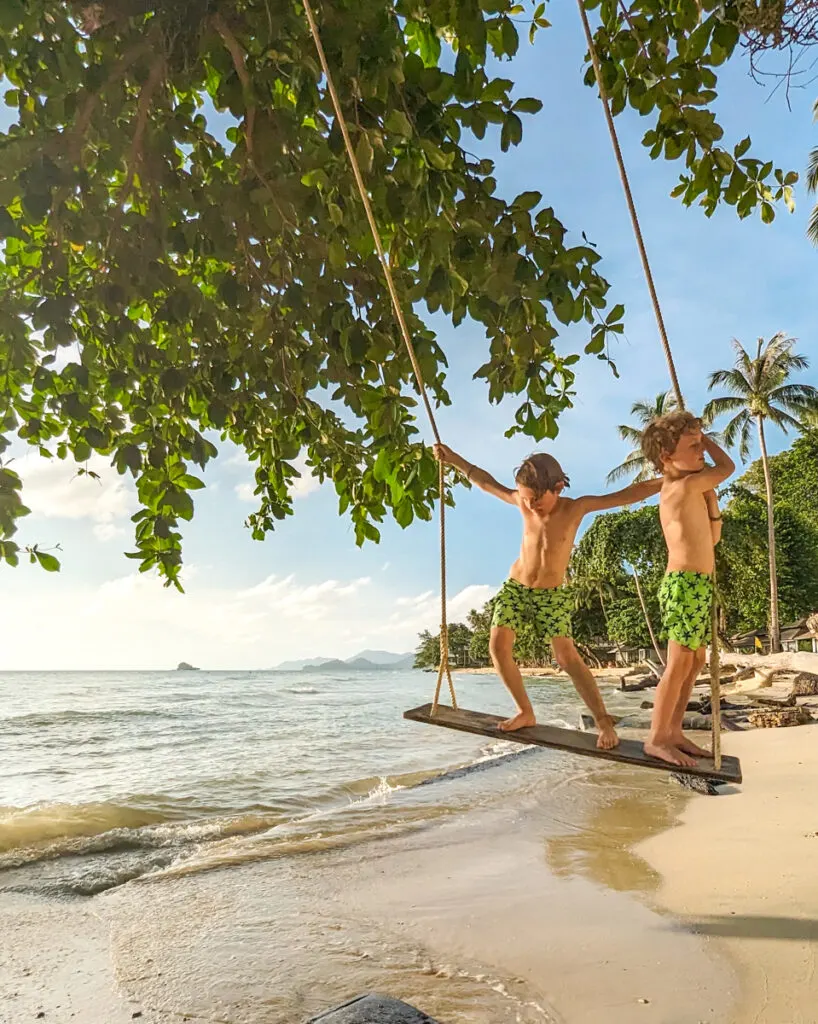 About Koh Chang
Situated close to the Cambodian border, Koh Chang has managed to avoid the mass development that other Thai islands have experienced, yet still has the Western comforts and good resorts to choose from.
The fringes of the island offer sandy beaches, rocky outcrops, and warm shallow waters, whilst the interior is thickly clad with rainforest and running waterfalls to swim in. There's one main road, which is very steep in places and mostly circumnavigates the island (it doesn't connect at the southern tip) with collections of bars, restaurants, massage parlours and 7Elevens at regular intervals.
Getting to Koh Chang
There is no airport on Koh Chang. The closest airport is Trat on the mainland. From here you can take the 20 minute taxi to the ferry terminal, or organise a private transfer through your accommodation.
If you are coming from Bangkok, you can take a bus from Ekkamai bus station to Trat (5 hours), and then change to take another to the ferry terminal (40 minutes).
For both visits to Koh Chang, we broke up the journey from Bangkok to Koh Chang and stayed in Chanthaburi for a couple of nights. From Chanthaburi we took a private transfer to the Koh Chang ferry terminal (THB1300).
Ferries run regularly (approximately every 20-30 minutes) and take about 30 minutes. Click here for up-to-date ferry information. As a foot passenger, you can purchase your ferry tickets at a little desk (THB80 per adult, THB50 per child). They can also arrange transport for your at the other side (which we recommend as prices are fixed). We payed THB800 to take a songthaew to Siam Bay Resort.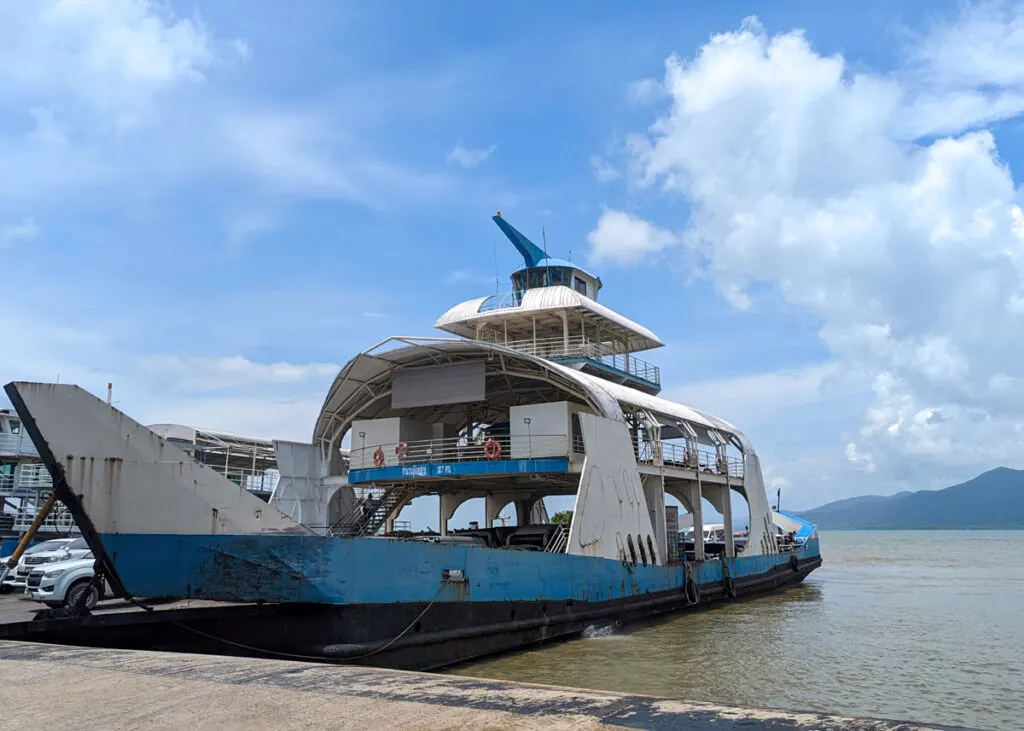 Siam Bay Resort
Whilst we had a wonderful stay at Serenity Resort previously, for this recent trip we are travelling longer-term and the budget is tighter. So this time we decided to try out Siam Bay Resort, where we found a family room on booking.com for £53 per night (June 2023). It's still more than we intend to pay on accommodation for this Southeast Asia trip, but the little splurge seemed worthwhile.
Siam Bay Resort was one of the first resorts on the island and is in a quiet and secluded spot on the west coast, offering stunning sunsets over the Gulf of Thailand. There are two swimming pools (no lifeguard) and a small curve of sandy beach that starts to the side of the main reception area.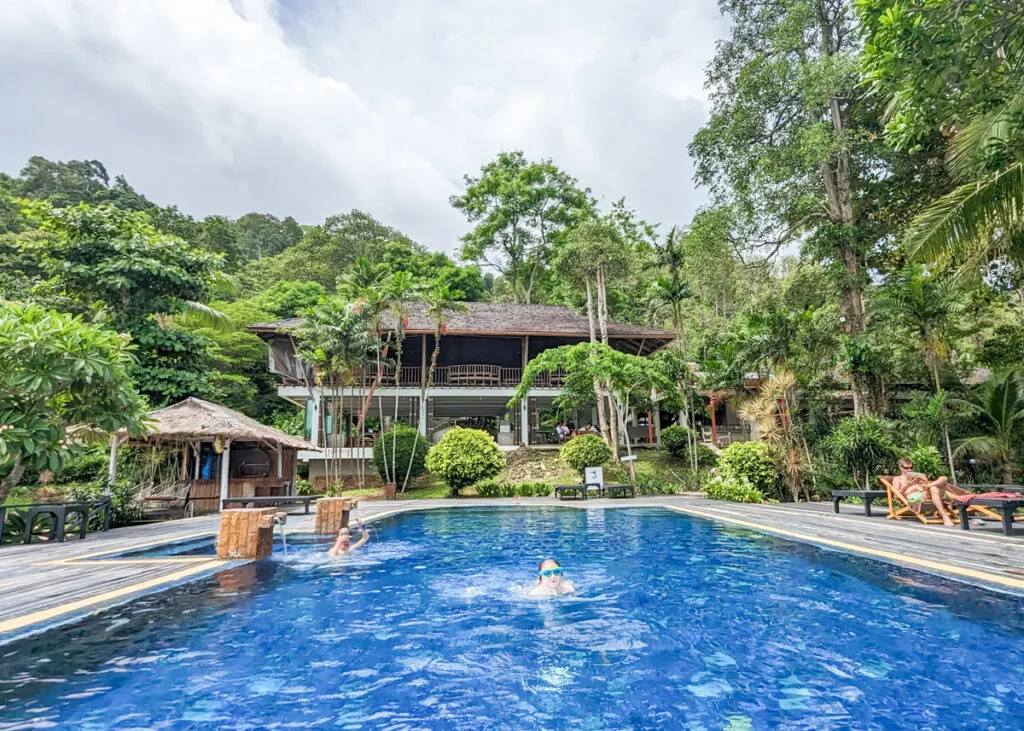 Arriving to Siam Bay Resort
It was a 30 minute journey from the ferry terminal until our songthaew finally turned off the main road and down a very steep lane towards Siam Bay Resort. We immediately spotted the bungalows overlooking the beach with others built into the hillside behind, and hoped that one of them had our name on it.
However, after checking in, we were led away from the beach and across the car park to our family bungalow. Disappointment set in big time. We had been allocated a family bungalow away from the beach and overlooking a car park?! I was sure that the photos didn't look like this on booking.com, so I went back to reception for a chat and they kindly moved us to a beach hut directly over the sea. Whilst we didn't have the beach in front of us, it was a vast improvement from the car park and we were much much happier.
Our beach hut room
Ez declared our beach hut to be 'double-deckered', in that there was a mezzanine level for the 'kids bedroom', whilst us parents had the double bed below. The room was clean and airy, with essential aircon, and ensuite shower room.
But the very special thing about our beach hut was the large French windows that led out to the balcony overlooking the sea. The perfect sundowner spot. We even found a place to hang our hammock (this is the one we travel with).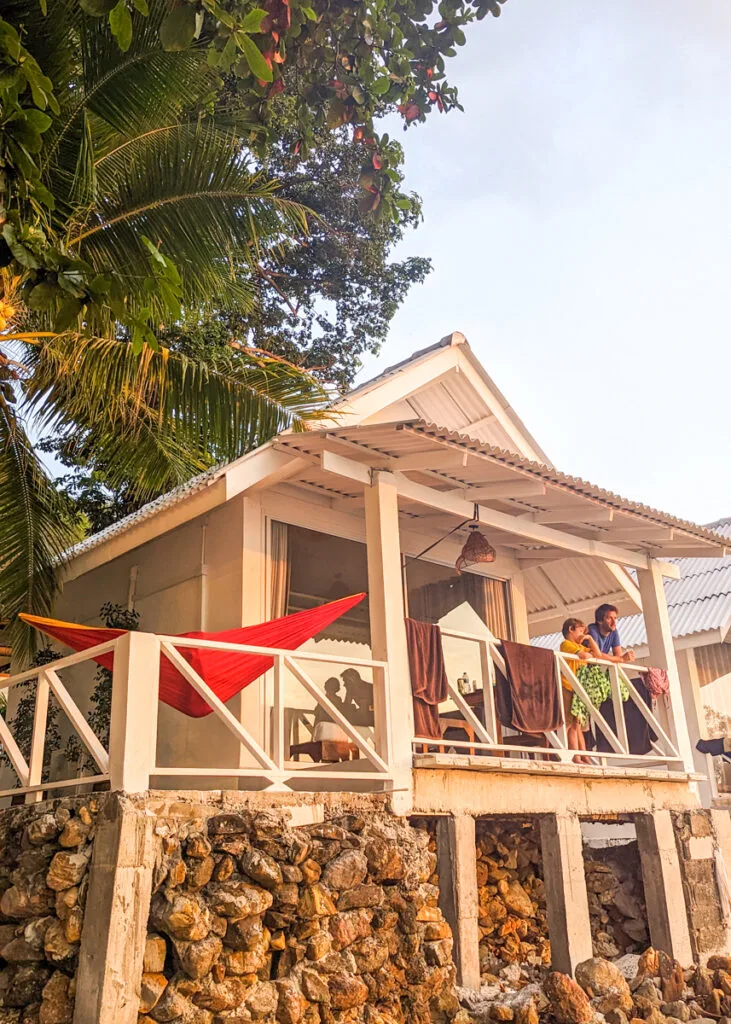 The beach
There is quite a difference between high and low tide here. High tide comes right up to the edge of the beach huts and the beach, and low tide goes out so far that a sand bar emerges to enable a walkway to a nearby island. When the tide is far out, the beach is beautifully wide in this little nook of Koh Chang. But don't walk too far around to the other bays without taking note of the tide as you don't want to get stuck!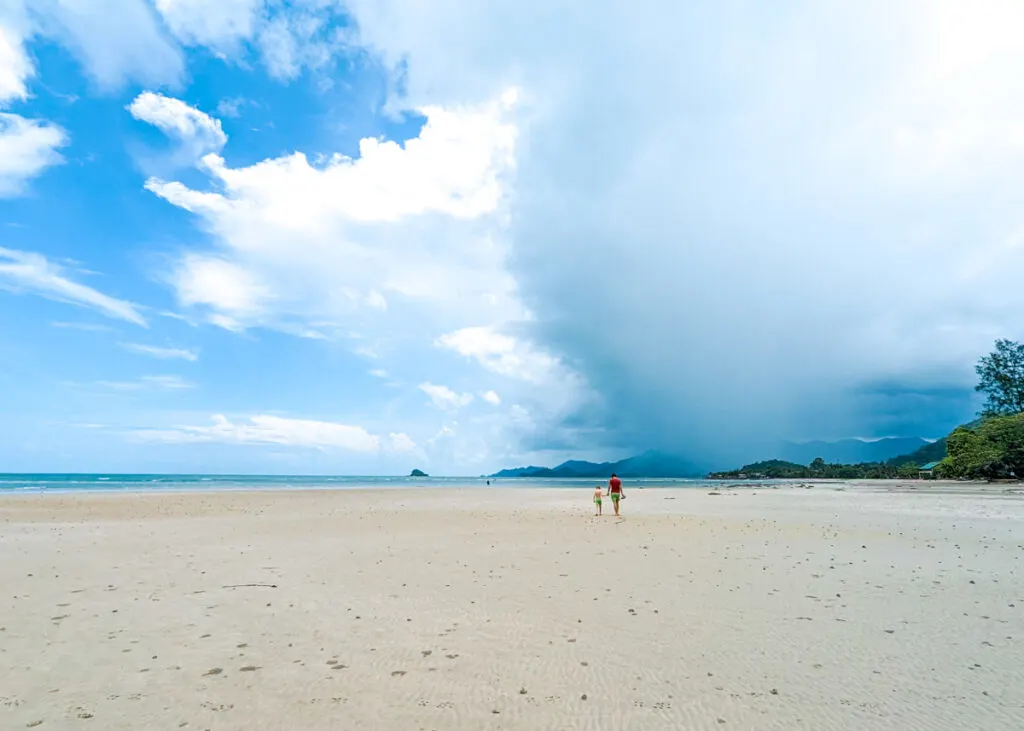 The sea here is also very shallow, which makes it very safe for little ones playing and one of the best beaches in Thailand for families.
Kayaks are available to rent from reception, but only when the sea is very calm. As we were travelling at the start of the wet season, the kayaks were not available.
The swimming pools
The main swimming pool sits in front of the reception and dining area, overlooking the bay. The water is beautifully warm, though refreshing, and there's a small toddler pool at one end.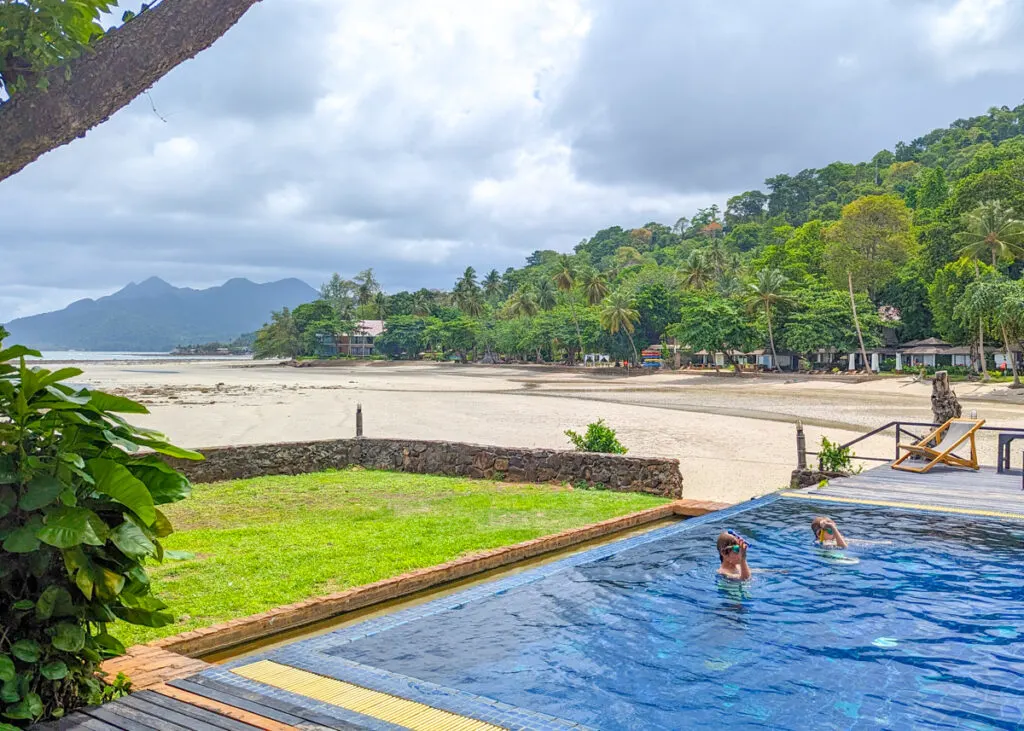 Please note that there is no lifeguard on duty. Also, that the pool conditions are rather tired. The wooden planks around the pool have seen better days and some of the tiles are missing at the pool edge.
There's a second swimming pool further up the hillside. Follow the 'swimming pool' sign from the beach and up the steps. This too has seen better days, but it's a beautiful spot overlooking the bungalow rooftops and across the bay. This swimming pool sometimes closes during the low season.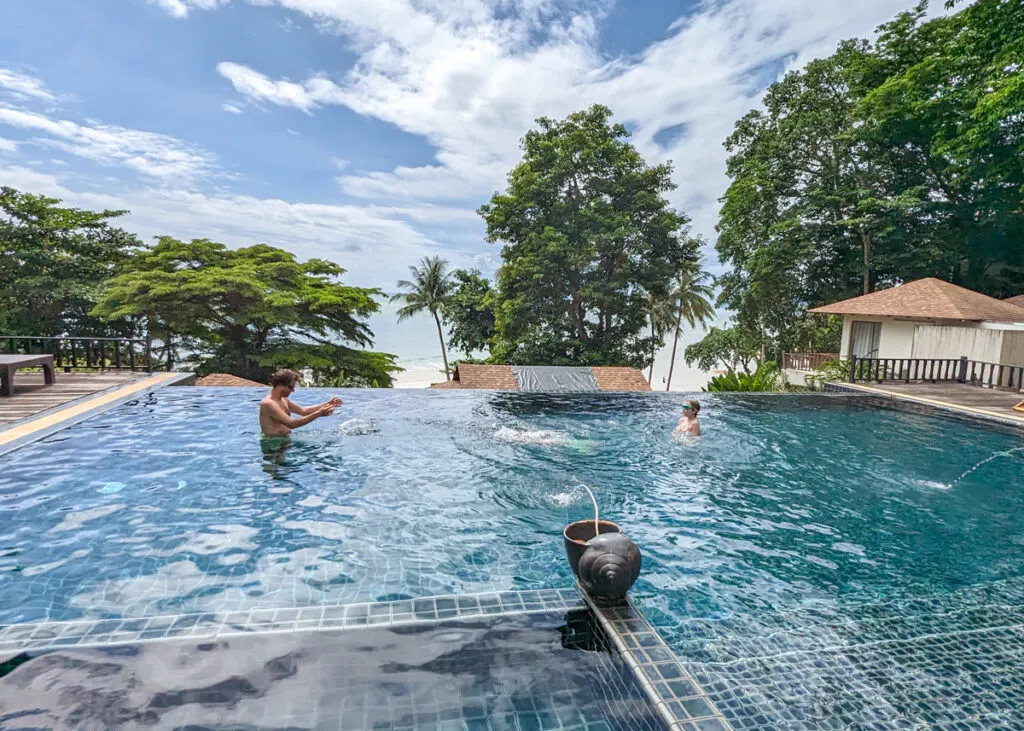 The restaurant
Built in traditional wood over two levels, the dining area offers views across the beach and over the main swimming pool. The upstairs section has the better views.
Staff are exceptionally kind and friendly, and service efficient. There is a good selection of both Western and Thai dishes available and each morning a buffet breakfast is served. The dining area is not air conditioned, but staff set up fans around you to keep you cool if needs be.
Getting around Koh Chang
Siam Bay Resort is rather cut off and it's not really walkable to nearby shops and restaurants. Reception can organise a songthaew (a bit like a pickup truck with seats) to get you around to places. It's THB200 to the nearest 7Eleven and shops, and also to Lonely Beach, where there is a selection of bars and restaurants overlooking the sea.
You can also organise motorbike or car hire. However, please note that the roads in Koh Change are exceptionally steep and windy in places, and personally we found it cheap and easy having someone else driving us around as a family in a songthaew.
Things to do on Koh Chang with kids
There's more to Koh Chang than the beaches, and it's worthwhile organising a songthaew for the day to take you to Than Mayom Waterfall (which you can swim in) and to explore the mangroves in the southeast of the island via the walkway and a traditional boat trip. We paid THB1500 for a songthaew for the day.
You can also organise snorkelling trips to other islands. However, as our visit coincided with the start of the wet season, only the huge tourist boats were operating, and they're not our thing. We've taken the boys snorkelling in Thailand from Koh Lanta before, and we're sure there will be other opportunities later on this trip.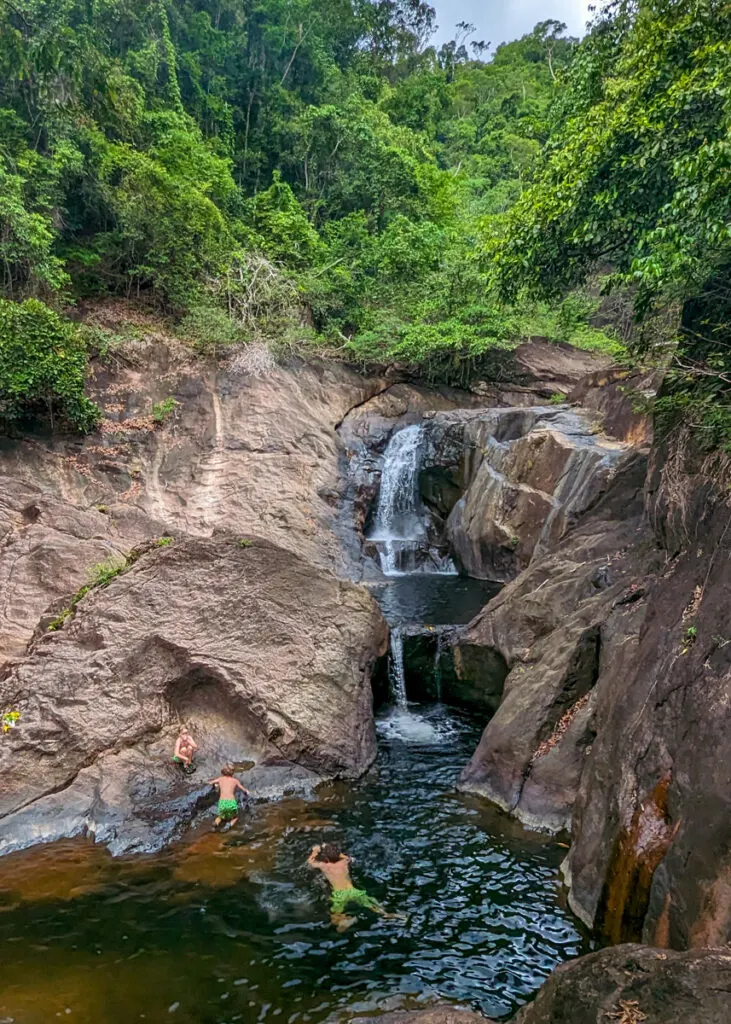 Final thoughts on visiting Koh Chang with kids
We slipped very quickly into blissful island life on Koh Chang. Siam Bay Resort really is a beautiful setting and we totally lucked out with the beach hut over the sea; I'm not too sure we would have had the same experience if we'd stayed at the family bungalow overlooking the car park.
The resort is rather cut off from any shops and other restaurants. We personally quite liked the remote feeling and found it easy enough getting a songthaew to reach other places on the island, although we appreciate that this may not suit everyone.
We spent a wonderful 5 nights on Koh Chang. But now it's onto Cambodia where we stayed at Lazybeach on Koh Rong Sanloem; back-to-basics paradise.
How to book Siam Bay Resort
We booked a family bungalow at Siam Bay Resort on booking.com. However, this was a larger bungalow overlooking the carpark and not the beach hut overlooking the sea that we ended up staying in.
The beach hut we stayed in is not available online, so I suggest emailing the resort and asking to stay in 'the same family sea front beach hut that Jenny from TraveLynn Family stayed in (room 201)'.
---
You may also like to read:
Koh Lanta with kids
The BEST beaches in Thailand for families
Why we love travelling Thailand with kids