Sitting on the banks of the Chanthaburi River is the (relatively) little known town of Chanthaburi. For those travelling Thailand with kids and who want to avoid internal flights, Chanthaburi is a perfect stop-off between Bangkok and Koh Chang / Cambodia and worthwhile for a stay of a couple of nights to wander the old town, dine in the riverside restaurants, visit Thailand's biggest church, and also explore the nearby jungle. If you visit over a weekend you'll also be around for the famous gem markets.
Chanthaburi is about 3.5 hours southeast of Bangkok and 2.5 north of Koh Chang.
We first visited Chanthaburi in 2016 when our boys were 1 and 2 years old, and later returned in 2023 enroute to Cambodia from Bangkok. After the buzzing chaos of Bangkok, Chanthaburi offers a more relaxed vibe and you'll find very few other tourists here.
Disclaimer: This post contains affiliate links. If you click to purchase, it is at no additional cost to you, and I receive a small commission.
Getting from Bangkok to Chanthaburi
You can either take a private transfer to Chanthaburi or public bus. We've tried both.
For our first visit in 2016, we were travelling with the grandparents and the boys were very young, so we opted for a private minibus transfer. Expect to pay around THB1800. This give you flexibility to leave when you want and stop where you want.
Alternatively, take a metred taxi to Ekkamai bus station (about THB300) and then the public bus to Chanthaburi (THB180 per adult, THB150 per child). This is the option we took in 2023. The bus journey is supposed to take 4.5 hours, but unfortunately it took a good couple of hours longer as our bus broke down and we had to wait for a replacement. On arrival to Chanthaburi bus station there were no taxis to take us to our hotel, so we had to walk. All in all, it took us a full day of travel from Bangkok to Chanthaburi. In hindsight, the extra THB800 would have been worthwhile spent on the private transfer.
Where to stay in Chantaburi
There are two main accommodation districts in Chanthaburi; the newer part of town with the large, purpose built 'international' style hotels and then the more traditional types in the historic part of town. We recommend staying in the historic old town. There are no budget family rooms available in Chanthaburi and we opted for two rooms, which worked out more cost effective.
Tamajun Hotel
For our first visit we stayed at Tamajun Hotel and we really hoped to stay here again on our second visit, except there were no rooms available for our dates. I was rather gutted as this is where I started to launch this blog back in 2016.
Tamajun Hotel is split into two buildings, separated by a quiet road which meanders through the old town. The newer section houses the 'Hip' accommodation (their words) – more modern, funky designed rooms which are also slightly more expensive. We decided on the traditional rooms on the other side of the road, contained in the original building which sits on the banks of the river.
They don't do family rooms here, just doubles. We went for three of them and had each of the boys in with one parent. Rooms are decorated in traditional teak style with en-suite bathroom, air-con and a fridge. One quirk is that the rooms have no windows which might sound a negative but we actually quite liked it; it helped keep the room cool and ensured they were pitch dark during afternoon naps. The hotel very kindly provided a water heater which meant we could prepare warm milk for the boys (a nice gesture which they weren't obliged to offer) very much in keeping with the high level of service we experienced throughout our stay.
The highlight of the hotel though was the communal balcony which looked out over the river. This was an absolute godsend as it allowed the non-kids to sit in comfy chairs, have the occasional beer and watch the river drift by whilst the kids ran around and played. It was perfect.
We were quite lucky that there was no-one else staying at the hotel so we had sole use of the balcony. Another bonus was that the rooms opened out onto the balcony so we could sit out there during naptime, safe in the knowledge that we (via the monitors) could keep an eye on the boys, all within actual sight of the rooms.
Kasemsarn Hotel
On realising that we were unable to stay at Tamajun Hotel, for our more recent visit, we booked into Kasemsarn Hotel, just round the corner. This is a fresh, modern style hotel with impeccable service. Rooms are clean with excellent aircon, and it's well located for the old town.
There's a small balcony overlooking the road, but not enough space to sit. Plus it's not shared with neighbouring rooms.
It's a bright and airy hotel, but it really felt like a base for a short visit, rather than an accommodation to enjoy.
Things to do in Chanthaburi
Spend an afternoon wandering around the well-preserved historic part of the town with it's old wooden buildings lining the river. There are restaurants to sit and dine at overlooking the river.
A bridge leads you to the other side to Thailand's largest church, Cathedral of Immaculate Conception and along to Wat Bot Muang temple to quietly observe the monks and perhaps receive a blessing.
Namtok Phlio National Park
For a jungle experience jump in a songthaew to Namtok Philo National Park. Here there is a short walk (500 metres) to a waterfall and you can even swim in the water (amongst some very large fish).
Your accommodation will be able to arrange a songthaew for you. Expect to pay around THB600 for the return journey, 30 mins each way.
There are small stalls selling cold drinks and snacks at the entrance to the National Park. The National Park entry fee is THB200 per adult, THB100 per child.
It's an easy-going, paved 500 metre walk to the waterfall, with a few steps as you approach. There is a waymarked 1.5km footpath through the jungle, but in the extreme heat, we weren't really up to walking uphill through the jungle and took the easy route.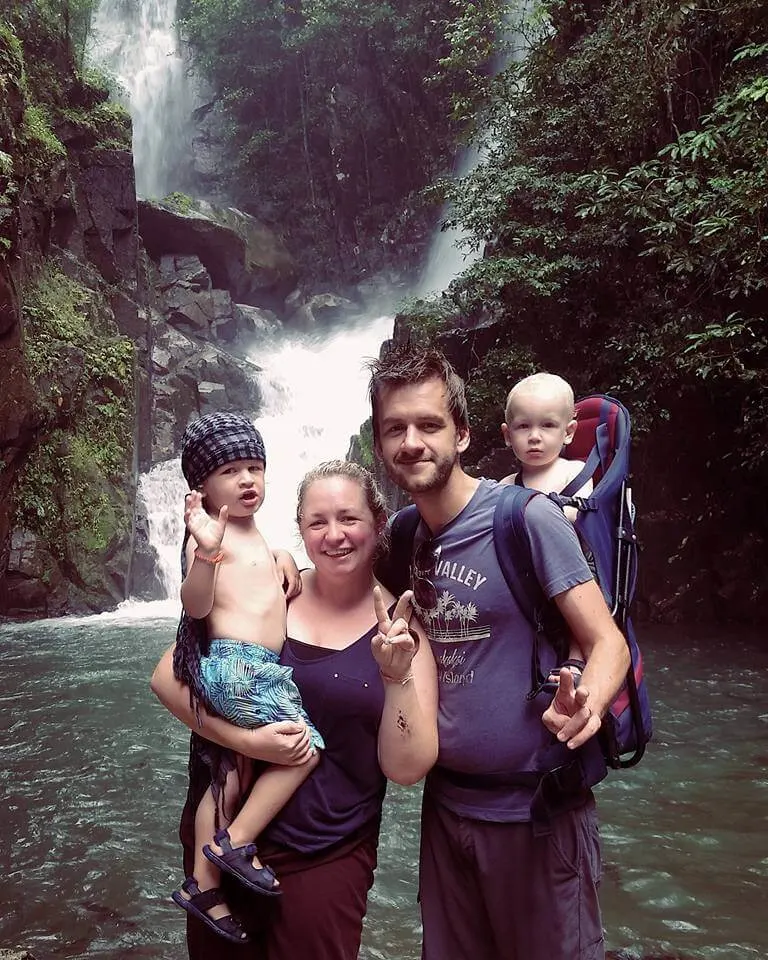 Getting from Chanthaburi to Koh Chang
You can take a bus from Chanthaburi to Trat, and then another bus to the Koh Chang ferry terminal (bit of a faff). Otherwise, take a private transfer (THB1300) direct to ferry terminal.
The ferry crossing to Koh Chang is about 30 minutes (THB80 per adult, THB per child).
Check out our guide to visiting Koh Chang with kids.
---
You may also want to read:
A day in Bangkok with young children
Thailand with kids: and easy itinerary
Long-haul flight survival with young kids