Are you considering travelling Thailand with kids, but want to avoid internal flights or overnight trains? Here's our easy 10 day family itinerary for Thailand. This works especially well if you're planning a trip to Thailand with toddlers.
Thailand is a fantastic destination for that first intrepid family holiday and one of our favourite family holiday destinations in Asia. Bangkok is often the main gateway for families travelling long-haul and after a couple of days exploring the bustling city, they head back to the airport for an internal flight to one of the islands for some beach time. Check out our list of best beaches in Thailand for families.
Disclaimer: This post contains affiliate links. Should you click on a link to purchase, it is at no extra cost to you, but I receive a small commission.
If you're travelling Thailand with kids, and especially if you're travelling to Thailand with toddlers, the thought of another airport and flight may be off-putting. You may also consider the overnight train South to Surat Thani and then catching connecting boat or bus to your chosen beach. But if this is your first intrepid trip as a young family, this may feel a bit much. Plus there are so many things to do in Thailand for kids, it can all seem a bit overwhelming, wanting to just do everything.
Our ten day family itinerary for Thailand involves no internal flights, no long, overnight trains AND you get to experience the best elements of the country; city (Bangkok), jungle (near Chanthaburi) and beach (Koh Chang).
But first…
Our top 10 tips for travelling Thailand with kids
1. Don't try and fit too much into one day. The heat at bustle can be too much of a sensory overload. It's best to plan your main activity early in the day. Not only will you beat the heat, but you'll also beat the crowds.
2. Keep everyone hydrated, but don't drink the tap water. Only drink filtered water and avoid ice cubes in your drinks. Coconuts sold at street stalls are a great way to hydrate.
3. Leave the buggy at home and instead use a carrier for young kids.
4. Allow for some beach time to relax and unwind at the end of your trip.
5. Be prepared that young kids (particularly if their fair) will get a lot of attention from locals. Thai people love kids, so go with the flow when they want to play with your kids and enjoy the parental downtime.
6. Book accommodation with aircon and perhaps a pool. Aircon really is a must in Thailand, especially to ensure that everyone has a good night's sleep. The pool is just another way to cool off and allow the kids to play.
7. If you're kids don't like their noodles too spicy as for it nid noi (not spicy).
8. Car seats aren't at all common in Thailand. If this is something that concerns you, take a travel car seat such as the Trunki Boostapak with you.
9. Nappies and milk can be bought from 7-elevens across the country. They can be found everywhere. Although do noted that larger nappy sizes are difficult to come by.
10. If you are intending to do a long bus or train journey, do just check Skyscanner before you book. There are so many low cost airlines flying within Thailand, you may find it more cost effective to fly.
Thailand itinerary with kids
Day 1 – Arrive in Bangkok
From the airport, make sure you take a taxi from the official taxi stand to your hotel. Ensure the meter is used and if you're heading to Th Khao San the fare should be around 400THB (including tolls).
We recommend you stay around the Banglamphu area (centred around the lively Th Khao San) for it's central location, hippy markets and fun-time vibe. This area is a melting pot of travellers from around the world and it makes for some fascinating people watching. Plus, some of the restaurants here have high chairs! Step a few streets away from this traveller enclave and you will stumble upon the quintessential side of Bangkok of local stalls, shining temples and antique shophouses. Good family mid-range hotels areRatchadamnoen Residence and Rambuttri Village Plaza.
Day 2 – Bangkok 
Opulent temples and shrines, sensational street food and super-fun tuk-tuk rides around the bustling streets await. Head to Wat Arun, rather than the Grand Palace for a more intimate experience with your little ones and enjoy a boat ride along the Chao Phraya.Check out our post – A Day in Bangkok with young children – for more ideas.
Day 3 – Travel to Chanthaburi 
Chanthaburi is an old gem-trading town conveniently located on the way to Koh Chang. You can either take an aircon bus from Bangkok Ekkamai to Chanthaburi (there are three buses per day, taking 3.5 hours) or hire a private car which provides the convenience of door to door service between your hotels (3500THB). Your hotel in Bangkok will be able to book either option for you.
Once in Chanthaburi, we recommend staying in the old town to soak up all the history the sleepy town has to offer. We particularly enjoyed staying at Tamajun Hotel with their teak en-suite rooms and communal balcony overlooking the river. Perfect spot for a Chang Beer once the kids are asleep.
Spend your afternoon wandering around the narrow streets, gem markets (open weekends), the temples and cathedral (the biggest in South East Asia).Check out our post on Chanthaburi to find out more.
Day 4 – Namtok Phlio National Park day trip 
From your hotel, book a songthaew to take you to Namtok Phlio National Park for a jungle adventure! Ensure you are all lathered in mossie repellant and pack drinking water. It's a 20 minute drive to the gates and then 1km loop walk around the river (the perfect distance for little legs!), visiting various pools full of large nibbling fish, fed by cascading waterfalls. If you're brave enough, pop in for a dip with the locals! Back at the gate there are some make-shift restaurants selling local food for lunch. Check out our post on Chanthaburi to find out more.
Day 5 – Travel to Koh Chang 
Time for the beach! From Chanthaburi, there is one bus per day to Trat taking 50 minutes. From there you need to get a songthaew for the ferry terminal to Koh Chang. Alternatively, hire a private car to take you all the way to the ferry terminal. From there it's a half hour crossing (ferries leave hourly). If you have taken the private car option, the car will go on the ferry and transfer you directly to your hotel on the island. We found it easier to book this through our hotel in Koh Chang and cost 2500THB (inc. ferry ticket).
Once on Koh Chang, we recommend staying on the quieter Eastern side of the island, with calmer waters and a more rugged charm. White Sand Beach on the West coast lends itself more to tattoo parlours, happy hour bars and a lively party scene (although we recommend popping over that way to stock up on milk and snacks from the supermarket).
Serenity Resort is a great choice for young families. We loved taking the free kayaks out on the sea each morning before breakfast and they also provide buckets and spades for playing on the beach. The water here is shallow and calm, perfect for little ones, although a little rocky in places. There is also a good-sized infinity swimming pool and the restaurant provides a fantastic range of Thai and Western dishes. The staff are super accommodating – Keith drove us over to White Sand Beach one morning to stock up on supplies from the supermarket. There's also a cheap laundry service across the road (by this time your dirty undies are probably piling up!)
Day 6-8 – Koh Chang 
Spend your days exploring the thick jungle hinterland, visiting the fishing villages of the south, meeting elephants (we don't agree with elephant riding – read Boys Eats World's eye opening post on this). Or perhaps allow yourselves to just unwind and enjoy your family time splashing around in the sea or pool, making sandcastles and indulge in some lovely food and perhaps a cheeky cocktail or three for the parents.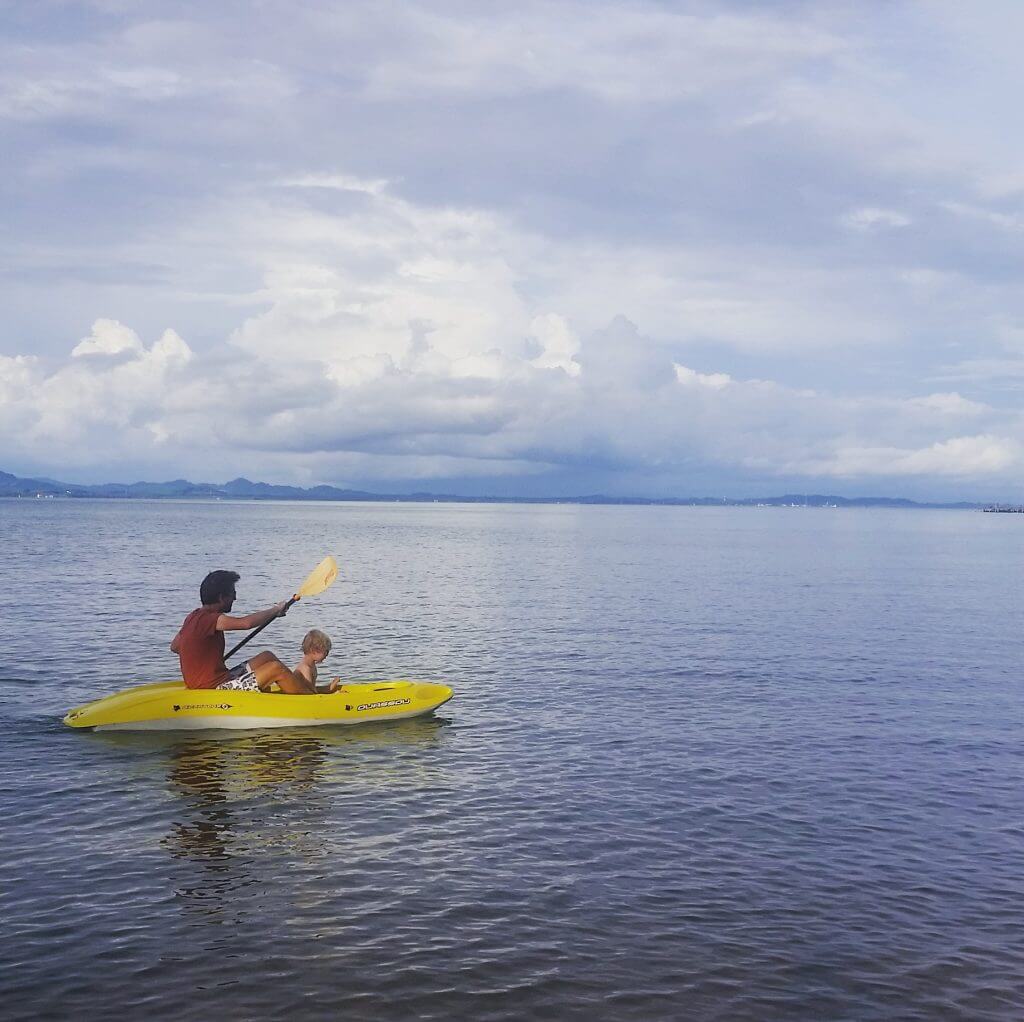 Day 9 – Travel back to Bangkok
Today will be your longest day of travel. Get to the ferry terminal in Koh Chang early, otherwise you may find yourselves queuing for the next available ferry and they only go every hour. Again, there are buses from Trat (on the mainland and you have to get from the ferry terminal to the bus station) or you could hire a private car transfer door-to-door, including the ferry. From the Koh Chang Ferry Terminal on the mainland, back to Bangkok, is a 4.5 hour drive.
Day 10 – Travel back home
Depending on the departure of your flight, you may have time for some last minute souvenir shopping down Th Khao San, or a last pad thai or roasted cricket (they just taste like a Walkers crisp ;-)), before you jump in a taxi back to the airport. Check out this post for how to get from Khao San Road to Suvarnabhumi Airport.
---
Temples, churches, jungle, markets, street food, boat trips and beach fun. Now THAT was a good holiday in Thailand with kids.
Looking to spend longer in Thailand and and experience more history and culture? Consider taking the train up to Chang Mai from Bangkok. Go Live Young have a great post on their adventures there.
Where would we be without our trusted Lonely Planet?
You may also like to read:
A day in Bangkok with young children
Chanthaburi – the perfect pit stop
Long-haul flight survival with young kids