Are you planning a visit to Morocco with kids? You may have a few questions: What is there to do in Morocco with kids? Is Morocco safe? What are the rules for car seats in Morocco? What food is there for fussy eaters? What to pack for Morocco with kids? Where are the best places to go in Morocco with kids? Read on for answers to all these questions and more…
For those of us living in the UK, Morocco is the accessible Africa. Just a short haul flight and you're transported to an exotic land that feels a million miles away. From the ochre dunes of the Sahara Desert, to the windswept coastline of Essaouria, the snow capped peaks of the Atlas Mountains, to the bustling medina of blue-washed Chefchaouen, the diverse landscape offers so many things to do in Morocco with kids.
Morocco offers so much to satisfy the adventurous spirit, especially if you're doing travelling independently. There are many package holiday resorts in Agadir and on the outskirts of Marrakech if that's your thing. But if you want that windswept feeling of doing something different and breaking away from the norm, it is very easy to get off the beaten track in Morocco with kids. It's a superb worldschooling destination.
This colourful and vibrant North African country is easily one of our favourite family travel destinations, and we have returned time and time again. We've done short week-long trips to Marrakech and Essaouria multiple times, a three week road trip around Morocco, and in 2022 slow travelled Morocco for 4 months.
So we do have a bit of experience in travelling Morocco with kids, and we hopefully answer all your questions here.
1. What is there to do in Morocco with kids?
READ: Top things to to do in Morocco with kids
Agadir is perhaps the most obvious (and popular) place to visit with direct flights from across Europe (including the UK), stretch of sandy beach and hotel pools. But Agadir isn't really the best representation of this North African country. There is so much more to explore for families in Morocco.
Sand boarding down sweeping dunes, haggling for football T-shirts in the bustling medinas, and hiking through the Atlas mountains on a mule; Morocco is a fantastic adventure playground for intrepid families. With the country being so diverse, each destination provides a totally different experience to the next, and you will be able to fit in so many different experiences in to a short holiday.
Highlights included:
2. Is Morocco safe for families?
Whilst we're unable to deem any destination as totally 'safe' in today's troubled world, we found Morocco to be very safe with young kids. The main concern will be the motorbikes speeding around the narrow alleyways of Marrakech's medina. If you are visiting Morocco with a baby or toddler, we advise taking a carrier for them, rather than relying on a buggy around Marrakech's medina.
Some tourists report being hassled by touts and there have been pick pocketing incidents. But if you keep your usual travel wits about you, you will be totally fine. Remember to dress conservatively, don't wear flashy jewellery, and negotiate any payments up front.
Most travellers to Morocco experience no problems whatsoever. In all honesty, if you've travelled a fair bit as a family to Asia or Africa, you won't find travelling Morocco with kids a problem at all.
3. What to pack for Morocco
READ: What to pack for Morocco
Morocco is not a typical package holiday, "fly and flop", destination (although you can find that in Agadir, if that's what you're looking for). The climate and landscape is diverse (from snow capped mountains, to the arid Sahara, and windy coastal surf towns) and it's also a Muslim country. So some thought needs to go in to your packing to allow for the varied climate and local customs.
On our 3 week Morocco road trip, we wore woolly hats and winter jackets in the Atlas Mountains, needed sun hats and sun cream in Marrakech, and would you believe it rained whilst we were in the Sahara Desert?!
In a nutshell, pack layers for the interchangeable climates, and wear loose-fitting, light clothes that cover your shoulders, cleavage and legs. Kids will be fine in shorts and T-shirts. Ladies will feel more comfortable in long skirts, or trousers. A light shawl is a good idea. Shorts are fine to wear at your accommodation.
Whilst you will see Westerners walking around in shorts and string tops in tourist areas, we recommend being sensitive to the local culture and covering up. No one will say anything to you. It's just being respectful.
As for shoes, the KEEN sandals are always an essential for us.
And a top tip for kids… pack a wetsuit! The swimming pools are rarely heated in Morocco and wearing a wetsuit will hopefully allow for longer water play.
4. When is the best time to go to Morocco?
The diverse climate means that there is always a good time in the year to go somewhere in Morocco.
The coast experiences more of a Mediterranean climate and is most pleasant in May, June and September (for example, check out this guide to the best time to visit Essaouira). But when the temperatures cool here between November and April, accompanied by the odd rainy day, it's time to head inland to Marrakech and the desert.
Although if you asked me my favourite time to visit Morocco, I would have to say Spring, when it's generally warm and dry, the snow is off the peaks making the Atlas Mountains easier to navigate, and the Sahara isn't too unbearably hot. Check our this guide for what to wear in Morocco in Spring, as well as this guide for what to wear in Essaouira.
5. What is the best way to get around Morocco with kids?
READ: Should you hire a car in Morocco?
READ: Tips for driving in Morocco
If you love the flexibility of travelling on your own schedule and want to explore more than one town of Morocco, then hiring a car is your best option.
The roads are remarkably good, for a family of four it works our cheaper than public transport, and we never had an issue finding safe parking.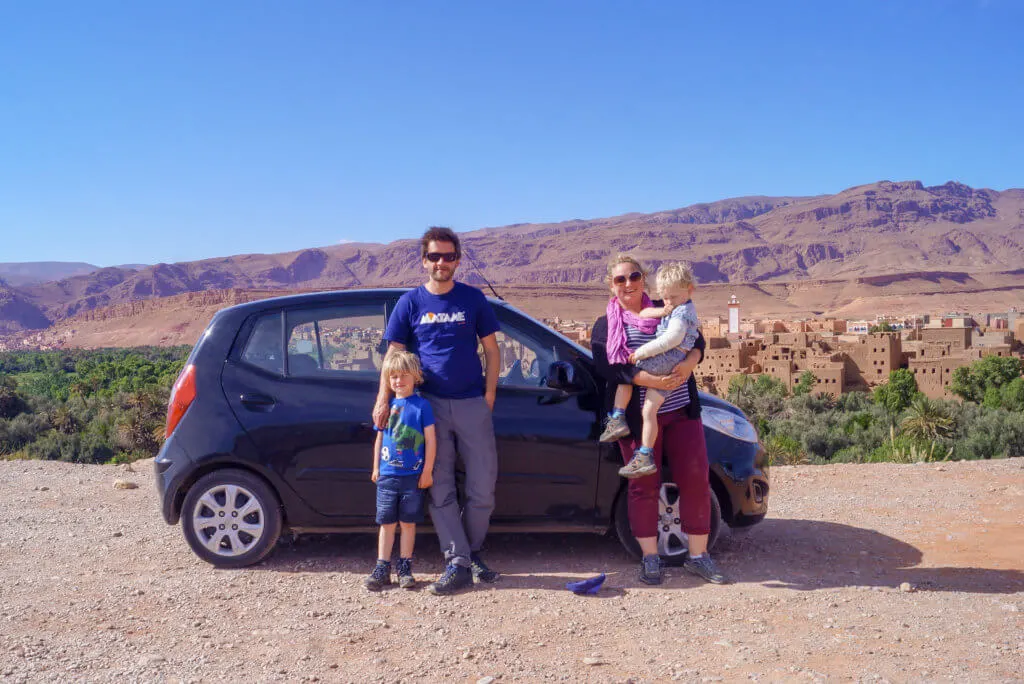 6. Is a car seat required for Morocco?
There seems to be mixed views on what the actual law is for car seats in Morocco. It supposedly is the law that all children require to be in a car seat, but don't be surprised to see local kids piled into the back of the car not even wearing seatbelts, and toddlers squished between their parents on mopeds.
However, we very much recommend that you do use a car seat in Morocco if you plan to hire a car or taxi.
For a Morocco road trip, we suggest bring your car seat from home as this will be cheaper than hiring on arrival.
However, if you are independently travelling around and don't want to carry heavy and bulky car seats, we suggest taking a travel booster seat. The mifold Comfort, Grab-and-Go is perfect for travelling kids. Designed for kids age 4-12, (weighing between 15-36kg and up to 150cm in height) it is super small and lightweight.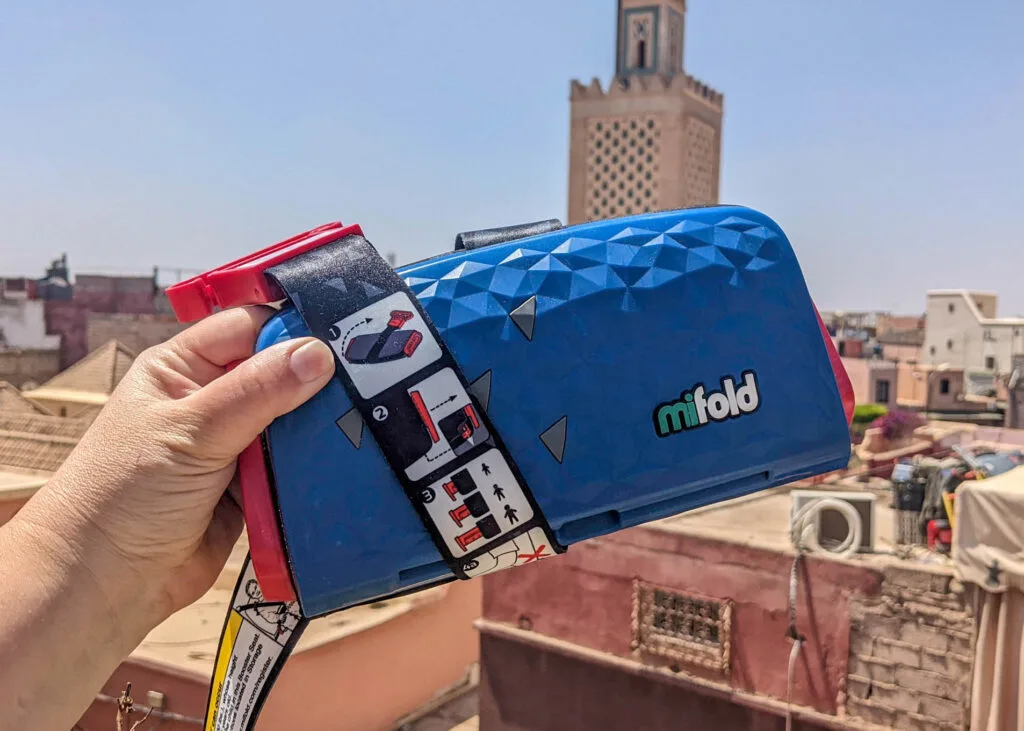 5. Where should we go on a road trip around Morocco?
READ: Morocco road trip with kids
Our recommended Morocco road trip itinerary takes in a big loop from Marrakech, up to the blue city of Chefchaouen, via the capital, Rabat, down to the Sahara, and back across to Marrakech through the Atlas Mountains. Feel free to copy it exactly, tweak it to your preference, or just read for inspiration.
6. My kids are fussy eaters. What about the food in Morocco?
You will find orange juice stalls and ladies making msemen (bit like a pancake) all over Morocco. These are always a good snack to have on the go, especially when wandering the medinas.
The local dishes aren't too spicy and our boys always enjoyed the couscous, and the steamed veggies from the tagines. Brochette (meat kebabs) always go down a treat too. If the kids are having a fussy day, you will easily find omelettes, pizzas and chips in tourist areas.
Breakfast is more often than not served at your accommodation (unless you're self-catering). This generally consists of breads, eggs, and jams.
If you are self-catering, the main cities have well stocked supermarkets. Though we always enjoy picking up fresh fruits and vegetables from the souks.
7. Can you drink the tap water in Morocco?
We wouldn't recommend it.
Rather than buying bottled water and adding to the plastic bottle problem in Morocco, invest in a water filtration bottle, such as WaterWell.
8. Is Morocco a cheap destination?
When travelling as a family, budget is always going to be a factor in deciding where to travel. Thankfully, your tourist dollar goes far in Morocco. A meal out for a family of four costs £20 on average, and good family accommodation is about £45 per night.
Check out our Morocco itinerary with kids which includes details of our spending in Morocco.
9. Vaccination and visa requirements for Morocco
READ: Morocco entry requirements (UK Government site)
As long as you are up to date with your standard vaccination schedule at home (including COVID vaccinations for age 18+) you're good to go. Just ensure you have adequate health insurance before you travel as the national health service isn't that great and the private hospitals in Morocco are very expensive.
As for visas, they are not needed for most visitors to Morocco (including Brits) and you are allowed to remain in the country for 90 days. You also get a very cool stamp in your passports.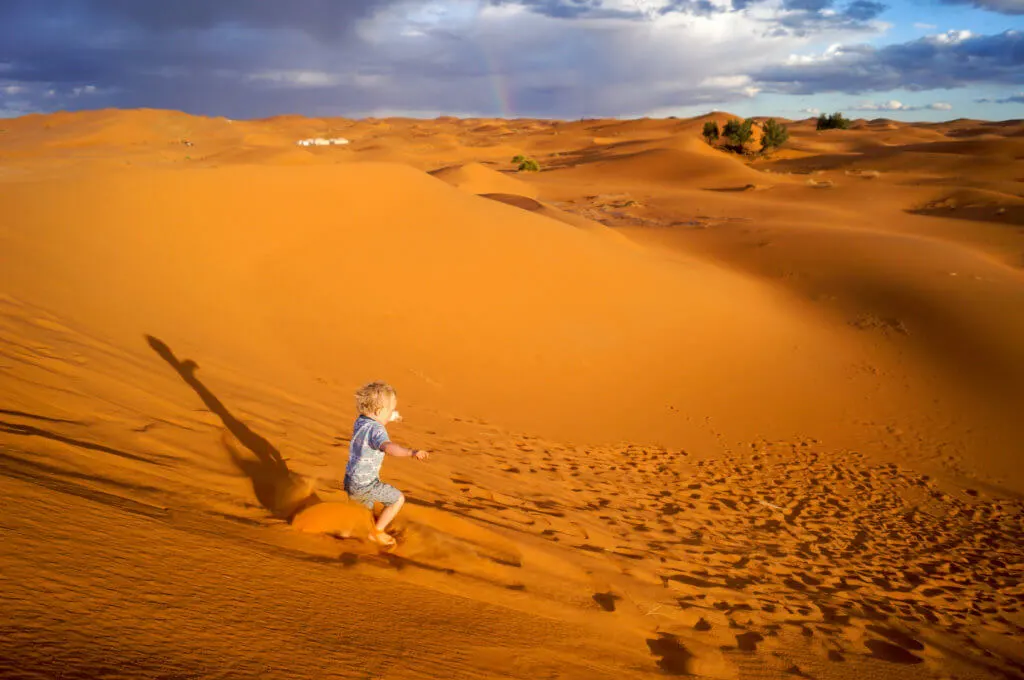 10. Are people in Morocco welcoming to families?
Wherever we travel in Morocco with our boys, we always receive such a warm welcome. This is especially so in restaurants, which makes eating out in Morocco with kids a much more relaxed affair. Although do note that sometimes young kids may get a little too much attention and your little one may find this a bit overwhelming.
11. Top tips for travelling Morocco with a baby or toddler
Don't worry about packing your bags full of nappies from home, as they can be found in all towns in Morocco. Similarly, milk is readily available.
For transporting babies and toddlers around, a back carrier is much easier than a buggy / pushchair. This means that they are high up to see what's going on. Plus, a buggy / pushchair can be difficult to navigate over the cobblestones and through the busy, tight alleyways of the medinas. Very few places in Morocco are buggy friendly, Essaouira is probably one of the few.
Cots are often available at your accommodation. Though do check in advance.
---
Sale
You may also like to read:
Morocco with kids: self-drive itinerary, safety, budget and more
Should you hire a car in Morocco?
Visiting the Sahara with kids