What's beyond the package holiday resorts in Agadir? Whether you're visiting Agadir with kids on a family holiday, or just passing through Agadir as an entry/exit point to Morocco, this post details the best things to do in Agadir.
Agadir is not the best representation of Morocco, and you would be forgiven for thinking you were on the Spanish Costas. Cheap flights lure sun worshippers to white-block hotels to grab a sunbed around a packed pool. Music blares from distorted stereos late into the night, and McDonalds and Pizza Hut signs protrude the skyline.
After Marrakech, Agadir is the main entry point to Morocco for travellers. If fighting for a sunbed around a pool isn't your thing, go straight to the car hire desk and jump in a car for a Morocco road trip. Or perhaps head to Essaouira, a three hour drive north of Agadir, for a different type of beach holiday. Indeed, if you're looking for a Moroccan beach holiday, Essaouira and Agadir are your obvious choices, but the two towns are very different to one another, and what may appeal to one family, probably doesn't appeal to another. Check out this really useful guide for choosing between Agadir or Essaouira.
However, if you are travelling Morocco with kids especially, the pool and beach time Agadir offers may be exactly what you need. Happy kids means happy parents, right? They will love playing on the beach and in the pool, and there really is only so much couscous and tagines kids will eat; sometimes a McDonalds isn't all bad.
So if you find yourself in Agadir and wondering if there is anything else to do beyond the hotel pool and beach, you're in the right place. Here we have detailed the best things to do in Agadir and around Agadir for families.
1. Pool time
This is the number one reason to visit Agadir with kids. Don't make the mistake of booking a hotel without a swimming pool. Some of the hotels even have waterslides. Although do note, these pools are rarely heated and can be exceptionally cold. A wetsuit is very handy for the swimming pools in Morocco.
If you want a sunbed, you will have to get up early to nab one. From 8am in the morning, people are already marking their territory for the day with towels and sarongs.
2. Beach time
To mix up the pool time, head to the beach. The sandy beach stretches for miles and the gentle surf is great to play in. It's not the cleanest beach though, and you will be bothered by touts selling anything from mint tea to sunglasses to scarfs to doughnuts. They are generally friendly and not too forceful. Some hotels have a designated section of private beach so that you aren't hassled. Check with your hotel.
There are a few restaurants dotted along the coastline, and you can even find traditional Moroccan restaurants between the McDonalds, KFC, and Pizza Hut.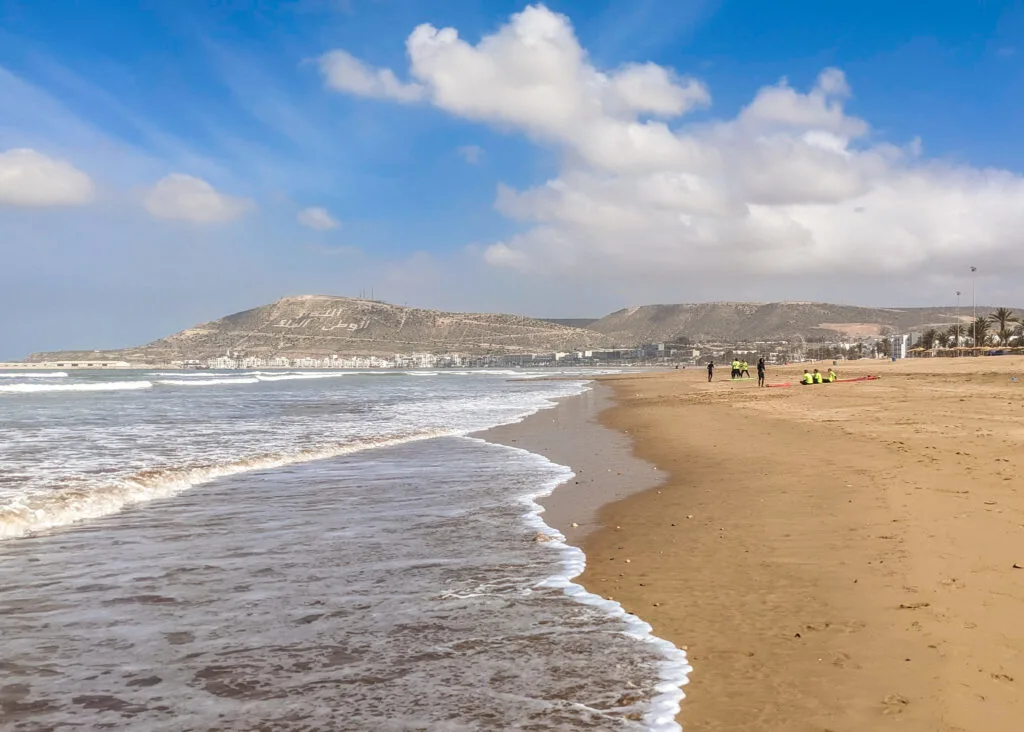 3. Surfing
The gentle surf rolling in off the Atlantic is perfect for learning to surf. There are no obvious surf schools set up along the beach, so organise your lessons through your accommodation.
4. Agadir Medina
Much of Agadir was destroyed in an earthquake in 1960, which included the historical Medina. The Medina today is a reconstructed medina, with an entry fee and aimed at tourists (MAD20 for adults, MAD10 for children).
Whilst it is devoid of locals going about their everyday life (as you witness in the medinas of Essaouira, Marrakech, Fes etc.), the architecture is beautiful and it's a pleasant change to wander a quiet medina, taking your time.
There are a few tourist shops inside the medina, and it's small enough so that you won't get lost. Allow about 45 minutes to wander around.
5. Souk El Had
This is where to go to shop with the locals and experience true Morocco within concrete Agadir. The souk is massive and sells absolutely everything; from fruit and veg, to clothing, to lotions and potions, rugs, electronics, toys, furniture… the list goes on. If you forgot to pack an essential travel item, here is the place to find it.
Our boys loved haggling for Morocco caps and football shirts. And do be prepared to negotiate prices; Agadir is a tourist destination and traders will triple or quadruple their prices for foreigners.
6. Kasbah
Look northwards along the beach, you will spot the inscription on a hillside that translates, "Believe in God and respect the King". This hilltop Kasbah's walls are a rare survivor of the 1960 earthquake, and offers superb views across the city of Agadir.
However, at the time of writing, a cable car was being built and tourists were not allowed to drive up in their own car. Instead you have to take a taxi or a bus. Although the police we met at the road entrance waved us on in our hire car and said it was ok (so it's worth trying). And once at the top, it's quite a demolition site. A local will show you the short footpath down to the viewpoint.
Once the cable car is finished, I imagine it will be a popular tourist attraction. It was planned to be completed in June 2022, but I am writing this in April 2022 and it is far from completion. I imagine the pandemic halted progress.
7. Paradise Valley
Paradise Valley is a stunning hidden gorge with ponds to paddle and swim in. And further downstream are cafes along and even in the river serving the usual orange juices, tagines, and western food. It's a one hour drive from Agadir.
This is one of the most popular day trips from Agadir. You can either book a tour through your accommodation, or negotiate a fee with one of the many taxis waiting outside the entrance to your hotel. Alternatively, you may want to hire a car for a couple of days and combine a visit to Paradise Valley with a visit to the Crocoparc and Taghazout (both detailed below). The main road to Paradise Valley is mostly paved all the way and it's a one hour drive.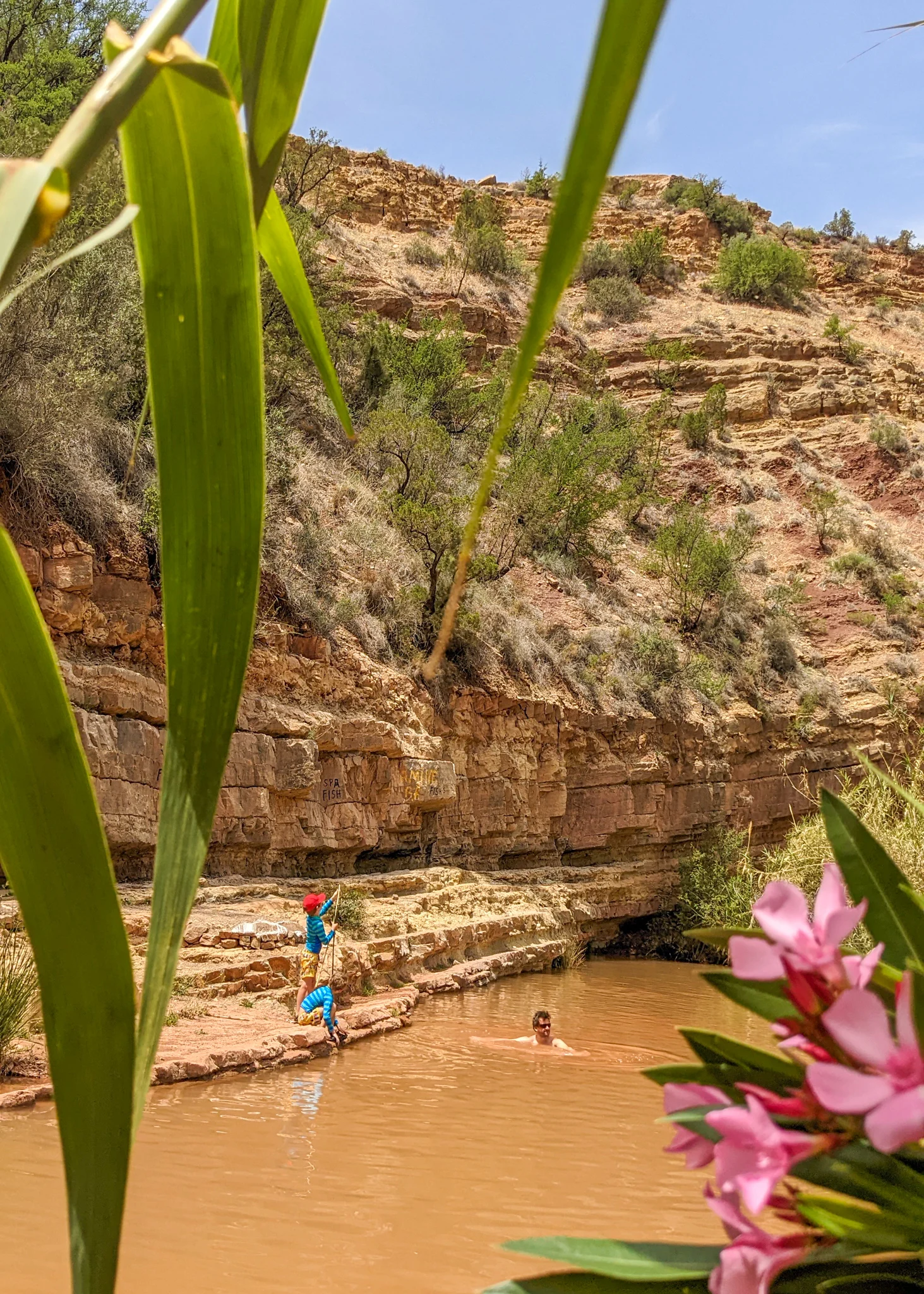 To get to the swimming area, follow the footpath that leads across from the parking area. It's a 500 metre walk with a steep decent to the cafes. Walk past the cafes to get to the swimming pools. There are guides to show you the way if needs be.
8. CrocoParc
Just on the outskirts of Agadir, Crocoparc is a must visit for families visiting Agadir. The entire park is exceptionally laid out and it is teeming with Nile crocodiles swimming and sunning themselves around a large lagoon. You will also find iguanas, tortoises, snakes, and a very cool cactus garden.
There are two good playgrounds on site and a restaurant overlooking the crocodiles.
Allow a good two hours for your visit.
9. Taghazout
If you really want to escape the concrete of Costa del Morocco head to the characterful surf town of Taghazout. With its hippy / back-packer vibe, and restaurants hugging the coastline, it's a wonderful place to spend the while away the days.
You can hire boogieboards for the kids to play in the surf. Hours of fun!
Alternatively, base yourselves in Taghazout rather than in Agadir. We thoroughly recommend staying at Aftas Surf House in the hills behind Taghazout (click here to view on Airbnb). The rooms are spacious, the breakfast views are stunning, and the pool is beautiful. You will need a car to get in and out of Taghazout though.
Getting around Agadir
The easiest way to get around Agadir is by using the taxis. For a better fare, don't use the taxis immediately outside your hotel. Instead, head to a main road, and flag one down. You will need to negotiate a fee, but MAD40 seems to be a standard fare for tourists.
Alternatively, consider hiring a car. The roads around Agadir are good and easy enough to navigate. Although be warned that locals don't tend to use lanes around a roundabout, and instead follow the most direct route. Click here for our tips on driving a car in Morocco, and click here for our tips on hiring a car in Morocco.
Final thoughts on visiting Agadir
Agadir is far from our favourite place in Morocco, but our boys absolutely loved the pool and beach time, and for that, it was worth visiting for us. Thankfully we had months of travel in Morocco ahead of us, so we didn't feel cheated.
Being one of the main entry points into Morocco, it offers a very soft landing. Indeed, compared to bustling and chaotic Marrakech, Agadir is little in the way of a culture shock for Westerners.
If you take Agadir for what it is – 'fun in the sun' – then you will have a good time. But if you're looking for an insight into Moroccan culture, this is not the place for you. Instead, hire a car and head to Taghazout for your first few days in Morocco, or perhaps base yourselves in beautiful Essaouira. Indeed if you want to visit the worthwhile Crocoparc and Souk El Had in Agadir, then Agadir is a very doable day trip from Essaouira.
---
You may also like to read:
Morocco with kids: your questions answered
Morocco road trip with kids
What to pack for Morocco