Fes Medina, an expansive labyrinth of high-walled alleyways that can only be navigated by foot or donkey, feels like a time-capsule where very little has changed since the city was established in the 8th century. If you are visiting Fes with kids, a tour of the medina will be one of their best worldschooling days ever, discussing camel heads and testicles, black magic, making silk from cactus, seeing the tanneries, and learning much, much more.
It really is the most fascinating medina experience in all of Morocco and a must do for those visiting Morocco with kids. It's less touristy and quieter than Marrakech (it's a traffic-free medina), but more confronting and raw than pretty Essaouria or Chefchaouen.
But to balance the sensory overload of the media, choose your accommodation wisely (we suggest two superb places below), and perhaps treat the kids with a visit to the play areas at the mall. There are also some really interesting places to explore outside of the medina, and a cooking class is a must. Plus, Fes is a good base for day trips to nearby Ifrane, Meknes and Volubilis.
We spent one week in Fes as part of our 4 months Moroccan travels in 2022. Read on for our personal recommendations for the best things to do in Fes with kids.
How long do I need in Fes with kids?
We recommend at least two full days in Fes (one to explore the medina, the other to explore outside the medina). Ideally add on another day for relaxing by the pool, and another day if you want to use Fes as a base for exploring Volubilis and Meknes, or Ifrane. We spent a full week in Fes as we were working and schooling whilst travelling.
1. Sleep in a traditional riad
There are some superb and very decently priced riads to stay in the medina, and is an absolute must do when visiting Fes with kids. Indeed, with the confusing, sprawling alleyways of the medina, you may want to splash out a little on an oasis to retreat to after a day of exploring.
But finding a riad that is open to families and where you won't be disturbing couples quietly relaxing can be tricky. Sound always magnifies and echoes in riads, and we've stayed in a few riads in the past where we're constantly asking our boys to keep the noise down; it makes for a far from relaxing stay for us parents. But we've also stayed in a couple of fantastic riads in Fes with kids.
Palais Houyam is a brilliant option for families and has a pool. Hidden in a quiet corner of Fes Medina, this stunning riad is a pocket of tranquillity, offering an authentic experience. But, what makes it perfect for families, is the relaxed and warm welcome; expect fist pumps and high fives for the kids, and perhaps the threat of being thrown into the pool (cue giggles). A welcoming pool sits in front of a two storey courtyard with tiled pillars and flooring, and traditionally crafted stone and woodwork. Contrasting modern tub chairs invite you to sit and admire the art wort. Rooms lead off from this central courtyard, but make sure you follow the steps to the roof, for expansive views over Fes.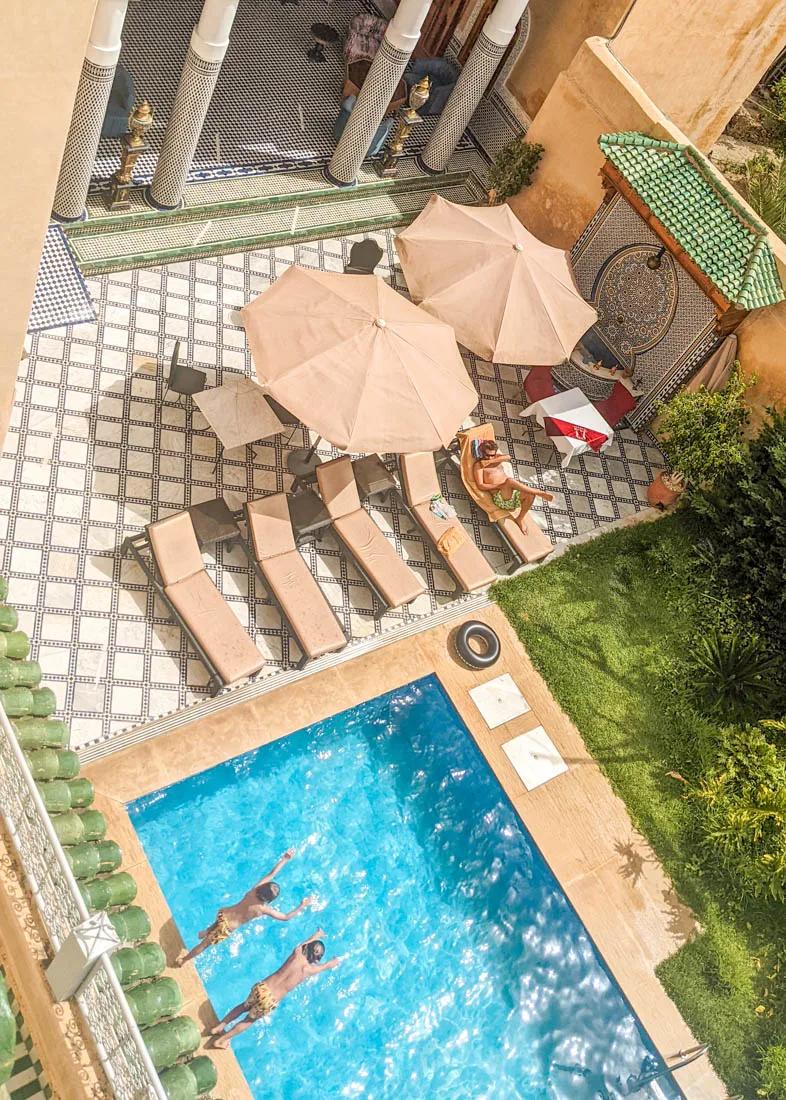 Alternatively, if you prefer a self-catering option and your own space, try and Airbnb. We stayed at this Airbnb, which is actually just around the corner form Palais Houyam, and it is beautiful. There's no pool, but air conditioning for the hotter months, a washing machine, three separate bedrooms, a kitchen with an oven, and a washing machine. The riad has been beautifully resorted with tiles and painted woodwork that is over 400 years old, and the view from the rooftop is wonderful to listen to the call to prayer at sunset.
2. Take a guided tour of the medina
As independent travellers, we are usually a family who like to explore independently, obviously. However, considering how expansive and confusing Fes Medina is, and how many hidden gems there are that are not signposted, we really recommend booking a walking tour with a local guide for Fes Medina. We booked one through our Airbnb (250DH for 3-4 hours), and he was absolutely brilliant!
You will be taken all over the medina down tight narrow alleyways, and on to roof tops for views, to see the tanneries, the oldest University in the world, craftsmen at work, and all the weird and wonderful workings of the medina. There were so many times on our tour when I said, "No way would I have found this", or "No way would we have known to come in here". You will be taken into a silk shop and apothecary on your tour. There is no expectation to buy. Just go with the flow and enjoy the experience.
A tour around Fes Medina isn't about ticking off sites, it's about becoming totally immersed in the medina, and it will perhaps be one of the best worldschooling lessons your family have ever experienced.
Here are just some of the things we learnt about on our half day Fes Medina walking tour:
Why camel heads are hung up and what bits you can eat (we saw someone serving up camel testicles)
The ceremony of circumcision in Islamic culture
How to make silk from cactus
How leather has been dyed in tanneries for 700 years
How our numbers come from Western Arabic numbers by counting angles
Where to buy items for black magic, which is illegal in Morocco
The powers of Moroccan natural medicine
The oldest university in the world was founded by a woman in Fes in AD 857, and is still teaching students today.
The majority of these facts totally blew our minds! Honestly, one of the best tours we have ever done.
3. Take a family cooking class
Learn how to make a tagine or couscous, as well as the breads (your kids will love msemen, which is like a Moroccan pancake). Then afterwards you get to eat your feast!
English speaking cooking classes can be quite expensive for the whole family (around 600DH per person). However, we found the best way was to let our kids get involved with a local lady cooking us dinner.
The sister of our Airbnb host came round one afternoon with all the ingredients ready to cook Moroccan feast in our kitchen. We don't speak Arabic, and she didn't speak English or French. But somehow the boys were still able to get stuck in with chopping food, kneading dough, and sniffing spices. It was a fantastic immersive experience and together they made a tagine, various salads, bread, and msemen.
The best way to arrange a cooking class is to ask your accommodation.
4. Hire a driver to explore Fes outside the medina
Don't just stay in the medina when you visit Fes with kids. There's a lot more to this historical city outside the city walls!
We hired a driver / guide from our Airbnb (300DH for approximately 3 hours). He took us to:
The Royal Palace – you're not allowed in, but can view from outside. The Palace has been left empty for a few years now!
The Jewish Quarter – note that the Jewish cemetery is closed on a Saturday, but it's interesting to walk around and note the wooden balconies that overlook the street (which is very different architecture to the medina).
Jardin Jnan Sbil – beautifully manicured gardens offering shade and pretty walkways. A good place to let young kids have a run about. Entry is free.
The Blue Gate – this is the main gate to the Medina, and a good spot for lunch.
Borj Nord Museum – the views over the city here are fantastic, and our boys loved the armoury and weaponry in this museum (10DH adults, 3DH kids under 16).
A ceramic studio – you will be shown how ceramics are made from the clay stone, and your kids may even get a chance to try the clay wheel. There is no expectation to buy ceramics at the end of the 'tour'.
Afterwards, we asked to be dropped at The Blue Gate for lunch, and then walked downhill through the medina, back to our accommodation. It was easy enough to follow the route on Google Maps.
5. Play at the mall
Now a mall doesn't normally make the cut when we're suggesting places to visit. But as Fes medina is compact with tight alleyways, there aren't really any places for kids to run wild and free. After a couple of days in the medina, you're going to need a playground.
Borj Fez is just a 2km taxi ride from the Medina. This mall is a little dated, but on the top floor next to the food court is 'Fun Park', which features some arcade games and a two decent sized softplays (one for toddlers, and the other for older kids). Buy a card at the reception and then tap to use the various games and for entry to the softplay.
There is also a very large Carrefour at this mall if you need to stock up on some Western food items such as cereal, cheeses, and pasta, as well as a couple of toy stores if your kids deserve a treat.
Adjacent to Borj Fez, on the large roundabout, is a McDonald's with an enclosed outdoor play area. Again, we don't normally recommend visiting McDonald's when travelling, but your kids may be in need of a play area.
6. Take a day trip to Volubilis, Meknes, or Ifrane
Fes is a good base for a few day trips.
Volubilis
Just over an hour's drive from Fes are the impressive Roman ruins and mosaics of Volubilis, a partly excavated Berber and Roman city and considered to be the ancient capital of Mauretania. It's a fascinating place to explore. Tour guides are available at the entrance, but if you are visiting with young kids, you may (like us) just prefer to wander around and explore on your own, allowing the kids to wander freely. Allow 2-3 hours to explore the ruins.
The nearest town to Volubilis is Moulay Idriss. This is a sacred town as it's the site of the tomb of Idris I, the first major Islamic ruler of Morocco. The Medina is an interesting place to stroll around, and the main square is a good place to get a bite to eat.
Meknes
Meknes is also only a 50 minute drive away. This is another interesting medina to walk around. Grab some lunch at one of the many restaurants spilling out onto Place el-Hedim.
Ifrane
Ifrane is just over a 1 hour drive south of Fes. We stayed here for a couple of days on our Morocco road trip back in 2019. We decided to give it a miss on our 2020 travels. We really didn't think much to this Alpine-wanna-be town that's coins itself as the 'Switzerland of Morocco'. It's an interesting contrast to elsewhere in Morocco, but it doesn't really live up to it's name and an afternoon visit will suffice. It's a good spot to stop for a woodfire pizza lunch if you're heading south to the Sahara with kids.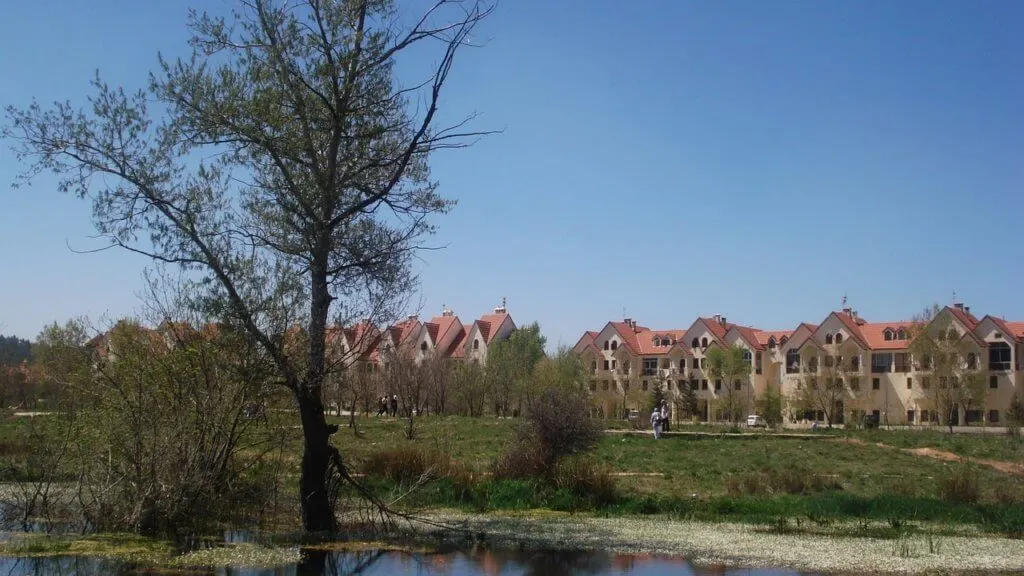 ---
You may also like to read:
Things to do in Casablanca with kids
Marrakech with kids: essential tips to keep parents sane
How to spend a day in Rabat with kids