Planning a visit to Casablanca with kids? Then make sure you read our tips and suggested things to do in Casablanca for a smooth visit.
Being the economic and commercial heart of the country, Casablanca is Morocco's biggest city with a population over 3.7 million. This is the modern face of Morocco with glitzy malls, exclusive beach clubs, and glassy skyscrapers, but in between are pockets of dust, dilapidation, and deprivation, typical of any African city. It's a world away from sleepy Essaouira further down the coast, or the medieval horse-and-cart images of Fes.
Casablanca is busy, congested, lacking in sites, and rarely on the itinerary for those visiting Morocco with kids. So is it really worth visiting Casablanca with kids?
Absolutely!
Many people have told us that "Casablanca is just a big city" and that it's not worth a visit. Indeed, in 2019 we took a three week Morocco road trip and drove right passed Casablanca and onto Rabat. But with 4 months to travel Morocco in 2022, we had the time to explore this North African country deeper, so decided to spend 5 nights in Casablanca. Our boys were 7 and 8 at the time (in fact, Ez celebrated his 7th birthday in Casablanca!).
We really enjoyed our time in Casablanca. After 7 weeks of travels in Southern Morocco (from Agadir to the Sahara, to Marrakech, and then a month in Essaouira), Casablanca offered a refreshing change of pace with a waterpark, malls, and play centres. Plus, we were off the tourist trail and got to witness a truer face of Morocco. Indeed, Casablanca's Medina is by far the least touristy medina we've experienced in the whole of Morocco.
So what are the best things to do in Casablanca with kids? Well, read on…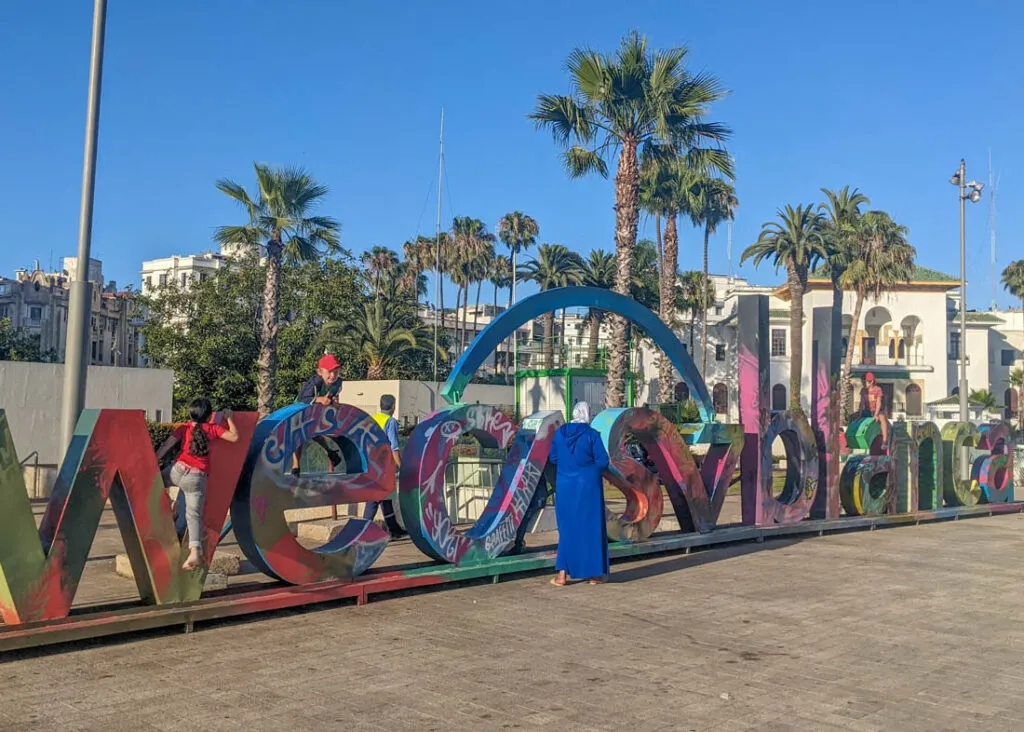 1. Hasan II Mosque
Jutting out onto the Atlantic, opulent Hassan II Mosque is the main, and for many the only, reason tourists come to Casablanca. It's the third largest mosque in the world and perhaps the most impressive building in Morocco for modern times. Indeed it was built at enormous expense over six years and completed in 1993. Plus, it's one of only two mosques in Morocco that are open to non-Muslims.
There are tours conducted around prayer times in a range of languages (including English) of the Mosque's interior. Children are very welcome and guides will be playful with younger ones, but it may be difficult for them to understand what the guide is saying. To keep them occupied, they may want to take a few photos of the interior so you can chat about it later.
Visitors inside the mosque must be modestly dressed with knees and upper arms covered. Ladies don't require a headscarf and children are fine in shorts and T-shirts. You will be asked to remove your shoes on entry and provided with a bag to carry them in.
There's a small museum showcasing the craftwork involved, which takes about five minutes to walk around before your tour starts. Kids will enjoy the small video showing the various crafting techniques.
2. Walk along the corniche
Stretching from Marina Mall, passed Hassan II Mosque, west to the Lighthouse and beyond is a fantastic corniche (promenade). This is traffic-free and offers lots of space for the kids to run. The coastal views are pretty impressive too, especially as you approach Hassan II Mosque.
We suggest starting from the top floor of Marina Mall. Take a left out of the entrance, and across the white bridge, down to the corniche.
On the opposite side of Hassan II Mosque there are electric motorbikes and cars for kids to ride (10DH for 5 minutes).
3. Wander the Medina
Casablanca's Medina is perhaps the least touristy Medina in all of Morocco's larger towns and cities. You are very unlikely to see other tourists here, and it's a great way to show your kids how Medina's used to be before tourism; there are no ceramic stalls, galleries, and rug shops here.
Wander and get lost. Locals will be happy to show you the way. The main streets will have markets, but much of the Medina is residential.
On the northern side of the Medina facing the Atlantic you will find Casablanca's 18th-centurty fortifications. This is just a small area, but kids will enjoy climbing on the canon.
Casablanca's Medina is a great way to get between downtown Casablanca and Marina Mall / the coastal boulevard.
4. Run around Mohammed V Square
Mohammed V Square is the heart of downtown Casablanca, just south of the Medina. This is a large traffic-free square where kids can run free, chase pigeons, and also ride electric cars and motorbikes (for a small fee), whilst parents can take in the impressive French architecture.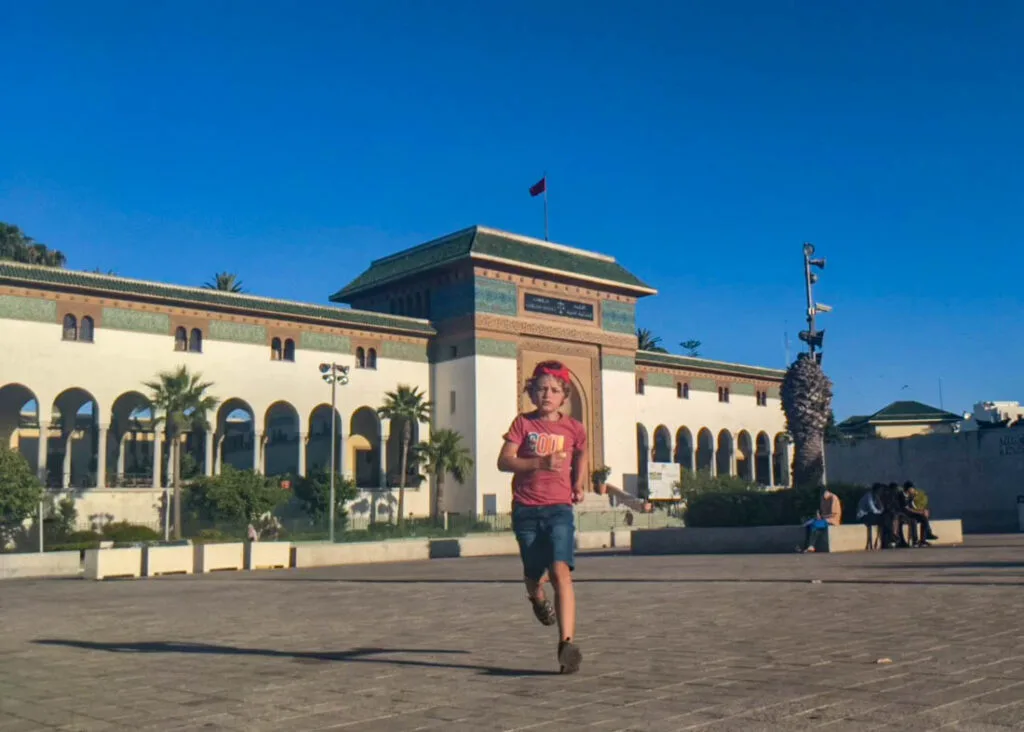 Kids will also want to run and play on the 'Casablanca' sign.
This is a good place to head to after the confines of the Medina, so kids can be let loose.
5. Hit the beach
The beach is a great place for the kids to play and there are a number of beaches up and down the coastline around Casablanca. The beaches aren't always the cleanest, unless at or close to a beach resort. Plage Madame Choual just west of Morocco Mall is filthy. Your best bet is Plage Lalla Meryem, where you'll also find Anfa Surf School (who run kids lessons).
There are good waves along the coastline here, which may not be suitable for toddlers and pre-schoolers.
The beach is also a pretty awesome sunset viewing spot.
6. Visit Morocco Mall
Morocco Mall is not just any average mall. This is the second largest mall in Africa with an IMAX cinema showing English-speaking films, a large aquarium (you can see the sea creatures from the centre of the mall without paying entry), and an underground theme park called Adventureland with rides galore and an ice-rink.
Despite sounding very glitzy, Morocco Mall is actually a little tired now. But it's a super fun afternoon for the kids if you need to escape the heat or just change the pace of your travels; your kids will not be disappointed.
7. Tamaris Aquaparc
Tamaris Aquaparc is an absolute must-do if you're visiting Casablanca with kids in the warmer months (May to September). This superb waterpark is great for kids of all ages with a toddler splash park, lazy river, wave pool, and an array of slides (some of which are only for kids age 14+).
For the majority of slides you are provided with a single or double inflatable. Although for one slide there's a mat which enables you to skim across the water at the bottom of the slide. Brilliant fun! There's a much wider selection of slides here compared to Oasiria Aquaparc in Marrakech, although there are fewer swimming pools and the grounds aren't green and open.
There are good value food stalls on site (although vegetarian options are severely lacking), showers, changing rooms, and lockers. Plus it's very clean and well ordered. It's 30DH to rent a sun lounger with parasol for the day.
8. MK INO Kids Play Café
If parents need an undisturbed cuppa and the kids have energy to burn, take them to the fantastic MK INO Kids Play Cafe. It's modern, clean, and the staff are very professional. Plus the wifi is excellent should you need to do some work.
There's a Junior Ninja Parc for 4-13 year olds with a huge ball pit and two-tier obstacle course. Upstairs is a big toddler area with a village to drive mini cars around. Then whizz down the tunnel slide to bounce on the trampolines and try and see how many hoops you can score with a ball.
Expect to pay Western prices for entry. If you go during the week and out of school holidays it's cheaper, and you will pretty much have the space to yourselves.
Bring socks for the kids to wear. Your kids will get rather sweaty as they're a bit stingy on the AC. There's an extensive menu of pizzas, tacos, sandwiches, crepes, plus hot and cold drinks (including milkshakes).
Expect to stay 1-2 hours.
8. KO JUMP
If your kids are a bit too old for MK INO Play Cafe, take them to KO JUMP, Morocco's first trampoline park. But they'll find more than trampolines here, there is also the battle beam, climbing and scratch walls, a jump tower, foam pit, airbag, dodge-ball and basketball arenas, wipeout, Ninja Warrior and more.
Parents can relax at Ko-Coffee with a panoramic view of the park and take advantage of the free WiFi.
KO JUMP is open to kids age 4+. Kids aged 4 and 5 must be accompanied by an adult, but kids aged 6+ can jump unsupervised. It is comulsory to wear non-slip sport sock with rubber. These can be bought on arrival for 25MAD per pair.
KO JUMP is open every day of the week and kids can either jump for 1 or 2 hours. Check their website for up to date pricing and opening times. You can book your session in advance online.
9. Visit La Grange
A 25 minute drive from downtown Casablanca, you will feel a million miles away from city life at La Grange. This is a restaurant (serving great pizzas) with an extensive play area and activities organised for the kids, including pony rides, ping-pong tables, a playground with slides, trampolines, bouncy castles and swings.
Le Grange gets exceptionally busy at weekends and school holidays, and they no longer take reservations. So aim to arrive early.
Open every day except Mondays, 9am to 10pm.
Getting around Casablanca with kids
Trams are always a fun way to get around, especially if you live in a place which doesn't have any. The trams in Casablanca are very modern, and there's a flat fee of 8DH per person. However, for a family, the costs can add up, and the tram rarely goes where you actually want to go. Same for the buses.
There are red petits taxis to flag down, but legally they are only allow to take 3 passengers. This is not ideal if you are a family of 4+, although some petits taxis will take you for an extra negotiated fee (good luck on getting them to use the meter).
The easiest way to get around Casablanca with kids is using the careem app. This works in a similar way to Uber. You don't need a Moroccan phone number for it to work as the app is all online, and there's an online function to chat to the driver. The bonus with using careem is that you avoid haggling for the fare as the price is worked out via the app, and you don't need to try and explain where you are going, as your driver just follows the pin you located on the map.
Where to stay in Casablanca with kids
For such a large city, the accommodation options for families especially is very limited. The budget and mid-range options are very uninspiring, and the downtown hotels are geared towards business travellers. But seeing that not many tourists to Morocco visit Casablanca, let alone stay longer than a night or two, it's not surprising.
We stayed in this Airbnb in downtown Casablanca. After staying in riads and Medina Airbnbs for a couple of months, the open modern space of this one bed apartment with kitchenette and small outdoor seating was a novelty. The sofa converts to a large double bed for the kids, and the double bed in the main bedroom is extremely comfortable, although those people over 6ft may find they don't quite fit. There's a washing machine, huge TV with Netflix, and a power shower. It's an excellent location for the main train station and there's a tram stop across the road (next to Pizza Hut).
Alternatively, and if you have the budget, it's worth checking out the beach hotels to the south of the city for more of a holiday vibe.
---
You may also like to read:
Things to do in Essaouira with kids
Marrakech with kids: essential tips to keep parents sane
Morocco with kids itinerary