A comprehensive guide for any intrepid parents wanting to road trip Morocco with kids. Our boys were aged 3 and 5 at the time. This trip was almost entirely funded ourselves, apart from our overnight Sahara Desert trip and two night stay in a Marrakech riad which was hosted. Also, this post contains affiliate links. Should you click to purchase, it is at no additional cost to you, but I receive a small commission.
The call to prayer drifted over the rooftops as we gazed below to the blue washed alleyways of Chefchaouen, our cheeks still flushed from the day's trek in the surrounding hills. We were only three days into our 2.5 week Morocco self drive itinerary, but we had been transported to an entirely different world for our Easter family holiday, and our boys (who were just 3 and 5 years old) were in their element. It's a country that we have now ventured to three times, and I know that this recent road trip won't be our last.
For everything you need to know about travelling Morocco with kids, please read: Morocco with kids: your questions answered.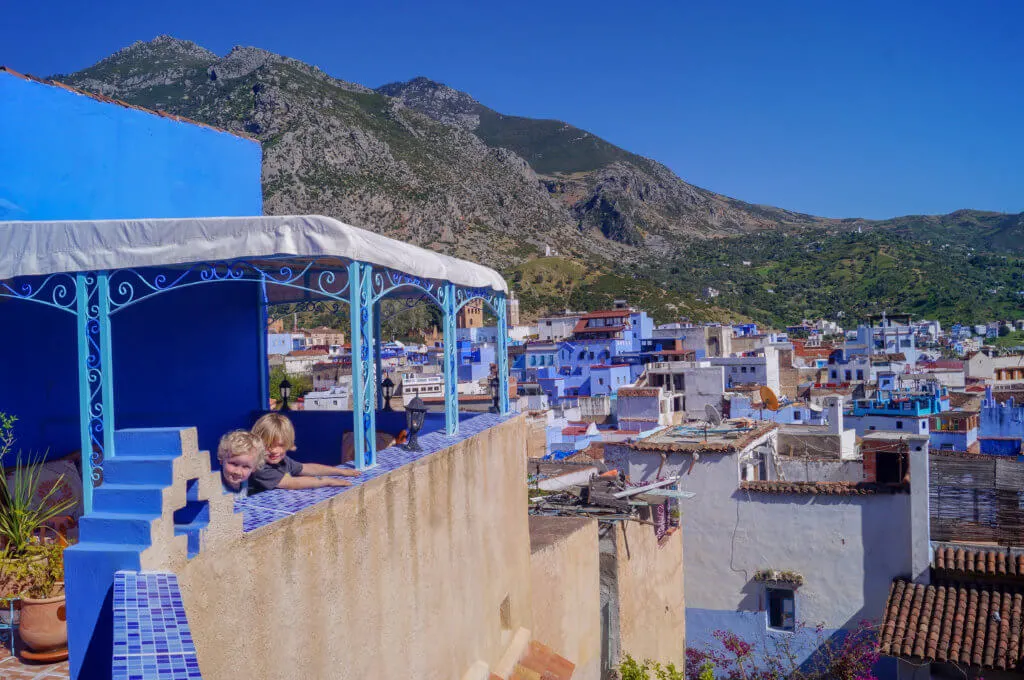 With the short flight time with UK budget airlines, for those living in Europe Morocco is the 'accessible Africa'. Plus, the Moroccan landscape is fantastically diverse. Kids will love running around the maze of colourful medinas, camel riding over the sand dunes of the Sahara, and trekking through the snow capped peaks of the Atlas Mountains on a mule, not to mention all the warm interactions they'll experience with locals who make a fuss over them. There are so many things to do in Morocco with kids and we've combined many of them into this Morocco itinerary.
Check out our Morocco with kids video to see what we got up to:
This Morocco family itinerary takes in a big loop from Marrakech, up to the blue city of Chefchaouen, via the capital, Rabat, down to the Sahara, and back across to Marrakech through the Atlas Mountains. Feel free to copy it exactly, tweak it to your preference, or just read for inspiration.
Hiring a car in Morocco
You may be wondering – should I hire a car in Morocco? By far this is the easiest way to get around if you're planning a family holiday to Morocco. Not only does it provide flexibility to move around on your own schedule, but for a family of four, it worked out cheaper than using public transport. The total cost of car hire, petrol and tolls for the entire trip was £377 (which worked out at £19 per day). Check out our tips for driving in Morocco.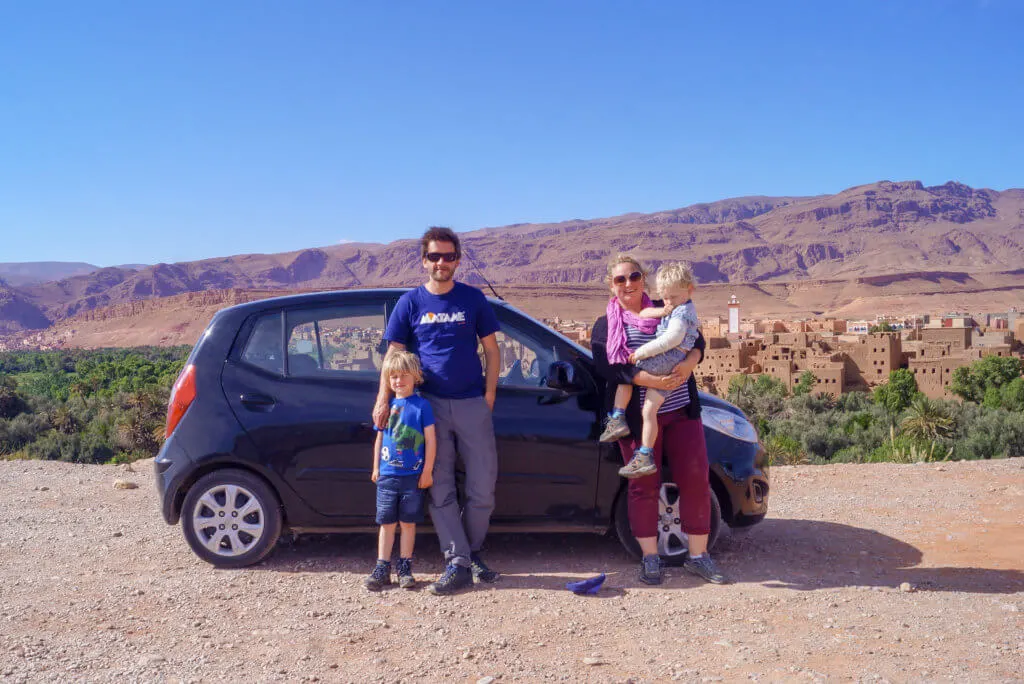 The roads are well maintained and the tolled motorways are excellent. We relied on Google Maps for navigation. Pick up a Moroccan sim for your phone from the airport. I paid €8 for 5GB of data with INWI, and reception was remarkably good across Morocco.
The main thing to be wary of is the tendency for local drivers to drift between lanes and cut corners on bends. Just remember when driving that there is no shame in being the slowest person on the road. It makes for much a more relaxed journey. There are also regular speed checks by police. It can be tricky to know what speed to drive as there are limited speed signs. When it doubt, stick to 60km/h. We found the police to be no problem whatsoever.
When visiting cities, we would park in car parks outside the city walls and walk to our accommodation. These were only DH20 per day (double this for Marrakech) and had guards on duty 24/7. Finding a parking spot was always straightforward and I have provided exact locations in this post.
Is Morocco safe for families?
Whilst we're unable to deem any destination as totally 'safe' in today's troubled world, we found Morocco to be very safe with young kids. The main concern was the motorbikes speeding around the narrow alleyways of Marrakech's medina. If you are visiting Morocco with a baby or toddler, we advise taking a carrier for them, rather than relying on a buggy around Marrakech's medina.
Some tourists report being hassled by touts and there have been pick pocketing incidents. But if you keep your usual travel wits about you, you will be totally fine. Most travellers to Morocco experience no problems whatsoever. Remember to dress conservatively, don't wear flashy jewellery, and negotiate any payments up front.
In all honesty, if you've travelled a fair bit as a family to Asia or Africa, you won't find travelling to Morocco with kids a problem at all.
Finding the best value family accommodation in Morocco
We have visited Morocco with children three times now, and every time we have found Airbnbs to be the best value for budget travel in Morocco. The Airbnbs we stayed at on this trip were £40 per night on average. The cheapest was £25 and the most expensive was £60.
Airbnbs give us the added benefit of self-catering facilities, separate rooms for the children, space to play, and are a good choice for larger families.
However, in places where we were just staying the night, we would opt for a 'hotel' on booking.com as breakfast the next morning would be provided, making it easier to get going the next morning.
Our Morocco travel budget
This Morocco family holiday was almost entirely funded ourselves, apart from our overnight Sahara Desert trip and two night stay in a Marrakech riad which was hosted. With regards accommodation, we consider ourselves 'comfortable budget travellers'.
This is the break down of our costs for our Morocco family trip:
Return flights from Manchester to Marrakech with Ryanair for two adults and two children (including 2 x 10kg checked in luggage) = £600 (This was over the Easter holidays, if you can travel during term time, you will probably find even cheaper deals)
Travel insurance for family of four = £12
Car hire of Hyundai i10 from Avis = £252
Excess car insurance for 1 year = £48
Petrol = £115 (we covered 2144 km)
Tolls = £10 (only on road to Rabat and then part of the way to Chefchouen)
One restaurant meal for family of four = £15
Average daily spend of accommodation = £40
Our 2.5 week self drive itinerary for travelling Morocco with kids
If you only have 2 weeks, cut out a day or two in Chefchouen, and perhaps skip Ifrane. But here's our day by day Morocco road trip itinerary.
Day 1-2 – Rabat
Check out our guide to spending a day in Rabat with kids.
Driving time: 3.5 hours
Where we stayed: Bungalow pieds dans l'eau – Harhoura
A lovely beach-front Airbnb, just a 25 minute drive south of Rabat. To get in to Rabat, we drove and parked at a tram stop and caught the tram to the medina.
We flew in to Marrakech and did the 3.5 hour drive from the airport to Rabat to start our Morocco family adventure. This was a very long day, especially considering our 2:45am start from the UK, and it would have made more sense to fly in to Rabat or even Casablanca. However, this would mean paying a one-way fee on car hire, and at the time flights to Marrakech with Ryanair from Manchester were much cheaper.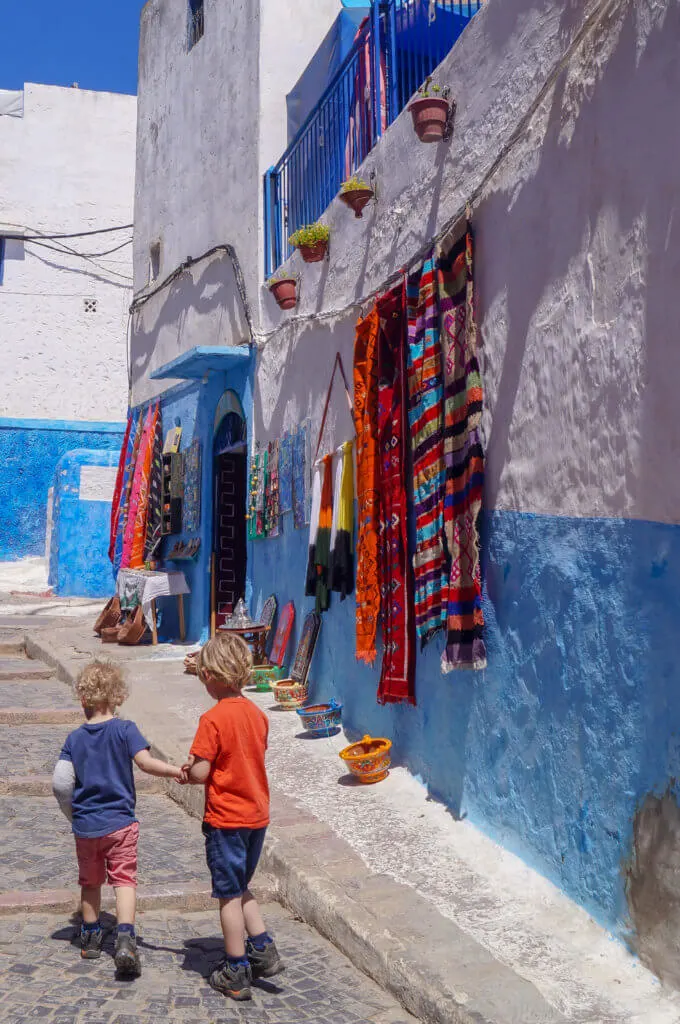 Despite being the capital of Morocco, Rabat isn't on the typical tourist trail. However, the medina is much smaller and calmer than Marrakech, and is easier to navigate, making it a good introduction. If you're visiting Rabat with kids, and have previously visited Marrakech, you'll find it quite a novelty allowing your kids a bit of freedom whilst you explore the narrow alleyways, rather than gripping on to their hand for dear life as mopeds brush past you at 60km/h.
Make sure you also head over to pretty Kasbah les Oudaias with its manicured Andalisian Gardens, blue-washed walls and views over to Salé, before heading down to the beach for a play on the sand. If time allows, enjoy a ride on one of the commuter rowing boats across to Salé.
Day 3-6: Chefchaouen
Check out our post of things to do with kids in Chefchouen.
Driving time: 4 hours
Where we stayed: Dar Dunia 2
Our visit to Chefchouen was made all the more special by our fantastic Airbnb, which had a lovely outside seating area overlooking the rooftops of the medina.
It's a four hour drive to Chefchaouen, a pretty town perched in the rugged foothills of the Rif. As soon as we arrived, we knew we wanted to stay longer than just a couple of nights and immediately changed plans with our Airbnb host to extend our stay. Admittedly, you can do all the 'sights' in a day, but this is a place to soak in the atmosphere, get lost in the rabbit warren of blue washed alleyways, and slow the pace down.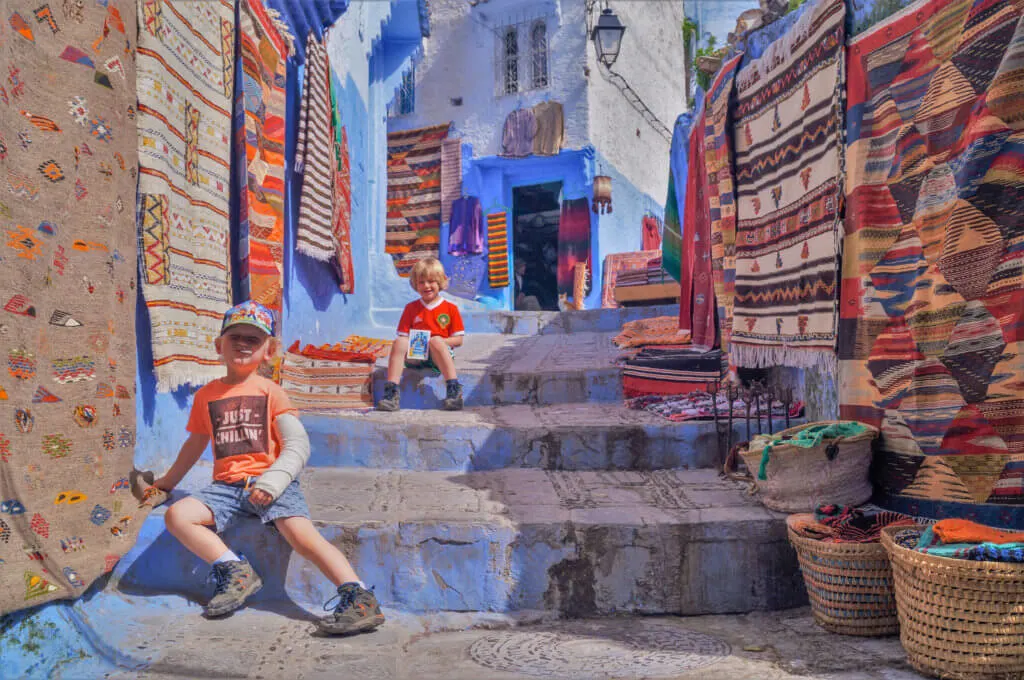 The medina, like Rabat, is quiet enough to allow kids some freedom to run along alleyways and jump down steps. When you've finished browsing the markets (we like to give the boys a shopping list and a little pocket money), enjoy a trek to one of the viewpoints, then reward your efforts with a tagine or chocolate pancake from a rooftop as the call to prayer drifts around you.
Chefchouen is one of the prettiest towns we've ever been to. The secret is out though, and tourism has started to take hold. Don't wait too much longer to visit this special place.
Day 7-8 Moulay Idriss and Volubillis
Driving time: 3 hours
Where we stayed: Maison Amina
A massive house on the outskirts of Moulay Idriss. The local neighbourhood itself is rather run down, but there's secure parking and it's only a 5 minute walk to the main square of Moulay Idriss.
Stock up on snacks for the 3 hour drive to Moulay Idriss as you won't find much along the road, apart from the odd petrol station. After the tourists and vivid colours of Chefchouen, the holy town of Moulay Idriss will seem rather rustic and perhaps more authentic. The main square is a good place to grab a bite to eat, before heading to the mausoleum and wandering around the medina.
The next morning, head over to the impressive Roman ruins and mosaics of Volubillis. With our boys so young, we decided against getting a tour guide as we find them rather restrictive and would rather mill about doing our own thing. But guides are available at the entrance should you be visiting with older children. Allow 2-3 hours to explore the ruins.
Day 9-10 Meknes and Ifrane National Park
Make sure you read our guide on things to do in Ifrane with kids.
Driving time: 2.5 hours
Where we stayed: Garden Switzerland
Basic apartment with two double bedrooms. It felt very cold, dark and damp. May be worth spending more on accommodation here to experience a more cosy feel. There's a playground around the corner and it's a short walk to the City Market and main cluster of restaurants.
In comparison to Fes, the imperial city of Meknes is much more laid back, and the narrow winding alleyways of its medina are fascinating to explore. It's an easy one hour drive from Moulay Idriss and we parked our car here (free parking on road), before venturing into the medina. Grab some lunch at one of the many restaurants spilling out onto Place el-Hedim, before driving on to Ifrane (1 hour 15 minutes).
I'll be honest, I wasn't too impressed with the 'alpine-resort' of Ifrane, which attempts to mimic the Swiss architecture. The town feels rather tired and tacky, the skies were grey and drizzly, and it was cold. If you visit during the winter months, it may be snowing; a novelty if coming from the desert.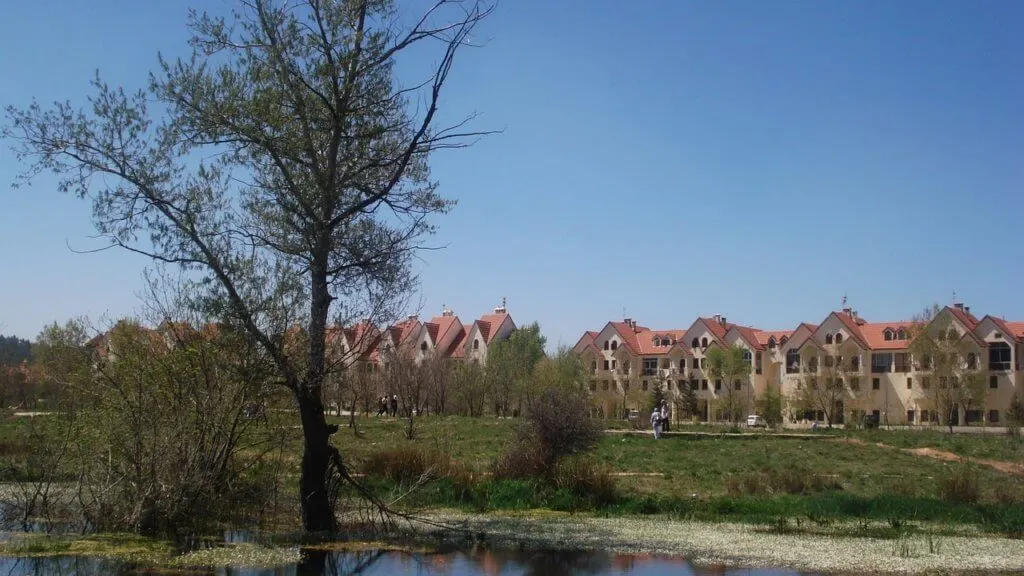 If you do spend a day here, take a drive out to Lac Aoua to picnic and stroll along its shores. Back in town, ride the mini-train ride at a painful pace down the main road and back, before enjoying a wood fired pizza at one of the European-style restaurants. Make sure you snap a photo next to the lion statue, although you'll have to join the queue behind all the domestic tourists.
Day 11 – Erg Chebbi, Sahara
You can read our full review here
Driving time: 6 hours
Where we stayed: Desert Luxury Camping
Luxury glamping tents with super comfortable beds, ensuite bathroom, and solar power. Definitely worth a splurge.
Stock up on snacks for the long drive to Merzouga and time your lunch stop at Erfoud, before hitting the Sahara Desert.
The Sahara was a definite highlight of our Morocco family travel adventures. We were invited to stay overnight at Desert Luxury Camping, Erg Chebbi, where we tried fossil hunting, camel riding, sand boarding, star gazing, and an overnight stay in some fantastic glamping tents. This is a must for any visit to Morocco with kids.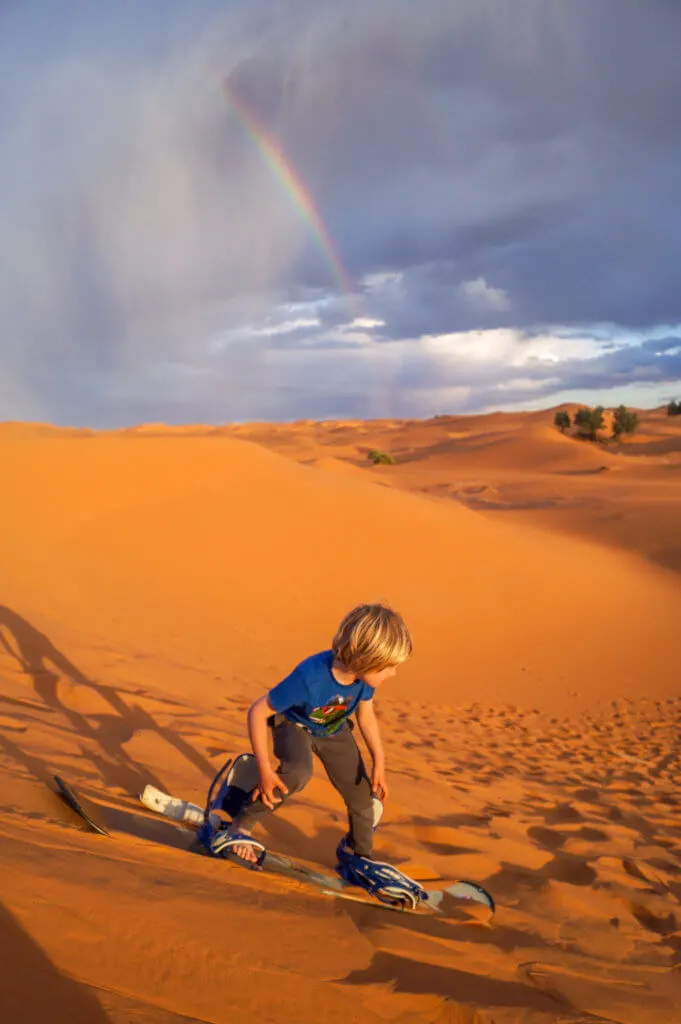 Day 12 – Drive to Dadès Gorges
Driving time: 4 hours
Where we stayed: Dar Essalama
Good sized family room and nice breakfast. Good option for an easy overnight stay.
It's a relaxed start to the day at Desert Luxury Camping, and you'll have time for more sand boarding to work off breakfast before a 4×4 returns you to your car in Merzouga.
Drive the 3 hours to Tinghir for lunch, before heading to Todra Gorge to walk through its narrow cliffs reaching to the skies (you can park your car for free in the centre of the Gorge).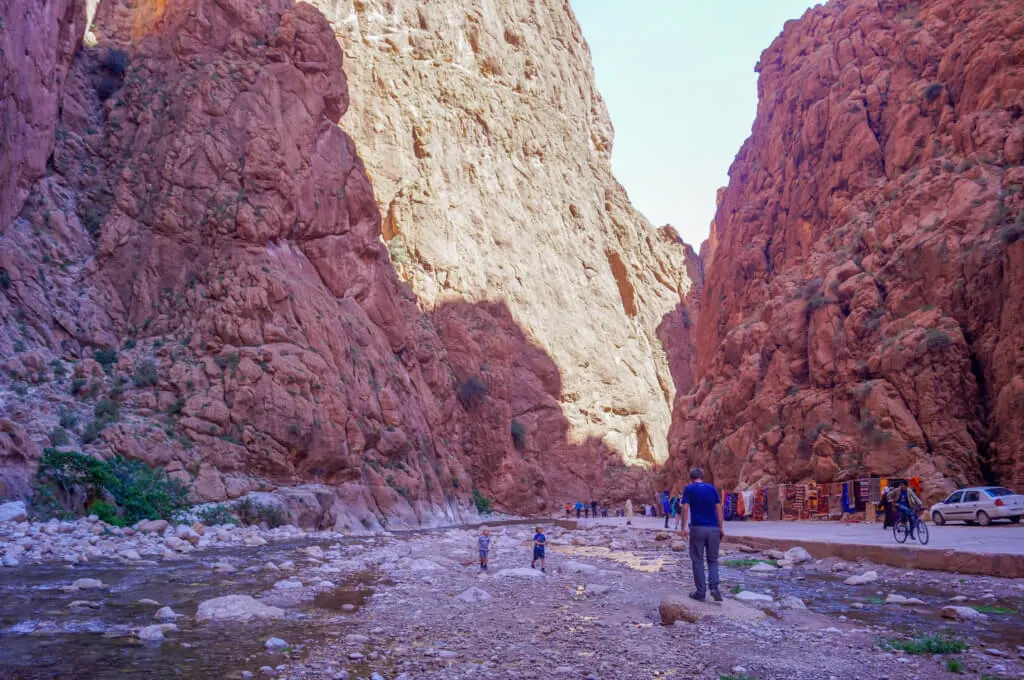 It's then just over a one hour drive to the accommodation at Dadès Gorges. It was a long day, and left exploring the gorge until the following morning.
Day 13 – Drive to Aït Benhaddou
Driving time: 2.45 hours
Where we stayed: Family room for 5 with breakfast
Very basic, but good sized family room. Run by a lovely local family who have young kids. Breakfast included.
Head further up the road to drive through Dadès Gorges and admire its deep crevasse. You then need to back track down through the narrow hair pin bends towards the main road to Marrakech.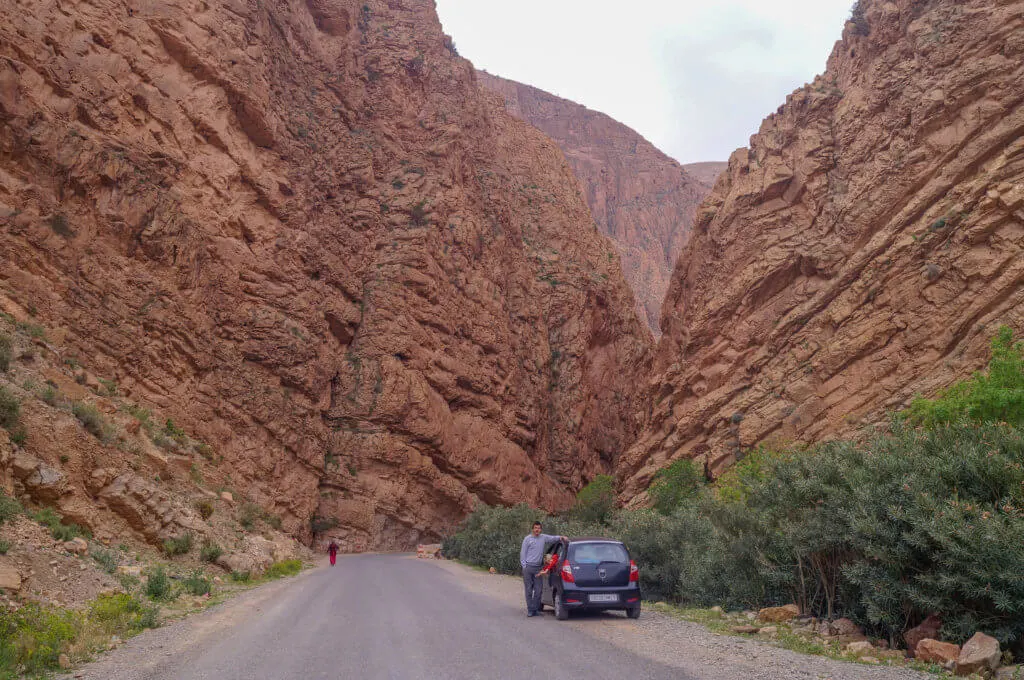 Lunch stop at Ouarzazate, where many a Hollywood film has been shot (Gladiator, Prince of Persia), and wander around Taouirt Kasbah. It's then a 45 minute drive to tonight's accommodation, just north of Aït Benhaddou.
Day 14-15 High Atlas
Read all about our 1 day Atlas Mountain trek.
Driving time: 6 hours
Where we stayed: Dar Aymane
Its further up the hill and a little out of Imlil town, but you are rewarded with spectacular views. Good sized family room with balcony, heating and hot shower.
Beat the crowds and get an early stary at Aït Benhaddou, one of the oldest medinas in Morocco and used for many a film set. Climb to the high point and take in the views over to Atlas Mountains. This is where you are now headed. Benhaddou Beat the crowds and get an early stary at Aït Benhaddou, one of the oldest medinas in Morocco and used for many a film set. Climb to the high point and take in the views over to Atlas Mountains. This is where you are now headed.
It's a brutal 6 hour drive to Imlil. Winding, narrow roads, exposed to sheer drops. Take it slow. But if you prefer a more relaxed drive, take the main road in to Marrakech and then back out again, rather than the 'short cut'.
We arranged a fantastic 5 hour hike through our accommodation. This took us up to Armoud and back down to Imlil, boasting impressive views of snow-capped mountains backed by crystal clear blue skies. You need a moderate level of fitness, but the boys got a helping hand from Jaqueline the Donkey.
Day 16-17 Marrakech
Check out our one-day itinerary for visiting Marrakech with a toddler or young kids.
Driving time: 2 hours
Where we stayed: Riad Les Hibiscus
Driving time: 6 hours
A beautiful oasis of tranquillity just a stone's throw away from the main square, AND family friendly.
After the past two weeks of adventures, the haggling, noise and chaos of Marrakech may come as quite a shock. Motorbikes whizz top speed down the narrow alleyways of the medina, so hold tight to your little ones. Shop owners and stall sellers will hassle you, so ensure your haggling skills are polished.
Your accommodation here is paramount to your sanity. Make sure you book an oasis from the chaos. We were invited to stay at the beautiful Riad Les Hibiscus (check out our review here), and we highly recommend it for families. We parked our car here for Dh50 per night.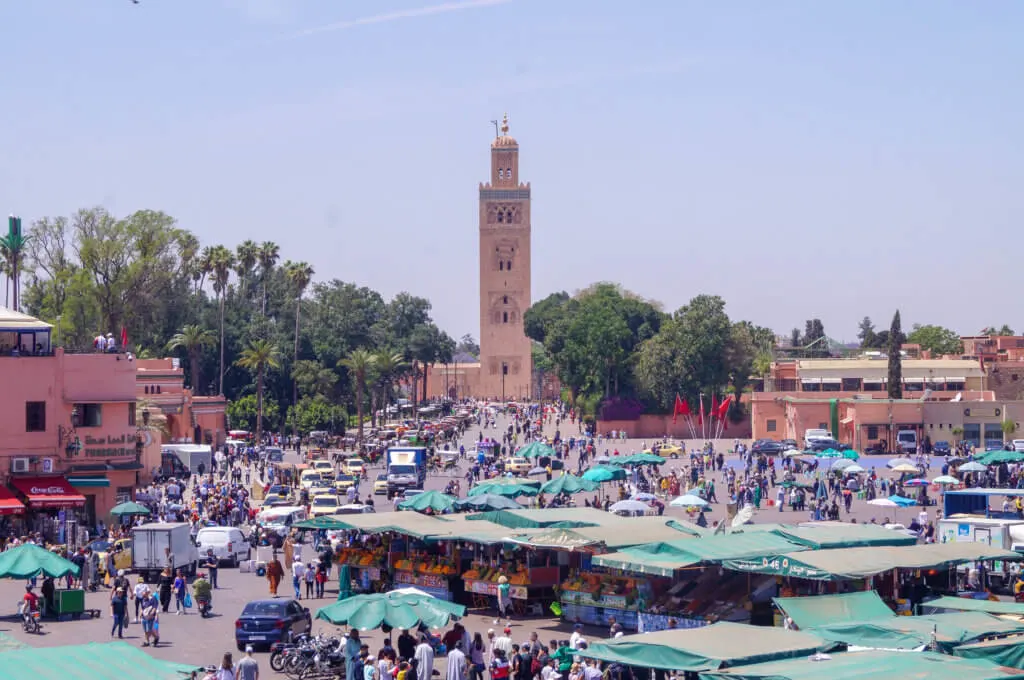 Spend your final days in Morocco getting lost in the alleyways of the medina, shopping for those last souvenirs, and soaking in the spectacle of Jemaa el-Fna. If you need a break from the hustle and bustle, enjoy a horse and cart ride around the city, or visit Jardin Majorelle.
Day 18 – Fly home or on to your next adventure
Allow forty minutes to get to the airport, and aim to arrive at the airport at least three hours before your flight to get through airport security and passport control.
If you have more time in Morocco…
If you do have more time, we recommend heading over to Essaouira. It's just a three hour drive from Marrakech and is a wonderful place to just kick back for a few days or more. Within a compact area there is so much to explore, including the medina, the port, the ramparts, and the beach.
You could also add in Casablanca with kids into your itinerary. Casablanca is the modern face of Morocco with some fantastic indoor play areas for kids and a waterpark. But the main reason to visit Casablanca is to venture inside Hassan II Mosque, which is the third largest mosque in the world and one of only two mosques in Morocco that non-Muslims are able to go inside.
READ: Why you should visit Essaouria with kids or visit our sister site Explore Essaouira
---
You may also like to read:
Marrakech with a toddler: a one day itinerary
Why you should visit Essaouria with kids
Morocco with kids: your questions answered