Although Morocco's capital is often overlooked in favour of its more famous neighbour Casablanca, we urge you to visit Rabat with kids as it makes for a fantastic stop on any Moroccan itinerary. This city quite surprised us! It's much quieter than Marrakech, so you can enjoy the medina without the tourist crowds you may experience elsewhere. Plus this city is situated on the Atlantic Coast, with some lovely beaches for kids to play.
Disclaimer: Our visit to Rabat was entirely self-funded. This post contains affiliate links. Should you click to purchase it is at no additional cost to you, but I receive a small commission.
If you are looking to spend a day in Rabat with kids, here's our recommended itinerary:
8am – Breakfast
No need for an too early start, instead settle down at your accommodation for a relaxing breakfast. We found a perfect little Airbnb apartment Click here to see the Airbnb where we stayed in Rabat.) right on the beach in the suburb of Temara (here), about 15 minutes drive outside the city centre.
There are restaurants and cafes within walking distance but we bought some croissants from the local supermarket and ate them on the balcony overlooking the Atlantic ocean. The beach here is fine; nice enough for a morning stroll but not really one for sunbathing. Whilst one parent does the washing-up, take the kids down to the beach and run off breakfast.
9am – Tram into Rabat medina
We had a hire car in Morocco and this allowed us the freedom to drive into the city centre from our apartment. There are bus or taxi options from Tamara too. Driving in Morocco is usually quite straightforward but the city centres can be a nightmare, so we were relieved how well planned and ordered the coast road into Rabat city centre is – six-lane highways with central reservations and traffic lights certainly made for an easier experience than Marrakech.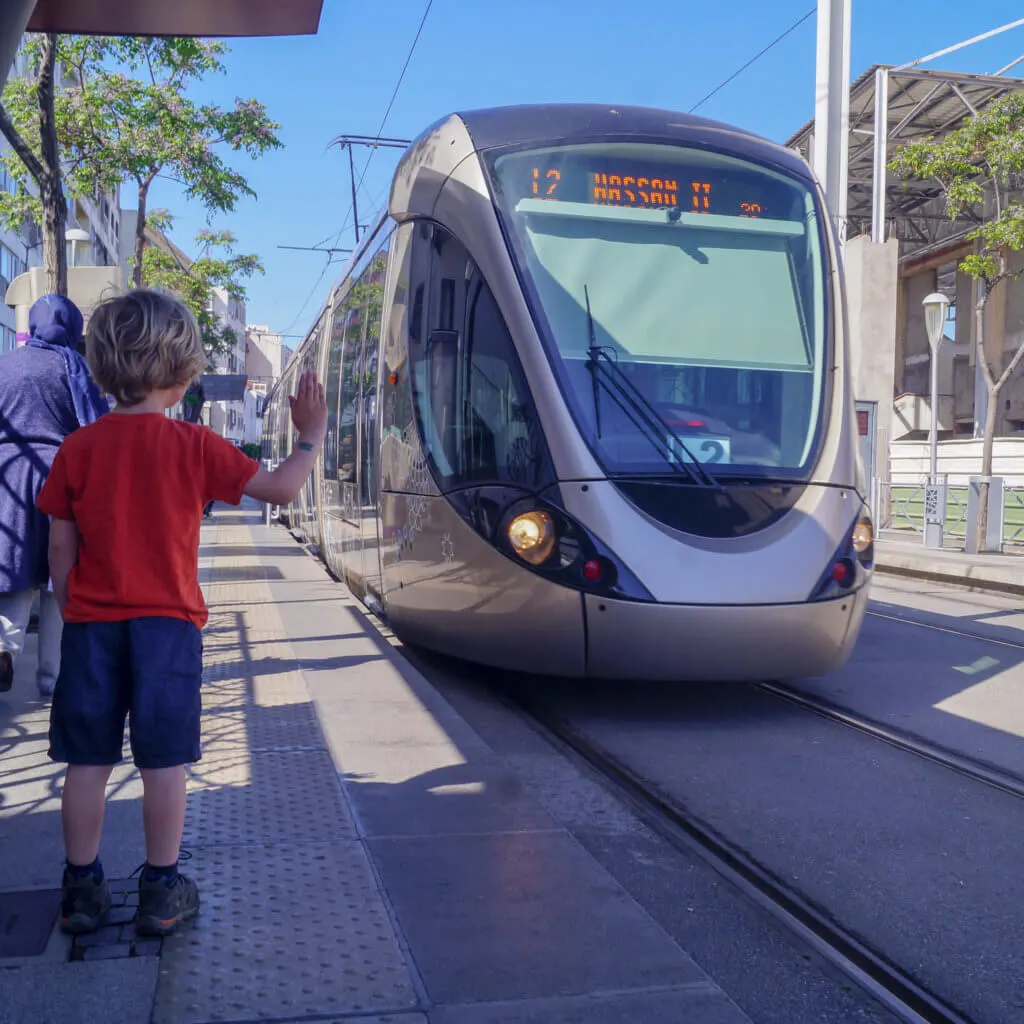 We'd planned ahead and found somewhere to park near the excellent tram system (here), although we also felt quite lucky to find a kerbside parking space right next to the tram-stop. You can buy tickets either from a machine or (at some stops) from a manned ticket booth. The tickets cost about €1 each (under 5's free) and last for one hour. Remember to validate them in the machines once you get on board as we saw a ticket inspector on each trip. Ask for a ticket to Rabat medina, sit back and enjoy the short ride.
10am – Wander around Rabat medina
The medina in Rabat is different to most of the other ones on the usual tourist loop and is certainly a good one to begin with, especially with kids in tow. For a start it's quieter than most, less frantic, more local than tourist. You'll probably only see an handful of other visitors, and it's a chance to observe a normal medina going about its daily business. That's not to say it's not fun for the kids, there are the usual shops to look into, multi-coloured spices stacked outside shops, ice-cream vendors, toy shops and cafes to stop for a welcome drink and snack.
12pm – Lunch
There are lots of relaxed cafes selling tasty, cheap snacks throughout the medina but we found the main street of Avenue Mohammed V had the best choice to suit our (fairly basic) needs. Most of the cafes here offer the same menus, plastic chairs and outside dining which we loved, and we found the food to come out quickly so were never waiting around too long.
1pm – Kasbah Les Oudaias
If there is one place you may find the other tourists, it's at the Kasbah Les Oudaias, near the edge of the Medina. Whilst it seems popular with larger tour groups, it never felt too busy when we visited. This historic fortress has watched over Rabat for centuries and now makes for a relaxing stroll through white-washed streets which the kids will love running along – it's fairly traffic-free but keep an eye (and ear) out for the occasional moped.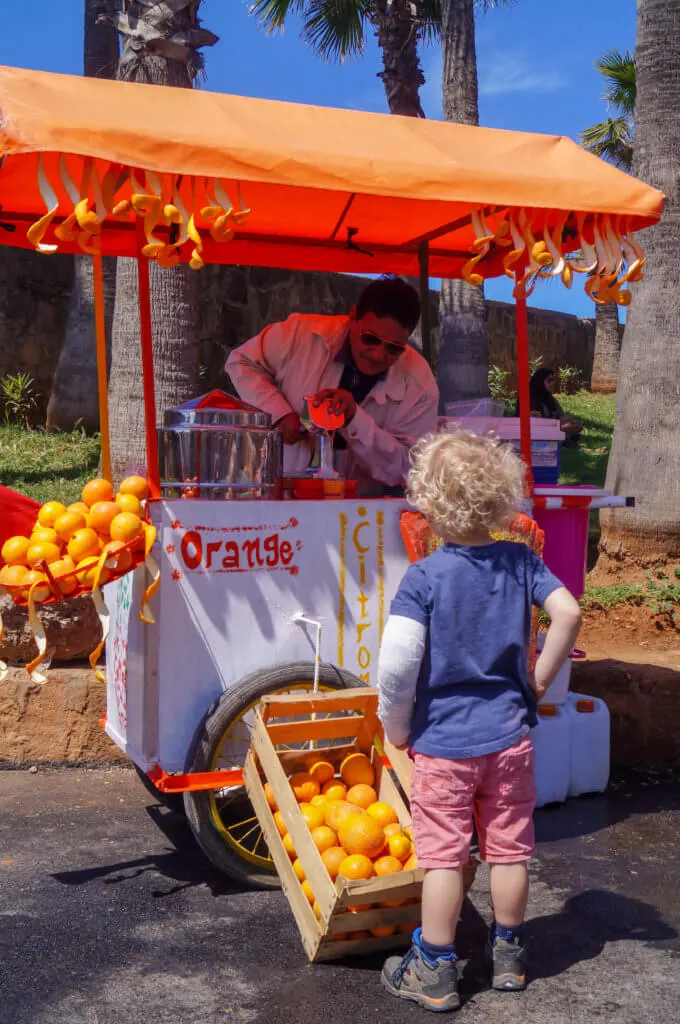 The walk up to the top of the fortress is relatively easy and you're rewarded with the perfect view over the city and beyond. A large courtyard here is another great free playground for the kids. You'll also find the ever-present orange juice stalls if you need a healthy sugar rush.
You can also follow the steps down to the beach below for some sand play, if you have time.
3pm – Sale
Across the river, Sale is the sister-city to Rabat and has recently experienced a development boom. Perhaps the best part is the short ferry ride across the waterway, which affords lovely views of both cities and is a sure-fire winner for the kids. Head towards the Grand Mosque in the medina, and if hunger strikes, pick up an early dinner in Sale before walking to the tram station.
6pm – Tram and playground stop
Jump on the tram from Sale and travel back through Rabat and on to wherever you left your car. On the coastal drive back to Tamara, you'll find a kids playground (Parc de Jeux Corniche Rabat) in case they need one final run around. It's clearly visible as you drive along the coast road with free street parking nearby. We also saw a couple of family-friendly restaurants nearby if you'd prefer to have dinner here, rather than in Rabat.
7pm – Sunset on the balcony
Arrive back at your accommodation in time to enjoy a snack on the balcony overlooking the ocean to complete your day. You're facing west of course, so there is likely to be an amazing sunset for company. One of the reasons we enjoyed Tamara was the relative peace and quiet compared to the city and it certainly becomes apparent as you watch the sun disappear.
If you need, the shops and restaurants of Tamara are a short stroll away for any late night snacks, otherwise drift off to sleep with the sound of the Atlantic in the background.
---
Our next stop on our Morocco road trip was Chefchaouen.
Sale
You may also like to read:
Should you hire a car in Morocco?
Morocco with kids: a self-drive itinerary
Visiting the Sahara with kids