Sand boarding down sweeping dunes, haggling for football T-shirts in the bustling medinas, and hiking through the Atlas mountains on a mule – Morocco is a fantastic adventure playground for intrepid families. We've now had three trips to Morocco with kids and every time we fall deeper in love with the country. But the main thing that draws us back is that it's a cheap and exotic destination, easy to get to, and there are so many things to do in Morocco for kids, especially ones who enjoy adventure!
Disclaimer: This post contains affiliate links. If you click to purchase, it is at no additional cost to you, and I receive a small commission.
For everything you need to know about travelling Morocco with kids, please read: Morocco with kids: your questions answered.
Check out this video to see what we got up to on our last trip to Morocco:
Here are our top 10 things to do in Morocco with kids:
1. Sand boarding in the Sahara
This has to be top of our list as, since returning from our last trip to Morocco, our eldest has decided he wants to be a professional sand boarder when he grows up! If you do an overnight stay in the Sahara, most camps will have sand boards (which are actually snowboards) available free of charge.
I didn't think that my boys would be able to do it. Especially as there were only adult boards available. But kids somehow have this inbuilt knack at knowing how to do things like this. Our 5 year old put his feet in, slid down and fell off first time. Second time? He's miraculously become a pro and instinctively knew what to do. Our 3 year old on the other hand, had just recently broken his arm, but he was happy to slide down the dunes on his bottom.
Although parents do note that there is never a lift to get you back to the top of the dune. We soon arranged a system where by Dad stood at the bottom of the dune, walked half way up with the board to me, who who walk the next quarter, and then push the board up to the top. It's knackering work!
2. Camel riding in the Sahara
And whilst we're in the Sahara, an absolute must do for a trip to Morocco is ride a camel. Now parents, if you are yet to experience this, be warned – camels offer far from a comfortable ride. 30 minutes is generally enough for me. But, kids being kids, our two could happily sit on a plodding camel for hours.
A camel ride is generally included in any overnight trip to the Sahara with kids. But if you are staying an extra day, you can also take the camels out into the desert and enjoy a lunch and tea with local nomads.
3. Haggling in the souks
We love exploring the bustling medinas of Morocco. Marrakech is a little bit full on with young kids due to the sheer amount of tourists and the motorbikes that whizz around the narrow alleyways, brushing past you. Instead, head to the more chilled medinas of Essaouira or Chefchouen. Or if you want a more authentic experience away from the tourist trail and quieter than Marrakech, head to the medina of Rabat.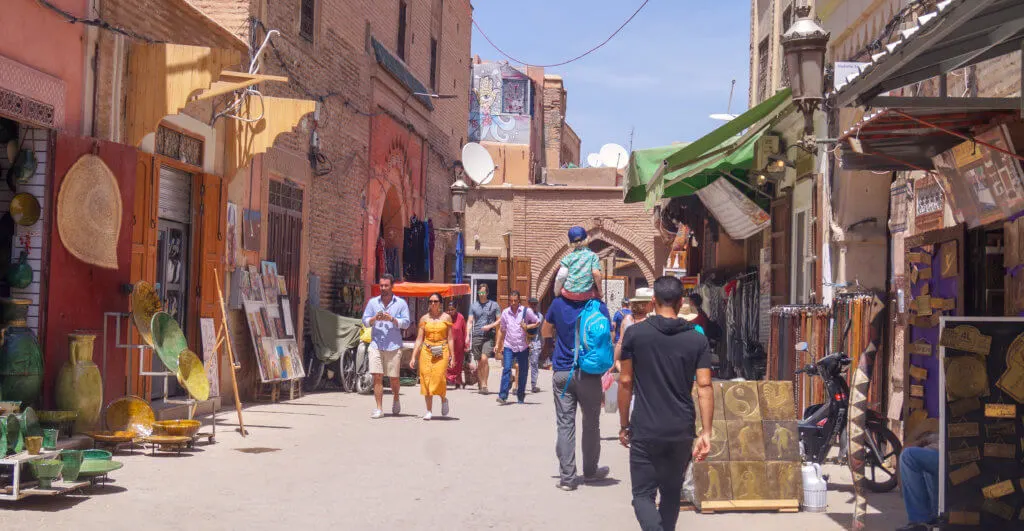 To keep the boys engaged, we sometimes give them a shopping list – postcards, stamps, bananas, msemen (like a Moroccan pancake), souvenirs for the grandparents, and maybe (if they've been good!) a treat for themselves (Arthur loved his Morocco football kit he bought in Chefchouen's medina.
4. Staying in a riad in Marrakech
Staying in a riad is one of the quintessential things to do in Morocco. These traditional Moroccan houses/hotels are a haven of tranquillity, away from the noise and chaos of the surrounding medinas.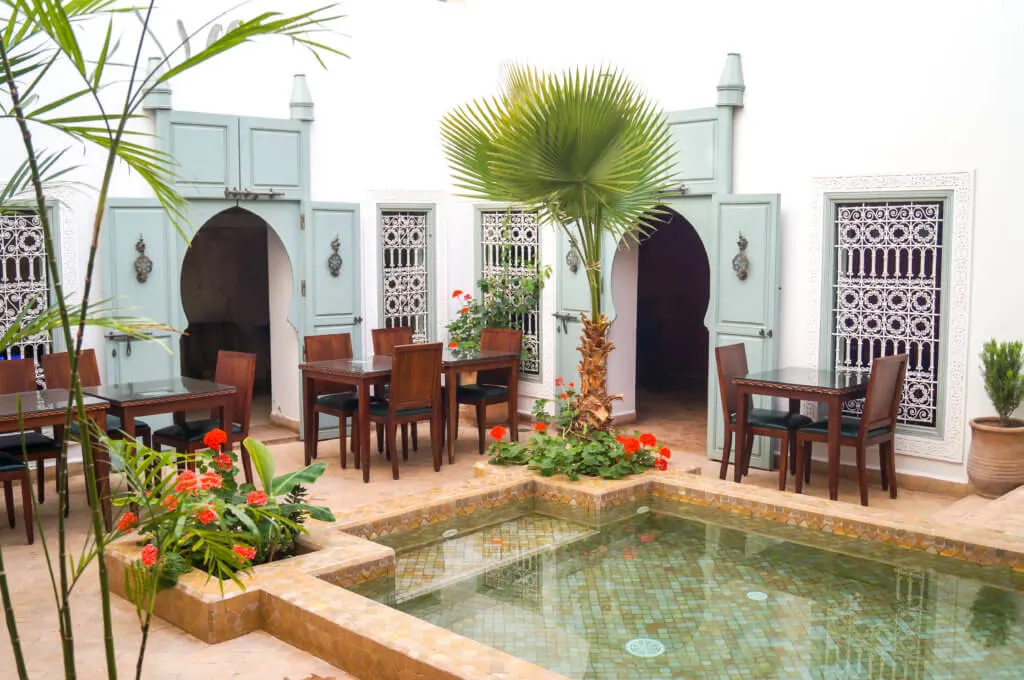 Not surprisingly, many riads in Marrakech don't often allow children under the age of 12 to stay. However, we may have found one of the best riads for families in Marrakech – Riad Les Hibiscus. This beautiful riad in the heart of Marrakech's medina welcomes young kids with open arms. Staff were more than happy to see kids splashing about in their central courtyard pool, and we loved the large family room on the top floor.
5. Riding a mule in the Atlas Mountains
We love hiking with our boys. But given the choice of hiking or riding a mule, you can guess what they chose to do! We hired Jacqueline the Mule through our lovely guesthouse in Imlil for a day trek in the Atlas Mountains.
The scenery was absolutely breathtaking – snow capped mountains against a colbalt sky. It was quite a novelty for us parents to do a hike at an adult pace and we certainly covered more ground.
6. Drinking orange juice
The orange juice stall is omnipresent throughout Morocco. 1€ gets you a glass of freshly squeezed orange juice, the perfect thirst quencher on those hot days and our boys LOVE orange juice.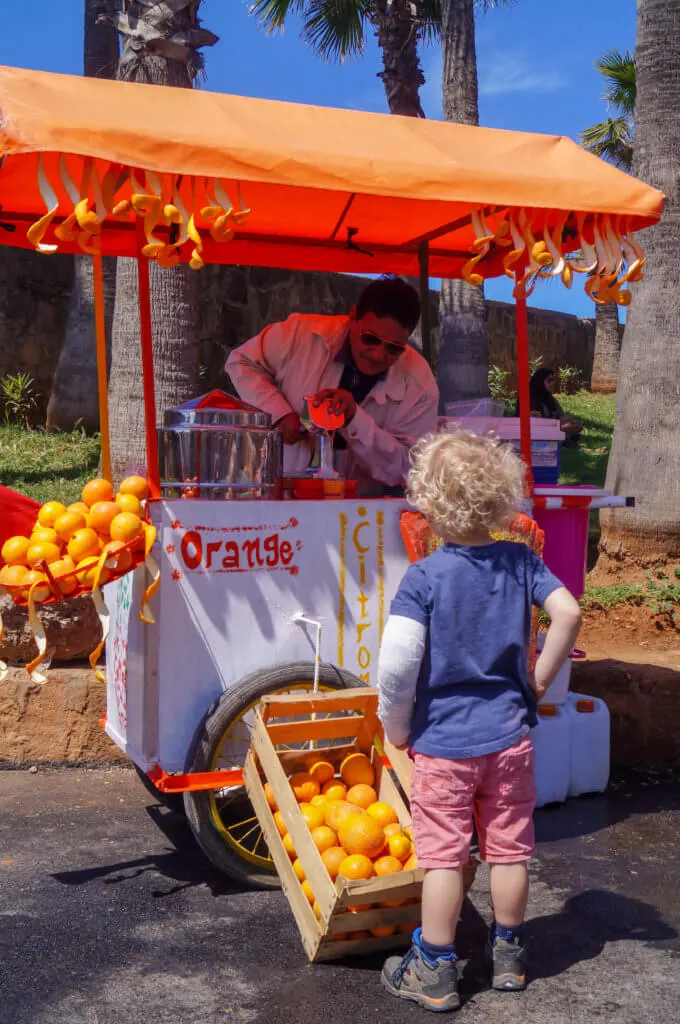 If you find yourself in Chefchouen, head down to the river to enjoy an orange juice whilst paddling in the waters flowing down from the Rif Mountains. The water is icy cold and take care on the slippy rocks, but it's a perfect location.
7. Explore the Roman ruins of Volubillis
Volubilis is one of Morocco's best-preserved Roman ruins and a UNESCO World Heritage Site. Barely anything is chained or cornered off, leaving free reign for kids to explore and create their own roman tales.
With our boys so young, we decided against getting a tour guide as we find them rather restrictive and would rather mill about doing our own thing. But guides are available at the entrance should you be visiting with older children. Allow 2-3 hours to explore the ruins.
8. Hunt for fossils in the Sahara
Another activity for visiting the Sahara with kids. This area used to lay under the sea millions and millions of years ago, and you can easily find ammonite and trilobite fossils lying around. Our boys spent hours collecting them, ready to take them back to school to proudly show their classmates.
9. Hit the beaches
There are some fantastic beaches in Morocco boasting perfect sand for castle building and shallow waves to jump in. Many package holiday makers head to the resorts of Agadir with kids. But we prefer the chilled out vibes of Essaouira or Taghazout. There are beaches in Rabat, but we found that they weren't too clean.
10. Hike the Rif Mountains
Many travellers only stop in the ancient town of Chefchaouen for a day or two to snap insta-worthy pictures amongst its striking blue backdrop. But this beautiful town, set in a bowl surrounded by the Rif mountains, is perfect base for hiking.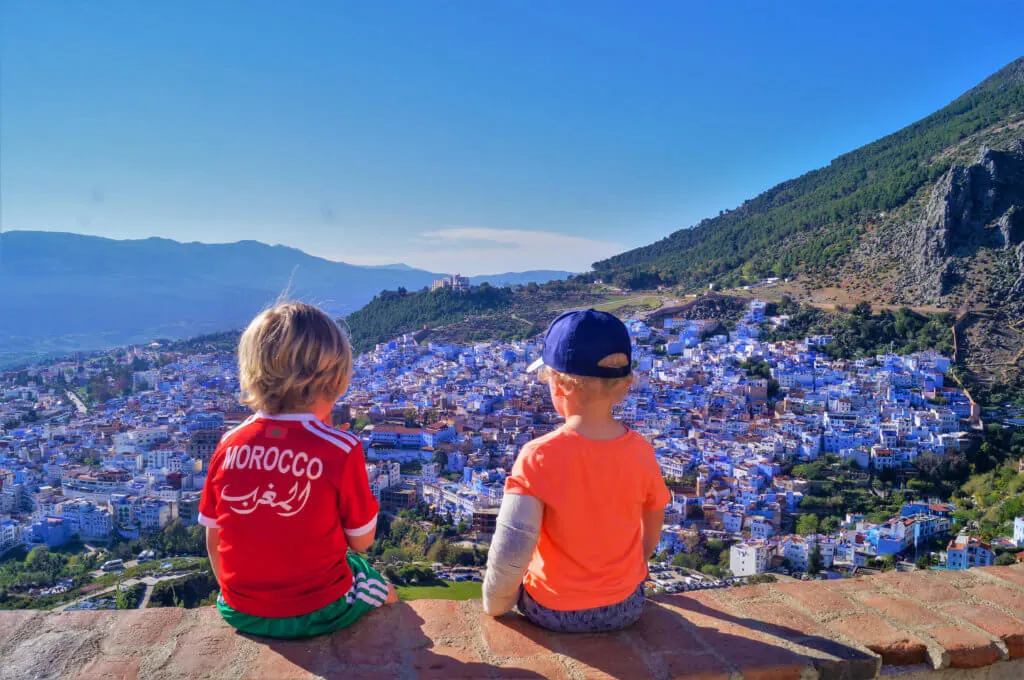 Head up to the Spanish Mosque (Mosquée Bouzâafar) overlooking the town. It's a short 1km walk. Alternatively, head up to the medina walls to the north of the city and follow Route de Tisemlale for a longer hike and a different perspective on the town.
---
Sale
You may also like to read:
Morocco with kids: self-drive itinerary, safety, budget and more
Should you hire a car in Morocco?
Chefchaouen with kids: best things to do in Morocco's blue city