Situated on the north-eastern tip of Borneo, the city of Sandakan is sandwiched between the ocean and rainforest, a dramatic location to base yourself before the next leg of your Borneo family holiday. Here we cover the best things to do in Sandakan with kids, as well as where to stay on a budget, where to eat, and much more.
Sandakan perhaps best known as the closest city to the orangutans at Sepilok, but there is much more to the city than simply a place to stay. From temples and colonial relics, modern shopping malls and restaurants, with world-class nature experiences a short hop away; Sandakan is sure to surprise and delight you in equal measure.
Disclaimer: This post contains affiliate links. If you click to purchase, it is at no additional cost to you, and I receive a small commission.
Your comprehensive guide to travelling Borneo with kids. Focusing on Sabah, we share advice on safety and getting around, top tips for your visit, and detail a 12 day itinerary.
Things to do in Sandakan
The activities in Sandakan can be neatly split into two categories; those in the city and those a short distance outside. Most of the city-centre sights can be ticked off in a day, but try to take it slowly to fully appreciate everything. Once done, cast your eyes a little further out for some of nature's finest experiences.
Sandakan Memorial Park
The saddest chapter in Sandakan's recent history is undoubtedly the events around the Second World War and the terrible impact it had on the people and the city. Repeatedly bombed by the Allies in an attempt to defeat the Japanese, the city was virtually destroyed by 1945 with many beautiful heritage buildings lost. It was also the site of a notorious prisoner of war (POW) camp, housing Allied servicemen in terrible, inhumane conditions.
The Sandakan Memorial Park is a solemn place to spend time reflecting on the horrors of war, but it has been respectfully built and designed to make a pleasant visit nonetheless.
The POW camp was the starting point for the notorious death marches to Ranau, a tragic event which cost the lives of almost 2,500 prisoners with only a handful surviving to tell the tale. With help from the Australian Government an informative visitor centre has been built, providing well laid-out information about the terrible events. The park itself is peaceful and calming, a welcome break from the heat, and a good place to educate your children on the mistakes of the past.
Entry is free and you can pickup a handy map from the information booth near the entrance gate. The park is about 10km northwest of the city centre; public transport is tricky, we suggest getting a Grab taxi as the price for a family will be about the same as a bus. It was quite easy getting a Grab to collect us afterwards, just wait outside the main entrance near the car parking area and use the app.
Agnes Keith House
One of the most interesting former residents of Sandakan (and there have been a few), was Agnes Keith, the award-winning American author who setup home in Sandakan with her English husband. After spending time as a prisoner of war, she returned to their home after the war to find their house destroyed. In the following years, a beautiful new home was built in its place which they called Newlands.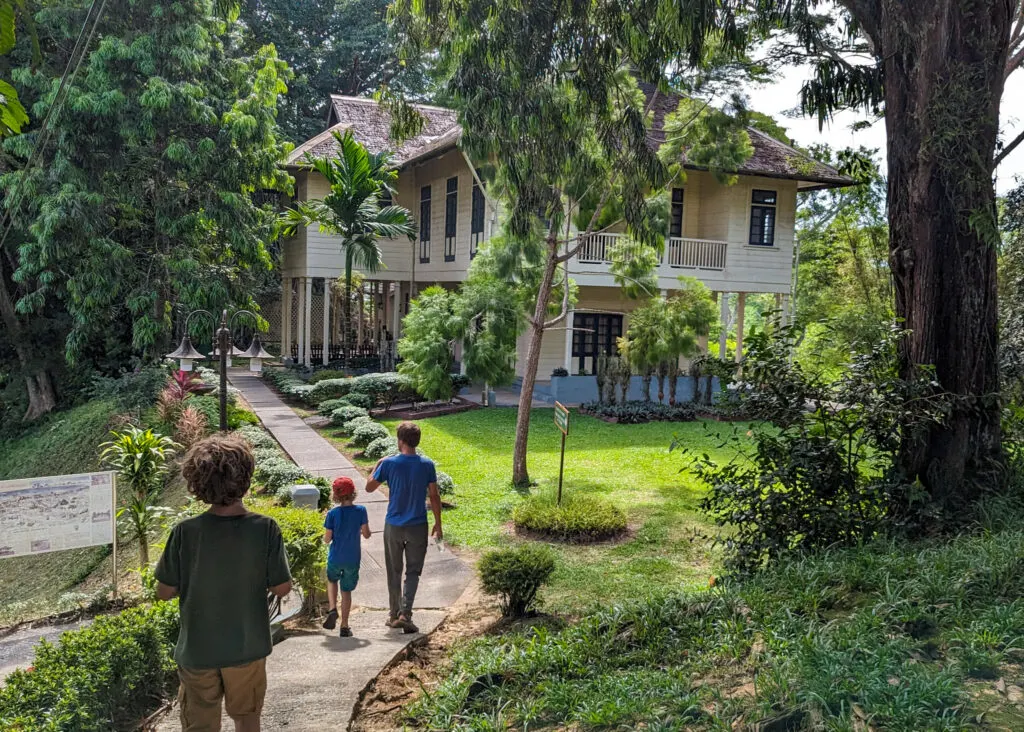 After a turbulent history, the building is now owned by the state government and operated as a museum, an intriguing building which captures not only the house as it was in the 1950's, but also something of the personality of its famous former residents. Over the two floors, you'll find the house just as it once was, with all the furnishings and decorations in place. As you wander around the airy rooms, it's easy to imagine life in Sandakan after the war (or at least, how a few of the luckier residents experienced it).
Admission is MYR15 for international visitors, only MYR2 for Malaysians.
English Tea House
Before or after your visit to the Agnes Keith, be sure to stop in at the English Tea House. Located in the same grounds as the house, this is your chance to sample English teas and cakes whilst relaxing on a breezy open air terrace. The panoramic views over the rainforest and ocean are worth the visit on their own, but be sure to try the cream teas or have a quick game of croquet on the lush, green lawn.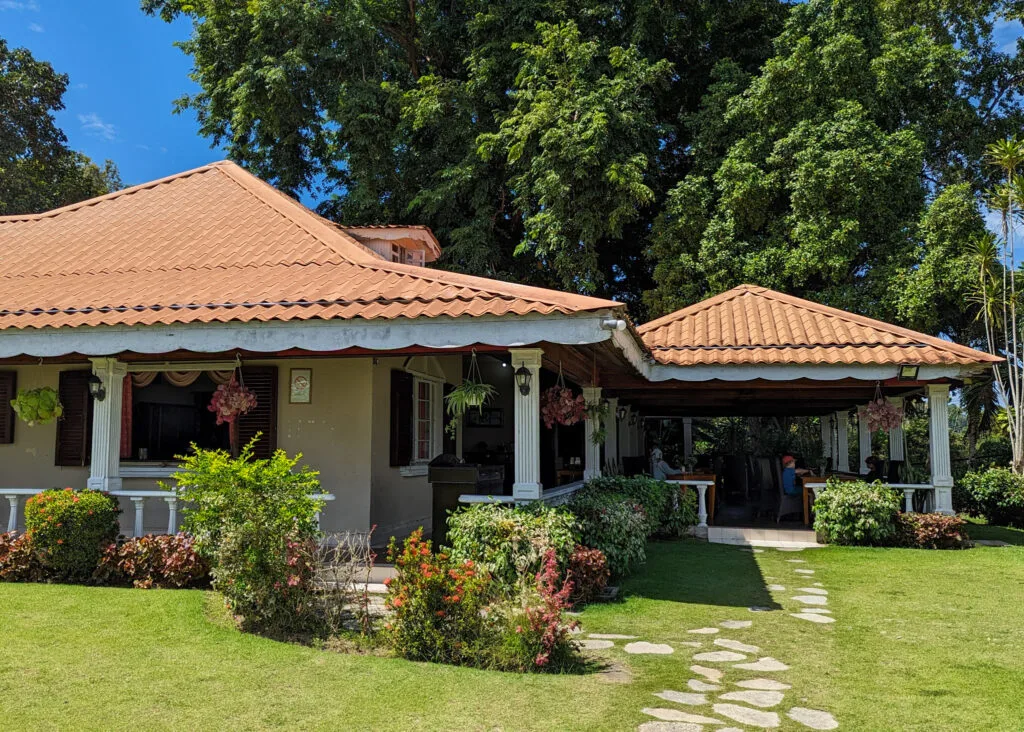 Entry is free and you can take a walk around if you don't want to order anything. Otherwise, the extensive menu ranges from snacks to full meals.
Both the house and teahouse are walkable from the city centre (and are part of the Sandakan Heritage Trail) but it's an easier walk heading back downhill into town. Consider taking a Grab taxi on a hot day or if your group aren't great/keen walking up hills.
Puu Jih Syh Temple
Sat high upon a hill above Sandakan, Puu Jih Syh Temple is the largest Chinese Temple in town, and one of Sandakan's most famous and visited sights.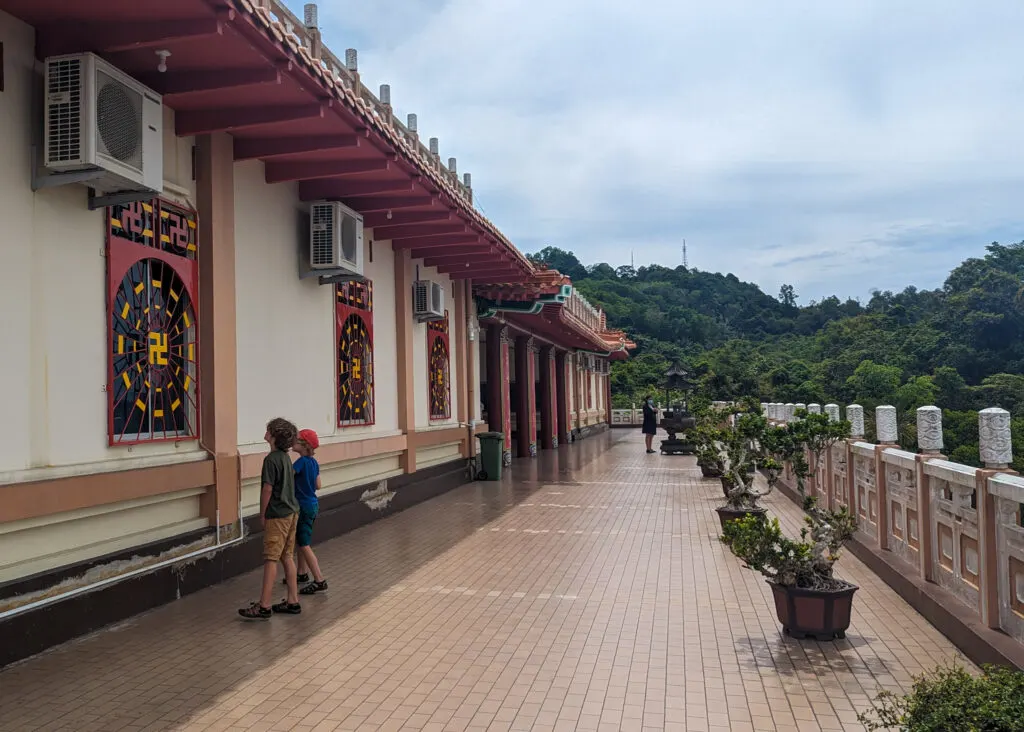 This is one of the best places to come for views out to the ocean, especially on a hot day when the cool breeze drifts towards you. The temple is intricately decorated inside and well worth the visit.
Admission is free and, as elsewhere, it's easiest to get a Grab taxi there and back, it'll only cost around MYR10 each way.
St. Michael's and All Angels Church
The largest stone church in Sabah, St. Michael's and All Angels church is an relaxed place to visit, especially if you time your visit with one of the services. The church was restored after WW2 and has a well-known stained glass window which commemorated the sixtieth anniversary of the end of the war.
Entry is on a donation basis but note it's closed on Sunday and Tuesdays. It's an easy walk back downhill into the city centre, the walk is also on the heritage trail mentioned earlier.
Things to do near to Sandakan
After a day or so seeing the sights in the city centre, it's time to turn your attention to activities a little further out.
Most of the hotels in town can help you arrange tours to the following places, but it's also easy (and cheaper) to organise yourself. Unless you're very short of time, try not to rush through everything on the list; a lot of tourists complete one tour and go straight onto the next, often without any free time in between. You'll get more out of each place if you're able to slow down and break up the itinerary with rest days.
Selingan Island
READ: Selingan Island, Sabah: visiting the turtles in Borneo
Just off the coast of Sandakan, one of nature's most precious spectacles occurs when mother turtles emerge from the waters and lay their eggs on the beach.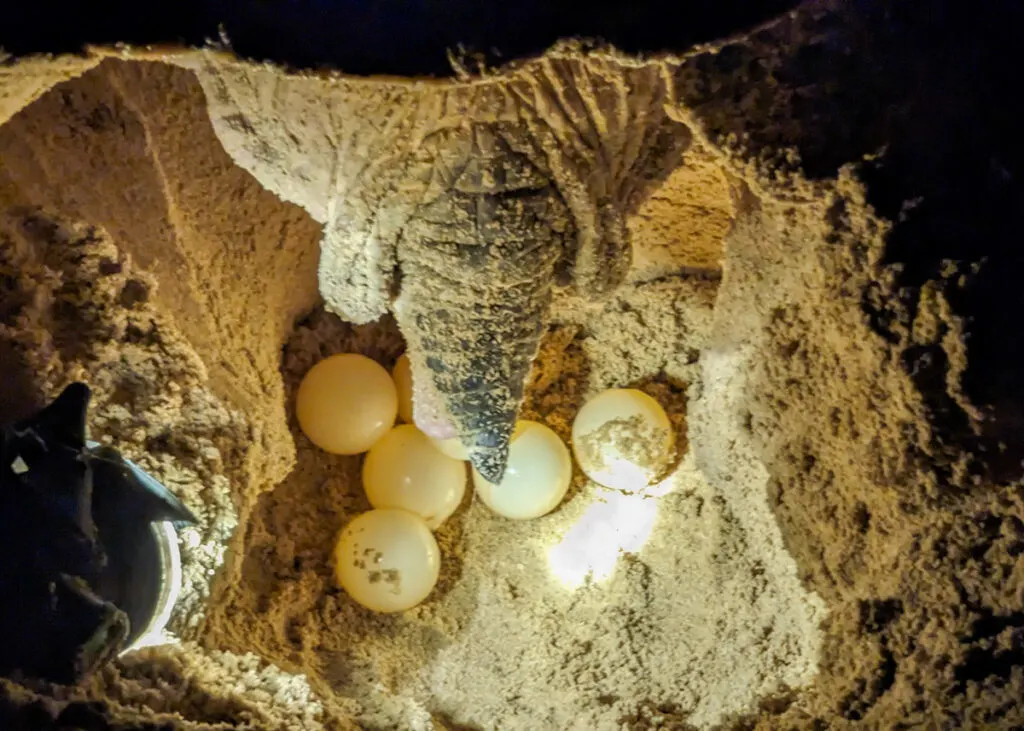 Crystal Tours are the only operator to have tourism access to the islands and chalets to stay in overnight. Make sure you set aside time when you're in Sandakan to take this tour, it really is a once-in-a-lifetime experience and one unique to this part of Borneo.
Departing from the main jetty in Sandakan, in addition to the turtles, you'll get return speedboat transfers, full-board, and a chance to relax and snorkel on the tropical island before seeing the egg-laying excitement.
Sepilok
READ: Sepilok Orangutan Rehabilitation Centre, Borneo: tips for your visit
There is no doubt almost everyone visiting Sandakan will also be paying a visit to Sepilok to see the orangutans. It's home to the most famous Orangutan sanctuary in the world and rightly a must-see destination on everyone's itinerary.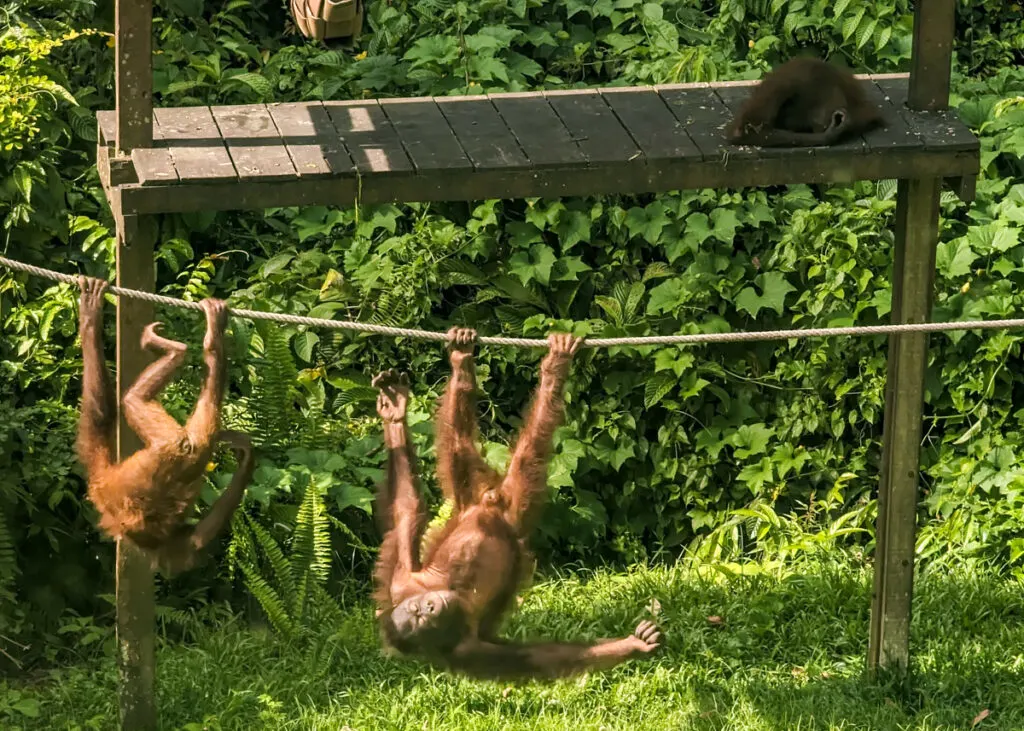 Located 20km west of the city centre, in Sepilok you'll also find a sun bear sanctuary, rainforest discovery centre, and multiple hotels and resorts to stay in. But it's the Orangutans which are the main attraction and they're usually visible during feeding times, at the nursery, and (if you're lucky), during one of the walks around the boardwalks.
The whole area is fun to visit and easy to get around once you're there; Grab taxis are easy to book and only tend to charge around MYR5 for short trips between the sights. Most of the hotels serve evening meals and will include breakfast with your room.
As always, keep in mind this is a very popular tourist destination and, during the peak seasons, you'll have to share the experience with lots of other people.
Try to stay in Sepilok if possible, that way you can dodge the tour groups and get more out of your trip.
Kinabatangan River
READ: Exploring the Kinabatangan River with kids: 3D/2N with Sukau Bilit Resort
A couple of hours south of Sandakan, the Kinabatangan River cuts its way though the rainforest, offering a classic Borneo river cruise, night-time jungle walks, and a huge selection of animals to view.
These river cruises are big business in Sandakan and you'll be able to book with your accommodation or online. Remember that it can get busy in the peak season (July to October) so get everything organised in advance as soon as possible.
Most people take a three day, two night option which gives you the perfect amount of time without feeling too rushed.
Labuk Bay Proboscis Monkey Sanctuary
Located 40km from Sandakan, the Labuk Bay Proboscis Monkey Sanctuary is an opportunity to see some of these slightly strange looking animals which are endemic to Borneo. The sanctuary is professionally run but can feel a little too sanitised at times, but you're guaranteed lots of closeup sightings.
Where to eat in Sandakan
There's a small but growing dining scene on the waterfront, just to the west of the central market (click here for Google Map point).
There are a collection of outdoor restaurants specialising in seafood but also serving the usual Western and Asian dishes. It's also a good place to get a coffee or ice-cream and is only a short stroll to the Harbour Mall where you'll find western-style food options.
Elsewhere in the town, you'll never be too far away from a street stall or small local restaurant, the quality can sometimes vary but it's always cheap and cheerful.
Where to stay in Sandakan
Of all the places we stayed in Borneo, we found Sandakan one of the hardest to organise accommodation. In other towns and cities, there was an easy mix of modern apartment buildings with swimming pools and gyms, or heritage style homestays.
Sandakan seemed slightly different with lots of midrange Chinese hotels lacking character (and family rooms), or a smattering of apartment complexes outside the city centre. We were quite keen to stay centrally and took a risk on a new hotel called AeCOTEL. On Google Maps, the location looked quite busy and there were some reports of a karaoke bar nearby but we had a peaceful and relaxing stay there.
The hotel operates almost entirely 'staff-free', we didn't see any staff at all during our stay, instead we were given a passcode via WhatsApp to enter the building and told to look out for our key on the reception desk. We took two rooms next door which were very clean and well-appointed, with ensuite bathrooms and air-conditioning. Outside in the hallway, there was a hot water machine to make teas and coffees.
The best part was the location (and price). It was easily walkable to the waterfront area, there was a supermarket right outside, and it felt nicely central without being too loud. If there was a karaoke bar, we didn't hear it. We paid MYR80 per room per night which felt like a great deal.
How long do you need in Sandakan with kids?
We spent two nights in Sandakan city itself, which gave us one full day to tick off the sights. But including the Kinabatangan River tour, Selingan Turtle Island, and Sepilok, we spent just 9 days in the region.
If you are tight on time and plan your activities, it is possible to fit everything into 6 days, although we would very much recommend some downtime if visiting Sandakan with kids.
How to get around Sandakan with kids
Grab taxis are our new best friend and they didn't let us down here. Whilst there is a bus service in the city, it's not that much cheaper than Grab (especially when you have to buy several tickets for a family) and it's likely it won't be going exactly where you need it to.
We zipped around from the Memorial Park, temple, church, and Agnes Keith house just using Grab and it worked perfectly, never waiting for more than 5 minutes and only costing approximately MYR60 in total. There seemed to be very few traditional metred taxis around the city, but we'd have waited a lot longer (and paid a huge amount more) if we'd used them.
How to get to Sandakan
Sandakan has an international airport close to the city which is served by 20+ flights a week from Kota Kinabalu and Kuala Lumpur. There are also a handful of weekly flights to other destinations in Sabah.
Most travellers will be making their way either from or to Kota Kinabalu, check out our guide for getting from Kota Kinabalu to Sandakan.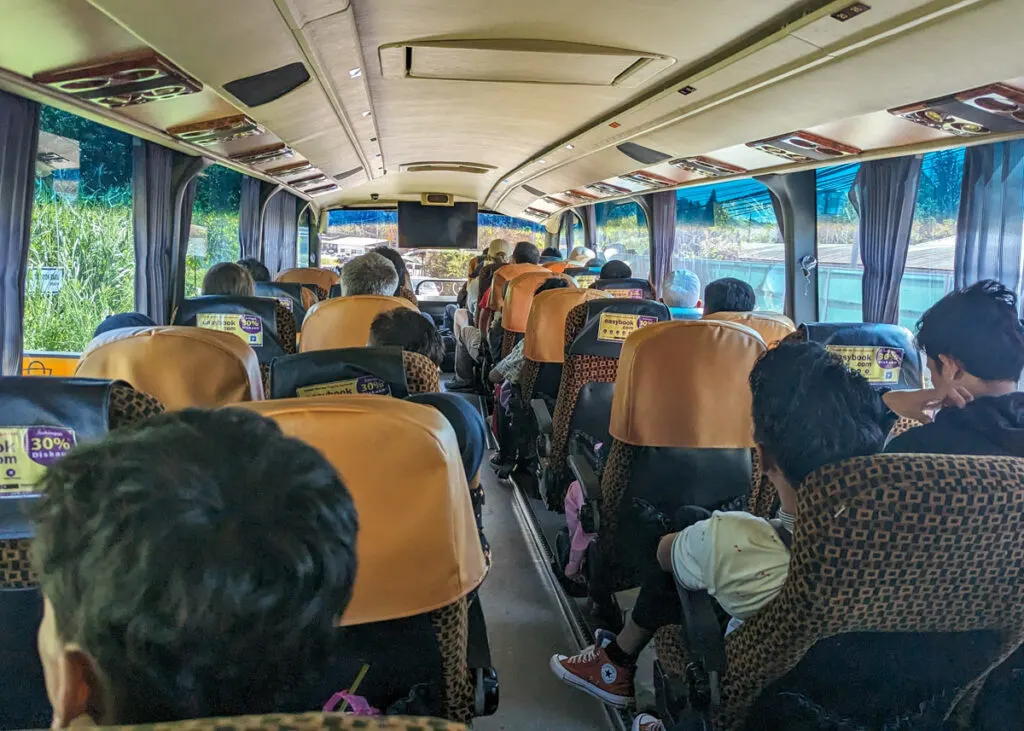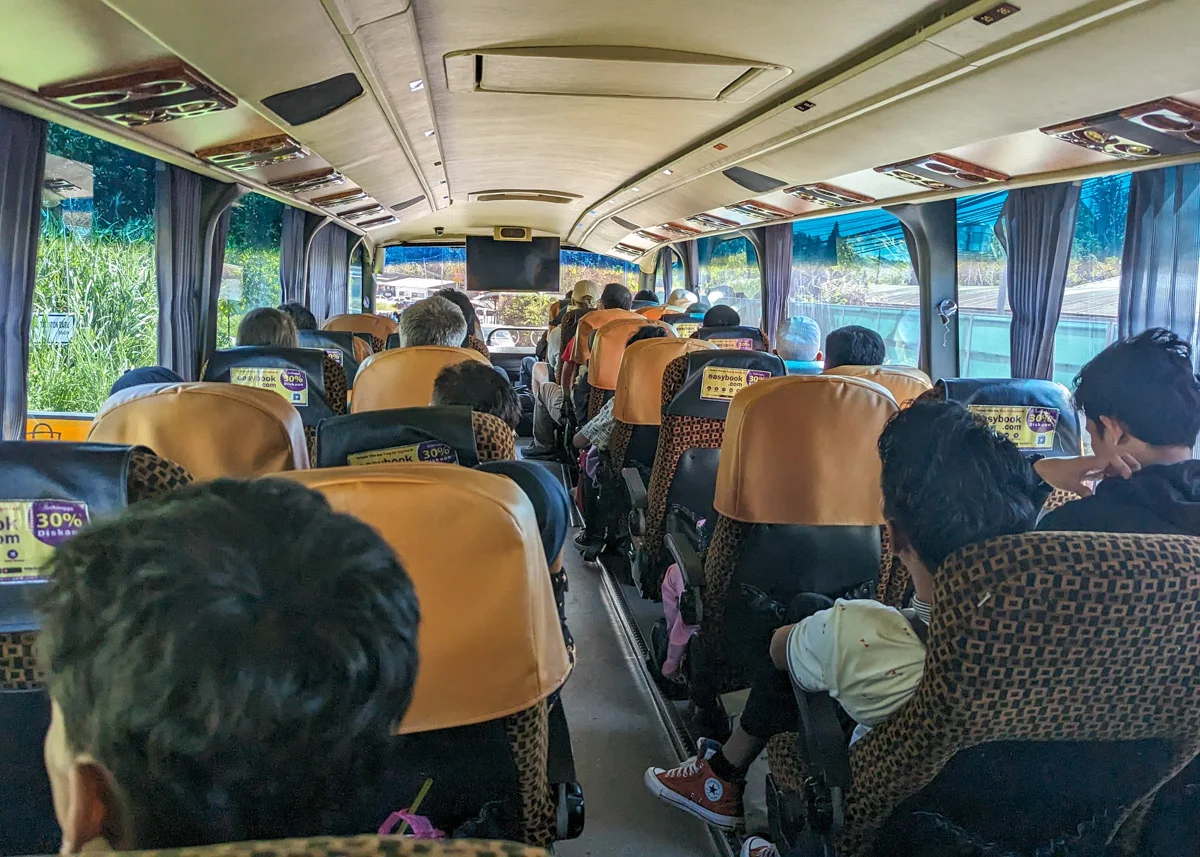 Final thoughts on visiting Sandakan with kids
Sandakan hasn't always had the best reputation amongst travellers, sometimes dismissed as a dormitory town for the more exciting sights on its doorstep. A place to sleep but not to visit.
Whilst the food, dining, and accommodation scene perhaps lags behind Kota Kinabalu, we preferred Sandakan and found it more authentic and interesting than Sabah's capital.
There are enough sights and activities to keep you occupied for a day or two before heading off to Sepilok, Kinabatangan, etc and the food scene along the waterfront makes for a fun evening, especially if you find a bar serving a cold beer to round off the night.
---
You may also like to read:
Visiting Kota Kinabalu with kids
Visiting the Sepilok orangutans
Selingan Island, Sabah: visiting the turtles in Borneo